Crock Pot Mississippi Chicken is a fun twist on the classic Mississippi Pot Roast. Combining all the flavors of the traditional pot roast recipe except made with budget-friendly chicken, this dish is a hearty and filling meal!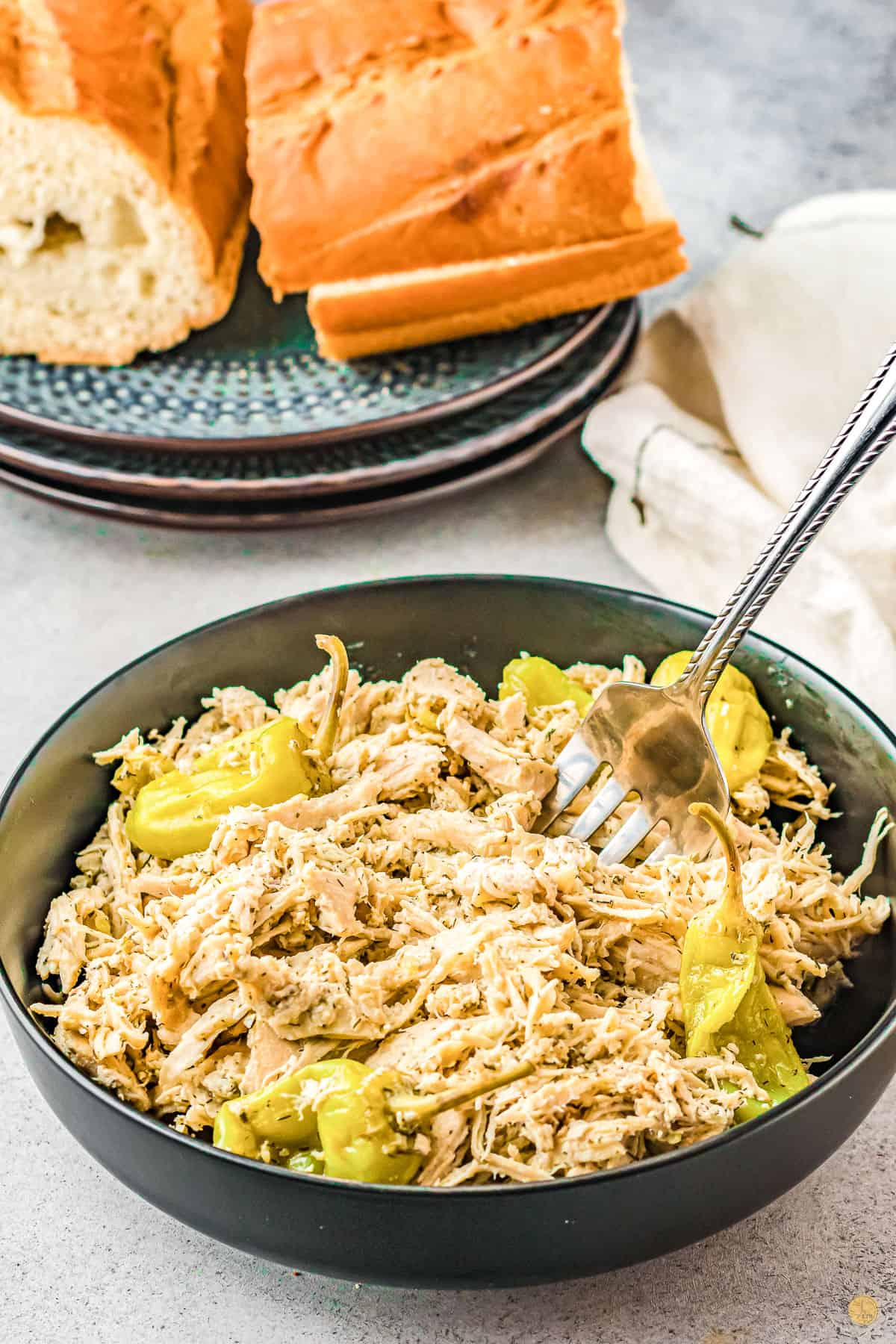 If you'd rather skip my essential cooking tips and tricks and get straight to this delicious recipe – simply scroll to the bottom of the page where you can find the printable recipe card.
WHAT IS CROCK POT MISSISSIPPI CHICKEN?
Crockpot recipes are ones that so many people turn to during those hectic times of the year when families are craving delicious filling meals but are running short on time.
In my house, I find we are running short on time a lot so I'm always searching for delicious crockpot recipes to add to my rotation.
And this Crock Pot Mississippi Chicken is a family favorite recipe that is requested frequently!
It's a savory chicken dish that consists of tangy ranch seasoning and pickled pepperoncini peppers that add a slight sweetness to offset all the richness.
This flavorful chicken dinner gets rave reviews every time it's served and is wonderful with a slice of crusty French bread, served over creamy mashed potatoes, or perfectly baked rice.
Plus, it can be prepared in the crockpot, stovetop, Instant Pot, or even baked!
When feeding a crowd, I like to make this along with a batch of crockpot taco meat and oven baked pork carnitas!
This post may contain affiliate links. As an Amazon Associate, I earn from qualifying purchases. Read my disclosure policy here.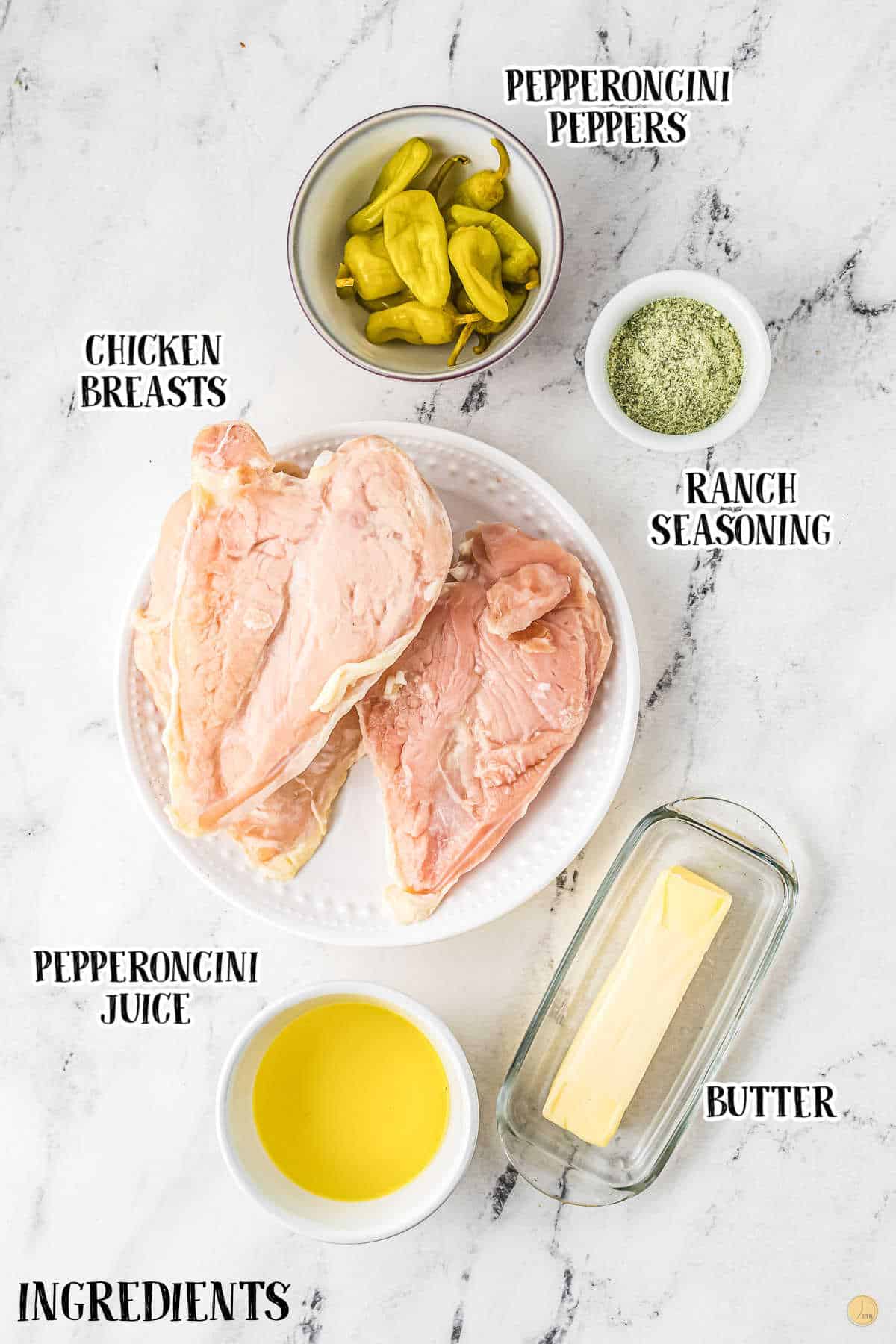 CROCK POT MISSISSIPPI CHICKEN INGREDIENTS
boneless, skinless chicken breasts
ranch dressing mix
salted butter
pepperoncini peppers and their juice
pepperoncini juice
Boneless, skinless chicken breast – while this recipe calls for chicken breast, feel free to swap out with chicken thighs if you prefer dark meat. You can also use fresh or frozen chicken.
Ranch dressing mix – provides flavor and is an easy way to season chicken. Look for this in the dressing aisle in a packet or in a shaker bottle.
Pepperoncini – are an Italian sweet pepper, or Tuscan pepper, that is often pickled in vinegar and commercially packaged in jars.
Pepperoncini can be found in the pickle the aisle of most grocery stores, however; if you are unable to locate, feel free to use banana peppers instead.
Looking for more comfort food? Follow LTB on Pinterest!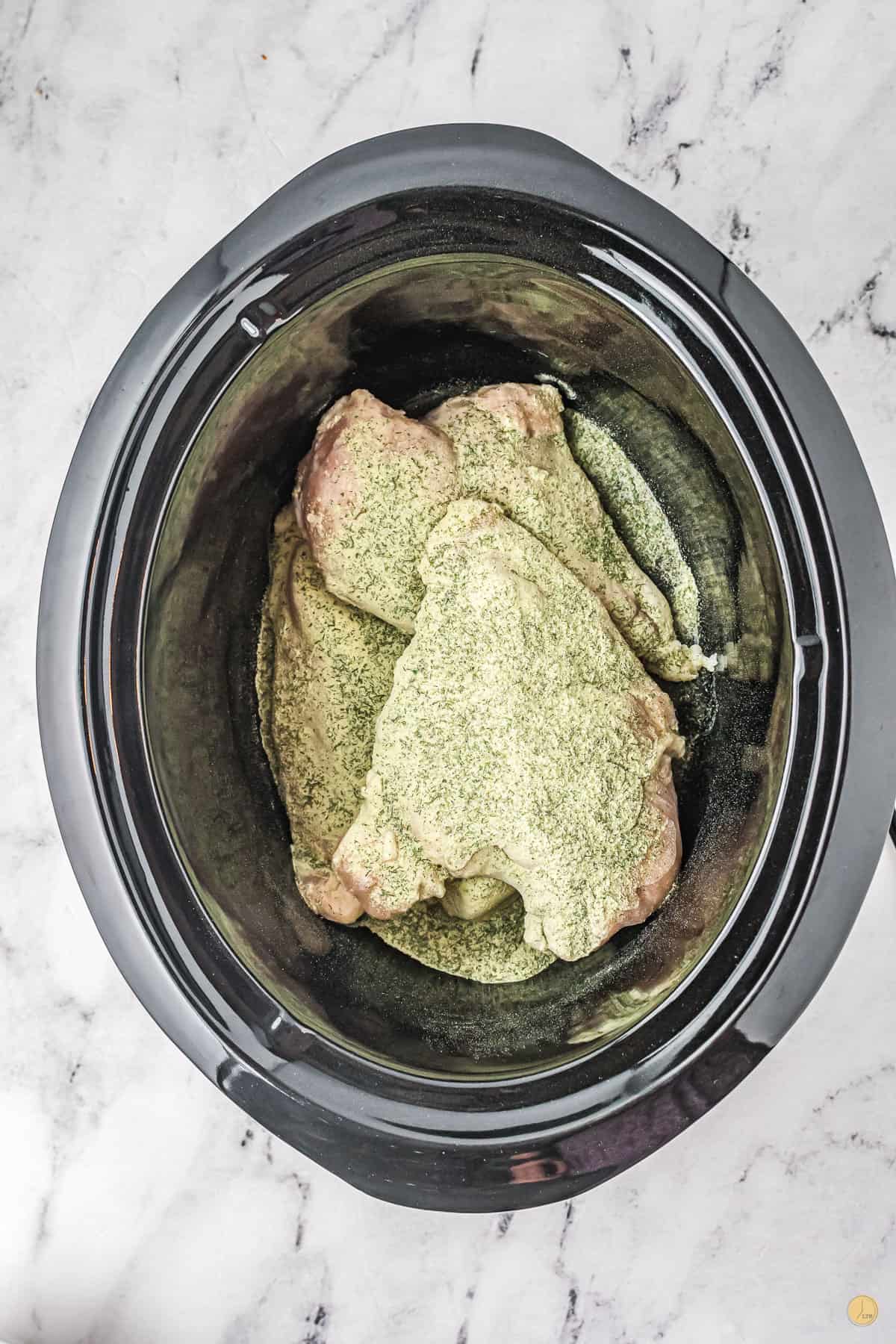 HOW TO MAKE CROCK POT MISSISSIPPI CHICKEN
ONE: Prepare crockpot by spraying a non-stick coating spray all around the inside of the crock. You can also use a slow cooker liner for easier cleanup.
TWO: Layer chicken and ranch seasoning in an even layer at the bottom. Place butter on top of the chicken along with the peppers and juice.
THREE: Place the lid on the crockpot and cook on high for 4 hours or low for 6-8 hours.
FOUR: Once chicken is cooked through, shred with 2 forks. Serve over bread, mashed potatoes, or rice. Enjoy!
For the full recipe and detailed baking instructions, please see the recipe card at the end of this post.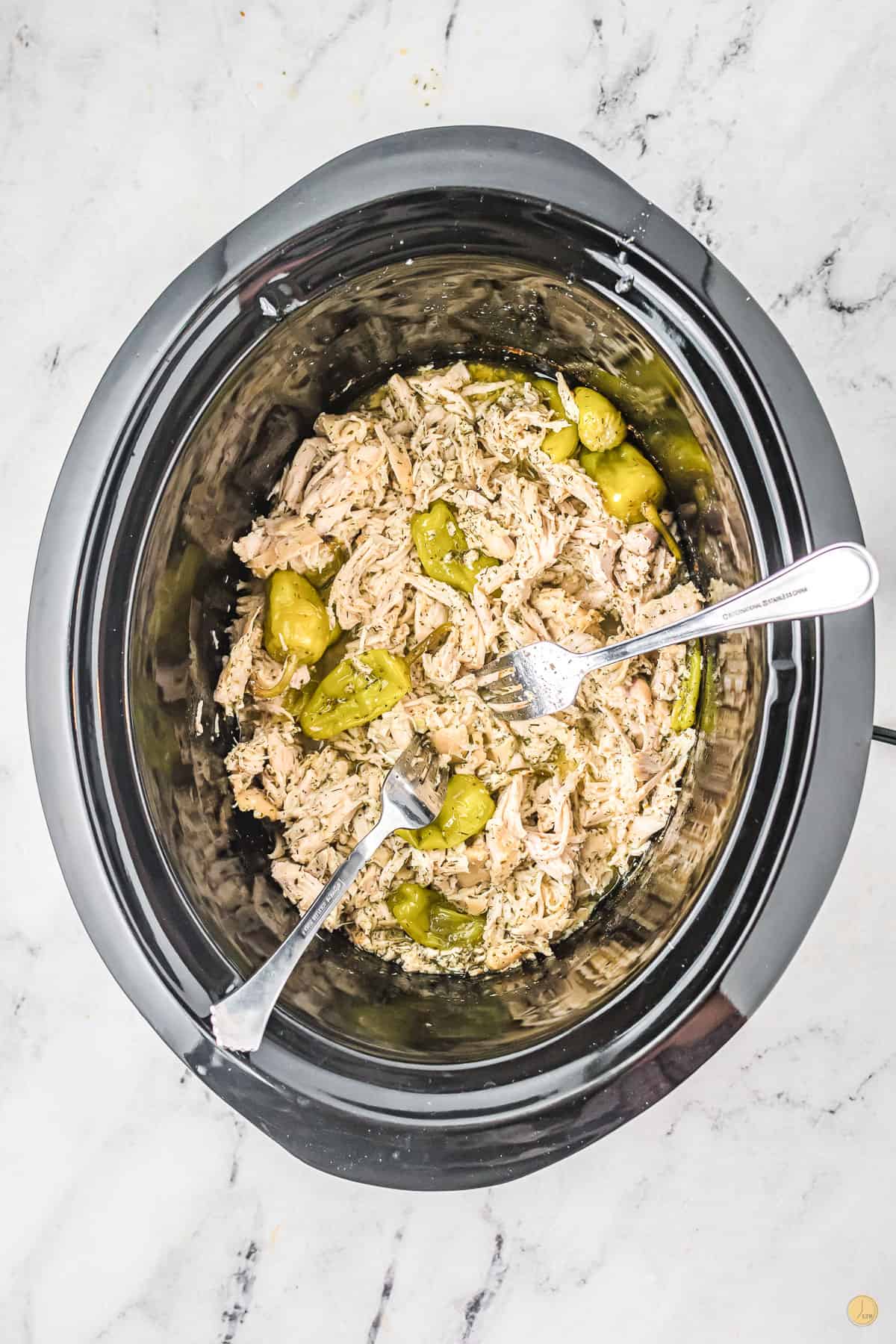 CAN YOU PUT RAW CHICKEN IN A SLOW COOKER?
Yes, you can place raw chicken in a slow cooker. However, many people prefer to brown or sear the chicken first.
An initial searing helps lock in moisture, speed up cooking time, and improves the visual appearance of the finished dish while increasing the overall flavor of the chicken.
IS IT BETTER TO COOK CHICKEN ON HIGH OR LOW IN THE CROCKPOT?
Depends on what other ingredients are in the crockpot. If the dish requires many ingredients that need time to break down and become tender, then cook on LOW for 4-6 hours.
If the crock isn't overflowing with ingredients, fresh thawed chicken can be cooked on HIGH for 2-3 hours.
CAN MISSISSIPPI CHICKEN DRY OUT IN A CROCKPOT?
Yes, chicken breasts can dry out in the crockpot. Chicken breasts have very little fat which means they cook quickly as they don't need an excessive amount of time to cook which can also contribute to a dry dish if cooked too long.
To help ensure your crockpot Mississippi chicken doesn't try out, be sure to put enough liquid in the crock at the start and turn off crockpot when internal temperature reaches 165°F.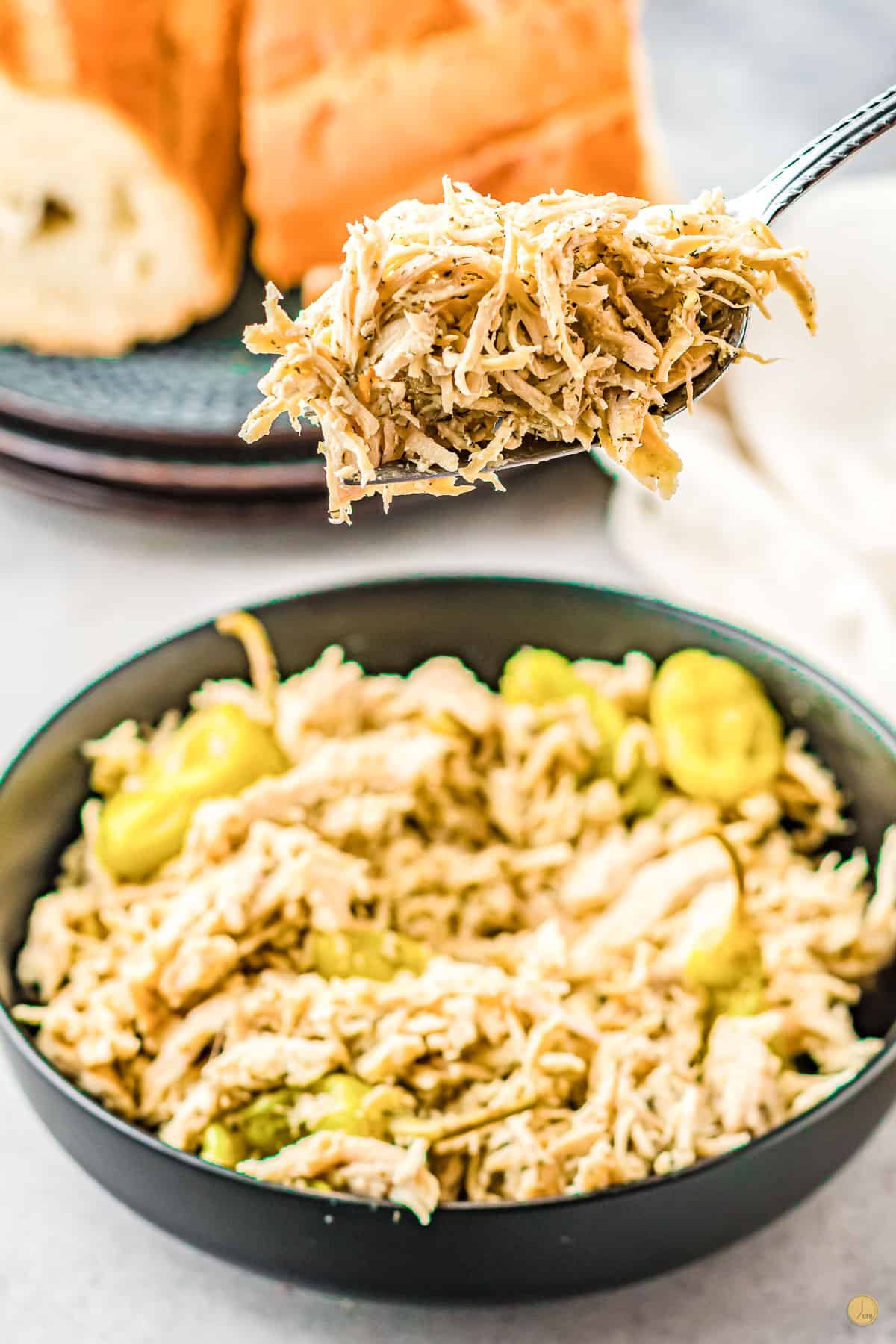 WHAT KIND OF CHICKEN SHOULD I USE?
I use fresh or frozen chicken breasts. If using frozen, cook chicken for around 8 hours as there is no need to thaw prior to tossing into the crock pot.
Chicken thighs are also a delicious and affordable option to use.
If using chicken thighs, feel free to cut the butter in half or omit completely as there is enough fat in the thighs to produce a tender and juice dish.
IS CROCK POT MISSISSIPPI CHICKEN LOW CARB AND KETO FRIENDLY?
Yes, Mississippi Chicken is low carb and keto friendly as long as you don't serve on a piece of crusty French bread 🙂
To keep make a complete low carb and keto friendly meal, serve over a bed of cauliflower rice and steamed veggies!
SUBSTITUTIONS FOR RANCH DRESSING MIX:
Make your own ranch dressing mix with dried dill, dried chives, dried parsley flakes, onion powder, garlic powder, and dry buttermilk.
Italian dressing mix works well too.
Au jus packets can work in a pinch.
Homemade Cajun seasoning made of garlic powder, salt, Italian seasoning, paprika, onion powder, pepper (black and white), dried oregano, dried thyme, and cayenne.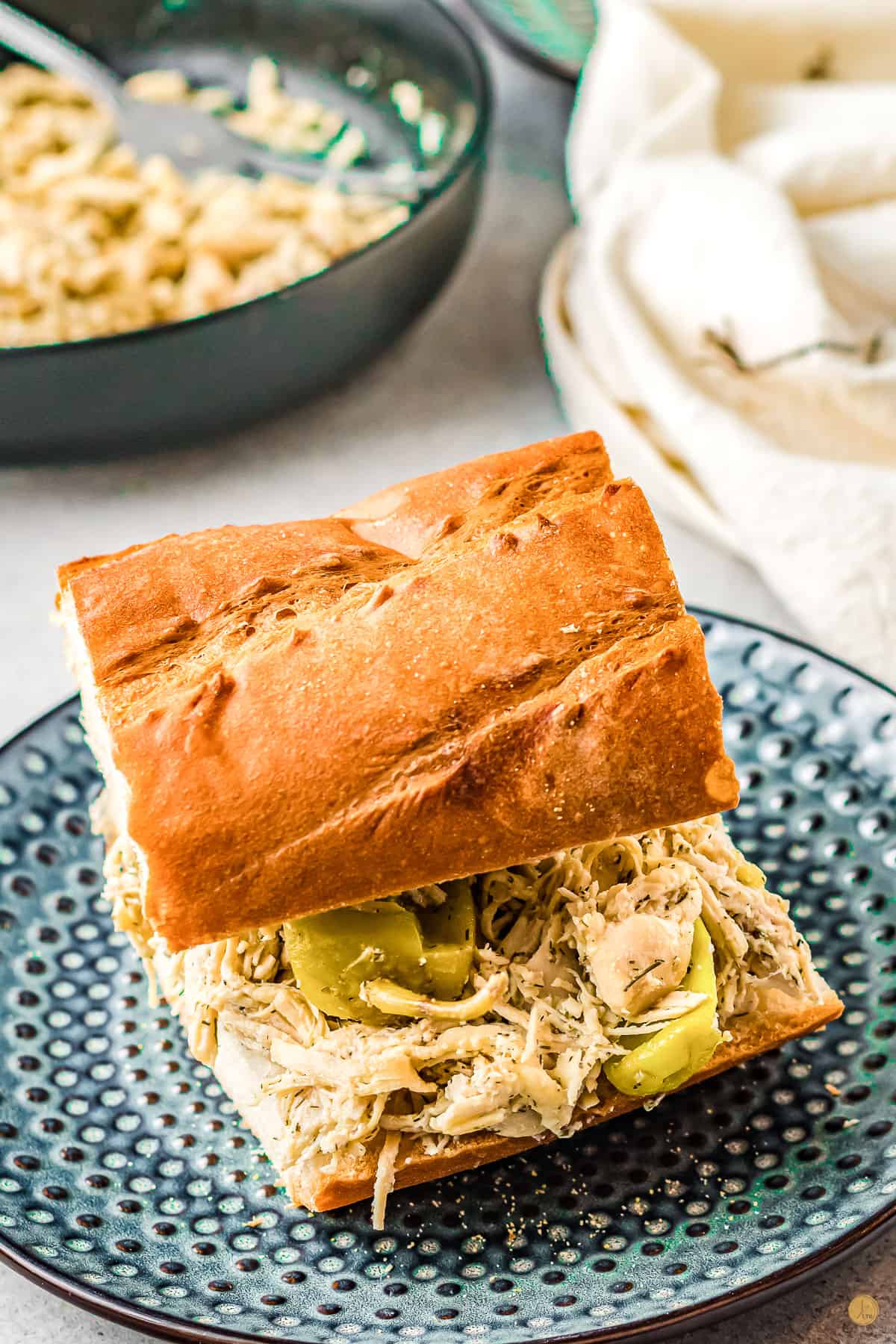 CAN I MAKE IT STOVE TOP, INSTANT POT, OR IN THE OVEN?
STOVE TOP: To make on stove top place all ingredients in a large stockpot, in the same order as recipe calls for. Cover and cook on low heat for 4 hours. Once chicken is fully cooked, shred, serve, and enjoy!
INSTANT POT: This is a wonderful dish to make in the Instant Pot. To make in the pressure cooker, place chicken in the inner basket. Add remaining ingredients and close the lid and lock it in place.
Turn the steam release knob to the sealing position. Select the pressure cook/manual button and select 8 minutes.
When finished, allow to sit undisturbed for 5 minutes. Once 5 minutes is up, turn the steam release knob to venting and then to quick release to allow remaining steam/pressure to be released. Serve and enjoy!
OVEN: To oven bake this Mississippi Chicken, preheat oven to 425ºF and prepare a baking dish with non-stick cooking spray.
Place chicken on prepared dish. Sprinkle with ranch seasoning and then top with remaining ingredients. Bake for 25-30 minutes or until chicken reaches an internal temperature of 165ºF.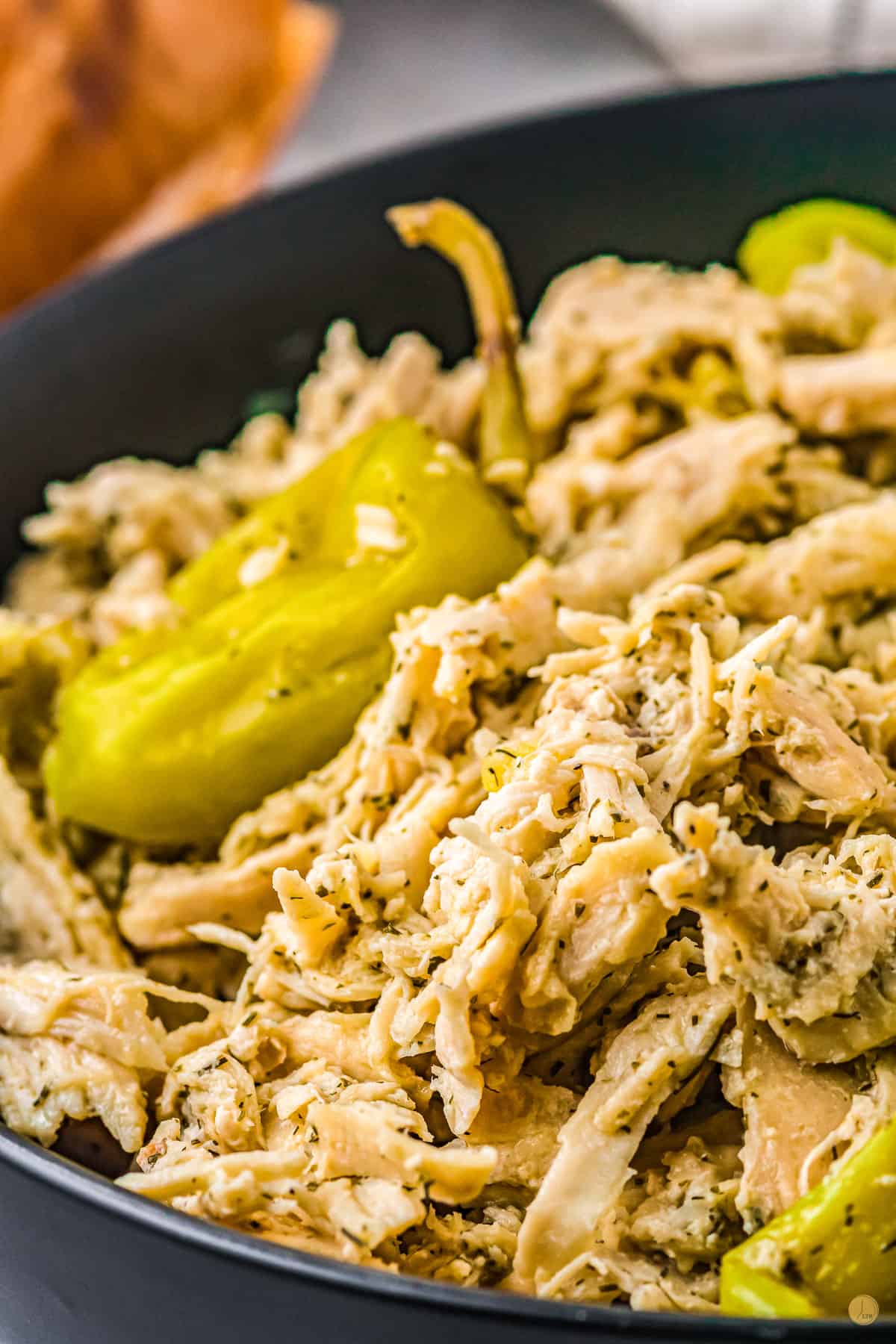 HOW TO STORE LEFTOVERS:
Store any leftovers in an airtight container in the fridge up to 5 days.
CAN I FREEZE CROCK POT MISSISSIPPI CHICKEN?
Yes, you can which makes this a wonderful make ahead meal! Cook as directed. Cool completely. At this point I do not shred the chicken to keep it from drying out during freezing.
I like to store the crock pot Mississippi chicken in just a little of the juice in one container and then the remaining juice in a separate container. Store in the freezer up to 3 months.
When ready to enjoy, thaw overnight in the refrigerator (the chicken and extra juice) then reheat in either the oven, microwave, or in a pot on the stove top until warmed through and the internal temperature reaches 165F.
Shred and enjoy!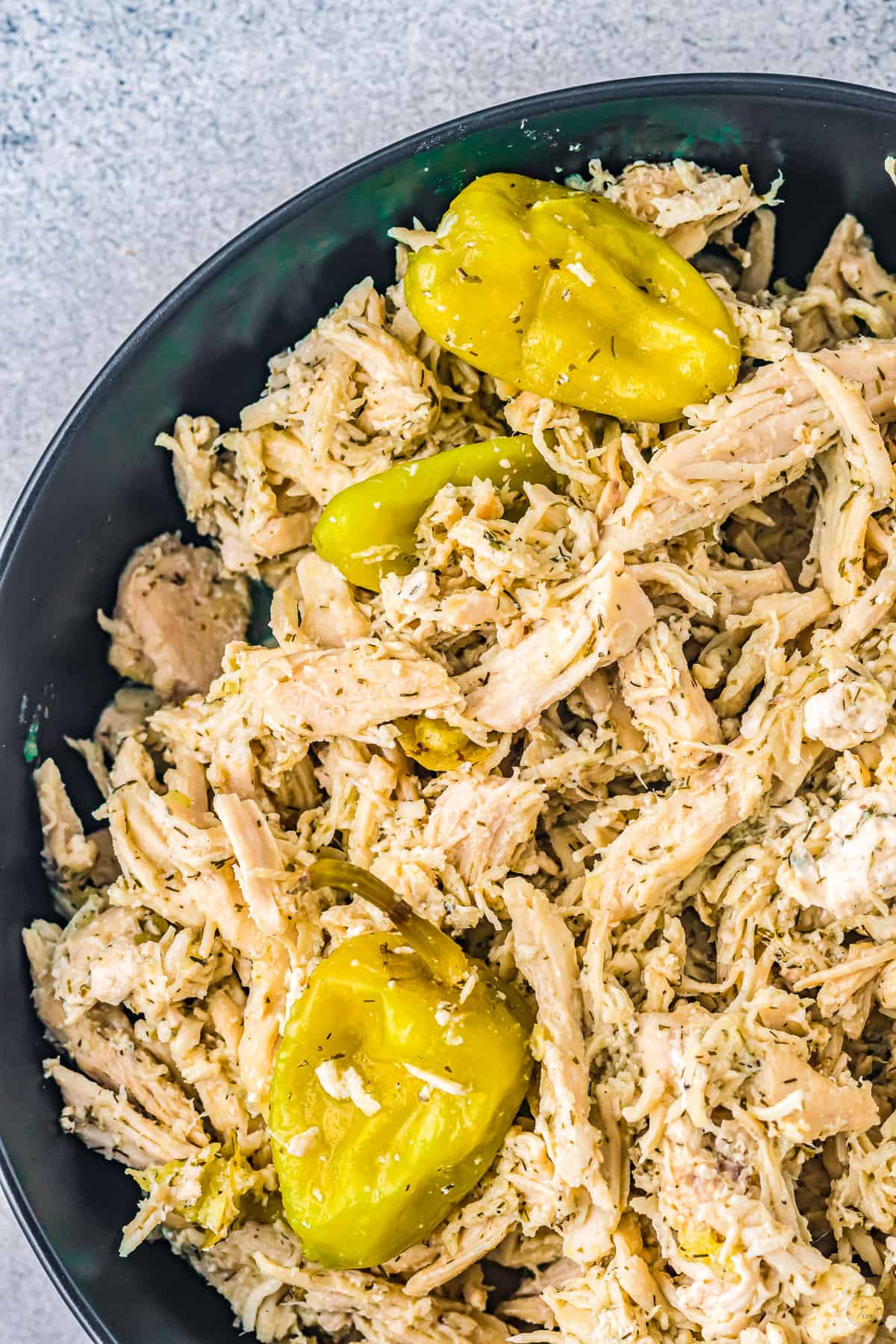 TIPS FOR NO LEFTOVERS
you can use chicken breast or chicken thighs.
the peppers have stems on them. Even though they "soften" when cooked, if they are large you might want to remove them before putting the peppers on the chicken.
if the gravy is too thin, thicken it up with some cornstarch. It's great on mashed potatoes!
make it even easier with frozen chicken breasts. Just cook on low for 8 hours.
if you like it richer, you can use a whole stick of butter 😉
you can use less butter if you wish. If you use thighs, you don't need to use butter at all.
use a crockpot liner or easier clean up.
leftovers (if you have any) are great in tacos, quesadillas, on slider buns, and over noodles!
I used frozen chicken breasts and it cooked for the same amount of time.
If you love this recipe as much as I do, please write a five-star review in the comment section below (or on Pinterest with the "tried it" button – you can now add pictures into reviews, too!), and be sure to help me share on facebook!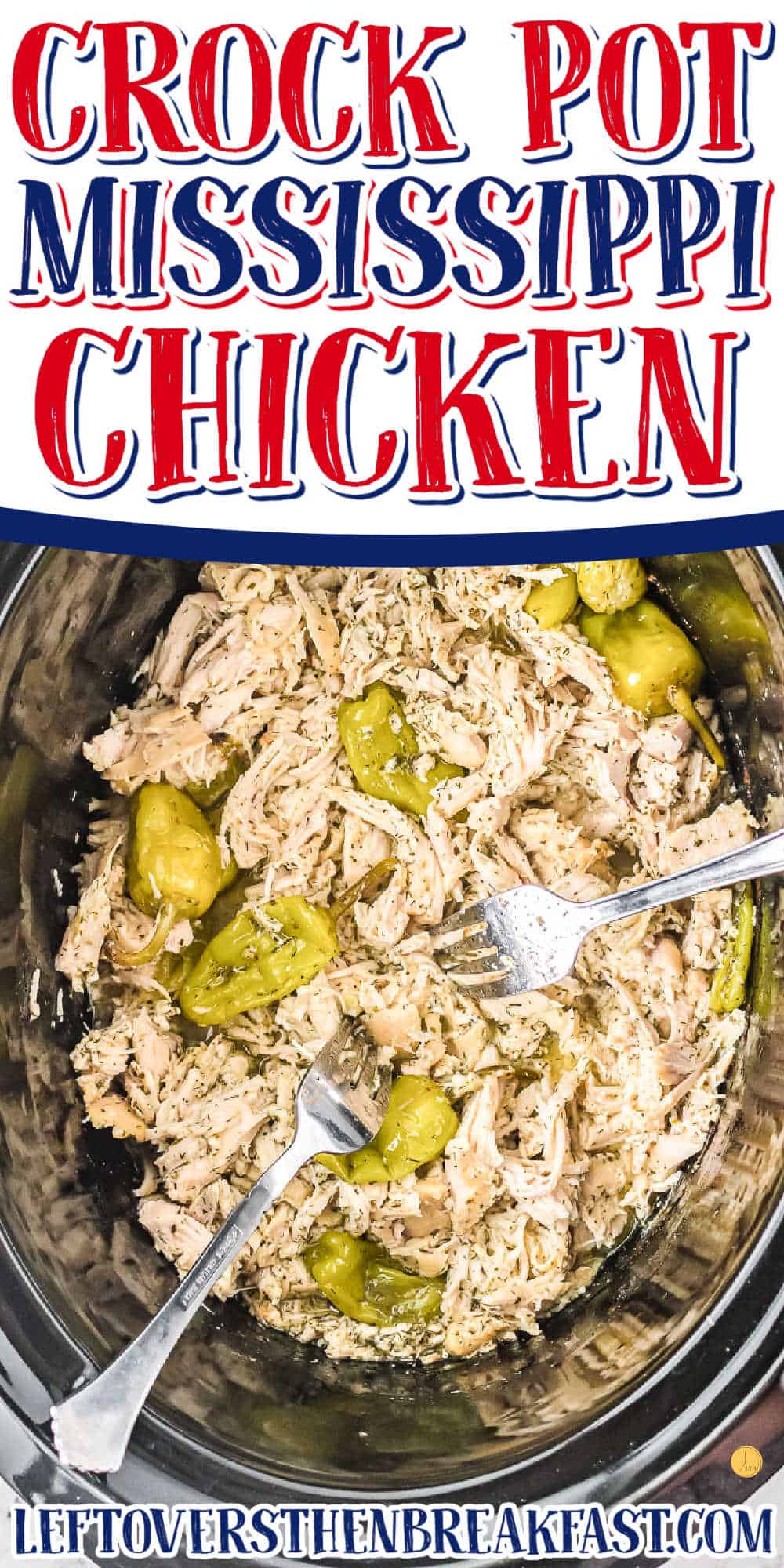 Slow Cooker Mississippi Chicken is an easy to whip up, moist and flavorful dish. This 4-ingredient dump-and-go recipe gets rave reviews and is sure to be a crowd pleaser any time it's served!
MORE EASY RECIPES
@LeftoversThenBreakfast.com. Content and photographs are copyright protected. Sharing of this recipe is both encourages and appreciated. Copying and/or pasting full recipes to any social media is strictly prohibited.