Italian Chopped Salad is an ADDICTING CRUNCHY salad full of tomatoes, cucumbers, and onions topped with a variety of ingredients and dressed with a LIGHT & TANGY homemade Italian dressing.
I love this salad it as a side salad or MAKE IT A MEAL!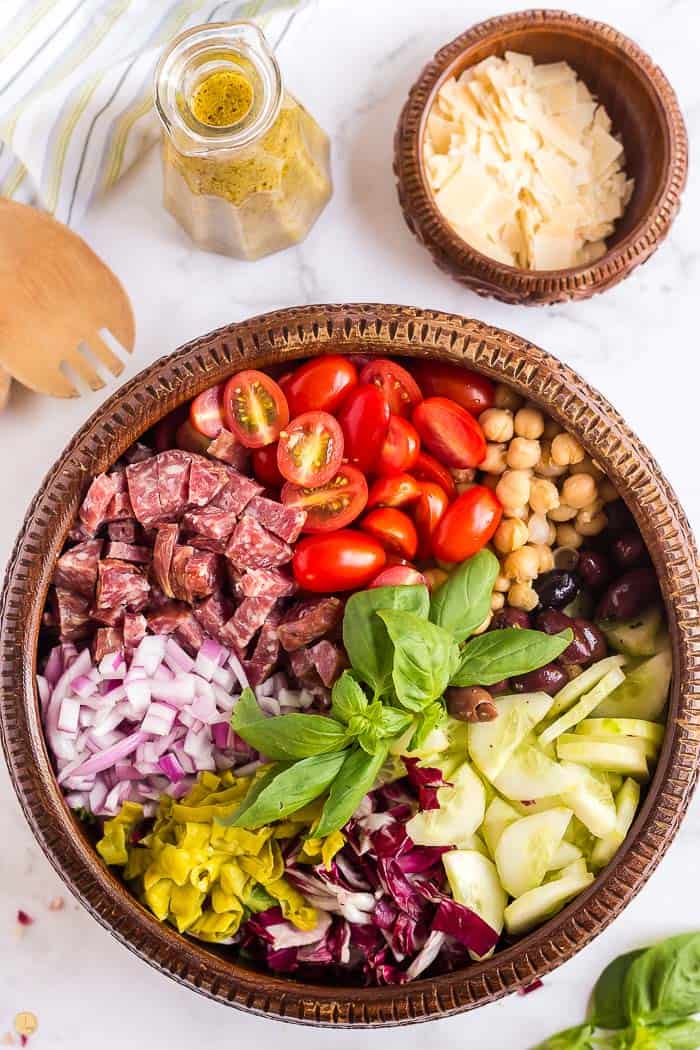 If you'd rather skip my essential cooking tips and tricks and get straight to this delicious recipe – simply scroll to the bottom of the page where you can find the printable recipe card.
I need more salads in my life so join me by starting with this enormous, colorful, and delicious Italian Chopped Salad.
WHAT IS ON A CHOPPED SALAD?
Think regular "run of the mill" salad but presently differently and way easier to eat! Imagine everything is bite-sized (noted *chopped*), already tossed together, and perfectly dressed.
No more trying to cram lettuce in your mouth only to have a leaf dangle out and flick dressing onto your face or clothes. Or heaven forbid, anyone eating with you!
Chopped salads are perfect for on the go eating (think no knives needed) and perfect for any work/meeting situation. If you work from home (LIKE ME) imagine no lunchtime cutting board/knife mess to clean up!
Perfect for meal preppers!
This post may contain affiliate links. As an Amazon Associate, I earn from qualifying purchases. Read my disclosure policy here.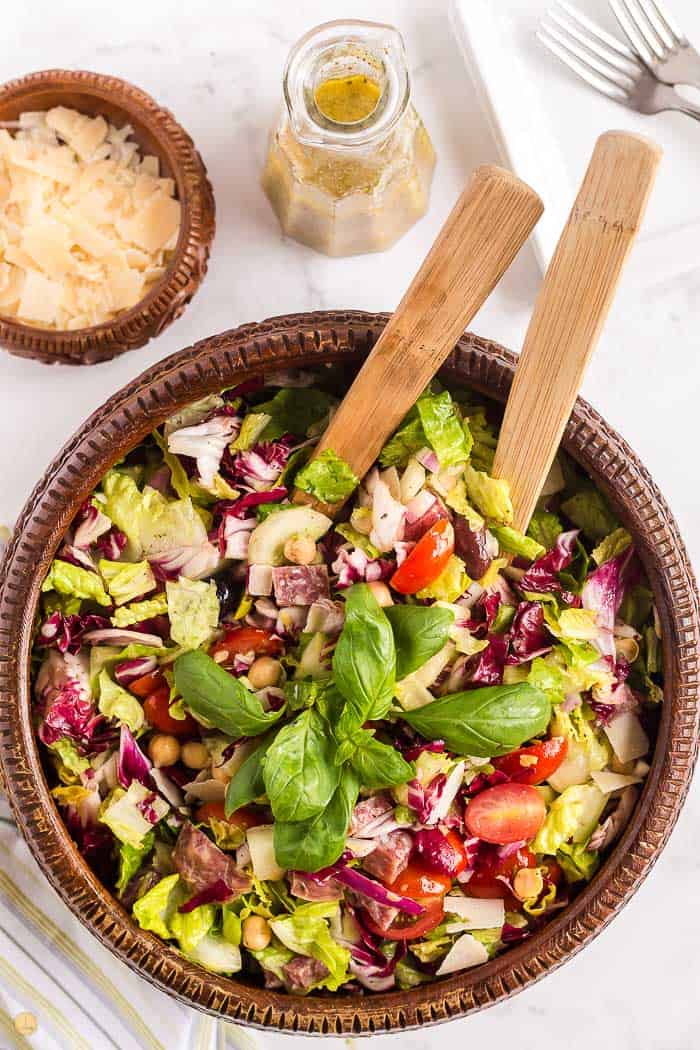 WHAT IS IN AN ITALIAN CHOPPED SALAD?
An Italian chopped salad is just a regular chopped one but with Italian ingredients. Think radicchio, salami, pepperoncini peppers, and Parmesan cheese.
Are you drooling yet?
ITALIAN CHOPPED SALAD INGREDIENTS
Romaine Lettuce
Radicchio
Tomatoes
Chickpeas
Red Onion
Cucumbers
Pepperocini Peppers
Olives
Salami
Parmesan Cheese
Italian Dressing (or a light drizzle of olive oil)
Looking for more comfort food? Follow LTB on Pinterest!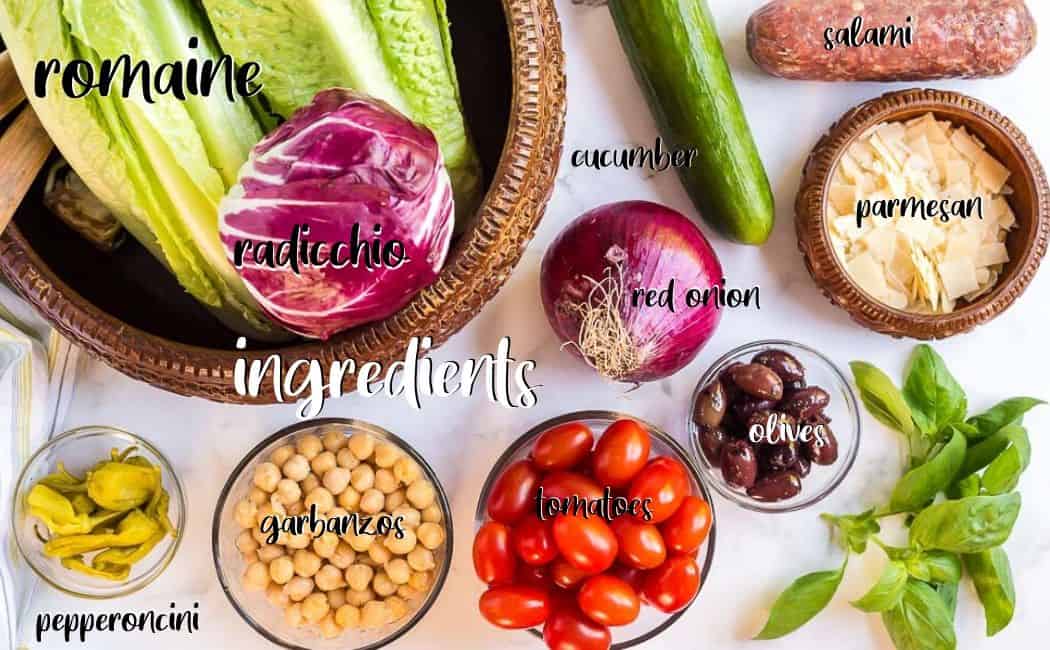 HOW DO YOU MAKE HOMEMADE CHOPPED SALAD?
ONE: Prepare the lettuce by slicing the romaine lengthwise a few times and then crosswise into 1/2″ ribbons.
TWO: Prepare the toppings wither by chopping or draining them.
THREE: Assemble the salad in a large bowl by starting with the lettuce and adding the toppings. Toss to combine.
FOUR: Dress with salad with homemade Italian dressing and toss to coat. Season with salt and pepper if desired.
For the full recipe and detailed baking instructions, please see the recipe card at the end of this post.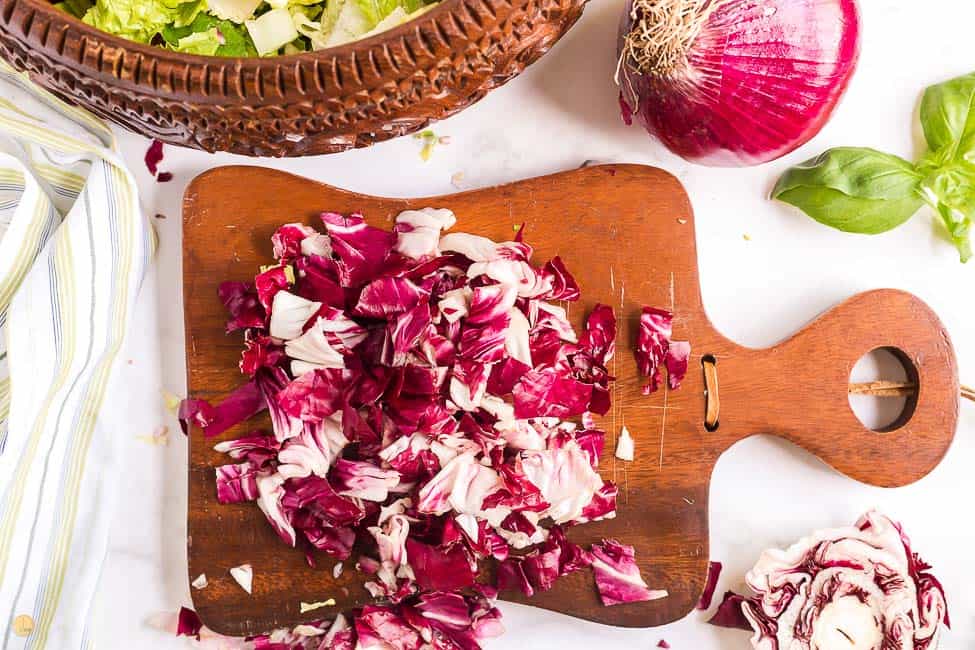 HOW DO YOU CUT LETTUCE FOR A CHOPPED SALAD?
The best way to easily cut romaine lettuce without wasting any is easy!
Rinse the lettuce and pat dry.
Slice lengthwise a few time, leaving the root intact.
Turn the head sideways and cut across the head in 1/2 inch sections.
Cut down the head until you get about 1 inch from the root.
Toss the root.
Enjoy the lettuce in your salad.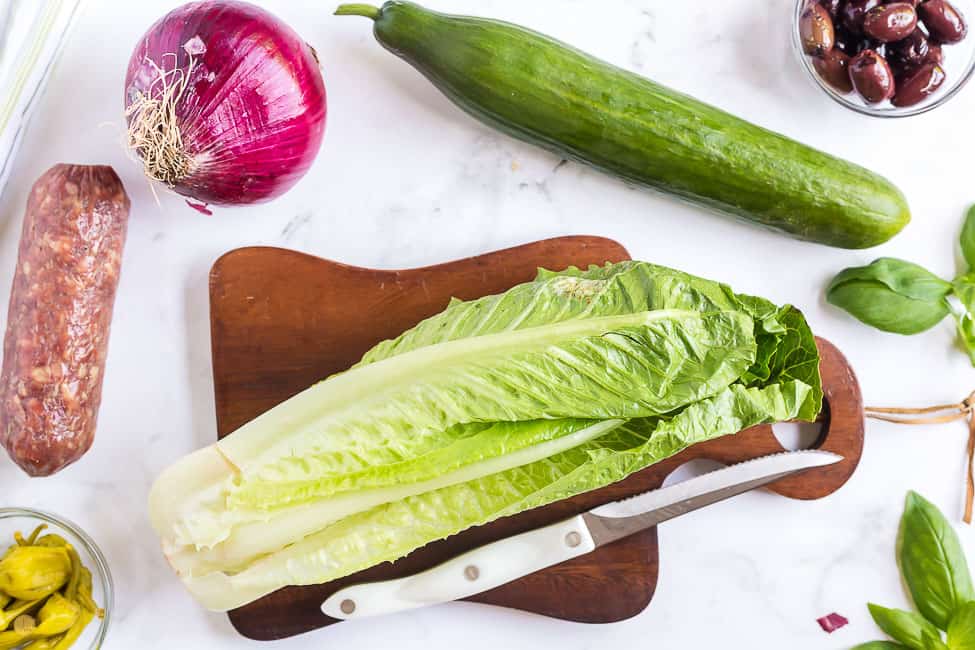 HOW LONG DOES IT KEEP?
If you are going to keep this chopped salad fresh for a few days, then best to follow a few simple rules to get the most duration from it.
Keep the salad and dressing separate. If you store the salad in the dressing everything will be wilted within hours from the vinegar.
Store the greens in a zipper bag with a paper towel or this container and they will keep just fine for about 5 days.
Maintain crisp salad greens from discoloring by misting them lightly with a bit of lemon juice mixed with water (about two parts water to one part lemon juice).
Keep the cheese separate. If you keep the cheese in the greens, then it tends to get sort of mushy and gross.
TIPS FOR NO LEFTOVERS
Use a bagged romaine/radicchio salad mix.
Substitute red cabbage for the expensive radicchio.
Leave out the cheese to make it vegan/dairy free.
Substitute black olives for Kalamata olives.
Prep all the ingredients and store separately to serve at a later date. This is a good salad for meal kits or lunch boxes!
Leave out the salami and sub heart of palm to keep it vegetarian.
Serve as a salad bar and place the lettuce in a large bowl and all the various toppings in small bowls so everyone can top it how they like it.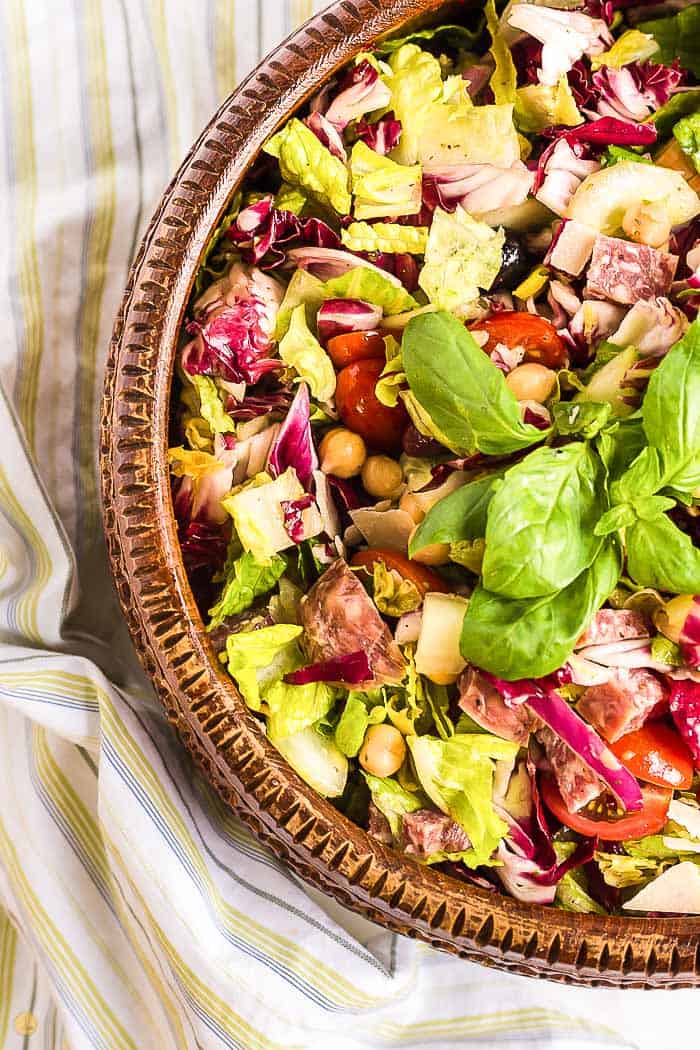 ITALIAN CHOPPED SALAD VARIATIONS & TOPPINGS
You are certainly welcome to experiment with other veggies and toppings to add a bit more crunch or zest to your Italian salad.
Toss in a cup of chopped Giardiniera. You can also use a tablespoon of the brine solution in your vinaigrette to pick it up a bit too.
Chopped up zucchini or yellow squash. A garnish of thinly sliced carrots (use your peeler) will add a splash more color.
Try toppings from your grocery store salad bar. Feel free to add roasted red peppers, artichoke hearts, and even marinated mushrooms.
Use a bright, lemony, slightly sweet dressing. It balances the bitterness of the greens and the richness of the salami for a salad you won't want to share.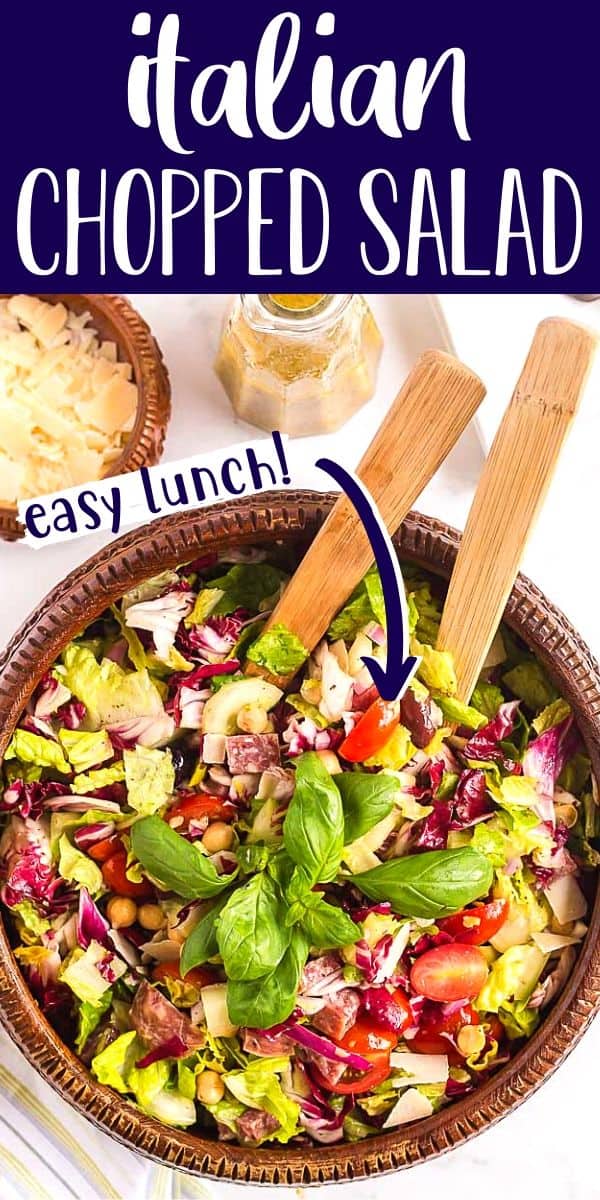 This unforgettable Italian Chopped Salad is full of color and texture and hearty enough to have for dinner or alongside a delicious baked pasta dish.
MORE EASY RECIPES
ITALIAN CHOPPED SALAD RECIPE
@LeftoversThenBreakfast.com. Content and photographs are copyright protected. Sharing of this recipe is both encourages and appreciated. Copying and/or pasting full recipes to any social media is strictly prohibited.