This bright and zesty Homemade Italian Dressing uses simple ingredients and ready in just minutes. Perfect for salads, sandwiches, or as a dipping oil for warm crusty bread!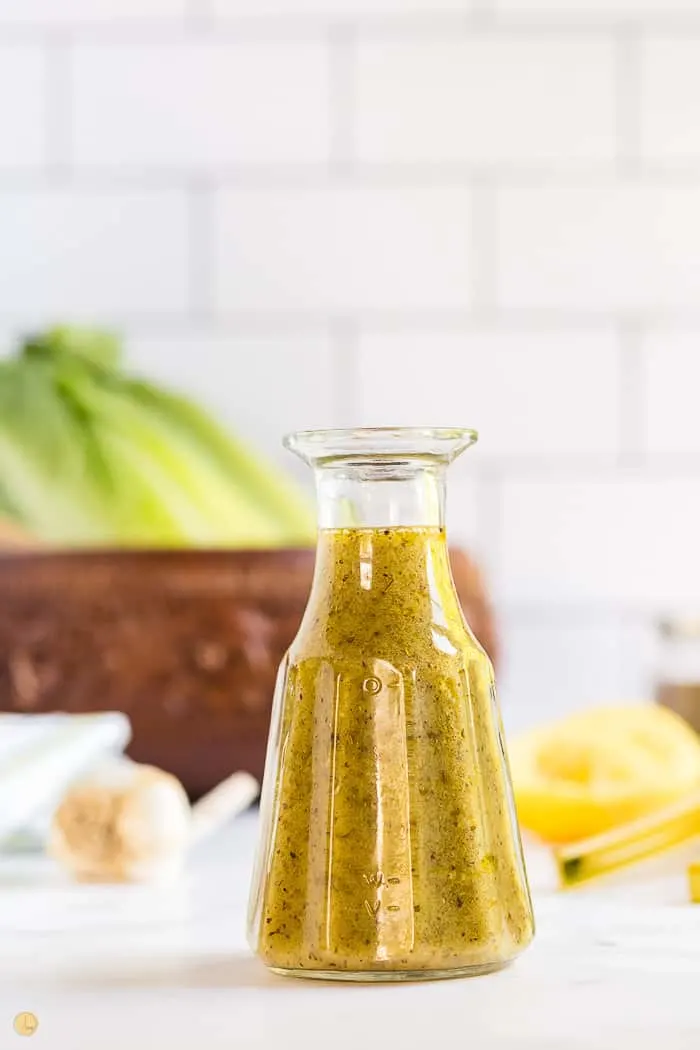 Easy Homemade Italian Dressing
Italian Dressing may be easy to buy in a bottle or mix from a packet, but it can't compare to the HOMEMADE version.
Honestly, reading the list of ingredients in the store-bought dressing is much more challenging.
So, time to make your own. In minutes you will have a delicious dressing, that doubles as a marinade, and lasts a few weeks in the fridge.
In the most basic sense, Italian dressing is like the original vinaigrette. You rely on olive oil and vinegar to carry the load of seasonings, then build from there.
What is it used for?
Homemade Italian Dressing is wonderful on salads. By salads, I don't just mean a few leaves of romaine or iceberg on a plate.
Use this dressing on all kinds of salads from the ever so simple to the wonderfully complex.
Try it with this 24 Hour Salad, Italian Green Beans, and this 1905 Salad!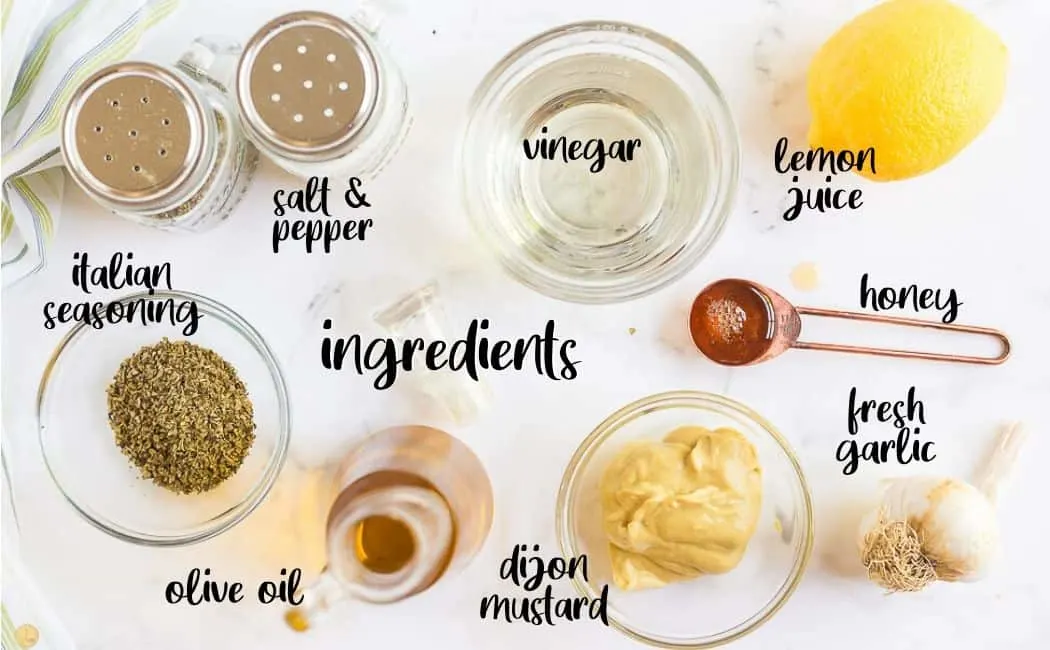 Ingredients Needed
These simple ingredients are ones you have in your pantry already!
Garlic
Dijon Mustard
Vinegar (white, red, or distilled)
Lemon juice
Honey
Olive oil
Salt & Pepper
How to make Italian Dressing from scratch
First: Combine minced garlic, mustard, seasonings, vinegar, and honey in a bowl or dressing container. Whisk or shake to combine.
Second: Add the olive oil to the mixture. Shake in a mason jar with a tight lid or whisk to combine.
Third: Taste and season with salt and pepper if desired. Enjoy!
The old saying is "oil and water" don't mix. Truth be told, oil and vinegar don't really mix either.
However, shaken well enough, and with the seasonings to help, vinegar and oil will blend together well enough.
For the full recipe and detailed baking instructions, please see the recipe card at the end of this post.
Looking for more leftover worthy dishes? Follow LTB on Pinterest and pin to a board!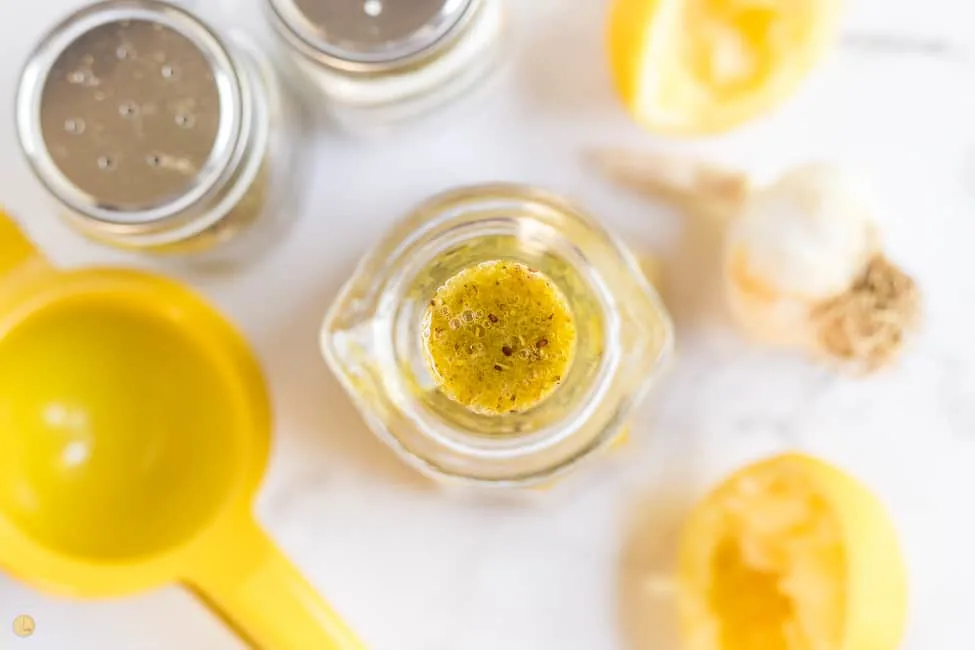 How long does homemade Italian Dressing last?
Since half the ingredients act as natural preservatives, you will be amazed how long it keeps well if refrigerated properly.
You can keep it for a few weeks at a time easily. But it will get eaten long before that!
What oil is used salad dressings?
The best oil for Italian dressing is definitely extra virgin olive oil. No one is going to report you to the salad dressing police if you go with something else like avocado oil, but olive oil really is the best. Especially the good stuff.
Many commercial olive oils are not actually 100% olive oil, they are mix of oils. So it is important to look for truly 100% olive oil.
Most importantly, you want it to be extra virgin olive oil. Extra virgin olive oil retains the most flavor and the highest level of healthy fatty acids. So it is the best type of olive oil for Italian dressing by far.
Best vinegar to use for salad dressings
The choice of vinegar used can change the flavor profile so this is where you can get more creative.
For a lighter dressing I like to use white wine vinegar. If I am serving a hearty salad with strong flavors like blue cheese, I prefer a red wine or balsamic vinegar.
I like to use this Homemade Italian Dressing Recipe for a variety of dishes so I use a white wine vinegar to keep it simple.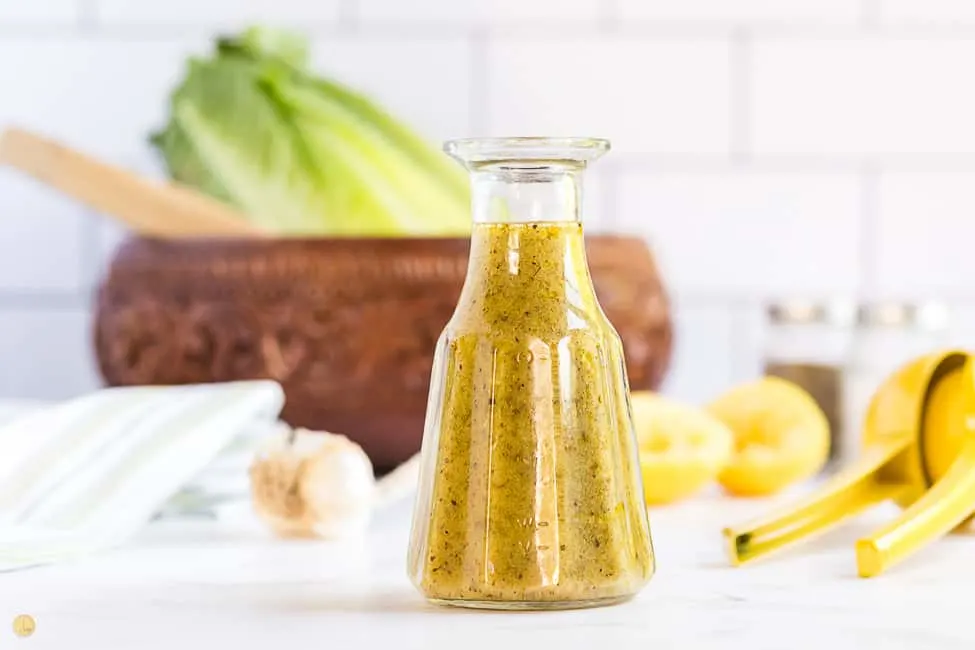 What is the best Italian Dressing?
The best Italian dressing has a nice balance of olive oil and vinegar.
The richness of the oil doesn't overwhelm and coat the taste buds because the vinegar cuts it just enough and permits the seasoning to shine through.
A great Italian dressing should coat everything with flavor but not be so saucy that it might as well be a soup.
I love this on any salad and served with a plate of pasta covered in Homemade Meat Sauce or grilled chicken with a side of Pesto Rice.
Is this recipe good for you?
If you use a good extra virgin olive oil then you are already on the right track for the health benefits.
Unrefined extra virgin olive oil is fully of healthy fatty acids and it helps reduce inflammation.
Using honey for sweetness is great but you can use regular sugar if you prefer. Using honey keeps it Paleo.
If you prefer to make it Whole30 or Keto compliant, simply leave out the honey or omit the sugar.
Is it gluten free?
If you make your own Italian dressing from scratch, then by all means it can be gluten free.
Many of the varieties you see on the shelves actually do contain gluten from wheat products. Those are added as thickening agents but they are not necessary.
Another reason to skip the store!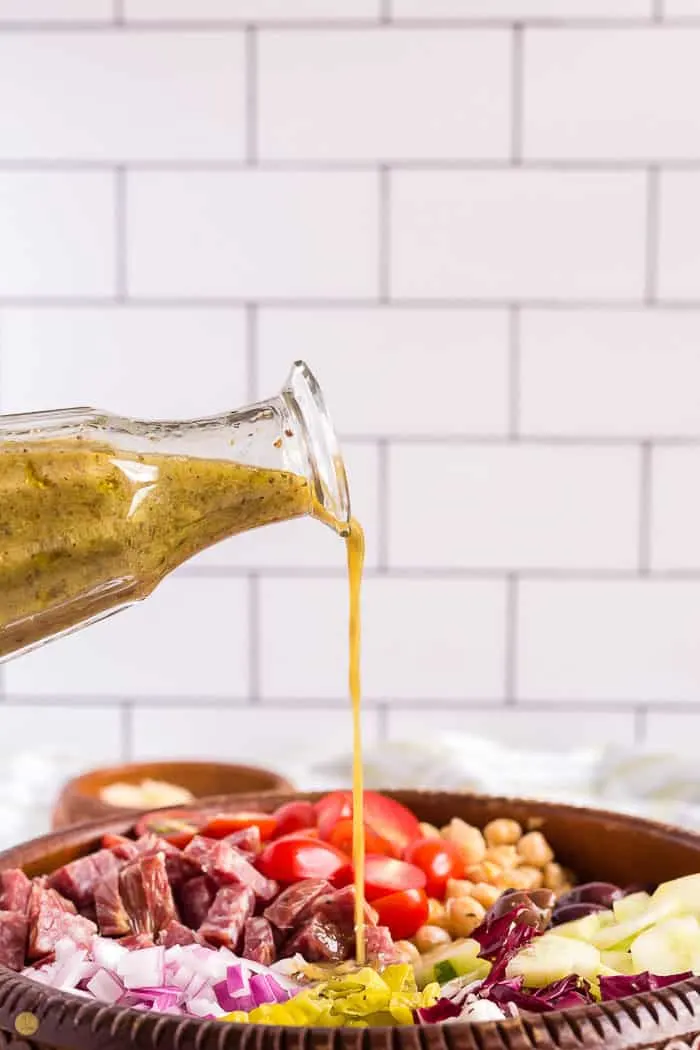 What are good zesty seasonings?
If you want to pick up the za-zing factor in your dressing, then there are a couple of ways to do that.
Horseradish is another option. Of course, the tried and true red pepper flakes will never fail to pick up the zest.
Italian Dressing Seasoning Mix
You don't need to think too much about the dry seasonings if you use an Italian seasoning mix.
You can always make up your own blend and do variations on what herb to highlight in it. So, one month you have an oregano dressing and the next a rosemary one and so on.
How to store homemade salad dressings
Keep the dressing in the refrigerator in an air tight container. I like to use dressing shakers because they have measurements on the side and hold a large batch.
The olive oil will thicken or solidify in the fridge or when chilled. This is perfectly normal!
Just take the dressing out of the fridge a few minutes to come to room temperature before using and it will return to normal.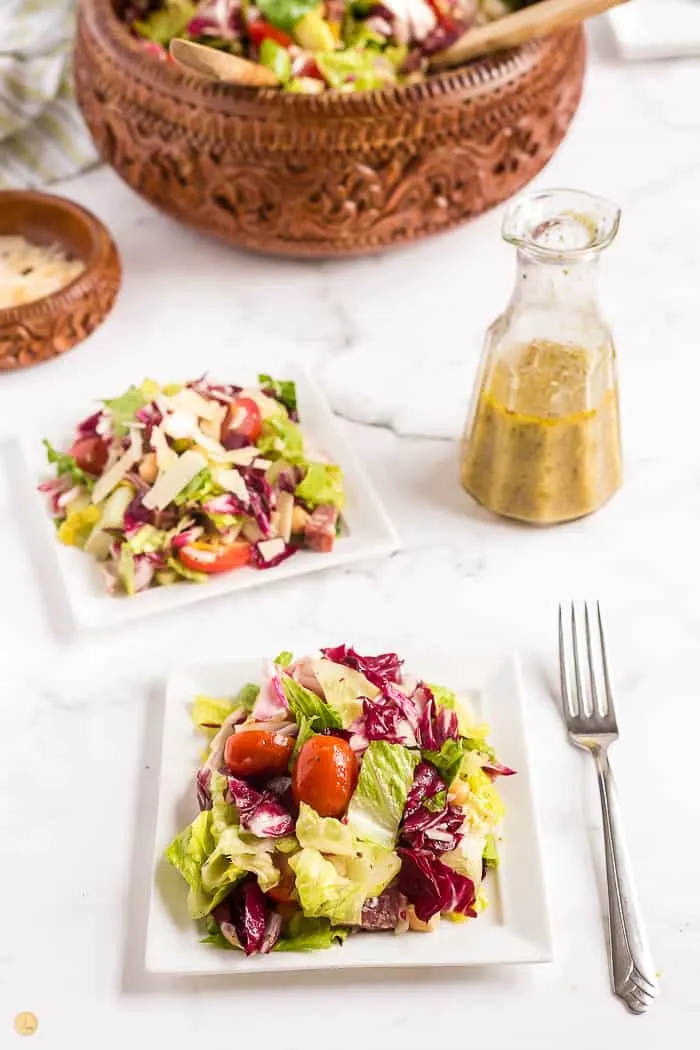 Tips for No Leftovers
Cheese – Adding finely grated fresh Parmesan cheese makes a huge difference. If you grind the block Parmesan super fine, then it dissolves properly and adds smoothness to the texture. Romano is very similar and will work too.
Vinegar – White wine vinegar is perfect for this recipe. Balsamic and Red Wine vinegar will also work.
Lemon Juice – Fresh is best. If you don't have fresh just add a little more vinegar. Bottle juice doesn't really work either.
Spices – Make your own blend of Italian herbs so you have it handy. You can add a little bit of red pepper flakes too if you want it to be a bit more zesty.
Make Ahead – The flavor gets better with age. The herbs and spices get more intense the longer they sit.
Storage – The dressing keeps for weeks as long as you keep it in the fridge. Use a container with a tight fitting lid. If it separates then don't worry because it hasn't gone bad. Just give a good shake and you are back in business.
Olive Oil – Extra Virgin is the best! The better the olive oil used, the richer and more robust the dressing with taste. If you don't have any you can use vegetable oil.
Dress Lightly – Start light when adding the dressing. You don't want to drown or overpower the flavors and textures of the salad. Serve it on the side so everyone can use accordingly.
If you love this recipe as much as I do, please write a five-star review in the comment section below (or on Pinterest with the "tried it" button – you can now add pictures into reviews, too!), and be sure to help me share on facebook!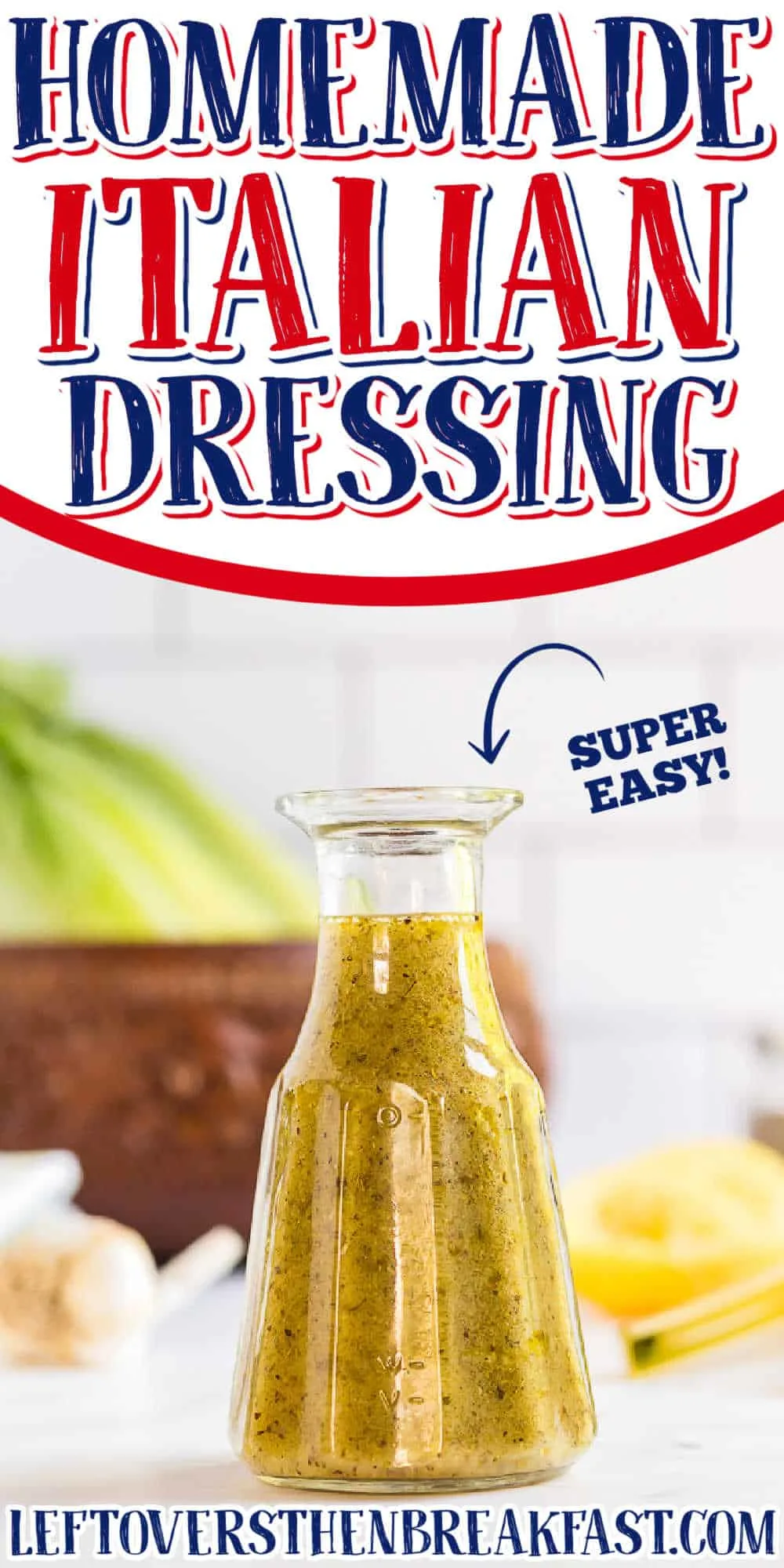 Enjoy this quick and easy, bright and tangy Homemade Italian Dressing on a variety of dishes, especially this Italian Chopped Salad!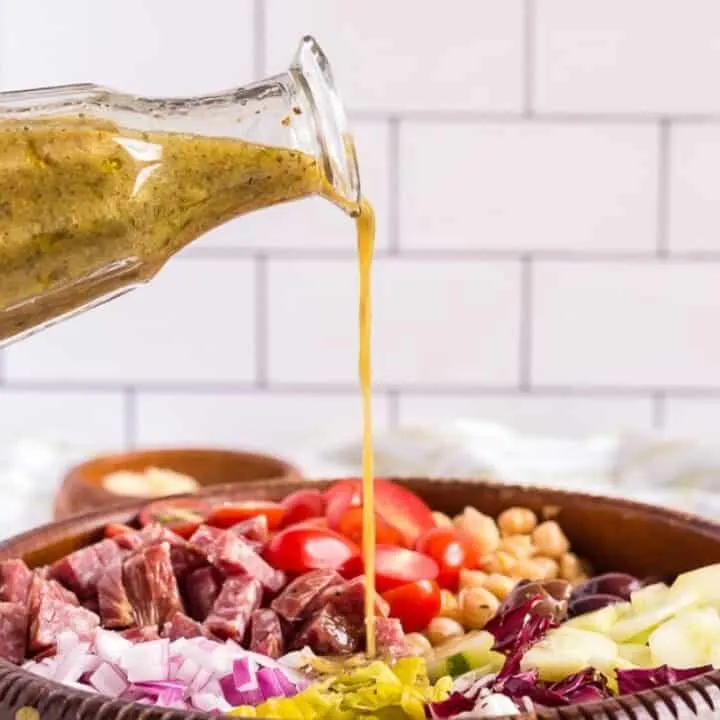 Italian Dressing
This BRIGHT and ZESTY Homemade Italian Dressing uses SIMPLE ingredients and ready in just minutes. Perfect for salads, sandwiches, or as a dipping oil for warm crusty bread!
Ingredients
2 cloves garlic (1 teaspoon minced)
2 tablespoons Dijon mustard
3 tablespoons red wine vinegar
2 tablespoons freshly squeezed lemon juice
1 teaspoon honey
1 teaspoon Italian seasoning
1/3 cup olive oil
salt and pepper
Instructions
Combine minced garlic, mustard, seasonings, vinegar, and honey in a bowl or dressing container. Whisk or shake to combine.
Add the olive oil to the mixture. Shake or whisk to combine.
Taste and season with salt and pepper if desired. Enjoy!
Notes
*If you like this recipe, please leave me a comment and rate it 5 stars. Thank you!
Nutrition Information:
Yield:

16
Serving Size:

1
Amount Per Serving:
Calories:

44
Total Fat:

5g
Saturated Fat:

1g
Trans Fat:

0g
Unsaturated Fat:

4g
Cholesterol:

0mg
Sodium:

70mg
Carbohydrates:

1g
Fiber:

0g
Sugar:

0g
Protein:

0g
This nutrition information was generated via a third party, Nutritionix, and can not be held liable for any discrepancies in the information provided.
More Easy Salad Dressings
LeftoversThenBreakfast.com. Content and photographs are copyright protected. Sharing of this recipe is both encourages and appreciated. Copying and/or pasting full recipes to any social media is strictly prohibited.