Homemade Potato Salad is perfect for that spring BBQ, picnic, or birthday party!
Skip the last-minute run to the store and whip up this easy and simple side dish that everyone loves.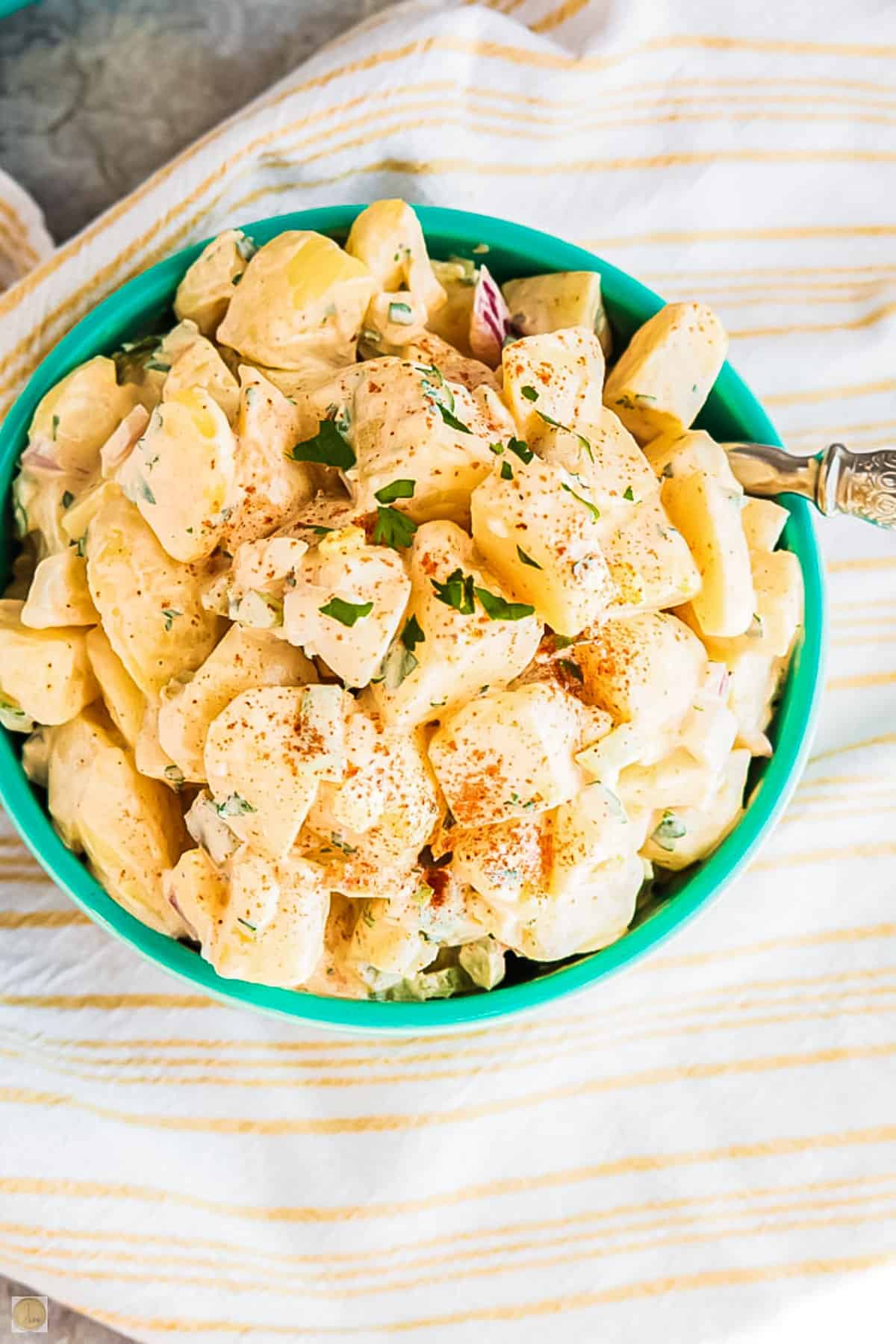 If you'd rather skip my essential cooking tips and tricks and get straight to this delicious recipe – simply scroll to the bottom of the page where you can find the printable recipe card.
Worried about making homemade potato salad? Do not fear!
This potato salad recipe is easy, quick, and will leave you saying "Ohh-mah-gosh!"
Not to mention, you will hold your head high when everyone comments that it's the best homemade potato salad EVER.
These tender potatoes and creamy dressing are the perfect match to any BBQ sandwich, a refreshing drink, and some sunshine!
Be sure to check out the links at the bottom of this post for some of my favorite ways to pair this delicious comfort food!
This post may contain affiliate links. As an Amazon Associate, I earn from qualifying purchases. Read my disclosure policy here.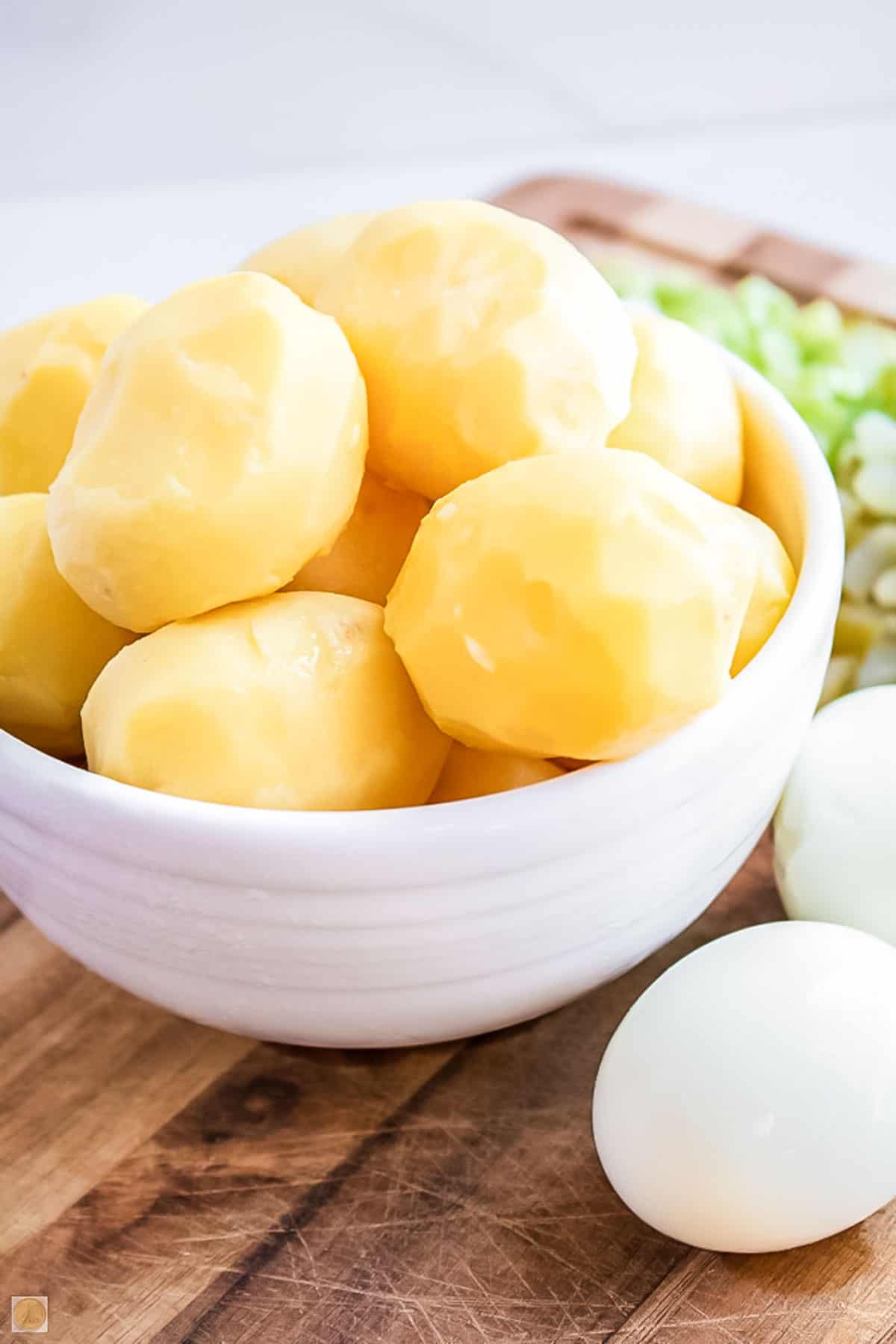 POTATO SALAD INGREDIENTS
potatoes
eggs
celery
dill pickles
red onion
mayonnaise
sour cream
mustard
apple cider vinegar
various spices
Potatoes – Smaller ones cook faster but feel free to peel and chop up larger ones to make them cook faster.
Eggs – I use large eggs for this recipe. If you are like me you like to hard boil your own but if you are pressed for time, buy them already cooked. They are a little more expensive but great in a pinch.
Pickles – This recipe uses dill pickles but feel free to use relish. I am a dill pickle girl but I know there are those of you like that like sweet pickle relish. Use your favorite:)
Mayonnaise – I use a mixture of mayo and sour cream but if you want to use Miracle Whip, or some other salad topping, like Duke's feel free!
Mustard – Dijon is my favorite but good old fashioned yellow mustard works just fine!
BEST POTATOES FOR POTATO SALAD
The quickest way to find good potatoes for potato salad is to look for waxy potatoes such as Yukon Gold Potatoes or Red Potatoes.
These potatoes have the least amount of starch, retain their shape well when boiled, and if you're short on time their thin skin makes peeling optional!
Looking for more comfort food? Follow LTB on Pinterest!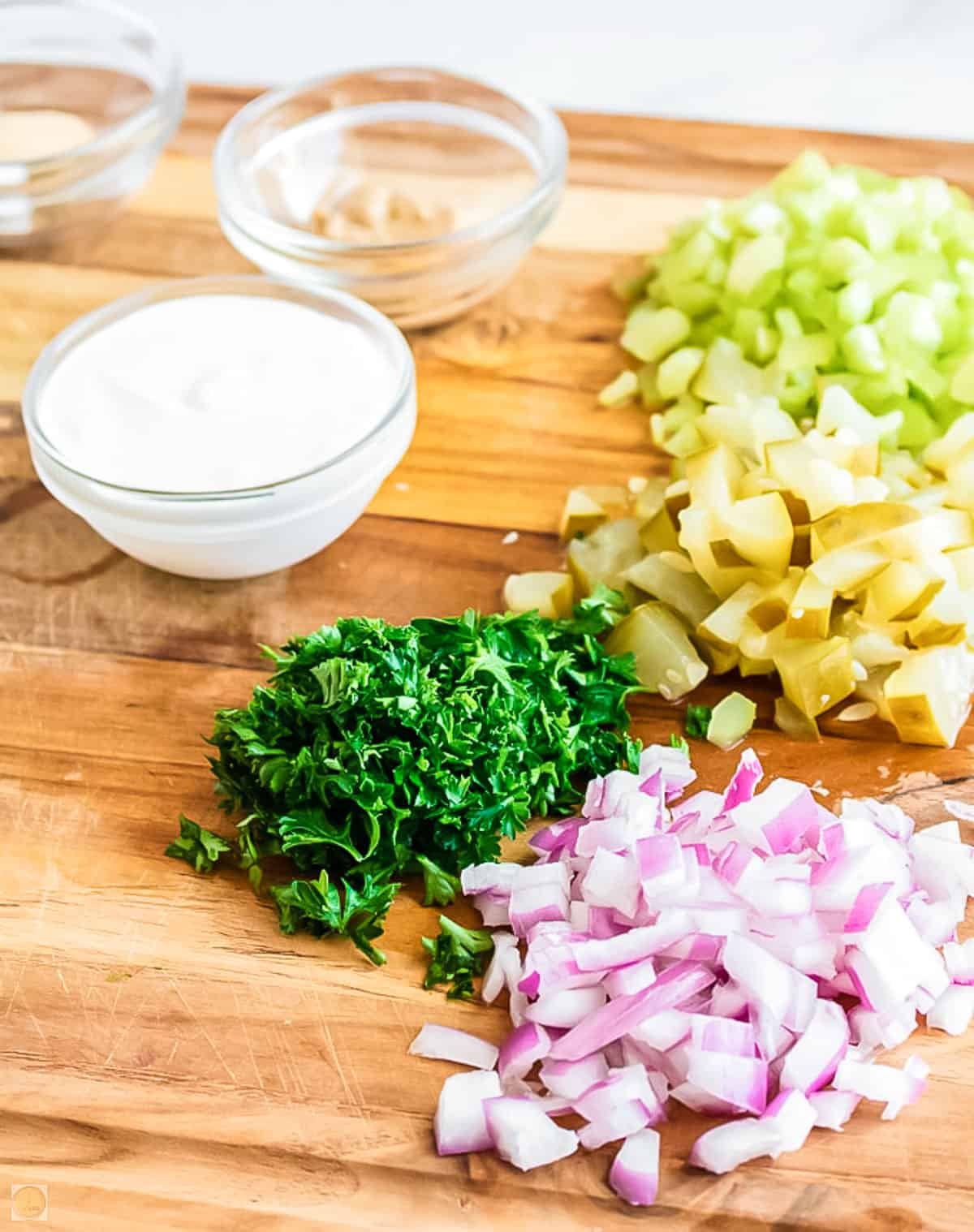 HOW TO MAKE THE BEST POTATO SALAD RECIPE
ONE: Cook the potatoes: Add the potatoes to a large pot and cover with water.
Heat to boiling and then reduce heat to a simmer and cook for 15-20 minutes or until potatoes are just fork tender.
Remove from burner and drain water and then add to an ice water bath to cool. Once cool, peel the potatoes and then dice them
TWO: Hard boil the eggs: Add eggs to a saucepan and cover with water. Add ½ teaspoon salt to the water.
Heat to boiling and then turn off the heat and cover the pan and let sit for 12 minutes.
Then, drain the water and transfer the eggs to an ice water bath to cool. Peel and dice the eggs.
Transfer the diced potatoes and eggs to a large bowl and refrigerate while preparing the other ingredients.
THREE: Dice the celery, pickles and onion and chop the parsley. Mix the mayonnaise, sour cream, Dijon mustard, apple cider vinegar, garlic powder and salt and pepper in a small bowl.
FOUR: Add the diced ingredients and chopped parsley to the potatoes and eggs. Add in the mixed dressing. Stir to combine all the ingredients.
Season with salt and pepper if desired. Sprinkle with paprika and garnish with additional parsley.
Cover and refrigerate until ready to serve. Enjoy!
For the full recipe and detailed baking instructions, please see the recipe card at the end of this post.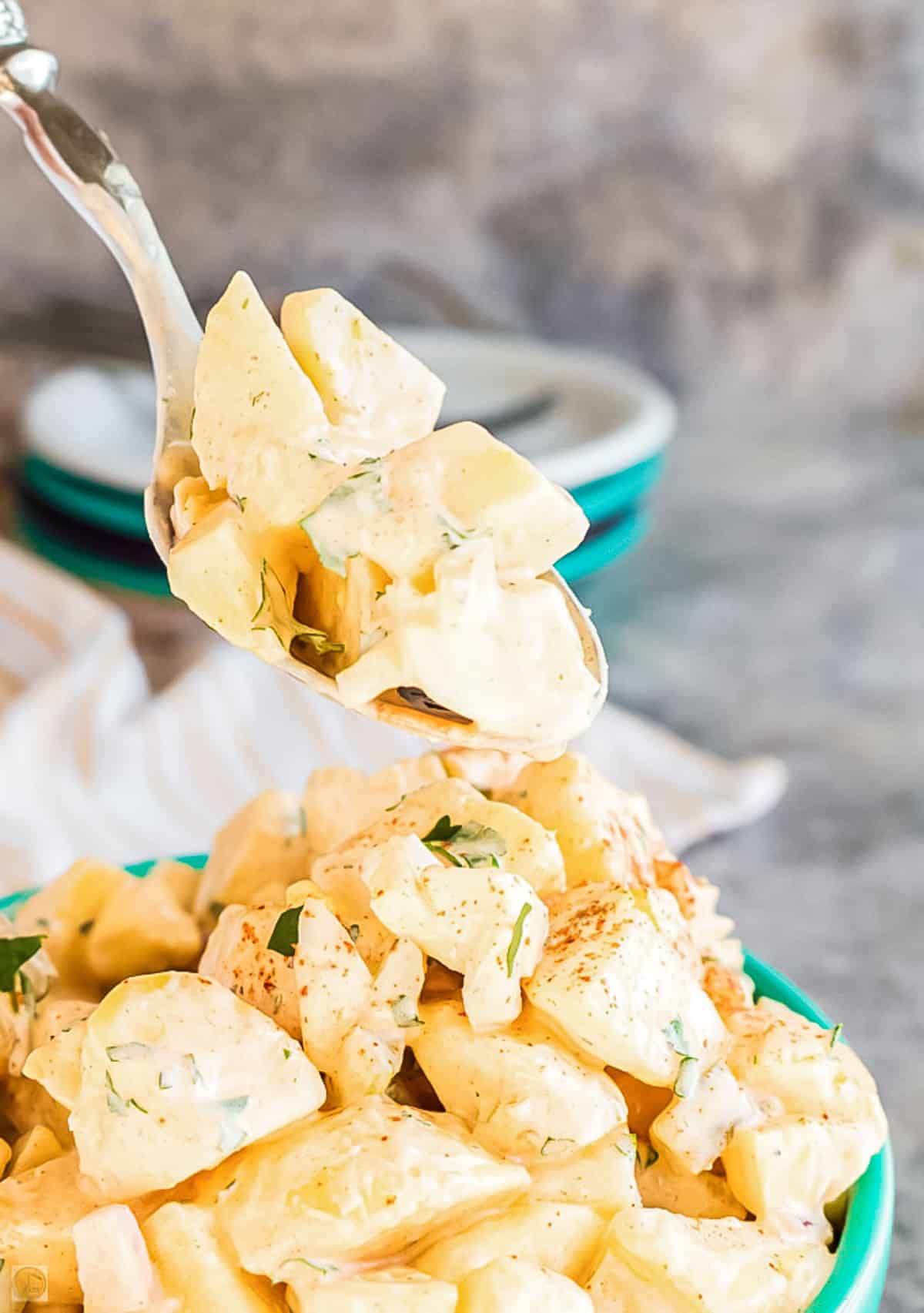 HOW LONG TO BOIL POTATOES FOR POTATO SALAD?
Start with 15 minutes and then check them by carefully poking with a fork. If the potatoes are tender, then they're done. If not, continue checking every minute until they are tender.
This shouldn't take longer than 20 minutes, but keep in mind, larger potatoes will take longer.
HOW CAN I MAKE POTATO SALAD BETTER?
Homemade potato salad is all about FLAVOR. Potatoes are naturally very bland. First of all, adding salt into your boiling water will begin nicely seasoning the potatoes.
When you're combining ingredients, adding in additions such as onion, celery, pickles, herbs & spices really adds to texture and flavor!
Also, making potato salad with an egg, as I do in this recipe, will take it to another level! Prep this recipe a day ahead and let it sit overnight for flavors to absorb for the best homemade potato salad!
HOW LONG IS POTATO SALAD WITH EGG GOOD FOR?
This potato salad with egg recipe will last for 3-5 days, stored in the refrigerator and in an airtight container.
*Potato Salad should be discarded if left out for more than 2 hours at room temperature.
HOW TO KEEP POTATO SALAD FROM GETTING WATERY
A watery potato salad can be caused by mixing the potatoes while they are too hot. Make sure to drain the potatoes well and allow them to cool completely before mixing.
CAN I FREEZE IT?
It is possible to store potato salad in an airtight container in the freezer though I wouldn't recommend it.
When kept in the freezer, potato salad should keep longer than a week, even up to several months. However, when frozen and then defrosted, the mayonnaise, eggs and sour-cream tend to degrade quickly and the consistency of the potato salad will definitely change.
HOW TO STORE LEFTOVERS?
This potato salad recipe may be stored in an airtight container, in the refrigerator for 3-5 days.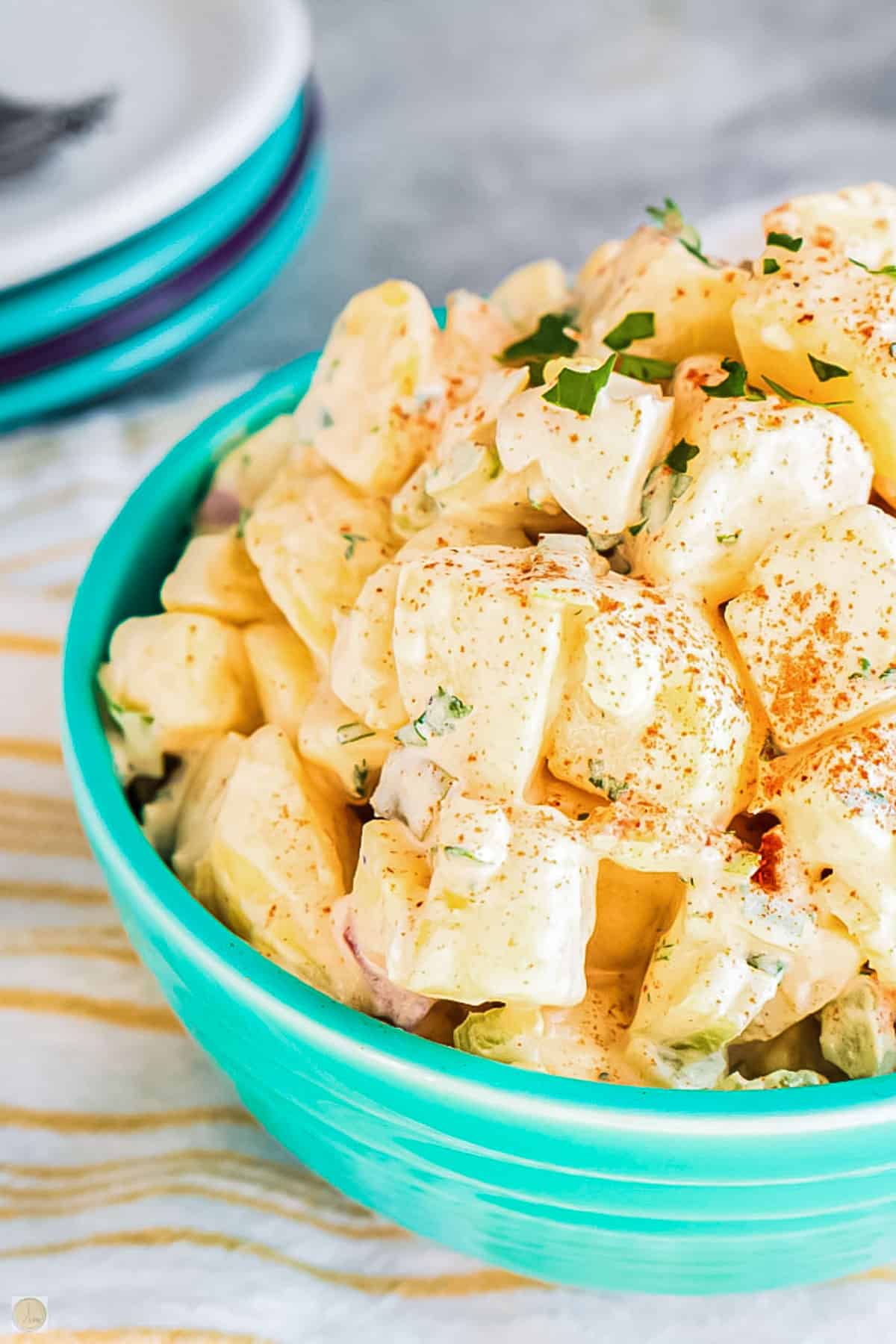 TIPS FOR NO LEFTOVERS
To nicely season the potatoes, add 1 Tbs of salt to potato cooking water.
To help the potatoes hold their shape, add a little vinegar to the cooked potatoes.
If you're in a pinch for time, place the eggs and potatoes gently in a bowl of cold water once they're done cooking, to chill quicker.
Instead of mayo, Greek yogurt, or sour cream, go ahead and invite Miracle Whip to the party for ultra-creaminess!
Since the best potato salad is all about FLAVOR, add in some celery seed, mustard, and any other crunchy stuff (i.e. celery, pickles, onion) you love to really give it a WOW!
If you're not a fan of dill, don't be afraid to ditch the dill and switch it up with sweet relish, bread & butter pickles or even get a little zippy and throw some spicy pickle in there!
Add plenty of fresh herbs such as parsley, dill, basil, and/or chives to make this potato salad extra savory. You really can't go wrong with fresh herbs!
For the BEST flavor, seal and refrigerate overnight!
If you love this recipe as much as I do, please write a five-star review in the comment section below (or on Pinterest with the "tried it" button – you can now add pictures into reviews, too!), and be sure to help me share on facebook!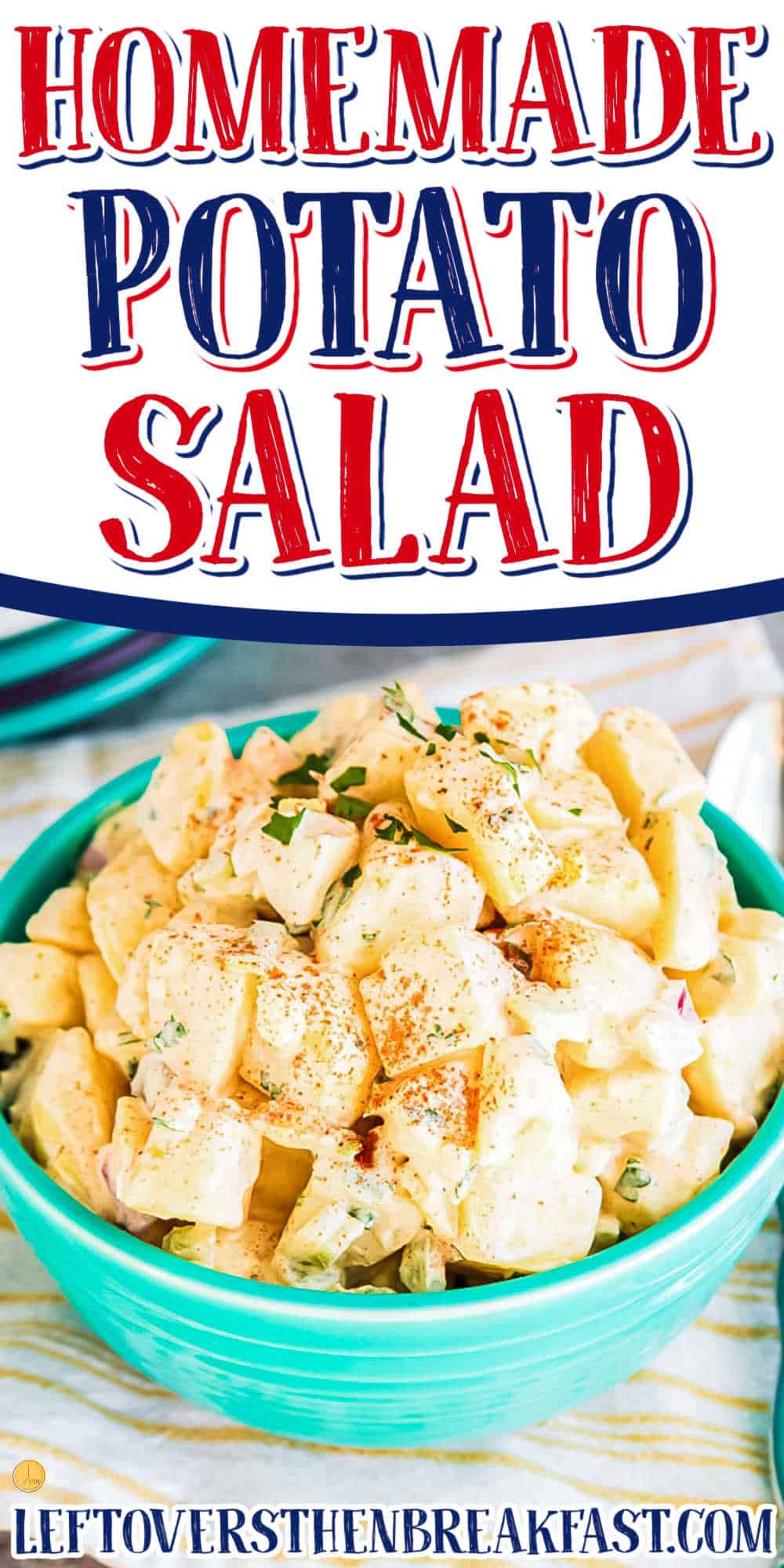 Click the links below for some of my favorite ways to pair this easy potato salad and make your party menu or gathering complete!
MORE EASY RECIPES
THE BEST HOMEMADE POTATO SALAD
@LeftoversThenBreakfast.com. Content and photographs are copyright protected. Sharing of this recipe is both encourages and appreciated. Copying and/or pasting full recipes to any social media is strictly prohibited.