Southern Baked Spaghetti is a comforting dish bursting with flavor. Tender spaghetti is mixed with a hearty homemade meat sauce, smothered in a creamy ricotta filling, and topped off with melty cheese to make a meal that the whole family will love!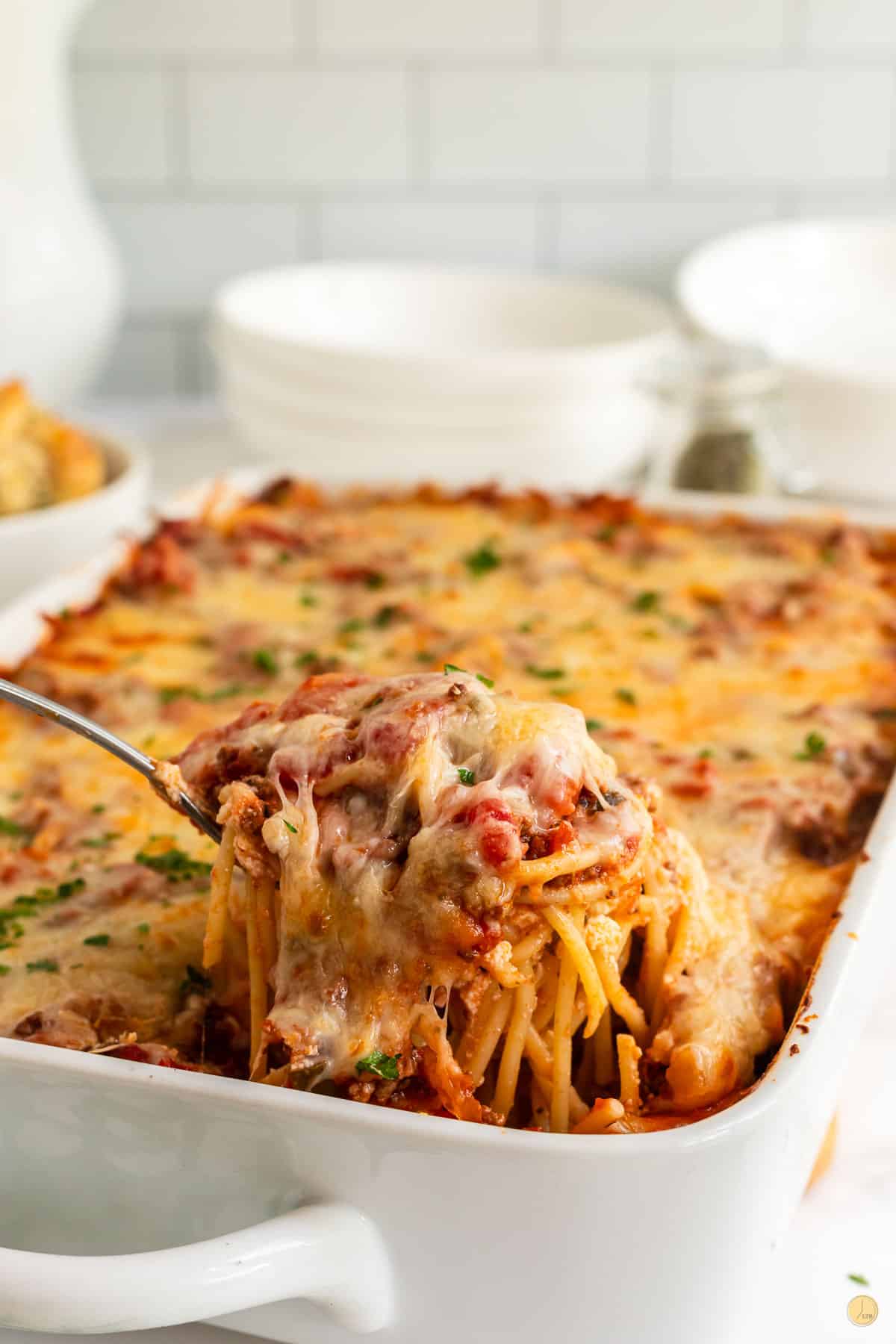 If you'd rather skip my essential cooking tips and tricks and get straight to this delicious recipe – simply scroll to the bottom of the page where you can find the printable recipe card.
Southern Baked Spaghetti is a classic comforting casserole bursting with flavor!
This easy, comforting meal, has all the ingredients of a hearty and filling Italian inspired main dish.
Tender pasta, coated in a savory homemade meat sauce, smothered in a creamy ricotta filling seasoned with traditional Italian spices, and topped with melt-y cheesy that's browned to a crispy perfection.
Truly this dish will make you smile with every bite!
The best part is you can make a double batch and freeze one pan to pull out and heat up on those busy weeknights when you are pressed on time but craving a homemade comforting dish.
And trust me, once you make this casserole, it will quickly work its way into your family's weeknight menu rotation.
This post may contain affiliate links. As an Amazon Associate, I earn from qualifying purchases. Read my disclosure policy here.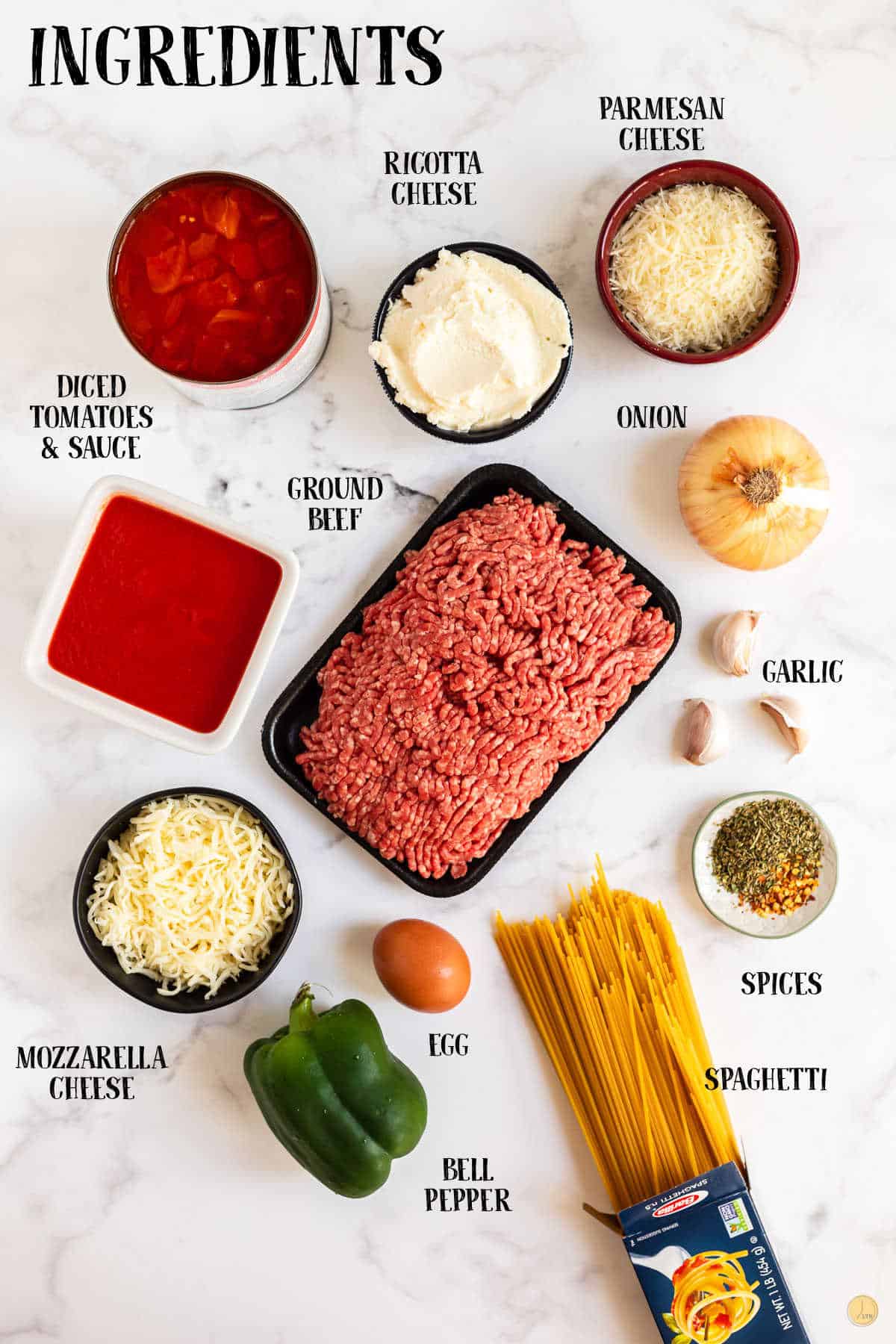 SOUTHERN BAKED SPAGHETTI INGREDIENTS
spaghetti
ground beef
onion
green bell pepper
garlic
olive oil
egg
tomatoes
ricotta cheese
shredded cheese
Spaghetti – I like a regular spaghetti noodle for this dish but you can use any shape that you like. Medium or small shells work great for this too.
Ground beef – I like to use ground chuck but you can also substitute ground turkey!
Bell pepper – Green bell pepper is the usual for this dish but if you want it sweeter, feel free to use a red, orange, or yellow one. Or leave it out all together.
Italian seasoning – Homemade Italian seasoning is the best but you can use your own combination of spices.
Tomatoes – Use a combination of sauce and diced tomatoes. Depending on how thick you like your sauce you can drain the diced tomatoes before adding to the sauce.
Ricotta cheese – I like whole milk ricotta for this but use your favorite. You can also substitute cottage cheese. My Ma always used cottage cheese because it was cheaper and easier to find.
Shredded cheese This recipe uses a combination of mozzarella cheese and parmesan cheese.
Looking for more comfort food? Follow LTB on Pinterest!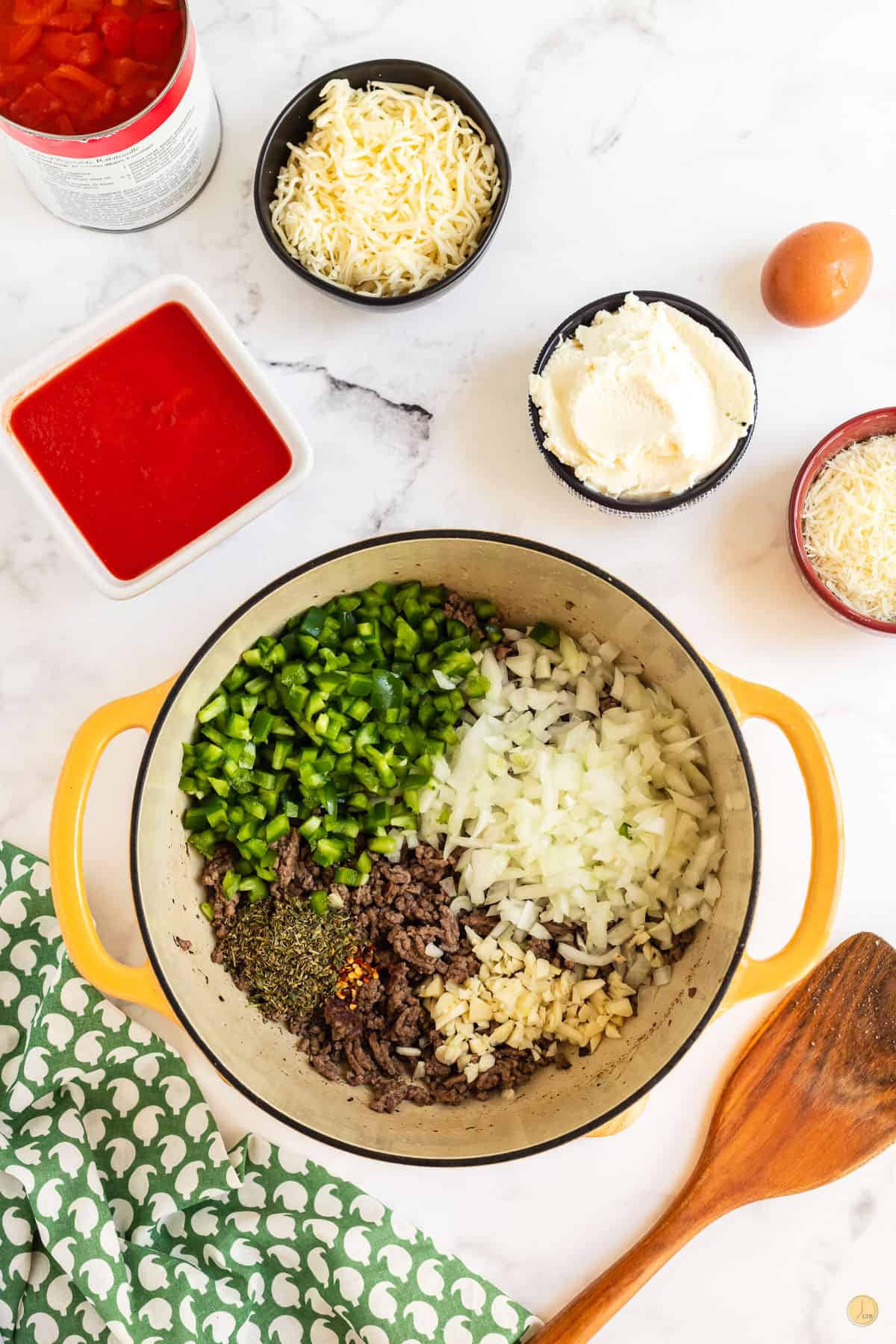 HOW TO MAKE SOUTHERN BAKED SPAGHETTI
MAKE THE SAUCE: In a large pot or deep large skillet, brown the beef and onion along with the bell pepper over medium heat. Add the garlic, spices, tomatoes, and sauce. Bring to a boil and reduce to a simmer for 30 minutes.
PREPARE THE CHEESE FILLING: In a medium bowl, combine the ricotta cheese, parmesan, and egg. Mix to combine and season with salt and pepper if desired.
COOK THE SPAGHETTI: In a large pot, bring 6 quarts of water to a boil. Salt the water and add the noodles. Cook the spaghetti to al dente (according to package directions) and drain. Do not rinse. Combine the noodles with the meat sauce reserving 2 cups of sauce.
ASSEMBLE SPAGHETTI CASSEROLE: Preheat oven to 375F. In a deep 9×13 baking dish, add 1 cup of spaghetti sauce to bottom of baking dish and spread. Place 1/3 of the spaghetti mixture in the bottom in an even layer. Add 1/2 the cheese mixture and spread in a even layer.
Add another 1/3 of the spaghetti mixture and top with the remaining ricotta mixture. Top with remaining spaghetti. Pour remaining 1 cup sauce over the top. Top with mozzarella cheese and bake 30 minutes or until bubbly and the cheese is melted. Remove from the oven and let rest 5 minutes. Serve warm with garlic knots!
For the full recipe and detailed baking instructions, please see the recipe card at the end of this post.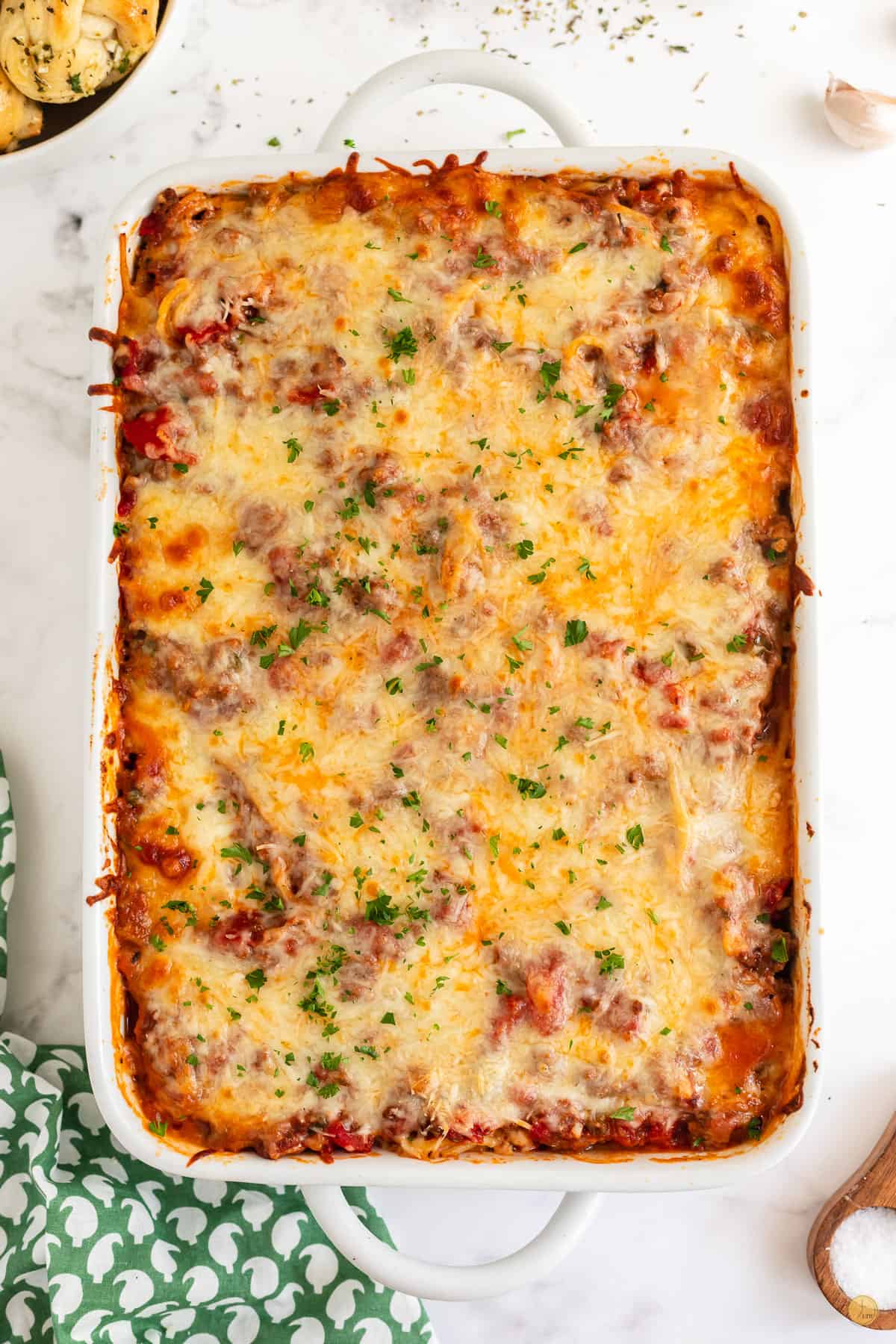 CAN I FREEZE IT?
This southern baked spaghetti is the perfect meal to make ahead or double the batch and throw one in the freezer for those busy nights!
To freeze this spaghetti lasagna, use a disposable aluminum pan (or freezer to oven safe) and prepare the casserole according to directions on the recipe card, BUT DO NOT BAKE. After you prepare the dish, cover the pan with foil and place it in the freezer.
When you're ready to eat, bake uncovered for 40 minutes at 375 degrees or until bubbly and browned on the top.
CAN I MAKE IT AHEAD OF TIME?
Yes, this is the perfect meal to make ahead! Prepare casserole according to direction on the recipe card, BUT DO NOT BAKE. After you prepare the dish, cover the pan with foil and place in the fridge up to 3 days.
When you are ready to eat, bake uncovered for 40 minutes at 375 degrees or until bubbly and browned on the top.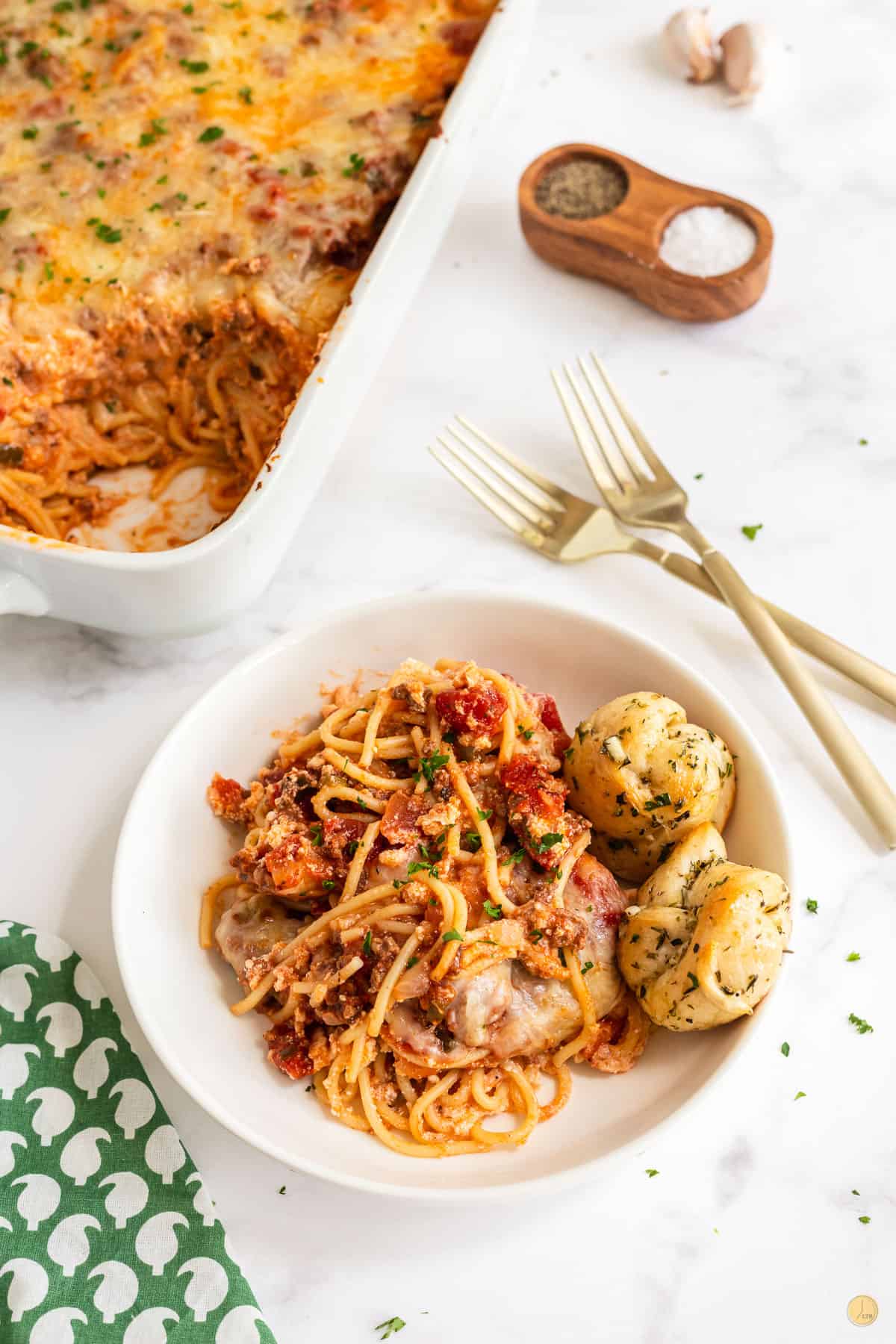 HOW TO STORE LEFTOVERS
Leftovers will last in the fridge for 3-5 days in an airtight container or up to 3 months in the freezer.
SUBSTITUTIONS
Ground beef: If you aren't a fan of ground beef, feel free to use ground turkey, ground pork, or even ground lamb
Cheese: Try using a different cheese in place of mozzarella. Romano, parmesan or provolone are all tasty as well. You can also replace the ricotta with cream cheese or cottage cheese!
Pasta: I prefer using spaghetti in this recipe but feel free to use angel hair for a thinner long noodle or bucatini if your prefer a thicker noodle,
Herbs: Italian seasoning is my favorite for this recipe. But use whatever herbs you like best. If you have fresh herbs, feel free to use those instead of dried ones.
TIP: If you are using fresh herbs, be sure to use double the amount as you would dried herbs due to the high water content. They will cook down a lot.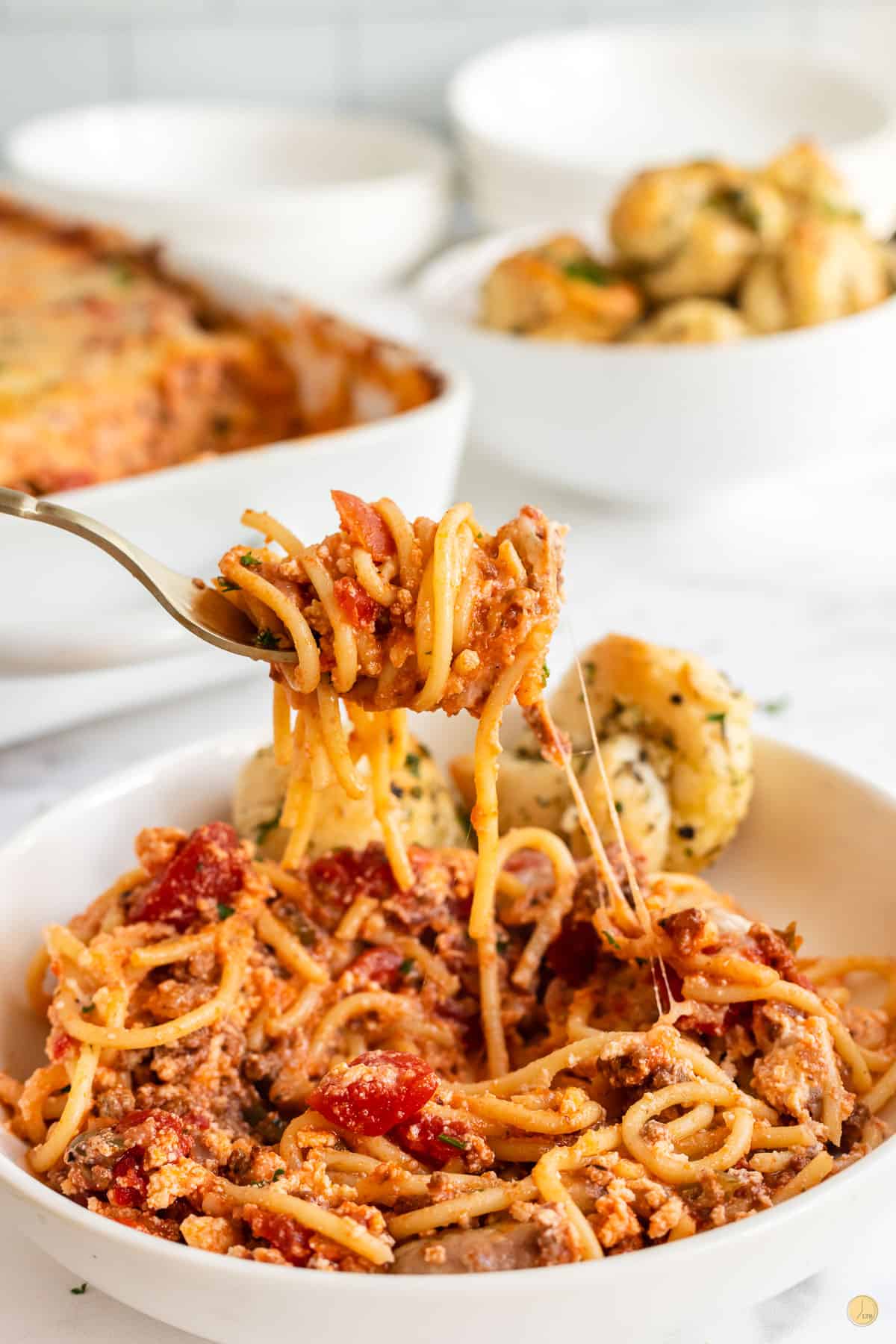 TIPS FOR NO LEFTOVERS
To keep the texture of your spaghetti firm, slightly undercook, just to al dente as they will continue to cook when they go into the oven.
For extra smooth melted cheese, shred your own rather than buying the pre-shredded bags of cheese. Most pre-shredded bags of cheese are coated with anti-caking agents that do not melt as well and can throw off the taste.
If you aren't a fan of ricotta or cannot find it, replace with cream cheese or cottage cheese.
Double the recipe and make a second batch to freeze later!
If you love this recipe as much as I do, please write a five-star review in the comment section below (or on Pinterest with the "tried it" button – you can now add pictures into reviews, too!), and be sure to help me share on facebook!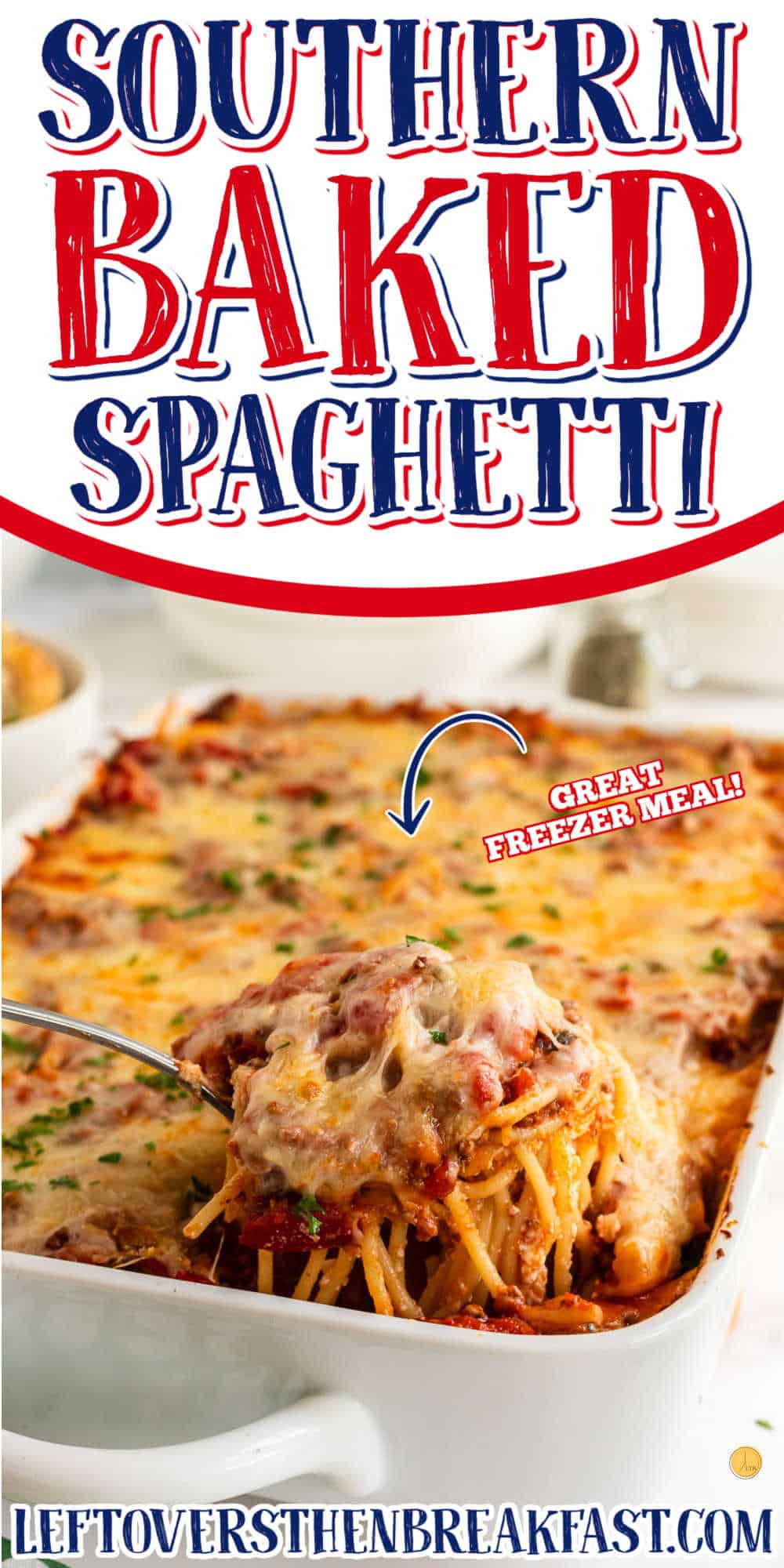 This cheesy, easy baked spaghetti, is the perfect busy weeknight meal for the whole family. Easy to make, freezer friendly, and oh-so-comforting there's no way you're going to be able to eat just one plateful!
MORE EASY RECIPES
SOUTHERN BAKED SPAGHETTI
@LeftoversThenBreakfast.com. Content and photographs are copyright protected. Sharing of this recipe is both encourages and appreciated. Copying and/or pasting full recipes to any social media is strictly prohibited.