Homemade Italian Meat Sauce is perfect for everyone's favorite pasta night dinner. RICH, HEARTY, and full of FLAVOR, everyone will be asking you for this recipe!
Make it over the weekend and freeze for a quick weeknight meal!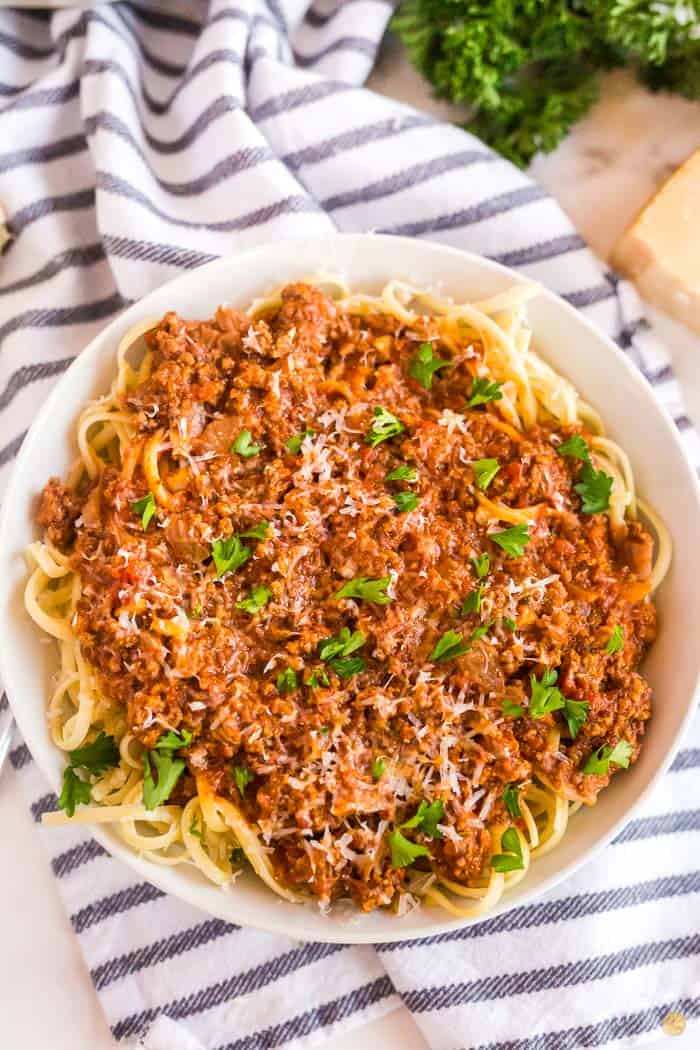 If you'd rather skip my essential cooking tips and tricks and get straight to this delicious recipe – simply scroll to the bottom of the page where you can find the printable recipe card.
ITALIAN MEAT SAUCE
Who loves some awesome comfort food?!?
Nothing says comfort food like a bowl of pasta covered in a hearty, rich, thick, and robust meat sauce.
AMIRIGHT?
Throw in some crusty bread or garlic covered breadsticks and I am in HEAVEN!
But before I can go into the details of this family recipe, we need to clear up some of the lingo used to describe this meat sauce.
WHAT IS ITALIAN MEAT SAUCE CALLED?
If you want the authentic Italian word, it would Ragù. Technically, a ragù is a sauce made with meat.
IS BOLOGNESE THE SAME AS MEAT SAUCE?
Bolognese is a variation ragù from the city of Bologna in Italy but with a slight difference. A bolognese sauce is a meat sauce but finished with milk or cream.
So really it's a "creamy" meat sauce. But this meat sauce recipe is strictly a tomato based sauce with minimal extra ingredients.
This allows the meat and tomatoes to really shine!
By the way, the term "Sunday Gravy" is not an authentic Italian word for sauce. It may have been started by Italian American immigrants in a way to assimilate and introduce American's to Italian cuisine.
Bunch of Godfather fans out there? I AM!!
This post may contain affiliate links. As an Amazon Associate, I earn from qualifying purchases. Read my disclosure policy here.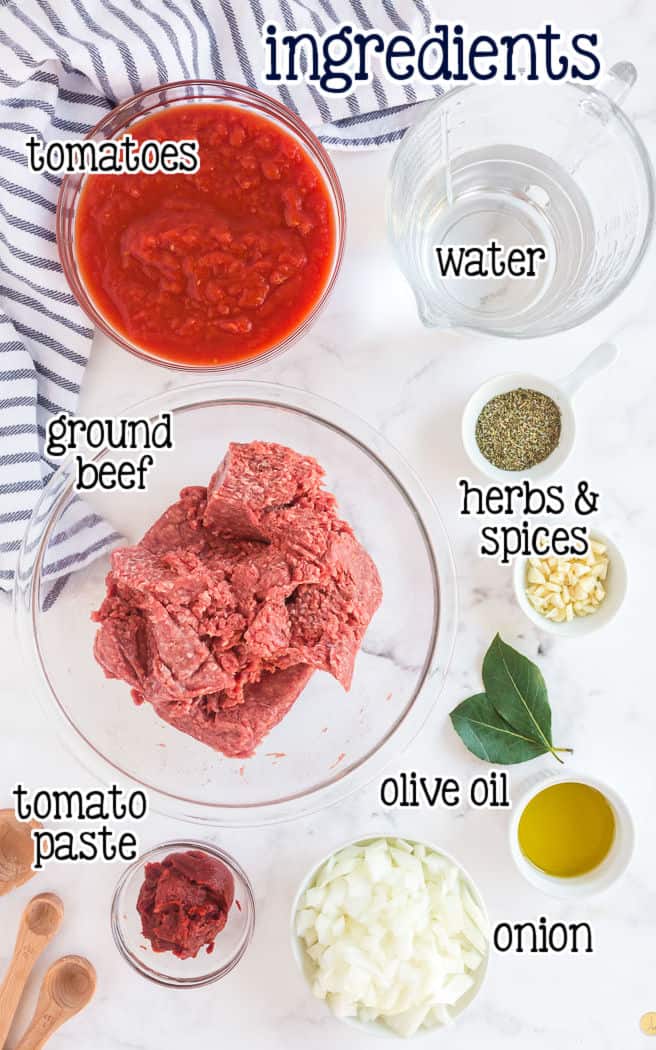 This recipe doesn't have a lot of extra ingredients because the ground beef and tomatoes are the star of the show.
Don't think it will be bland because the slow simmer of this sauce really brings the ingredients to life!
ITALIAN MEAT SAUCE INGREDIENTS
olive oil
onion
garlic
spices
ground beef
tomatoes
VARIATIONS ON MEAT SAUCE RECIPE
Olive oil: Use pure olive oil because it is a blend of extra virgin and refined oil. It has a higher smoke point which is better for cooking over medium or high heat.
Extra virgin olive oil is best for finishing and for salads but burns easily.
Tomatoes: I only use San Marzano tomatoes because they have the best taste and texture. Tomato paste is a good way to get concentrated tomato flavor without changing the overall volume.
Spices: I use homemade Italian seasoning and bay leaves in my spaghetti sauce. If you don't have any in your spice cabinet, feel free to use mostly oregano with a hint of rosemary. I know everyone loves basil but I don't.
Meat: I like to use 93/7 ground chuck, but feel free to use ground turkey, pork, or veal. Try Italian sausage if you are feeling adventurous!
Sugar: This is a hot topic issue in my house. A lot of people add sugar to their sauce to cut the acidity of the tomatoes.
I am against it entirely but if you need to add a little sweetness or temper the tomatoes, I suggest adding some carrots to the sauce. They will do the trick!
Looking for more comfort food? Follow LTB on Pinterest!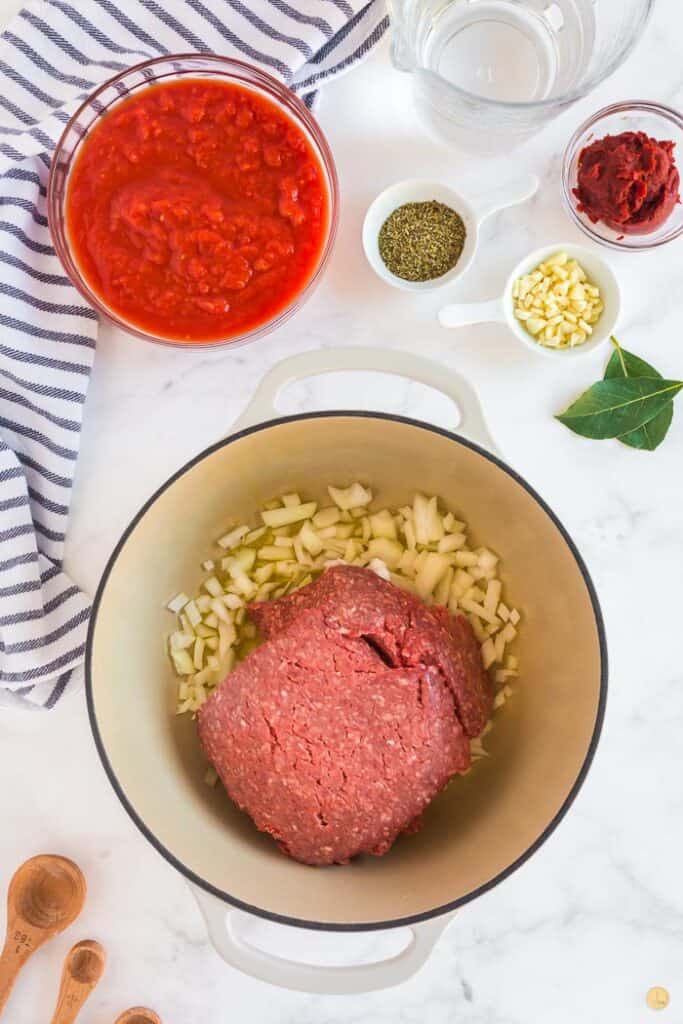 HOW TO MAKE ITALIAN MEAT SAUCE FROM SCRATCH
ONE: Preheat the oven to 400F. In a large pan over medium high heat, add olive oil, onion, and ground beef.
TWO: Cook until the ground beef is cooked through and the onion is tender, using a spoon to break up the ground beef. Add the garlic, bay leaves, Italian seasoning, and tomato paste. Stir to combine.
THREE: Stir in crushed tomatoes and water. Bring to a low boil. Remove from heat and place in the preheated oven, uncovered.
FOUR: Bake for 1 hour stirring a few times while baking. Sauce should be bubbly and reduced in volume slightly. Remove and let cool.
FIVE: Serve immediately over your favorite pasta or spaghetti squash. Garnish with parsley and grated cheese.
For the full recipe and detailed baking instructions, please see the recipe card at the end of this post.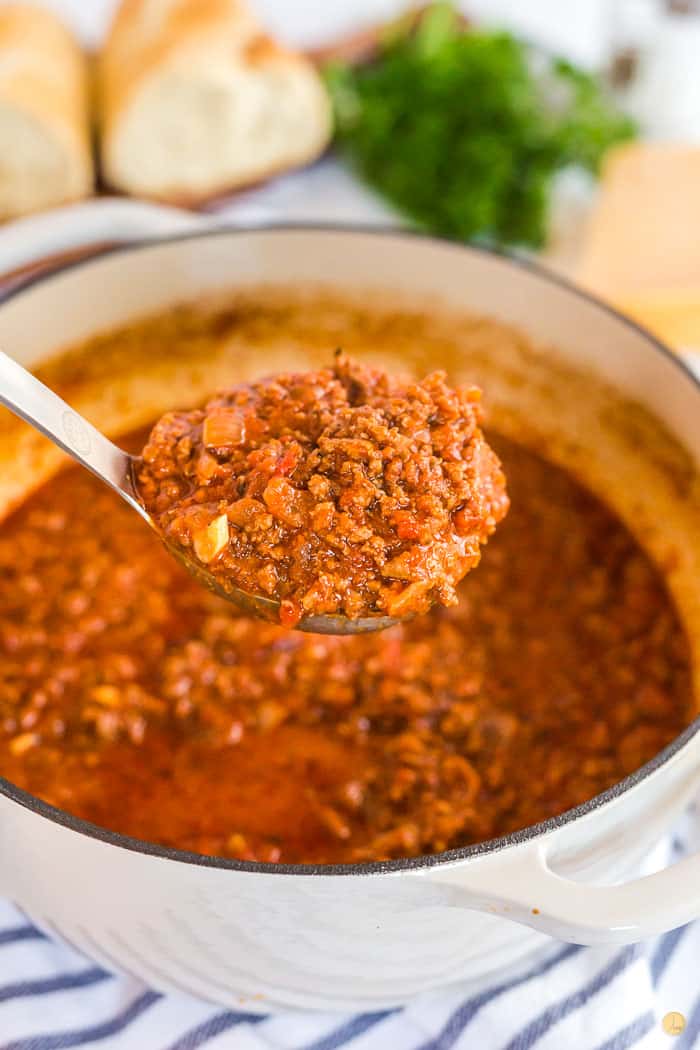 HOW LONG SHOULD I SIMMER MEAT SAUCE?
I simmer my sauce in the oven for an hour but feel free to go another hour. It will decrease the volume a bit more and intensify the flavor of the sauce.
Just be sure to stir it so it doesn't stick.
CAN I MAKE IT IN THE SLOW COOKER OR INSTANT POT?
You certainly can make it in the slow cooker. Cook the sauce as directed but instead of putting it in the oven, add the sauce to your crock pot and cook on high for 4 hours or on low for 3 hours.
Because the crock pot has a lid on it, the sauce will not reduce in volume.
For the instant pot, cook the meat and onions on the sauté function, cover and cook on high pressure for 30 minutes.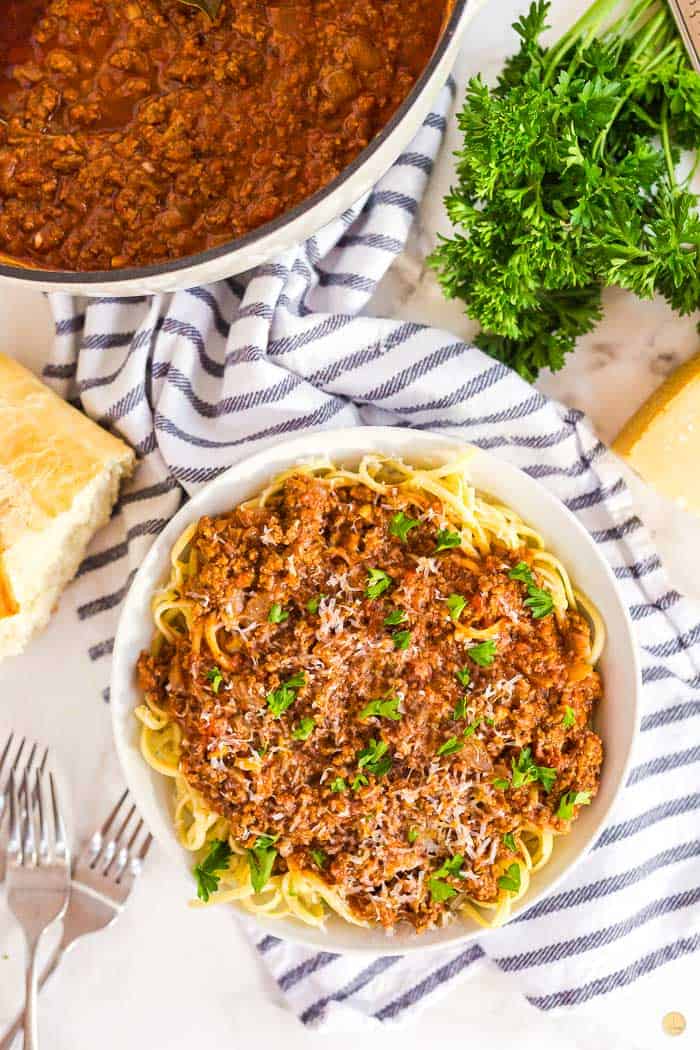 WHAT KIND OF PASTA IS BEST WITH THIS SAUCE?
Spaghetti and meat sauce is a thing but really spaghetti noodles are not the best pasta for this ground beef pasta sauce recipe.
So what noodles should I put this delicious sauce on?
A thick and hearty sauce needs a sturdy noodle to handle it. But not just any noodle because shape matters!
You need a pasta noodle needs texture in the form of ridges on the outside which helps the thick sauce cling to the noodle instead of sliding off.
Make sure you cook your pasta in salted water.
BEST PASTA NOODLES TO USE
Papperdelle – flat and wide egg noodle shape that is perfect for this sauce.
Fettuccini – flat and wide noodle that will work well too
Rigatoni – flat, has ridges, and the hole through the center is wide enough to allow some sauce to sneak inside, which is what you want!
PASTA NOODLES THAT ARE OK BUT NOT THE BEST FOR MEAT SAUCE
Penne – ridged but not wide wide enough to catch sauce
Ziti – same as penne with no ridges
Spaghetti – too thin and round so meat sauce slides off easily
STORING HOMEMADE SPAGHETTI MEAT SAUCE
This sauce will last for 5 days in the refrigerator. Because this recipe makes a large amount so I like to freeze most of it for later on.
I prefer to store my sauce in 2 cup portions in these freezer containers. Or you can vacuum seal it in bags.
Freezing tip: store the bags flat while it freezes. They will be easier to stack or store upright without taking up too much space! Store it in the freezer for up to 4 months.
TIPS FOR NO LEFTOVERS
This ragu is a great opportunity to sneak in some vegetables. A little carrot and celery when you are sweating the onions is ok. Some green pepper is great too!
1/4 tsp crushed red pepper flakes while adding the spices gives the sauce a little kick.
use stewed or fire roasted diced tomatoes instead of the crushed one for a different flavor twist.
use the heaviest bottom pot you have. I love my cast iron pan or dutch oven because they hold the heat the best.
spaghetti meat seasoning is Italian seasoning
add a little red wine to deglaze the pan before you add the tomatoes and water.
If you love this recipe as much as I do, please write a five-star review in the comment section below (or on Pinterest with the "tried it" button – you can now add pictures into reviews, too!), and be sure to help me share on facebook!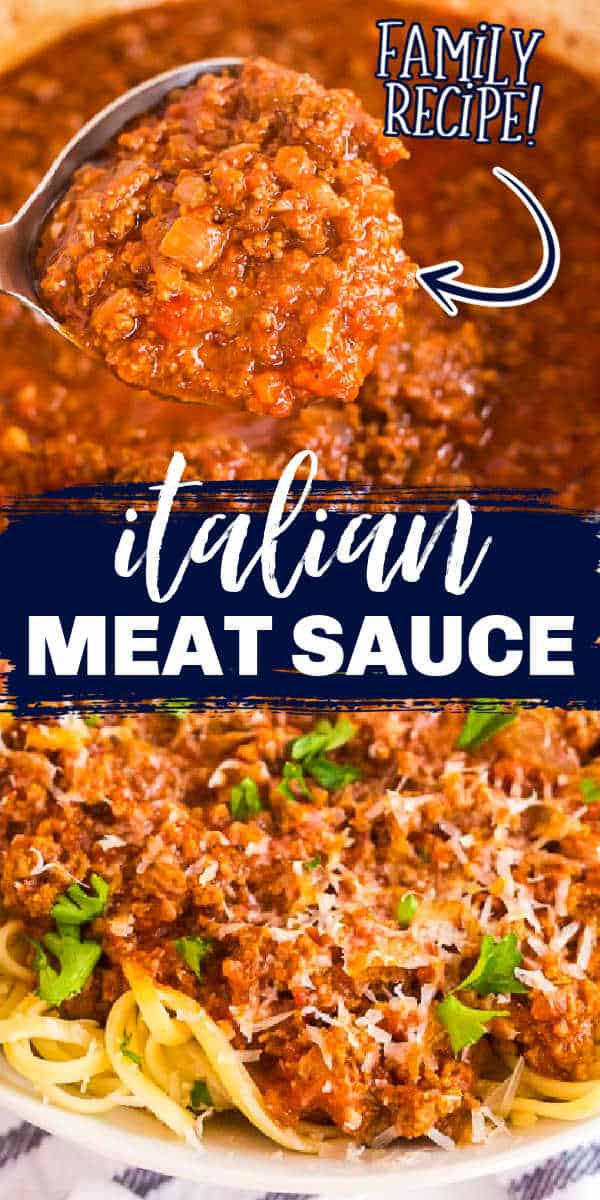 This easy meat sauce recipe will be your new favorite way to top pasta and will have everyone asking for the recipe!
MORE EASY RECIPES
@LeftoversThenBreakfast.com. Content and photographs are copyright protected. Sharing of this recipe is both encourages and appreciated. Copying and/or pasting full recipes to any social media is strictly prohibited.