Smothered Green Beans are a vintage side dish recipe that is absolutely addictive. This easy-to-make recipe requires only a few simple ingredients and is chock-full of sweet and salty flavor. Serve these delicious green beans at your next potluck, family get-together, or holiday celebration.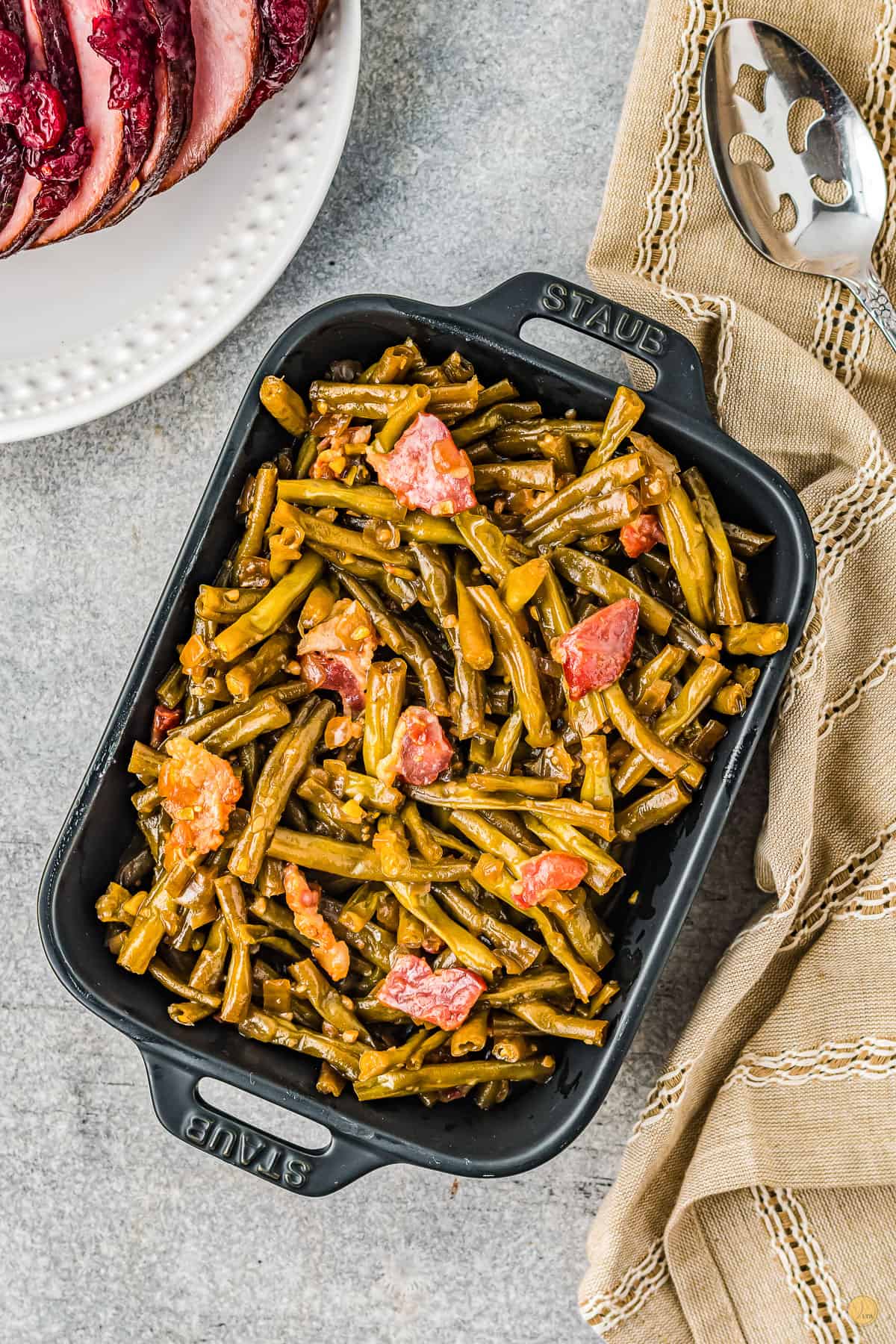 If you'd rather skip my essential cooking tips and tricks and get straight to this delicious recipe – simply scroll to the bottom of the page where you can find the printable recipe card.
SMOTHERED GREEN BEANS
Green beans are southern staple side dish. Easy to prepare, they are enjoyed as a busy weeknight side, at a family holiday dinner, or at a potluck, green beans tend to be a sure-fire go-to dish.
However; sometimes you want something a little different than the traditional sautéed green beans or even the classic green bean casserole. And my smothered green beans are just that! A slight variation to the favorite side dish we all know and love!
Made with tender fresh green beans, crispy salty bacon, that is smothered in a sweet and savory sauce; my Crack Green Beans recipe makes simple changes that take this dish to a whole new level!
WHY THIS RECIPE IS SO DELICIOUS:
It's easy to make!
The crispy bacon adds so much texture and flavor to this dish!
Brown sugar adds subtle notes of a caramel, toffee flavor that pairs nicely with the salty elements of the casserole.
Soy sauce adds a hint of salt while giving the dish a complex sweetness.
Totally addicting!
This post may contain affiliate links. As an Amazon Associate, I earn from qualifying purchases. Read my disclosure policy here.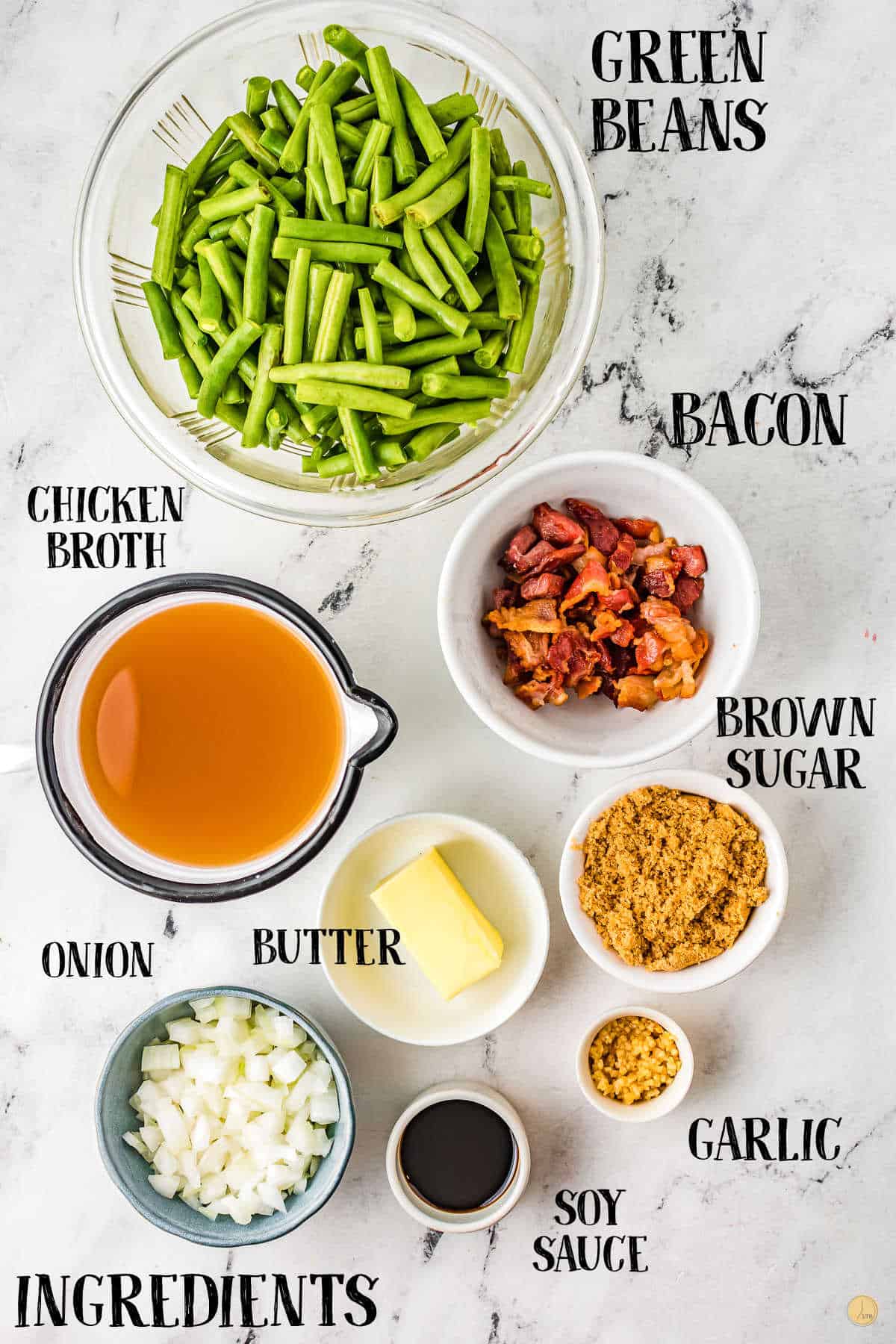 SMOTHERED GREEN BEANS INGREDIENTS
Green beans
Cooked Bacon
Brown sugar 
Onion 
Garlic 
Butter 
Soy sauce
Chicken broth
Green beans – I love using fresh green beans for this recipe; especially when they're in season. But if you are unable to find fresh, feel free to use (2) 14-ounce cans of green beans or frozen cut green beans. Be sure to rinse the canned beans for the best flavor.
Bacon – Use your favorite bacon, however; I recommend picking a cut that has some fat to it as the bacon fat is what makes these green beans taste really good!
Brown sugar – Feel free to use light or dark. For this recipe I prefer to use dark as I love how the deep molasses flavor pairs so well with the salty elements of the dish.
Soy sauce – Be sure to use a low-sodium sauce otherwise the dish can quickly become too salty. If you are looking to make this dish gluten-free, use a gluten-free soy sauce, Tamari, or coconut aminos.
Chicken broth – Use your own or pre-packaged. If purchasing ready made broth from your grocery store, try and find unsalted broth as this dish can quickly become overly salty.
Looking for more comfort food? Follow LTB on Pinterest!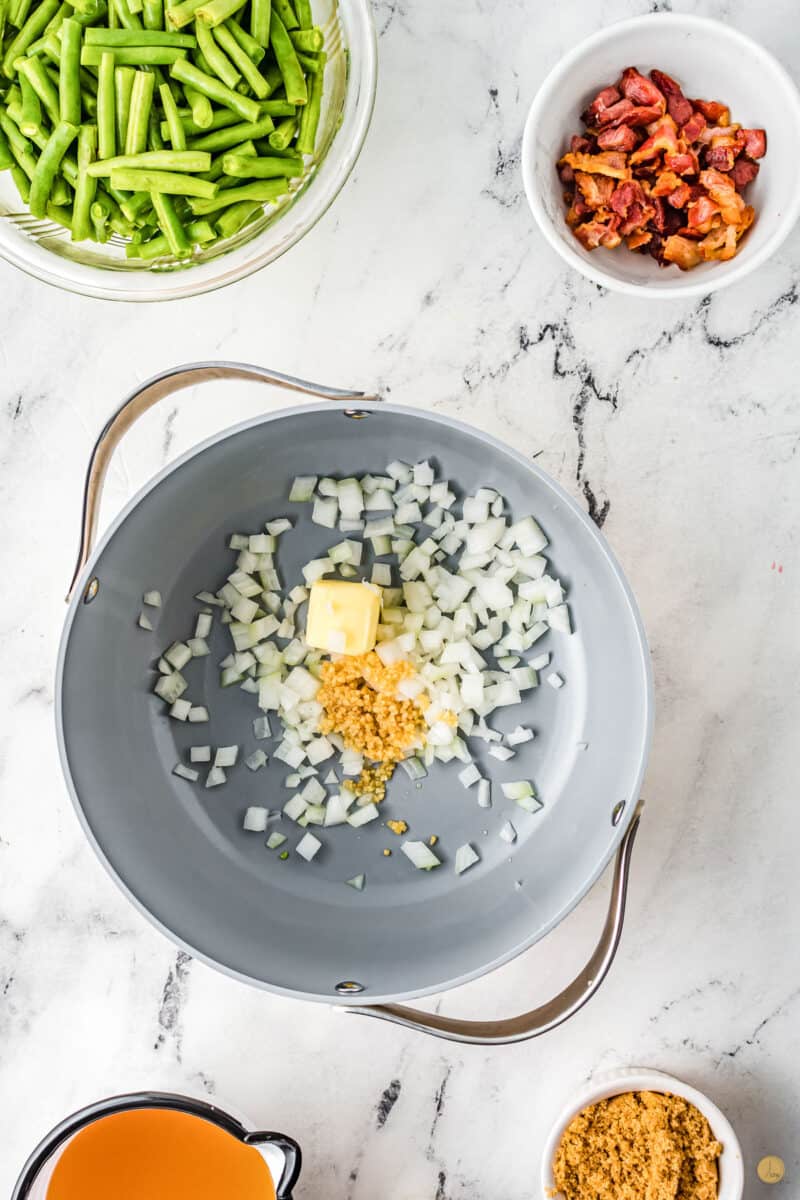 HOW TO MAKE SMOTHERED GREEN BEANS
ONE: In a large pan, over medium heat, melt bacon fat and butter. Add onion and garlic. Cook for 4 minutes, stirring often, until the onions get soft.
TWO: Add the brown sugar, soy sauce, and chicken broth to the pan. Whisk to combine. Stir in green beans, reduce heat, and simmer over low heat until the liquid is nearly gone. This can take over an hour!
THREE: Add bacon to the green beans and cook for an additional 4 minutes.
FOUR: Serve hot and enjoy!
For the full recipe and detailed baking instructions, please see the recipe card at the end of this post.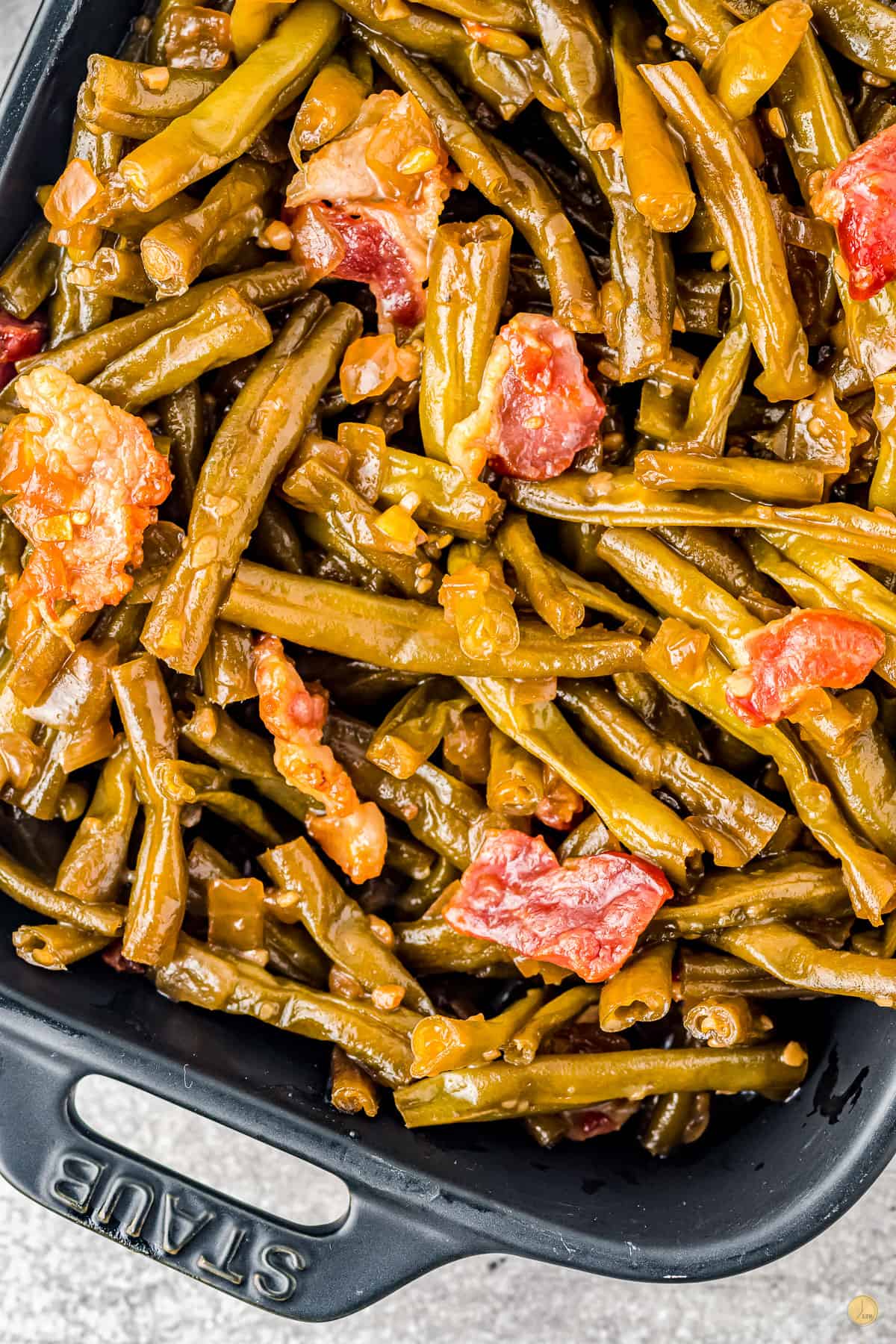 HOW DO YOU GET THE BITTERNESS OUT OF GREEN BEANS?
Salt is the easiest way to get the bitterness out of the green beans. Follow the recipe and use unsalted chicken broth to avoid over salting.
CAN I USE CANNED GREEN BEANS?
While I prefer fresh green beans for this recipe, feel free to use canned if you are in a pinch. Just note that the key to this dish is the long simmer time.
Whether you use fresh or canned, be sure to let it simmer until nearly all the broth is gone. This creates the sticky sauce.
HOW TO STORE:
LEFTOVERS: Store any leftover smothered green beans in an airtight container in the fridge for up to 5 days. These are amazing heated up the next day!
REHEAT: To reheat leftovers, add green beans to a pan, add a few tablespoons of water and add a tablespoon of butter. Heat over medium heat until warmed through.
FREEZE: You can freeze fully prepared green beans. Prior to putting in the freezer, let the casserole come to room temperature.
Wrap your serving dish with plastic wrap. Once wrapped, cover tightly with foil. On the foil label, date, and place in freezer. Dish should last up to 6-months in freezer.
Thaw overnight in the refrigerator. Reheat as directed.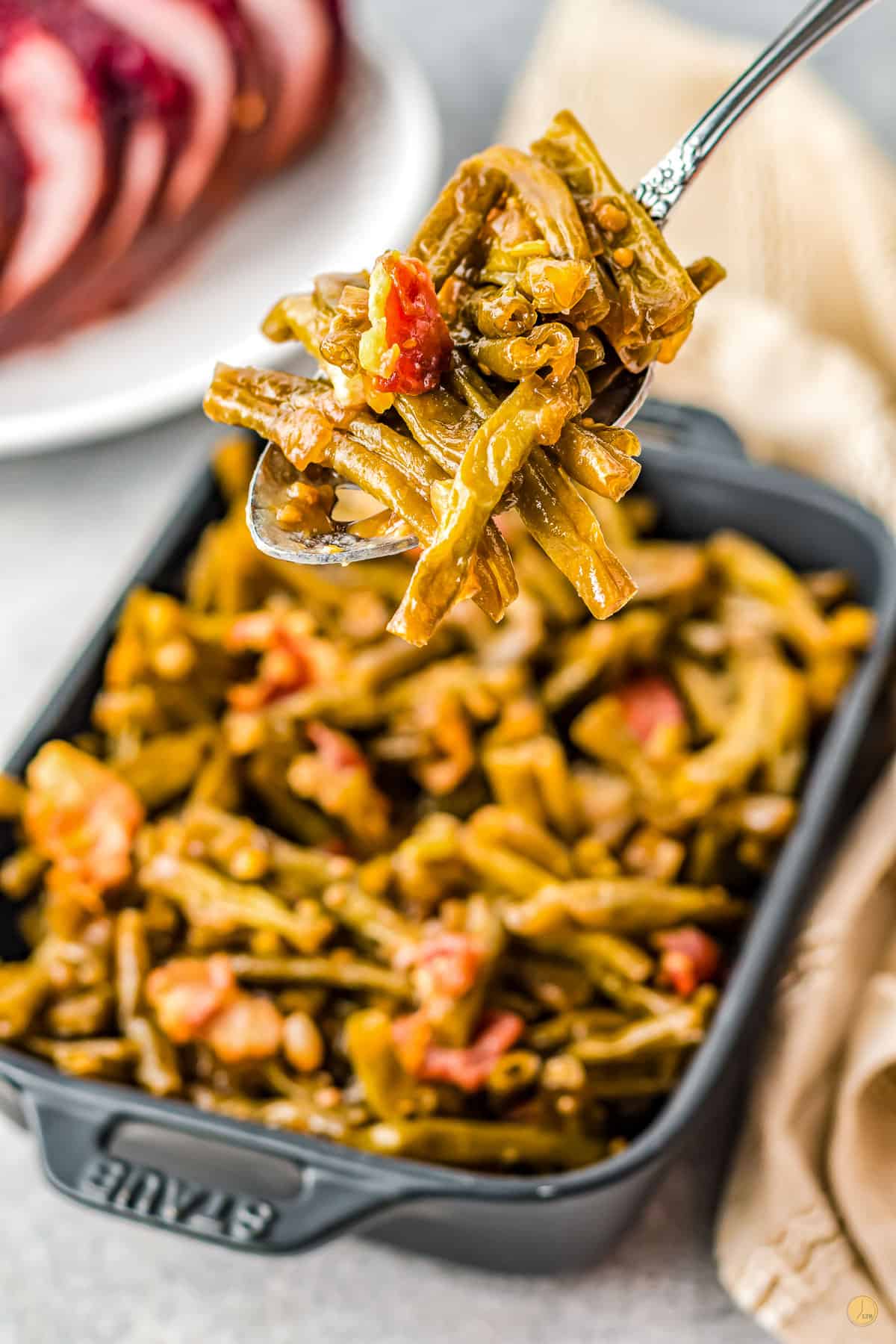 TIPS FOR NO LEFTOVERS
If you are in a hurry, you can cook this over medium heat. Remove from the stove when most of the broth has evaporated.
Only use unsalted chicken broth. If you use broth with salt it will be too salty because of the bacon and soy sauce.
Feel free to substitute turkey bacon or crumbled sausage for the traditional pork bacon.
Use canned green beans if you are unable to find fresh or are in a pinch. I also like to use frozen cut green beans.
When using fresh green beans, be sure to wash and drain green beans before adding to recipe. Remove any smashed or soft portions.
If you'd like to make the smothered green beans spicy, add in a shot of hot sauce, hot vinegar, or crushed red pepper flakes.
If you love this recipe as much as I do, please write a five-star review in the comment section below (or on Pinterest with the "tried it" button – you can now add pictures into reviews, too!), and be sure to help me share on facebook!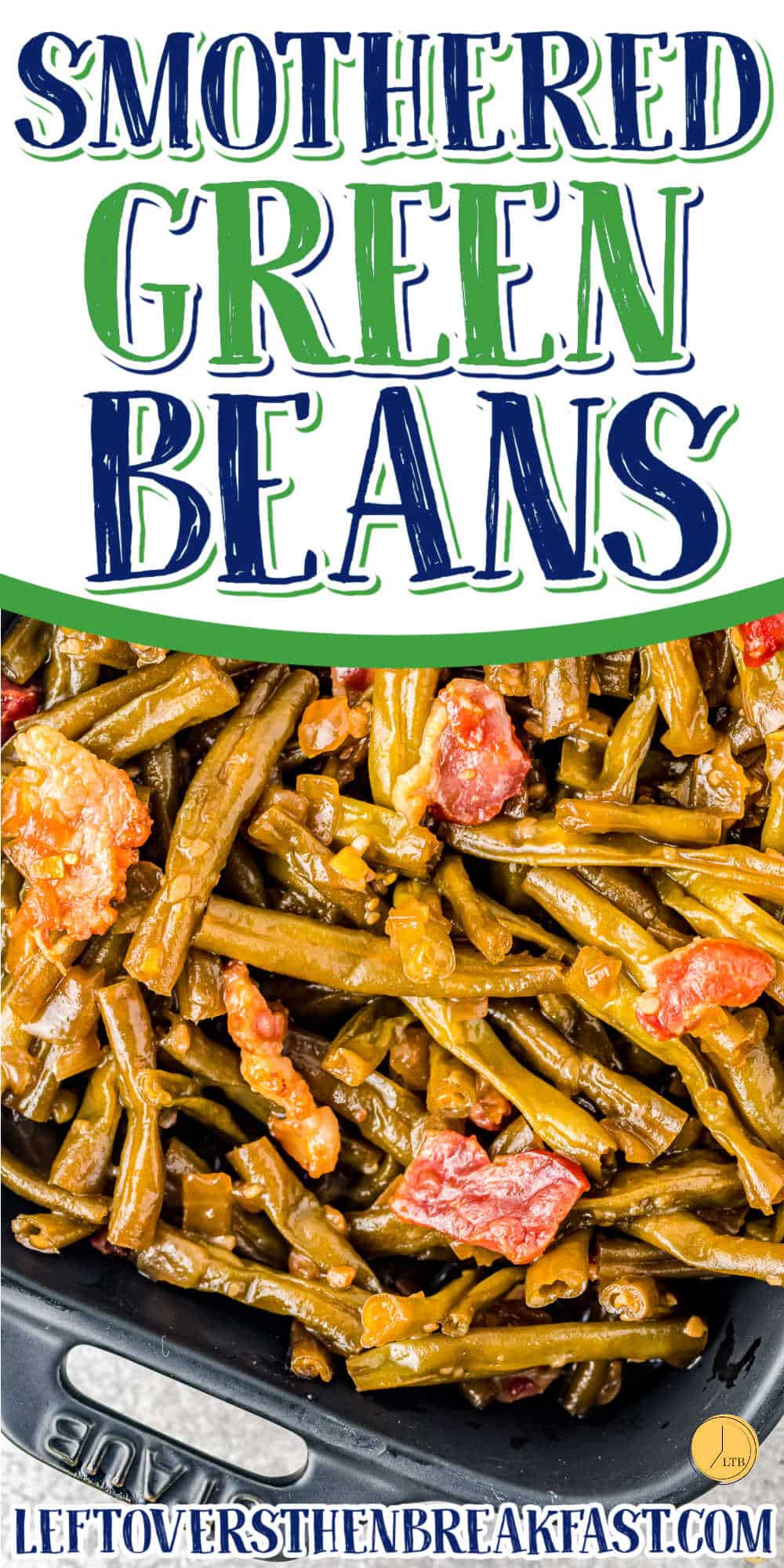 This smothered green bean recipe is simple to make and packed with sweet, salty, and savory flavors in every bite. Just combine seven key ingredients, and you will have this delicious southern classic side dish on the table in no time!
MORE EASY RECIPES
@LeftoversThenBreakfast.com. Content and photographs are copyright protected. Sharing of this recipe is both encourages and appreciated. Copying and/or pasting full recipes to any social media is strictly prohibited.