All-Purpose Seasoning is a HOMEMADE seasoning blend of spices that you can sprinkle on meat, vegetables, and SO MUCH MORE!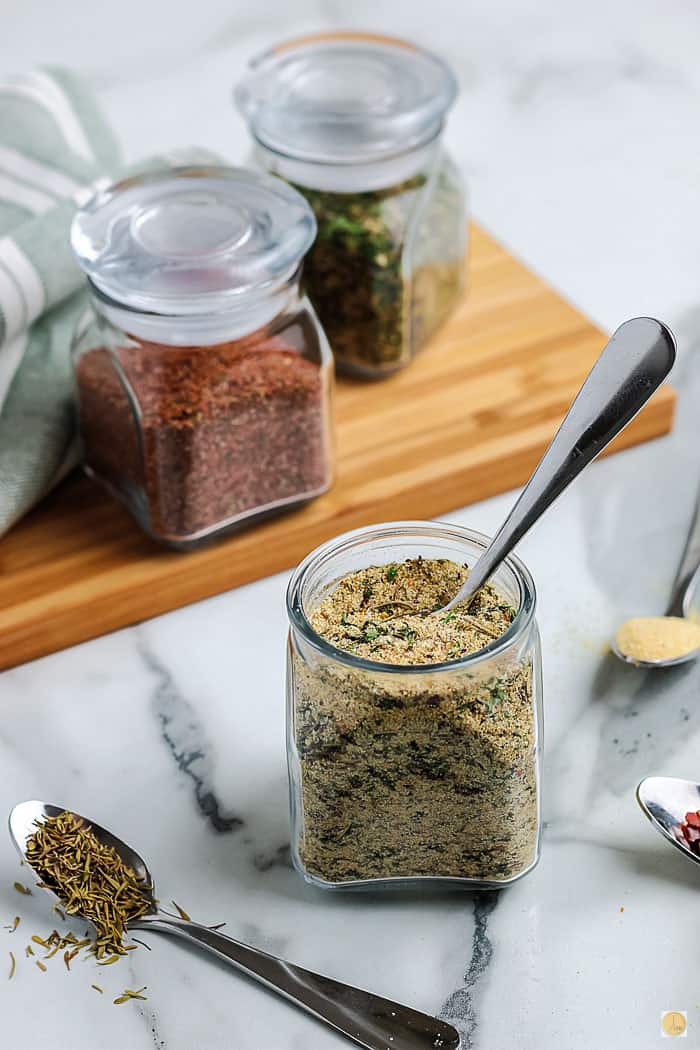 If you'd rather skip my essential cooking tips and tricks and get straight to this delicious recipe – simply scroll to the bottom of the page where you can find the printable recipe card.
ALL PURPOSE SEASONING
This all-purpose spice blend is one of my go-to's for in the kitchen. Plus, it takes just minutes to make.
Consider giving this homemade spice blend a try and see how you like it. You might find this spice and herb blend is a gold star winner in cooking up dishes.
ALL-PURPOSE SPICE MIX
Salt, pepper, garlic, onion, red pepper, cumin, parsley, basil, and more are mixed into this colorful and flavorful spice mix.
Please store it in a sealed jar and reach for it every time you want to add some nice flavor to potatoes, veggies, pork, chicken, beef, and more.
IS ALL PUPOSE SEASONING SPICY?
Since you use a bit of crushed red peppers, you will find this mixture has a little bit of spice. If you prefer a more mellow flavor, leave the pepper flakes out.
You will still get tons of flavor, and it won't have a warm tone of heat to it, as it would with the red pepper flakes.
This post may contain affiliate links. As an Amazon Associate, I earn from qualifying purchases. Read my disclosure policy here.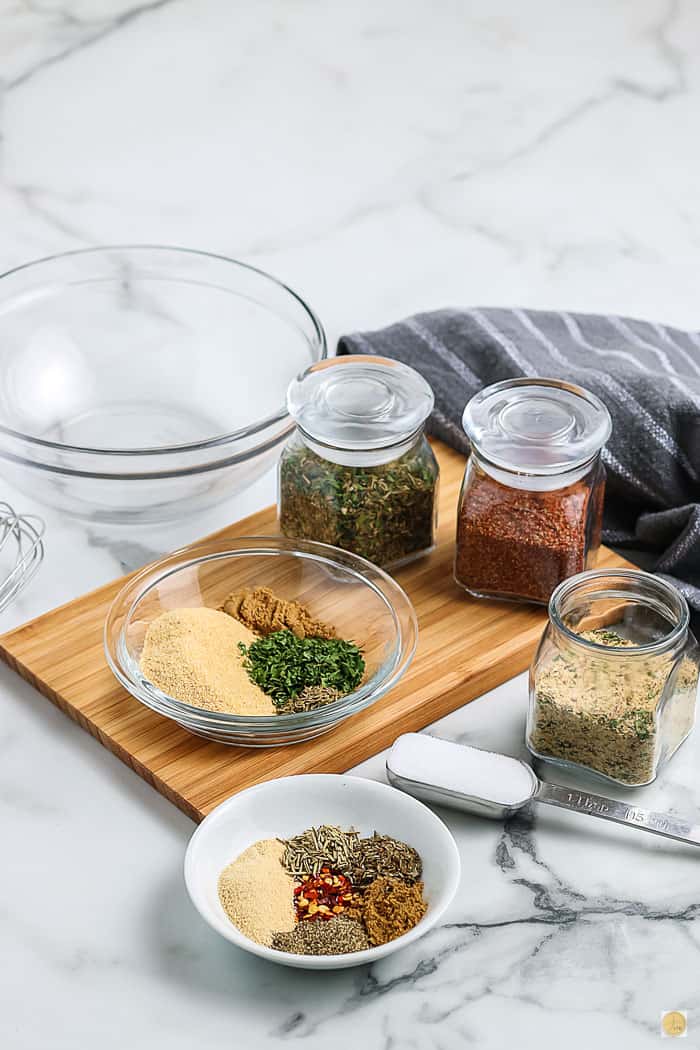 WHAT MAKES UP ALL-PURPOSE SEASONING?
Garlic and Onion Powder
Salt and Pepper
Dried Thyme
Coriander
Rosemary
Crushed Red Pepper
Cumin
Dried Basil and Parsley
The measurements for this spice blend are in the recipe card below.
You can reach for simply organic spices or your favorite brands. Quality spices will really enhance the flavor profile of this blend.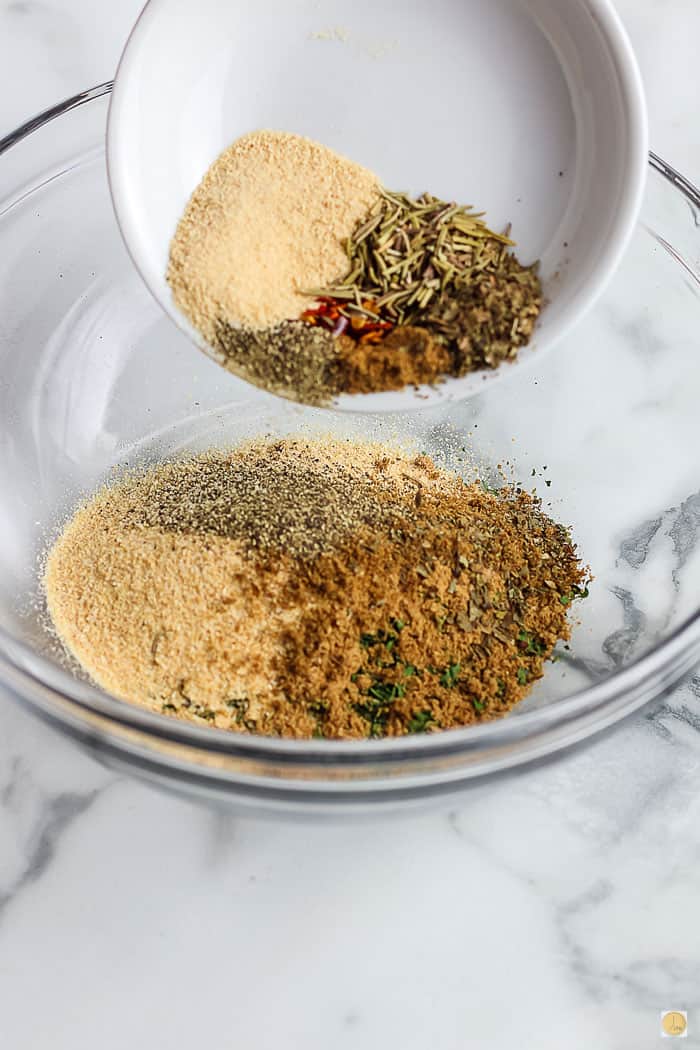 HOW TO MAKE IT
In a medium sized bowl combine all the spices together.
Whisk until evenly mixed.
Transfer and store in airtight container of your choice
For the full recipe and detailed baking instructions, please see the recipe card at the end of this post.
WHAT IS THE BEST ALL PURPOSE SEASONING?
Personally, this all-purpose seasoning here is one of my absolute favorites to buy. I also love the Season salt seasoning mix you can buy in the store. Full of herbs and spices that work together to season a variety of foods.
But, lately, I have been making a lot of this spice blend and then putting it in a jar and keeping it in my spice cabinet within hands reach of the stove.
IS ALL PURPOSE SEASONING THE SAME AS ALLSPICE?
Allspice and all-purpose seasoning are not the same things. Allspice is made from dried berries and is most generally used in baking, making drinks in the kitchen.
This all-purpose seasoning means you can use it for all things in the kitchen when cooking.
Looking for more comfort food? Follow LTB on Pinterest!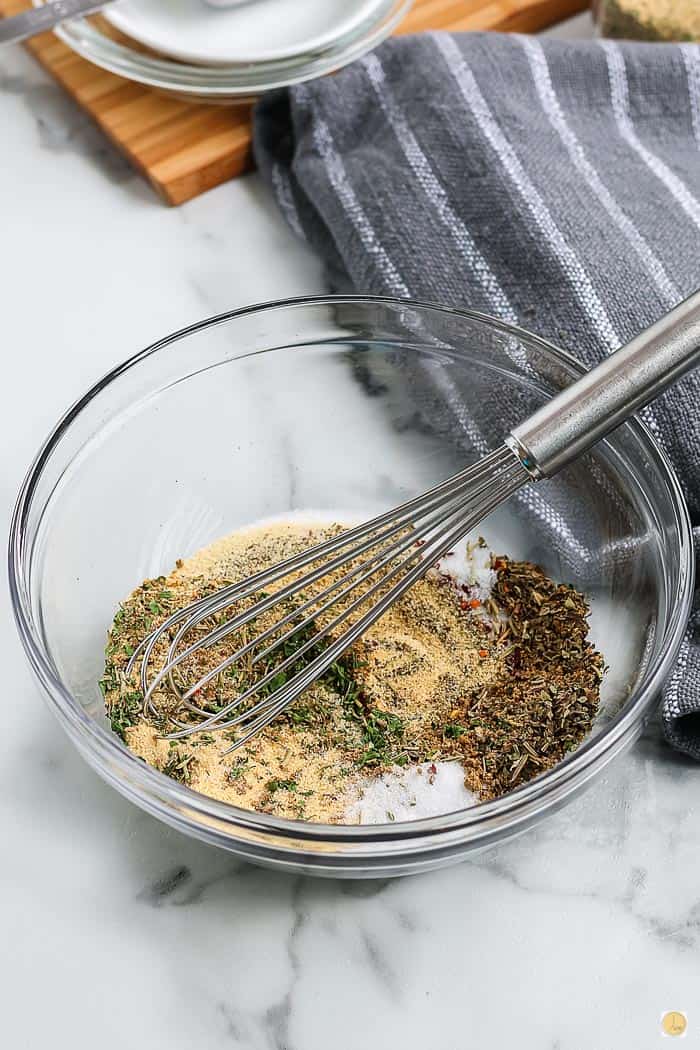 WAYS TO USE ALL PURPOSE SEASONING
Sprinkle on french fries
Seasoning burgers for grilling
Top chicken for any recipe or even a casserole
Use on pork or a nice roast
Sprinkle on roasted or steamed vegetables
Season breading to deep fry or air fry foods
WATCHING SALT INTAKE?
If you are watching your salt intake, you can omit the salt for a salt-free seasoning to use in your kitchen. It will taste just as good and still do awesome at seasoning recipes.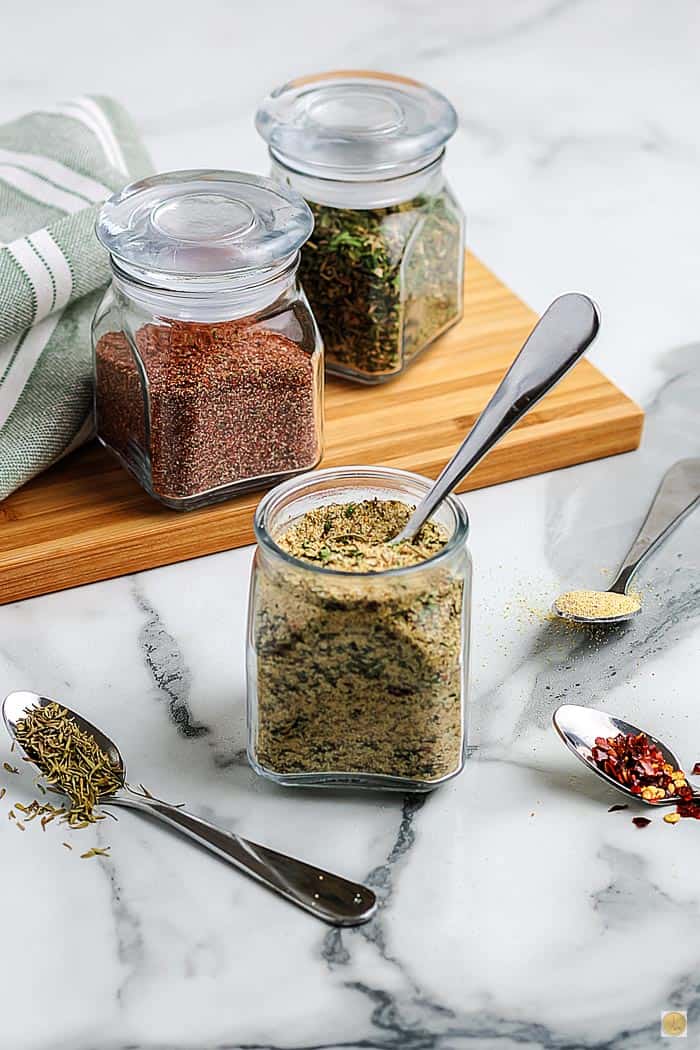 HOW TO STORE HOUSE SEASONING
Pour your seasoning mixture into a glass sealed jar or even plastic. Place in a dry place, I tend to stick in my spice cabinet. Then when you are ready to use it, shake it and enjoy.
The spice blend can last up to a year before going bad. The biggest thing is to watch all the expiration dates of the ingredients used.
If one is set to expire soon, it will become your expiration date for the spice mixture.
If you love this recipe as much as I do, please write a five-star review in the comment section below (or on Pinterest with the "tried it" button – you can now add pictures into reviews, too!), and be sure to help me share on facebook!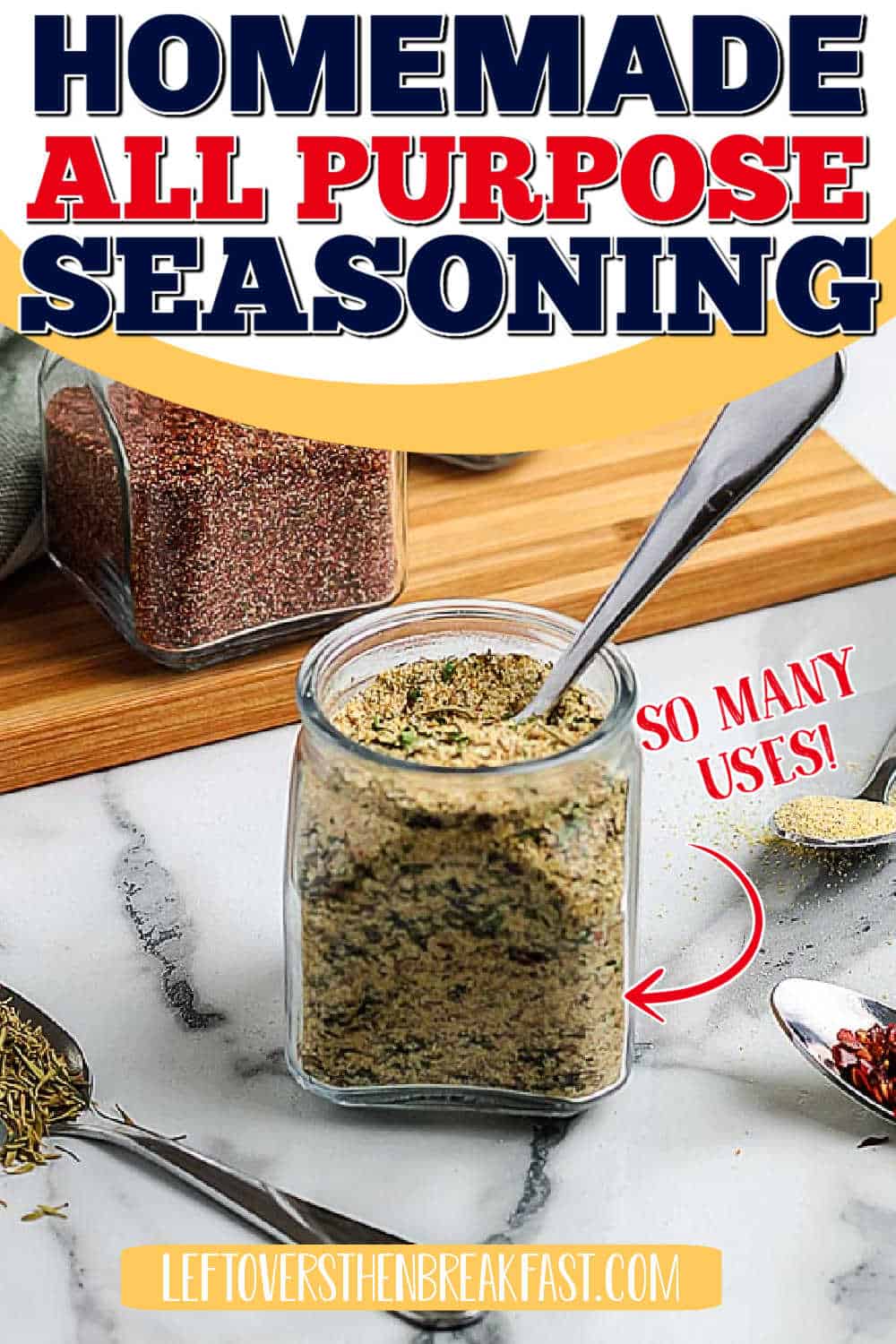 MORE EASY RECIPES
ALL PURPOSE SEASONING RECIPE
@LeftoversThenBreakfast.com. Content and photographs are copyright protected. Sharing of this recipe is both encourages and appreciated. Copying and/or pasting full recipes to any social media is strictly prohibited.