Black Eyed Pea Chili is a comforting, meaty, and flavorful southern-style chili. This dish is full of earthy black eyed peas, hearty ground beef and hot sausage, all in a rich tomato broth.
Serve with my traditional cast iron skillet cornbread for a perfect cold weather meal that is sure to warm your soul.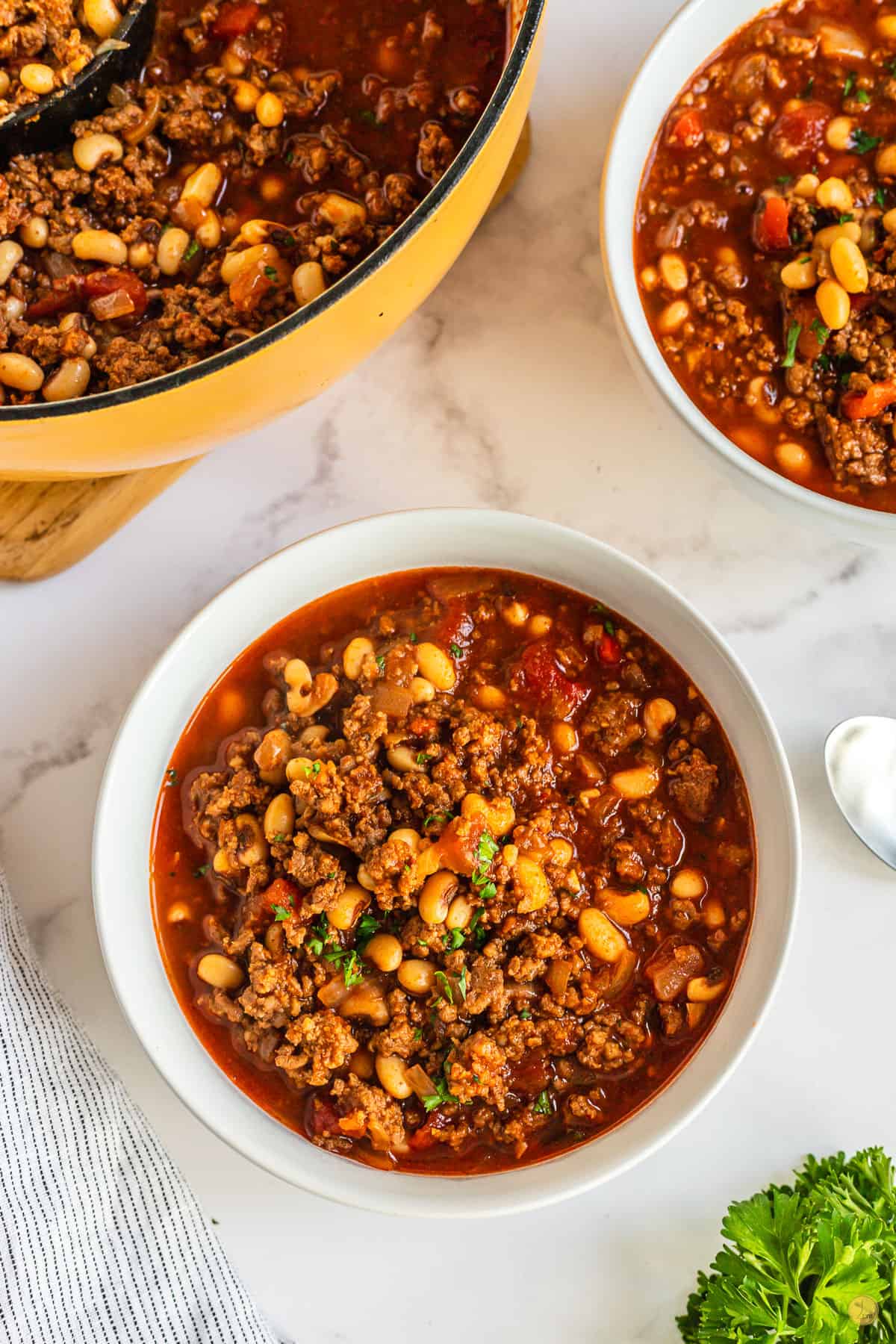 If you'd rather skip my essential cooking tips and tricks and get straight to this delicious recipe – simply scroll to the bottom of the page where you can find the printable recipe card.
BLACK EYED PEA CHILI
When cooler weather blows in, easy comforting dishes like chili are essential. Chili recipes are a wonderful one pot meal that is perfect for meal prep, busy weeknight dinners, or when you need a hearty meal that warms you from the inside out.
And this super easy black eyed pea chili recipe takes your traditional beef chili up a few degrees.
Perfectly browned ground beef and hot sausage, creamy black eyed peas, and sweet onions are blanketed in a rich and warm tomato broth.
One thing is for sure, this flavorful southern style chili is so easy and delicious that it will quickly become a family favorite go-to recipe during those cold winter months!
This post may contain affiliate links. As an Amazon Associate, I earn from qualifying purchases. Read my disclosure policy here.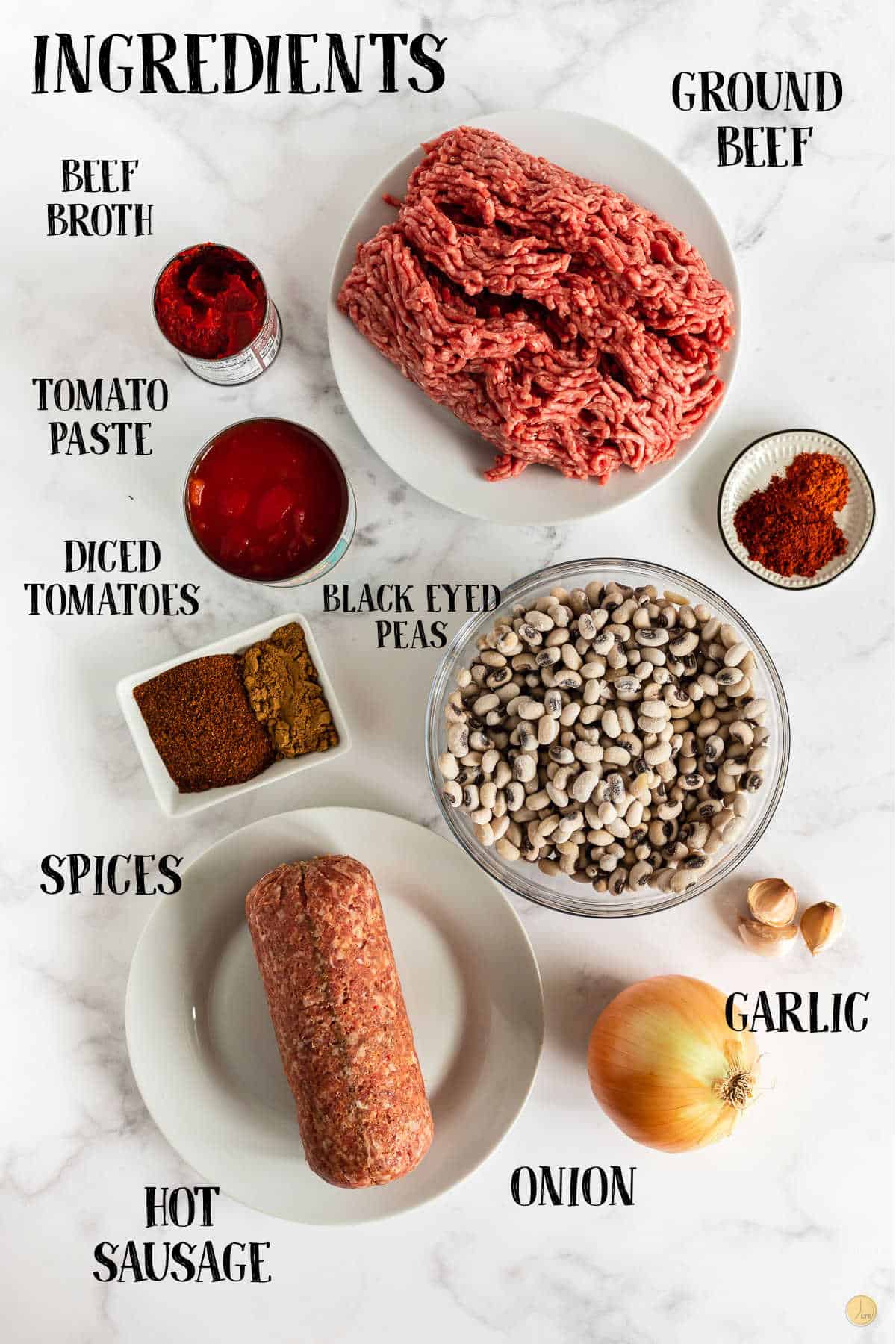 INGREDIENTS FOR BLACK EYED PEA CHILI
ground beef
ground pork sausage
onion
garlic
spices
tomatoes
black eyed peas
broth
Meat – This chili recipe uses a combination of ground beef and hot pork sausage. Feel free to substitute ground turkey.
Onion – A medium sized sweet onion works best but use your favorite.
Spices – The spices used in this recipe are chili powder, cumin, paprika, and cayenne. Salt and pepper for seasoning if desired.
Tomatoes – I use a combination of tomato paste and diced tomatoes. You can substitute the diced tomatoes for Rotel.
Black Eyed Peas – Frozen black eyed peas work best for this recipe but you can use dried and rehydrate them. Canned peas can be used but only toward the end of the cooking process or they will be too soft.
Broth – I use beef broth for this chili recipe but feel free to use water and beef bouillon or a combination of beef broth and your favorite beer.
Looking for more comfort food? Follow LTB on Pinterest!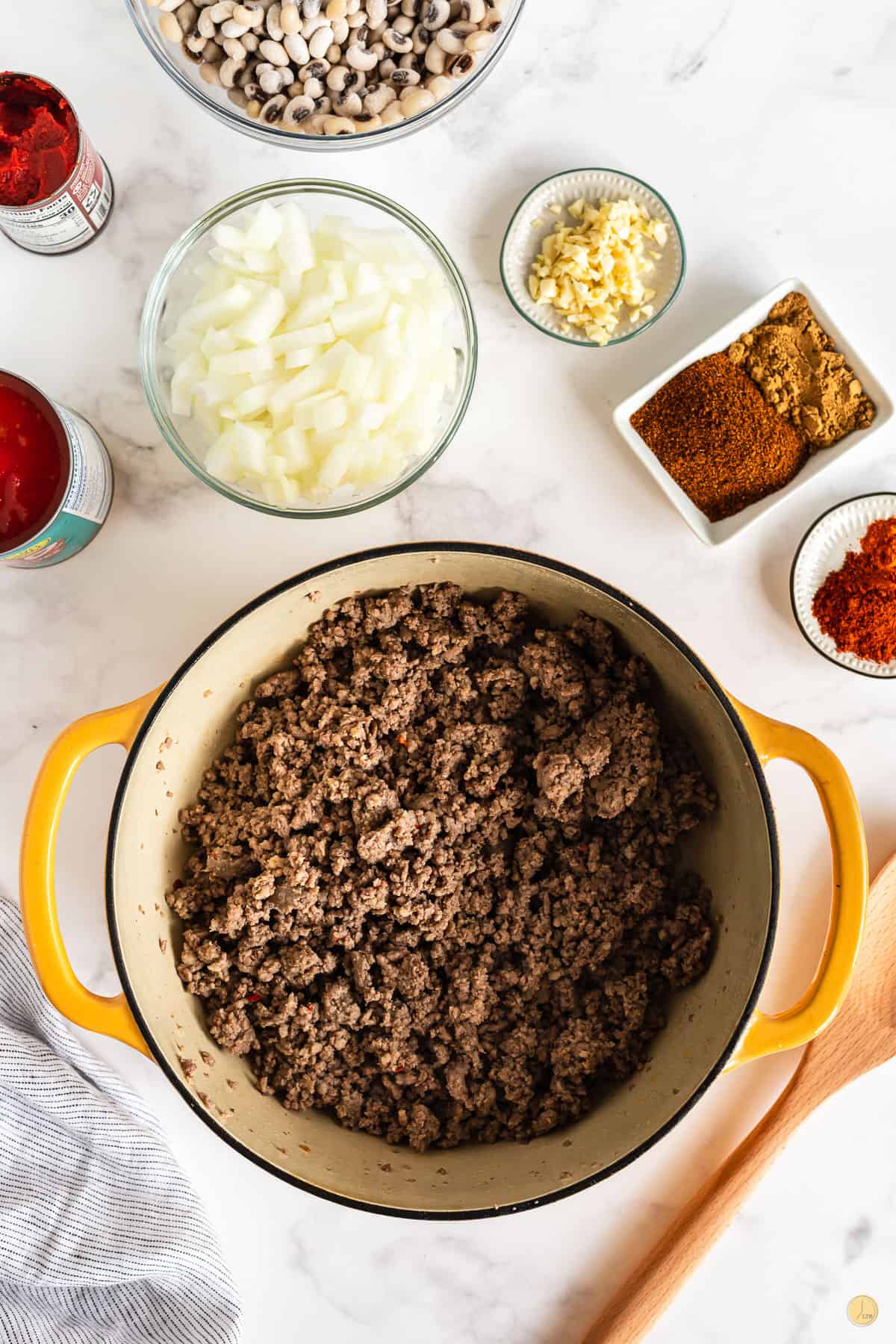 HOW TO MAKE BLACK EYED PEA CHILI
ONE: In a large pot or dutch oven over medium high heat, brown the ground beef and pork sausage with a little olive oil until no longer pink. Drain if desired.
TWO: Add the garlic and onion. Cook for 5 minutes or until the onion is tender. Add the spices and black eyed peas to the pot. Stir and cook 5 minutes.
THREE: Pour in the diced tomatoes, tomato paste, and beef broth. Stir to combine. Bring to a boil and reduce heat to a simmer. Simmer for 20-30 minutes or until the peas are tender.
FOUR: Remove from heat and season with salt and pepper if desired. Enjoy hot!
For the full recipe and detailed baking instructions, please see the recipe card at the end of this post.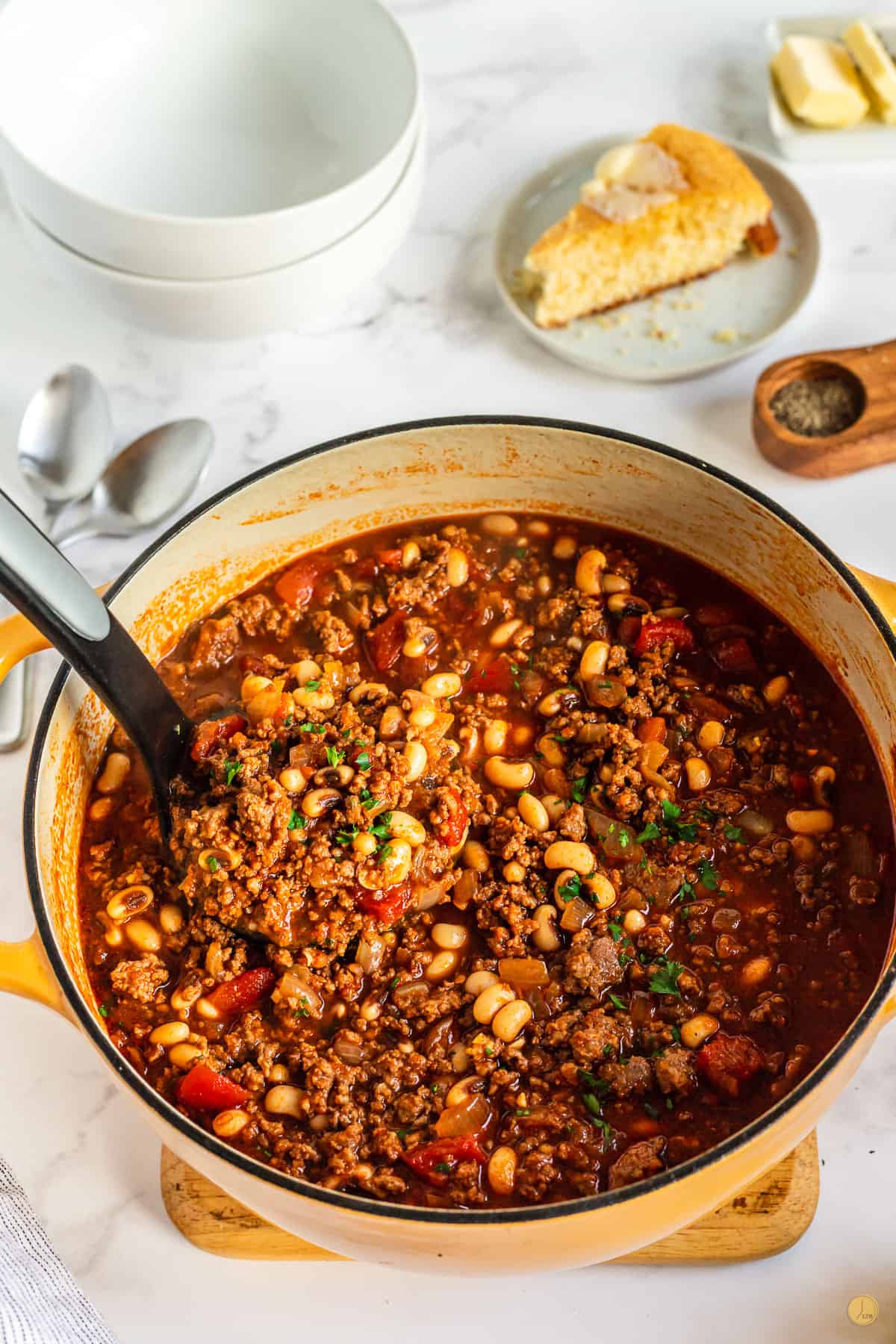 CAN I FREEZE IT?
Yes, you can! This Black Eyed Pea Chili recipe makes a large batch so there will be plenty to freeze for future meals. It will last in the freezer for up to 3 months if stored in an air tight freezer safe container.
HOW TO STORE IT
Store leftovers in an airtight container in the refrigerator for up to 5 days. When ready to eat, reheat in the microwave, oven, or on stovetop over medium heat until warmed through.
CAN I USE DRIED OR CANNED BLACK EYED PEAS?
While frozen black eyed peas work best, you can certainly use dried or canned. If you use dried peas, be sure to soak or hydrate according to the package directions.
If you use canned black eyed peas, rinse them and add them toward the end of the cooking process or they will become too soft.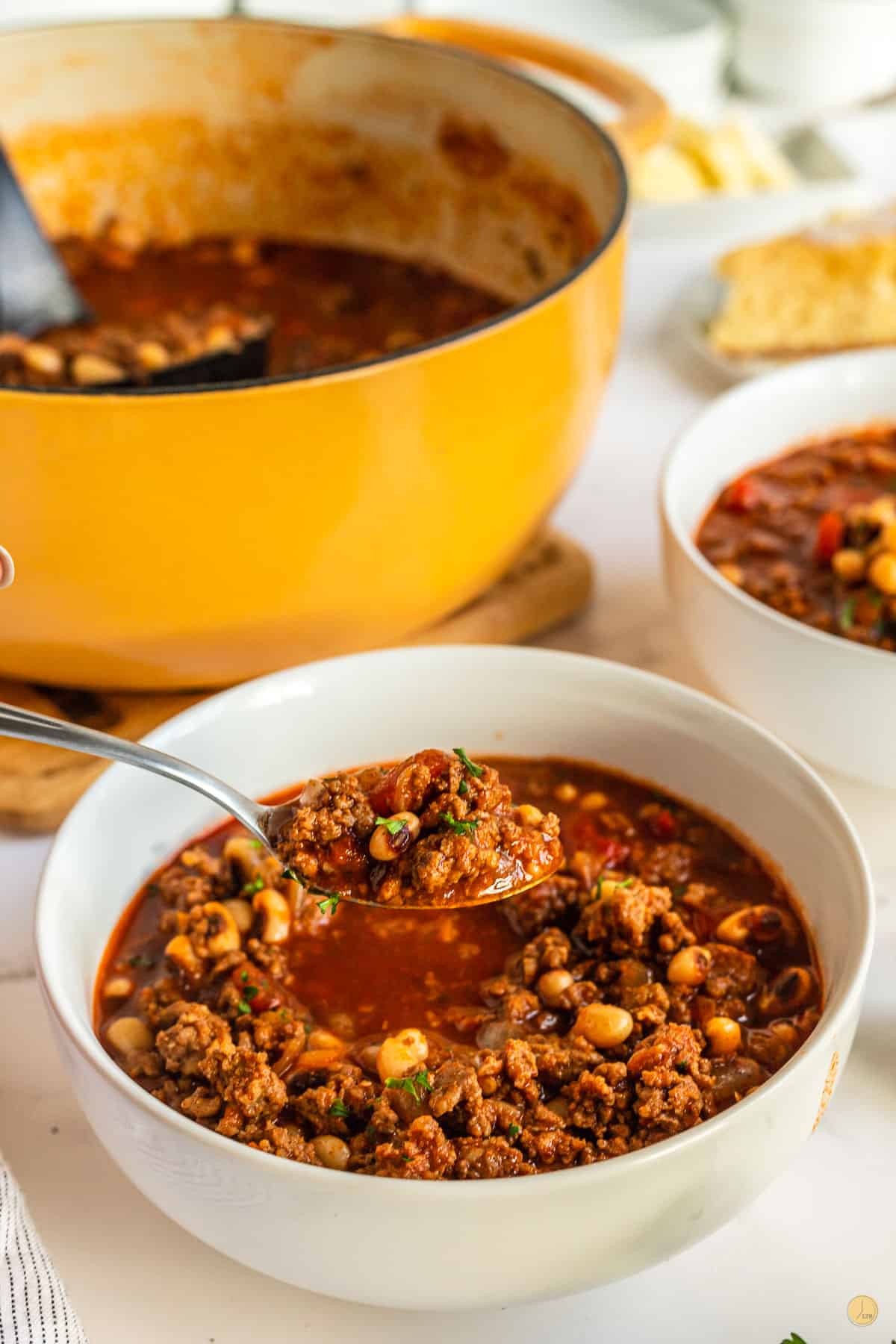 CAN I MAKE THIS IN A SLOW COOKER OR CROCKPOT?
Yes, you can. Just brown the ground beef and sausage. Add the ground beef, sausage, and the remaining ingredients, except the peas, and cook on low for 6-8 hours or on high for 4 hours.
Add the peas 30 minutes before the end of the cooking time.
TIPS FOR NO LEFTOVERS
Substitute some of the beef broth for your favorite beer.
Try smoked paprika and a little chipotle powder for more smokiness.
Top with sour cream, shredded cheese, and sliced jalapeno peppers.
Add in a small can of diced green chilies or substitute Rotel for the diced tomatoes.
Toss in some corn, black beans, and bell pepper for more vegetables.
If you love this recipe as much as I do, please write a five-star review in the comment section below (or on Pinterest with the "tried it" button – you can now add pictures into reviews, too!), and be sure to help me share on facebook!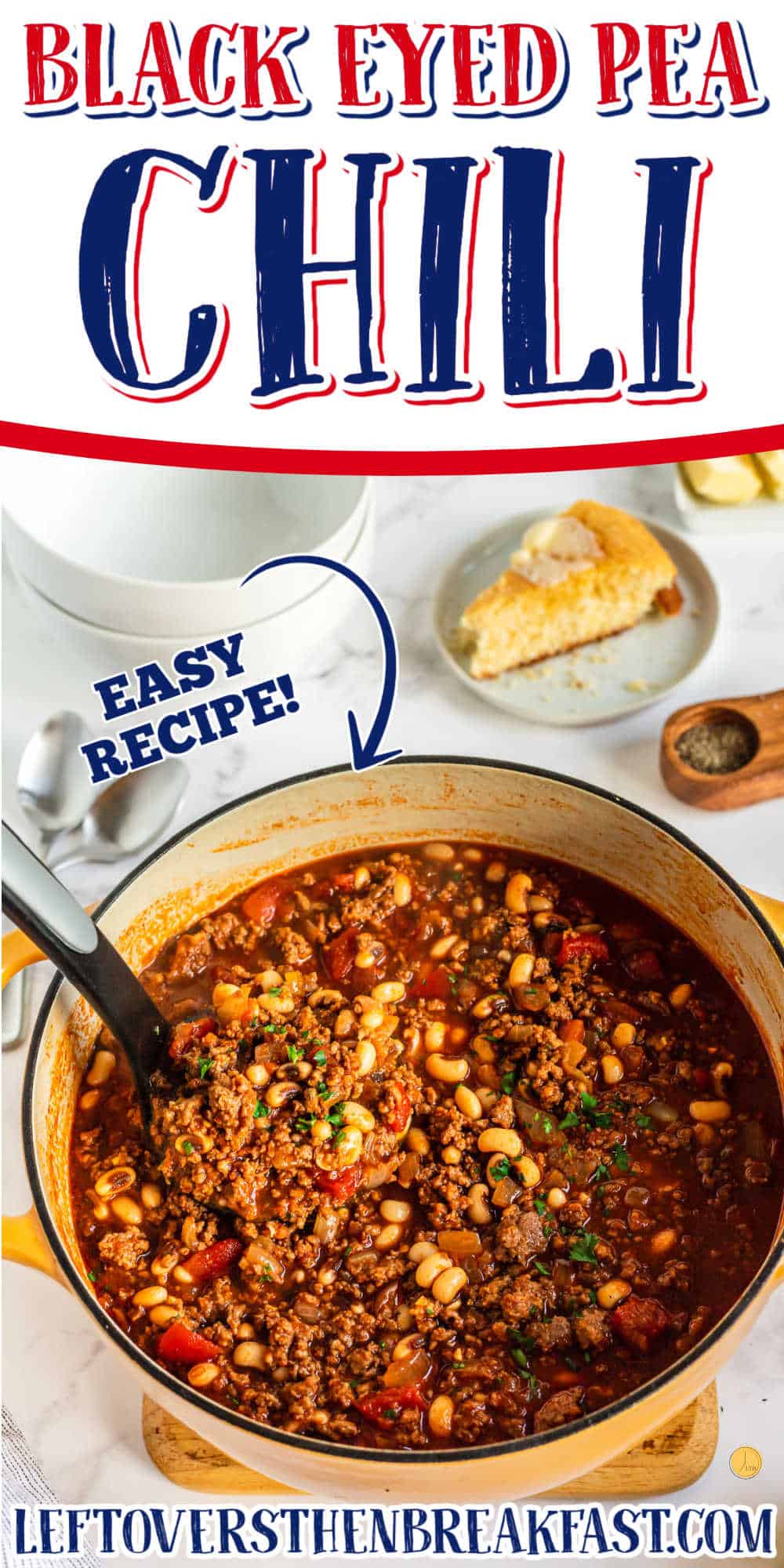 This Black Eyed Pea Chili Recipe is easy to make, budget friendly with ground beef, hot sausage, and frozen black eyed peas, feeds a crowd, and is a great freezer meal!
MORE EASY RECIPES
Welcome to our 2021 Chili Cook-Off!
October is Chili Cook-Off Month! We have delicious recipes from across the country to get your chili making to the next level of deliciousness!

#ChiliCookOff is an annual blogging event that is hosted by Ashley from Cheese Curd In Paradise
@LeftoversThenBreakfast.com. Content and photographs are copyright protected. Sharing of this recipe is both encourages and appreciated. Copying and/or pasting full recipes to any social media is strictly prohibited.