Hoppin' John is a delicious and easy New Year's dish to serve while honoring the Southern tradition of eating black eyed peas for luck.
Hearty black eyed peas, veggies, Cajun spices, all served with fluffy rice.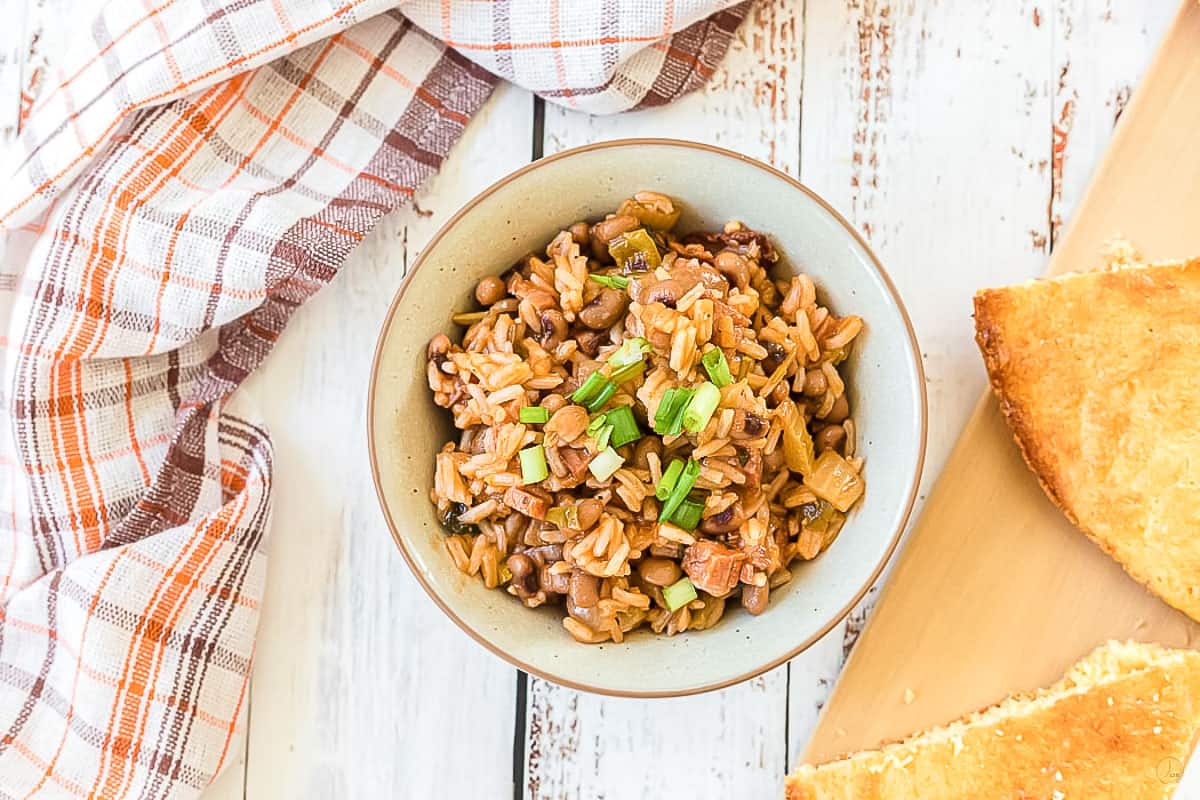 If you'd rather skip my essential cooking tips and tricks and get straight to this delicious recipe – simply scroll to the bottom of the page where you can find the printable recipe card.
Black eyed peas are a staple in Southern kitchens. Mostly grown in the south, black eyed peas are a common ingredient in lots of southern dishes and soul food recipes.
I love to eat them all year long, but they are particularly popular on New Year's Day.
WHERE DID EATING BLACK EYED PEAS ON NEW YEARS COME FROM?
There are a few different stories of the origins of eating them on New Year's Day and all of them center around prosperity and good fortune.
I don't know about you but I could use some good luck and prosperity.
So, if you are a little superstitious, you will enjoy the peas on January 1st. The most common way they are served is in a dish called Hoppin' John!
WHAT IS HOPPIN JOHN?
Typically black eyed peas are joined with celery, bell peppers, onion, and flavored with a smoked ham hock. Simmered for a while, the dish is then served over rice.
Though, many will incorporate the rice in the dish to all ow the rice grains to soak up more flavor. This way the dish eats more like a jambalaya in my opinion.
WHERE DID THE NAME HOPPIN JOHN COME FROM?
Possibly named after a man that walked with a limp or kids hopping around in anticipation of the beloved dish, I know I get hopping excited about eating it.
This post may contain affiliate links. As an Amazon Associate, I earn from qualifying purchases. Read my disclosure policy here.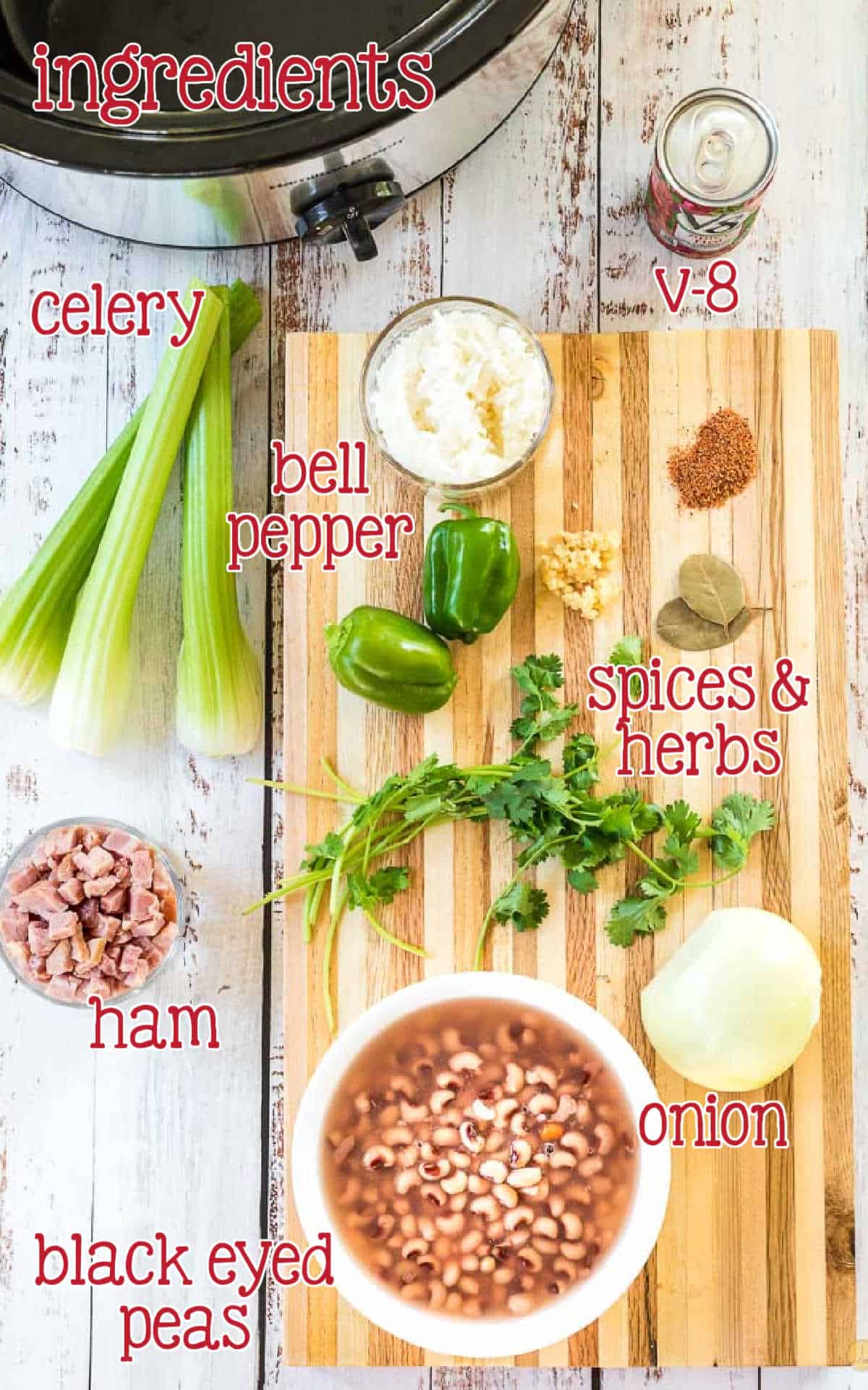 CROCKPOT HOPPIN JOHN INGREDIENTS
Black-Eyed Peas
Onion, Celery, Bell Pepper
Smoked Ham
Garlic
V-8 Juice
Diced Tomatoes
Cajun Seasoning, Herbs, Spices
Rice for serving
CAN I MAKE IT VEGETARIAN?
To keep it a vegetarian dish, just omit the pork. You can add collard greens to enhance the flavor of the dish if you like.
The dish is usually served with greens anyway so why not combine them?
DO I HAVE TO USE BLACK EYED PEAS?
No, you don't. Feel free to use field peas, crowder peas, lady peas, baby lima beans,
Looking for more comfort food? Follow LTB on Pinterest!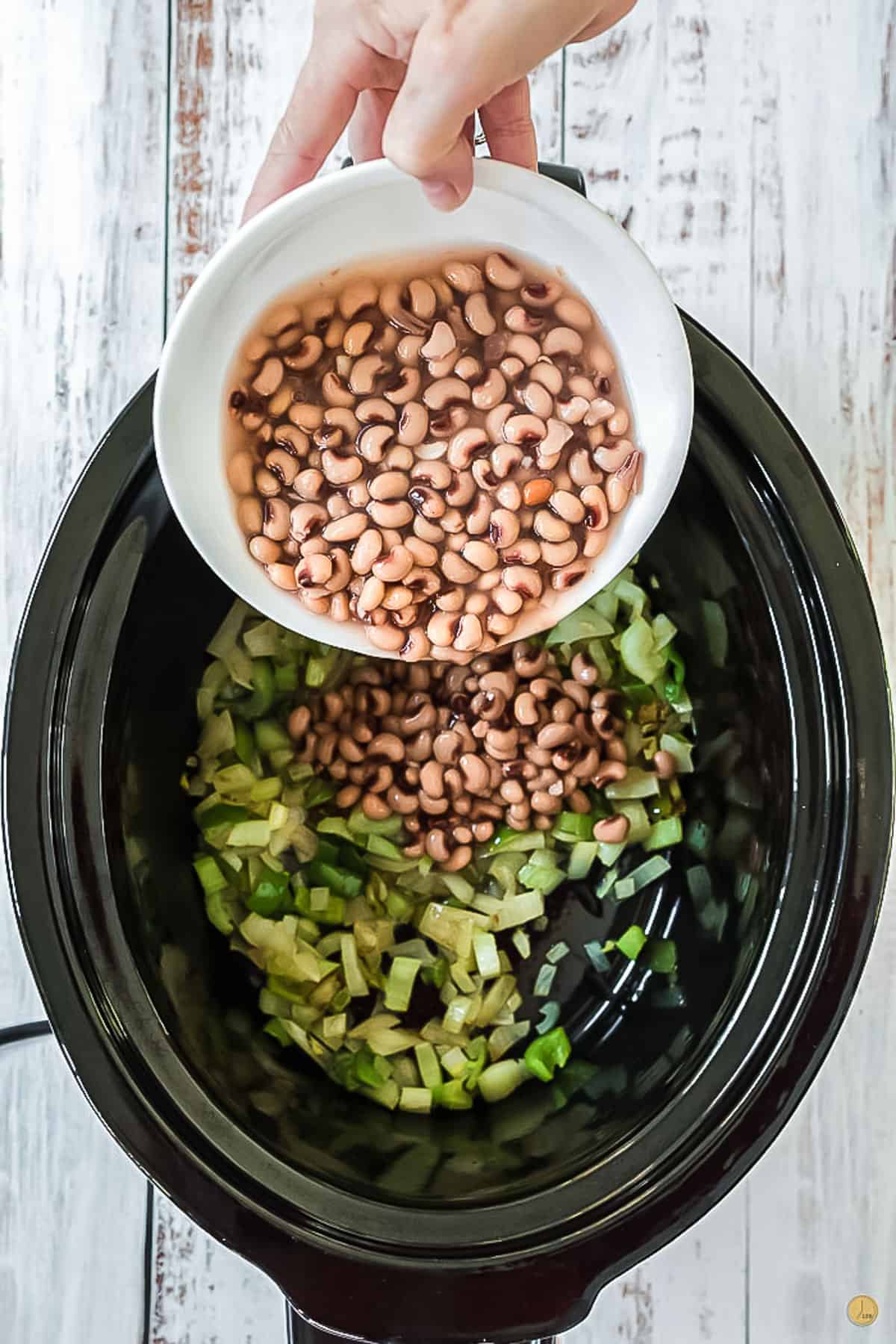 HOW TO MAKE SLOW COOKER HOPPIN JOHN
ONE: Add all ingredients except cooked rice to slow cooker and cook on low for 2-3 hours.
TWO: Remove bay leaves.
THREE: Stir in hot cooked rice and garnish. Enjoy!
Chopped green onions tops, chopped cilantro, cherry tomatoes, or crumbled bacon make great garnishes.
For the full recipe and detailed baking instructions, please see the recipe card at the end of this post.
CAN I MAKE IT ON THE STOVE TOP?
Sure you can!
Sauté the veggies in a large pot or dutch oven in a little bit of oil until they are soft. Stir in the remaining ingredients except the rice.
Cook for 20-30 minutes or until the beans are tender and the dish is flavorful
Serve over hot cooked rice and enjoy!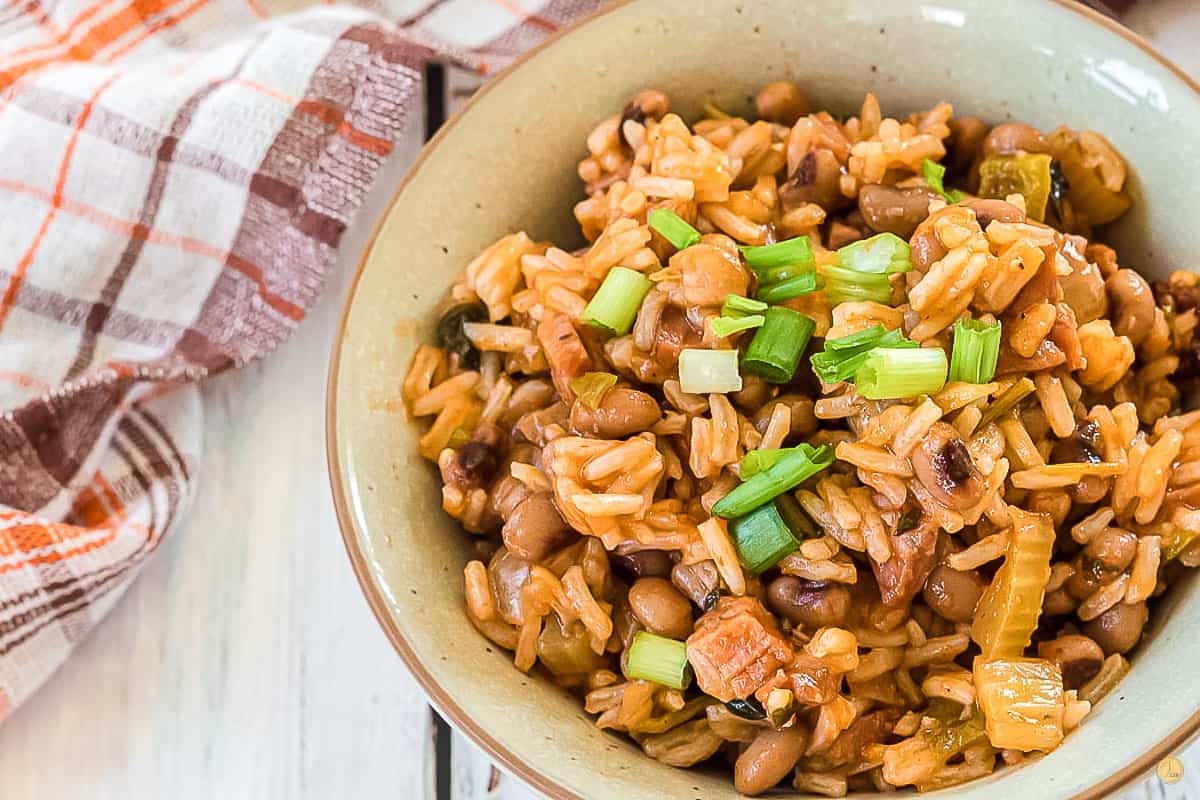 PEAS AND RICE VARIATIONS
use bacon instead of ham for a smokier flavor
used diced ham from the deli instead of a ham hock
if you have some pulled pork, that will taste great too
add in some diced tomatoes
greens are good, add kale
use pinto beans or your favorite beans in place of the black eyed peas
use regular or spicy V-8, or regular tomato juice depending on your taste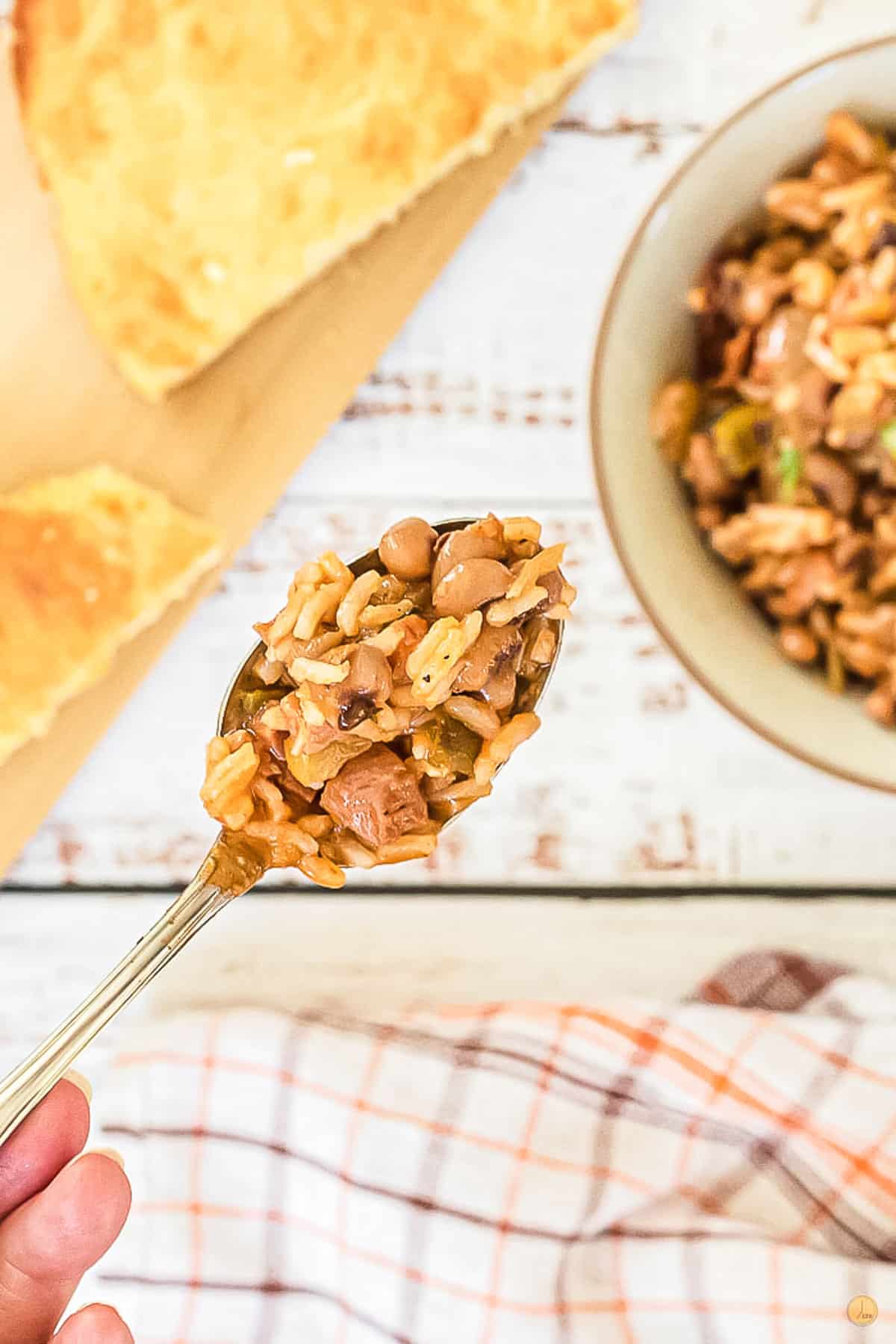 HOW DO I STORE LEFTOVERS?
Any leftovers, which are called "Skippin' Jenny," can be refrigerated for up to 4 days and reheated as needed.
To freeze leftovers, store in an air tight freezer safe storage container in the freezer for up to 3 months. Thaw overnight in the fridge before reheating.
WHAT DO YOU EAT WITH HOPPIN' JOHN?
If you love this recipe as much as I do, please write a five-star review in the comment section below (or on Pinterest with the "tried it" button – you can now add pictures into reviews, too!), and be sure to help me share on facebook!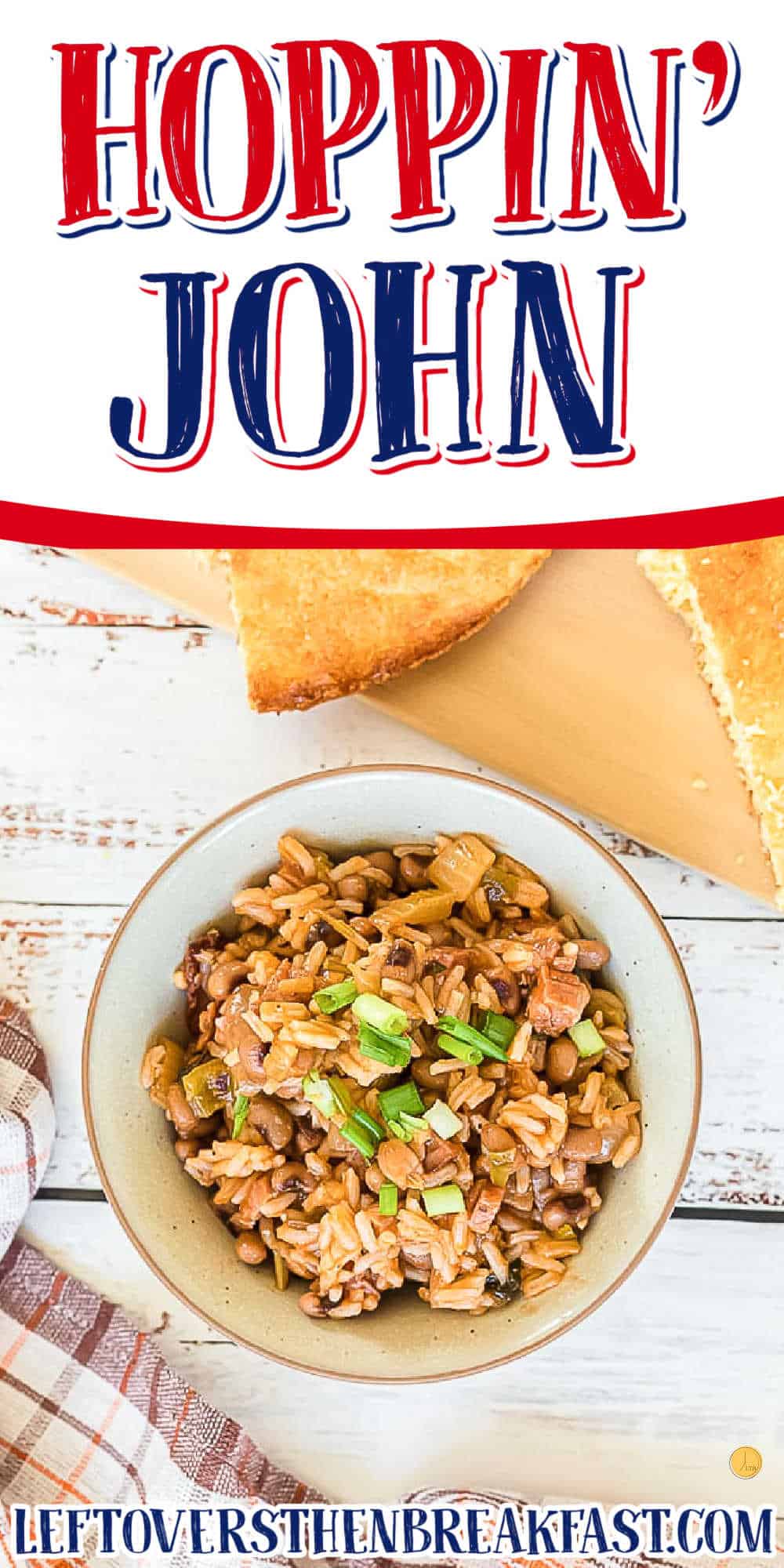 Seasoned with cajun spices, this black eyed pea recipe can be served as a side dish or as the main course. Enjoyed with rice and flavored with pork, it is authentic Southern comfort food at it's finest!
MORE EASY DINNER IDEAS
HOW TO MAKE HOPPIN JOHN IN THE SLOW COOKER
@LeftoversThenBreakfast.com. Content and photographs are copyright protected. Sharing of this recipe is both encourages and appreciated. Copying and/or pasting full recipes to any social media is strictly prohibited.