Wild Rice Stuffing is a wonderful alternative to a traditional side dish. Full of earthy, savory flavors and lots of textures, it is a delicious and gluten free dish that is sure to be a huge hit!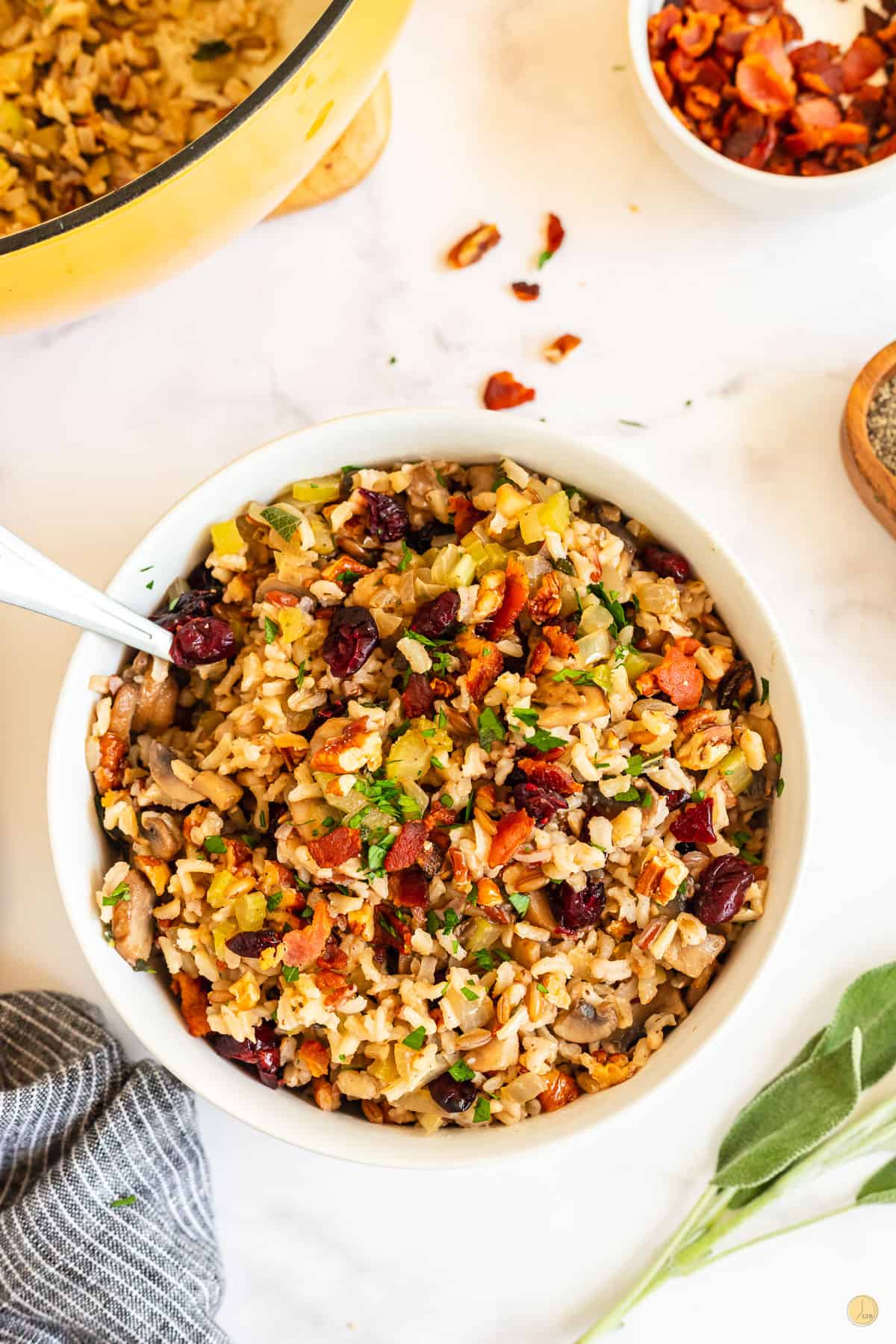 If you'd rather skip my essential cooking tips and tricks and get straight to this delicious recipe – simply scroll to the bottom of the page where you can find the printable recipe card.
If you think stuffing is just for Thanksgiving dinner, then you are wrong!
This Wild Rice Stuffing is not your traditional thanksgiving stuffing, or even a bread stuffing in the sense you think of.
Rice is a great alternative and one that is well liked by many. Another upside is it is a great gluten free stuffing or dressing alternative that a lot of people will appreciate.
Full of earthy flavors and textures, this recipe will quickly become a family favorite in your house!
This post may contain affiliate links. As an Amazon Associate, I earn from qualifying purchases. Read my disclosure policy here.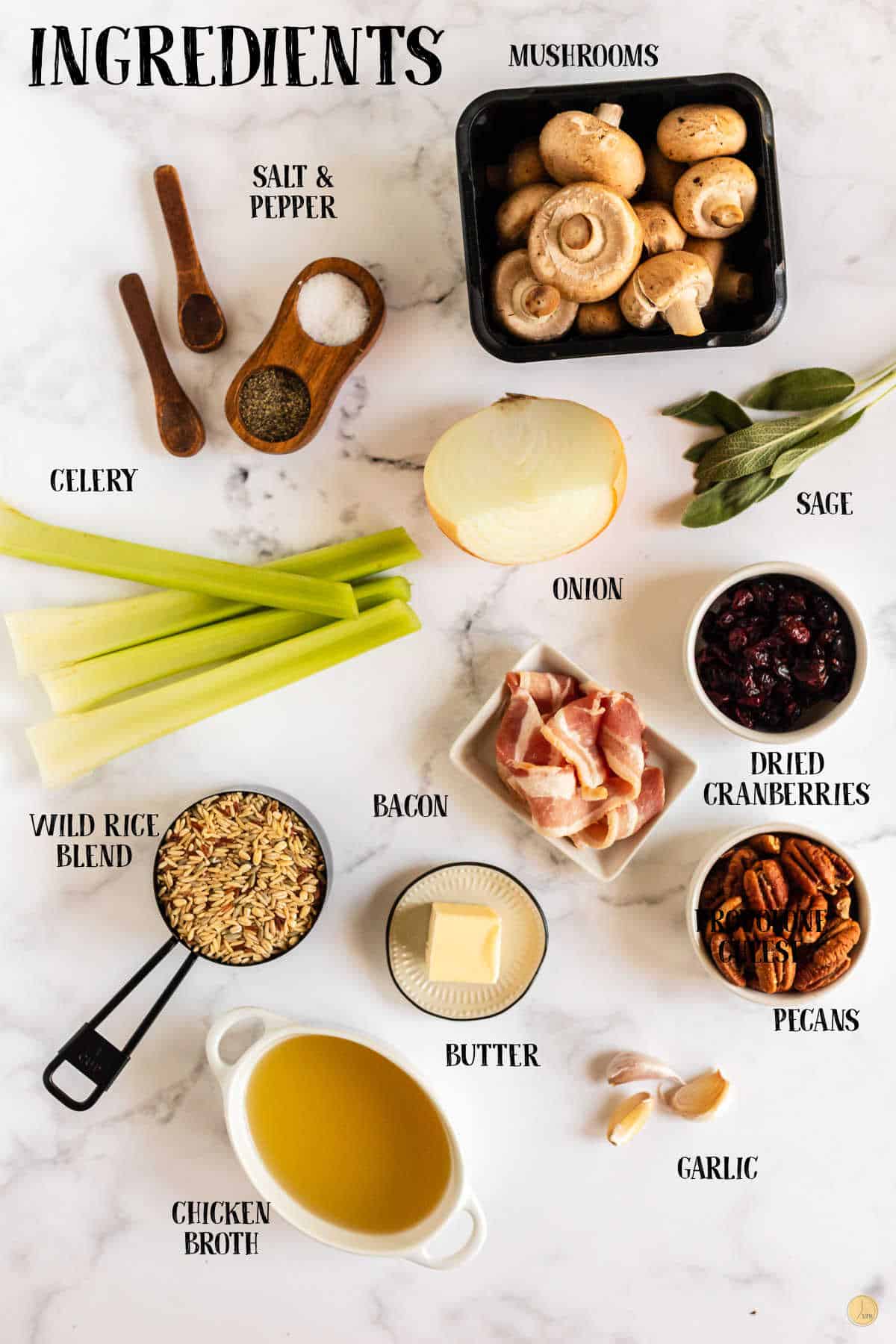 INGREDIENTS FOR WILD RICE STUFFING
wild rice
bacon
chicken broth
onion
celery
mushrooms
butter
pecans
dried cranberries
sage
salt and pepper
Wild Rice – I use a wild rice blend but if you don't have it, you can use a combination of white rice and brown rice. Just be sure to cook them separately as their cooking times are vastly different.
Chicken Broth – If you don't have or want to use chicken broth you can always switch it out for vegetable broth.
Aromatics – A blend of sweet onion and celery, diced small so they cook the same.
Mushrooms – I used baby portobello mushrooms for this recipe but you can use your favorite ones. If you want to leave them out, you can replace them with roasted chestnuts.
Pecans – I like to use toasted pecans in this recipe but you can also use walnuts or almonds.
Dried Cranberries – Feel free to use dried cherries or even dried apricots. Just be sure to chop them into small pieces for easier eating. You can also use pomegranate seeds if you find them.
Sage – I used fresh sage in this recipe as it has great flavor. If you don't have fresh or want to use dried, be sure to reduce the amount by half as dried is much stronger than fresh.
Looking for more comfort food? Follow LTB on Pinterest!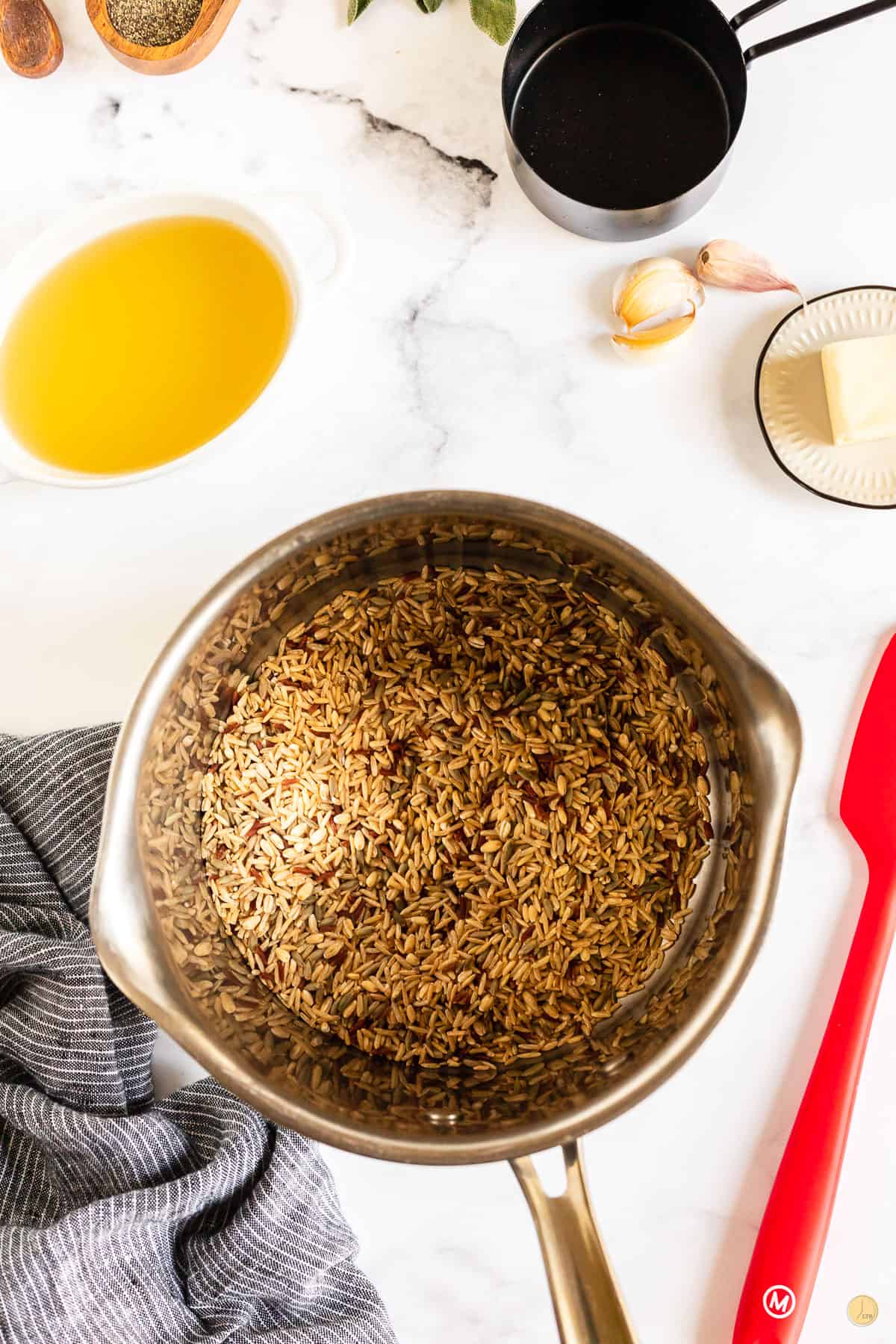 HOW TO MAKE WILD RICE STUFFING
ONE: Add rice and broth to a pot. Bring to a boil and reduce heat to a simmer. Cover tightly and cook 30-35 minutes or according to package directions until the rice is tender.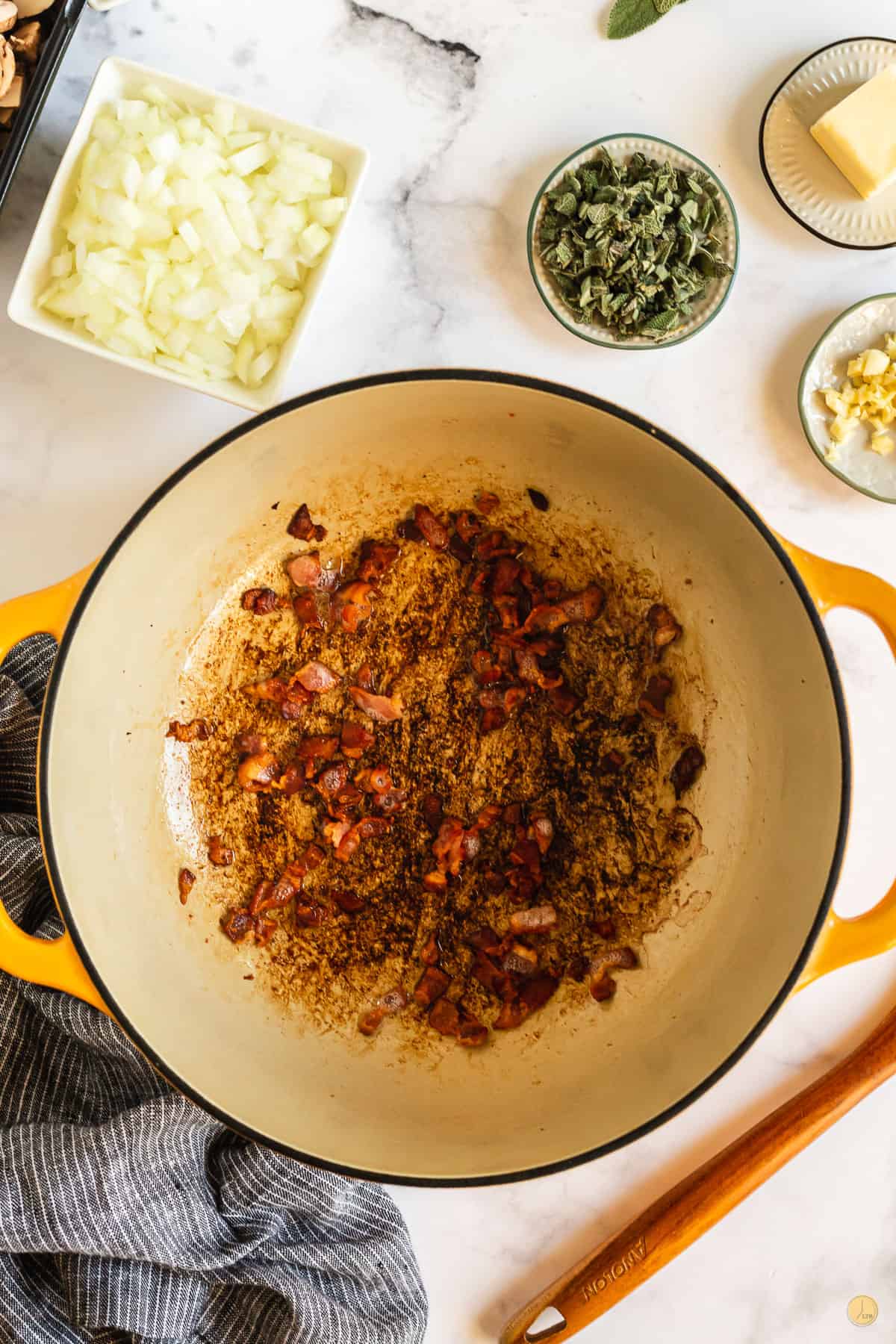 TWO: Add bacon to a large pan or dutch oven. Cook over medium heat until the fat is rendered and the bacon is crispy.
Remove to a paper towel lined plate. Add butter to pan and add mushrooms and garlic.
THREE: Cook until the mushrooms are browned and the mushrooms are tender. Remove to a bowl and add the onions, celery, and sage. Cook until tender.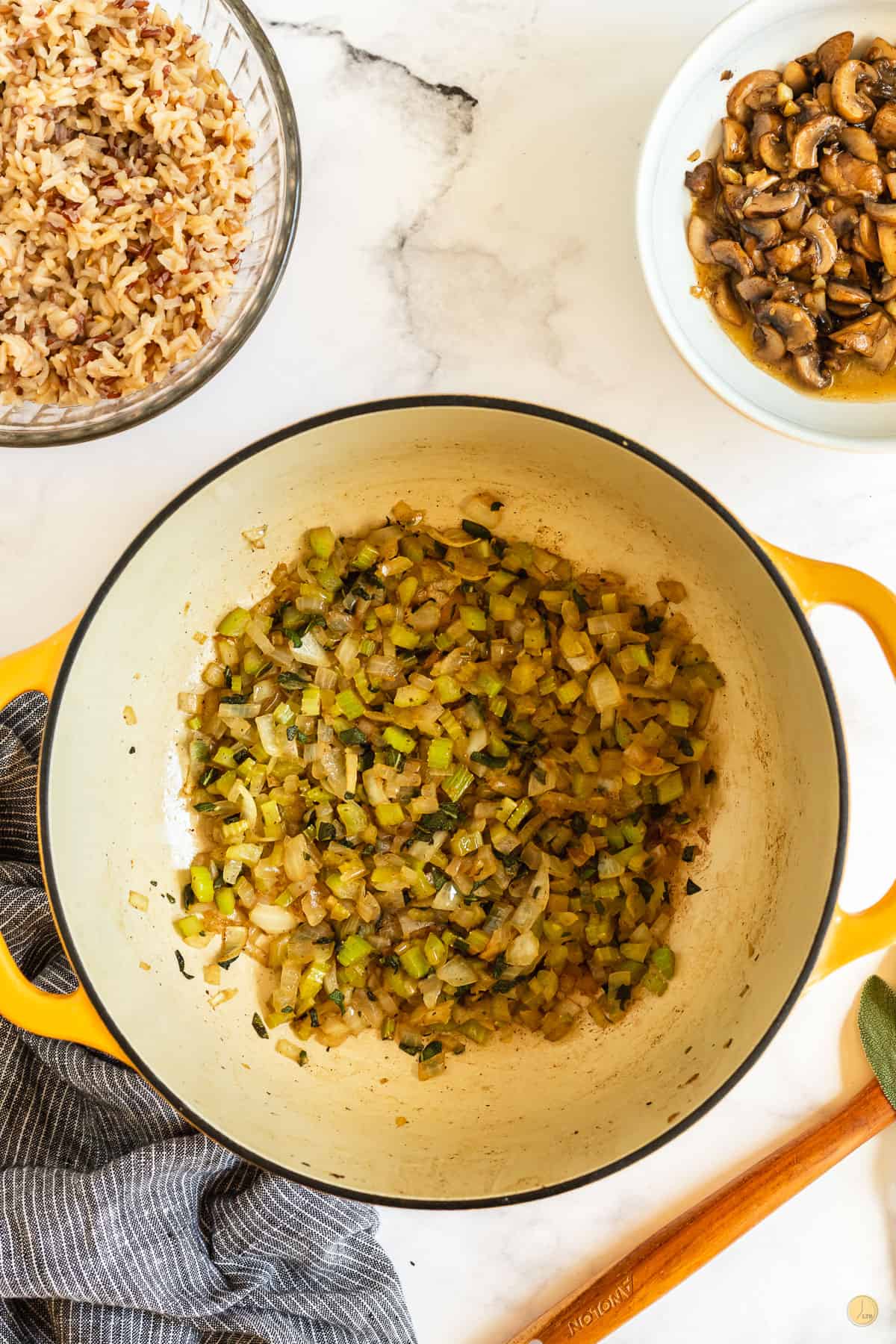 FOUR: Add the cooked rice and mushrooms to the cooked celery and onions. Stir to combine.
FIVE: Toss in the toasted pecans and dried cranberries. Toss to combine. Transfer to a serving or baking dish. Add salt and pepper if desired.
Serve the wild rice stuffing garnished with parsley and the crispy bacon. Enjoy!
For the full recipe and detailed baking instructions, please see the recipe card at the end of this post.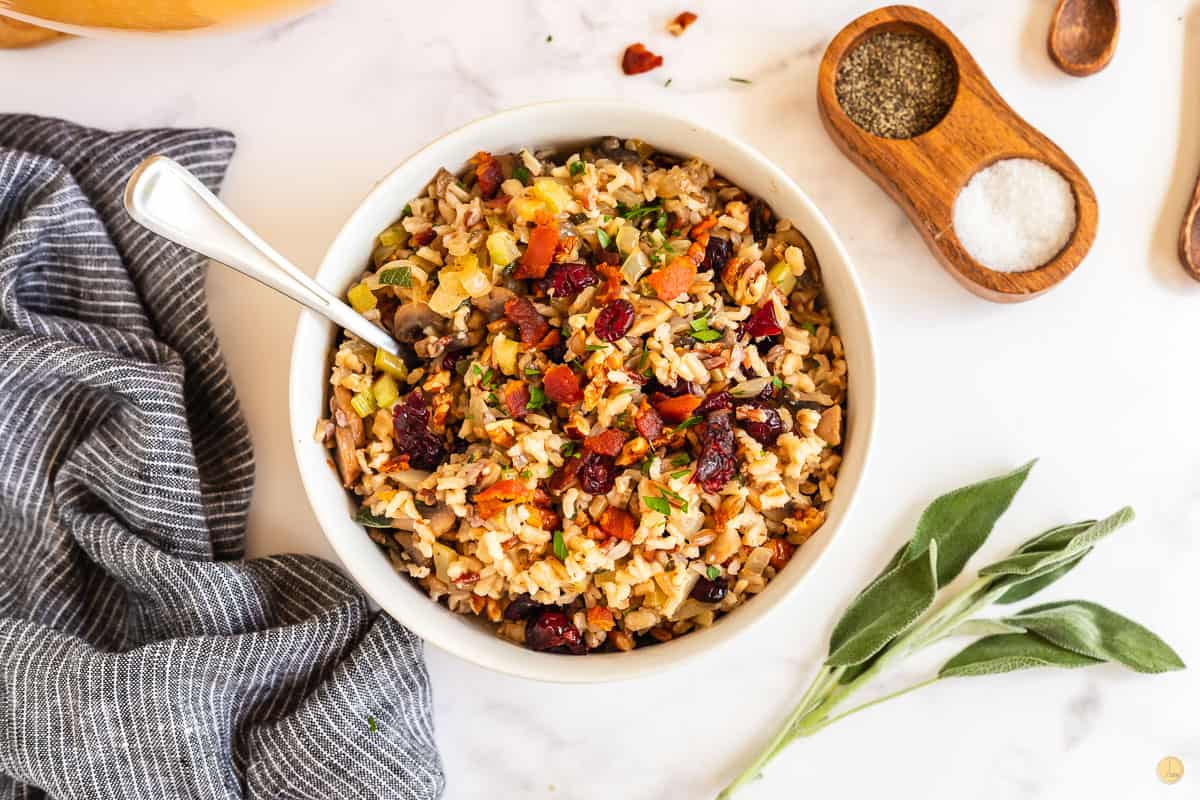 CAN I MAKE THIS WILD RICE STUFFING AHEAD OF TIME?
Yes, you can! It holds nicely for a few days in the refrigerator or for 2 months in the freezer.
You can also prep the mushrooms, onions, and celery a few days in advance. Then just cook the rice and add them together when ready.
HOW TO STORE IT:
If you happen to have any leftovers, store them in an airtight container in the refrigerator for up to 4 days.
HOW TO REHEAT IT:
When ready to enjoy again, simply reheat in the microwave in 30 second intervals until warm. You can also add to a pot with a few tablespoons of broth and stir over medium heat until warmed through.
My favorite way is to place in a baking dish, add a few tablespoons of broth, cover tightly and bake at 350F for 10-15 minutes or until warmed through.
HOW TO FREEZE IT:
You can freeze this wild rice stuffing for up to 2 months which is great for getting a head start for the holidays.
Just be sure to store in a freezer safe container, and remove as much air as possible. Thaw overnight in the refrigerator before reheating for best results.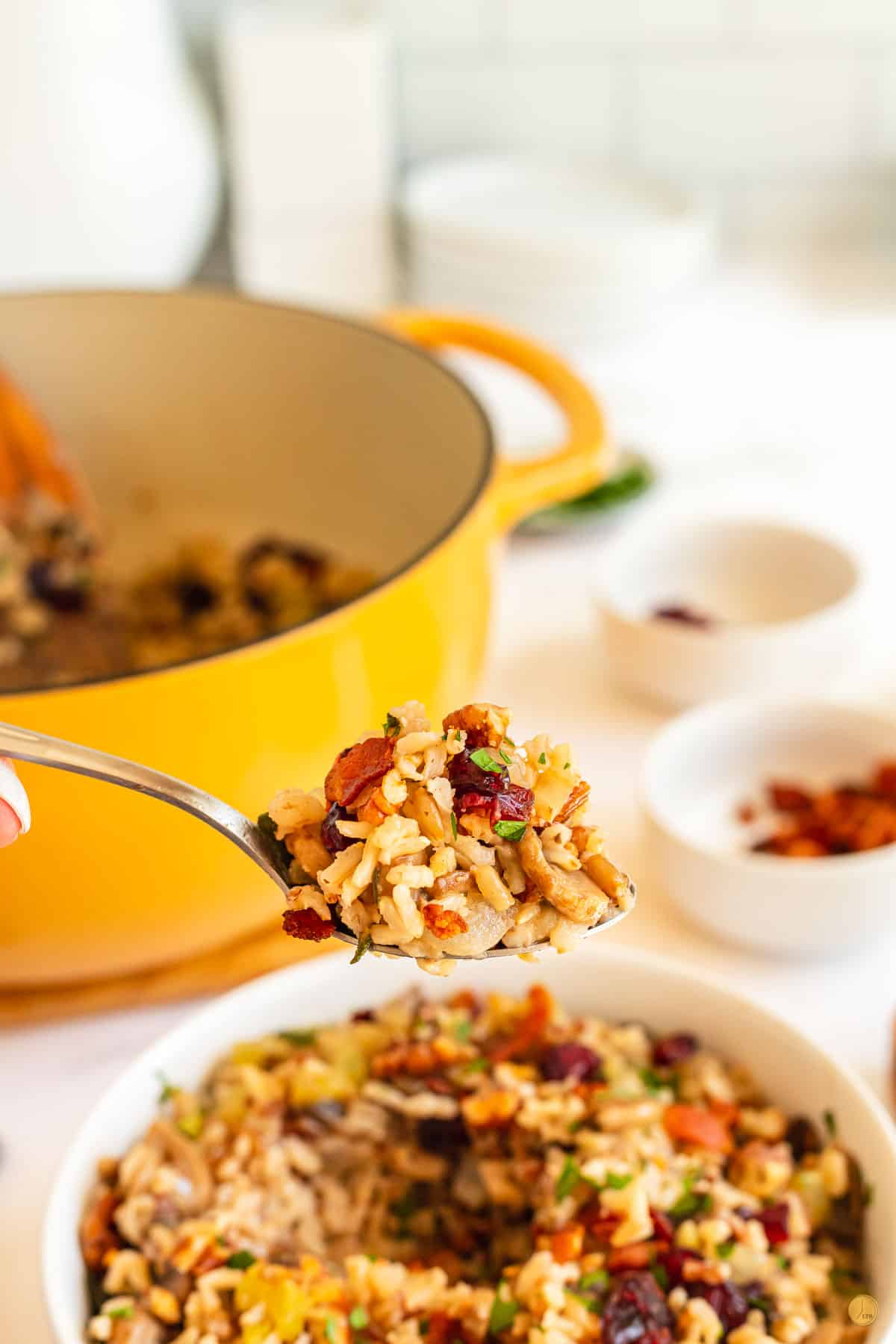 TIPS FOR NO LEFTOVERS
My rice blend took 25 minutes to absorb the broth and become tender, so check on your rice as it's cooking. You don't want it to be mushy!
If you like apples, add a little diced apple to the celery and onions while cooking.
Save the crisp bacon for garnishing the final dish.
If the dried cranberries are too chewy, you can always soak them in warm water while the rice is cooking. They will be plump when ready to add to the rice.
Toast the pecans before adding to the final dish. It will bring out their nutty flavor and adds more crunch.
If it seems a little dry when reheating, add a splash of broth to add some more moisture.
If preparing ahead of time, you can cook the rice and vegetables ahead of time, place in a baking dish, and keep warm in the oven until ready to serve. Garnish with fruit and nuts when ready. Perfect for busy holiday dinners!
This is great paired with Brussels sprouts and a roasted chicken!
If you love this recipe as much as I do, please write a five-star review in the comment section below (or on Pinterest with the "tried it" button – you can now add pictures into reviews, too!), and be sure to help me share on facebook!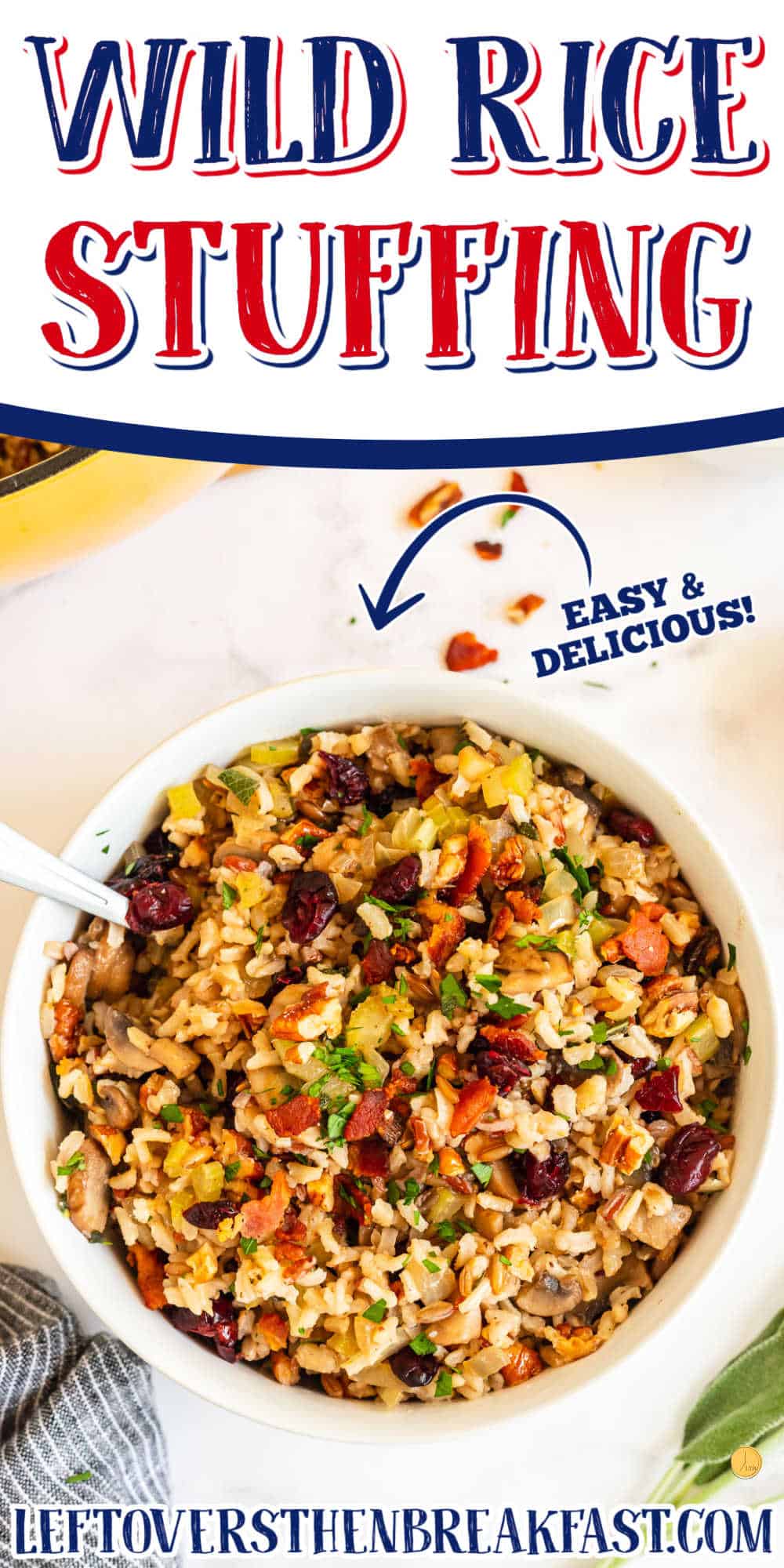 This Wild Rice Stuffing recipe, full of savory flavors and textures, is a perfect side dish for any meal any day of the week.
MORE EASY RECIPES
September is National Rice and National Whole Grains Month. The fourth week in September is National Wild Rice Week.
Whole grain are nutritious and are great to make delicious food from appetizers, salad, breads, main courses, and desserts.
In our #FestiveFoodies group, we are celebrating grains this month by sharing our favorite recipes showcasing a variety of grains and our Radha from Magical Ingredients is hosting this event.
We are sharing over 30 different recipes using whole grains so join us in the celebration!
Friday Whole Grain Recipes
@LeftoversThenBreakfast.com. Content and photographs are copyright protected. Sharing of this recipe is both encourages and appreciated. Copying and/or pasting full recipes to any social media is strictly prohibited.