If you love peanut butter, you will love these soft and chewy flourless Chocolate Dipped Peanut Butter Cookies. Loaded with rich and creamy peanut butter flavor, contain no flour or dairy, and are made with 7 simple ingredients. SO easy to make and absolutely addicting.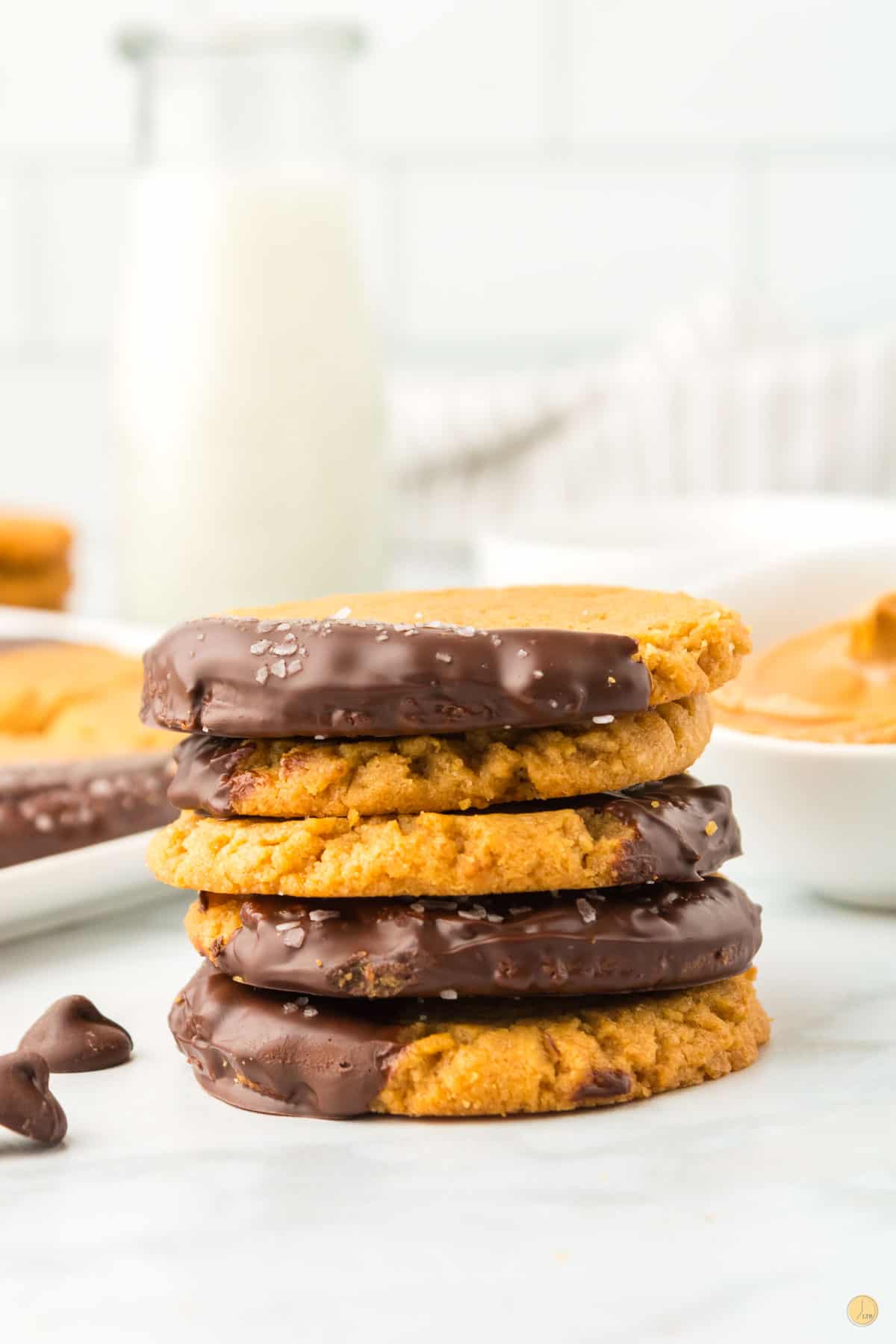 If you'd rather skip my essential cooking tips and tricks and get straight to this delicious recipe – simply scroll to the bottom of the page where you can find the printable recipe card.
This cookie is chewy and full of peanut butter flavor. The chocolate and sea salt makes the perfect combination and gives it a Reese's peanut butter cup taste.
These Chocolate Dipped Peanut Butter cookies are absolutely delicious. A soft, chewy cookie with slightly crisp edges and dipped a decadent semi-sweet chocolate.
Rich in peanut butter flavor and made with a few simple pantry staples; this cookie is naturally gluten and dairy free, but honestly, you'd never know!
A perfect dessert and so yummy straight out of the oven! The hardest part is waiting the for them to cool and set-up!
This post may contain affiliate links. As an Amazon Associate, I earn from qualifying purchases. Read my disclosure policy here.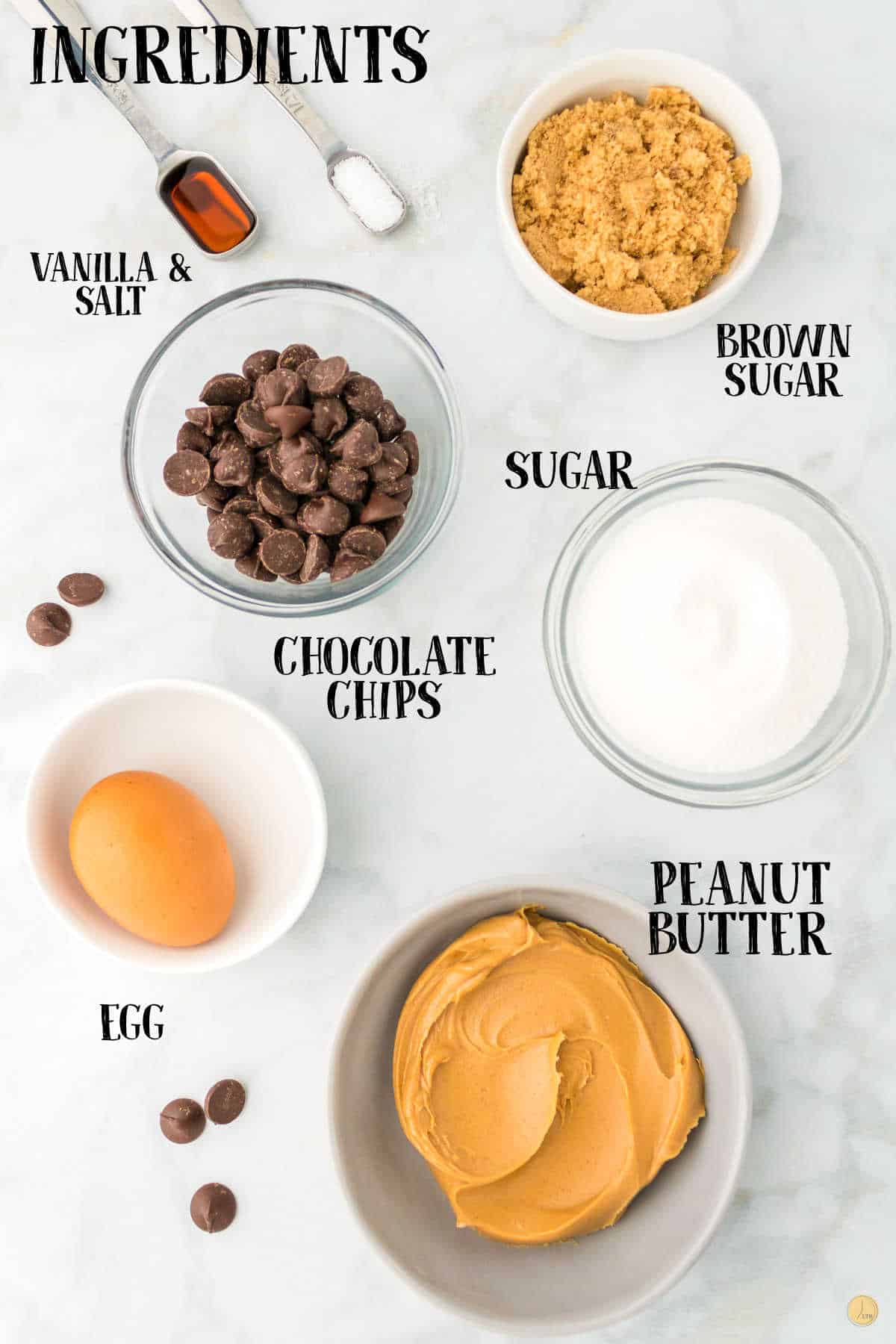 CHOCOLATE DIPPED COOKIES INGREDIENTS
creamy peanut butter
white sugar
light brown sugar
egg
vanilla extract
semi-sweet chocolate chips
vegetable oil
Kosher salt or sea salt
Peanut butter – Creamy peanut butter is best for this recipe. If you want some extra texture I recommend adding chopped nuts to the recipe, not using chunky peanut butter. And avoid "natural" nut butters as they will not mix well.
Sugar – This recipe uses a combination of white and brown sugars. I recommend the light brown sugar but dark brown will work. The cookies will be slightly darker in color once baked.
Chocolate chips – Semi-sweet chips give a nice balance of sweetness to the cookie but feel free to use milk chocolate or even dark chocolate.
Looking for more comfort food? Follow LTB on Pinterest!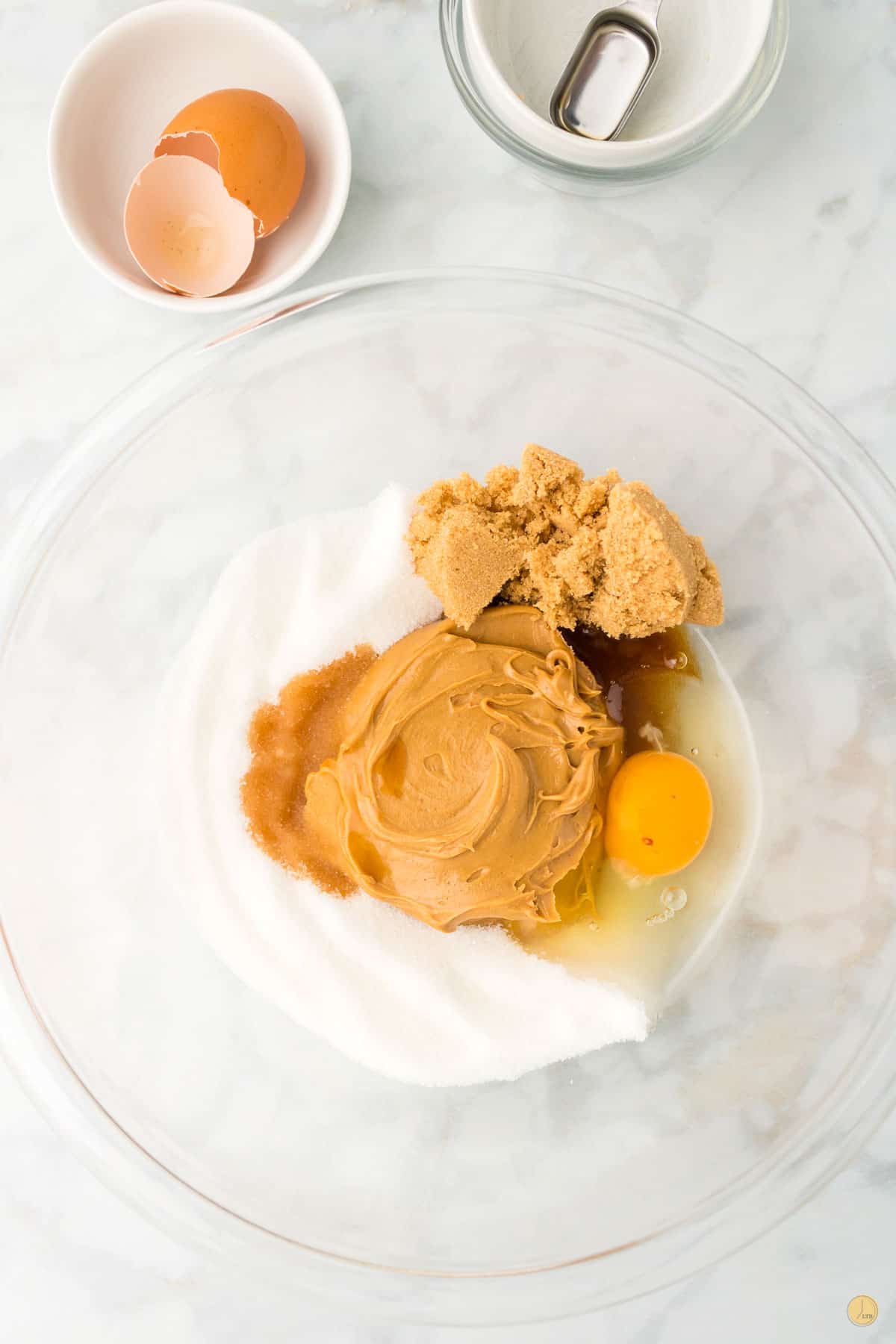 HOW TO MAKE CHOCOLATE DIPPED PEANUT BUTTER COOKIES
ONE: Preheat oven to 350 degrees. In large mixing bowl, combine peanut butter, sugars, egg, and vanilla. Mix until cookie dough is formed.
TWO: Using a medium sized cookie scoop, place cookie dough balls onto ungreased baking sheets, spacing about 2 inches apart. Flatten cookie with bottom of glass or measuring cup to approximately ½ inch thickness.
THREE: Bake 10-12 minutes. Cookies will appear lightly browned and slightly underdone but will set up as they cool. Repeat with additional dough.
Allow cookies to cool on cookie sheet for at least 5 minutes before transferring to cooking rack. Cool completely before moving on to step 4.
FOUR: Line cooled cookie sheet with parchment or waxed paper. In a microwave safe bowl or pyrex measuring cup, add chocolate chips and vegetable oil and heat for 30 seconds, stir, then continue to the melt the chocolate in 15 second intervals until melted and smooth.
FIVE: Dip cookie into the melted chocolate until ⅓ of it is coated. Scrape off excess chocolate from bottom of cookie and place on lined cookie sheet.
Sprinkle with small amount of salt. Repeat with all cookies and chill until chocolate has hardened.
For the full recipe and detailed baking instructions, please see the recipe card at the end of this post.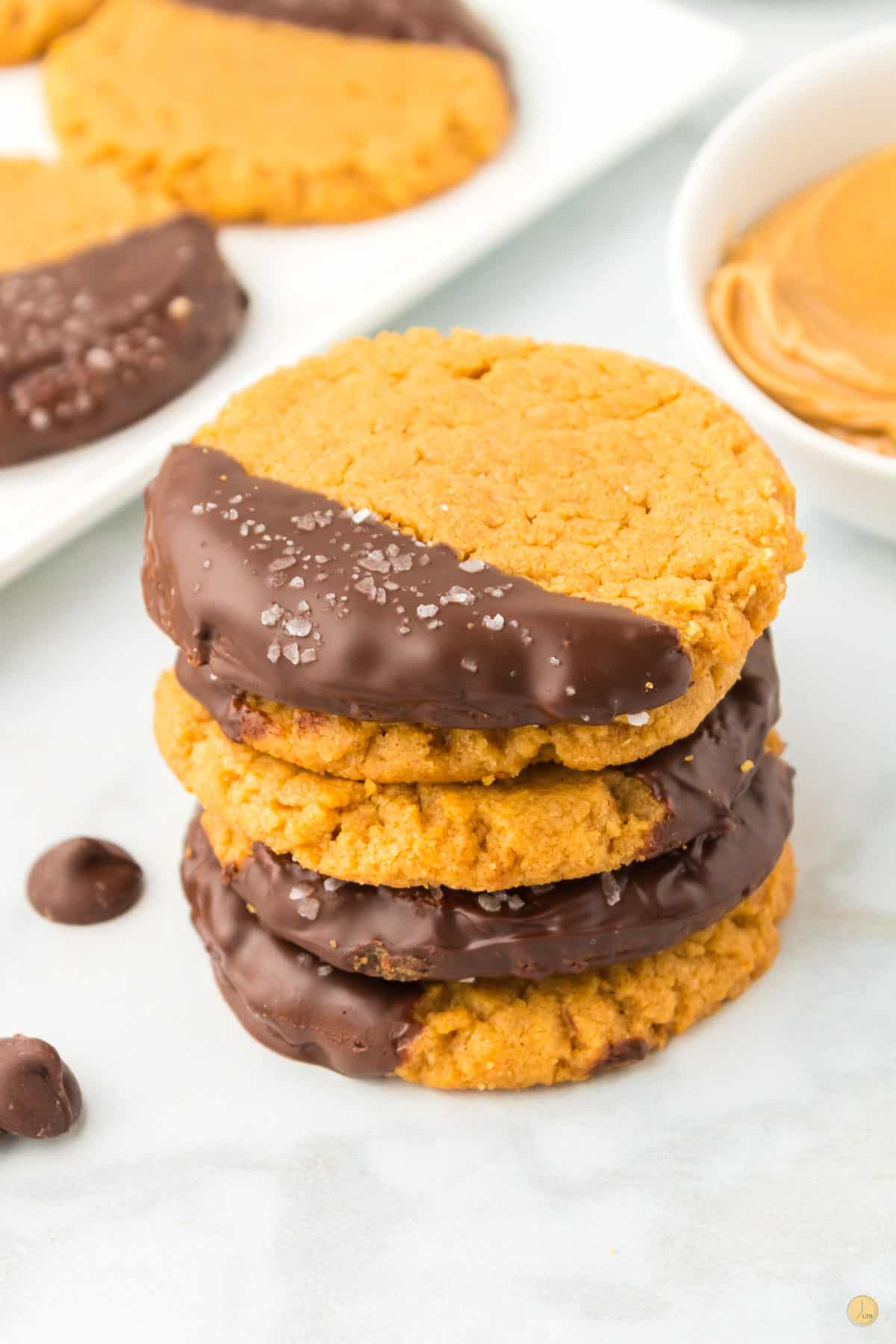 CAN YOU FREEZE PEANUT BUTTER COOKIES?
These cookies are freezer-friendly. Once set, place in an airtight container or freezer ziplock bag with parchment paper between the layers for 1-2 months.
HOW DO YOU KNOW WHEN PEANUT BUTTER COOKIES ARE DONE?
Peanut butter cookies are done when their edges are a light brown. However; due to the natural light brown color of peanut butter, it can be difficult to tell when the edges reach this point. I recommend turning on the oven light or even briefly removing from the oven to get a quick closer look.
WHY ARE THERE FORK MARKS ON PEANUT BUTTER COOKIES?
Peanut butter cookie dough is extremely dense, and without being pressed, the cookies will not cook evenly. Another potential benefit of the fork marks is to warn people with a peanut allergy to stay clear of these cookies.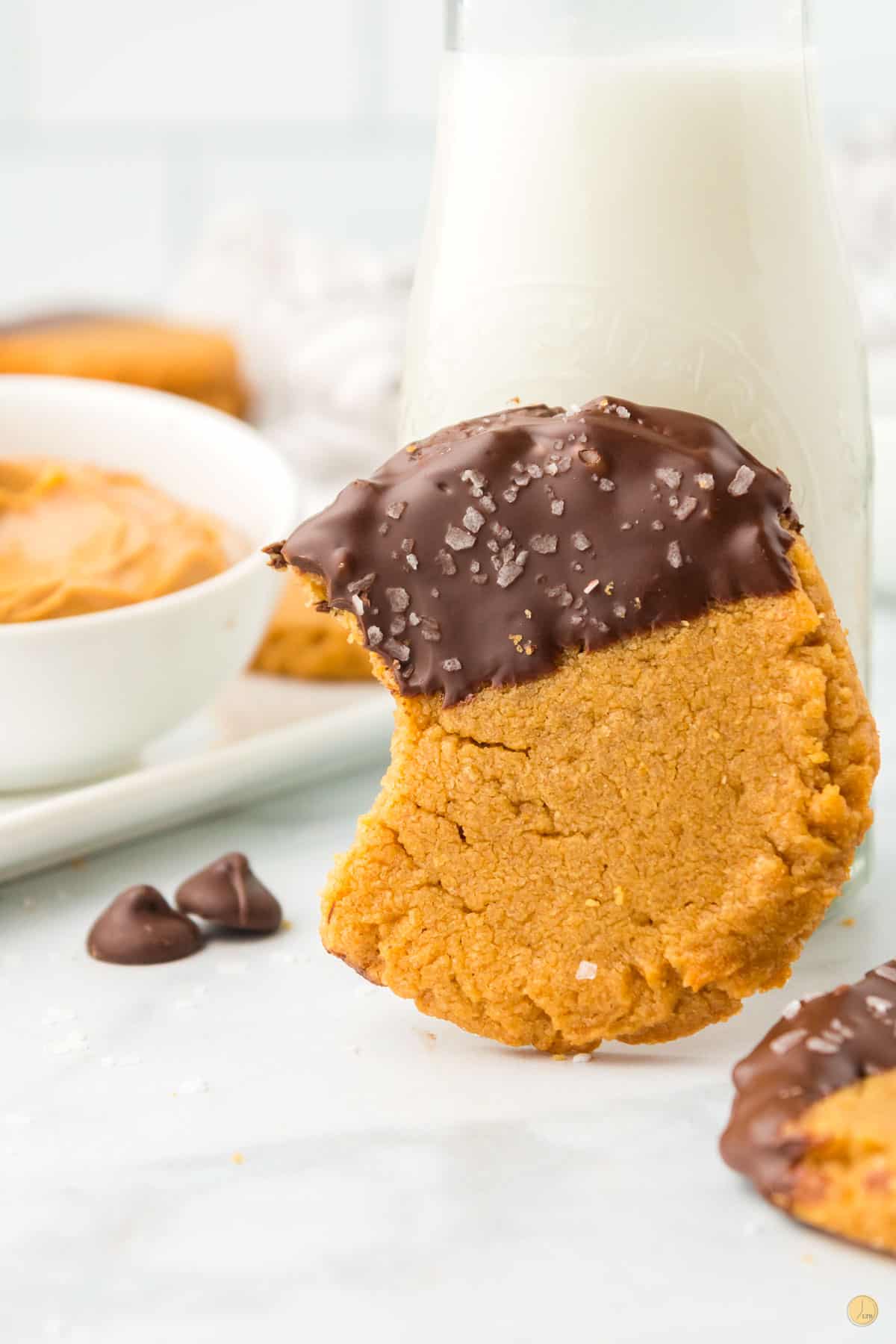 WHAT IS THE BEST CHOCOLATE FOR DIPPING?
The most versatile and user-friendly chocolate for melting is Nestle Toll House Milk Chocolate Morsels. Unlike many other chocolates, it melts smoothly, evenly, and quickly which makes this brand ideal.
Whether you use the small chips or chunks, this classic chocolate morsel stays melted and in a liquid form long enough so you can drizzle, pour, or decorate before it hardens.
Additionally, it is gluten-free, and has no artificial colors or preservatives.
While I prefer Nestle Toll House Morsels for melting, another great option is Ghirardelli Premium Baking Chips. Ghirardelli makes some of the finest and most flavorful chocolates available, and when used for melting, the result is truly smooth, creamy, and delicious.
Just like the Nestle Toll House Morsels, Ghirardelli Baking Chips stay melted long enough to dip, drizzle, or pour prior to hardening.
Plus, this chocolate melts in about 30 seconds in the microwave and yields a fancy, professional result.
NEED SUBSTITUTIONS?
Feel free to use coconut oil instead of the vegetable oil when melting the chocolate.
Milk chocolate or dark chocolate for the semi sweet chips.
I have not tested this recipe with different sugars or egg substitutes
Since this recipe doesn't use flour, you won't have to worry about switching it out according to your dietary needs.
Flaky sea salt or kosher salt works best for these cookies. I do not recommend using regular table salt.
TIPS FOR NO LEFTOVERS
I used creamy peanut butter (Jiff brand) for this recipe. If you like some extra texture I recommend sprinkling some chopped peanuts on the chocolate with the salt.
I don't recommend using natural peanut butter for this recipe. It tends to separate and not mix well with the other ingredients.
You can use a scoop or spoon to portion before you roll the dough into a ball and place on the prepared baking sheets.
You can use parchment paper or a silicone baking mat if you prefer but I would not use waxed paper.
To speed up cooling process, chill cookies in refrigerator after cooling at room temperature for 10 minutes. You can also chill for several hours or overnight and dip later or the next day.
Chocolate candy coating can be used in place of chocolate chips, just follow directions on package to melt. If chocolate is thick, add more oil to thin if needed. Chocolate should easily drip off spoon.
Once chocolate gets low, tilt the container to coat the cookies.
Cookies should be stored in refrigerator in airtight container. When stored at room temperature, chocolate may soften and become sightly melted.
Use within 3 days for best freshness.
If you love this recipe as much as I do, please write a five-star review in the comment section below (or on Pinterest with the "tried it" button – you can now add pictures into reviews, too!), and be sure to help me share on facebook!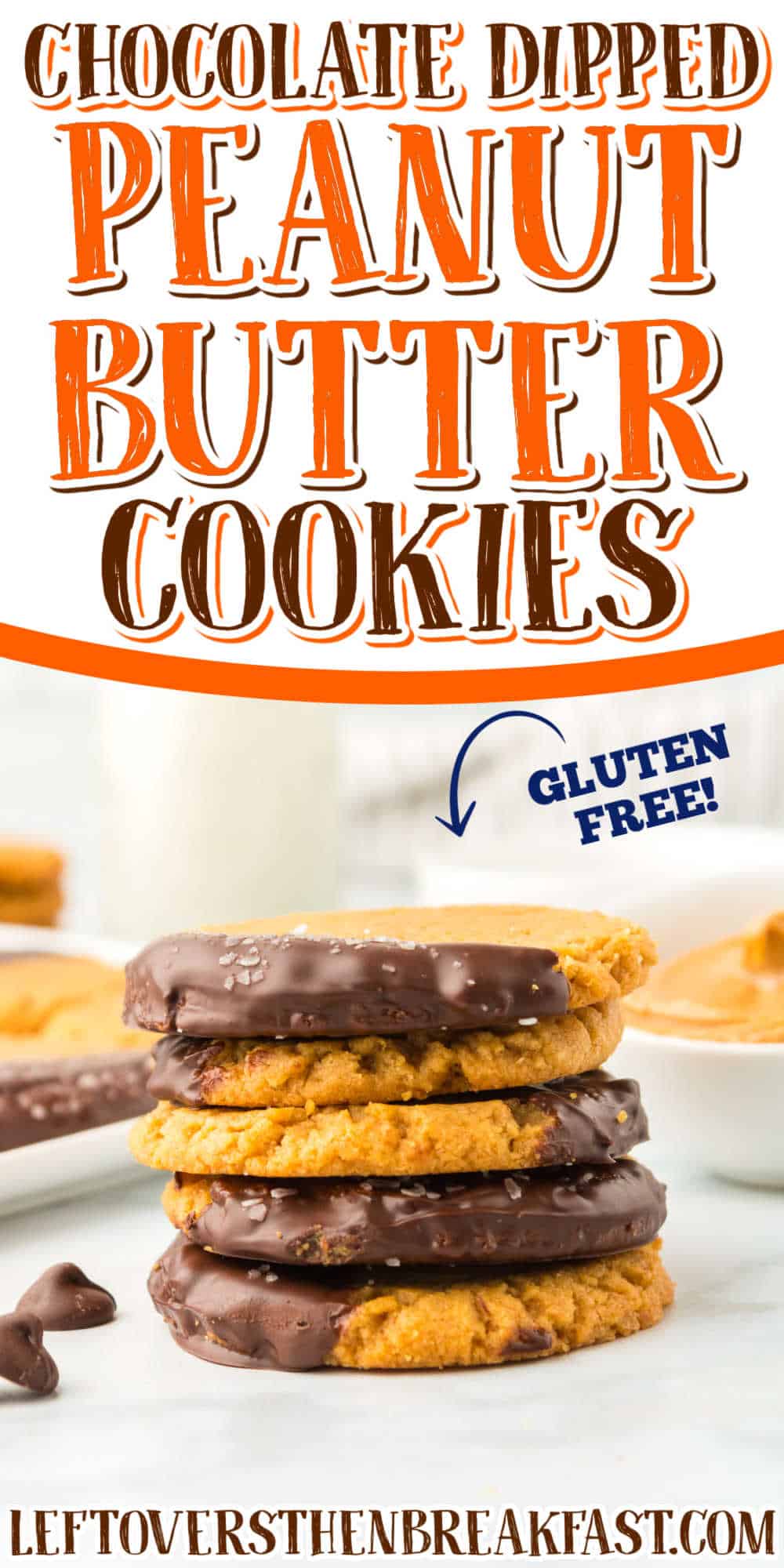 These gluten-free chocolate dipped peanut butter cookies are easy-to-make and taste like a Reese's Peanut Butter Cup in cookie form. Enjoy them with a cup of ice cold milk or make them extra decadent and add some ice cream to two of them and make an ice cream sandwich!
MORE DELICIOUS COOKIES
@LeftoversThenBreakfast.com. Content and photographs are copyright protected. Sharing of this recipe is both encourages and appreciated. Copying and/or pasting full recipes to any social media is strictly prohibited.