The perfect salad does exist, and this Chicken Cobb Salad is it, full of every flavor and texture you desire in a salad. Tender grilled chicken, smoky bacon, plump tomatoes, and protein rich eggs. Perfect for one or a crowd!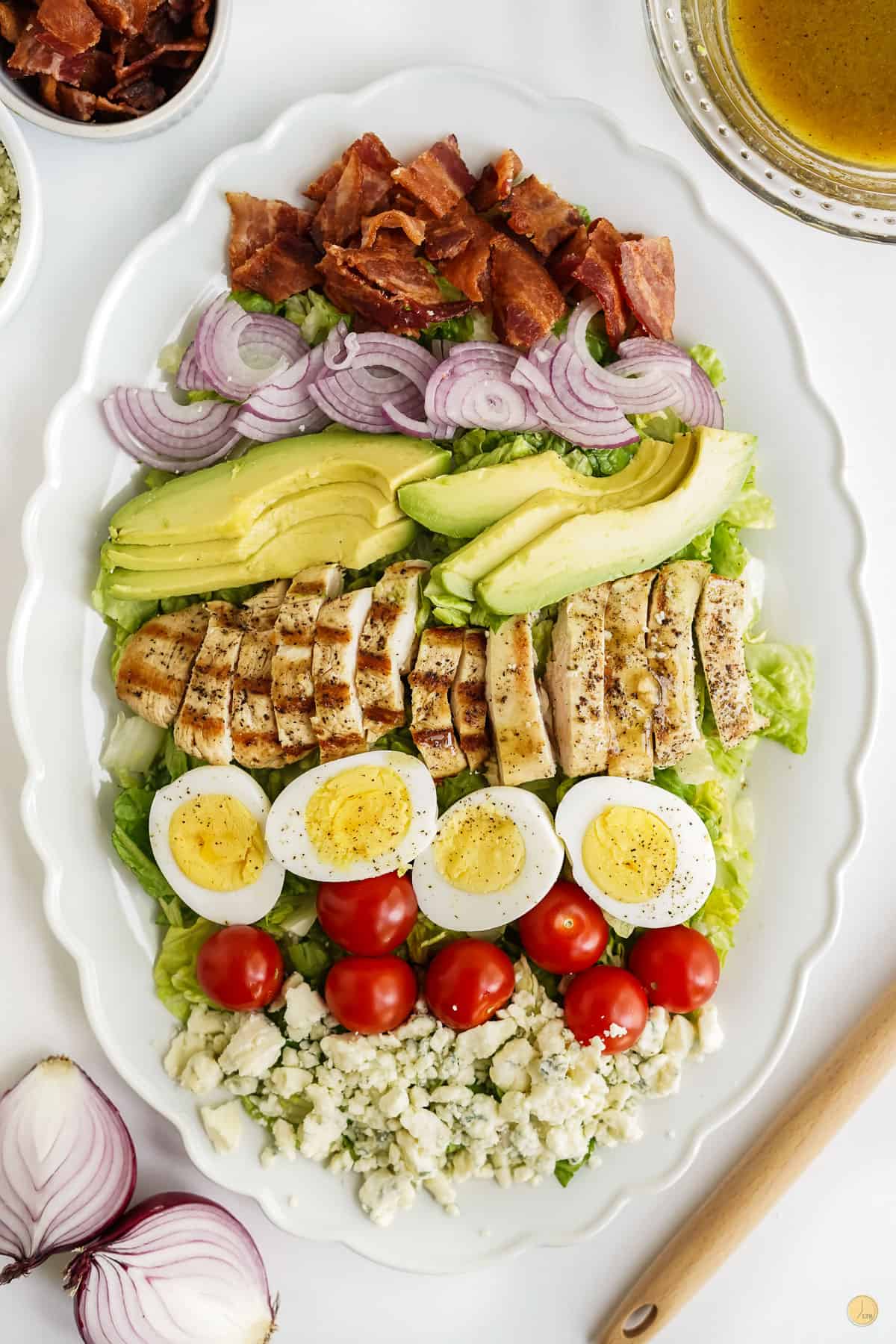 If you'd rather skip my essential cooking tips and tricks and get straight to this delicious recipe – simply scroll to the bottom of the page where you can find the printable recipe card.
A boring salad is just not something to look forward to, but a filling and flavorful Cobb Salad is something to celebrate.
You will be craving the flavors and textures that come together in this easy chicken Cobb salad recipe.
It has your basic Cobb salad ingredients with a couple of unique additions to add more even more depth to the taste of this classic dish.
WHAT IS A COBB SALAD?
A Cobb salad has chopped greens, eggs, chicken, bacon, tomato, and avocado with a vinaigrette dressing.
Named for Robert H. Cobb, the owner of the Brown Derby Restaurant, where it was created. This iconic salad is loved because of all the delicious toppings that will fill you up!
WHAT MAKES A COBB SALAD A COBB SALAD?
Having a variety of greens that are already chopped, a few different proteins/meats, and a red wine vinaigrette dressing is the trademark of a Cobb salad.
This post may contain affiliate links. As an Amazon Associate, I earn from qualifying purchases. Read my disclosure policy here.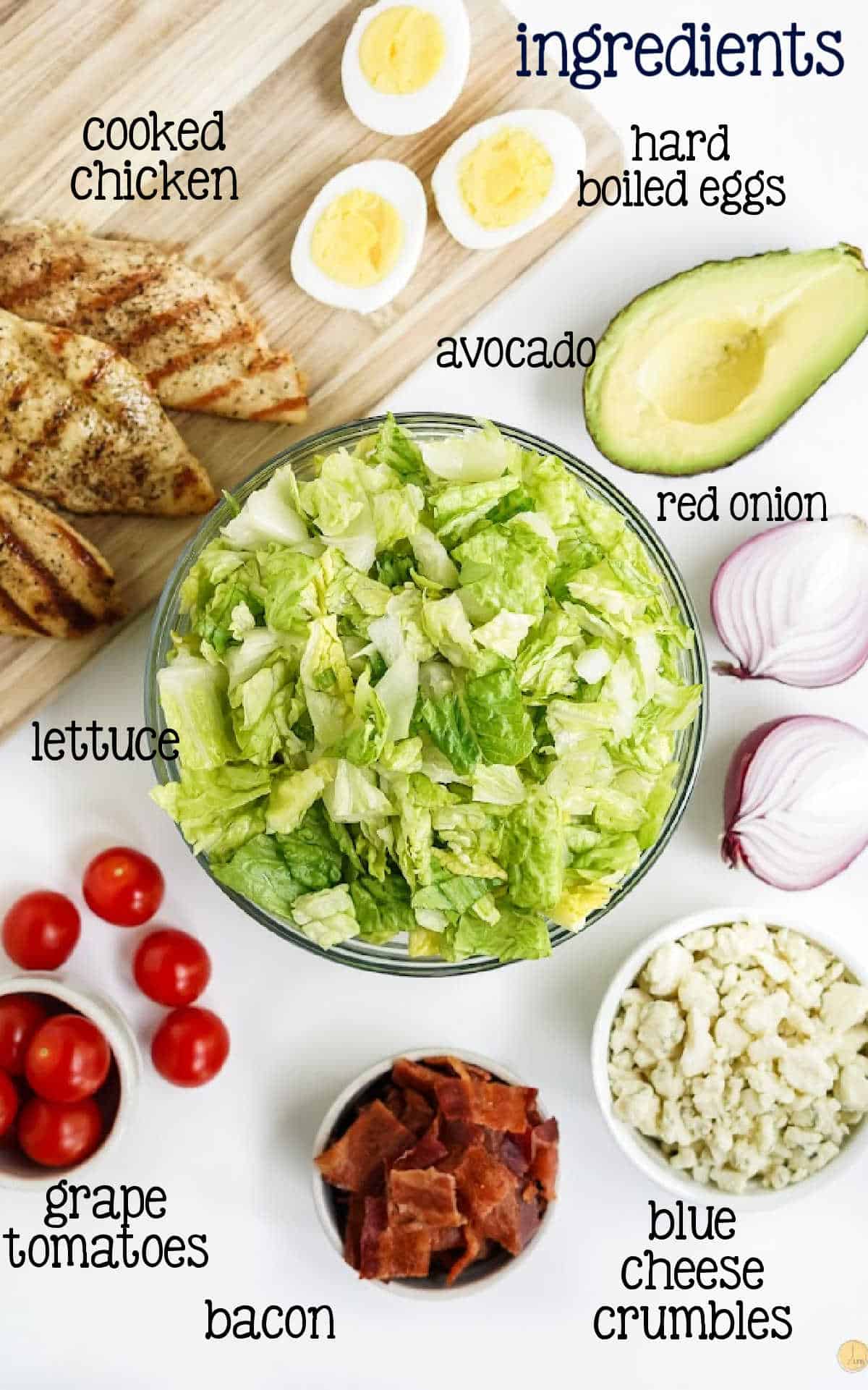 CHICKEN COBB SALAD INGREDIENTS
romaine lettuce
hard boiled eggs
grilled chicken breasts
cherry tomatoes
red onion
bacon
avocado
crumbled blue cheese
Lettuce – Romaine works best for this salad but you can use iceberg or mixed greens. Fresh spinach is also a great option!
Hard Boiled Eggs – You can cook the eggs yourself or buy them already cooked like I have been known to do when I am having a busy day. Here is a great tutorial for easy peel hard boiled eggs.
Chicken – Grilled chicken is easy in the summer and gives the best flavor. Feel free to use shredded chicken or grab a rotisserie chicken from the deli on the way home for easy meal prep.
COBB SALAD DRESSING
extra virgin olive oil
red wine vinegar
honey
Dijon mustard
garlic
salt & pepper
Looking for more comfort food? Follow LTB on Pinterest!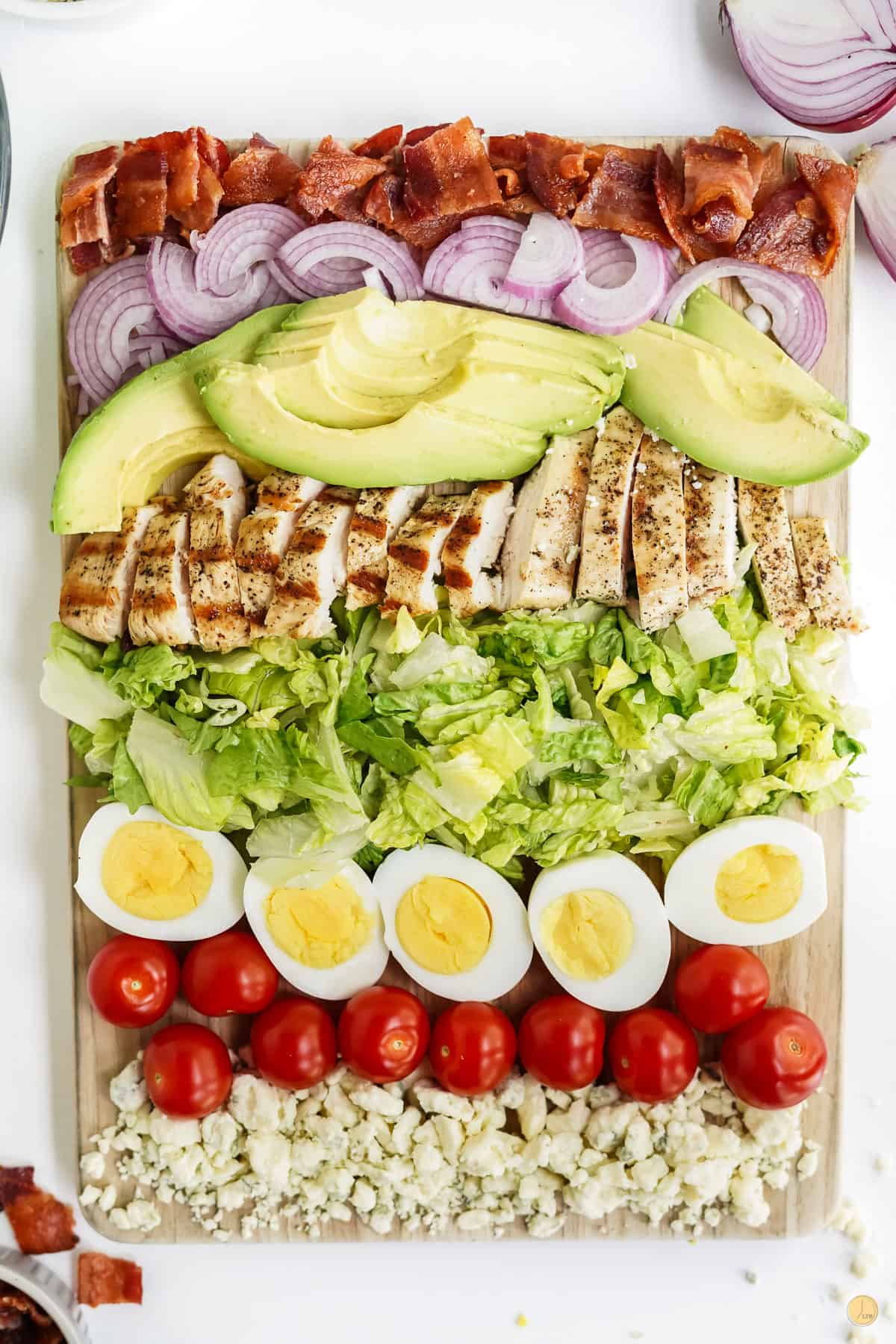 HOW TO MAKE A CHICKEN COBB SALAD
ONE: Assemble salad ingredients in a large bowl. You can top the lettuce with other ingredients displayed on top, or toss to combine. I like to layer or group the eggs, tomatoes, avocado, chicken, bacon, for a fun presentation.
TWO: In a small bowl, whisk together the olive oil, red wine vinegar, honey, Dijon mustard, salt, pepper and garlic until well combined.
THREE: Pour dressing over salad, or serve dressing on the side.
For the full recipe and detailed baking instructions, please see the recipe card at the end of this post.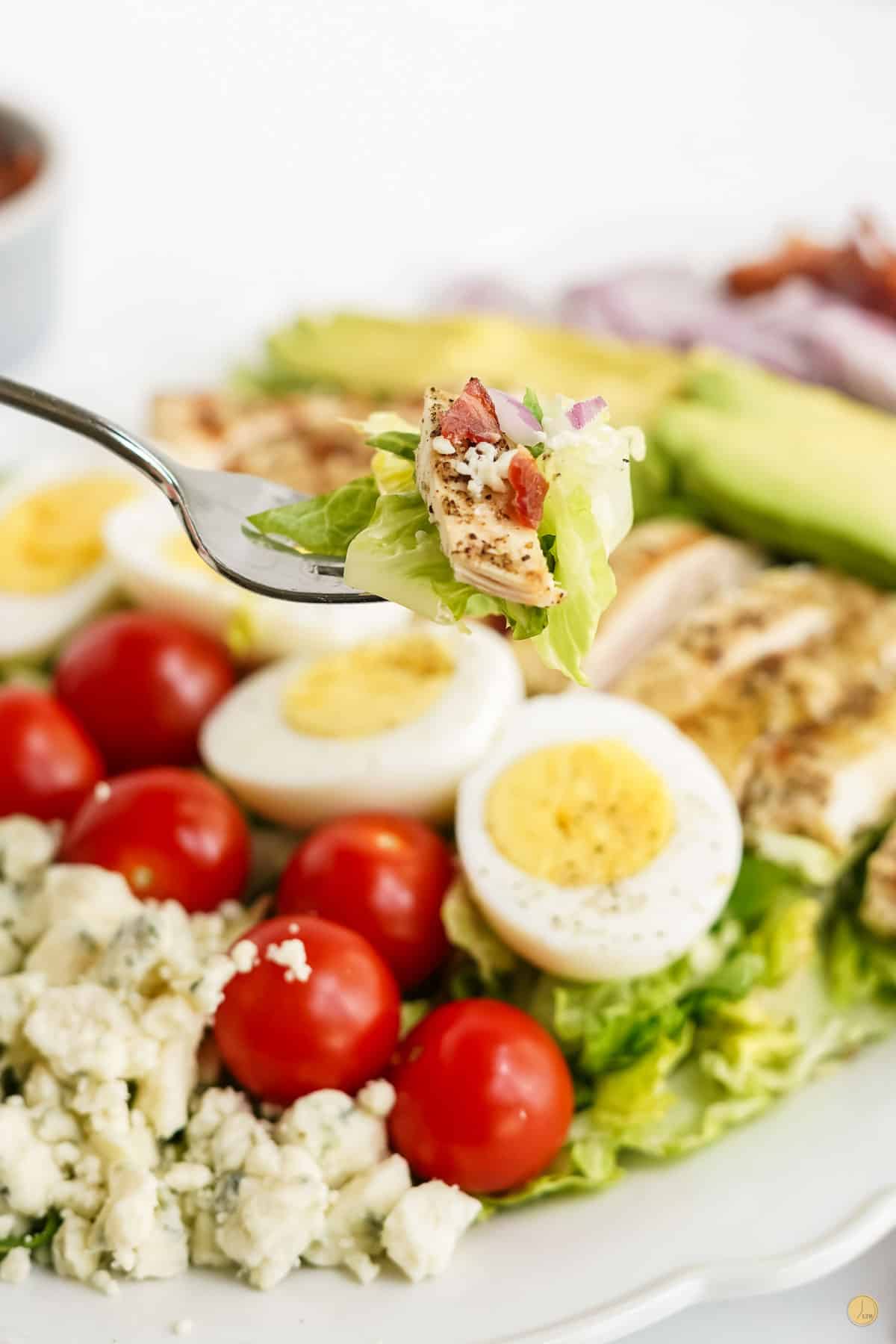 WHAT'S THE DIFFERENCE BETWEEN A COBB SALAD AND A CHEF'S SALAD?
A Cobb salad has more variety in the ingredients and meets almost all the food groups in one dish (depending on the dressing you choose the only food group missing would be grains probably).
A chef salad is more of a traditional salad with lettuce, vegetables, ham, bacon, and cheddar cheese and maybe some tomatoes.
CAN YOU PREP THIS AHEAD OF TIME?
This chicken cobb salad is perfect to make ahead of time! Just chop all your ingredients and store in separate containers. Keep them chilled in the refrigerator and then add dressing when ready to enjoy!
CAN I USE A DIFFERENT DRESSING?
You can use any dressing you prefer. A red wine vinaigrette is the classic topping for this salad, but dressing is a personal preference. I sometimes like a creamy Ranch, myself.
With all the flavors already present you don't want anything that is going to overpower or cover up those delicious flavors in each bite.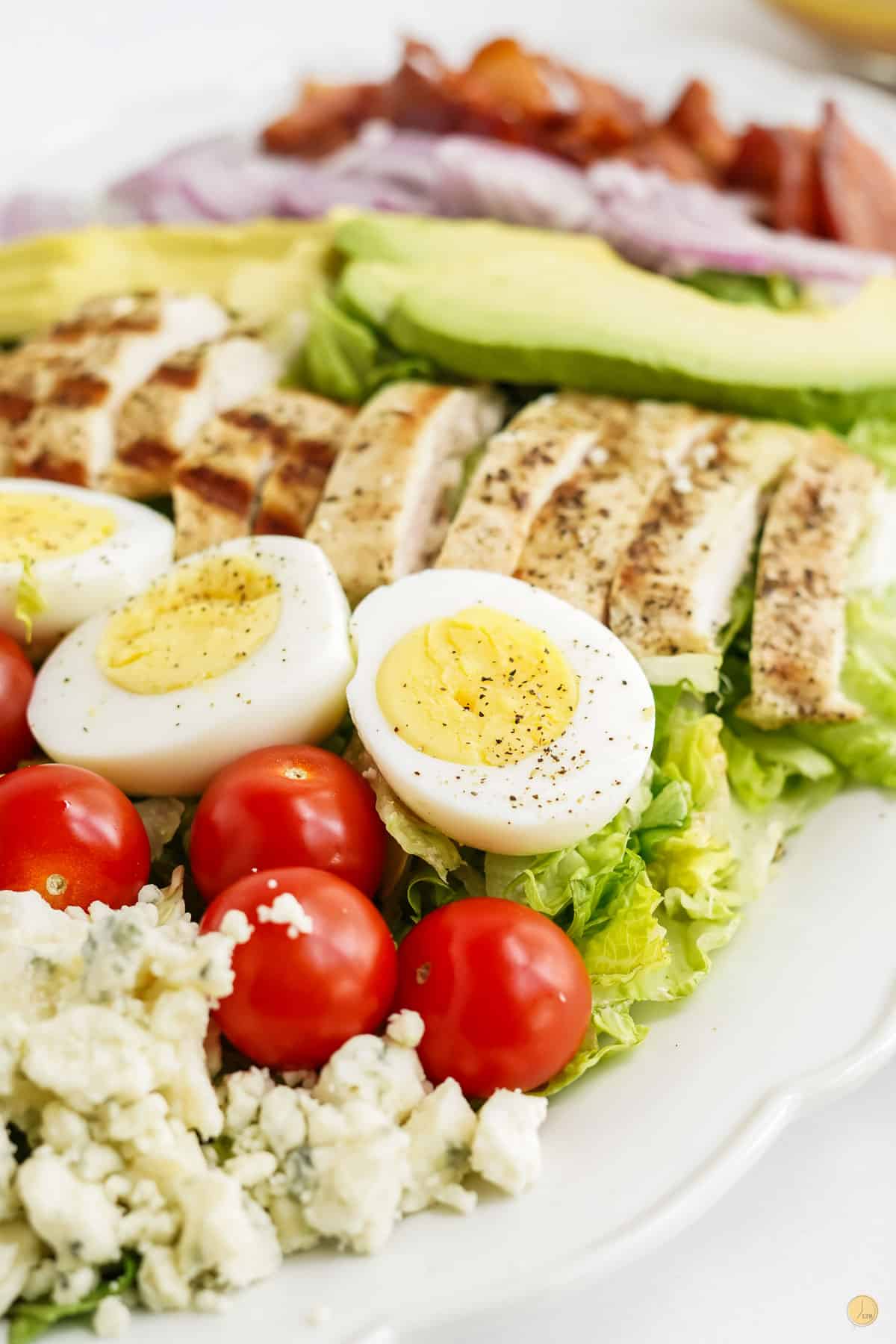 TIPS FOR NO LEFTOVERS
this is a great salad to prep ahead of time. Just chop the ingredients and store until ready to serve.
leave off the chicken or substitute another protein if you prefer.
add some toasted nuts to this chicken cobb salad for more texture.
if the blue cheese is too strong for you, feel free to substitute another. Feta is a great choice!
cook your bacon and eggs ahead of time so when you are ready to eat just assemble and enjoy!
I cooked the bacon in the microwave and drained on paper towels for less mess.
grill your chicken that day or use pre cooked chicken. I enjoy this with a rotisserie chicken from the deli!
you can also choose to pan sear your chicken in a skillet over medium high heat and finish off in the oven until cooked through. I love this method when I am not in the mood to fire up the grill.
If you love this recipe as much as I do, please write a five-star review in the comment section below (or on Pinterest with the "tried it" button – you can now add pictures into reviews, too!), and be sure to help me share on facebook!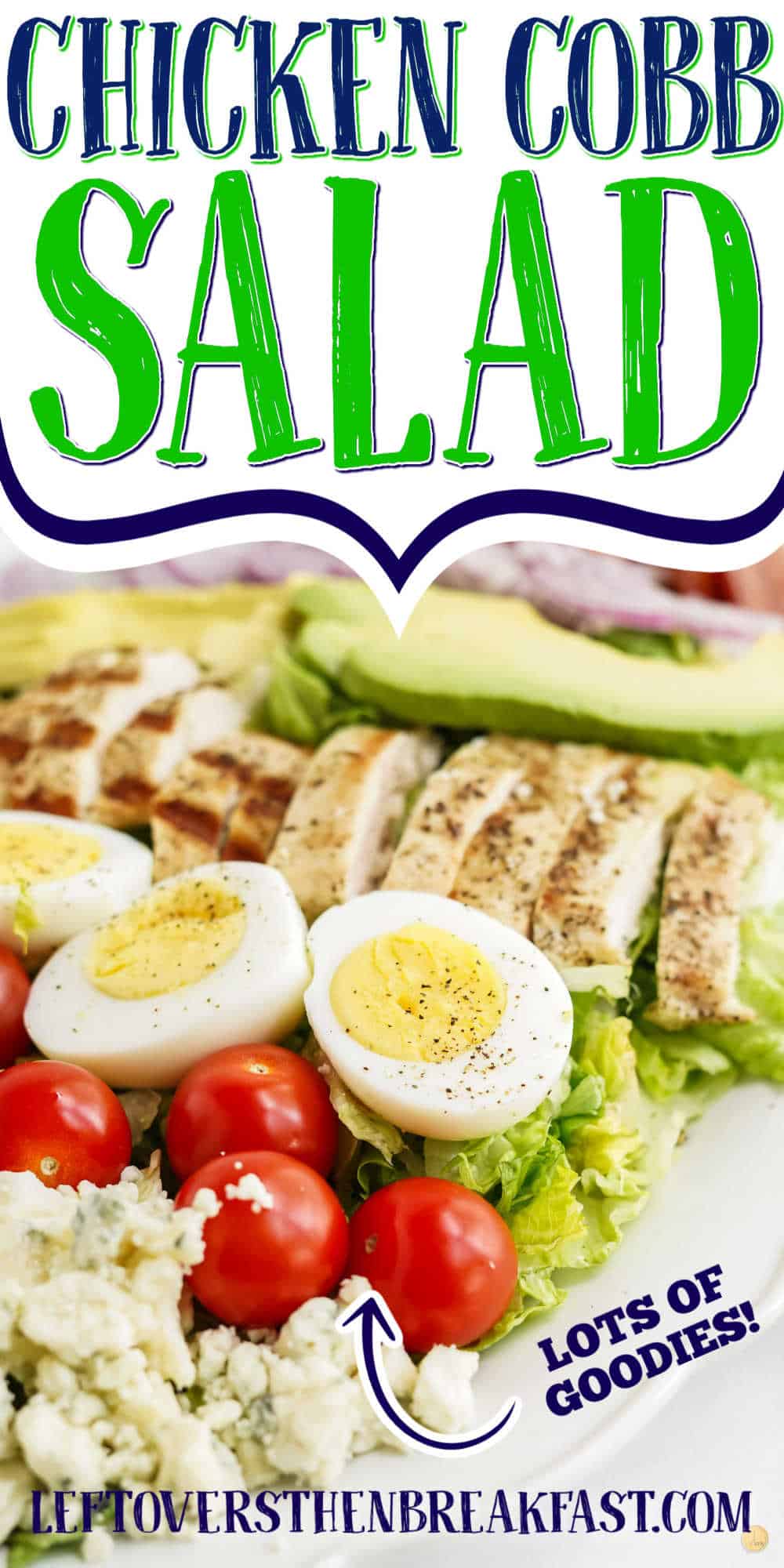 This is a great salad to make for lunches for the week and pack with dressing ready to add when you eat it. Let me know in the comments which dressing you choose and how you like your Cobb salad.
MORE SALADS TO ENJOY
GRILLED CHICKEN COBB SALAD RECIPE
@LeftoversThenBreakfast.com. Content and photographs are copyright protected. Sharing of this recipe is both encourages and appreciated. Copying and/or pasting full recipes to any social media is strictly prohibited.