If you are looking for a beautiful and hearty salad as the centerpiece of your summer table, this Broccoli Grape Salad is the perfect choice. Crisp tender broccoli, juicy grapes, and smoky bacon in a light dressing.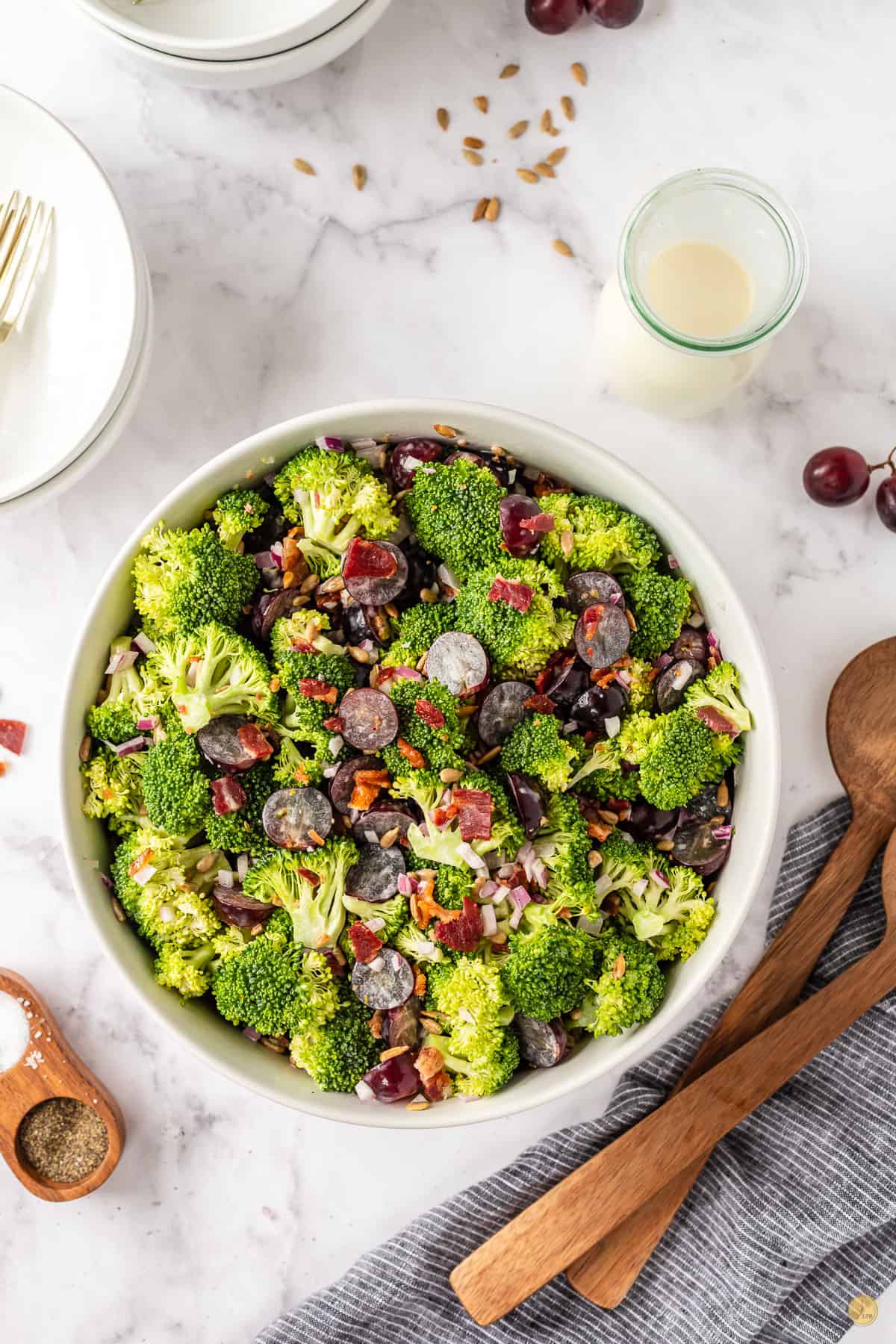 If you'd rather skip my essential cooking tips and tricks and get straight to this delicious recipe – simply scroll to the bottom of the page where you can find the printable recipe card.
Broccoli Grape Salad has a lot of ingredients, but it is as easy as it gets. Just put everything together and mix. I love to have this cold salad on the table because it is refreshing and just gorgeous to look at.
The shades of purple from the onion and grapes complement the shades of green so beautifully.
The variety of flavors in this broccoli salad with grapes is surprising; you have sweetness form the grapes and the woody flavor of the broccoli and seeds with the creaminess of the mayo and the tangy flavors of the vinegar.
Each bite is a harmony of all the flavors and textures combined in this cold broccoli salad recipe.
This post may contain affiliate links. As an Amazon Associate, I earn from qualifying purchases. Read my disclosure policy here.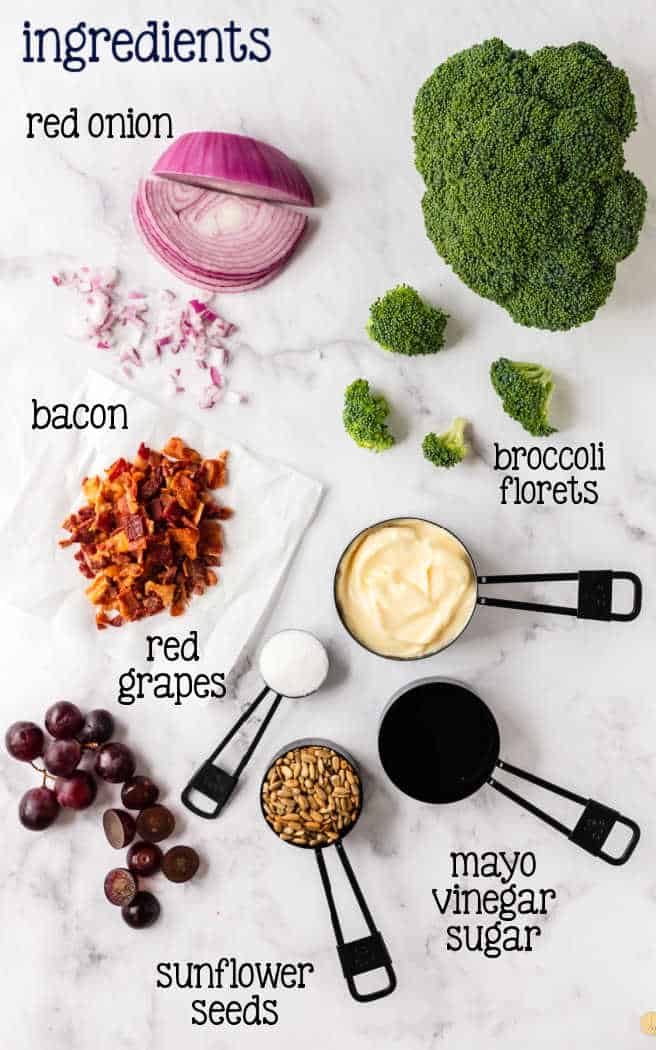 BROCCOLI GRAPE SALAD INGREDIENTS
broccoli florets
red grapes
bacon
red onion
sunflower seeds
dressing
Broccoli – Make sure the florets are bite-sized for easier eating. I like to use mine raw but you can blanch them if you prefer. I have instructions for how to blanch broccoli later in the post.
Red Grapes – I like red grapes because they provide a color contrast to the green broccoli. If you can't find red grapes (that are really purple) feel free to use green grapes. Just be sure they are seedless. No one likes to eat seeds in their salads.
Bacon – The bacon provides a crunchy texture and a smoky salty flavor to the salad. Feel free to cook your bacon using your favorite method (oven, pan fry, air fryer) and once it's cooled and crisp, chop into smaller pieces.
Red Onion – I like the color contrast that red onion provides but it can have a strong flavor. Feel free to substitute the red onion for white or yellow onion, or even green onions.
Sunflower Seeds – You can really use any nut that you like for texture. I like the small size of the sunflower seeds but feel free to use almonds, walnuts, or pecans. For more flavor, toast the nuts before adding them to the salad.
Salad Dressing – The dressing for this salad is a simple mixture of mayo and vinegar. Feel free to substitute Greek yogurt or sour cream for the mayo and use red wine vinegar or white distilled vinegar. Apple cider vinegar is also an option.
Looking for more comfort food? Follow LTB on Pinterest!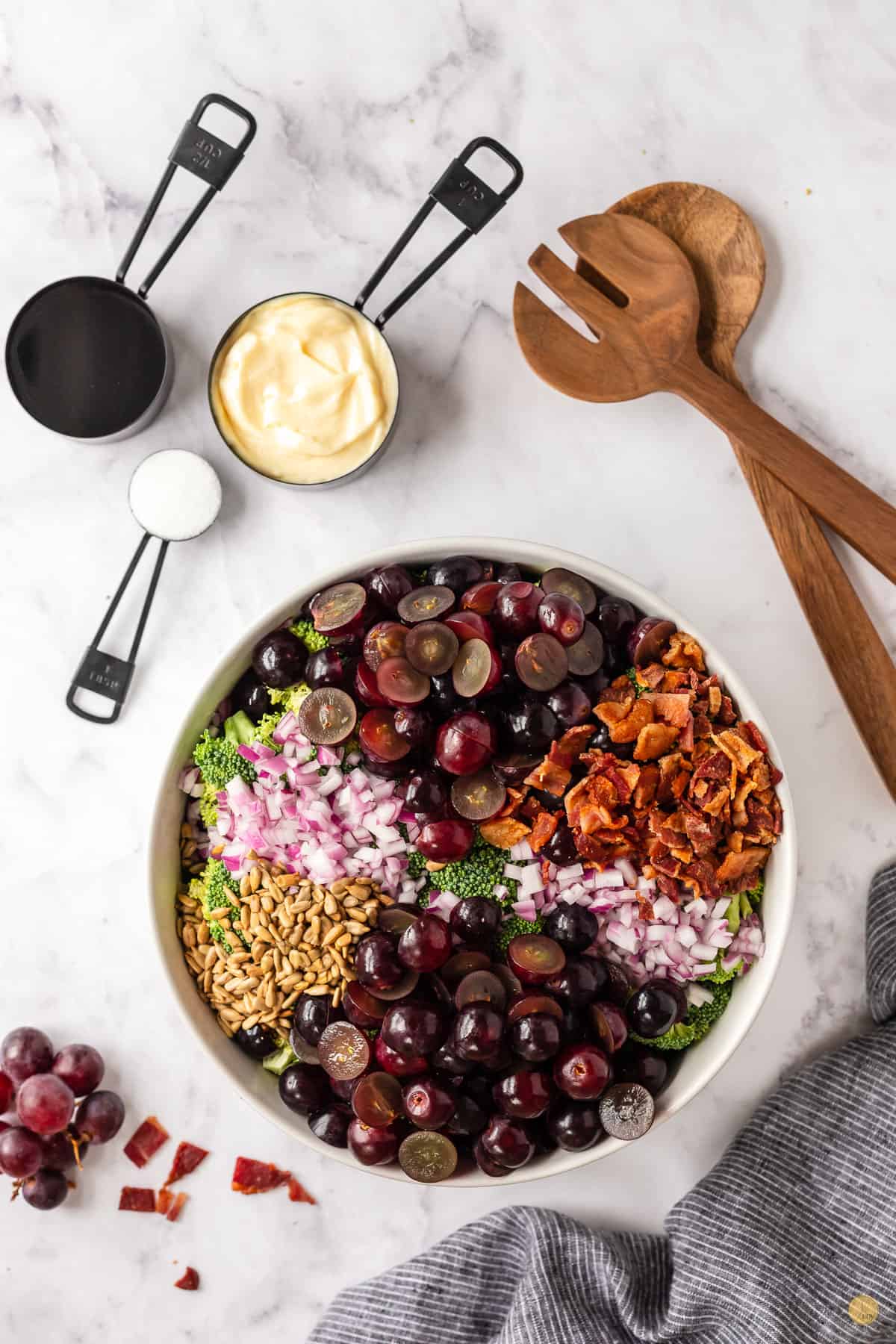 HOW TO MAKE BROCCOLI GRAPE SALAD
ONE: Chop the broccoli into bite-sized florets, slice the grapes in half or quarters, chop the bacon, and dice the onion.
TWO: Add the broccoli florets to a large bowl. Top with remaining ingredients.
THREE: In a medium bowl, combine mayo, vinegar, and spices. Mix to combine.
FOUR: Drizzle dressing over salad and toss to coat. Enjoy!
For the full recipe and detailed baking instructions, please see the recipe card at the end of this post.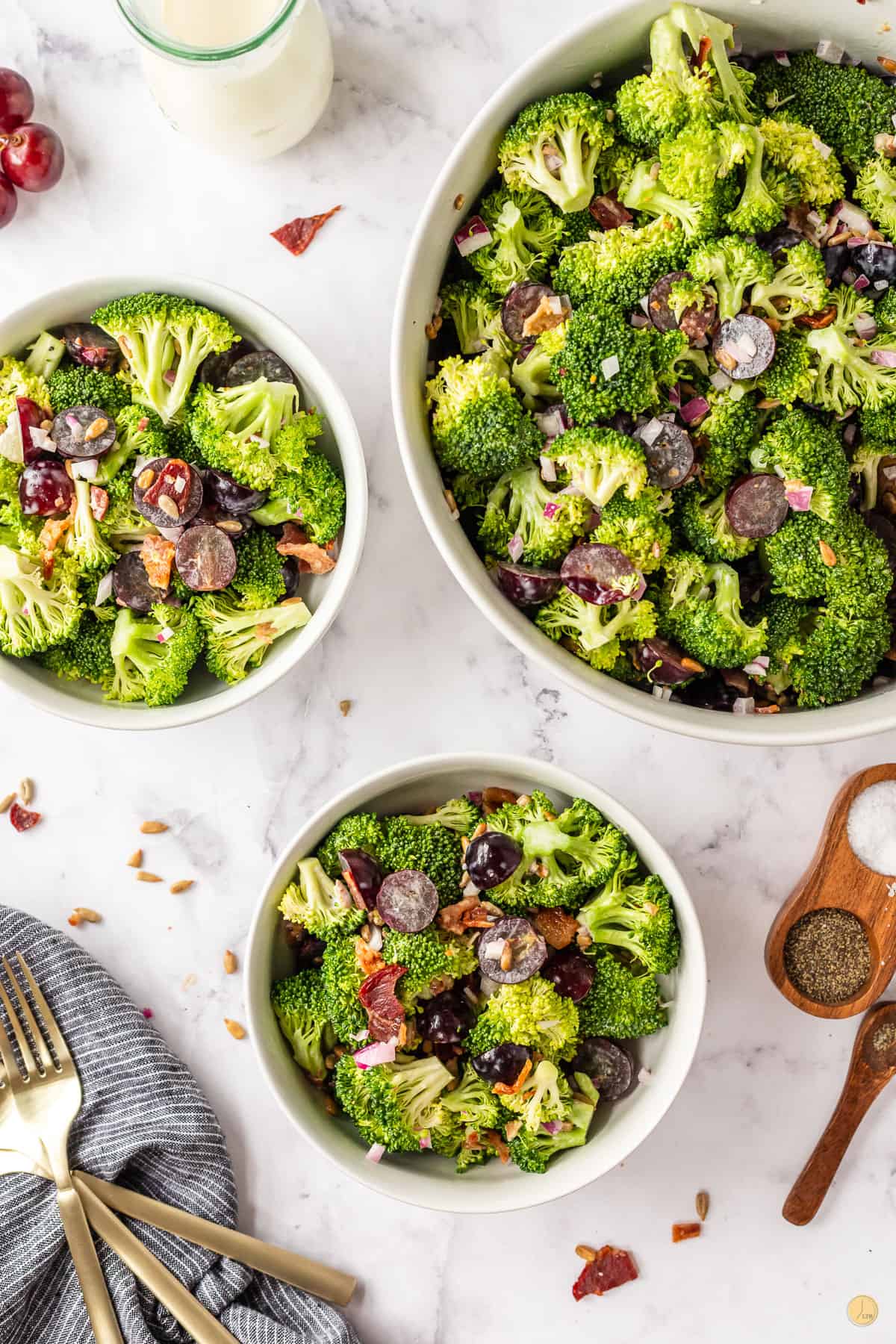 DOES THE BROCCOLI NEED TO BE BLANCHED?
It is not necessary to blanch or cook the broccoli before using in this salad. I like the crunchy texture it provides. But feel free to blanch or roast it before you add it to the salad.
HOW TO BLANCH BROCCOLI
First: Bring a pot of water to a boil.
Second: Add the broccoli florets and cook for one minute.
Third: Remove the broccoli and cool down in a bowl of ice and cold water to stop the cooking.
This method allows the broccoli to keep it's bright green color while having a fork tender texture that will hole up in the salad without being too soft.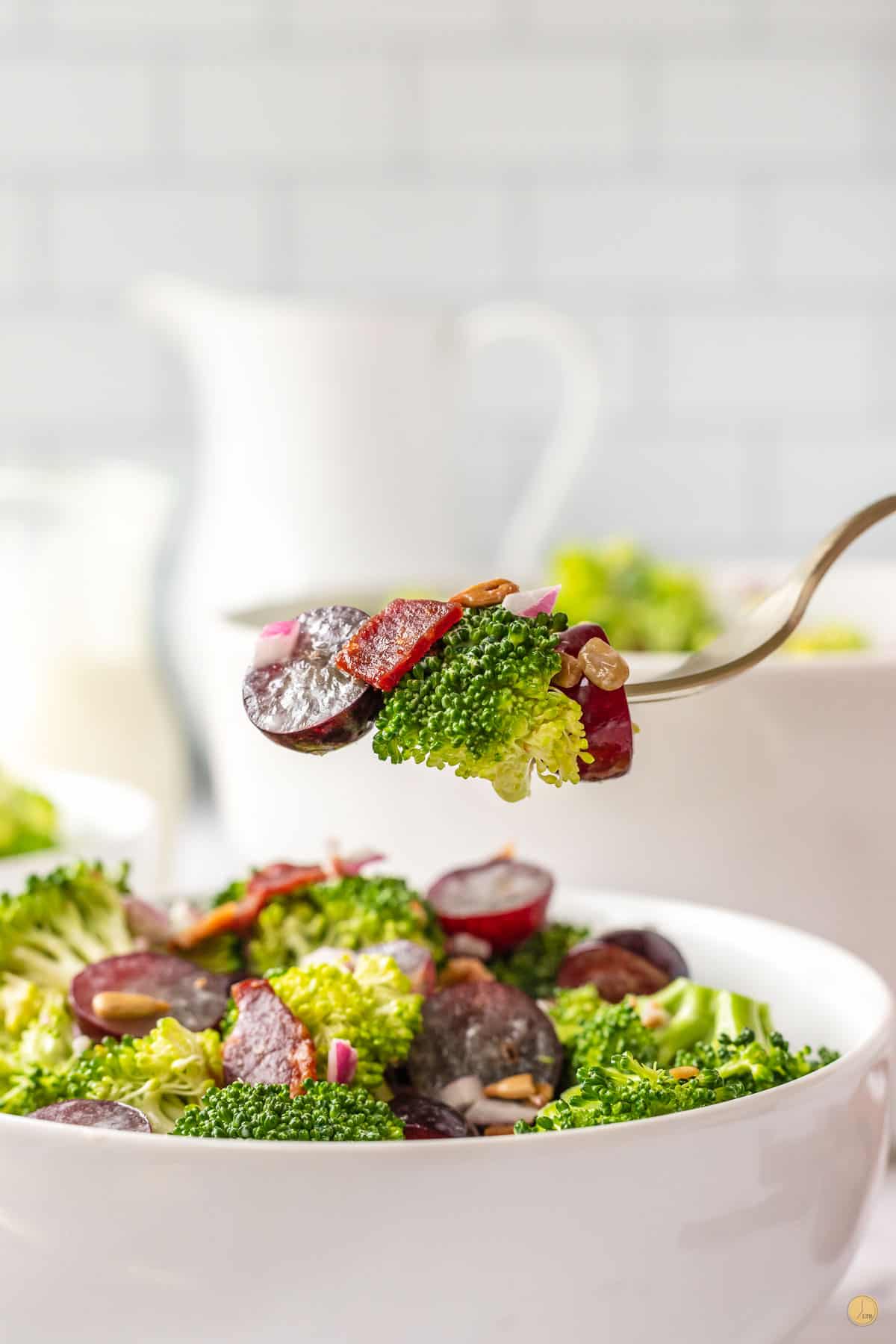 CAN I MAKE IT AHEAD OF TIME?
This is a great salad to make ahead, and have the dressing ready when you serve. I like to put everything together and let it chill until right before I serve the salad and then pour the creamy dressing over and mix well.
CAN I SUBSTITUTE THE MAYO?
If you prefer to use a mayonnaise substitute like Miracle Whip or another product you can use that instead. If you don't want to use any of those you could try using sour cream to replace the creamy texture and mix the dressing with it.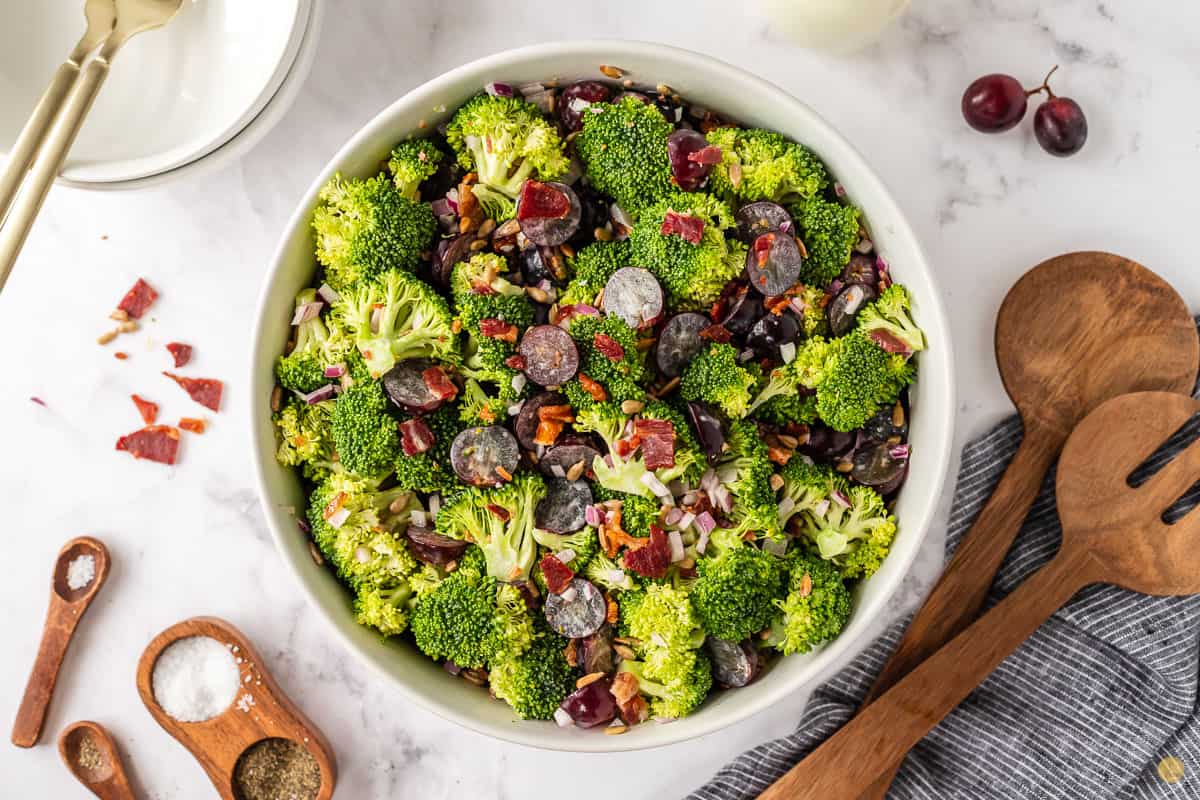 TIPS FOR NO LEFTOVERS
add toasted almonds or other nuts you like
more bacon, more bacon, more bacon (I sometimes use a bit of the bacon fat in my dressing!)
prep ahead and then mix with dressing before serving
make sure everything is bite-sized
blanch the broccoli for tender vegetables if needed
cut the grapes in half to lessen choking hazard
dried cranberries are a fun and tasty
If you love this recipe as much as I do, please write a five-star review in the comment section below (or on Pinterest with the "tried it" button – you can now add pictures into reviews, too!), and be sure to help me share on facebook!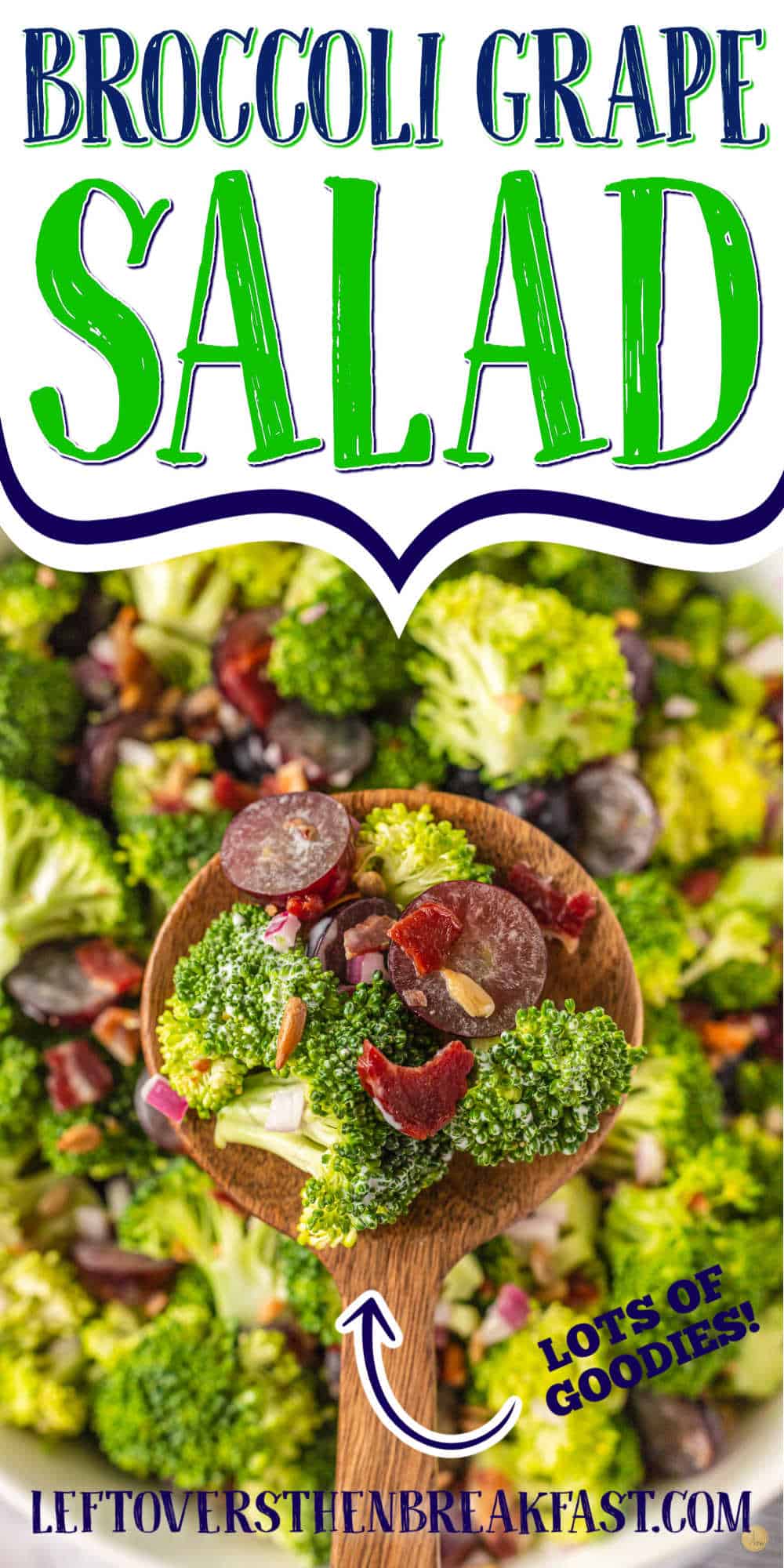 This is a very photo worthy easy salad recipe! I would love to see you make it and post to social media and tag this page so I see it! Let me know how you liked it in the comments.
MORE EASY DINNER IDEAS
BROCCOLI GRAPE SALAD RECIPE
@LeftoversThenBreakfast.com. Content and photographs are copyright protected. Sharing of this recipe is both encourages and appreciated. Copying and/or pasting full recipes to any social media is strictly prohibited.