Chocolate Espresso Icebox Cookies are the perfect bake and slice cookie to share with friends and family. Perfect for HOLIDAY BAKING, they are so delicious that you will want to keep a few rolls of dough in your refrigerator.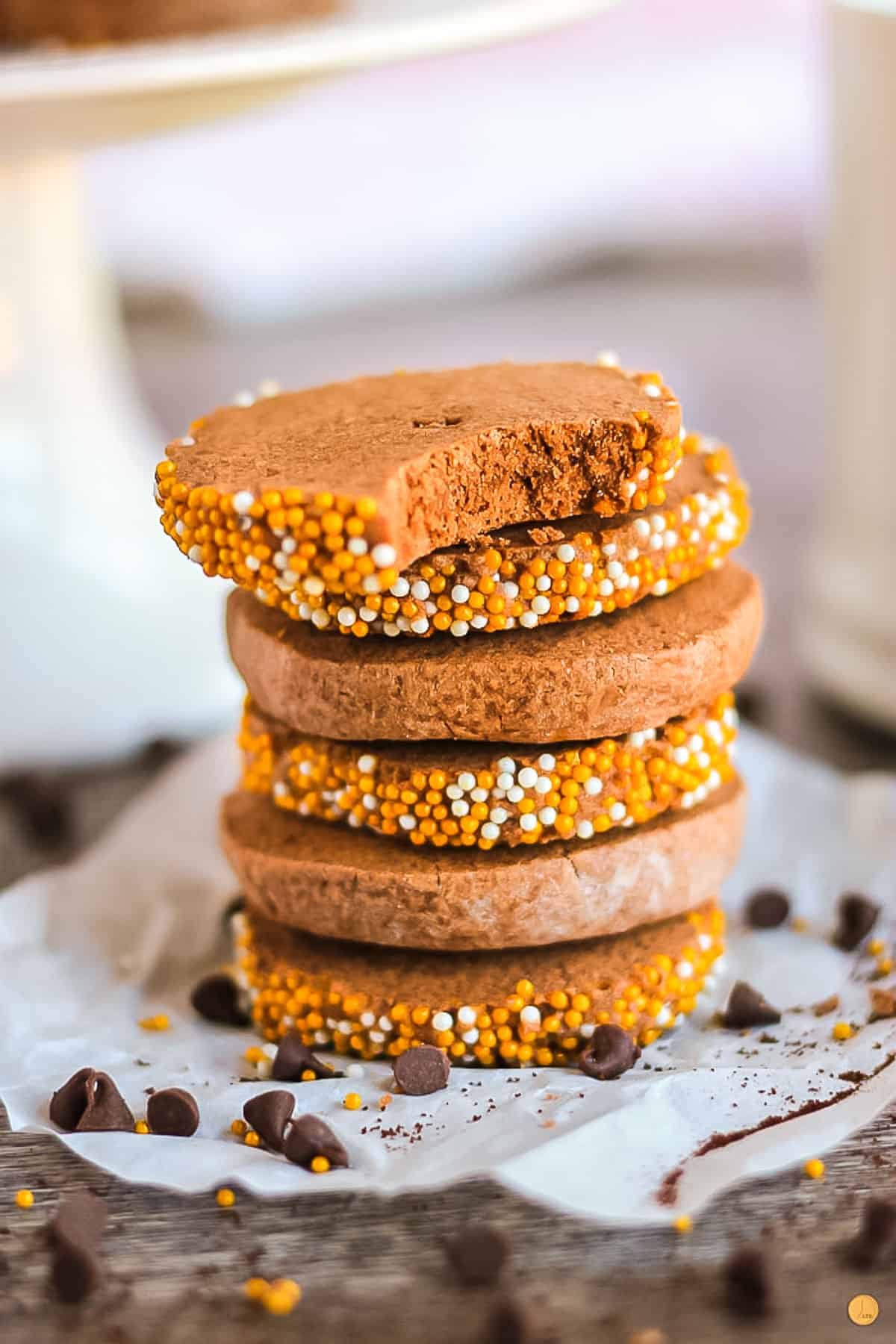 If you'd rather skip my essential cooking tips and tricks and get straight to this delicious recipe – simply scroll to the bottom of the page where you can find the printable recipe card.
This post is sponsored by Anolon and Adams Extracts. I received products in exchange. Recipe and opinions expressed here are my own.
CHOCOLATE ICEBOX COOKIES
A simple old-fashioned Icebox Cookies recipe that uses minimal ingredients. These are perfect for preparing ahead of time, storing in your refrigerator, and are ready to slice whenever you have a craving for a cookie. Or three:)
WHY ARE THEY CALLED ICEBOX COOKIES?
For those who might not remember, or are too young, a refrigerator used to be called an icebox. Throw out this word along with land line, and fax machine…
But what are icebox cookies? Exactly that, cookies that are stored in the refrigerator until ready to slice, bake, and enjoy!
If these are refrigerator cookies, are there other cookie "types?"
WHAT ARE THE SIX TYPES OF COOKIES?
These are the "official" types of cookies: drop, bar, rolled, icebox or refrigerator, molded, and pressed.
This post may contain affiliate links. As an Amazon Associate, I earn from qualifying purchases. Read my disclosure policy here.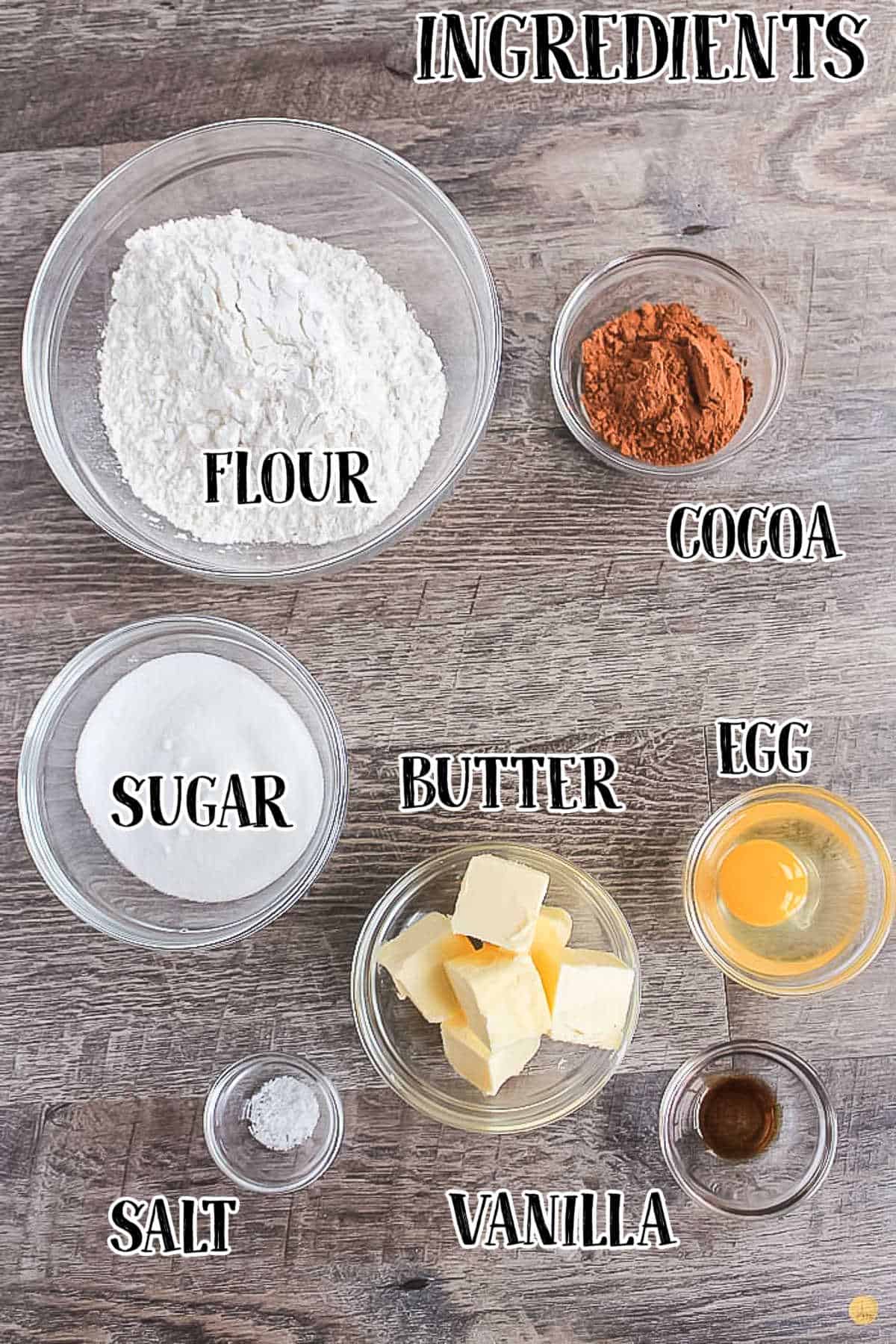 INGREDIENTS FOR CHOCOLATE REFRIGERATOR COOKIES
butter
granulated sugar
eggs
all purpose flour
vanilla extract
cocoa powder
espresso powder
salt
Butter – I like to use unsalted for this recipe so I can control the salt content.
Sugar – This recipe calls for white granulated sugar. I have not tested it with sugar substitutes or brown sugar.
Eggs – As always, large, and bring them to room temperature before using.
Flour – I use all purpose flour. I have not tested this recipe with other flours.
Cocoa Powder – I like to use Dutch Processed cocoa powder. The higher quality the better.
Espresso Powder – You can find this in the coffee aisle. I like to buy the individual packets so the rest of the container doesn't go bad before I can use it all.
Salt – I use coarse Kosher salt in all my recipes. Not table salt.
Looking for more comfort food? Follow LTB on Pinterest!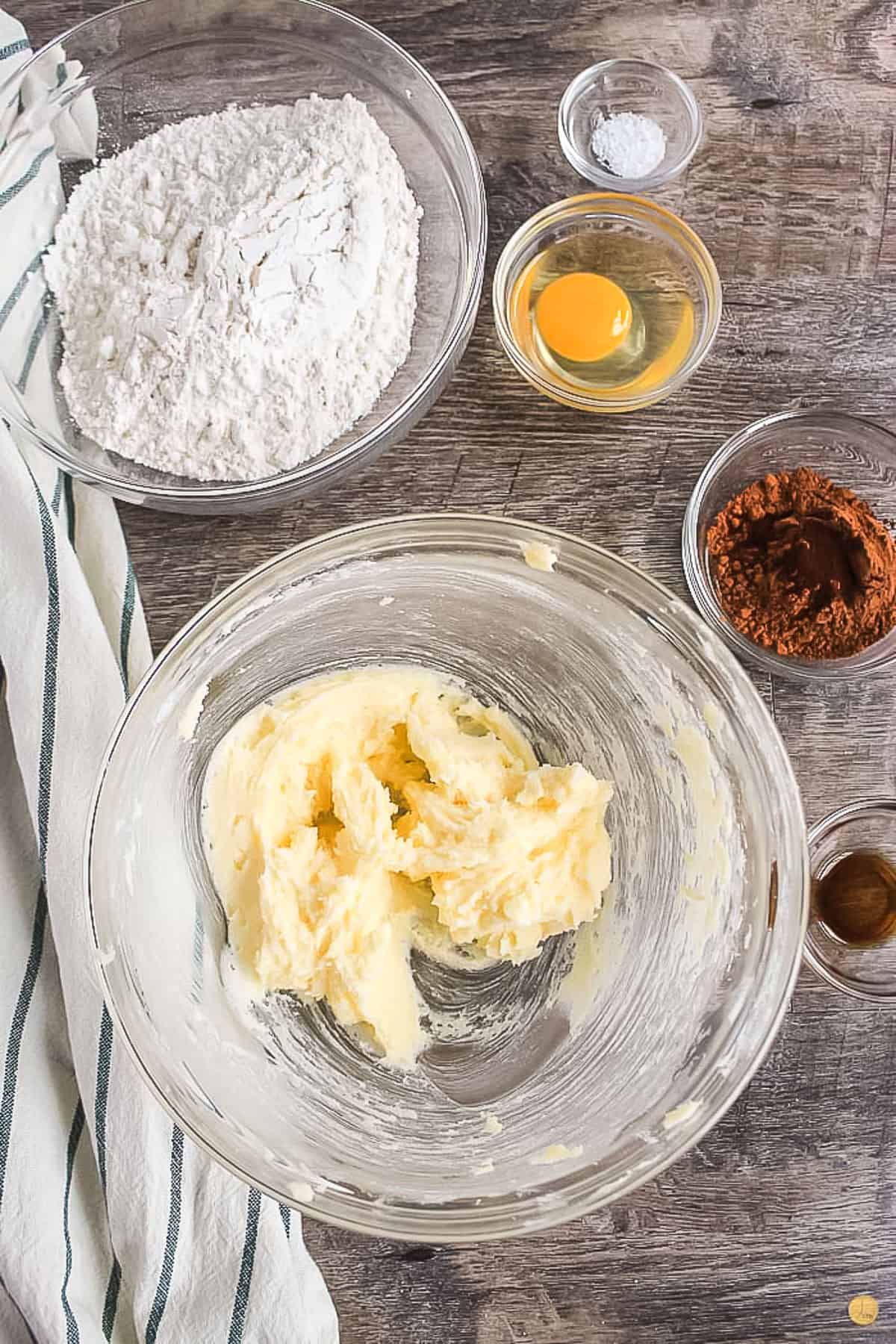 HOW TO MAKE REFRIGERATOR COOKIES
ONE: In a large bowl, cream together butter and sugar with a mixer. Add egg and vanilla. Scrape down the sides and bottom of the bowl with a spatula combine all the ingredients evenly.
TWO: Add the cocoa powder, espresso powder, and salt. Mix to combine. Let sit 5 minutes to allow the espresso powder to release it's flavor.
THREE: Gradually add the flour to the butter mixture until completely combined. Turn out the dough onto a lightly floured surface. Knead the dough gently one to 2 times. Form a log of dough roughly 2-3 inches in diameter. Roll in sprinkles now if desired.
FOUR: Wrap dough log in plastic wrap and refrigerate at least 4 hours to chill completely. Dough can be stored in the fridge for up to a week.
FIVE: When ready to bake the cookies, preheat oven to 350F. Remove dough from the refrigerator and plastic wrap. Slice into 1/4 inch slices. Place on a parchment-lined baking sheet and bake 10-12 minutes or until the edges just start to turn light golden brown.
Let cool on the baking sheet 2-3 extra minutes. Remove and enjoy!
For the full recipe and detailed baking instructions, please see the recipe card at the end of this post.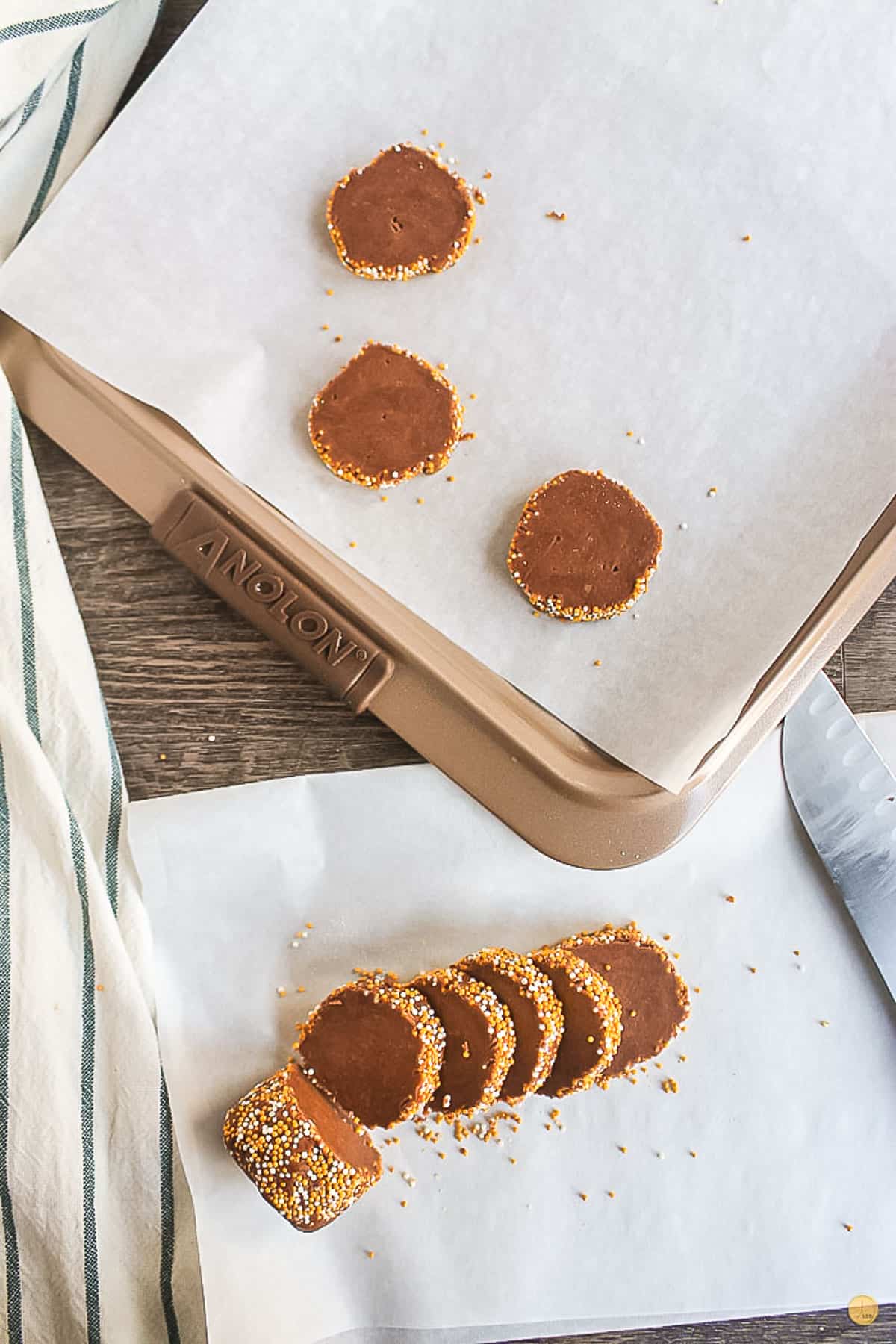 WHAT TYPES OF COOKIES FREEZE WELL?
Most cookies freeze well but these are especially great for making ahead and baking later.
WHAT IS THE BEST WAY TO FREEZE HOMEMADE COOKIES?
You can freeze the dough once you have formed it into logs. You can also make the dough, chill it, slice it, and then freeze it between parchment paper.
Once frozen, you can then transfer them to freezer safe containers and save for later.
HOW DO YOU CUT ICEBOX COOKIES?
If the dough is chilled enough, then slicing with a knife will be easy. You can also use dental floss, wrapped around the dough log, and slice through.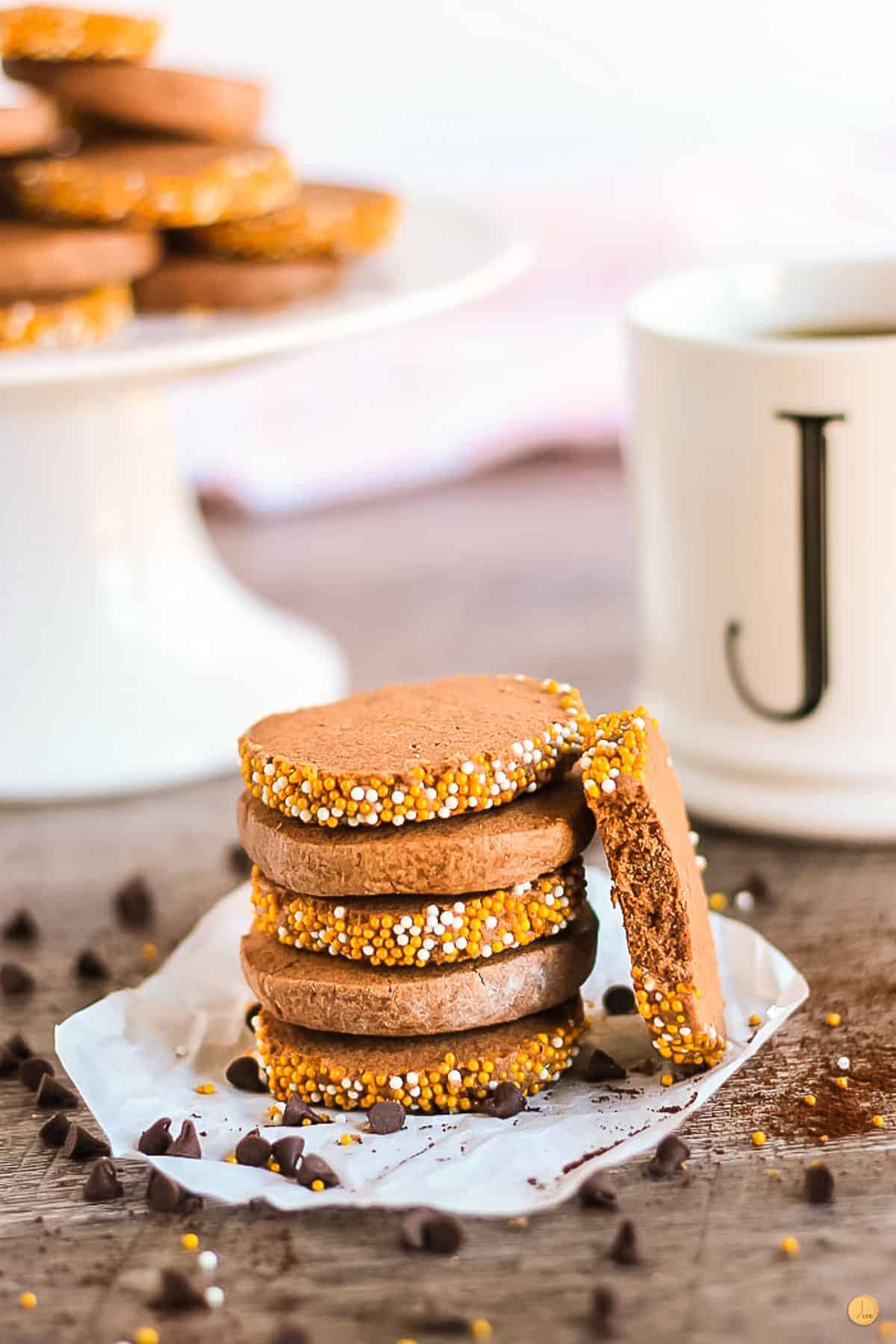 CAN YOU FREEZE ICEBOX COOKIE DOUGH?
Yes, you can! Make sure you wrap it tightly and you can store it in the freezer for up to 3 months. That's great for those who like to plan ahead!
WHY ARE MY CHOCOLATE ICEBOX COOKIES FLAT?
They are usually flat for one reason: the butter.
If you start with butter that is too soft, or don't chill the dough long enough, the butter will melt too fast and the cookies will spread. Leaving a flat cookie.
WAYS TO DECORATE REFRIGERATOR COOKIES
Decorate the dough logs, before chilling, by rolling in sprinkles or sanding sugar.
After you bake them, you can dip them in chocolate and sprinkle with espresso powder or add a chocolate covered espresso bean.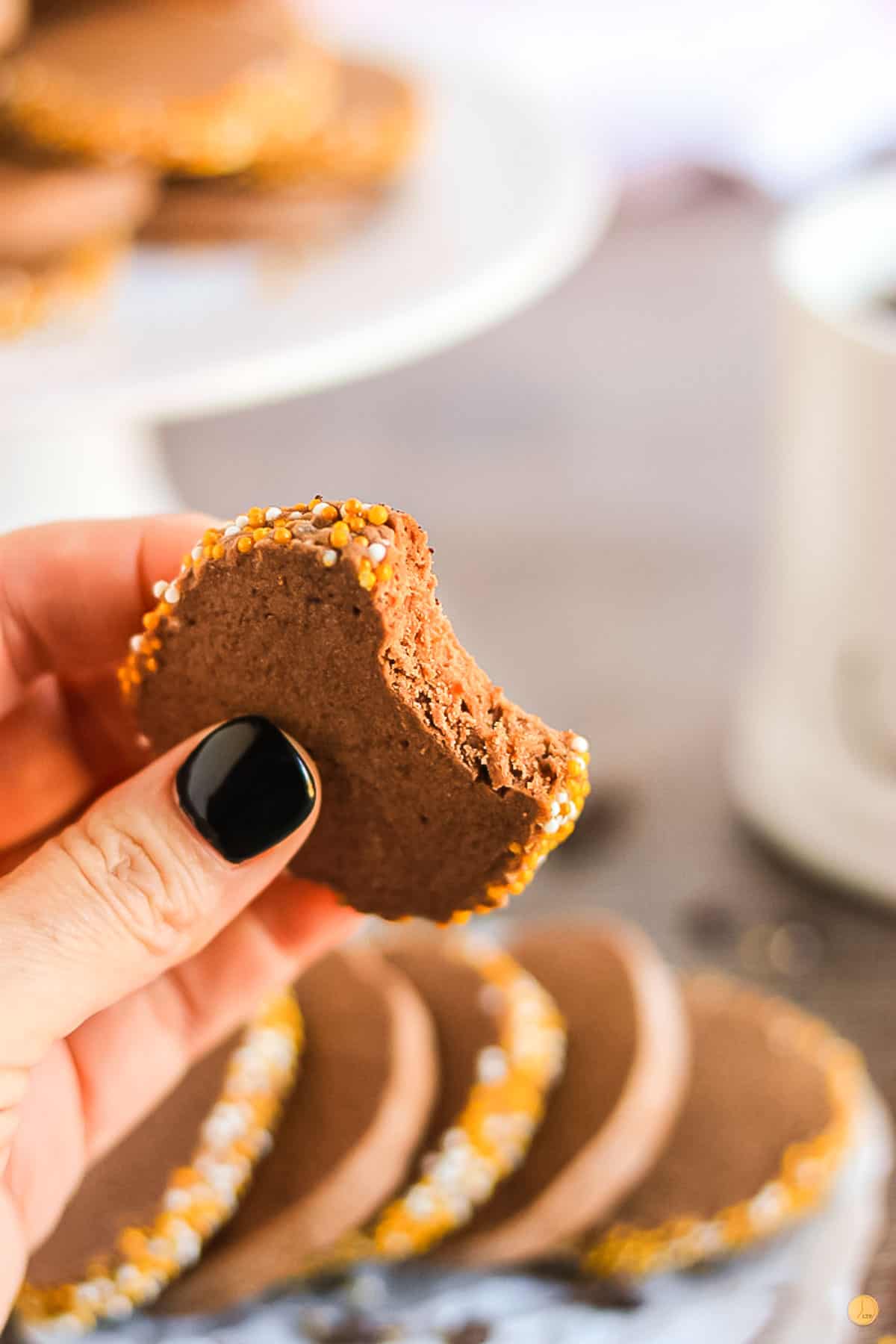 TIPS FOR NO LEFTOVERS
Shape the dough into shorter logs and then you can decorate each one separately.
To prevent the dough from getting a flat bottom while it chills, let the dough rest on top of a fluffy towel or something not so stiff.
Make sure you chill the dough at least 4 hours but it's best overnight. This allows the dough to get good and solid.
If you love this recipe as much as I do, please write a five-star review in the comment section below (or on Pinterest with the "tried it" button – you can now add pictures into reviews, too!), and be sure to help me share on facebook!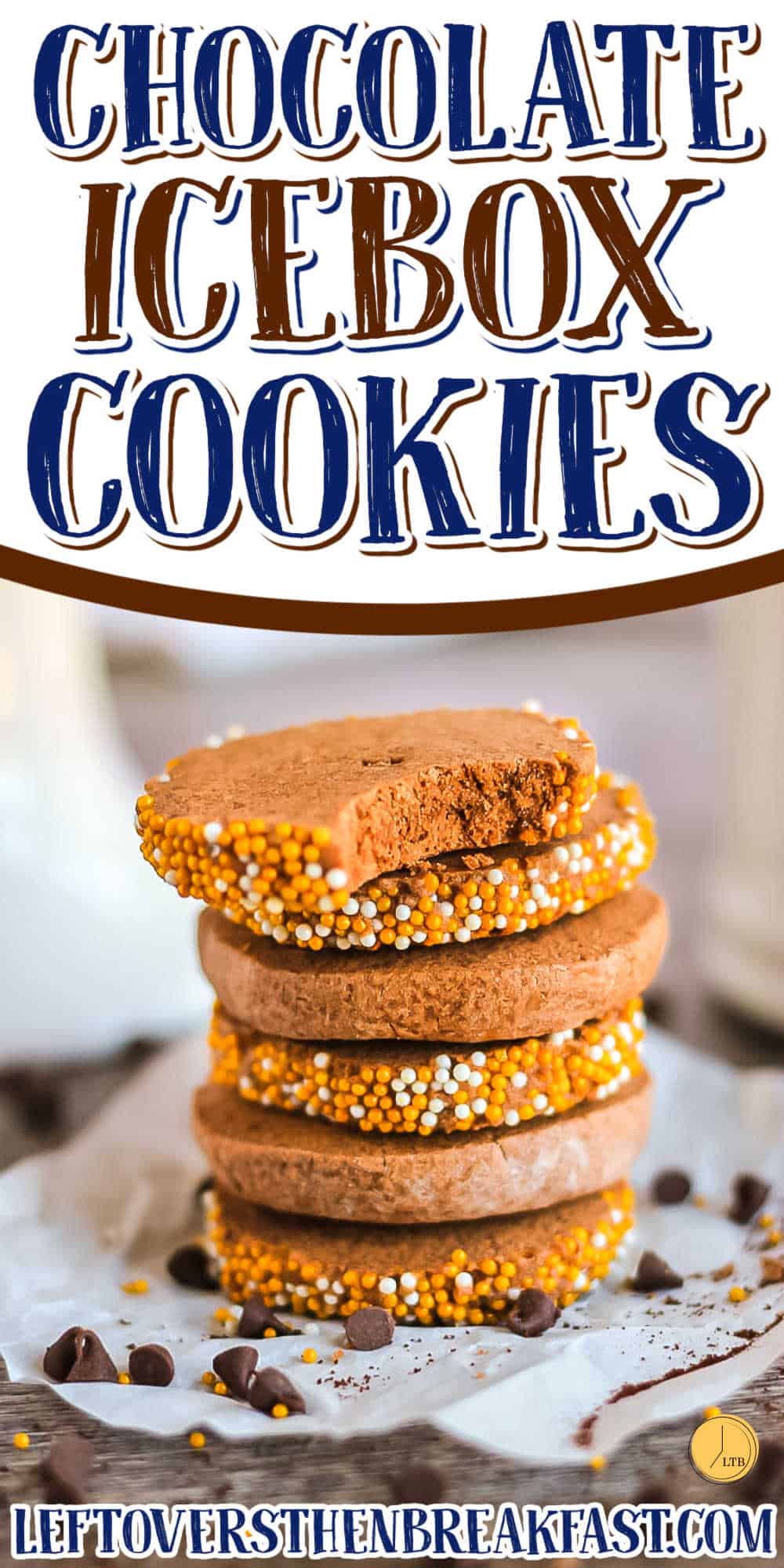 These old fashioned icebox cookies are jazzed up with the addition of some cocoa and espresso powder. Enjoy them with a cup of coffee or add some ice cream to two of them and make an ice cream sandwich!
MORE EASY COOKIES
CHOCOLATE ESPRESSO ICEBOX COOKIES
Welcome to #ChristmasCookies week where more than 25 bloggers are sharing cookie recipes perfect for your holiday celebrations. Hosted by Ellen from Family Around the Table, Christie from A Kitchen Hoor's Adventures and Heather from Hezzi-D's Books and Cooks.
Friday Christmas Cookie Recipes