Crockpot Taco Meat is a SUPER SIMPLE way to get a FAMILY FRIENDLY dinner on the table and make everyone happy.
A delicious Family Taco Night just got easier!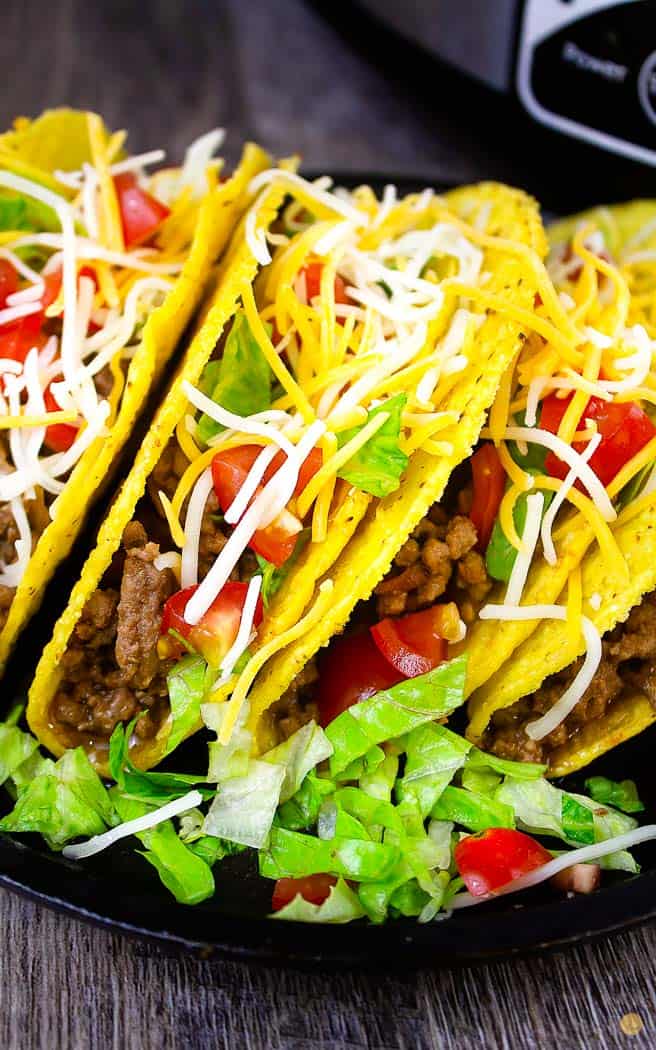 If you'd rather skip my essential cooking tips and tricks and get straight to this delicious recipe – simply scroll to the bottom of the page where you can find the printable recipe card.
CROCKPOT TACO MEAT
The first time I made tacos in the slow cooker, my family LOVED it so much, they BEGGED me to stop making it on the stove top.
Funny thing to ask for, right?!?
We are big taco eaters in our house. Let me be perfectly honest, we love all Mexican food, tacos just happen to be the easiest to prepare.
Everyone picking their hard or soft shells, using their favorite toppings, and loading up with the exact amount of cheese to make them happy is the goal.
For me that means TONS of cheese!! A dump truck full of cheese backing up into the driveway for a delivery would be appreciated, pretty please!
This post may contain affiliate links. As an Amazon Associate, I earn from qualifying purchases. Read my disclosure policy here.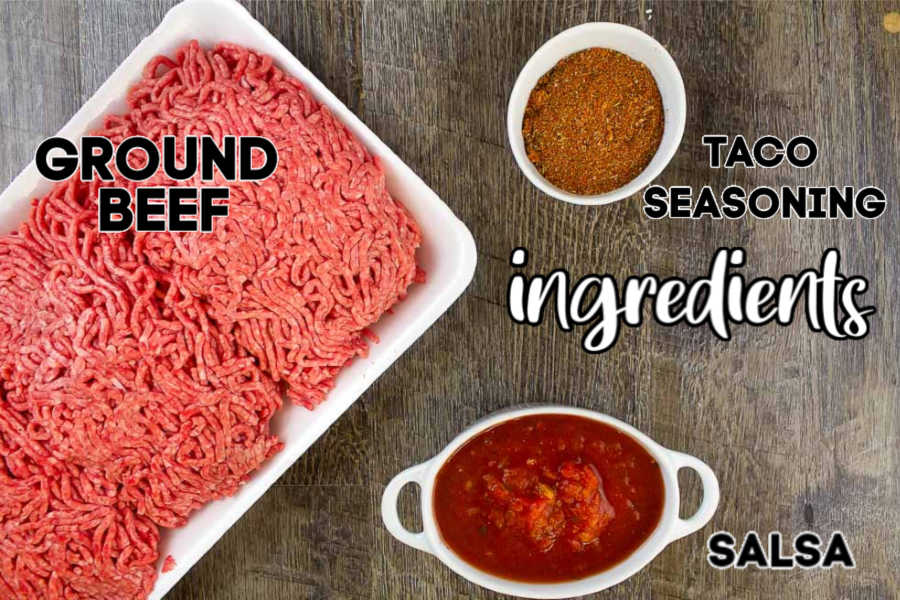 Anything that keeps my husband and kids smiling, and leaves us more time to play games or watch our favorite shows together is a plus in our house!
That's why I love this method of cooking.
It is, HANDS DOWN, the easiest way to make dinner simple for you, that is packed with flavor, and makes everyone happy!
Making delicious meat for tacos has never been easier. Not only is the cooking method better, but it requires only 3 ingredients!
CROCKPOT TACO MEAT INGREDIENTS
Ground Meat (beef, turkey, or chicken)
That's it! No extra water needed.
You can add other things to your meat if you like such as diced onions, diced bell pepper, green chilies, black beans, corn, diced tomatoes, etc.
All of these will add extra flavor and are great if you are using your meat for burritos, enchiladas, or even chile rellenos.
Looking for more comfort food? Follow LTB on Pinterest!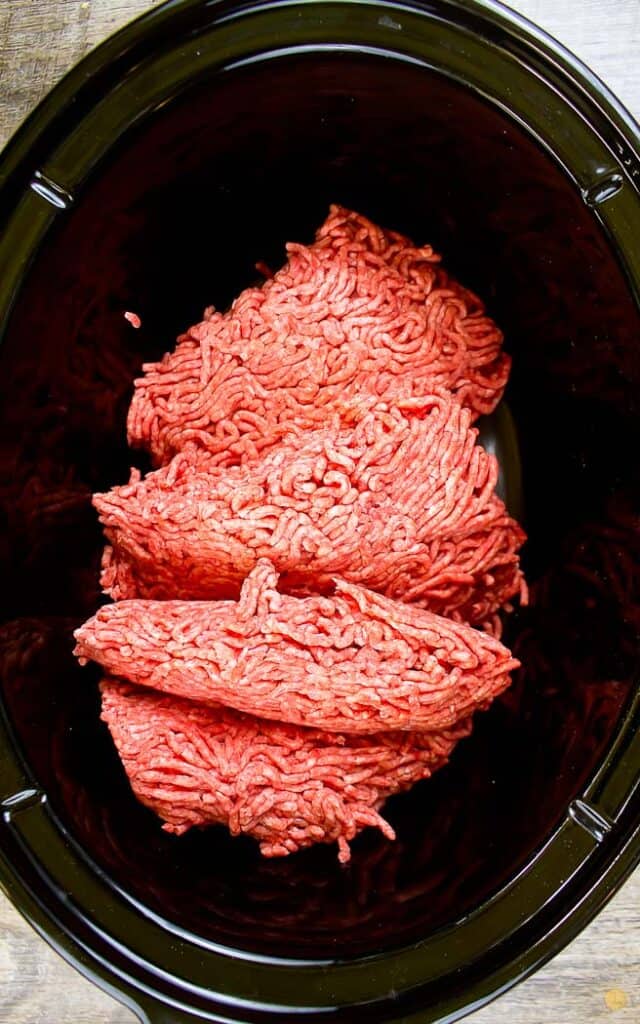 The ingredients are few and the method is even easier!
HOW TO MAKE CROCK POT TACO MEAT
ONE: Place raw ground beef in the slow cooker bowl.
TWO: Add taco seasoning and salsa. Cover and cook on high heat for 2 hours or until the meat no longer has the pink color in the middle.
THREE: After 30 minutes, stir to mix, and continue cooking. In the last 30 minutes, use a spoon to break up any remaining chunks of meat.
Isn't it great that you don't have to stand over a hot stove, browning meat, getting splattered with grease, adding water, to get tender and flavorful meat?
My life just got 1000 TIMES EASIER. Just add taco shells!
For the full recipe and detailed baking instructions, please see the recipe card at the end of this post.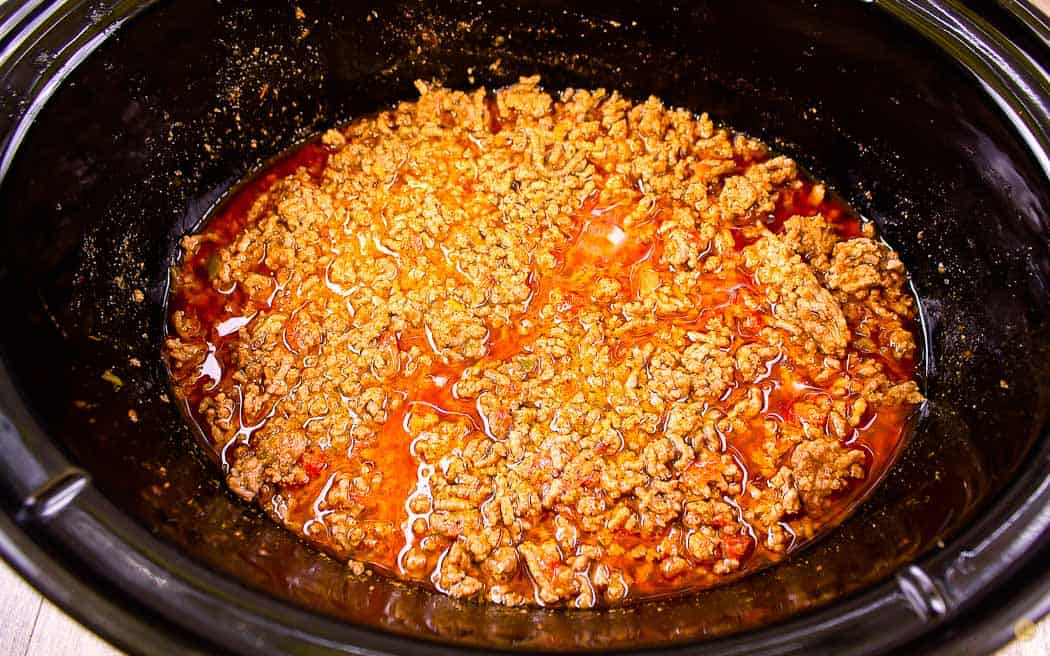 Now that you have your perfectly cooked ground beef, what do you put on it? Here are a few suggestions for your tacos that will complete them.
TOPPINGS FOR TACOS
guacamole
pickled jalapenos
shredded lettuce
chopped tomatoes
cheese
sour cream
sliced olives
refried beans
red onions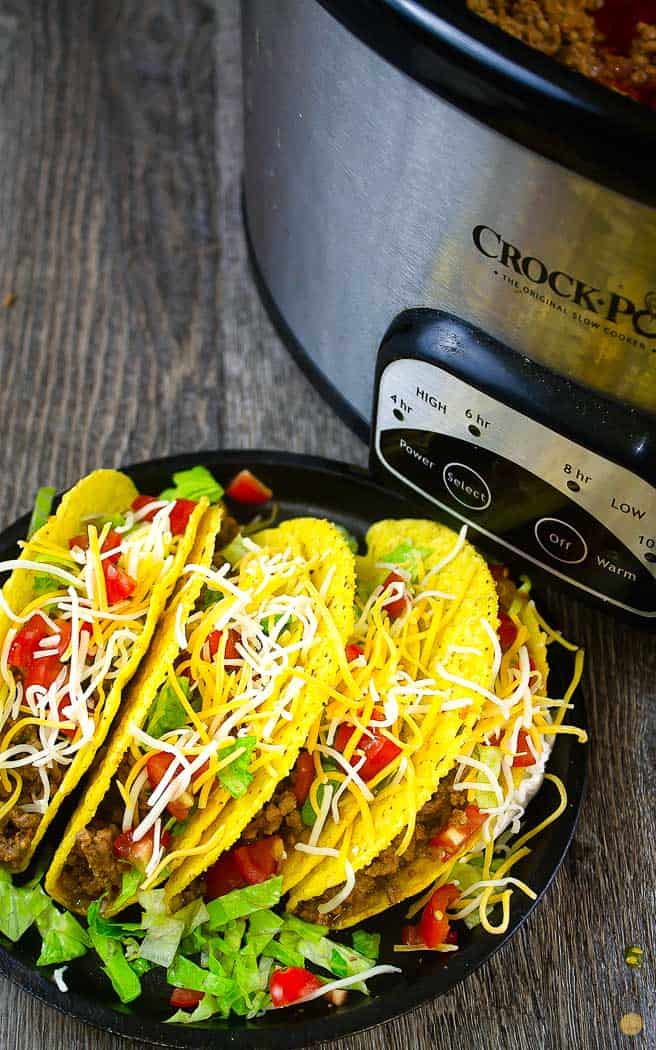 It's super easy but I have found a few tips that help it come out perfectly every time!
TIPS FOR TACO MEAT IN THE CROCKPOT
Break up the meat every 30 minutes to ensure even cooking and correct temperature.
Homemade taco seasoning is the best but store bought is ok too.
I don't drain my meat after I cook it because it keeps it moist. Just a personal preference, so you do you.
The higher the fat content of the meat, the more liquid will form in the bowl. I like to use 90/10 meat but have used 80/20 and drained about half the liquid after cooking.
You can use ground turkey or ground chicken if you prefer. Because these are both very lean, I would add 1/4 – 1/2 cup water/broth when cooking to prevent scorching prefer.
Vegetarian? Use meatless crumbles as you would a very lean ground meat.
Grind up veggies like zucchini and add to the meat to sneak in more vegetables;)
Spice it up by adding a a can of chopped green chilies or diced jalapeños to the meat when cooking.
add onions, corn, or beans for more texture and flavors.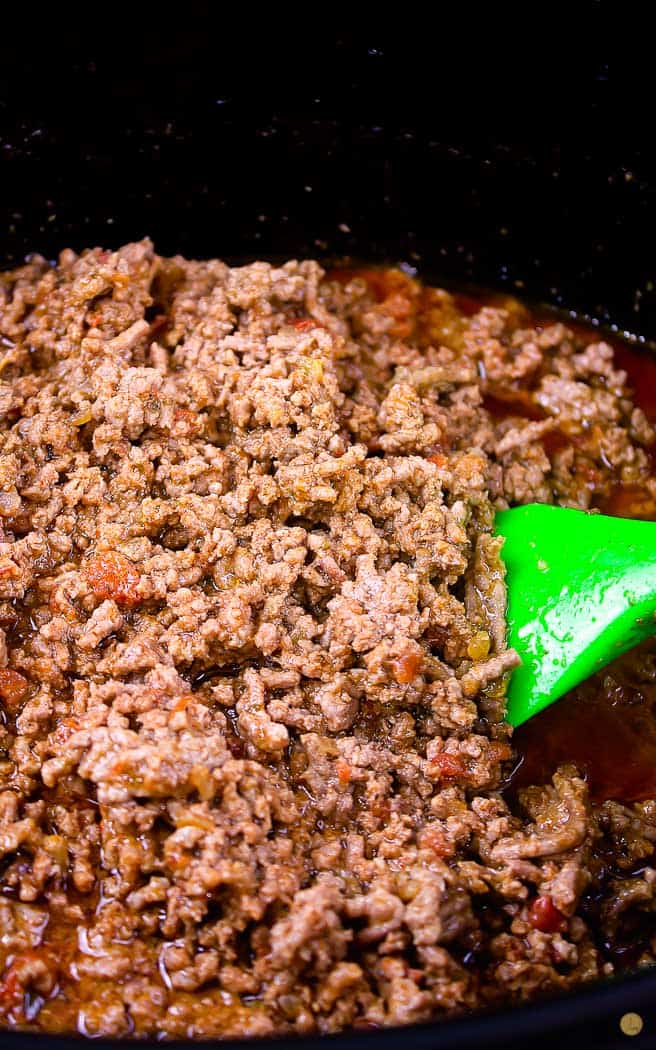 Now that you have it, what will you do with it?
USES FOR TACO MEAT
tacos
burritos
enchiladas
walking tacos
hot dog topping
quesadillas
taco salad
taco soup
nachos
baked potatoes
DO YOU NEED TO BROWN MEAT BEFORE COOKING IN A SLOW COOKER?
No, you don't. You can put raw ground beef directly in the slow cooker bowl. It will brown as it cooks and turn out just as if you browned it before slow cooking.
CAN I START WITH FROZEN MEAT?
You can start with frozen meat, just be sure to flip and stir to break up the beef more frequently in the beginning of cooking and add an additional hour to the total cooking time.
CAN I KEP TACO MEAT WARM IN A CROCKPOT?
You can keep it warm for up to two hours on the low or warm setting. Any longer and it might start to dry out. Be sure to keep an eye on the water level and add 1/4 cup to it if it starts to dry out.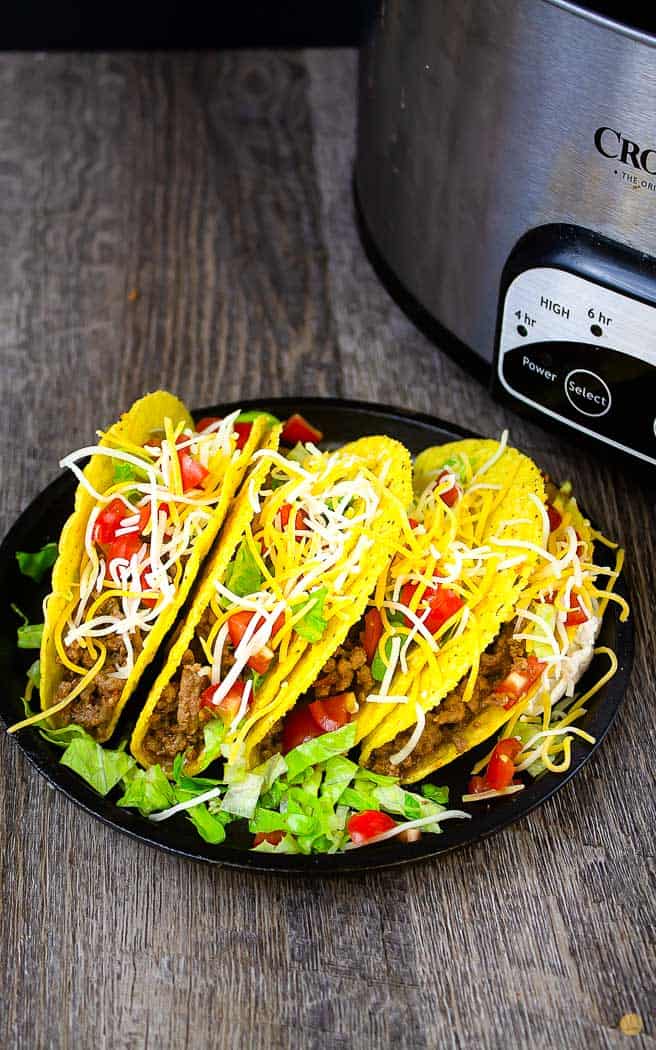 CAN I COOK TACO MEAT THE NIGHT BEFORE?
Yes, you can. If I am cooking the night before, I don't drain the meat. I will store it in the fridge and then when I reheat it the next day I will drain it. If I reheat it in the slow cooker, I don't. Having that extra liquid keeps it tender and juicy.
CAN I FREEZE THIS?
Yup! Cool cooked meat and freeze in bag for up to 3 months. Defrost and warm in slow cooker till 160F. Great for portioning out for individual lunches and dinners!
WHY YOU SHOULD MAKE YOUR TACO MEAT IN THE SLOW COOKER
easy meal for a crowd – cooking in bulk
perfect for parties
easy weeknight meal
super tender taco fillings
no prep work ~my favorite reason!~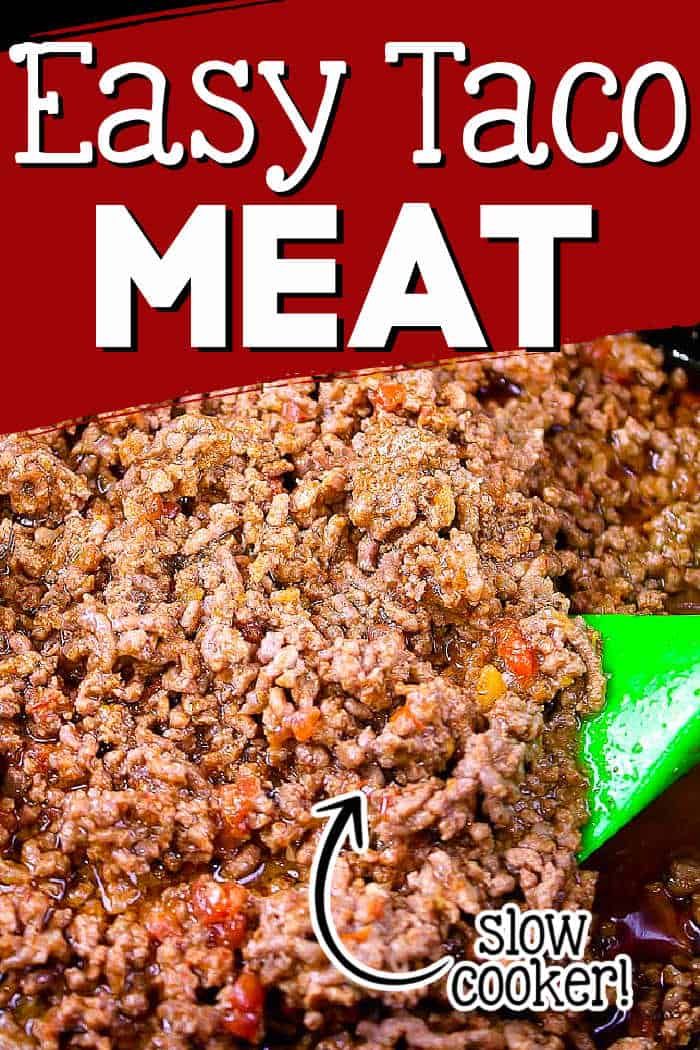 This crockpot taco meat recipe is the perfect way to feed a crowd with a taco bar, tailgate party, or your family and friends on Taco Tuesday!
MORE RECIPES FOR FEEDING A CROWD
CROCK POT TACO MEAT
@LeftoversThenBreakfast.com. Content and photographs are copyright protected. Sharing of this recipe is both encourages and appreciated. Copying and/or pasting full recipes to any social media is strictly prohibited.