Skip the box and make this Homemade Hamburger Helper from scratch.
CREAMY, HEARTY, CHEESY, and ready in less than 20 MINUTES which is perfect for a busy weeknight meal for the family!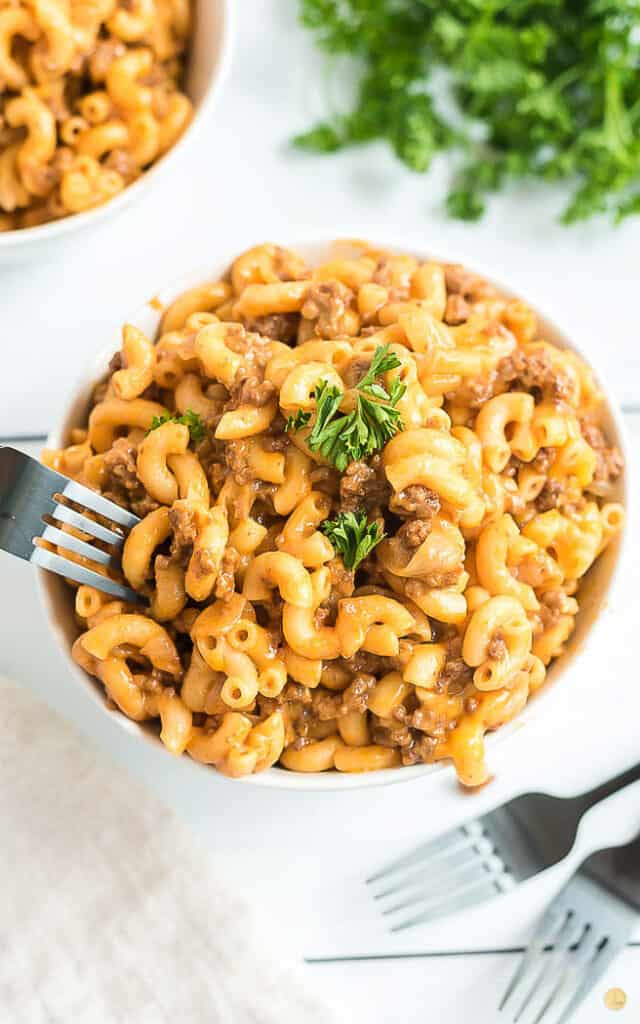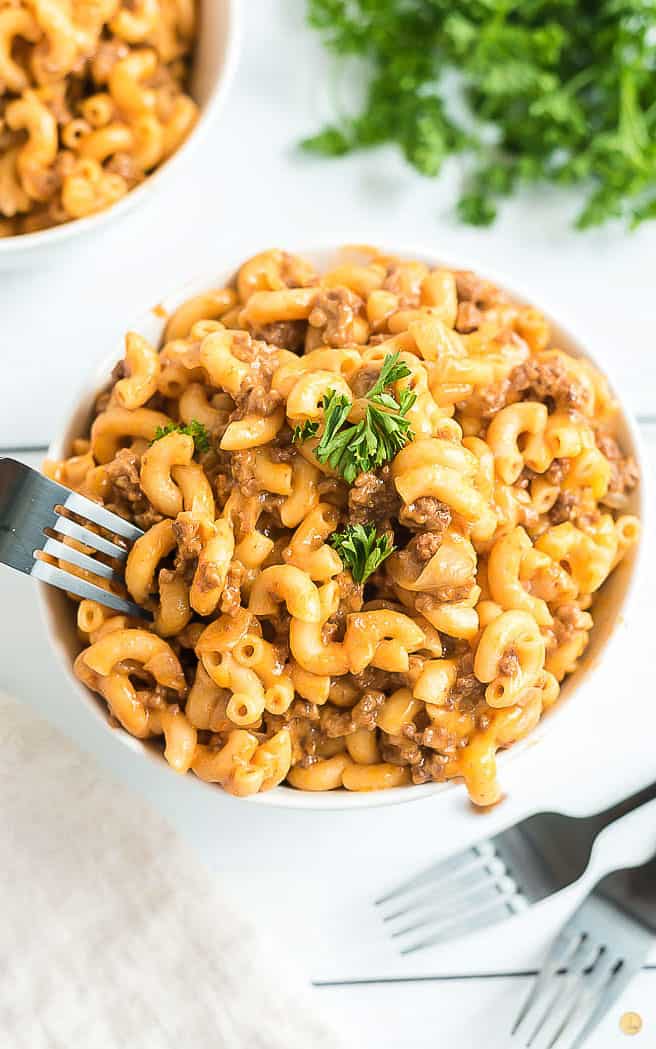 If you'd rather skip my essential cooking tips and tricks and get straight to this delicious recipe – simply scroll to the bottom of the page where you can find the printable recipe card.
The boxed hamburger helper ain't got nothing on homemade!
Growing up with my parents at the restaurant a lot of the time, I was on my own during the week for dinner.
Ground beef was inexpensive and pasta was filling! A great combo when you have an empty stomach.
I would scrounge up all kinds of things for dinner but I loved hamburger helper the most. A box, a skillet, and easy to make.
What is hamburger helper?
Basically, a group of ingredients that you add to plain ground beef that transforms it into a meal.
Also known as cheeseburger pasta or cheeseburger macaroni skillet, whatever you call it, IT IS TASTY!
Simply put, a one pot meal of CHEESY COMFORT FOOD that is an affordable way to feed your family a meal they will love. No boxes and no leftovers on this one, I assure you!
This post may contain affiliate links. As an Amazon Associate, I earn from qualifying purchases. Read my disclosure policy here.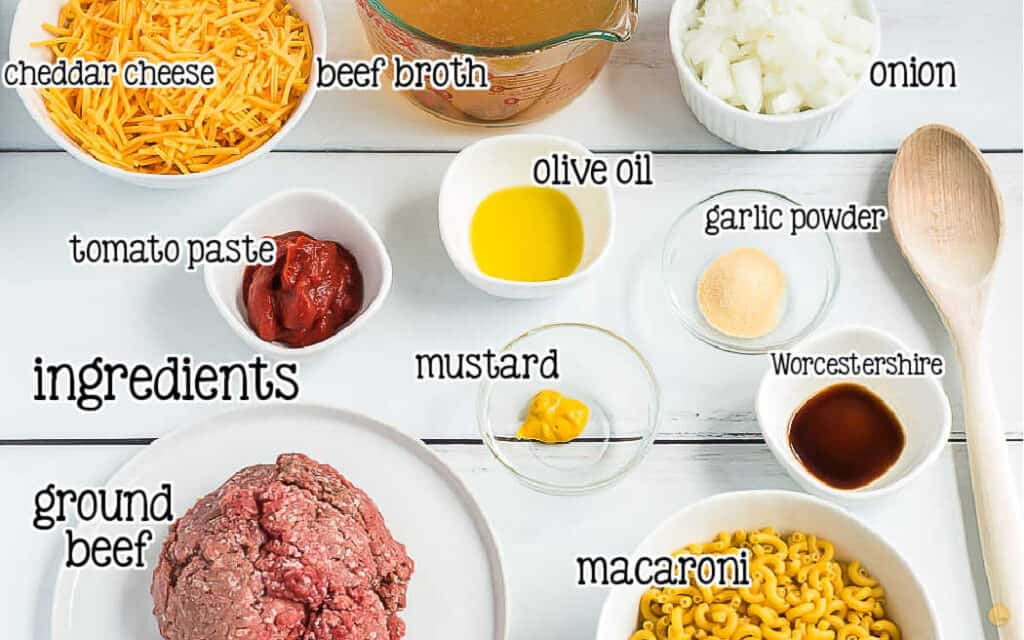 Hamburger Helper Ingredients
ground beef
onion
tomato paste
broth
elbow macaroni
spices
shredded cheese
This is also a great way to utilize those packages of ground beef in the store.
Mine are never exactly 1 pound, but more like 1.17 or 1.36 pounds. Feel free to use these packages, that little bit of extra beef will be a bonus!
The added beef won't change how the recipe turns out unless you get closer to 2 pounds.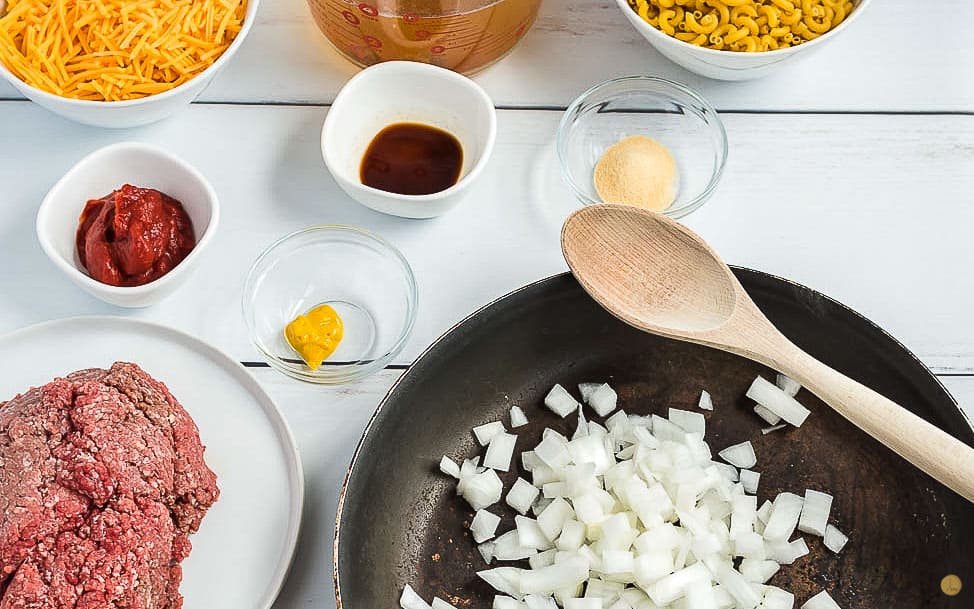 How to make hamburger helper from scratch
Making homemade Hamburger Helper is actually much easier than running to the store to buy the box.
STEP ONE: In a large skillet heat the olive oil over medium high heat. Cook the onion until almost translucent.
STEP TWO: Add the ground beef and cook until no longer pink. Add the tomato paste, spices, mustard, and Worcestershire sauce. Stir to combine.
STEP THREE: Add in the macaroni and broth. Stir to keep the pasta from sticking in clumps. Bring to a boil, cover, and simmer for 15 minutes.
STEP FOUR: Remove from the burner, stir in the cheese. Season with salt, pepper, and hot sauce if desired.
Enjoy warm.
The version most folks know and love uses elbow macaroni noodles like this one. Feel free to use a different shape if you have it on hand.
You can use spaghetti noodles, just break them into smaller pieces. And maybe adjust the simmering time a little.
This meal is meant to be easy without all the fussy ingredients!
Looking for more comfort food? Follow LTB on Pinterest!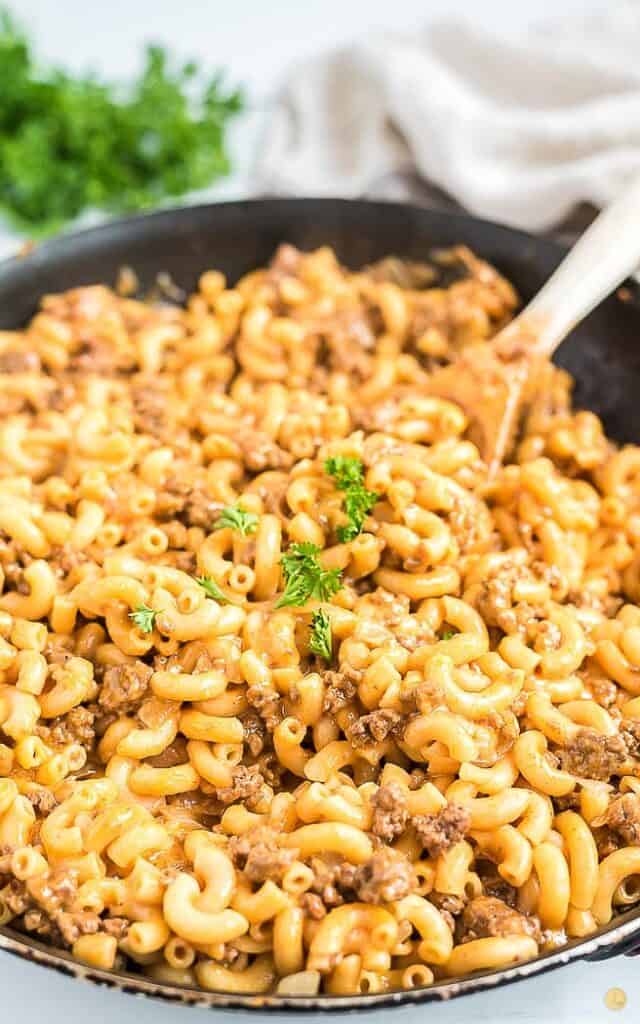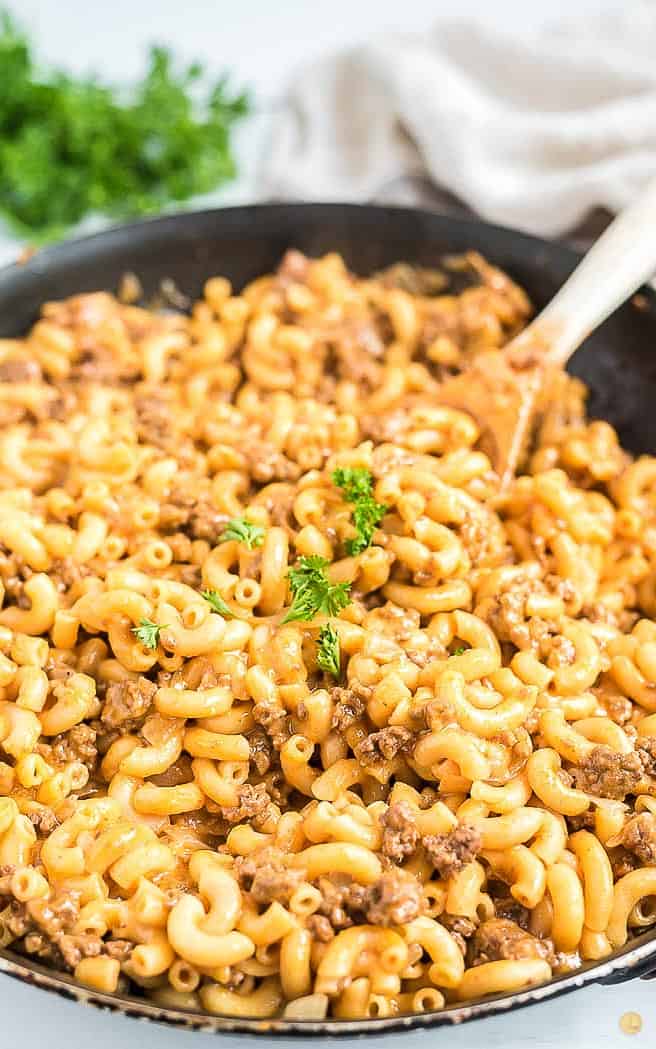 How do you make hamburger helper better?
It is great on it's own but here are a few ways to make it even better.
Cheese: Switch up the cheddar for a sharper version or a spicy Pepper Jack.
Spices: Add a little taco seasoning, chipotle, or Greek seasoning to the meat for a different flavor profile. Or you can increase the amount of garlic powder and onion powder.
Veggies: Add in a can of peas, black beans, corn, green chilies, kidney beans, or green beans for some extra servings.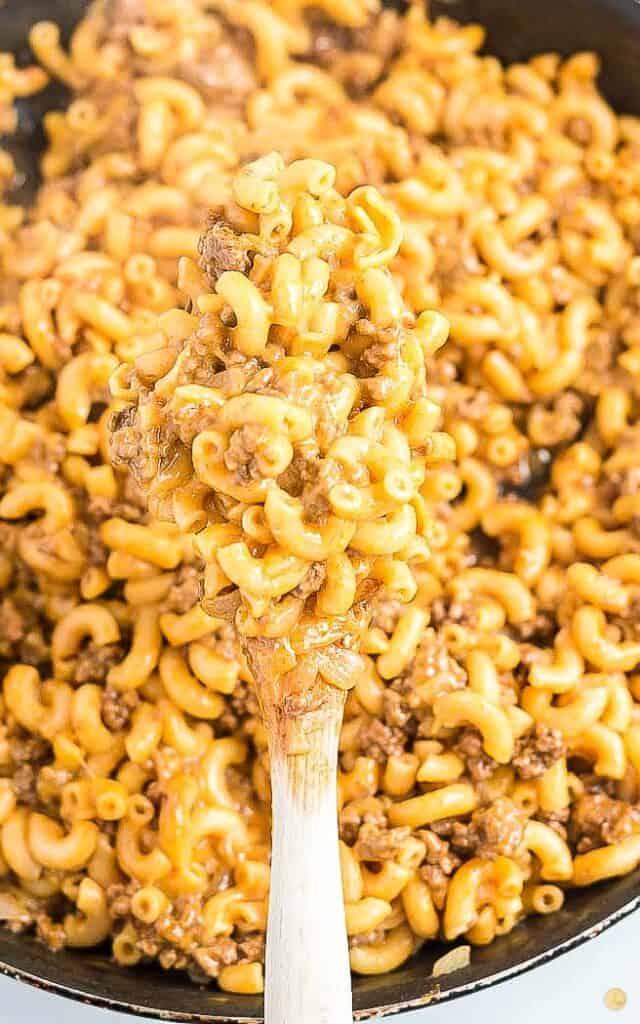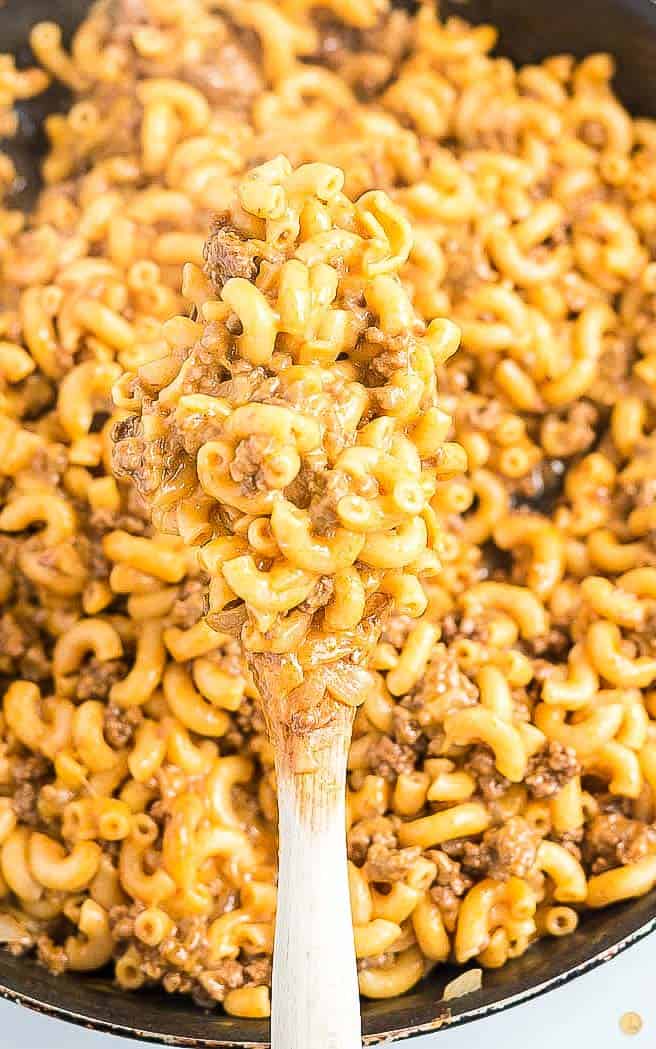 You can even switch up the whole flavor profile with just a few simple changes. That's how versatile this homemade version is!
Flavor variations to try
Southwest: add in southwest seasoning, chili powder, corn and black beans
Mexican: add taco seasoning and green chilies
Italian: add tomatoes and Italian seasoning
Stroganoff: add in mushrooms and sour cream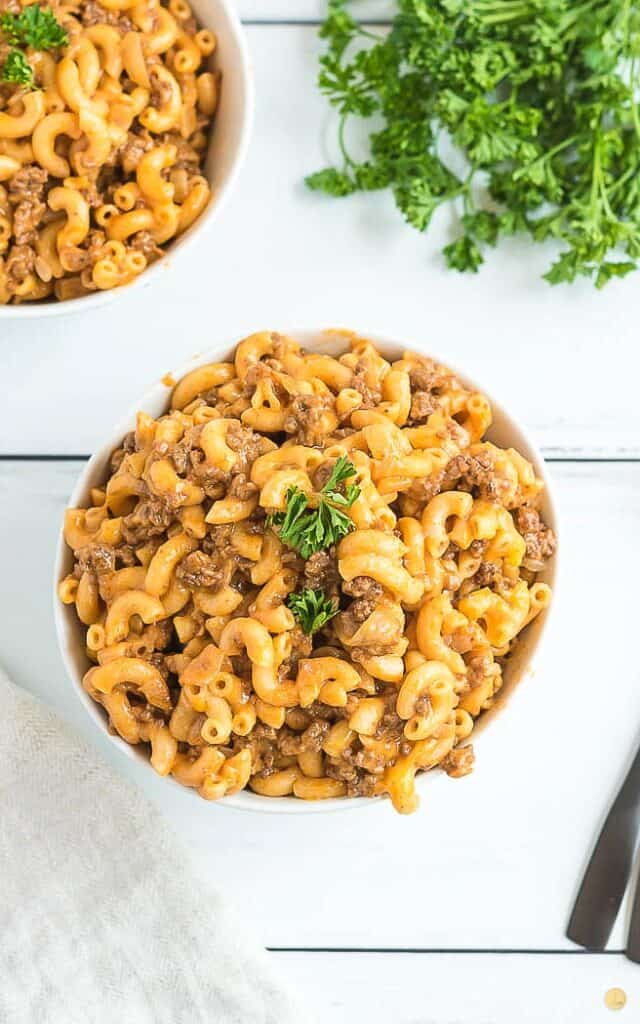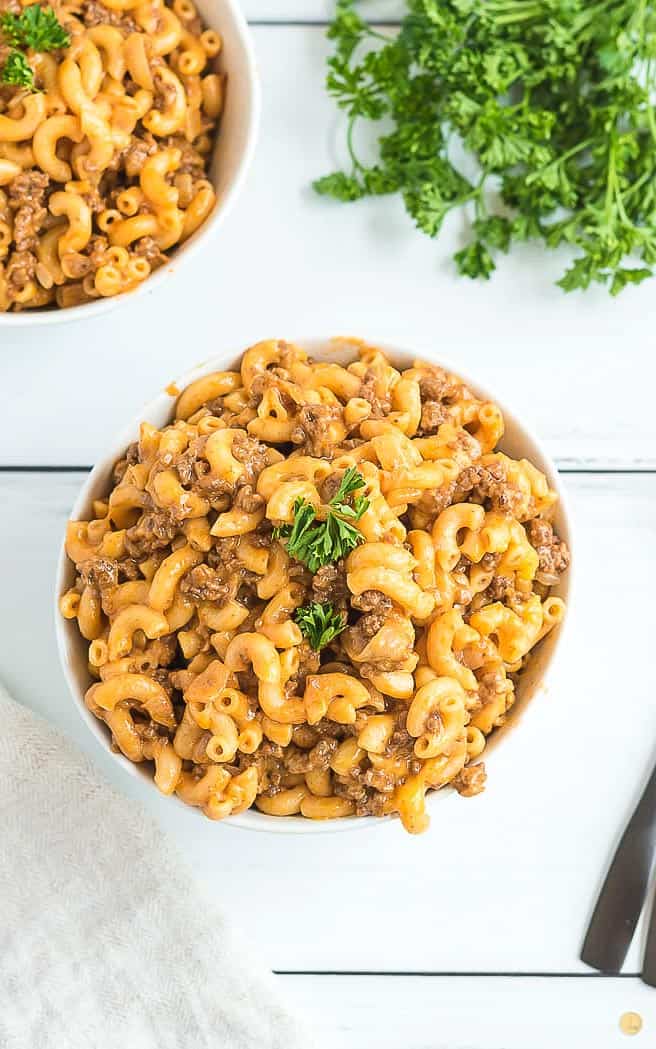 How long is it good for?
Store in the refrigerator, in an air tight container, for up to 5 days. You can freeze it for up to 3 months.
Just know that the pasta gets a little mushy when thawing and reheating.
Tips for No Leftovers
cook until the pasta is tender but not mushy
switch out the ground beef for ground turkey if desired
you can use water to cook it but beef broth makes it more flavorful
add in your favorite family spices and cheeses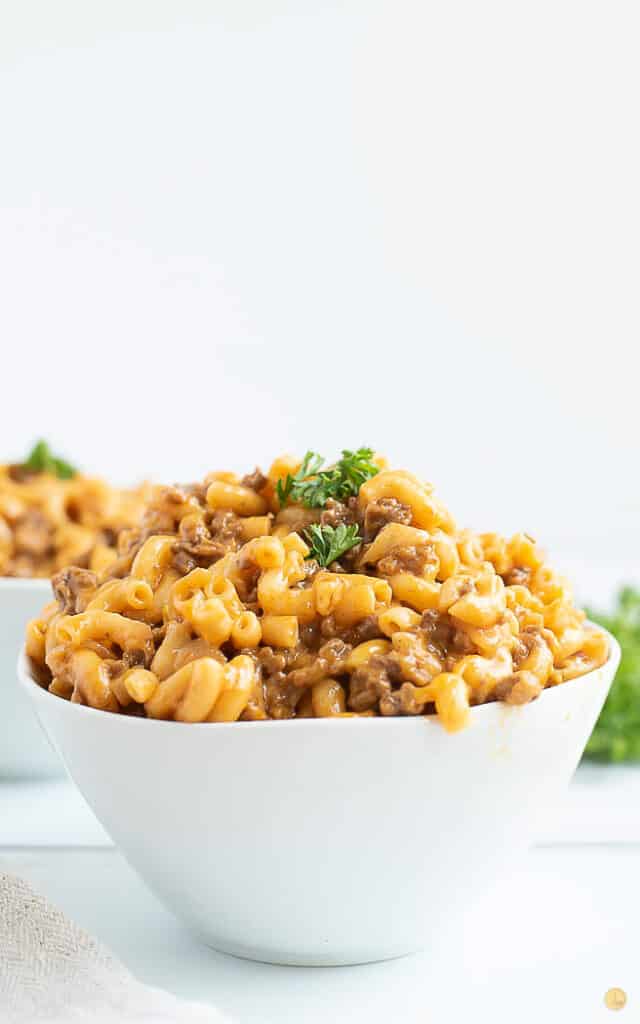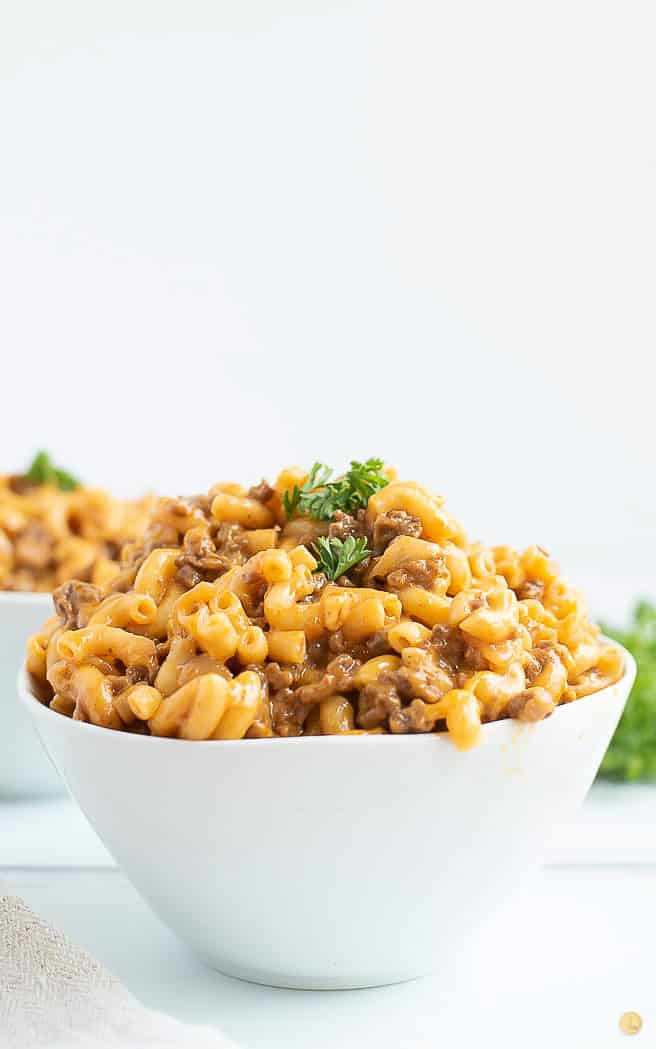 I know the family, especially the kids, will love it because I loved it as a kid and I was super picky.
This one skillet cheeseburger pasta is EASY, QUICK, AFFORDABLE, and WAY BETTER better than the boxed version!
If you love this recipe as much as I do, please write a five-star review in the comment section below (or on Pinterest with the "tried it" button – you can now add pictures into reviews, too!), and be sure to help me share on facebook!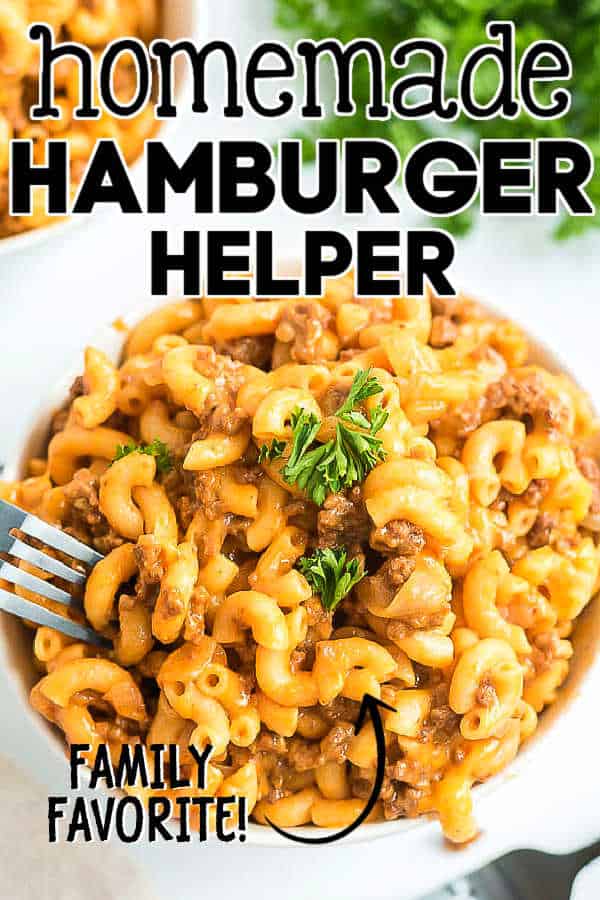 Other easy weeknight meals
Homemade Hamburger Helper Recipe
@LeftoversThenBreakfast.com. Content and photographs are copyright protected. Sharing of this recipe is both encourages and appreciated. Copying and/or pasting full recipes to any social media is strictly prohibited.