My delicious and easy to make Puff Pastry Tomato Tart is the perfect summer time meal. This tart is made with a light and flaky pastry puff, slathered with a tangy cheese spread, and topped with sweet tomatoes and zucchini.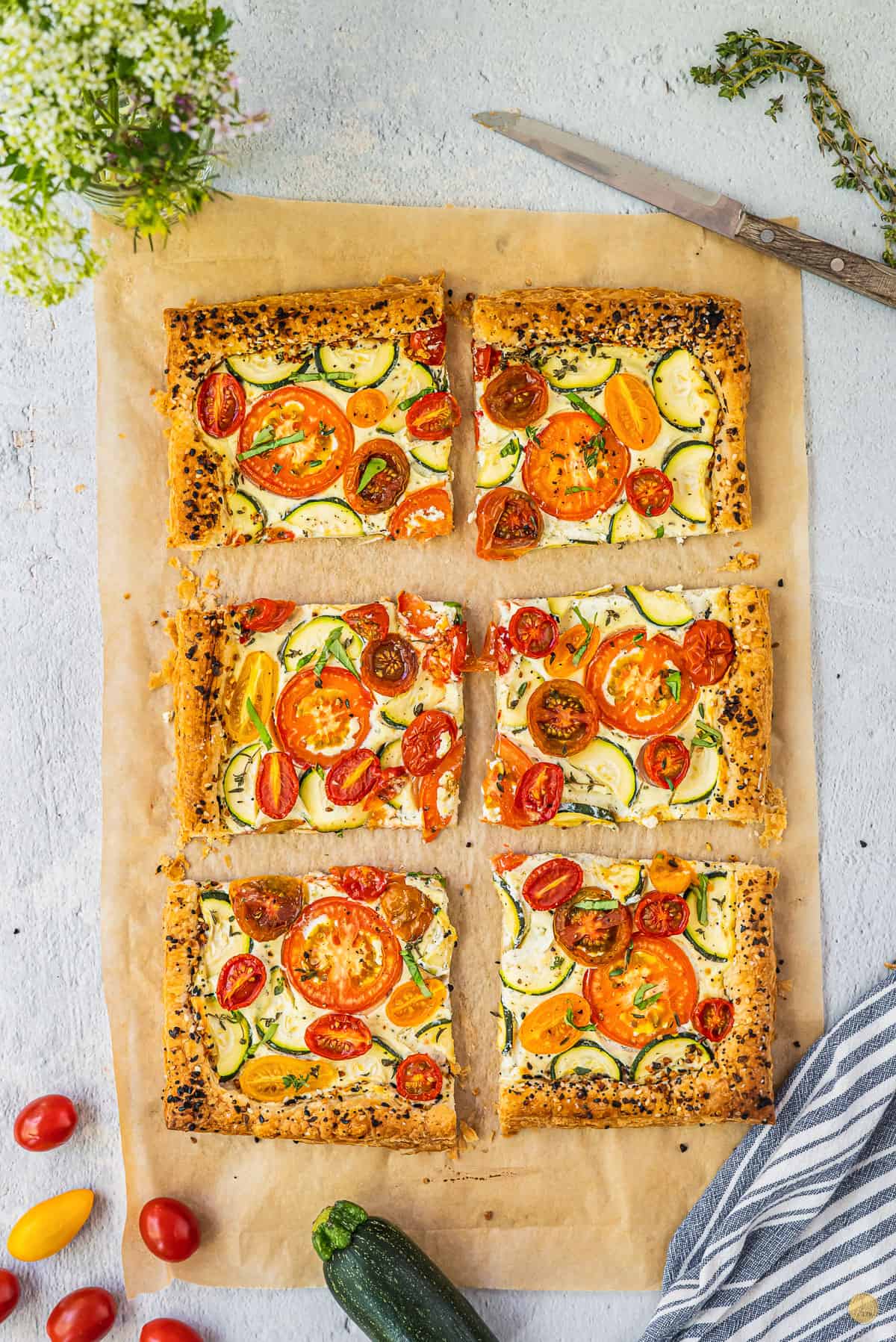 If you'd rather skip my essential cooking tips and tricks and get straight to this delicious recipe – simply scroll to the bottom of the page where you can find the printable recipe card.
Whether you are looking for a beautiful appetizer or a light weeknight meal, this puff pastry tomato tart hits all the marks!
When summer time comes around, my family and I are out-and-about with jam-packed, super busy days. Which means, I love finding some quick, easy, and, delicious meals. And this tomato zucchini tart is hits all those boxes! Quick, easy, AND delicious!
This puff pastry tomato tart comes together in a little over 30-minutes and uses thawed frozen puff pastry from the local grocer, so pulling this flavorful meal together is a synch (and quick)! But first, the puff pastry MUST be thawed in order for this to work, so put in the fridge the night before.
Trust me, if you don't, the pastry will crack and fall a part and if that happens, well, there goes your tart!
But really, the creamy cheese spread compliments the sweet flavors of the tomatoes (or any other vegetable of your choosing!) perfectly and the flaky puff crust is the ideal vessel to hold these bright, bold, and flavorful flavors.
And trust me, once your family or guests get a hold of this savory tart, it will quickly disappear!
This post may contain affiliate links. As an Amazon Associate, I earn from qualifying purchases. Read my disclosure policy here.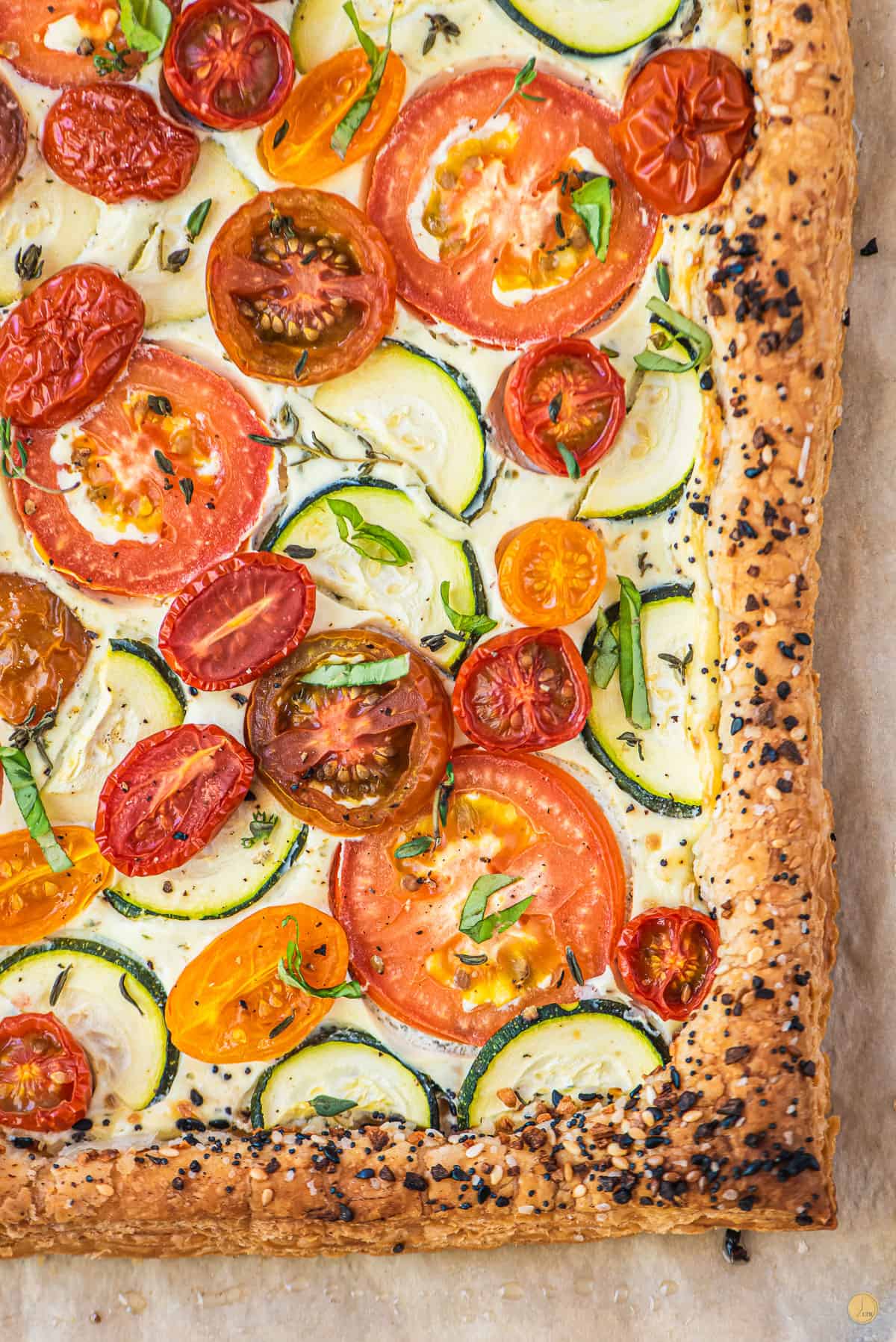 PUFF PASTRY TOMATO TART INGREDIENTS
Puff Pastry
Ricotta cheese
Goat & Feta cheese
Tomatoes (grape or cherry, heirloom)
Zucchini
Egg
Garlic
Dried oregano
Fresh parsley, thyme, & basil leaves
Salt & pepper
Cheese – Be sure to use whole milk ricotta for best results. Bring the goat cheese to room temperature and crumble the feta cheese before mixing. I prefer using plain goat cheese and not seasoned as it will change the flavor.
Tomatoes – Use a combination of cherry, grape, and heirloom tomatoes for a variety of shapes, colors, and flavors. Be sure to dry or remove as much moisture as you can from the tomatoes and zucchini before adding to the tart.
Spices/Herbs – The everything bagel seasoning is a great addition to the crust but feel free to leave it off if you desire. Also, add the fresh herbs after baking so they taste as fresh as possible. Use the dried spices in the cheese mixture.
Looking for more comfort food? Follow LTB on Pinterest!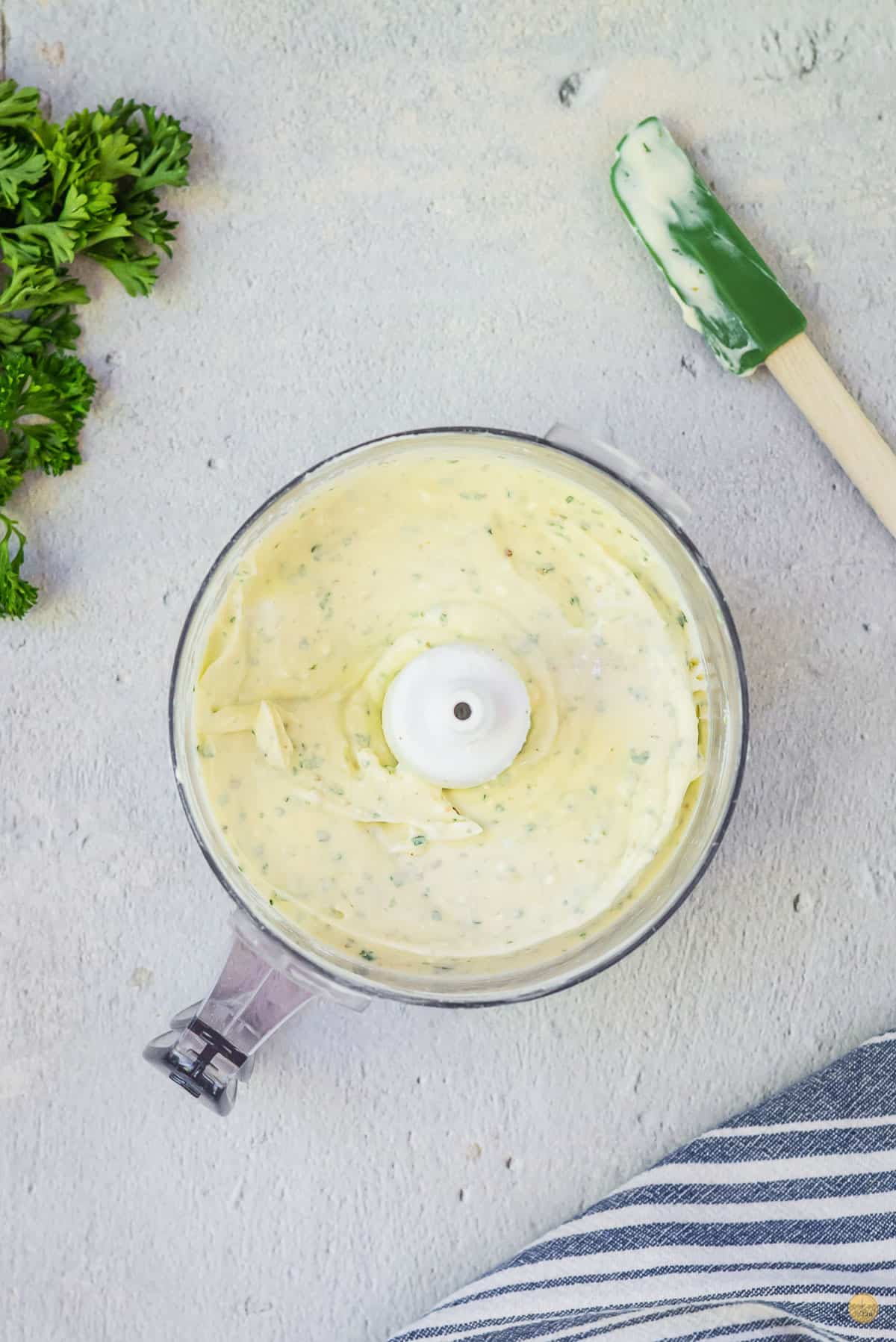 HOW TO MAKE A TOMATO TART
ONE: Preheat oven to 400°F. Line a baking sheet with parchment paper.
TWO: Make the whipped cheese filling by mixing the cheeses, egg, garlic, oregano and parsley in the bowl of a food processor until well blended. Season with salt and pepper as desired.
THREE: Roll out the pastry sheet on a lightly floured surface into a rectangle. Place on the prepared baking sheet. Score a one-inch border all the way around the sheet. Brush some olive oil over this edge. Poke some holes on the inside section with a fork. Now spread the whipped cheese mixture inside the scored line in an even layer. Sprinkle the Everything seasoning all around the border of the pastry.
FOUR: Arrange the tomatoes and zucchini on top of the cheese in an even single layer. Season with salt and pepper, and sprinkle half of the thyme on top. Bake for 20 to 25 minutes, until the pastry edges are puffed and golden and veggies are starting to brown on edges. Garnish with more thyme and basil if desired.
For the full recipe and detailed baking instructions, please see the recipe card at the end of this post.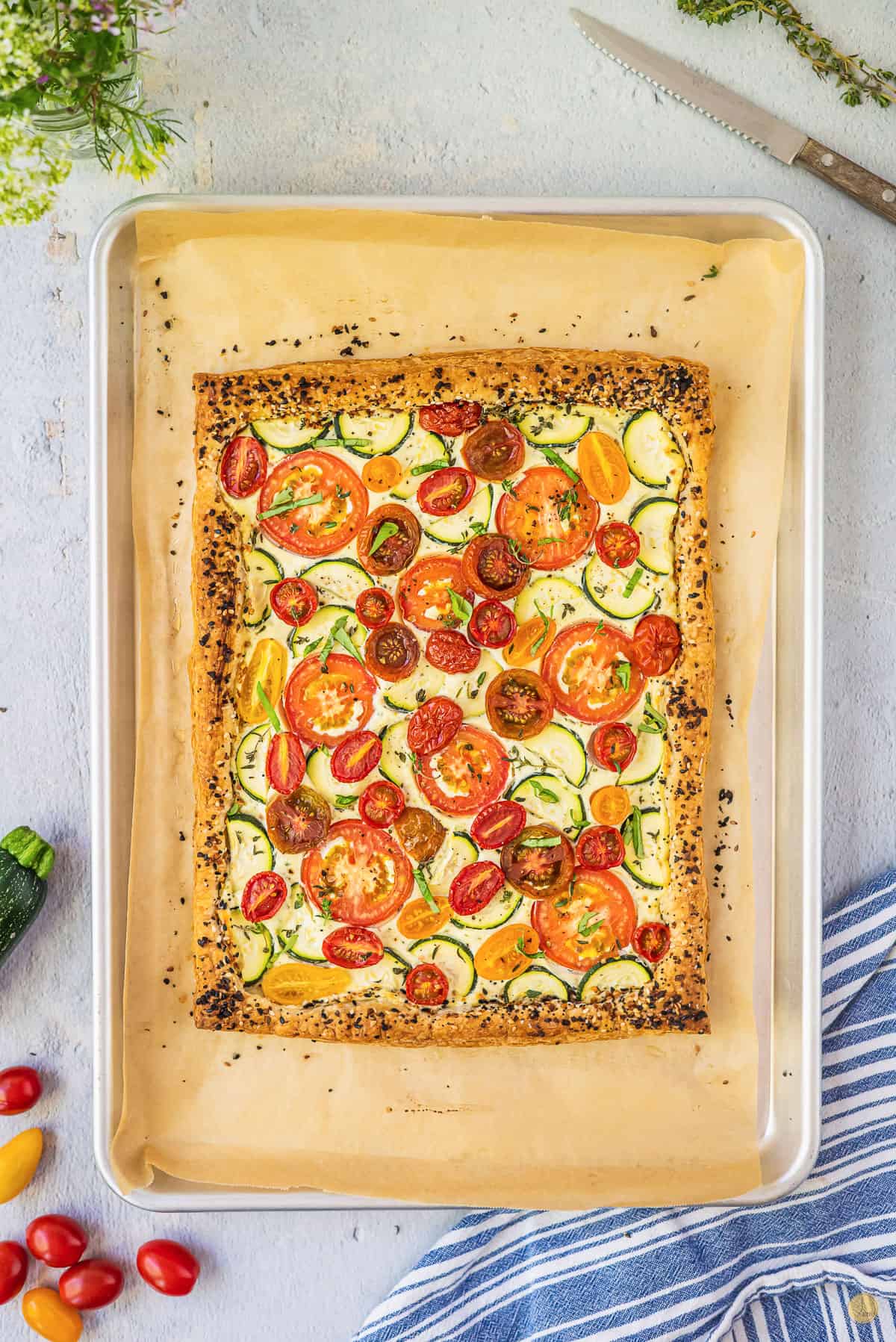 CAN YOU MAKE THIS AHEAD OF TIME?
Yes! Vegetable tarts can be assembled up to 24-hours prior to you baking them. Just be sure the tomatoes and zucchini are as dry as possible so they don't leak water before baking.
HOW TO STORE
Put any left overs in an air tight container and store in the fridge for 1 to 2 days. If you need to reheat it, just toss in a 350F oven for 5 minutes or until warmed through.
I don't recommend freezing it as the fresh vegetables won't hold up well.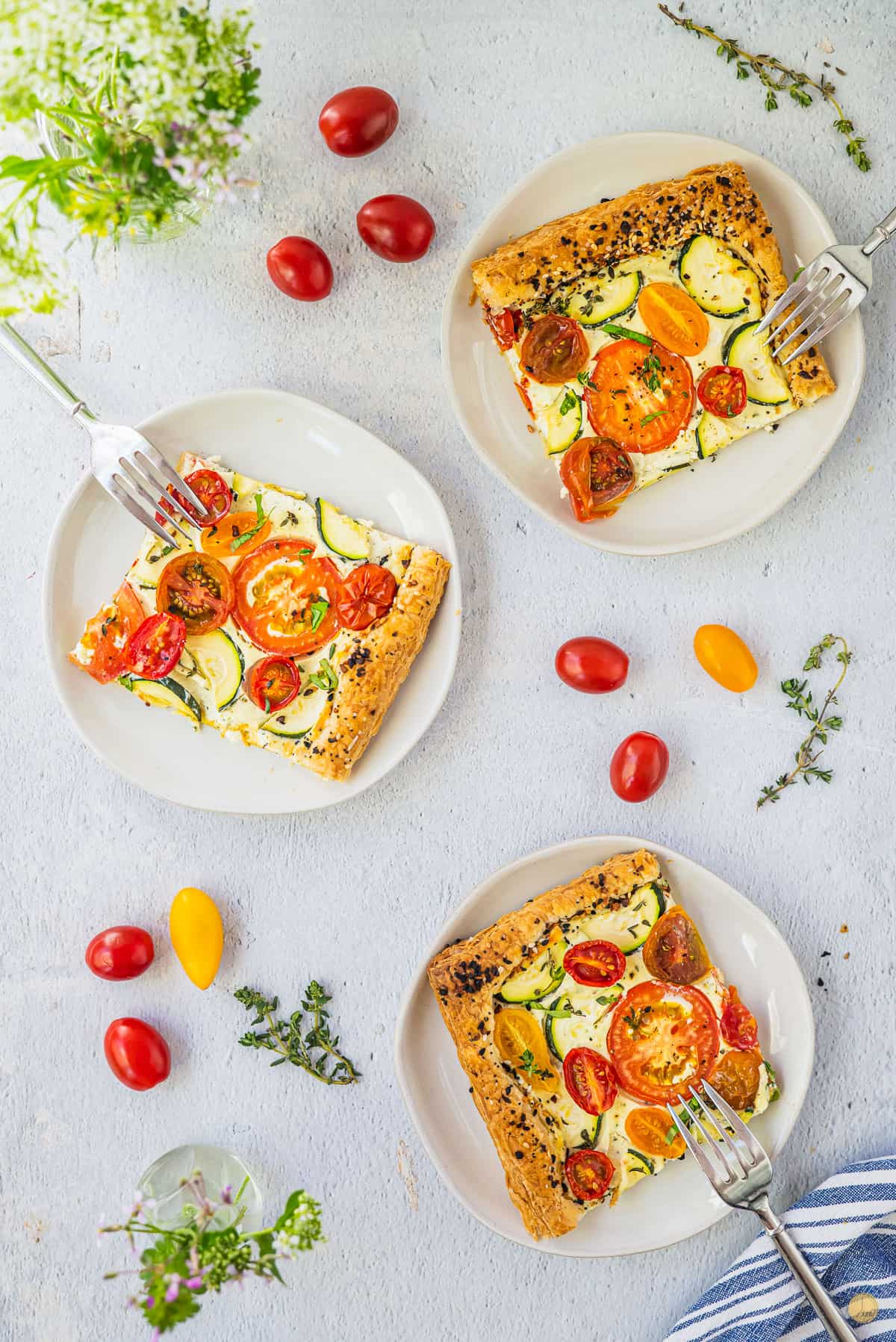 TOOLS TO MAKE THIS VEGETABLE TART
TIPS FOR NO LEFTOVERS
After rolling out the dough, be sure to poke holes in it with a fork. This will keep it from puffing up too much.
Making sure your goat cheese is room temperature and the feta is crumbled before adding to the food processor will make it easier to blend into the whipped cheese.
Spread the cheese layer just thick enough that it covers the pastry. You should not be able to see any pastry through the cheese layer, but it should not be so thick that it does not cook through. You may have some leftover whipped cheese after spreading on the tart, depending how large your rectangle is.
The zucchini and tomato slices should be about ⅛" thick to ensure even cooking.
Dry the tomatoes and zucchini after slicing. This will help to remove a lot of the water and keep your pastry from getting soggy. To dry them, slice them, then place on paper towels. Sprinkle with a little salt, place paper towels on top. Let them dry for 10-15 minutes. You might need to switch out and replace paper towels half way through.
This tart can be served warm, or room temperature, or chilled. It really does taste great any way!
Store any leftovers covered and in the fridge for up to 2 days. You can reheat in the oven or toaster oven just until heated through.
MORE TOMATO RECIPES
If you love this recipe as much as I do, please write a five-star review in the comment section below (or on Pinterest with the "tried it" button – you can now add pictures into reviews, too!), and be sure to help me share on facebook!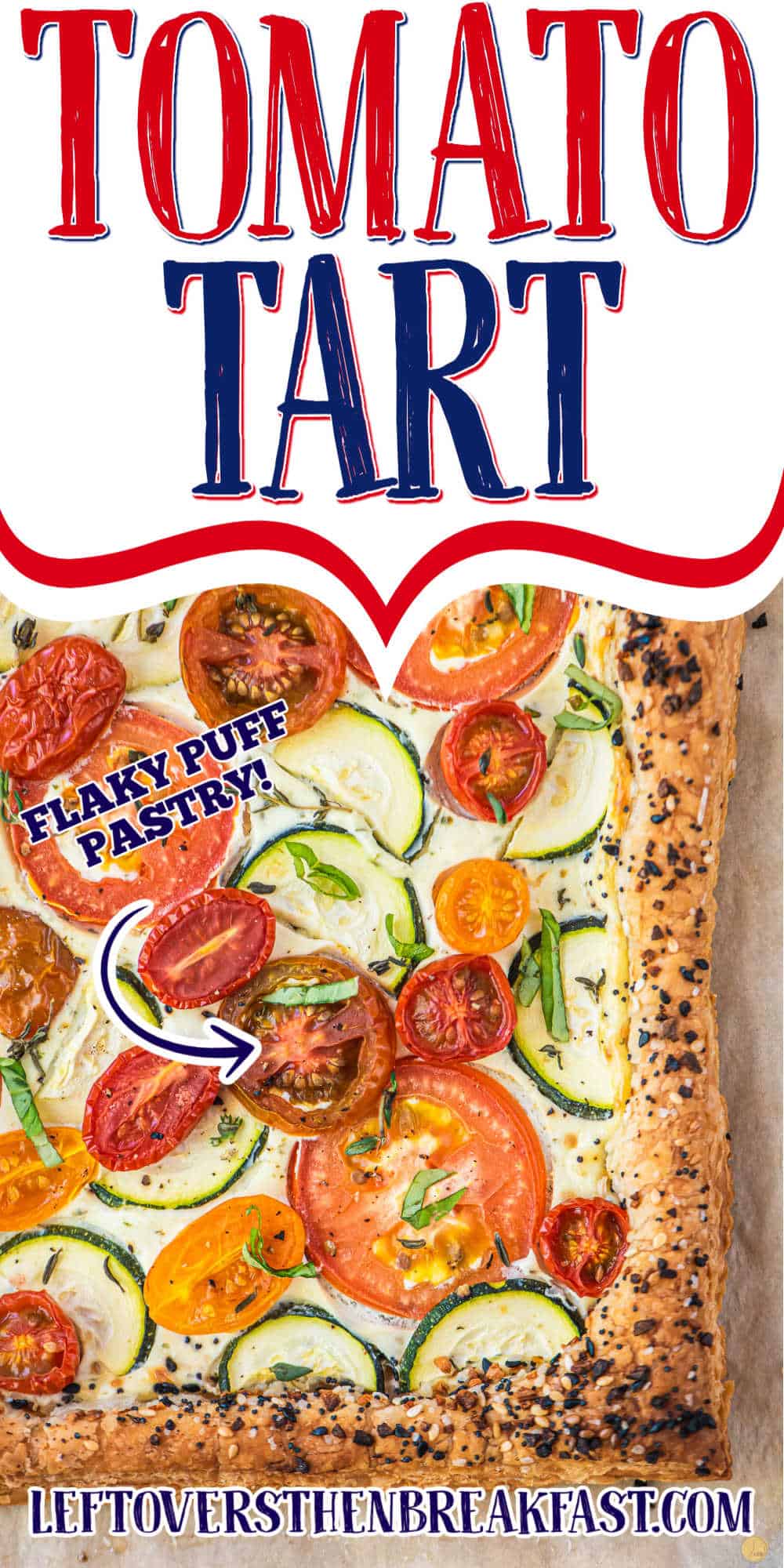 Grab your favorite tomatoes from your local grocery store, farmer's market, or even backyard and get moving on making this simple, yet delicious, puff pastry tomato tart! Leave a comment down below and let me know what other veggies you added to make this tart your own!
MORE DELICIOUS RECIPES
@LeftoversThenBreakfast.com. Content and photographs are copyright protected. Sharing of this recipe is both encourages and appreciated. Copying and/or pasting full recipes to any social media is strictly prohibited.