With its delicious homemade graham cracker crust, decadently rich and thick key lime custard, topped with whipped cream, and garnished with key lime slices; this recipe will quickly become your new favorite for key lime pie!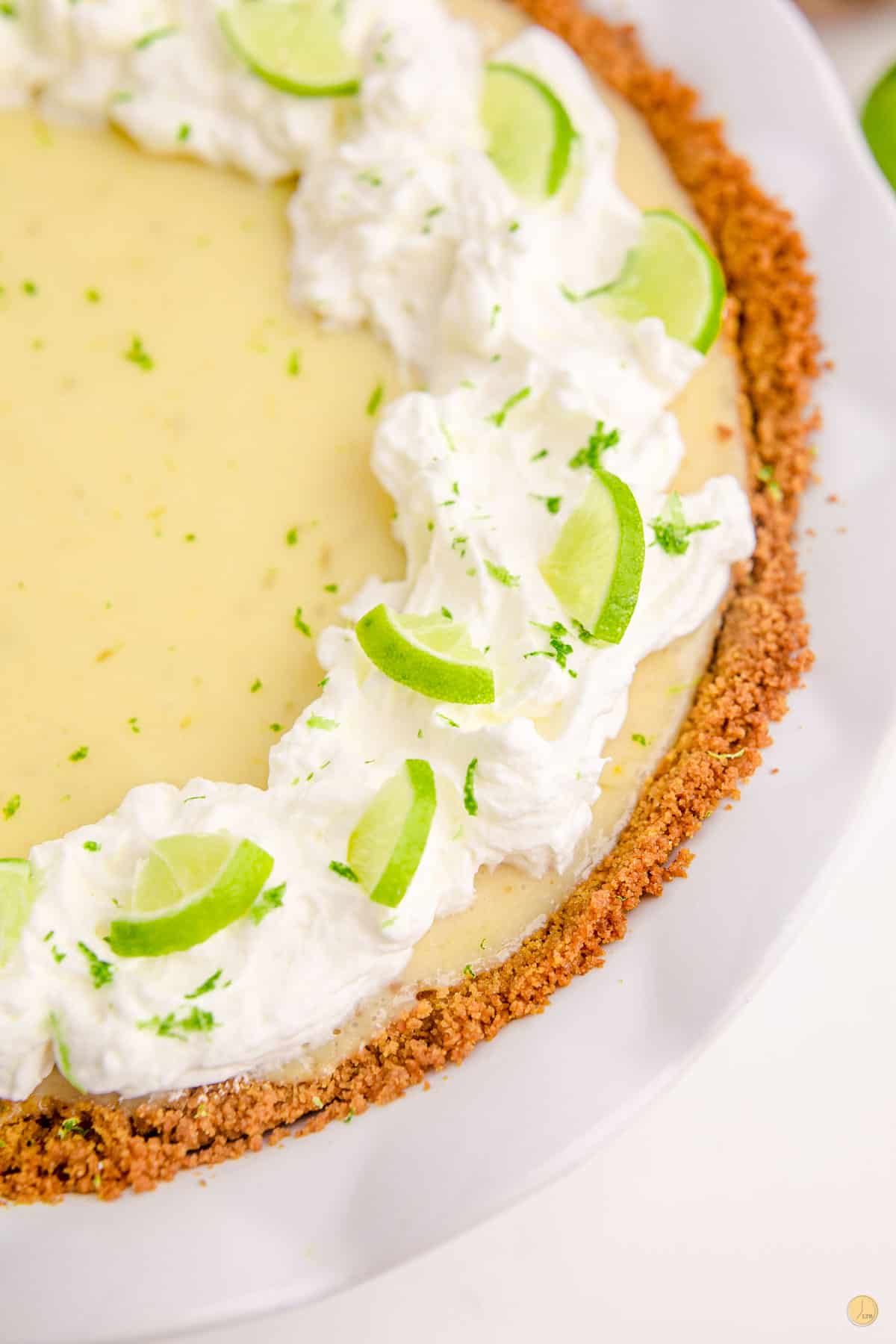 If you'd rather skip my essential cooking tips and tricks and get straight to this delicious recipe – simply scroll to the bottom of the page where you can find the printable recipe card.
THE BEST KEY LIME PIE
This pie is truly the quintessential elegant dessert for any celebration!
One bite of a delicious key lime pie will make anyone fall in love with this indulgent treat. And it's easy to see why.
Between the rich buttery graham cracker crust to the velvety smooth, yet slightly tangy, custard filling there's so much to love about this Floridian dessert!
And while there's nothing wrong with the classic key lime recipe; I made a few tiny tweaks to that famous lime filling that I feel really take this pie to the next level!
While the basics are still there, I also add in sour cream and powdered sugar. The sour cream adds a little extra subtle tang and also helps to create a more beautifully thick and creamy custard. And the powered sugar adds that little extra sweetness.
So go ahead, and make this beautiful pie for your next summertime get-together. Your friends and family will be so happy that you did!
This post may contain affiliate links. As an Amazon Associate, I earn from qualifying purchases. Read my disclosure policy here.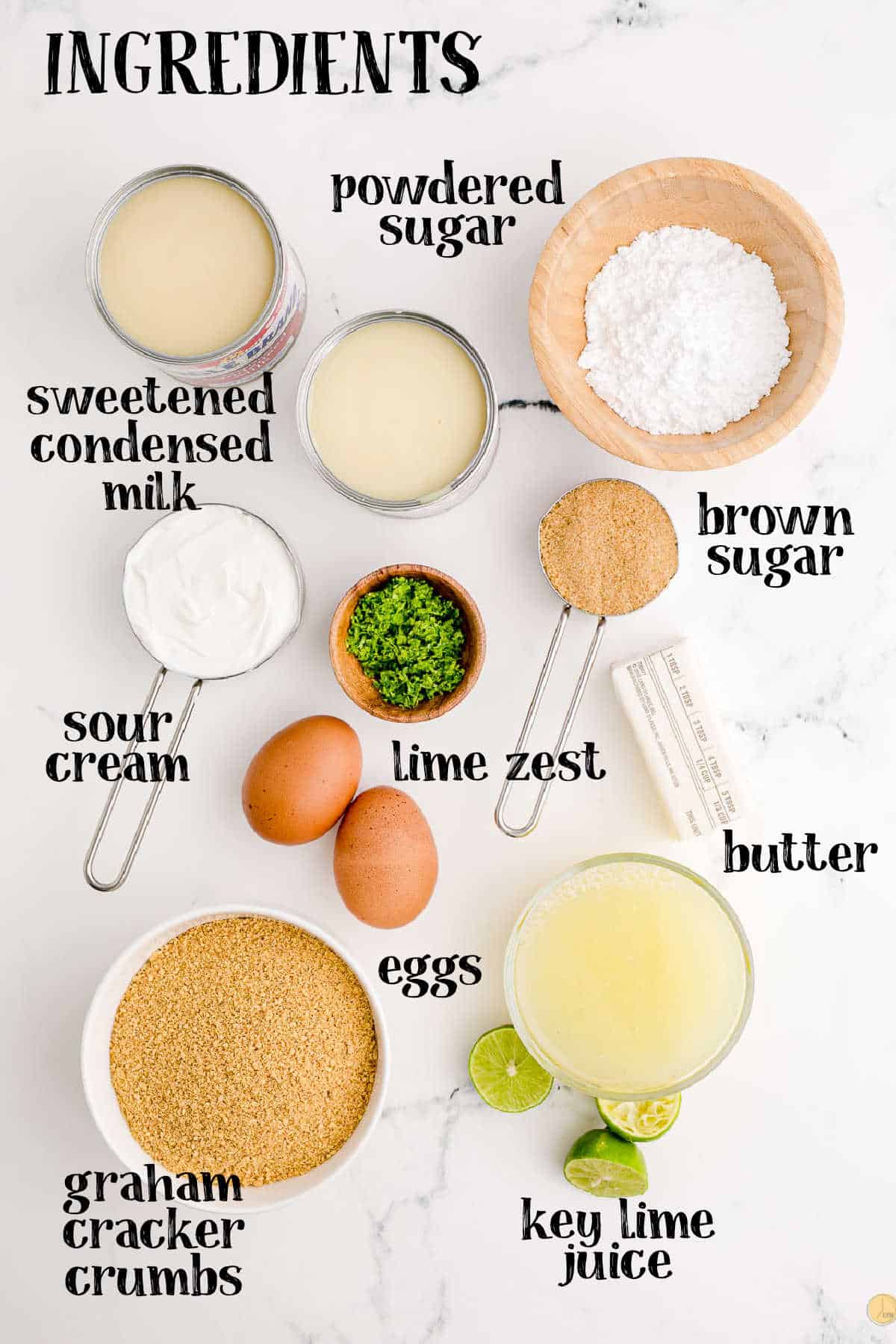 KEY LIME PIE INGREDIENTS
Graham cracker crumbs
Brown sugar
Salted butter
Key lime juice & zest
Sweetened condensed milk
Sour cream
Egg yolks
Powdered sugar
Graham cracker crumbs – You can buy these already in crumb form or you can use crackers and just pulse them in a food processor or smash them in a bag with rolling pin or glass.
Key Lime Juice – You can find these small key limes in the produce section of most grocery stores. Be sure to zest them before juicing them as it will be much easier. If you can't find the fresh ones, feel free to use the bottled key lime juice. Nellie and Joe's is the best!
Sweetened Condensed Milk – Be sure to use sweetened condensed milk and not just condensed milk or evaporated milk.
Looking for more comfort food? Follow LTB on Pinterest!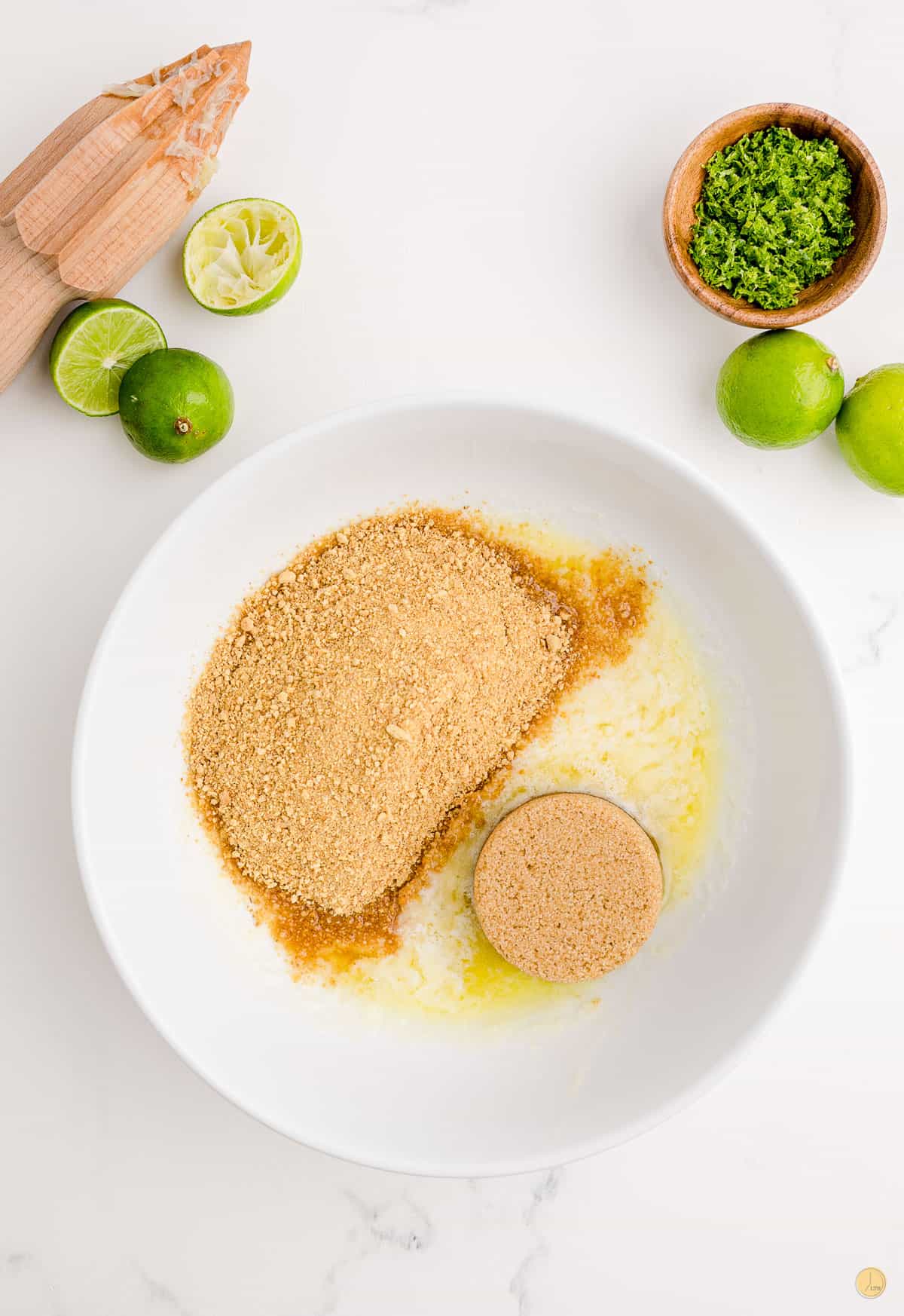 HOW TO MAKE KEY LIME PIE
ONE: Preheat oven to 350F. Mix together graham crumbs, brown sugar, and melted butter. Press this mixture into a 9-inch pie pan. Bake for 10 minutes. Remove and let cool on a wire rack while making filling.
TWO: Using an electric mixer, combine the key lime juice, zest, sweetened condensed milk, sour cream, 2 egg yolks, and powdered sugar in a medium bowl. Pour the filling into the baked crust.
THREE: Bake the pie at 350 degrees for 15-20 minutes. Remove the pie from the oven and allow it to cool to room temperature. Refrigerate the pie to completely cool.
FOUR: Once refrigerated, garnish the cooled pie with whipped cream and lime wedges. Cut into slices and enjoy!
For the full recipe and detailed baking instructions, please see the recipe card at the end of this post.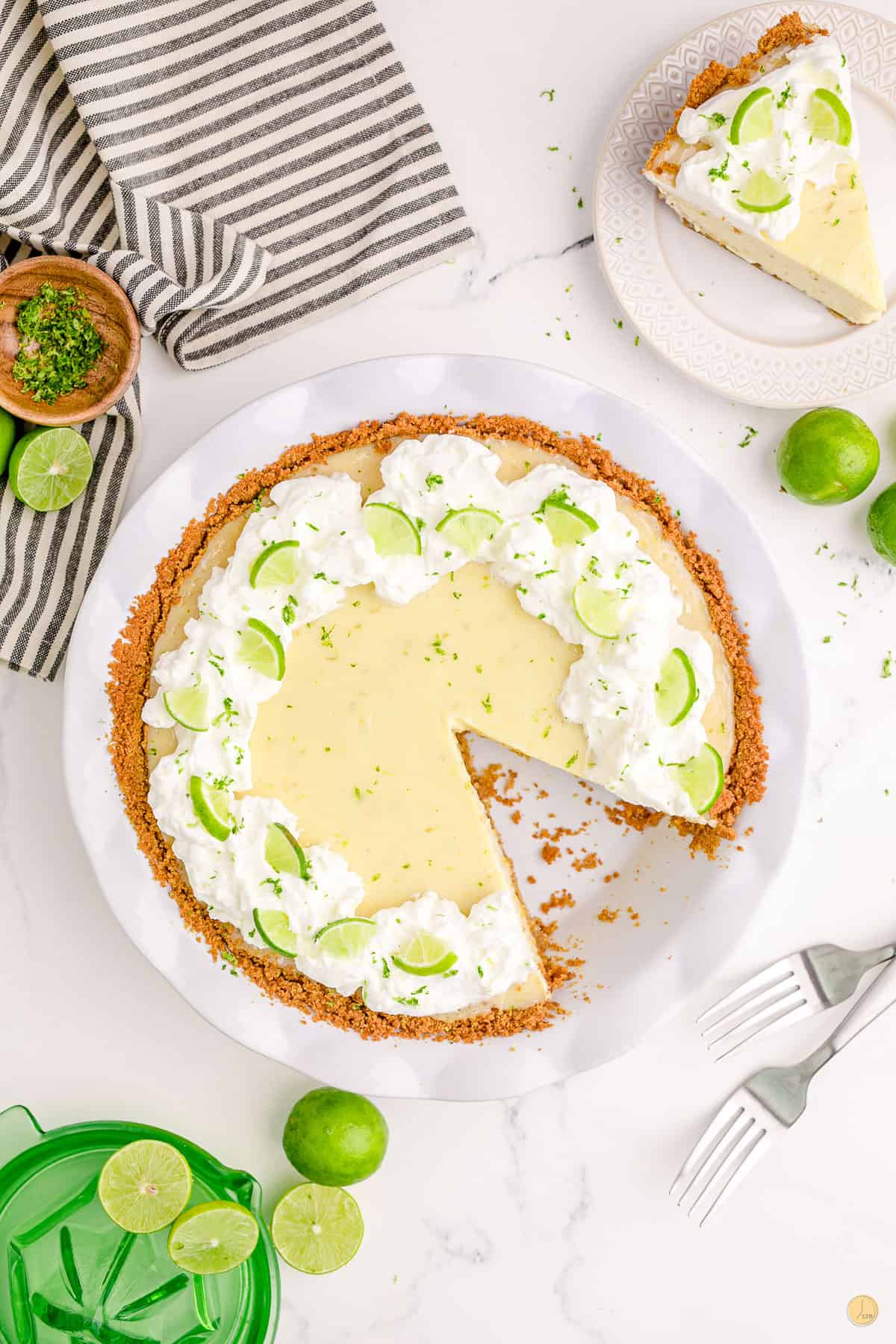 HOW TO STORE
Cover fresh key lime pie with plastic wrap and store in the fridge for 2-3 days. If you prefer to freeze the pie, place in your freezer, uncovered, and leave it until it is completely frozen.
This generally takes about 2 hours depending on your freezer. Once the initial freeze is completed, remove the pie and completely cover (pie and container) with 2 layers of plastic wrap.
When your pie is completely wrapped, place in a freezer safe zip lock bag then put back in freezer. Fresh key lime pie will last for 1 month in the freezer.
CAN THIS BE MADE WITHOUT EGGS?
Traditionally key lime pie is made with only the egg yolks. The yolks give the key lime custard a rich velvety texture.
However; if you cannot tolerate eggs, you can certainly make the pie without them and it will be delicious!
Another eggless option would be to substitute cream cheese. The cream cheese will actually give the pie an even smoother texture!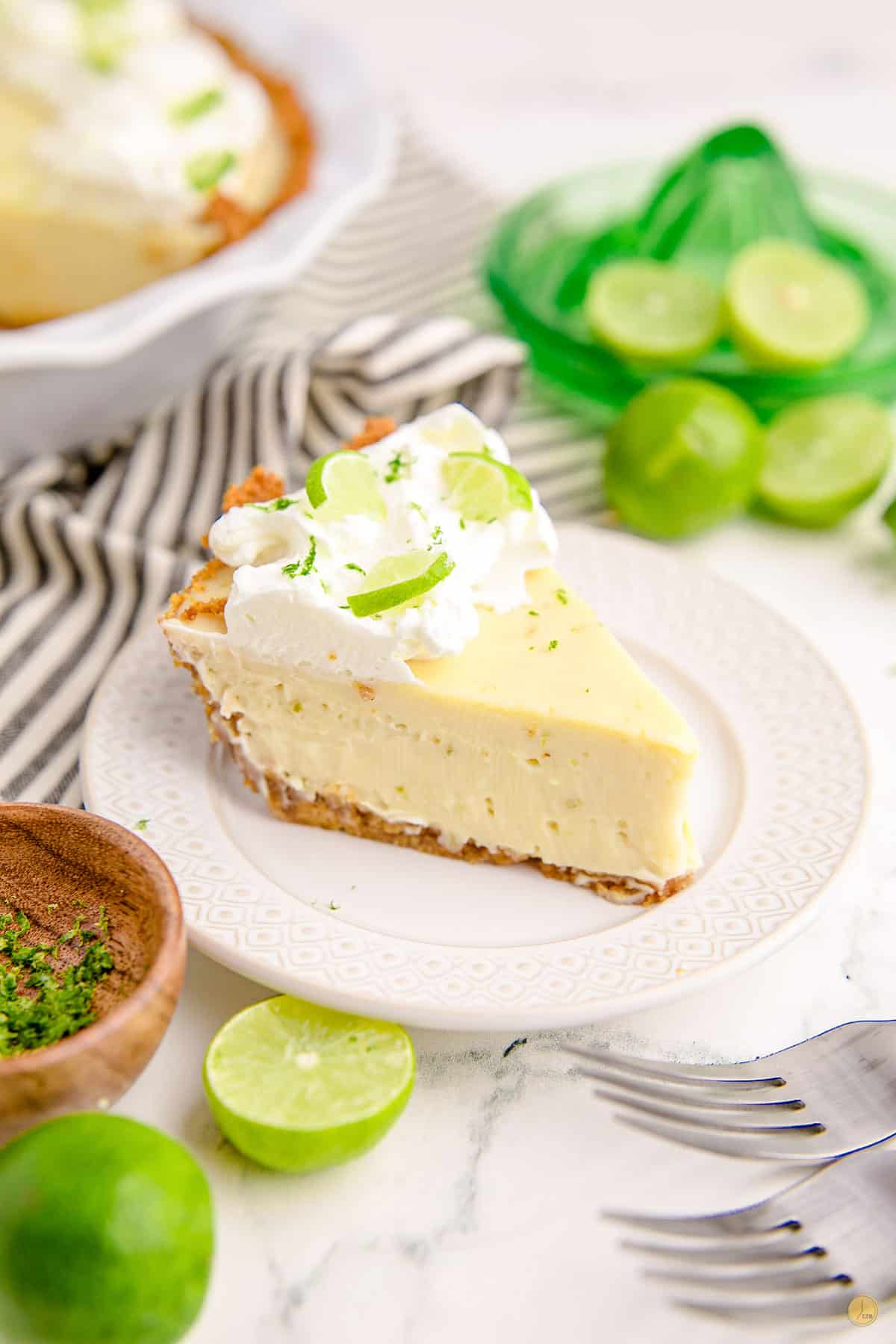 WHAT IS THE DIFFERENCE BETWEEN LIMES AND KEY LIMES?
Not only are key limes smaller in size, but they have thinner skin, are more yellow in color, usually have a few more seeds, and a stronger flavor.
They have more juice than regular limes and you will need roughly 40 key limes to make 1 cup of juice.
CAN I SUBSTITUTE REGULAR LIME FOR KEY LIME?
You can, but the color will be slightly more green in color. And the lime flavor won't be as strong.
IS KEY LIME PIE SUPPOSED TO BE YELLOW OR GREEN?
Key limes have a more yellow color so if the pie is authentic it will be yellow and not green. A green pie means that regular limes or green food coloring have been used.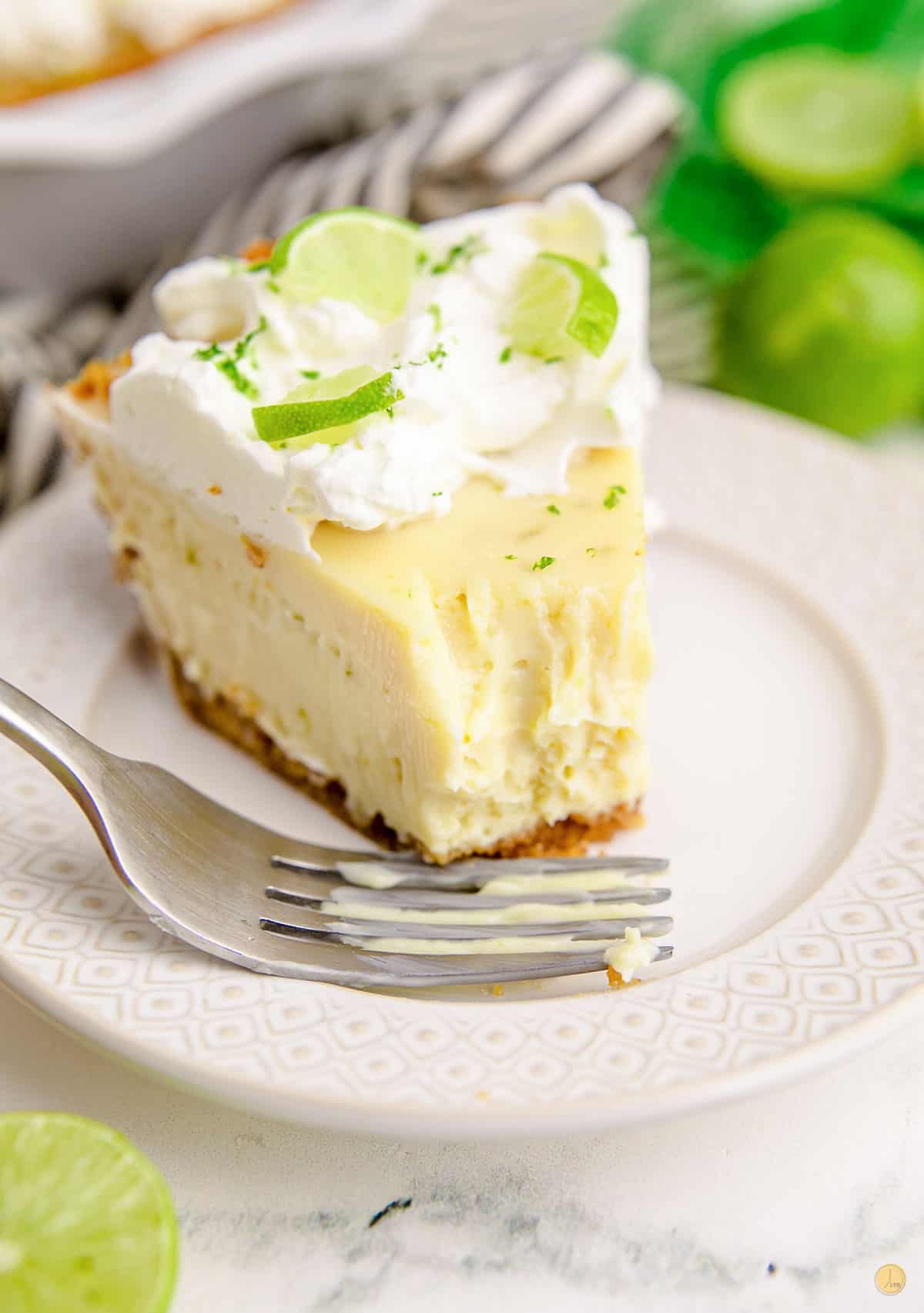 CAN WHOLE EGGS BE USED?
Yes, whole eggs can be used in this recipe, however; it will slightly change the texture of the pie. In classic key lime pie, only egg yolks are used. As stated above, the eggs yolks give the pie a thick rich velvety texture.
Adding the whites to the mixture will give the lime custard a light almost airy consistency. Different but delicious just the same!
CAN I USE CONDENSED MILK OR EVAPORATED MILK?
Unfortunately, you cannot. Sweetened condensed milk, like this recipe calls for, has a lot more sugar in it than condensed milk.
Using condensed milk (also called evaporated milk) will create a very different consistency in the pie.
CAN KEY LIME PIE BE MADE IN BARS?
Sure can! Just swap out the pie pan for an 8×8 inch square pan. I have doubled the recipe and made a pie and a batch of bars at one time.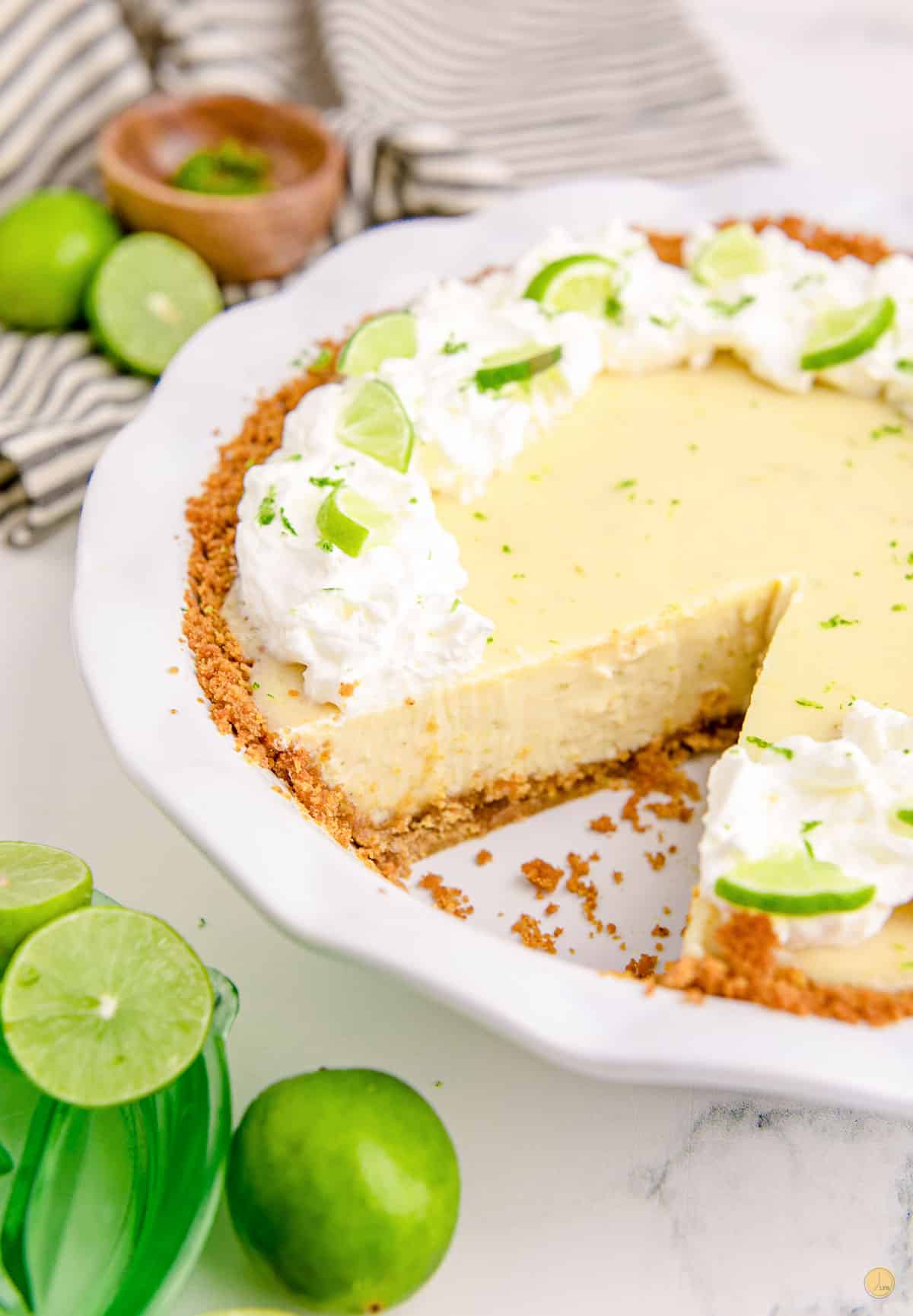 TOOLS TO MAKE THIS PIE
MORE SUMMER RECIPES
TIPS FOR NO LEFTOVERS
If you do not or cannot find key limes, you can substitute regular limes (also know as Tahiti or Persian limes).
Can I make this pie without the eggs? I find that the egg yolks give the pie a richer taste and a velvety texture but if you prefer you could leave them out and the pie will still be delicious!
I didn't notice that I was only supposed to use the yolks and mixed in the whole egg – did I ruin the pie? No, just make sure they are mixed in really well and I bet it will be fine although maybe a slightly firmer texture.
Don't over bake! Bake the pie until the center is slightly jiggly (about 15-20 minutes). Custard should be firm to touch but not completely liquid or totally solid. The pie continues to firm up while it chills in the fridge.
Personalize this pie! You can finish it off however you choose. Some ideas to decorate are: topping with homemade whip cream, sliced limes – either in thin slices or quarters, lime zest, or do a combination of all 3!
Can this be made in a bar pan instead? Yes, use an 8×8 inch square pan.
The pie is still slightly jiggly in the center after 15 minutes in the oven – should I continue baking it? No, the pie filling will continue to firm up as it chills in the fridge. If it is still very jiggly, continue to bake and check on it every 5 minutes. If you overcook it, it will become spongy rather than creamy.
If you love this recipe as much as I do, please write a five-star review in the comment section below (or on Pinterest with the "tried it" button – you can now add pictures into reviews, too!), and be sure to help me share on facebook!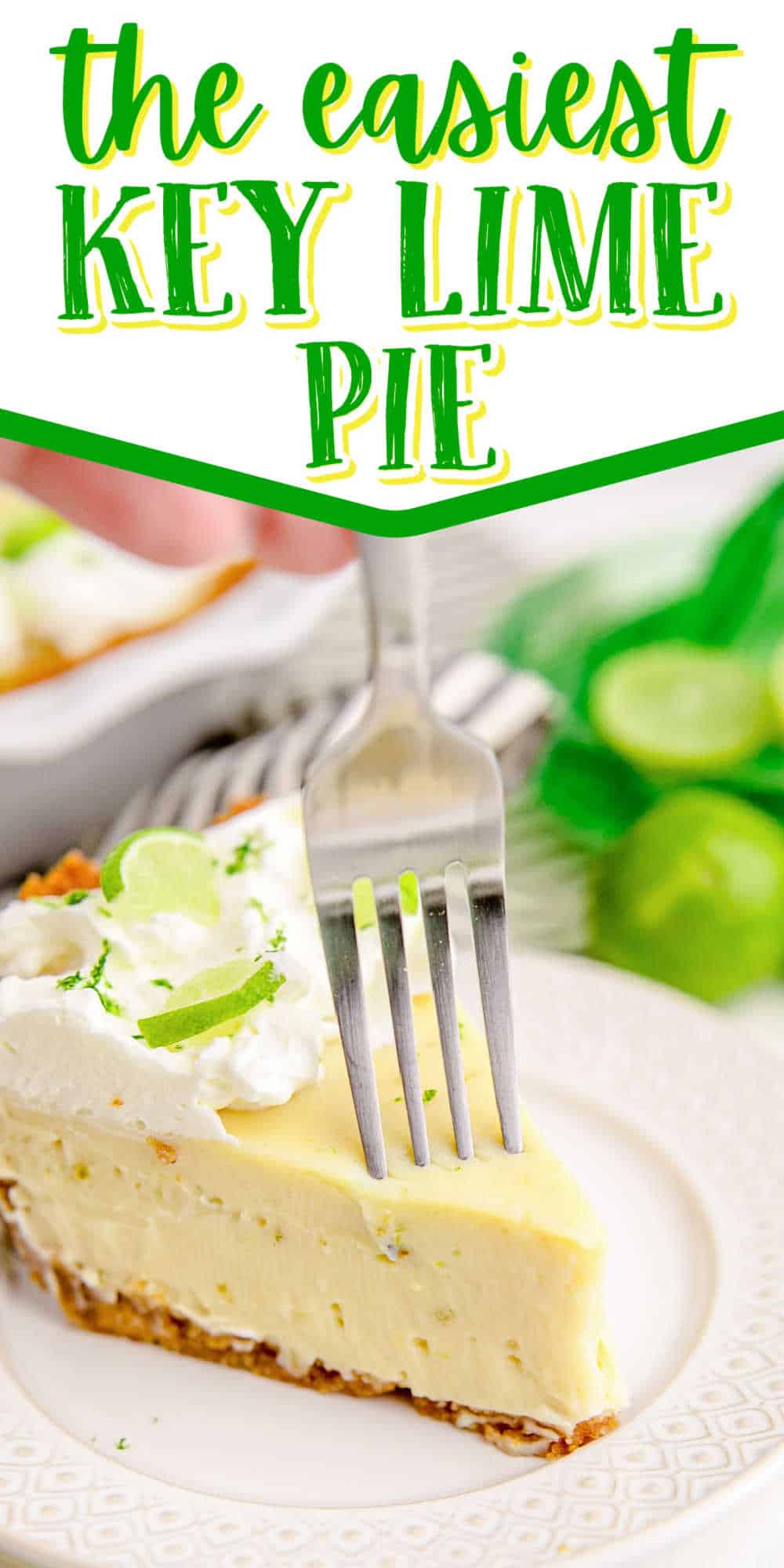 Ready to dive in and make this easy but totally delicious key lime pie recipe? Be sure to whip up this beauty next time you have something to celebrate!
MORE EASY RECIPES
@LeftoversThenBreakfast.com. Content and photographs are copyright protected. Sharing of this recipe is both encourages and appreciated. Copying and/or pasting full recipes to any social media is strictly prohibited.