These LIGHT and FLAKY cherry turnovers are super easy to make with puff pastry and pie filling and are perfect for BREAKFAST or DESSERT!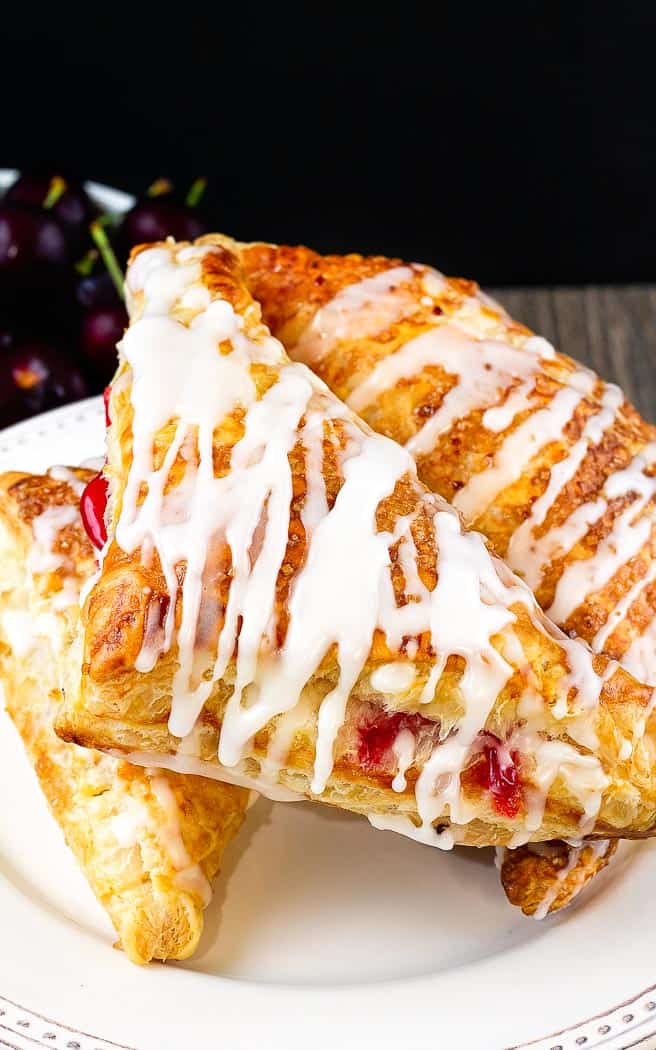 WHAT IS A CHERRY TURNOVER?
Cherry turnovers are a fancy pastry. There's just something about a light and flaky pie that is portable and can be enjoyed any time of the day.
They can also be called empanadas, hand pies, or pasties depending on where you get them.
They don't only come in cherry, MY FAVORITE FLAVOR, but can be apple, peach, or blueberry! Just add your favorite fruit and you are all set.
But if you love cherries as much as I do, check out my Cherry Pie Bars and this easy Cherry Dump Cake.
This post may contain affiliate links. As an Amazon Associate, I earn from qualifying purchases. Read my disclosure policy here.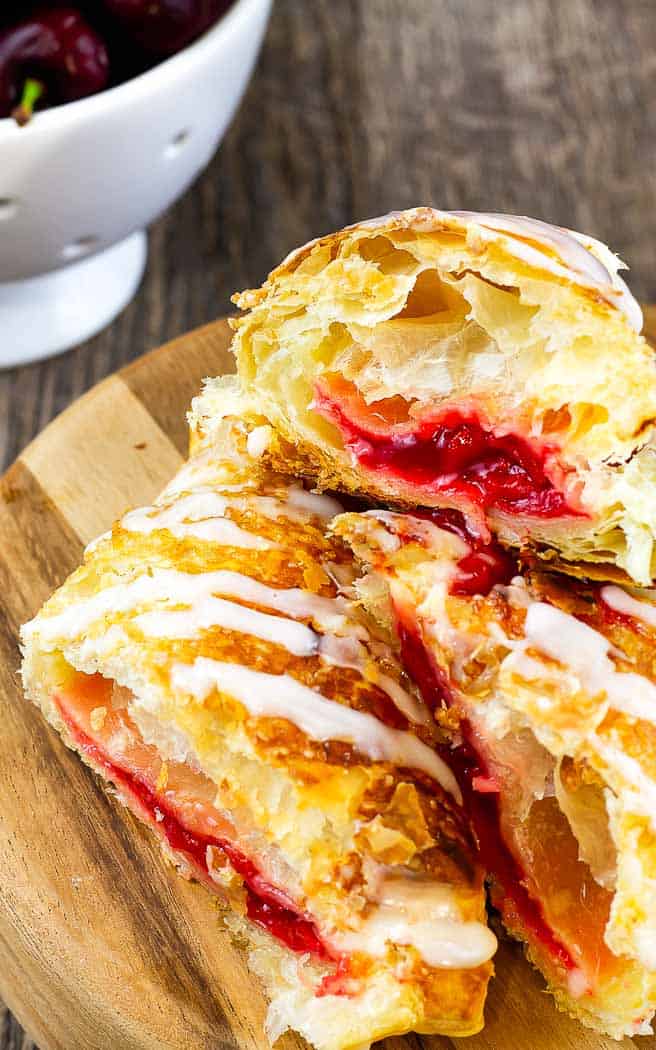 HOMEMADE CHERRY TURNOVERS
Usually cherry turnovers are served at fancy brunches, so you just expect them to be complicated. But really, they are pretty simple to make.
All you need is:
puff pastry sheets
cherry pie filling
maybe a little sugar for the top or glaze
Cherry pie turnovers don't take long to assemble and cook. The only hard part is eating waiting to eat them. Too soon and the molten hot filling flows like lava into your mouth.
I just remember that they have to be cooled in order to drizzle with the powdered sugar icing. I love mine with icing, so I make myself wait it out.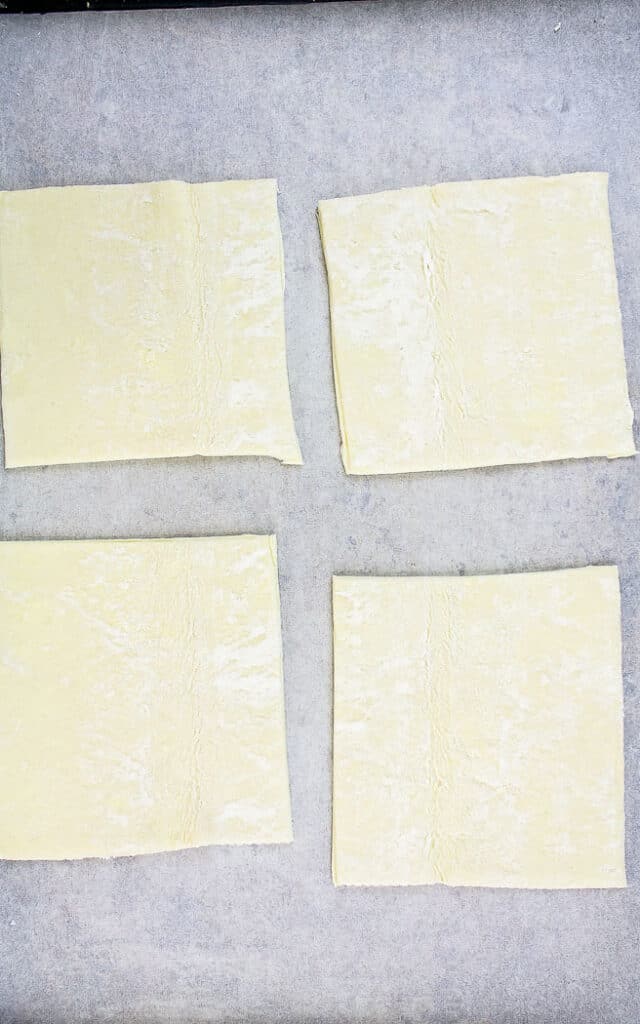 HOW TO MAKE CHERRY TURNOVERS
Thaw/Cut Puff Pastry: Thaw puff pastry sheets and cut into 8 squares (4/sheet).
Fill Turnovers: Place 2-3 tablespoons cherry pie filling on each square; fold pastry over filling making triangles.
Egg Wash: Brush pastry triangles with egg wash. Sprinkle with coarse sugar.
Bake: Place pastries on lined baking sheet. Bake at 375 degrees for 30 minutes or until golden brown.
Glaze: Drizzle with vanilla glaze and enjoy!
For the full recipe and detailed baking instructions, please see the recipe card at the end of this post.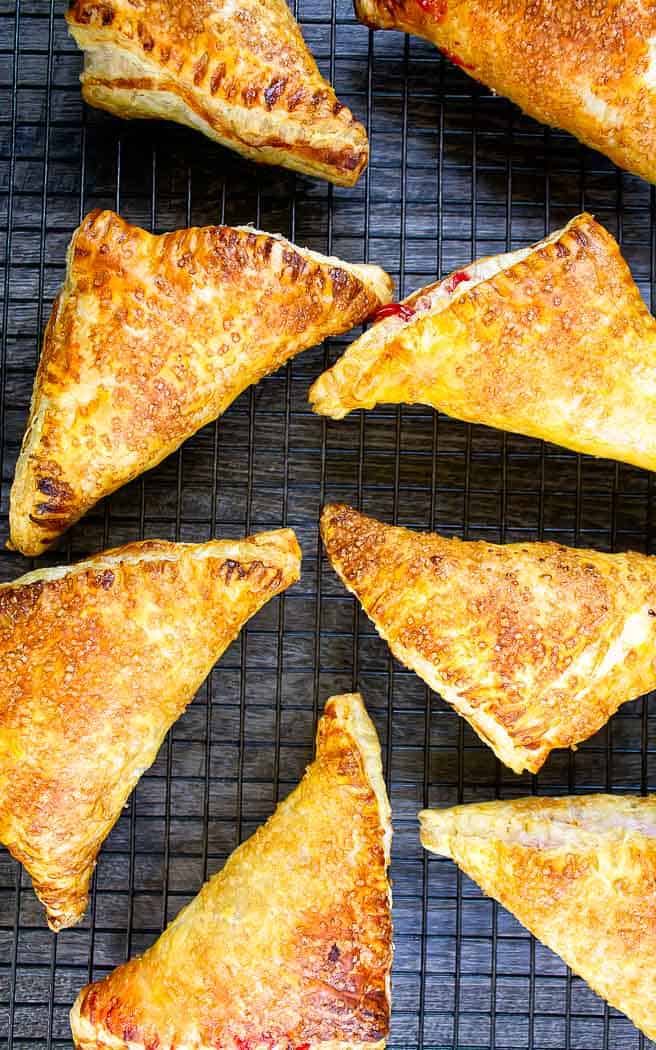 Making a great cherry turnover couldn't be simpler but the devil is in the details. These will result in a more heavenly turnover.
TIPS FOR NO LEFTOVERS
Cut even squares – Use a pastry or pizza cutter and a ruler or straight edge. Then cut perfect pastry squares in one motion.
Fully thaw the puff pastry dough – This makes them easier to fold after filling.
Don't overstuff – The pie filling expands as cooks and could leak out.
Seal tightly – Pressing the edges tightly keeps the filling from leaking out while baking.
Egg wash – Helps to seal the turnover and gives them a golden brown color during baking.
Preheat oven – This will help with even baking.
Cool – Cool slightly on a wire rack before glazing so the vanilla icing doesn't run off and keeps the bottom from becoming soggy.
Looking for more comfort food? Follow LTB on Pinterest!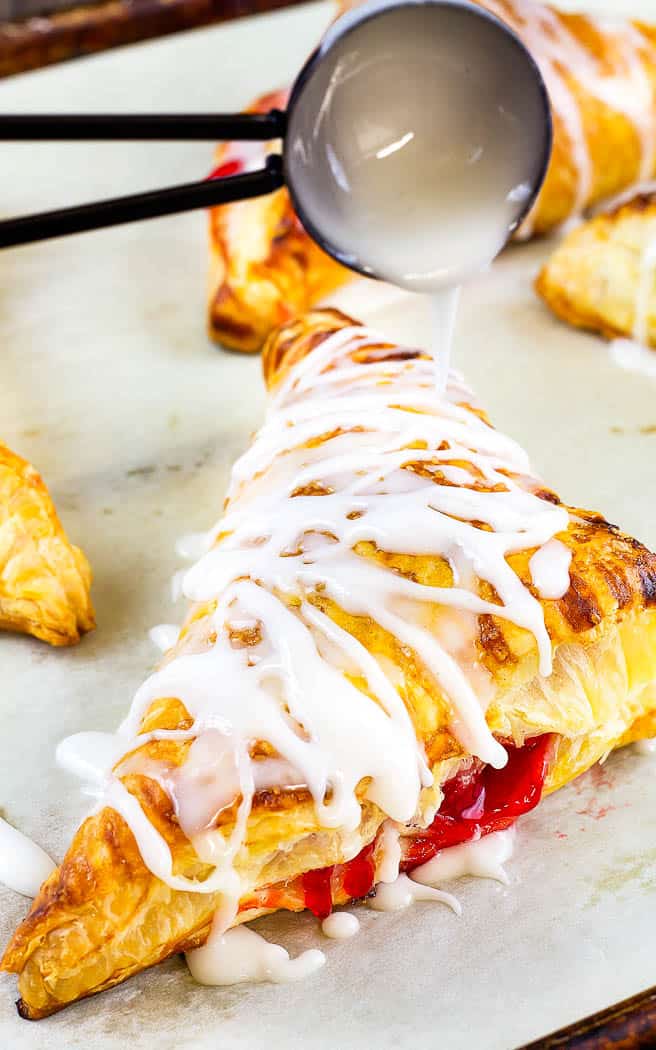 WHAT IS THE BEST CANNED CHERRY PIE FILLING?
You can make your own pie filling from scratch or buy it already made in a can. I have been known to eat mine right out of the can, standing in the pantry, in my PJs.
So, NO JUDGEMENT HERE!
My favorite canned filling is Comstock. The filling has a bright color and the perfect balance of sweet and tart. In a pinch I will use my store brand, but only in a pinch.
DOES CANNED CHERRY PIE FILLING NEED TO BE COOKED?
No it does not. I should know because I have eaten so much of it right out of the can, and I am still normal. As normal as I can be…
HOW MANY CALORIES ARE IN A CHERRY TURNOVER?
If eaten with friends and family, calories don't matter. But if they do, check the recipe card below.
HOW LONG DO THEY LAST?
These turnovers will last for 3 days in an air tight container if they don't get eaten before then. They will last a week if you store them in the refrigerator.
If they contain any dairy, like cream cheese or whipped cream, then you MUST store them in the refrigerator.
If you are making them for a future event, keep them for up to 3 months in the freezer!
VARIATIONS ON CHERRY TURNOVERS
Sprinkle with coarse sanding grain sugar.
Add sliced almonds after glazing.
Add a little cream cheese to the cherry mixture before baking.
Mix different fruits to make fun combos.
Try a few chocolate chips to the filling.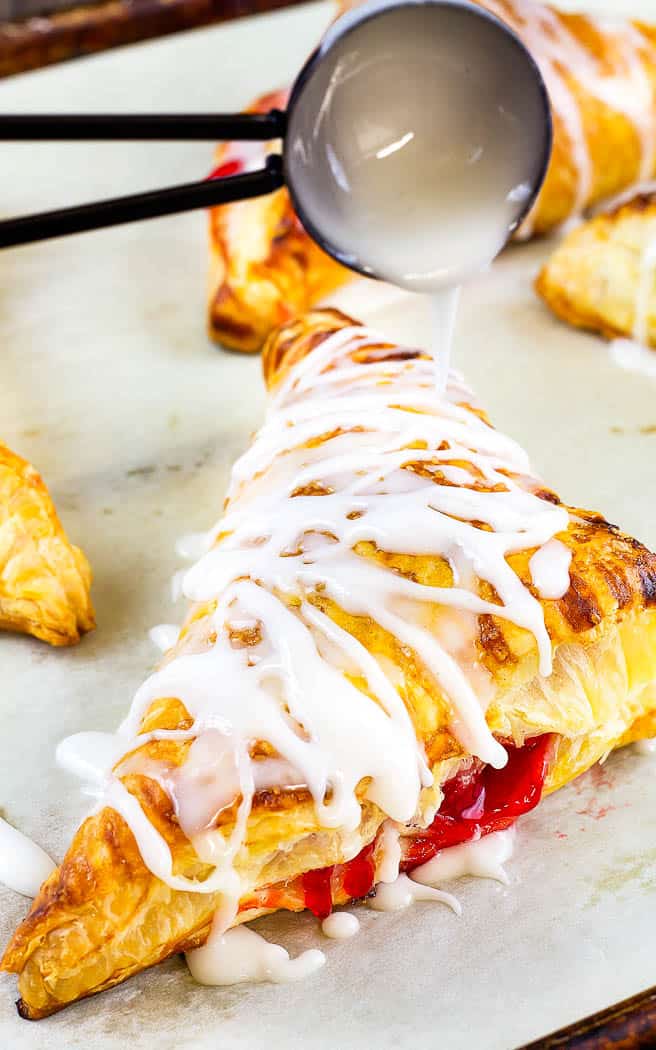 MORE EASY PASTRY IDEAS
Don't have puff pastry? Try these using these other pastry options.
Pie Crust
Crescent Roll Dough
Phyllo Dough
DOES PILLSBURY STILL MAKE CHERRY TURNOVERS?
A question that no longer needs asking because you now make better cherry turnovers at home!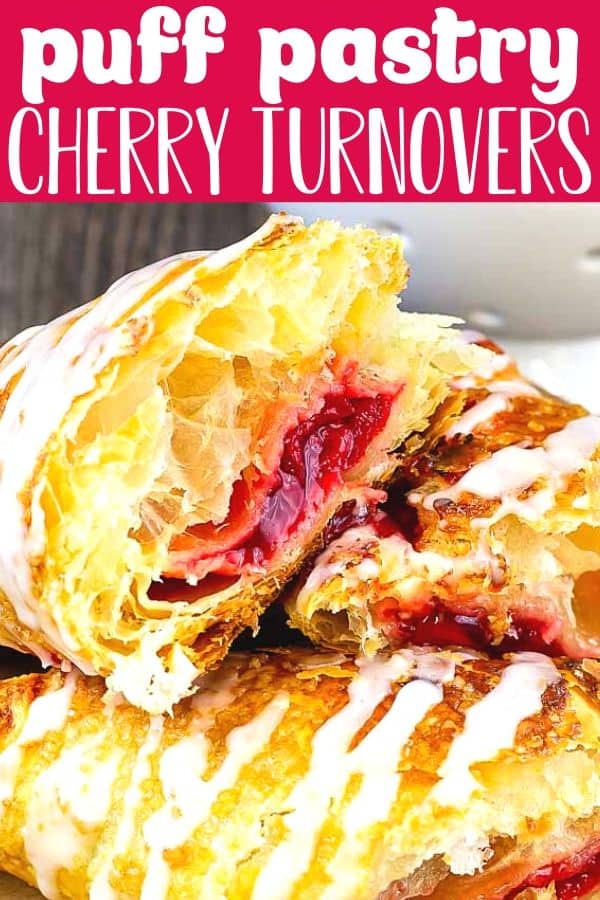 These LIGHT and FLAKY cherry turnovers are so easy and delicious that you will want to make them every morning! Be sure to stock up on puff pastry next time you are at the store.
MORE PUFF PASTRY RECIPES
PUFF PASTRY CHERRY TURNOVER RECIPE
@LeftoversThenBreakfast.com. Content and photographs are copyright protected. Sharing of this recipe is both encourages and appreciated. Copying and/or pasting full recipes to any social media is strictly prohibited.