Macaroni and Tomatoes is a classic Southern recipe that is easy to make with pantry staples and is ready in less than 20 minutes. Made with just 4 ingredients, let this quick and affordable dish take you back to your childhood!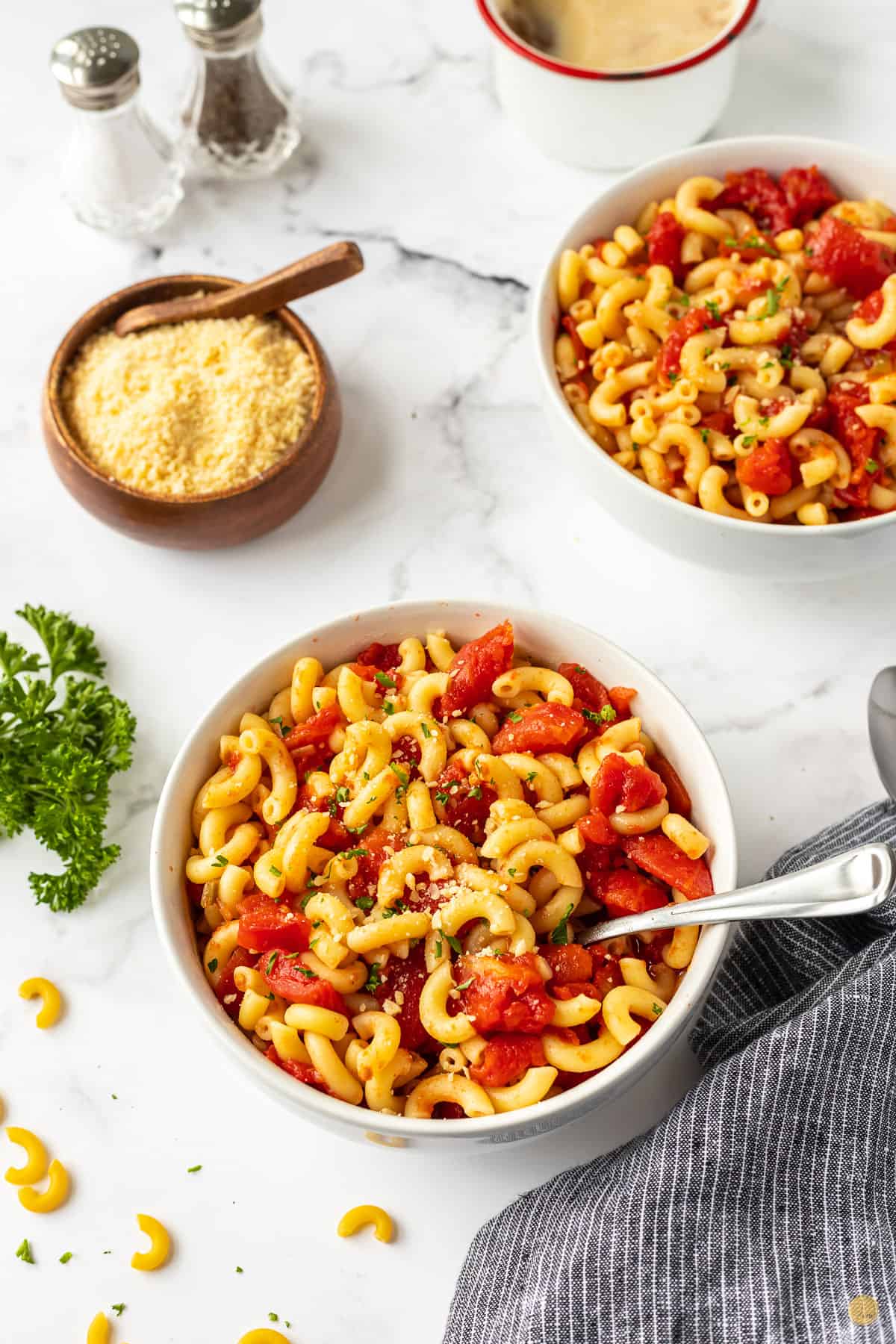 If you'd rather skip my essential cooking tips and tricks and get straight to this delicious recipe – simply scroll to the bottom of the page where you can find the printable recipe card.
Macaroni and Tomatoes takes me back to my grandmother's kitchen where I spent much of my youth. When times were tough she could still make a delicious and filling meal from what she had on hand.
And while everyone has their own "spin" on this recipe, the basics are the same. Tender elbow macaroni simmered in stewed tomatoes with a bit of bacon fat (saved in the fridge) served nice and hot! Absolute comfort food!
This dish is amazing when served with skillet cornbread. I admit I would even crumble some on top. But if she was out of cornmeal, a slice of hot buttered toast worked just as well.
Macaroni and Tomatoes can be served as a side dish or you can add ground beef, and turn it into a main dish that is still delicious while being budget friendly.
No matter how to make it your own, your family will love it!
This post may contain affiliate links. As an Amazon Associate, I earn from qualifying purchases. Read my disclosure policy here.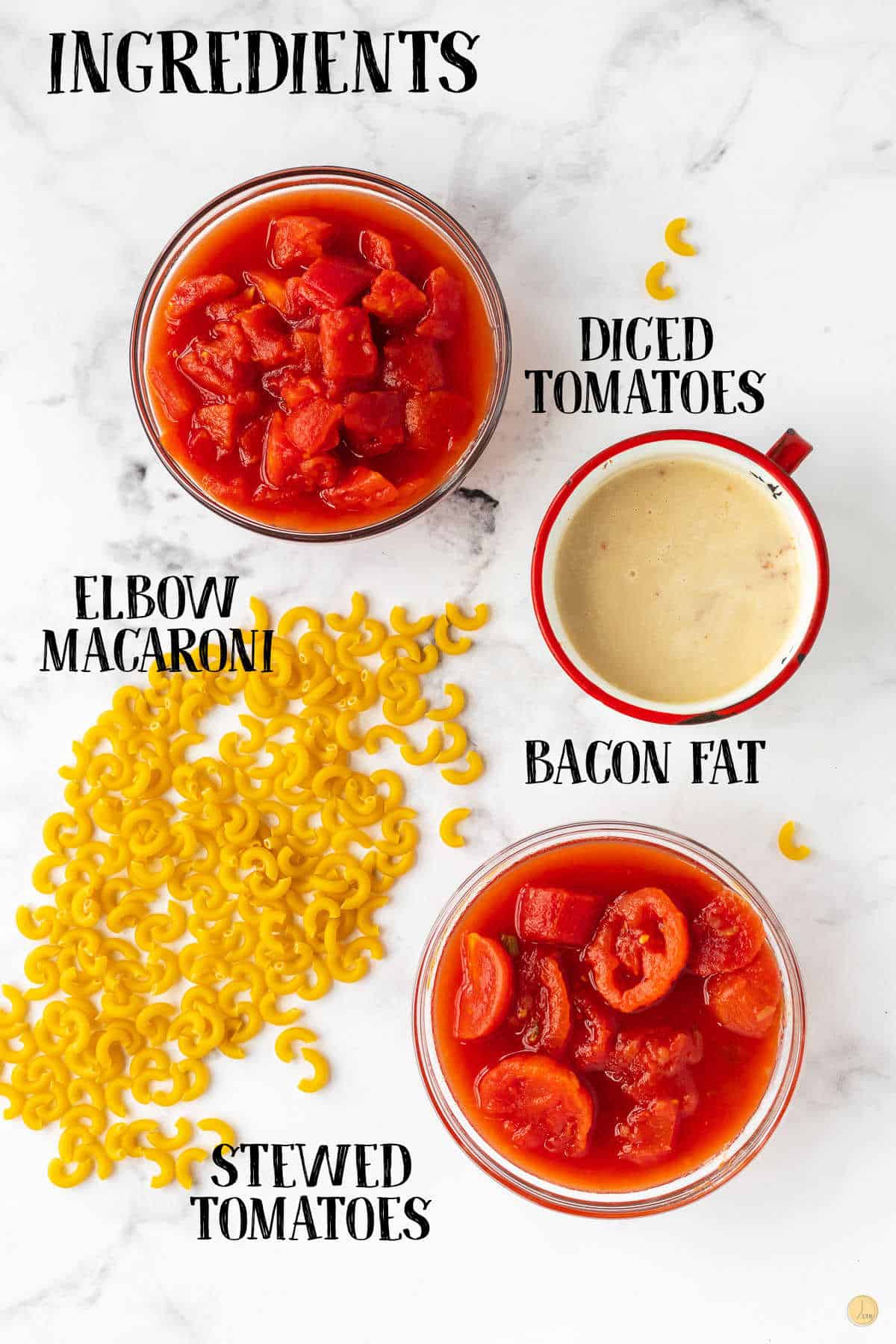 INGREDIENTS FOR MACARONI AND TOMATOES
elbow macaroni
diced tomatoes
stewed tomatoes
bacon fat
Elbow macaroni – This is the classic noodle shaped used in this dish but feel free to use any small shaped pasta. Long spaghetti noodles or large tubes tend to be too large for this dish.
Diced Tomatoes – Don't have a can of petite diced tomatoes? Use whole tomatoes and just chop or break them into smaller pieces before adding. You can also use crushed or pureed tomatoes in a pinch.
Stewed Tomatoes – I like to use the original recipe variety because it has a little onion, celery, and bell pepper. If you like the flavor of these, feel free to use two cans of these.
Bacon Fat – I grew up having an enamel mug of bacon grease in the fridge to use for a variety of dishes. Mostly Southern kitchens. I still have one and use it instead of butter or when want to add a little smoky flavor to a dish. If you don't have it, just use butter instead.
Looking for more comfort food? Follow LTB on Pinterest!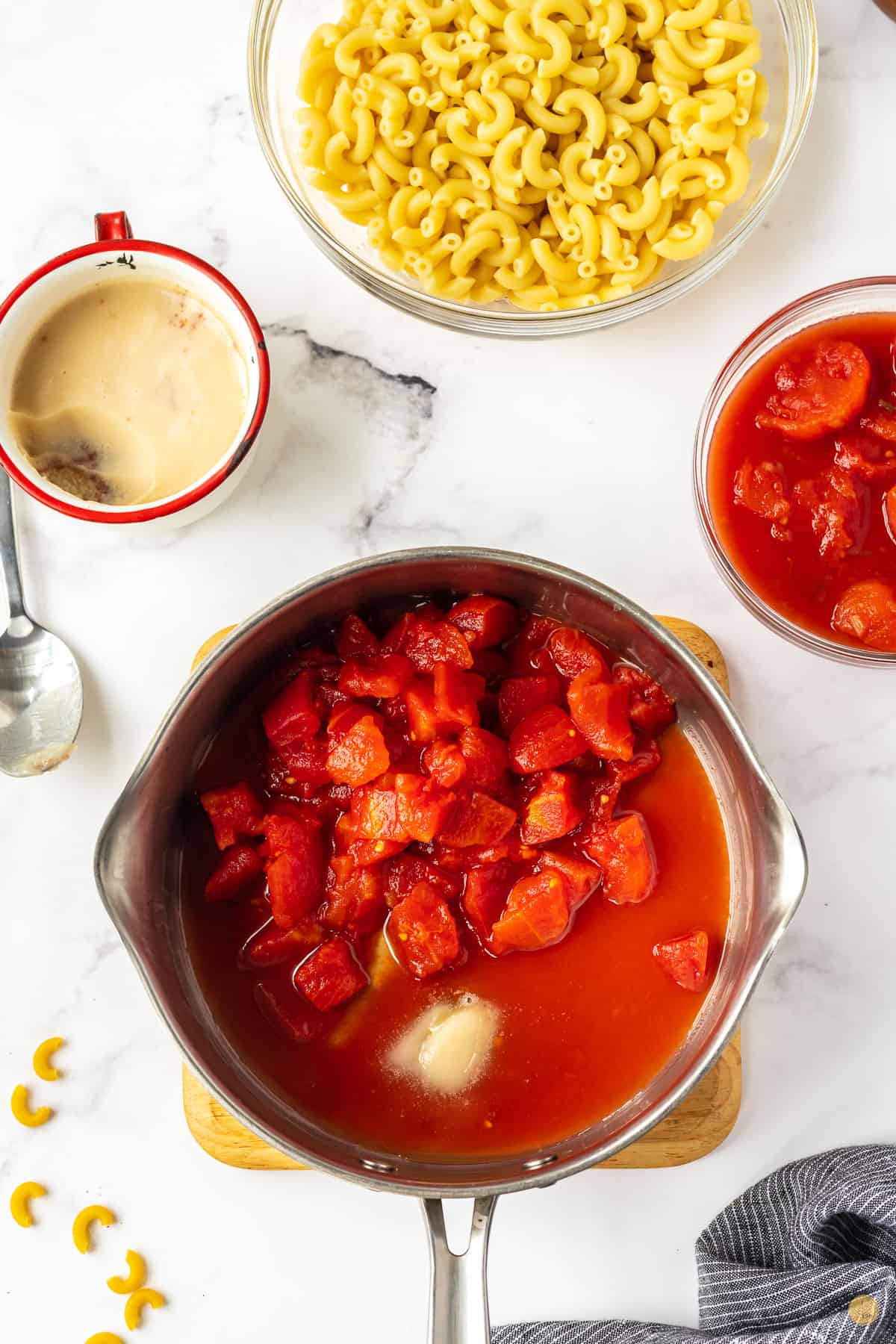 HOW TO MAKE MACARONI AND TOMATOES
ONE: Cook the macaroni in salted water according to package directions. Drain, reserving 1/4 cup pasta water.
TWO: While the pasta is cooking, in a large sauce pan or deep skillet, add the bacon fat over medium heat. Add the diced and stewed tomatoes. Stir and bring to a boil.
THREE: Reduce heat and simmer for 10 minutes. When the pasta is done, add the cooked noodles and stir to combine. Let the macaroni and tomatoes simmer for an additional few minutes to allow the flavors to mix.
FOUR: If the sauce is too thin you can add a little of the pasta water or a cornstarch slurry to thicken it. Remove and serve. Season with salt and pepper to taste. Garnish with fresh parsley and grated Parmesan cheese. Enjoy!
For the full recipe and detailed baking instructions, please see the recipe card at the end of this post.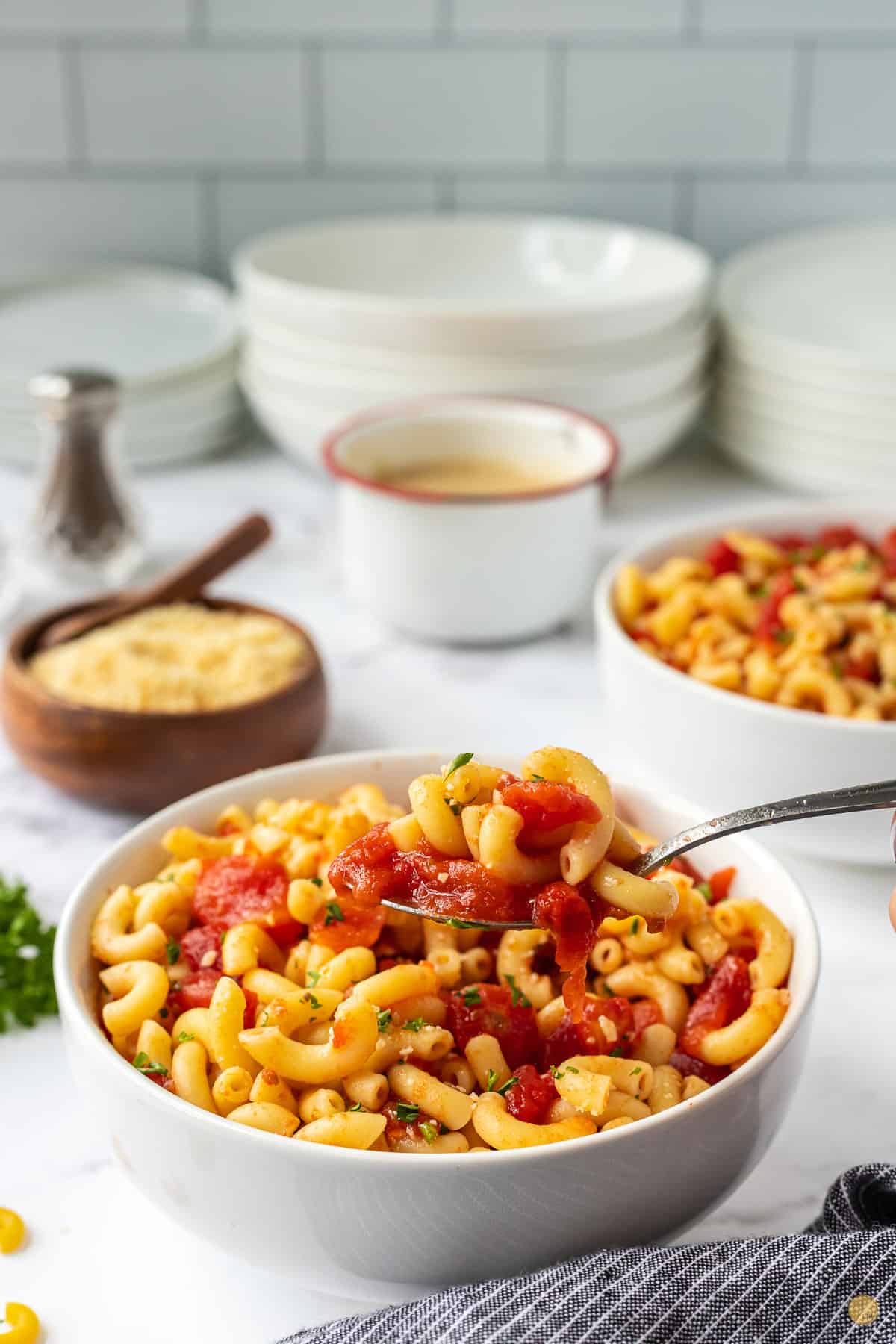 CAN YOU BOIL NOODLES IN TOMATO JUICE?
You can boil your pasta in a combination of tomato juice and water to add color and additional flavor to the noodles before using in a final dish. I think it all depends on the final recipe.
HOW DO YOU MAKE MACARONI TENDER?
Add the uncooked pasta to salted boiling water. As soon as you add the noodles, give them a stir to keep them from sticking together. Be sure to stir a few times in the first few minutes of cooking.
Turn the heat down slightly and cook the noodles until they are "al dente" which means "to the tooth." You don't want them to be too soft when adding to the sauce. Cook until they are tender and firm to bite.
CAN YOU MAKE THIS AHEAD OF TIME?
You can cook the noodles ahead of time, cool, and store until ready to use. You can also simmer the tomatoes and store.
But the best way to impart the flavor is to simmer the noodles in the hot tomatoes for a few minutes before serving. I would recommend cooking as close to serving as possible.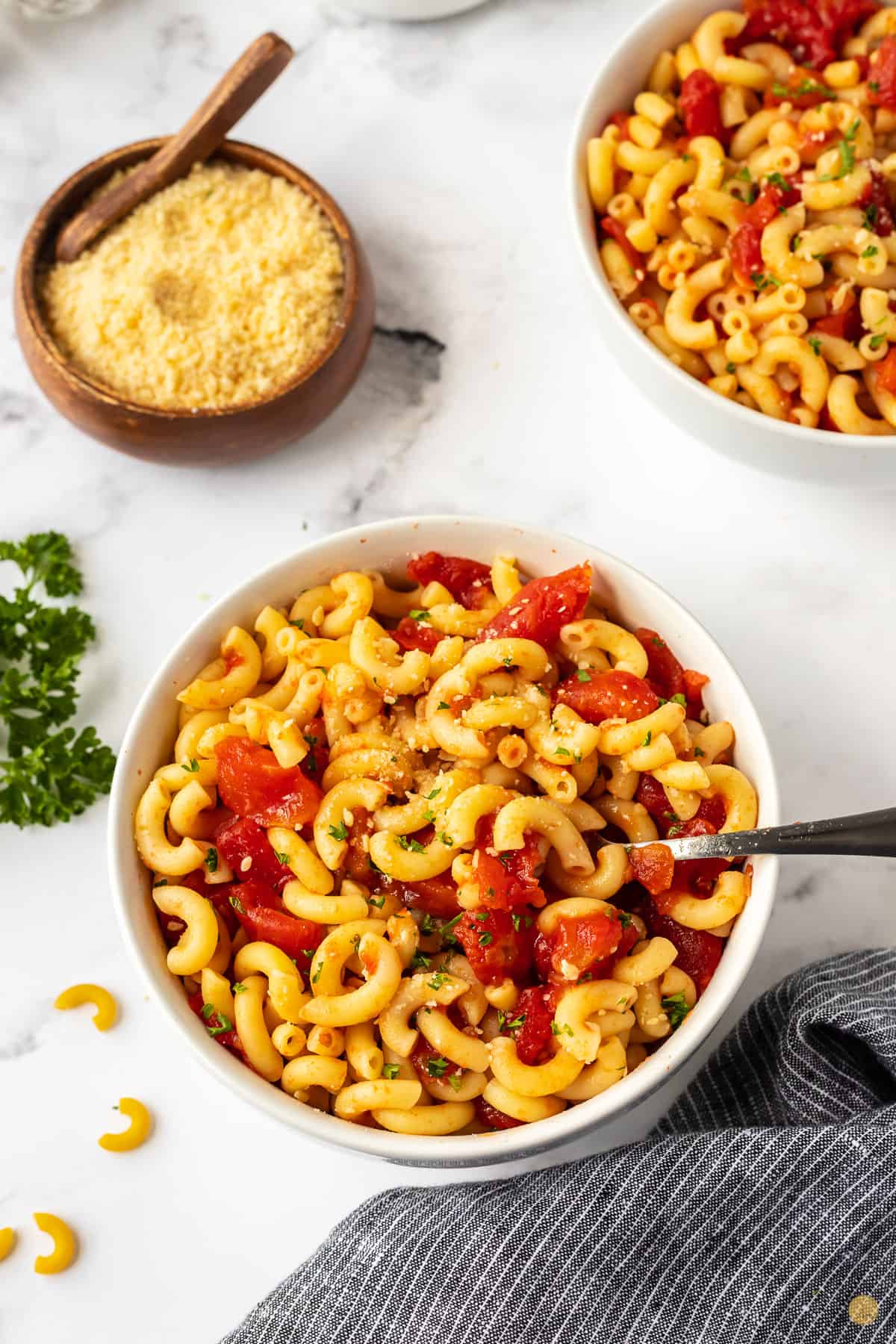 CAN YOU FREEZE IT?
Pasta always loses texture after freezing and the elbow noodles are small in shape so they may become very soft if frozen. I would not recommend freezing this recipe if at all possible.
HOW TO STORE MAC AND TOMATOES
If there are any leftovers, or if you are making this ahead of time, be sure to store in an air tight container in the refrigerator for up to 3 days.
HOW MANY CARBS ARE IN MACARONI AND TOMATOES?
This is a great meatless meal but there are carbs in this dish. There should be less than 30 grams of carbs per serving but check your nutrition labels if you are keeping an eye on them.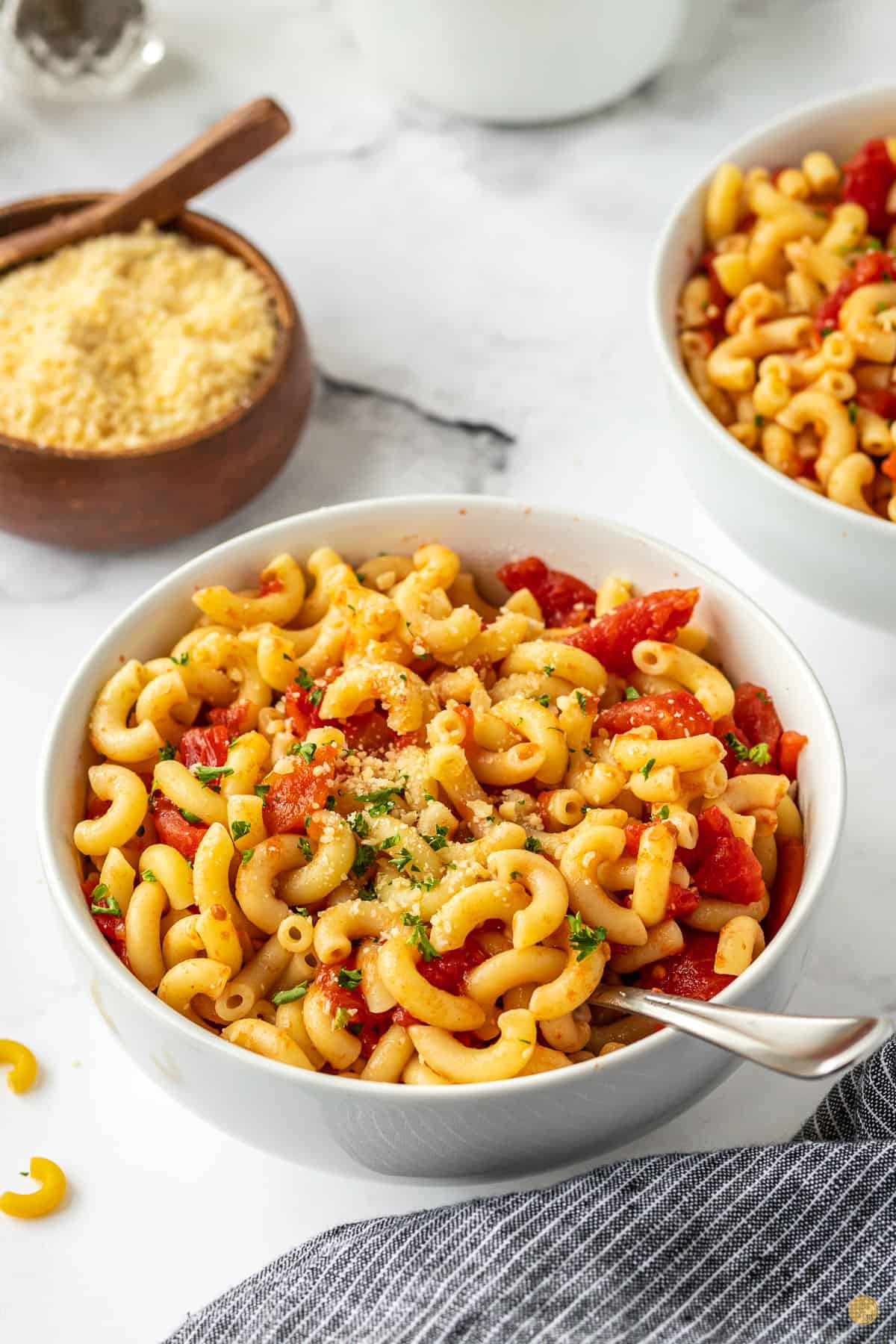 TIPS FOR NO LEFTOVERS
If you don't have bacon grease, just add 2 tablespoons of butter instead.
Cook the macaroni in chicken broth for a richer flavor.
Use a combination of diced and stewed tomatoes for the best flavor combination.
Sprinkle some crushed red pepper flakes in the last few minutes of simmering for a little kick.
If you want some diced onions and garlic, chop fine and cook with the bacon fat until tender before adding the tomatoes.
If you don't have diced or stewed tomatoes you can substitute canned tomato sauce.
If you want the tomatoes thicker, add a slurry of cornstarch and water (1 teaspoon/2 tablespoons) or add 1/4 cup of the pasta cooking water to the simmering tomatoes to make it thicker.
If the tomatoes are a tad acidic, add a teaspoon of sugar while simmering.
Garnish with grated Parmesan cheese when serving.
If you love this recipe as much as I do, please write a five-star review in the comment section below (or on Pinterest with the "tried it" button – you can now add pictures into reviews, too!), and be sure to help me share on facebook!
This humble dish of Macaroni and Tomatoes is the ultimate comfort food that is not only affordable but is ready in less than 20 minutes!
MORE BUDGET FRIENDLY RECIPES
MACARONI AND TOMATOES RECIPE
@LeftoversThenBreakfast.com. Content and photographs are copyright protected. Sharing of this recipe is both encourages and appreciated. Copying and/or pasting full recipes to any social media is strictly prohibited.