Throw out those take-out menus and make this easy and delicious Crockpot Pineapple Chicken for dinner tonight! TENDER, JUICY chunks of chicken are cooked to perfection in the crockpot with CRISP, CRUNCHY veggies, FRESH pineapple and drenched in a SWEET and STICKY homemade sauce. Served over a bed of fluffy white rice, it's the perfect meal.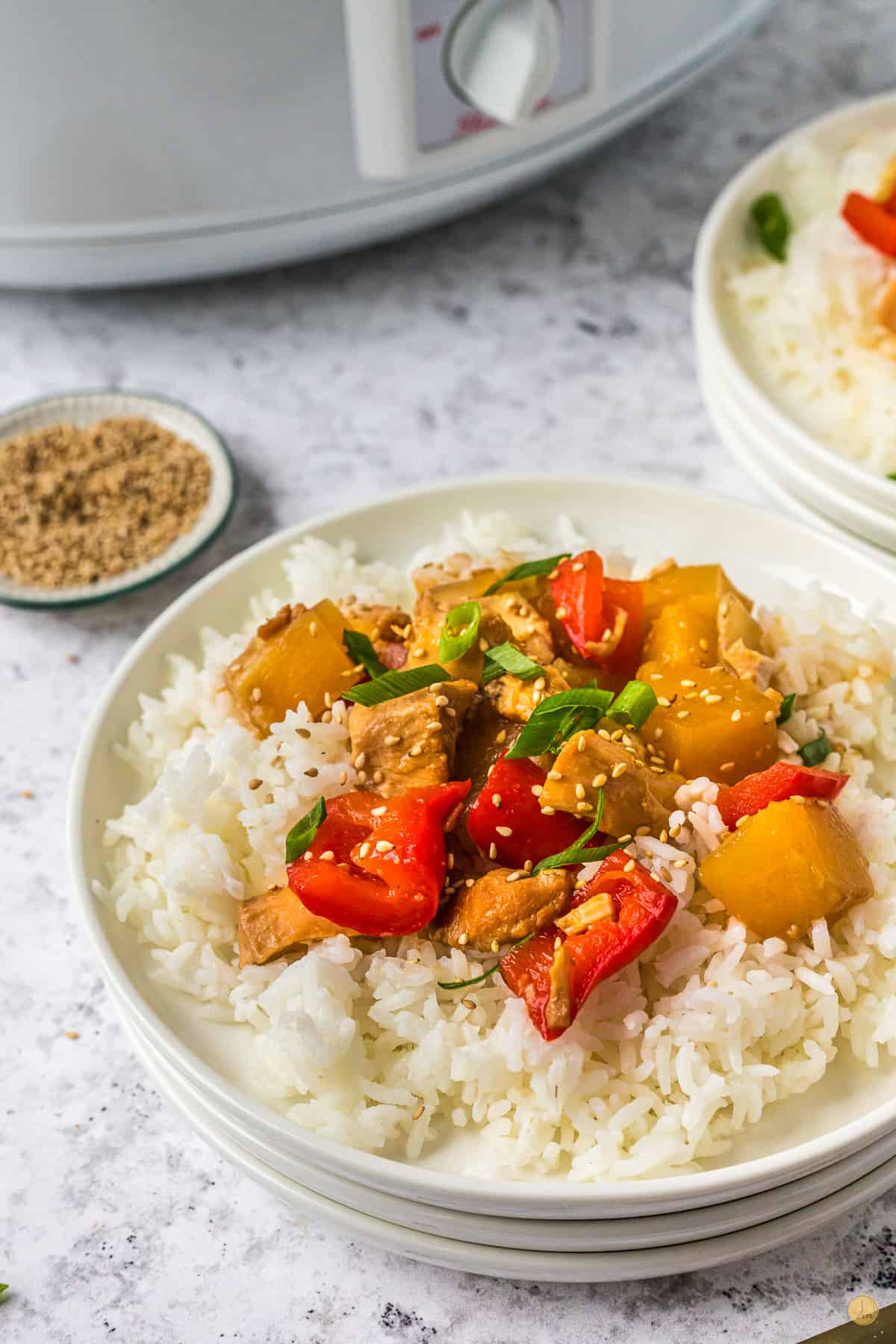 If you'd rather skip my essential cooking tips and tricks and get straight to this delicious recipe – simply scroll to the bottom of the page where you can find the printable recipe card.
As much as my family enjoys getting take out from our favorite local Chinese restaurant, we definitely prefer this crockpot pineapple chicken when we are in the mood for some sweet and sour chicken!
So, when YOU are in the mood for some Chinese food and aren't feeling your local take out, give my super easy crockpot pineapple chicken a try!
Easy to whip up since all ingredients go directly into the crockpot, just throw them in, turn it, and go about your day! Depending on your heat setting, dinner could be ready in about 2 hours.
And let me tell you, the tender, juicy chicken, the crisp veggies, and the sticky-sweet sauce is a combination that is sure to be a crowd pleaser!
And should there be any left (although I know there won't be), it makes the BEST leftovers. A perfect win-win if you ask me!
I love pineapple, even on my pizza 🙂 Do you?
This post may contain affiliate links. As an Amazon Associate, I earn from qualifying purchases. Read my disclosure policy here.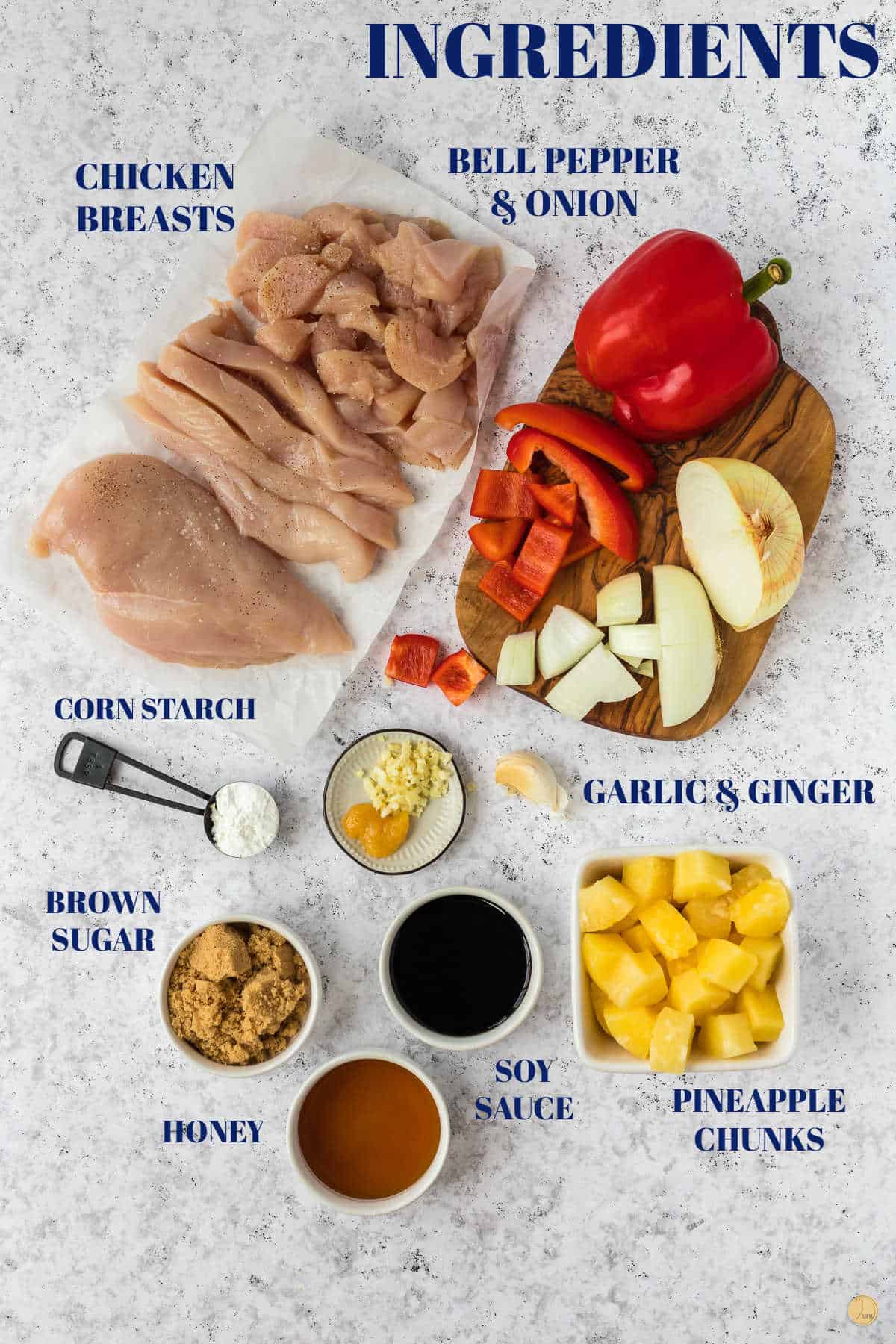 CROCK POT PINEAPPLE CHICKEN INGREDIENTS
chicken breasts
onion
pineapple
red bell pepper
pineapple sauce (recipe below)
sesame seeds for garnish
Chicken – I like to use boneless, skinless chicken breasts but this works great with chicken thighs!
Pineapple – This recipe is super easy because it uses canned pineapple chunks and the juice from them so you won't have to worry about finding a fresh pineapple in the off season. If you use fresh, you will need to buy pineapple juice for the sauce.
Red Bell Pepper – I like to use red for the pop of color but feel free to use red, yellow, or orange bell pepper. Just stay away from the green ones for this recipe as they are not sweet enough.
PINEAPPLE SAUCE INGREDIENTS
pineapple juice
honey
soy sauce
brown sugar
ginger
garlic
cornstarch
Mix all these ingredients together to make this yummy, sweet sauce to cook the chicken in!
Looking for more comfort food? Follow LTB on Pinterest!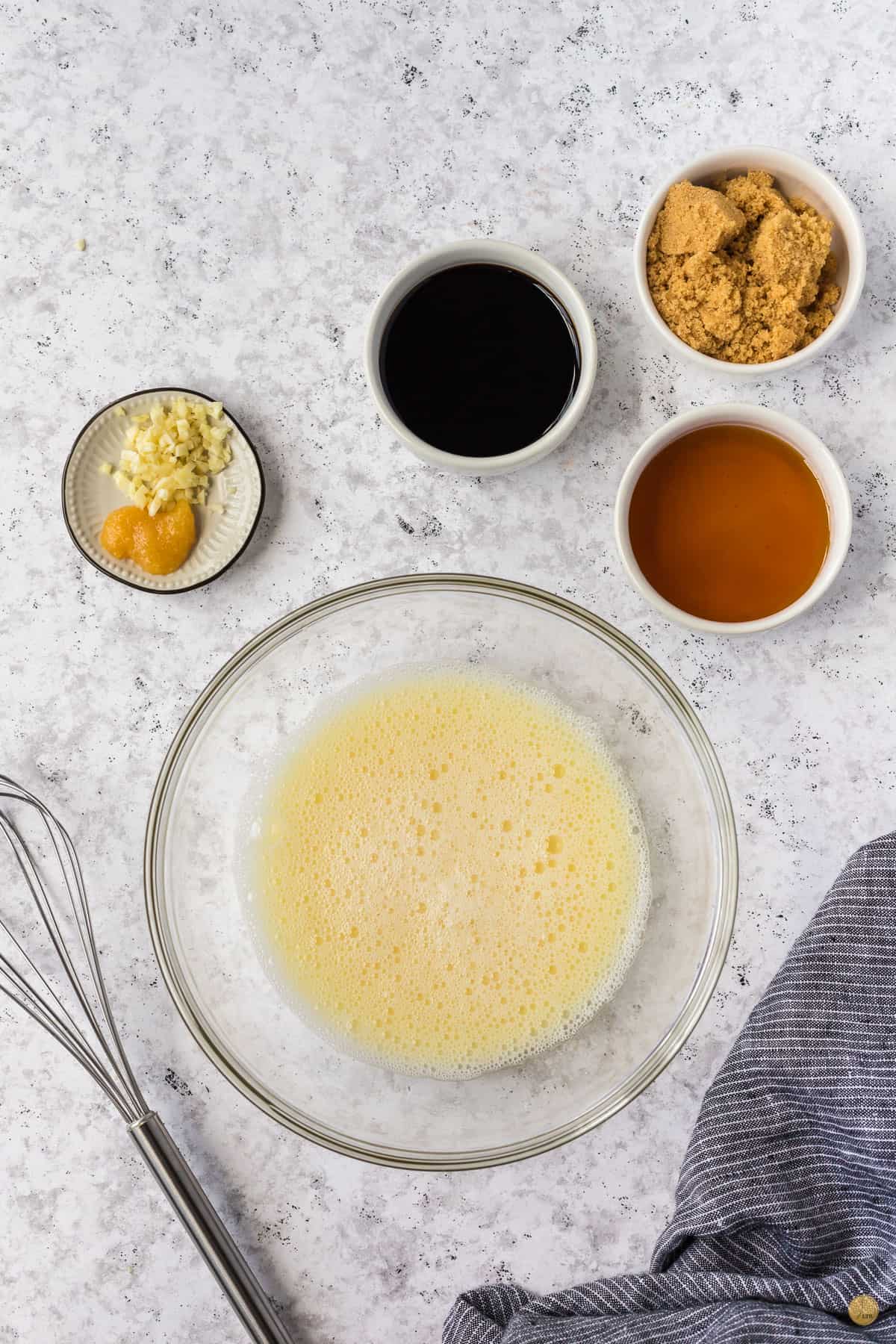 HOW TO MAKE SLOW COOKER PINEAPPLE CHICKEN
ONE: Dice the chicken, onion, and red peppers into similar sized pieces. Drain the pineapple chunks and place the juice in a separate bowl. Add the chicken, onion, and pineapple chunks to the bowl of a slow cooker.
TWO: In the bowl with the pineapple juice, add the cornstarch and whisk until thoroughly combined.Add the honey, soy sauce, brown sugar, ginger, and garlic. Stir to combine. Pour over the diced chicken mixture in the crockpot.
THREE: Cover and cook on high 2-3 hours or low 3-4. During the last 30 minutes of cooking or 30 minutes before serving, add the red bell pepper and stir. When finished cooking, garnish with green onions and sesame seeds. Serve and enjoy!
For the full recipe and detailed baking instructions, please see the recipe card at the end of this post.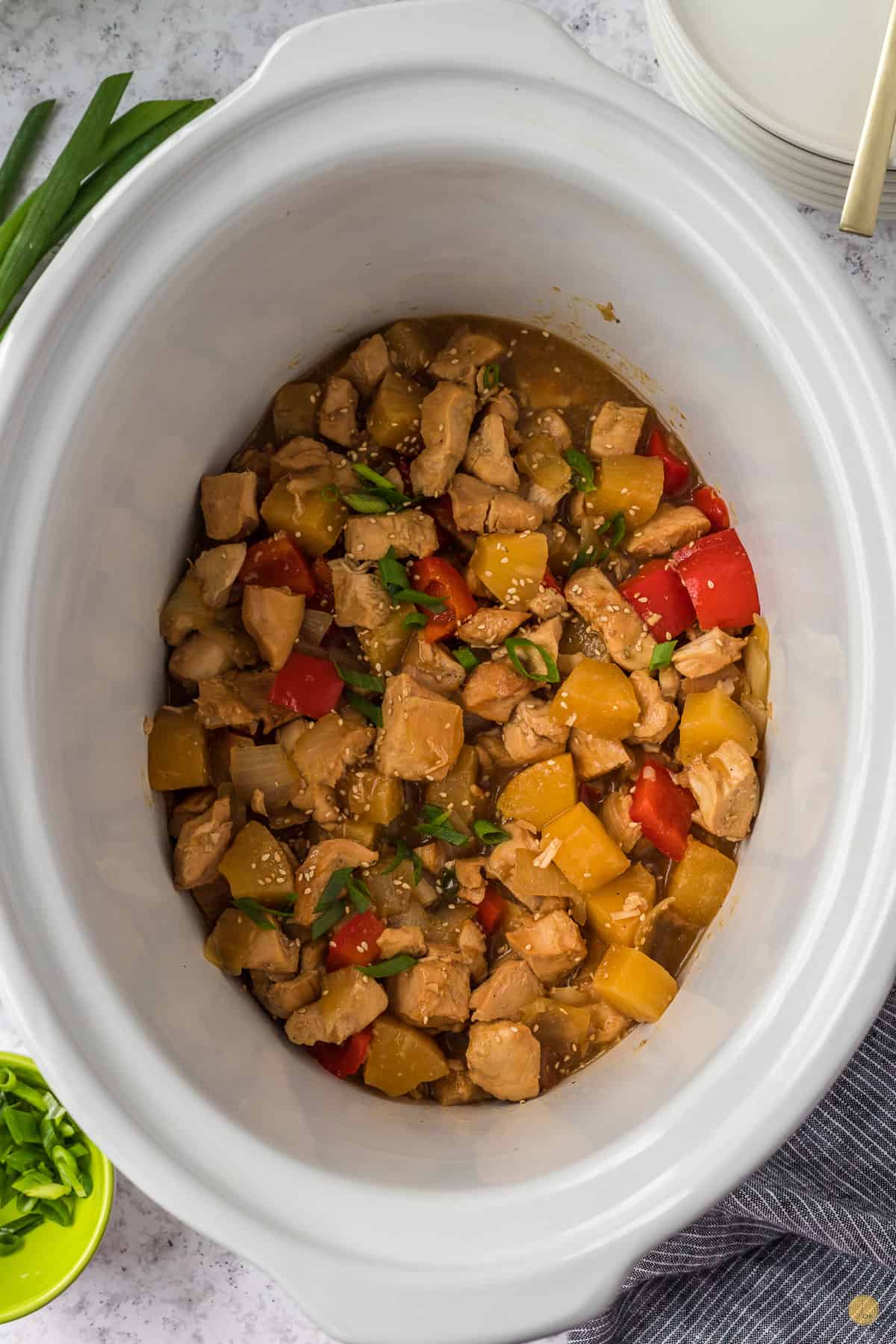 WHAT DOES PINEAPPLE DO TO CHICKEN?
Pineapple has a high acid content which penetrates the fibers of the chicken creating tender pieces of meat. I like to marinate my pork loins in pineapple juice too!
HOW LONG DO YOU COOK CHICKEN IN A CROCK POT?
For 2 pounds of chicken, you will generally cook in the crockpot on LOW for 4-5 hours and on HIGH for 1 1/2 – 2 hours. If you are unsure if chicken is cooked, you can always use a meat thermometer and check the pieces.
In order for chicken to be thoroughly cooked, it should have an internal temperature read of 165F.
CAN I MAKE THIS IN THE OVEN, STOVE TOP, AND INSTANT POT?
You betchya!
OVEN: Mix all ingredients in a bowl and then place in a single layer on a baking sheet. Bake at 400 – 425 degrees F until cooked through.
STOVE TOP: Set heat to medium-high and place a few tablespoons of oil in your skillet. Place cubed chicken in a single layer and cook through, slowly rotating to ensure even cooking. Once all the chicken is cooked, remove and let drain on a plate.
Then cook the onion and peppers until tender. While the onions and peppers are cooking, make pineapple sauce. Once the onions and peppers are cooked to your liking, place chicken back in skillet and add in the sauce.
Carefully mix all ingredients together, ensuring that all pieces are covered with the pineapple sauce. Turn heat down to low and allow sauce to simmer. Remove from heat when sauce reaches desired thickness. Serve over rice and enjoy!
INSTANT POT: Combine all ingredients in instant pot but hold out about 1/4 cup of pineapple juice and cornstarch. Close lid and make sure it is sealed. Select the poultry option or manually select 5 minutes on high.
Use a 10 minute natural release. Turn off the heat. Let the rest of the pressure release, then open. You will then select your sauté option on low.
Quickly combine the cornstarch and 2 tablespoons of pineapple juice. Mix until combined and no longer lumpy. Add mix to the instant pot and gently stir to evenly coat all the contents.
Let ingredients marinate in the instant pot to allow sauce to thicken; about 5 -7 minutes. Once sauce is the thickness you desire; remove and serve over rice!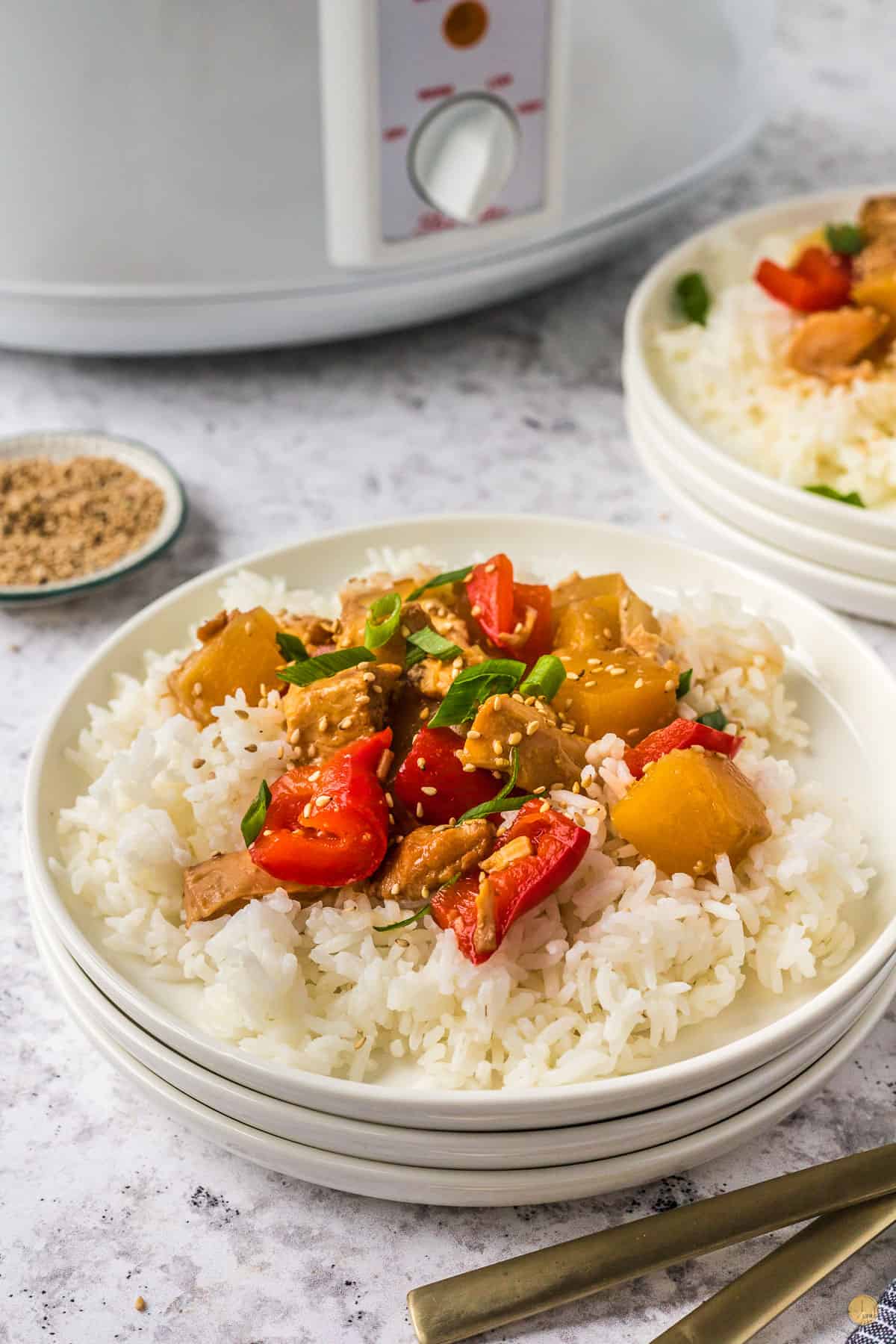 SERVING OPTIONS
My family enjoys eating this over a bed of fluffy white or Jasmine rice. Brown rice works great too!
However; if you are looking for a lower carb option, cauliflower rice would be an excellent option for plating as well! Quinoa or a mix of brown and white would be tasty too!
HOW TO STORE LEFTOVERS
If there are any leftovers, store them in an airtight container in the fridge for up to 4 days. To reheat, warm in microwave or on a stove top.
I don't recommend freezing this as the pineapple and peppers will be too soft.
Like slow cooker meals? Check out this list of over 70 different crock pot recipes to make!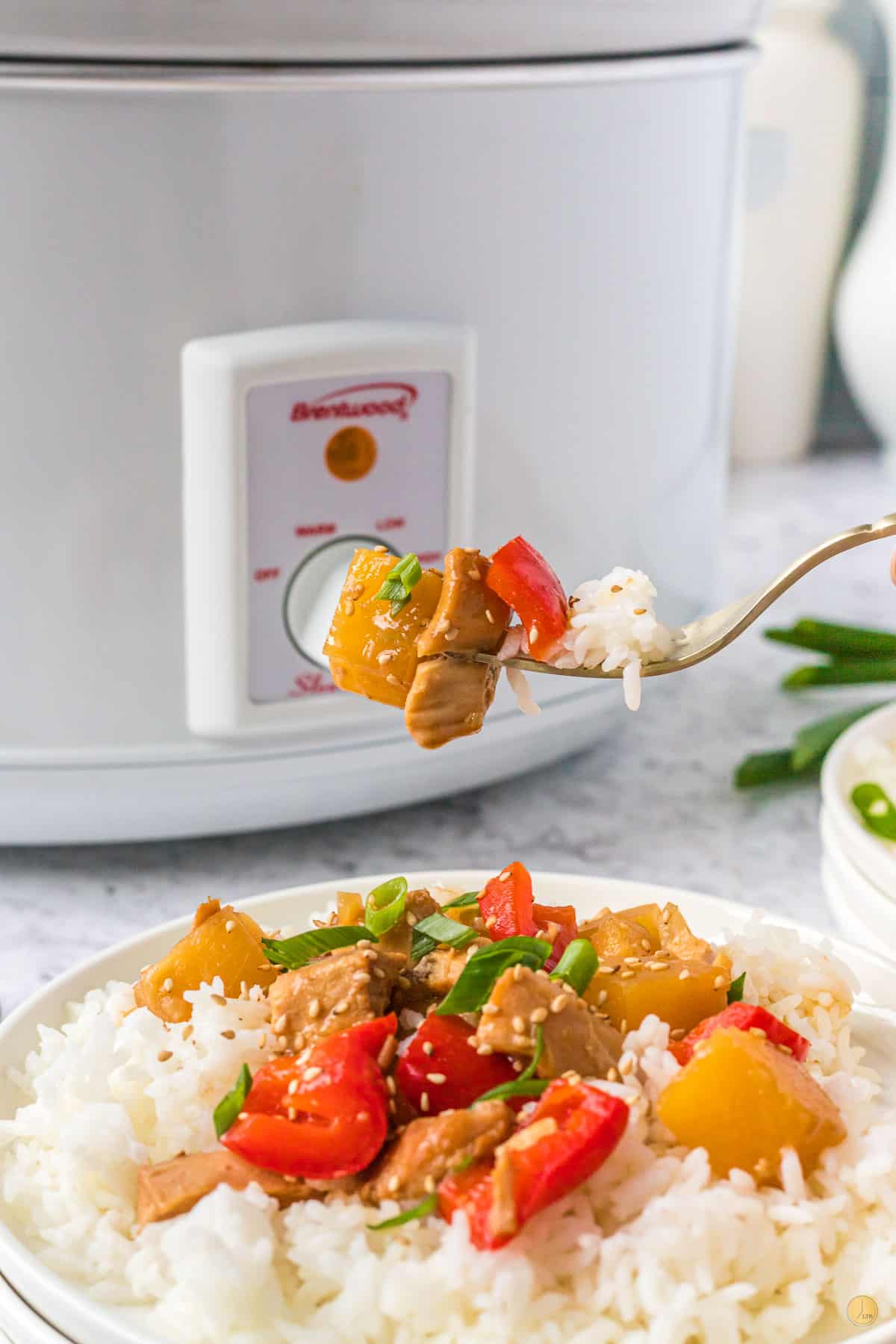 TIPS FOR NO LEFTOVERS
You can make this a lower-carb meal (lower is relative as this is made with pineapple and they are high in sugar) by serving over a bed of cauliflower rice.
Try to keep chicken chunks, veggies, and pineapple all the same size to ensure even cooking.
Bell peppers and pineapple tend to be the traditional pairings but you could also use snow peas, green beans, carrots, or broccoli.
If the sauce is too thick, thin out with chicken broth.
Running low on cook time? Pre-cut peppers and chicken and place in air-tight containers over night in the fridge. When ready to make, allow pepper and chicken to reach room temperature prior to throwing into the crockpot when you are ready to make!
If you love this recipe as much as I do, please write a five-star review in the comment section below (or on Pinterest with the "tried it" button – you can now add pictures into reviews, too!), and be sure to help me share on facebook!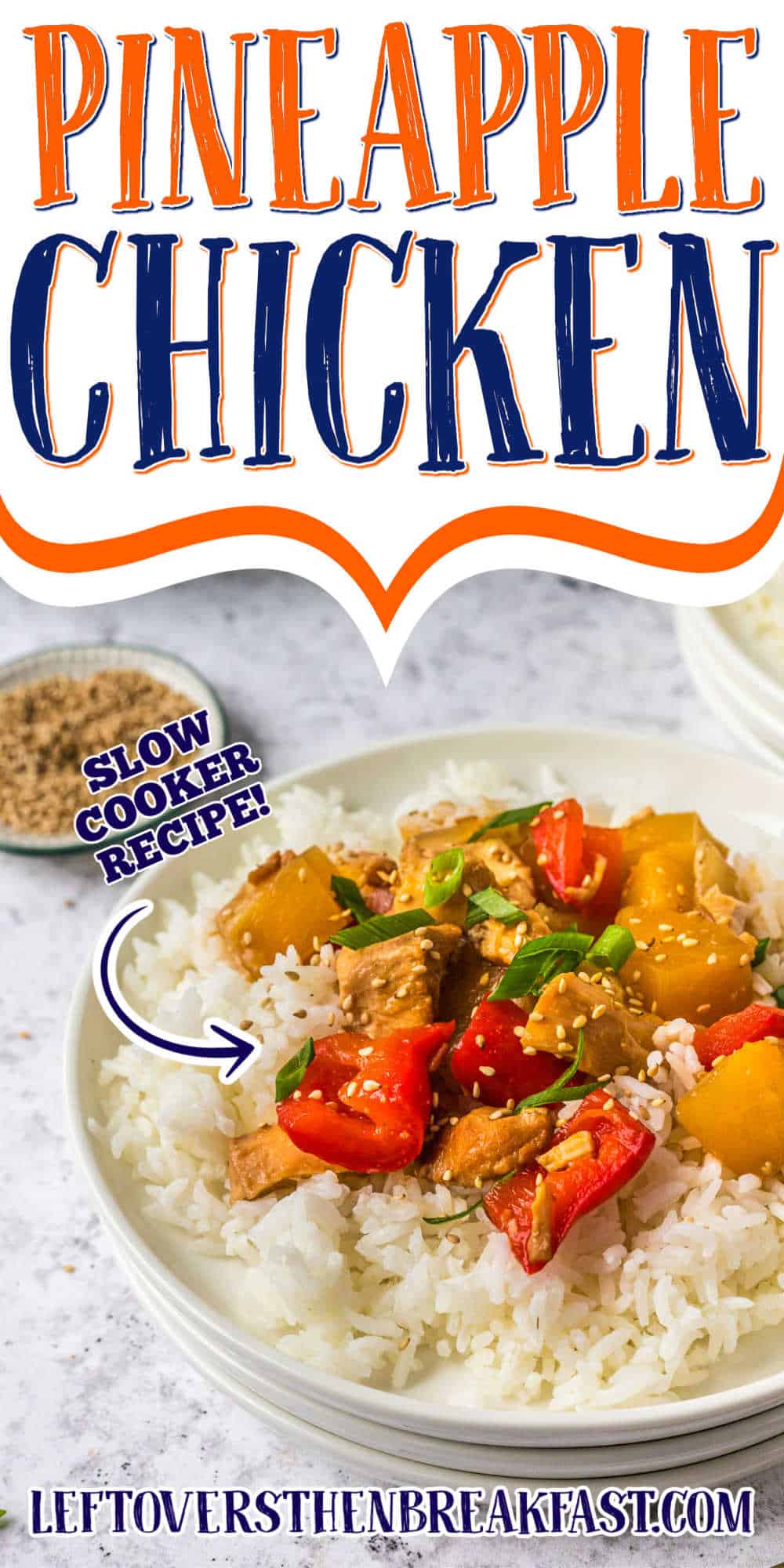 Love this pineapple chicken recipe? Want some more authentic, at-home, Asian inspired recipes? Check out some other delicious Asian inspired dishes below!
MORE EASY RECIPES
PINEAPPLE CHICKEN CROCKPOT RECIPE
@LeftoversThenBreakfast.com. Content and photographs are copyright protected. Sharing of this recipe is both encourages and appreciated. Copying and/or pasting full recipes to any social media is strictly prohibited.