This chicken spaghetti recipe with rotel is going to be your family's new favorite casserole! Tender pasta, creamy sauce, all topped with melty cheese!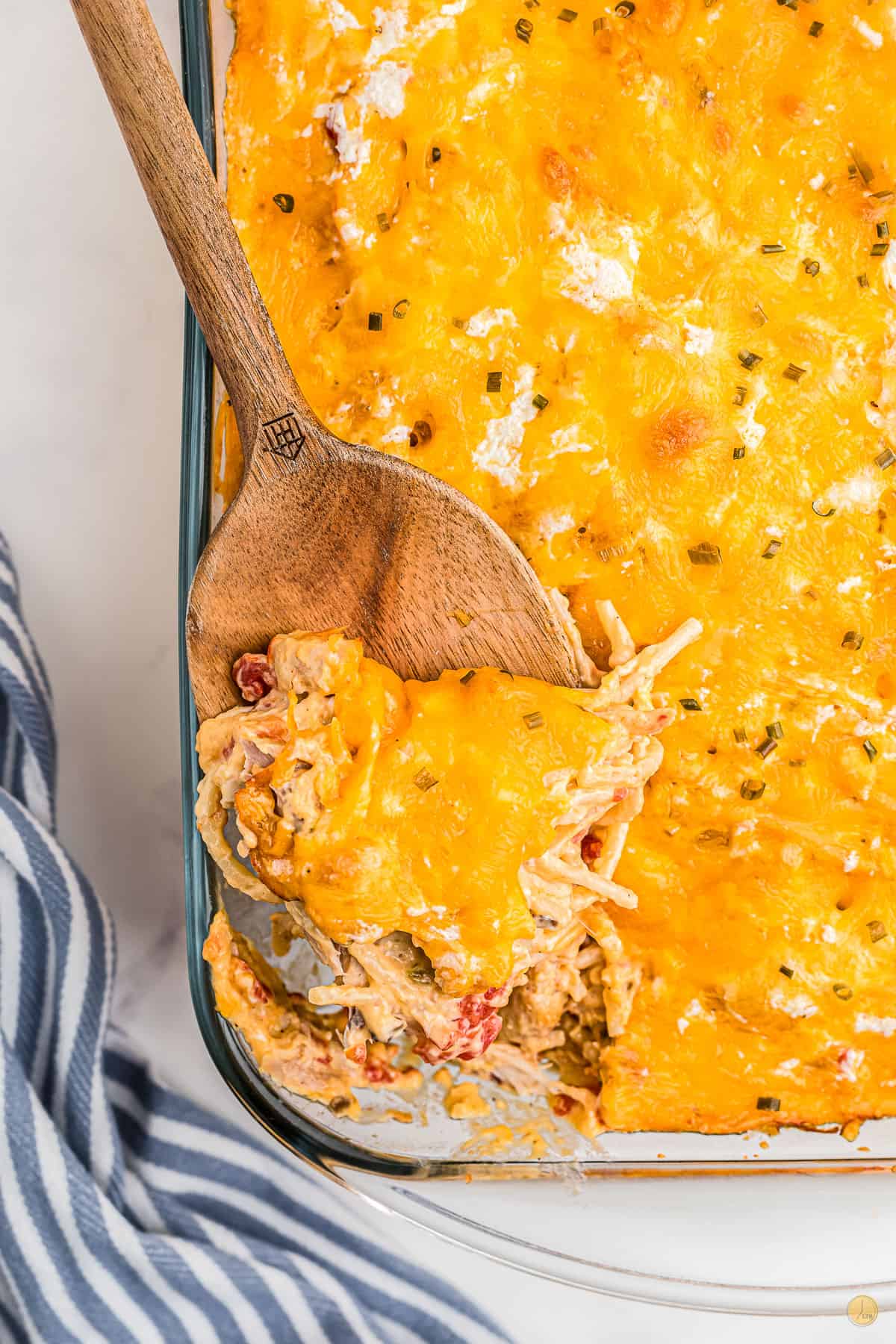 If you'd rather skip my essential cooking tips and tricks and get straight to this delicious recipe – simply scroll to the bottom of the page where you can find the printable recipe card.
This cheesy chicken spaghetti is one of my favorite comfort foods!
I love that I can mix it up a day or two ahead of time and bake it when I am ready for dinner. It's perfect for a busy weeknight.
REASONS TO MAKE CHICKEN SPAGHETTI
everyone loves it
great way to use leftovers
easily made ahead
great freezer meal
super cheesy!
Great for making a fancy pasta dinner and using leftover chicken! Your family will love this recipe as much as mine does!
This post may contain affiliate links. As an Amazon Associate, I earn from qualifying purchases. Read my disclosure policy here.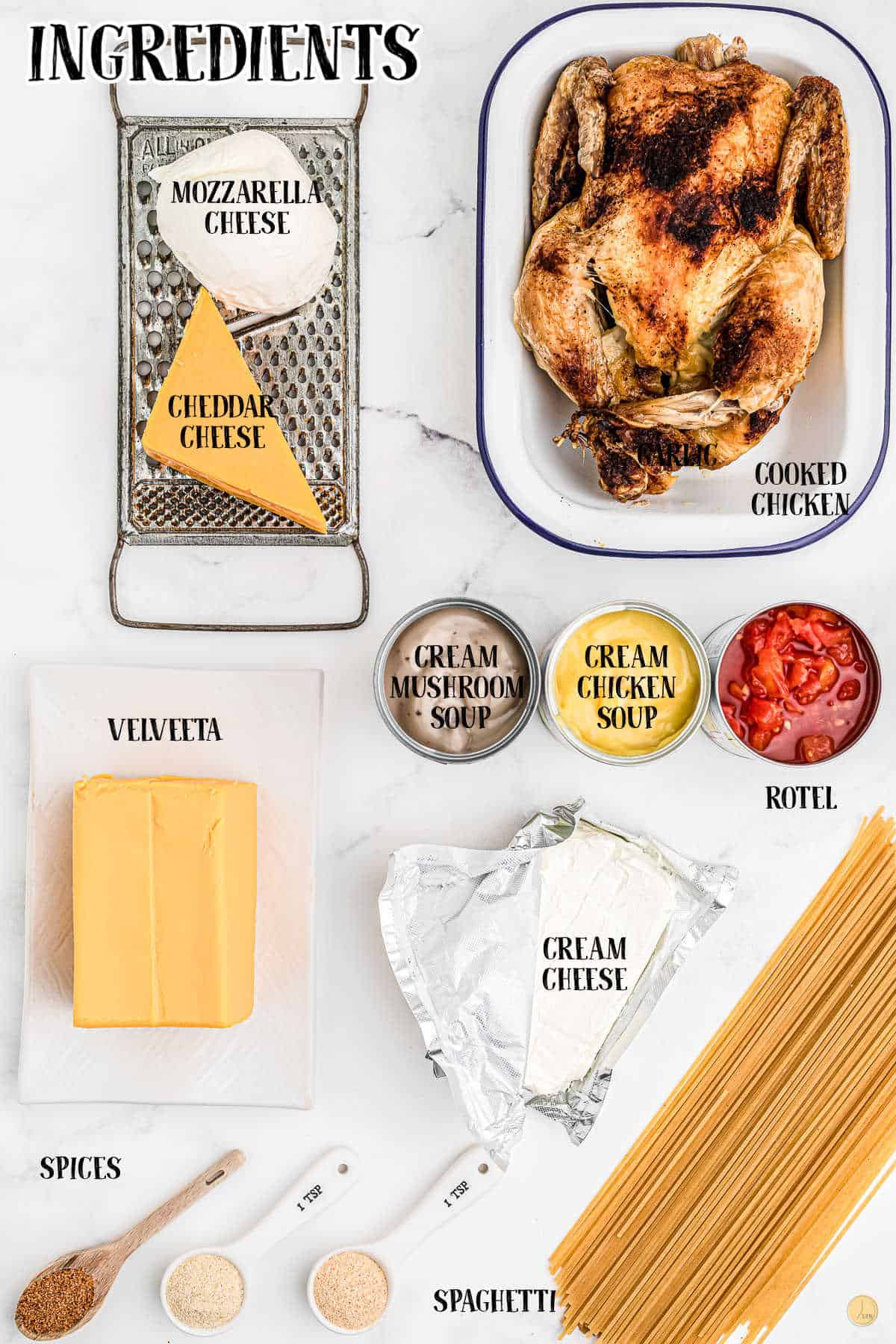 CHICKEN SPAGHETTI INGREDIENTS
Spaghetti
Cooked Chicken
Velveeta Cheese
Cream Cheese
Ro Tel
Spices
Cheese
Spaghetti – This recipe traditionally uses spaghetti noodles, broken into smaller pieces, but feel free to use angel hair, linguine, or fettuccini noodles. You can also use gluten free pasta or spaghetti squash.
Cooked Chicken – This is great for using leftover chicken breast. If you need a shortcut, grab a rotisserie chicken from the deli. I always keep packages of cooked shredded chicken in the freezer for quick and easy meals like this one.
Velveeta – I love the creaminess that velveeta has. You can also use a spicier Mexican version!
Cream Cheese – Feel free to use a low fat or fat free version of cream cheese.
Rotel – If you don't have it you can substitute a can of diced tomatoes and a can of chopped green chilies.
Cream Soups – This recipe uses both cream of chicken and cream of mushroom. You can also use cream of celery, or cream of onion. If you want to double up on just one kind that is great too!
Spices – This has traditional garlic powder and onion powder and cajun seasoning. Feel free to use taco or chicken seasoning.
Cheese – Use a combination of mozzarella and cheddar cheese for the topping. You can switch this up to your favorite cheese.
Looking for more comfort food? Follow LTB on Pinterest!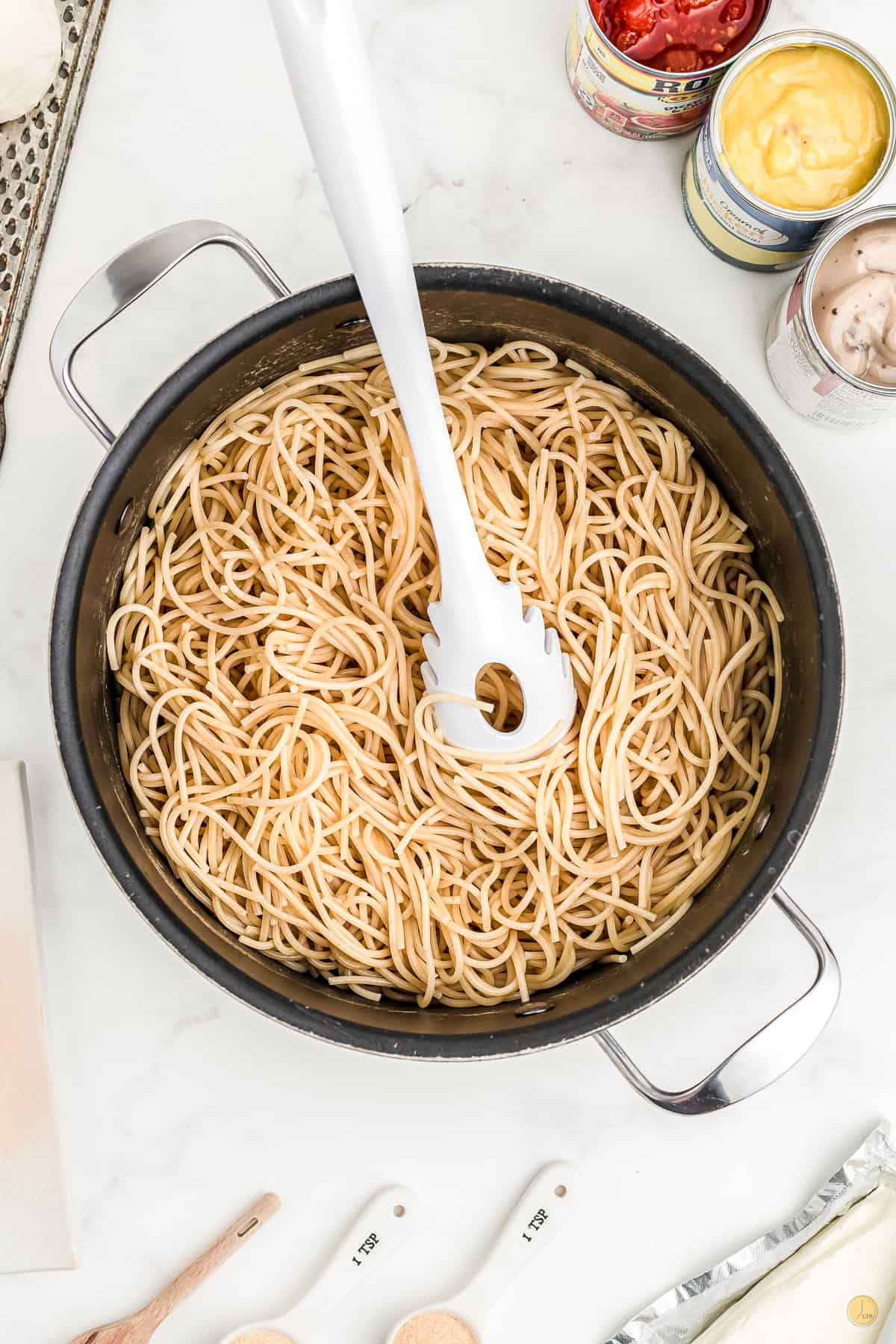 HOW TO MAKE CHICKEN SPAGHETTI
ONE: Cook the spaghetti in a large pot until al dente. Drain and set aside. Preheat the oven to 350°F. Debone and shred the coked chicken. Set aside.
TWO: In the same pot you cooked the spaghetti, add the Velveeta cheese, cream cheese, Rotel, cream of mushroom soup, and cream of chicken soup.
Cook over a medium heat, stirring, until everything has melted and combined. Add the garlic powder, onion powder and Creole Seasoning and stir well.
THREE: Add the spaghetti and shredded chicken. Toss well so that it is evenly mixed. Add this mixture to a lightly greased 13×9" casserole dish.
Sprinkle the mozzarella and cheddar cheese all over the top then place in the oven.
FOUR: Bake for 25-30 minutes, until it's all bubbly around the edges. Remove and serve immediately with garlic bread and salad.
For the full recipe and detailed baking instructions, please see the recipe card at the end of this post.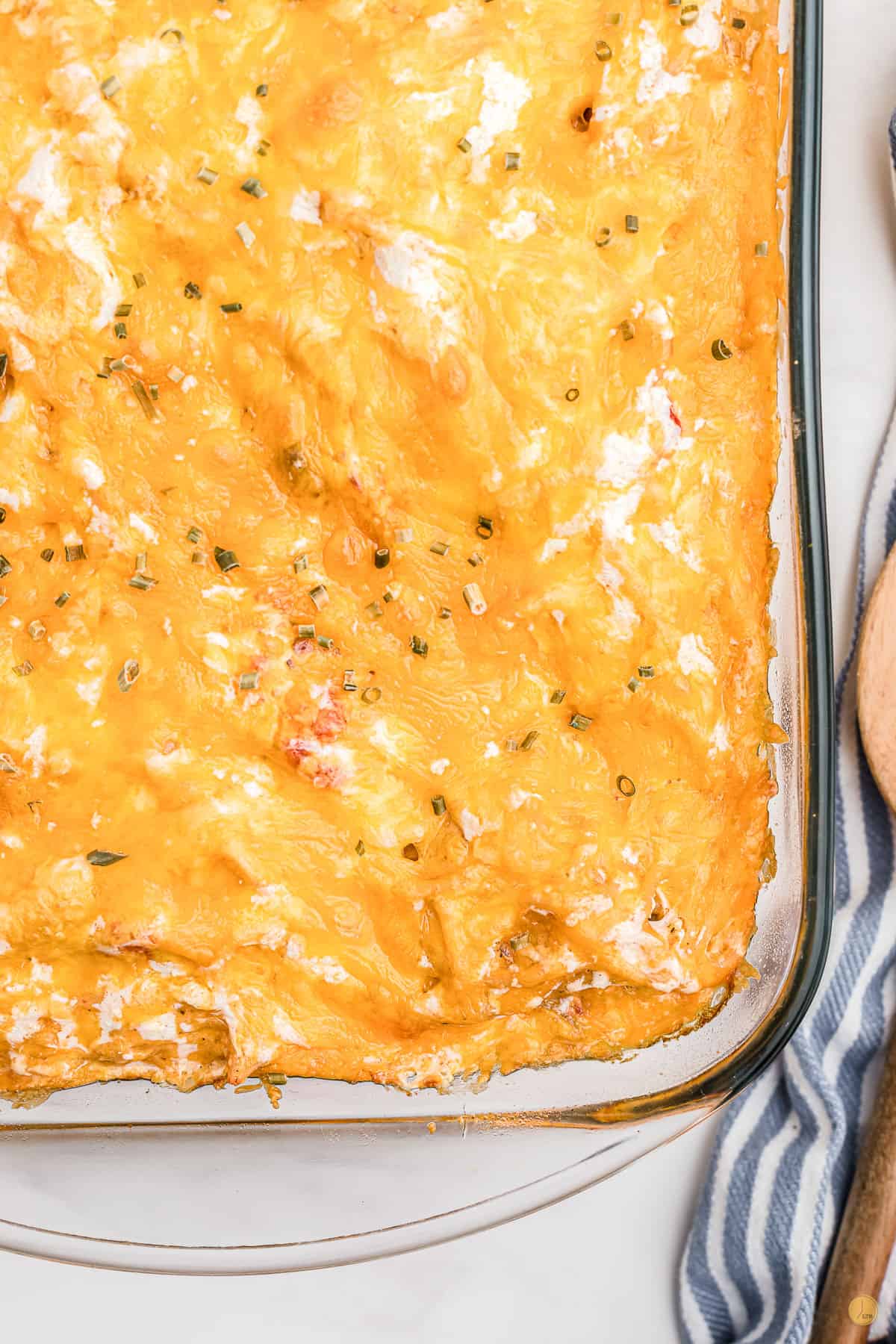 CAN IT BE MADE AHEAD OF TIME?
You can prep this chicken spaghetti recipe up to 2 days ahead of time. Wrap the dish tightly in plastic wrap and store in the refrigerator. When ready to bake, bring to room temperature, then bake as directed.
WHAT IS CHICKEN SPAGHETTI MADE OF?
Rotisserie Chicken, Spaghetti, diced tomatoes and chilies, cream of mushroom soup, cream of chicken soup, Velveeta cheese, cream cheese, garlic powder, onion powder, Creole seasoning, Cheddar cheese and mozzarella cheese.
DOES CHICKEN SPAGHETTI FREEZE WELL?
Yes, this dish freezes well.  Store in a freezer safe container in the freezer for up to 3 months.
HOW DO I STORE LEFTOVERS?
Wrap leftovers tightly and store in the refrigerator for up to 4 days. Reheat the whole dish in a 350F oven until bubbly and warmed through.
Or microwave individual servings in 1 minute intervals until warmed through. If it seems a little dry, add a splash of chicken broth to it.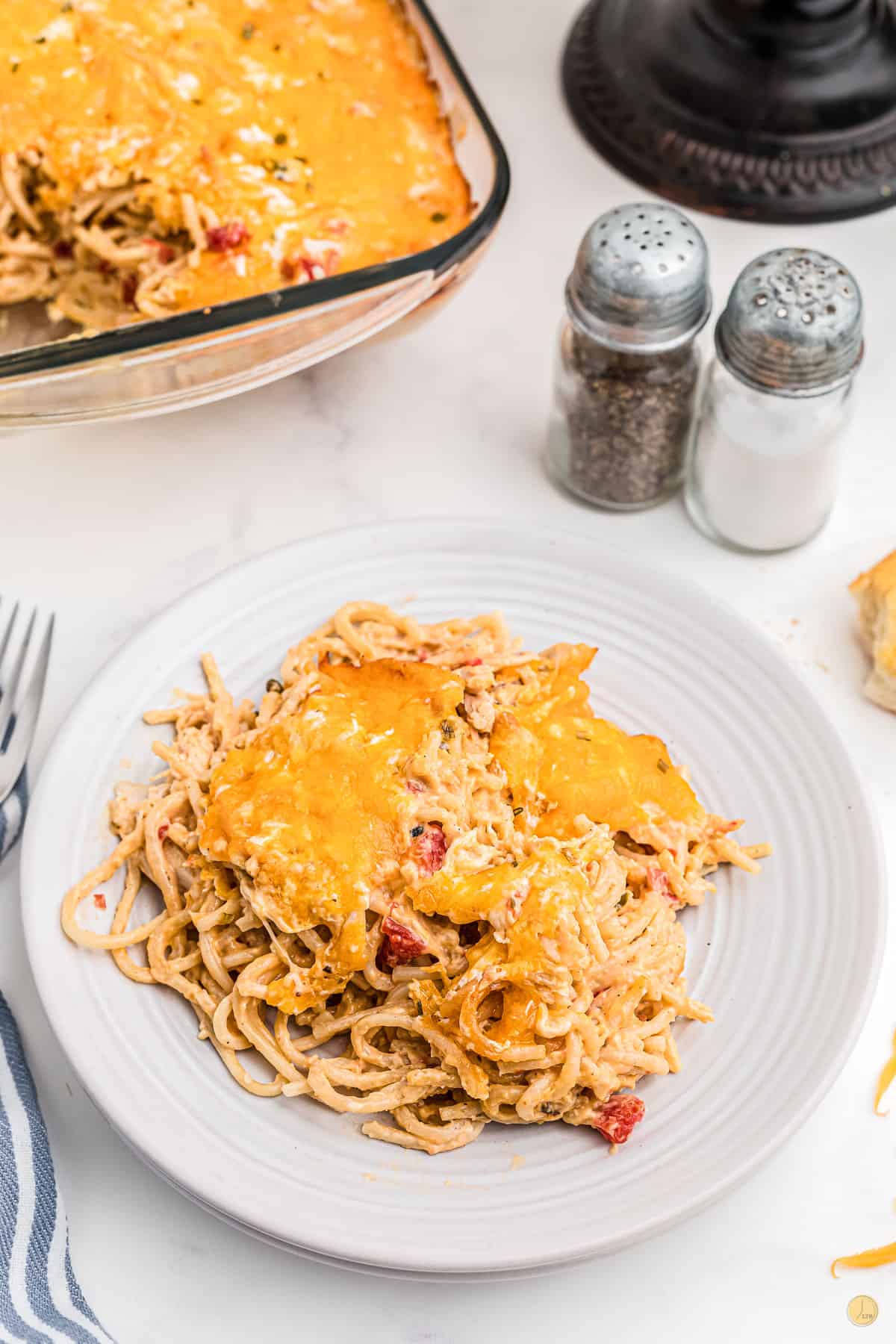 I DON'T HAVE CAJUN SEASONING CAN I USE SOMETHING ELSE?
Definitely. Use any seasoning blend that you prefer. Try to stay on the lighter side of sodium as there is already a bunch with the soups and Velveeta.
CAN I USE A DIFFERENT MEAT?
Yes, this dish is great with shrimp, or pork. Or omit the meat altogether and keep it vegetarian. I like to add beans or bell peppers if I am keeping it meat free.
CAN I USE A DIFFERENT PASTA?
Most definitely! Use any pasta you like. We sometimes swap it up for fettuccine or rotini.
WHAT TO SERVE WITH CHICKEN SPAGHETTI
I love to enjoy this spaghetti casserole with garlic knots and an Italian chopped salad!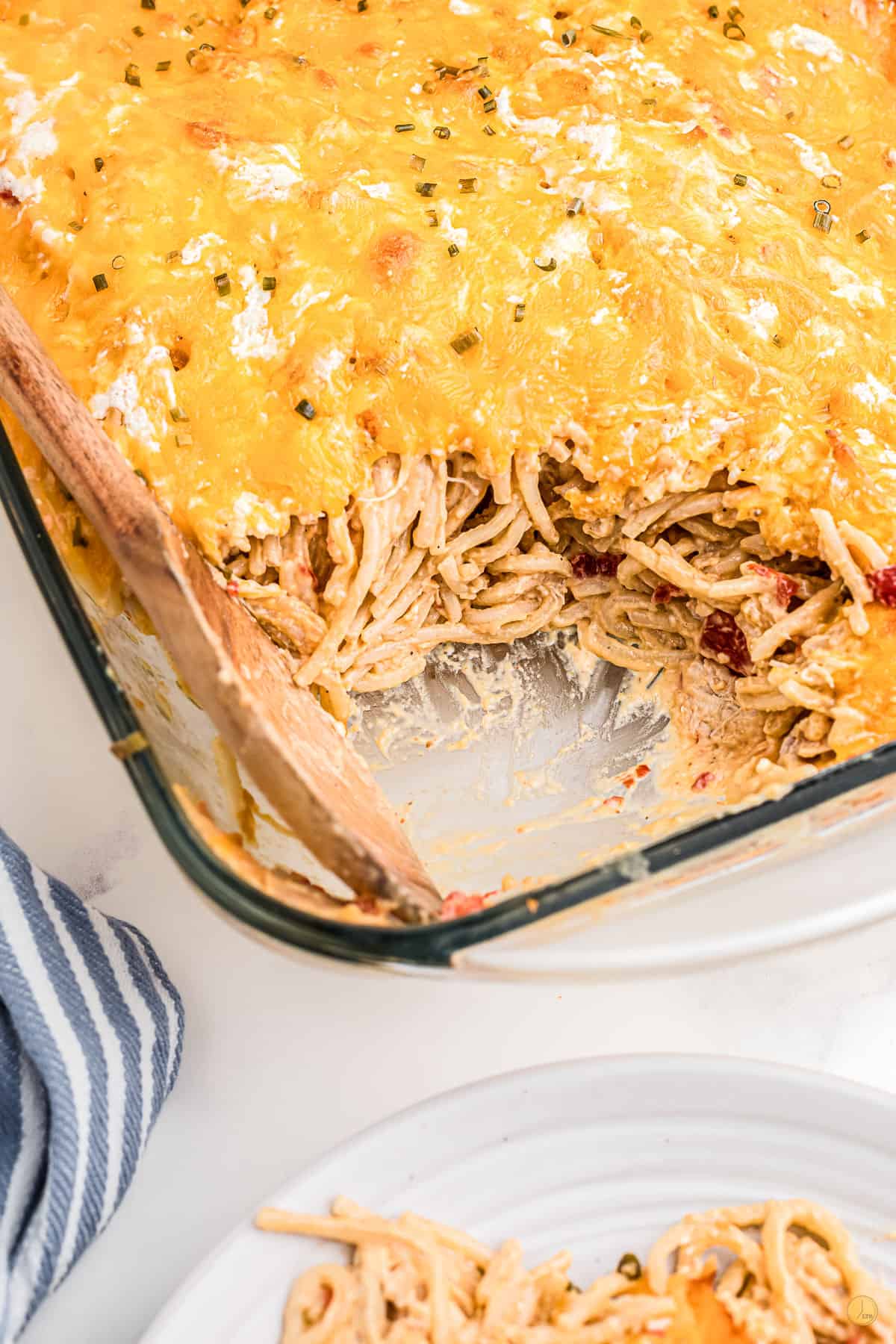 TIPS FOR NO LEFTOVERS
When cooking the pasta, be sure to salt the water generously. I like to use 2 teaspoons of kosher salt per quart of water.
Break up the spaghetti into smaller pieces. It's tradition!
Do no overcook the pasta. Cook until firm or al dente as it will continue to cook while baking.
Add crushed butter cracker crumbs to the cheese on top for some added crunch.
Be sure to mix the sauce completely to avoid any clumps of ingredients.
Grate your own cheese from the block, it melts better.
Add some colorful green peppers for more veggies!
Leave the meat out all together for a vegetarian version.
Use your favorite gluten free pasta or substitute spaghetti squash.
If you like your cheese crispy, place the casserole under the broiler for a few minutes until crispy.
If you love this recipe as much as I do, please write a five-star review in the comment section below (or on Pinterest with the "tried it" button – you can now add pictures into reviews, too!), and be sure to help me share on facebook!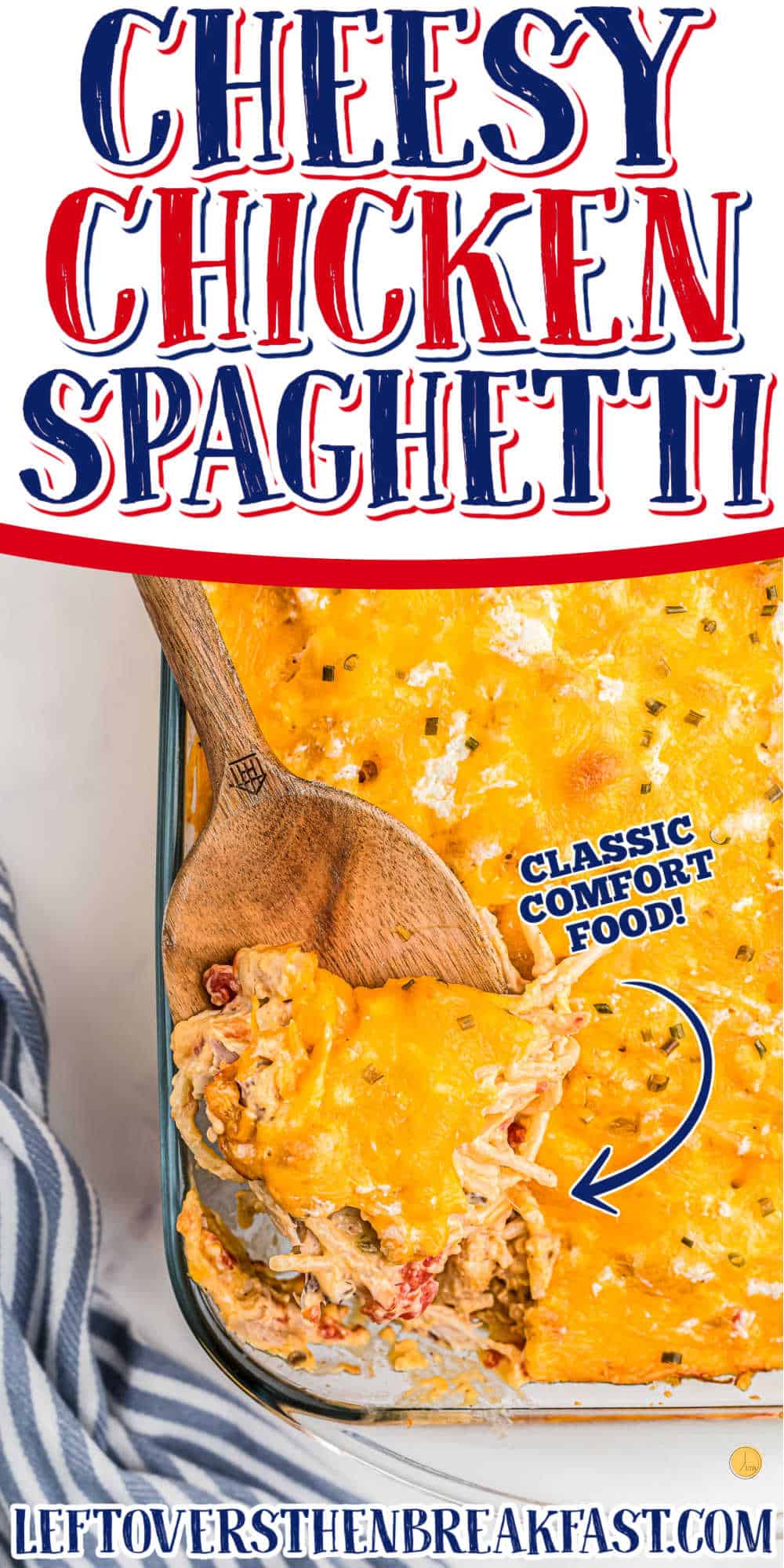 My family loved this velveeta chicken spaghetti casserole! All the tender pasta, mixed with moist chicken, tossed in a creamy sauce, and baked until the cheesy top is golden brown. It's a great recipe to make ahead of time and keep in the freezer for a dinner emergency!
MORE EASY RECIPES
@LeftoversThenBreakfast.com. Content and photographs are copyright protected. Sharing of this recipe is both encourages and appreciated. Copying and/or pasting full recipes to any social media is strictly prohibited.