Bring a new dish to the BBQ with a delicious and easy Cauliflower Salad, full of flavor and crunchy vegetables everyone will enjoy!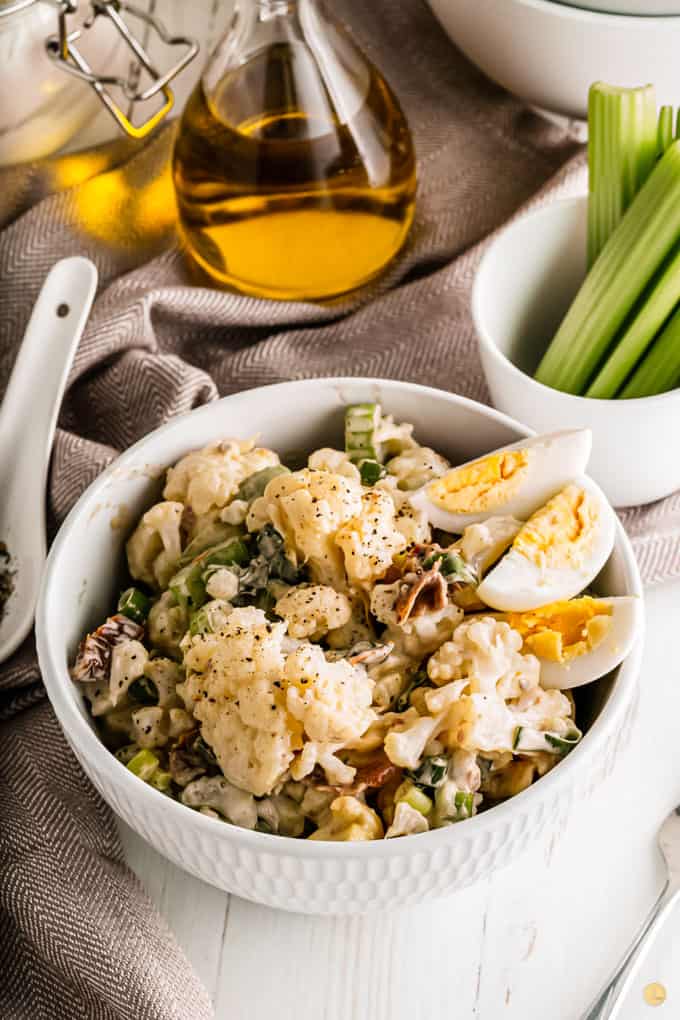 If you'd rather skip my essential cooking tips and tricks and get straight to this delicious recipe – simply scroll to the bottom of the page where you can find the printable recipe card.
You've had the traditional salads at summer BBQ's, now make a lighter and lower carb version that no one has heard of and everyone will love!
This salad brings together the flavors of a potato salad without the carb heavy ingredients, with a light dressing and plenty of crisp vegetables to compliment the blanched cauliflower.
You can have this easy cauliflower salad put together in a few minutes, with it's own light and creamy dressing and fresh vegetables you can combine everything in a bowl and have it on the table in no time.
I have a lot of friends and relatives that are on gluten free and low carb diets and this salad is great for all of them, I don't have to worry if there will be something on the table for everyone when I add this recipe to the menu.
The traditional potato salad inspires this cauliflower salad. It's the low-carb option for those who want to enjoy that dish without the extra amount of carbs.
This post may contain affiliate links. As an Amazon Associate, I earn from qualifying purchases. Read my disclosure policy here.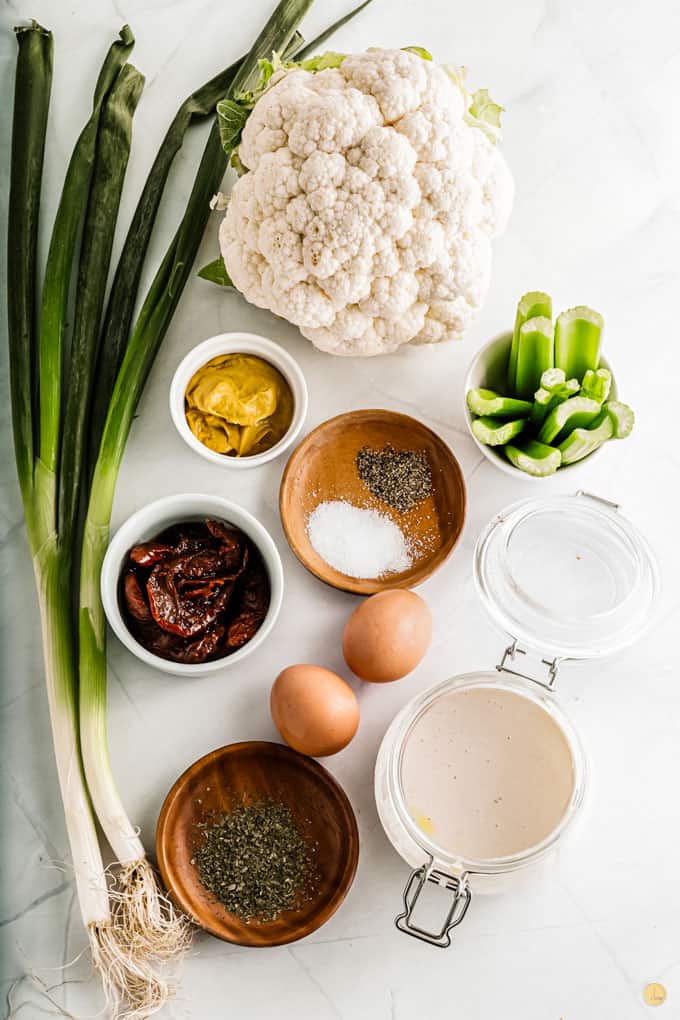 WHAT'S IN CAULIFLOWER SALAD?
cauliflower
eggs
celery
green onions
mayonnaise
Dijon mustard
sun-dried tomatoes
salt & pepper
Cauliflower – I used one small head of white cauliflower which is approximately 2-3 cups of florets once trimmed. This is fun with purple of yellow cauliflower!
Eggs – These eggs are hard-boiled. If you need a guide for making easy peel hard-boiled eggs, check this out. If you are going to make this Vegan, feel free to leave out the eggs!
Mayonnaise – My favorite brand is Duke's but feel free to use your favorite!
Sun-Dried Tomatoes – I like to use the ones that are packed in olive oil but feel free to use your favorite or leave them out all together. Green olives are a good substitution if you are looking to replace them.
Looking for more comfort food? Follow LTB on Pinterest!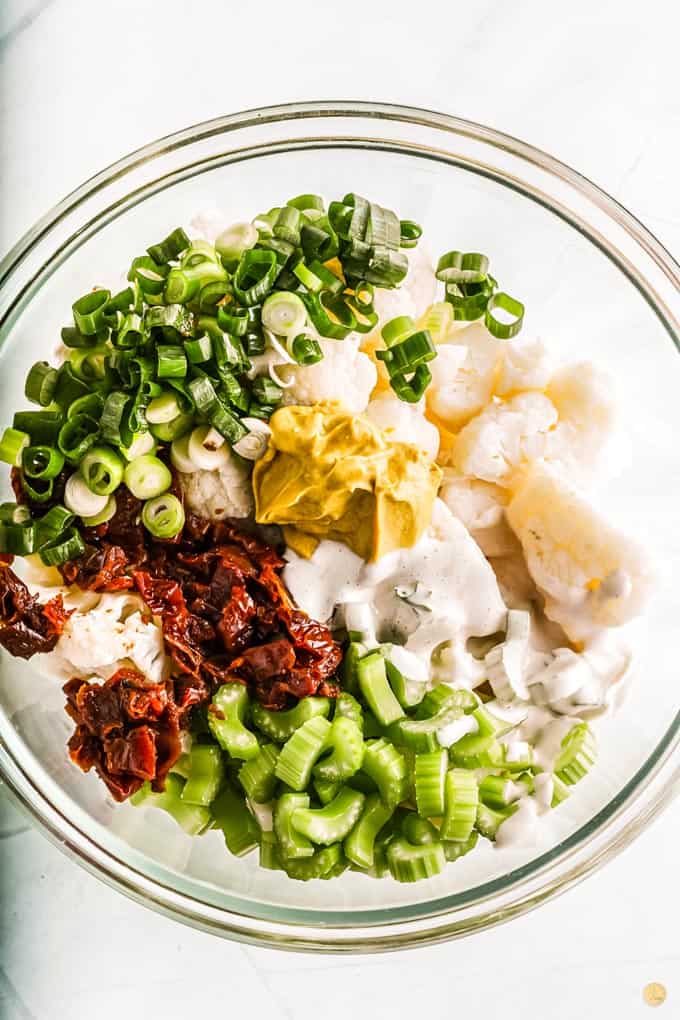 HOW TO MAKE CAULIFLOWER SALAD
ONE: Hard boil and peel your eggs if not done already. Lightly steam or blanche your cauliflower until crisp tender.
TWO: Chop celery, green onions, and sun-dried tomatoes into small bite-sized pieces. Chop the cauliflower. In a large bowl combine them. Add the eggs and cauliflower.
THREE: Combine the mayo and mustard in a small bowl. Whisk to combine. Add to salad ingredients. Toss to coat. Chill until ready to enjoy.
For the full recipe and detailed baking instructions, please see the recipe card at the end of this post.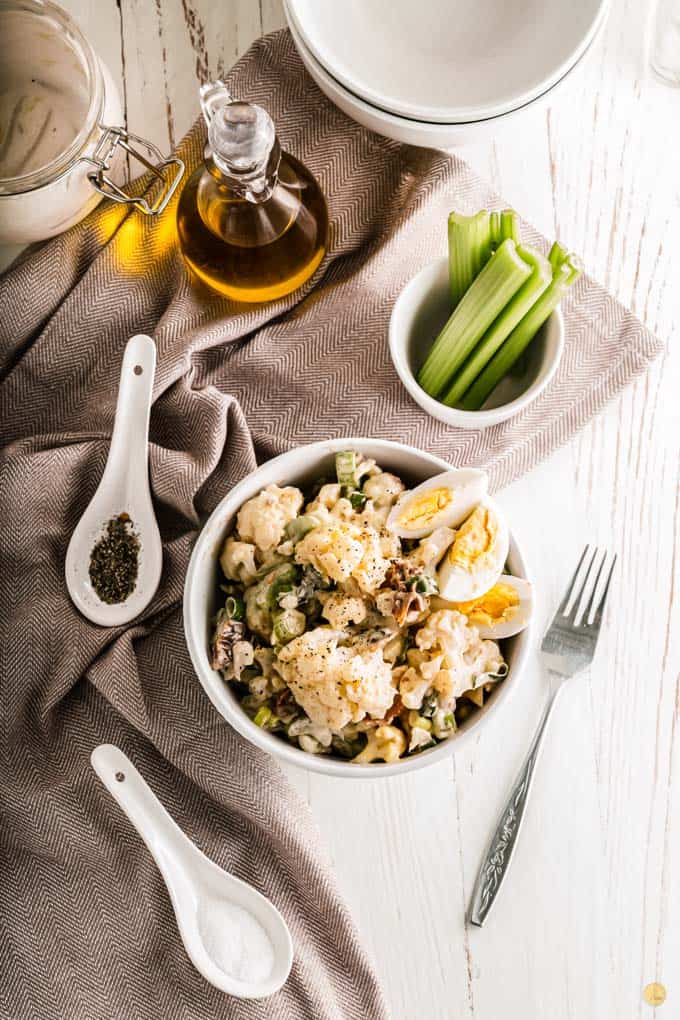 HOW LONG DOES IT STAY GOOD?
You can keep cauliflower salad in the refrigerator in an airtight container for up to five days, it actually gets better after it chills over night, allowing all the flavors to fully soak into the vegetables.
DO I HAVE TO STEAM OR BLANCH THE CAULIFLOWER?
I suggest cooking just a bit so that the flavors can soak into the cauliflower a little bit better, the dressing will just sit on top otherwise. You can use raw cauliflower if you prefer the crunch.
HOW TO BLANCH CAULIFLOWER
In order to blanch vegetables you want to get your water boiling and then add your vegetables for just a couple of minutes until they are just barely starting to get tender, then use a strainer and remove them and run under cold water to stop the cooking process.
The cauliflower will be fork tender crisp!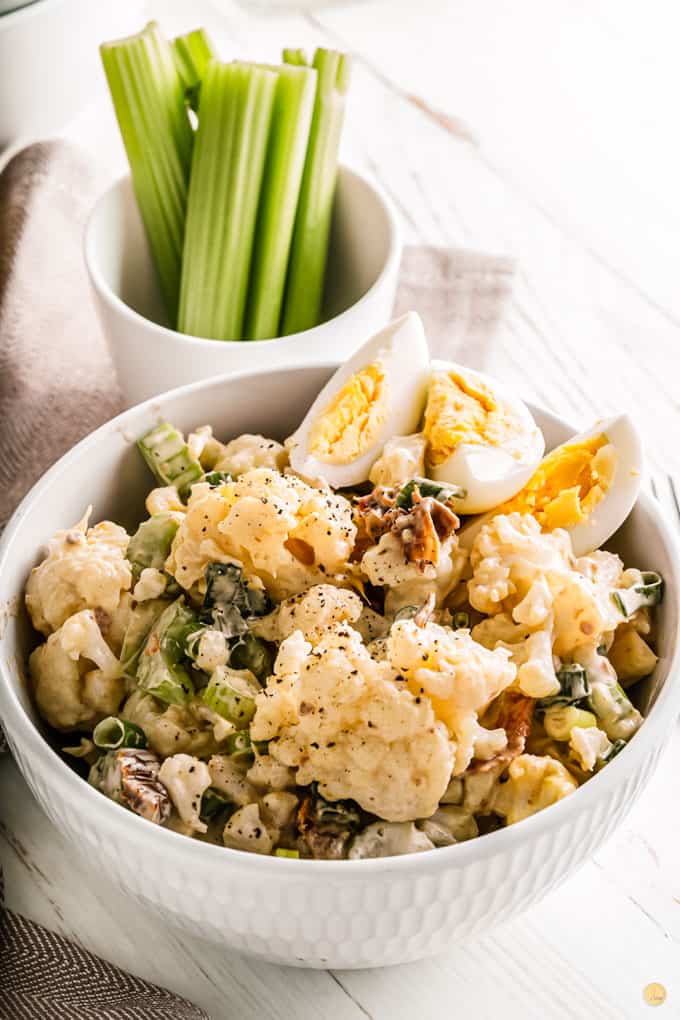 TIPS FOR NO LEFTOVERS
This salad tastes even better on the second day.
Keep leftovers in an airtight container for up to four days.
This is an excellent salad to meal prep or to take to BBQ as a side dish.
Great as a gluten free option!
Try adding different nuts if you prefer.
Add a little finely chopped red onion for some bite.
Add a little red wine vinegar or lemon juice to the dressing if you want some more tang!
If you love this recipe as much as I do, please write a five-star review in the comment section below (or on Pinterest with the "tried it" button – you can now add pictures into reviews, too!), and be sure to help me share on facebook!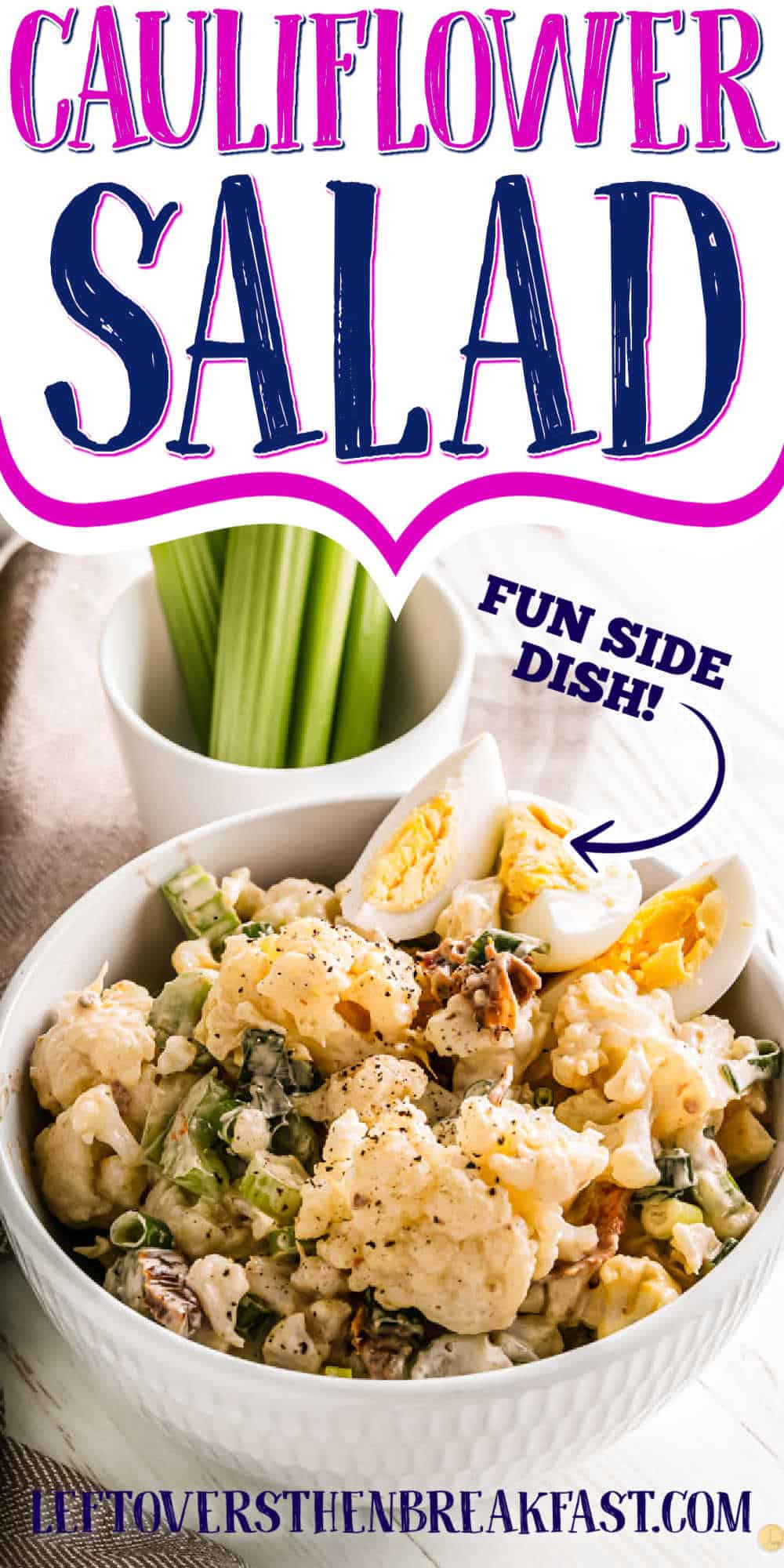 This is a new salad, and I want to hear all about how your friends and family liked it, share what you served it with and how it was received in the comments!
MORE EASY RECIPES
CAULIFLOWER SALAD RECIPE
@LeftoversThenBreakfast.com. Content and photographs are copyright protected. Sharing of this recipe is both encourages and appreciated. Copying and/or pasting full recipes to any social media is strictly prohibited.