Skip takeout and make this fast and easy sweet and sour chicken recipe for dinner tonight!
TENDER and JUICY chicken that is baked in the oven with veggies and smothered in a SWEET and TANGY homemade sauce. Perfect for serving over a bed of rice.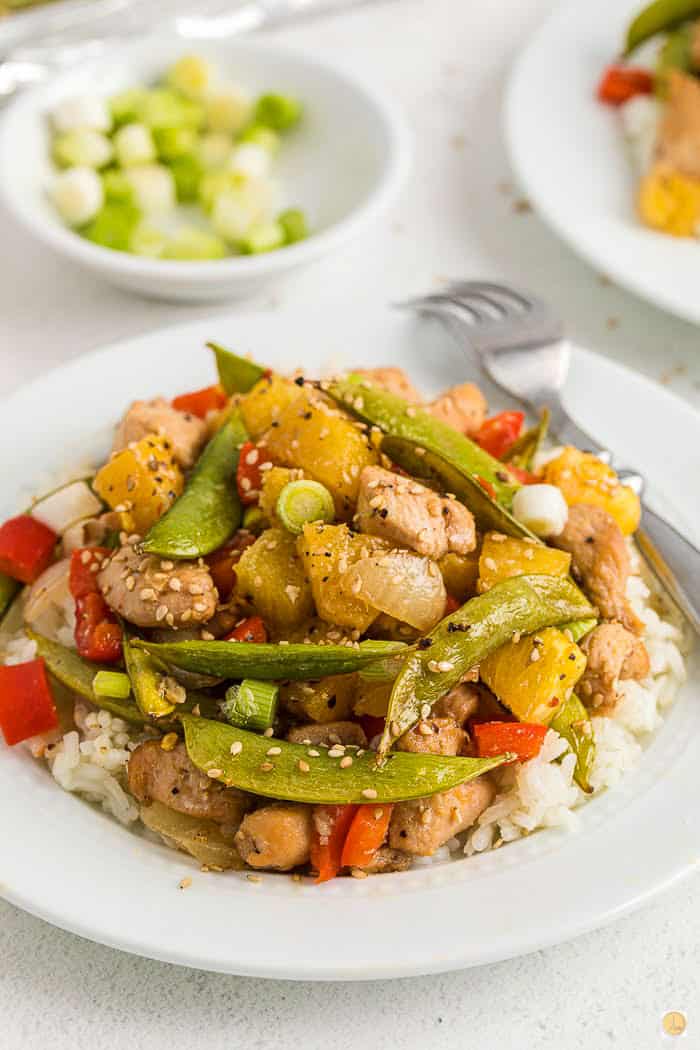 If you'd rather skip my essential cooking tips and tricks and get straight to this delicious recipe – simply scroll to the bottom of the page where you can find the printable recipe card.
BAKED SWEET AND SOUR CHICKEN
This is an easy chicken sheet pan dinner. You will marinate your chicken to help soak in all the flavors and when you bake it up the sugar caramelizes giving you a sticky sauce that soaks into the chicken and veggies.
Baked sweet and sour chicken with rice is a dish that my family enjoys. It makes for easy cleanup since this is a sheet pan dinner.
Then pair it with your favorite side dish like this Grape Salad! We tend to do white or Jasmine rice. But you could even swap for cauliflower rice for a lower-carb side dish. 
This post may contain affiliate links. As an Amazon Associate, I earn from qualifying purchases. Read my disclosure policy here.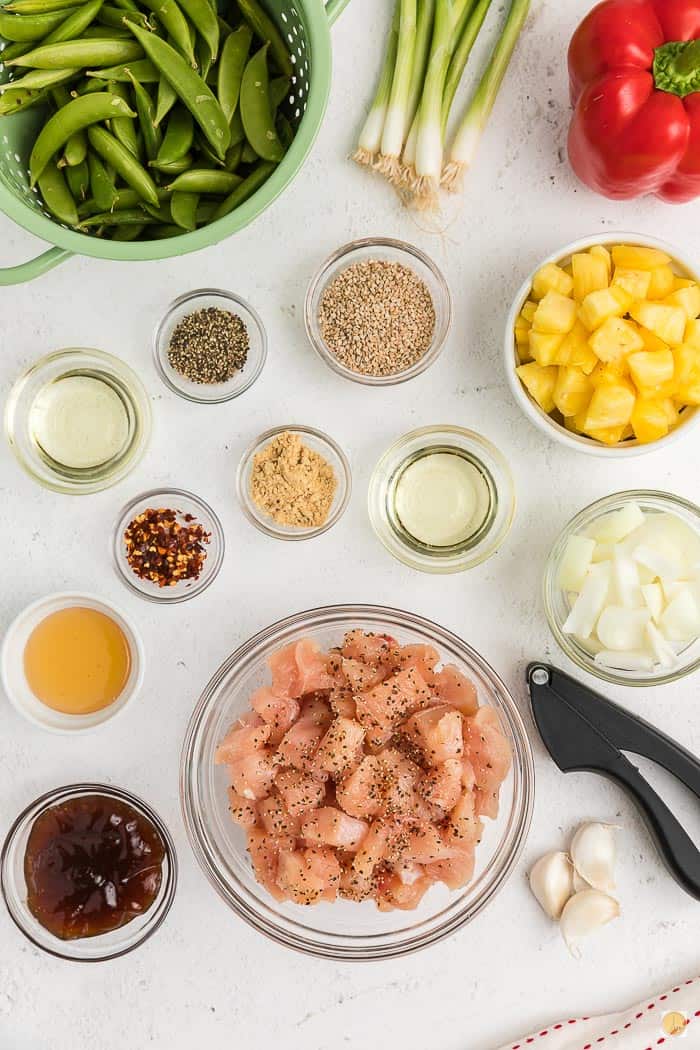 SWEET AND SOUR CHICKEN INGREDIENTS
chicken
bell pepper
pineapple
snow peas
sweet and sour sauce
Chicken – For this recipe you will want a boneless chicken cut into bite-sized pieces. Chicken breasts, tenderloins, or even a boneless chicken thigh can work well.
Fruit and Vegetables – You can get creative here. I used cubed fresh pineapple, snow peas, bell peppers, and onion.
Feel free to go through your produce drawer and use up other vegetables close to needing to be tossed.
WHAT IS SWEET AND SOUR CHICKEN MADE OF?
This isn't that neon red sauce you are thinking it is.
Teriyaki Sauce – Homemade is better! Made with teriyaki sauce, olive oil, honey, garlic, ginger, pepper, and crushed red pepper flakes, it makes a delicious marinade for this sheet pan chicken.
Sesame seeds and green onions are a great topping for this stir fry mix of chicken and veggies.
Looking for more comfort food? Follow LTB on Pinterest!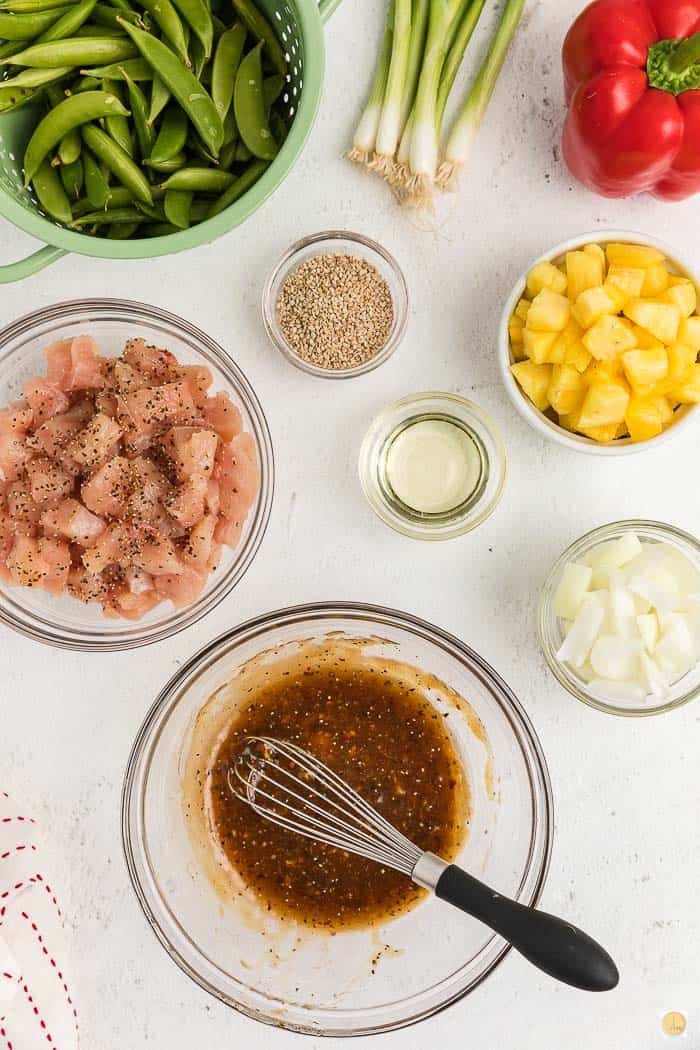 HOW TO MAKE SWEET AND SOUR CHICKEN FROM SCRATCH
FIRST: Start by adding all your ingredients for your sauce in a bowl. Pour the sauce into a zip top bag and add the chicken pieces.
Move the bag to make sure and evenly coat the chicken. Store the marinated chicken in the fridge for a minimum of 30 minutes to overnight.
SECOND: When you are ready preheat the oven to 475F and line your baking sheet with aluminum foil and spritz with a cooking spray to prevent sticking. 
Spread the pineapple, snow peas, bell peppers, and onion on the sheet pan. Drizzle with olive oil and salt and pepper.
Remove the chicken from the bag with marinade and spread it evenly on the baking sheet. It is important to have an even layer of meat and veggies. Discard the marinade!
THIRD: Place the chicken sheet pan in the oven and bake for 10 – 15 minutes, stirring halfway through. Keep an eye on the chicken as the sugars in the sauce can burn smaller pieces of the chicken.
FOURTH: Remove the tray once the chicken is fully cooked and the vegetables are tender. Let the mixture cool for a few minutes before you dish up this chicken dinner.
Serve with rice if desired!
For the full recipe and detailed baking instructions, please see the recipe card at the end of this post.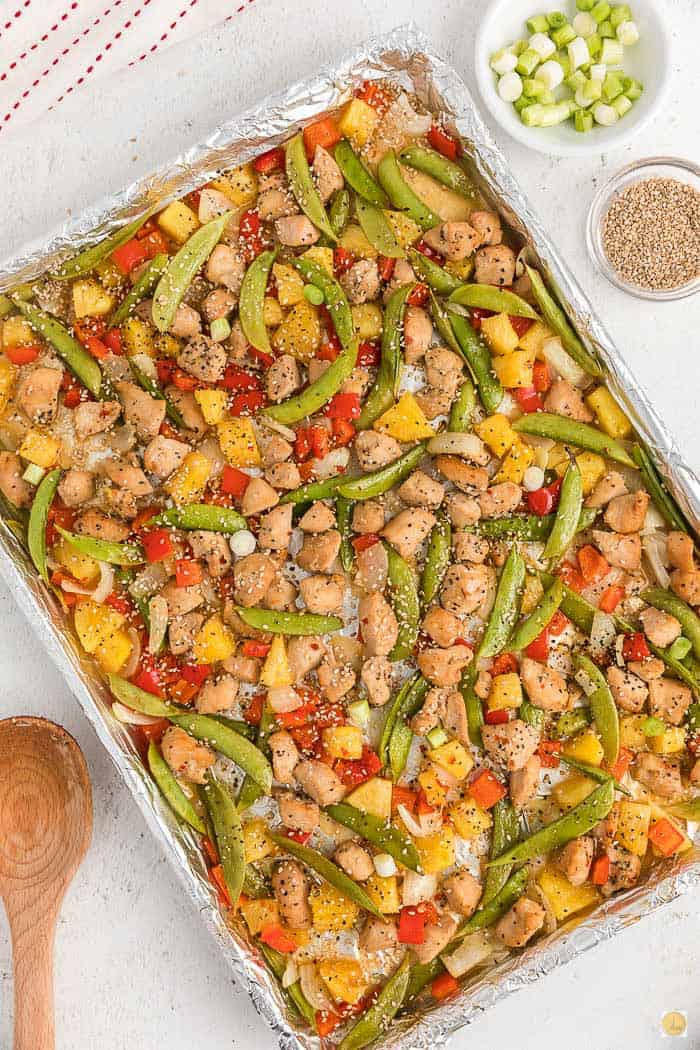 DIFFERENT VEGETABLES TO USE IN THIS SHEET PAN RECIPE
Not sure what other vegetables might be a tasty pairing? Let me help give you some ideas on what you could add to the mix or swap out!
Brussels Sprouts – I would cut them in half or quarter them so they get nice and cooked.
Sweet Potatoes – Peel and cube into small pieces.
Broccoli – Wash and prep your broccoli and toss on some smaller florets into the mix.
HOW TO KNOW WHEN CHICKEN IS DONE
Chicken needs to reach an internal temperature of 165 degrees F. You will also find that chicken will have no pink inside and juices will run clear once the chicken is fully cooked. I always recommend a meat thermometer.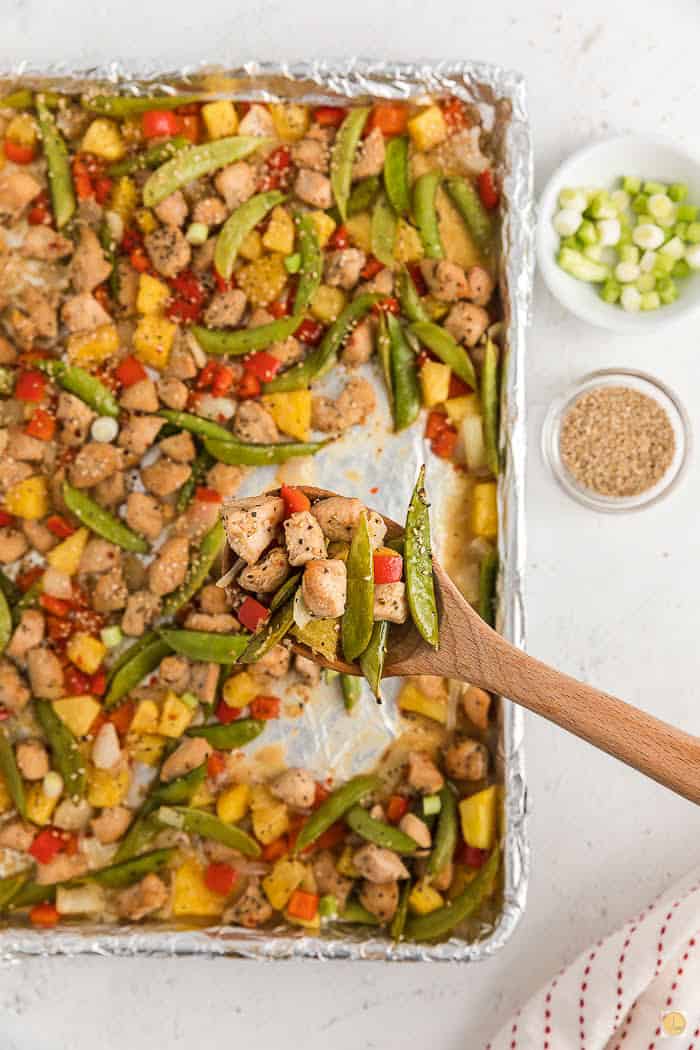 WHAT DO TO WITH LEFTOVERS
REFRIGERATE
If you have any leftovers place them in storage containers and store in the fridge. This is great to use for meal prepping for a lunch or quick dinner in the week.
FREEZER
The one thing about this sweet and sour chicken with vegetables is the veggies will become even softer if frozen and then thawed.
If you don't mind the change in texture, freeze the mixture for up to 3 months. Then reheat in the microwave.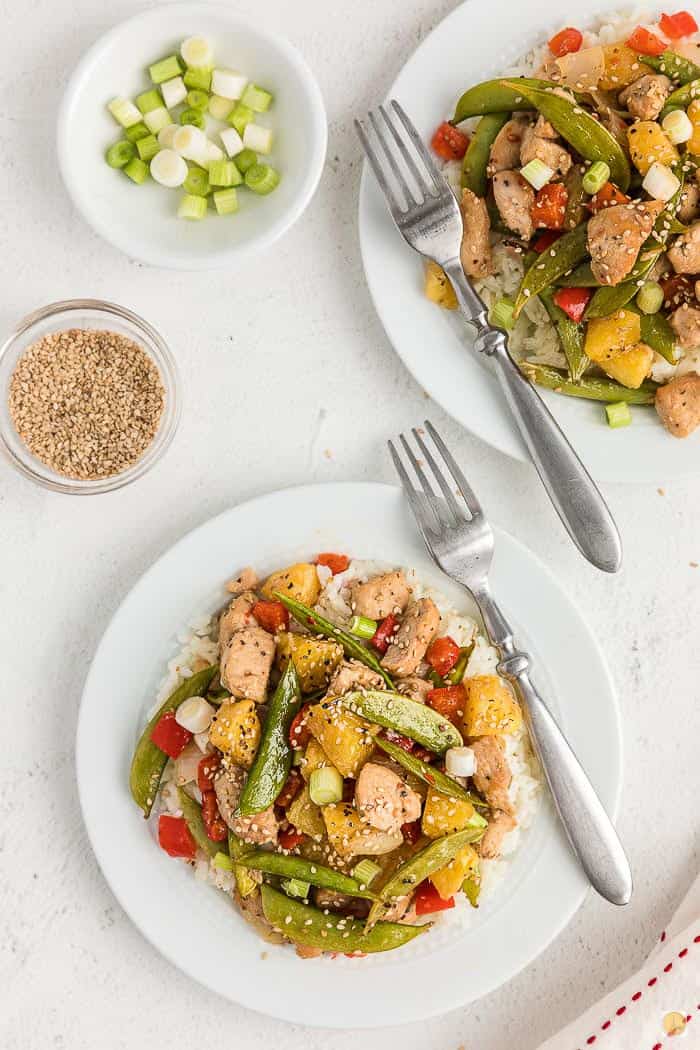 IS SWEET AND SOUR CHICKEN HEALTHY?
With a homemade sauce, the lean chicken, and all the colorful veggies, this is much healthier than the fried version you get from take out!
TIPS FOR NO LEFTOVERS
switch up your veggies for your favorites even though the bell pepper and pineapple are the original ones.
you can switch out the honey for pineapple juice or apple cider vinegar.
this recipe is cooked at a high temperature so watch carefully to avoid burning.
test your chicken with a meat thermometer to make sure it is cooked to 165F.
try to keep all the meat and veggies in a single layer to ensure even cooking.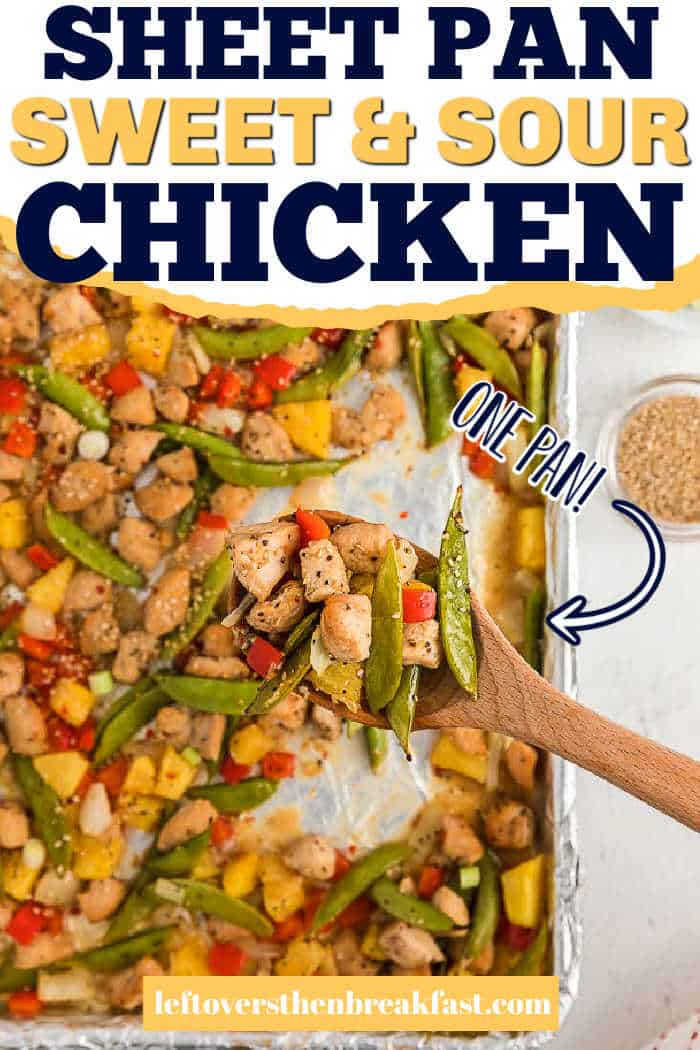 MORE CHICKEN DINNER IDEAS