Crock Pot Chili is THICK, HEARTY, and full of FLAVOR! A few minutes of prep and low and slow cooking makes the perfect chili full of TENDER beef and HEALTHY vegetables.
Serve with your FAVORITE toppings when the weather turns chilly. Perfect for a CROWD!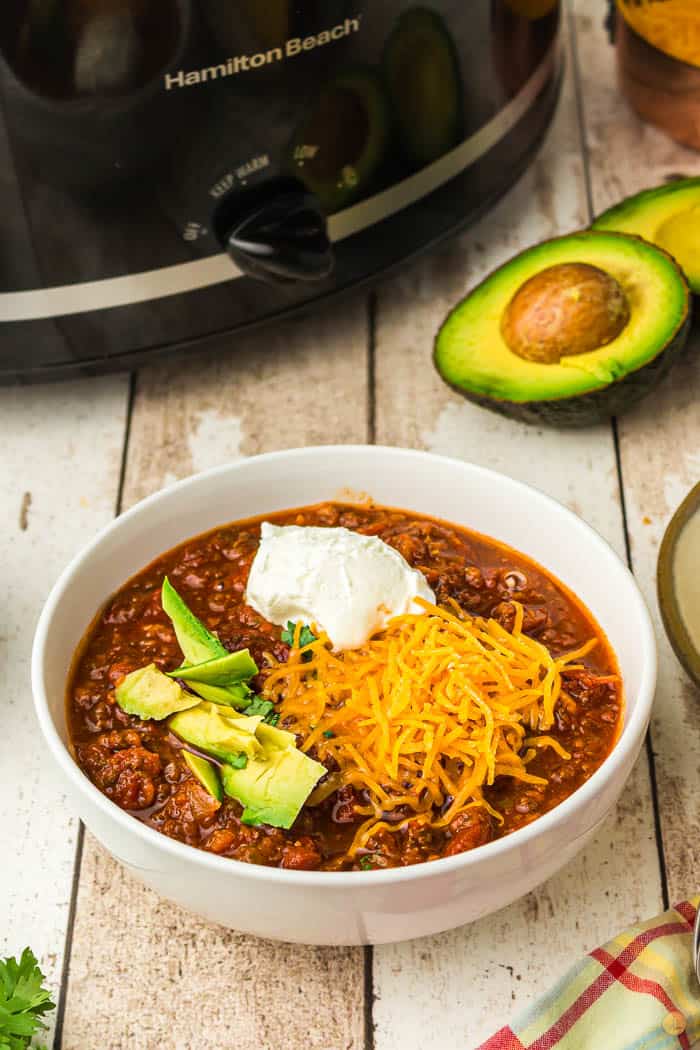 If you'd rather skip my essential cooking tips and tricks and get straight to this delicious recipe – simply scroll to the bottom of the page where you can find the printable recipe card.
Chili is a favorite dish in most kitchens, including mine. I love it for when the weather turns colder or when I am having friends over because EVERYONE LOVES IT!
Slowly cooked in the crock pot all day allows all the ingredients to melt into each other giving a great depth of flavor that we crave as soon as the weather starts to cool down.
Also, what's better than throwing all the ingredients into the crock pot in the morning and coming home to a cooked meal!?
I HIGHLY RECOMMEND you make this chili tonight as everyone loved this recipe in my house and that is saying a lot because of all the picky eaters I have.
This post may contain affiliate links. As an Amazon Associate, I earn from qualifying purchases. Read my disclosure policy here.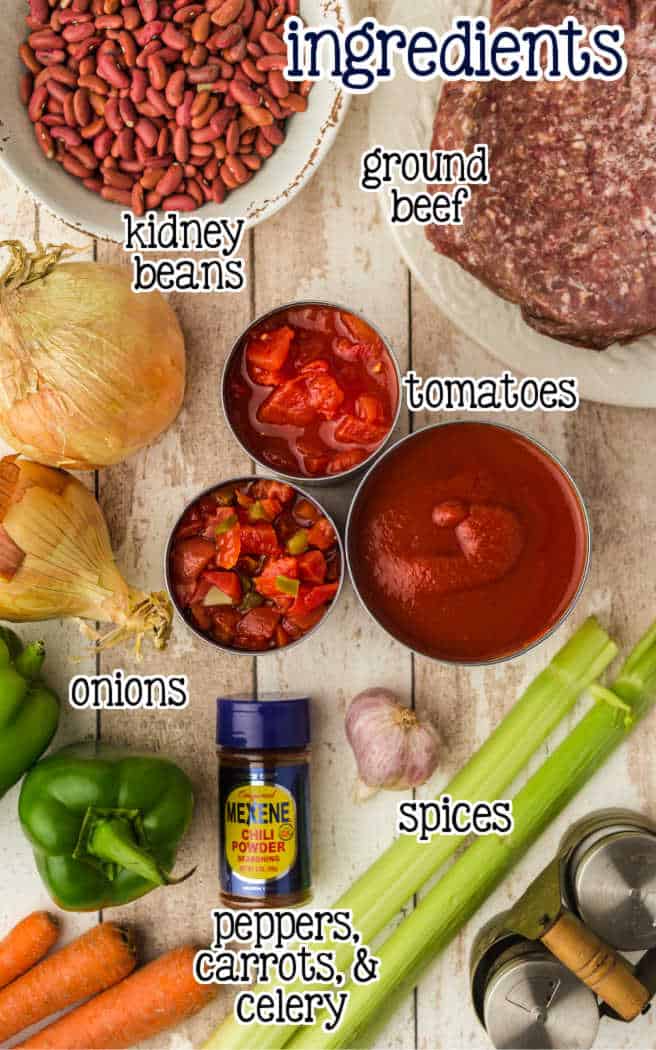 THICK CHILI RECIPE INGREDIENTS
onion, celery, carrot, bell pepper
garlic
lean ground beef
tomatoes (diced, chopped, sauce)
kidney beans
spices
I have notes on ingredient substitutions below in the tips section!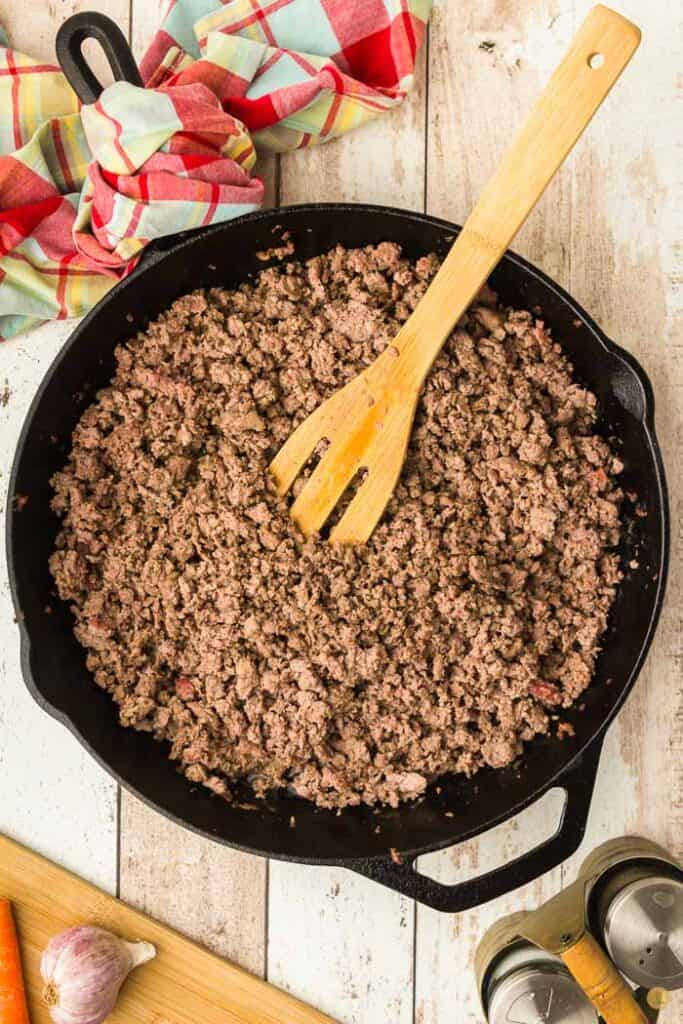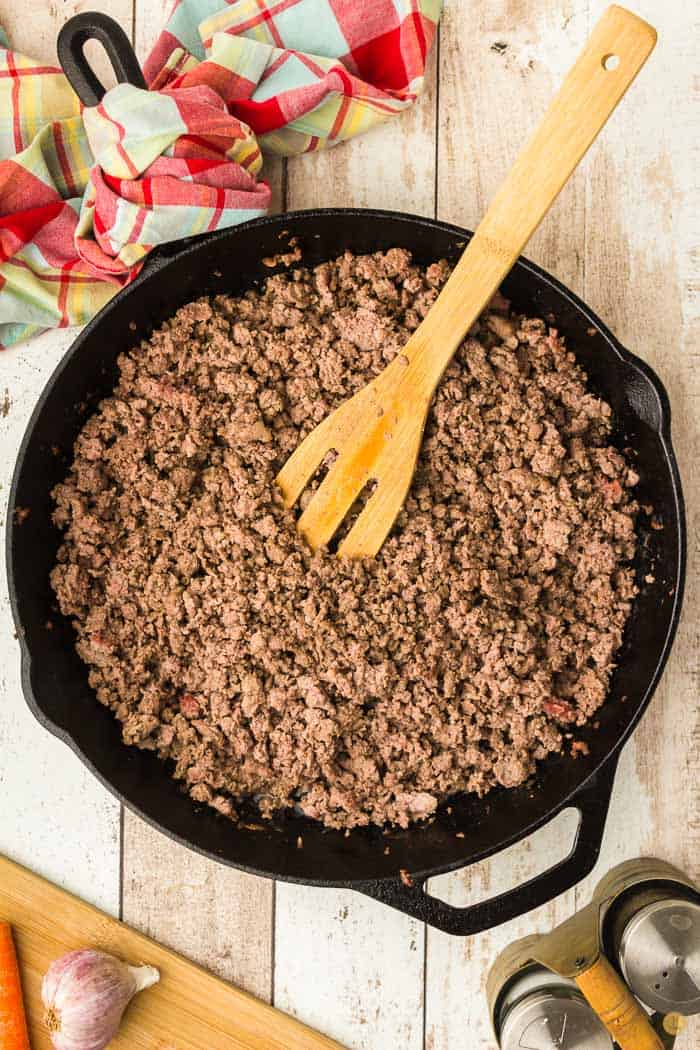 HOW TO MAKE CHILI IN A CROCK POT
ONE: Brown the ground beef until no longer pink. Drain fat if desired. Add to crock pot.
TWO: Add the chopped veggies, tomatoes, and spices. Cover and cook low for 4 hours or high for 2 hours.
THREE: Add the beans and stir. Cook for another 3-4 hours on low or 1 more hour on high. Serve warm!
For the full recipe and detailed baking instructions, please see the recipe card at the end of this post.
Looking for more comfort food? Follow LTB on Pinterest!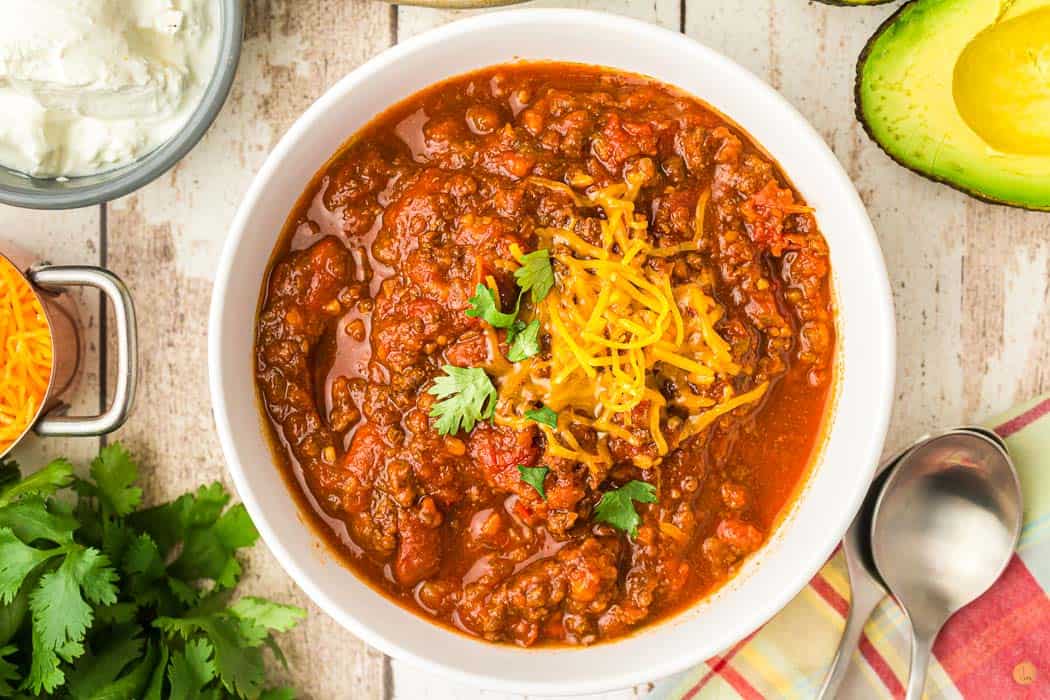 IS HOMEMADE CHILI HEALTHY?
Making chili from scratch is the easiest way to make it healthy. You can choose lean meats, drain the excess fat, and add all the extra vegetables that you want!
I like to use carrots instead of sugar, to cut the acidity in the tomatoes. It's a great way to sneak an extra serving of vegetables into the recipe.
Literally, the carrots just melt into the sauce and you'd never know they were there!
CAN I USE ANOTHER TYPE OF MEAT?
I like to use lean ground beef but feel free to use ground chicken, turkey, bison, or venison. My husband is a hunter and I love the extra flavor that venison adds to the chili.
For a more complex flavor, add a combination of venison and beef.
Picking leaner meats gives you a healthy chili recipe for the crock pot or slow cooker.
Vegetarian? Add pinto beans and black beans instead of the ground meat. I haven't tried any meat substitutes yet, but I am sure they would work just as well.
CAN I USE DRIED BEANS?
Originally I wanted to post this with dried beans because they work well with the slow cooker. Dried beans are cheaper but require a little extra work.
If you want to use dried beans, rinse and soak them overnight. Then add them along with the meat in the crock pot.
If you don't have time to soak overnight, rinse and boil them in water for 2 hours. Then drain and rinse before adding to crockpot.
Leave out the beans and double up on the meat and tomatoes if you want a paleo or keto chili recipe!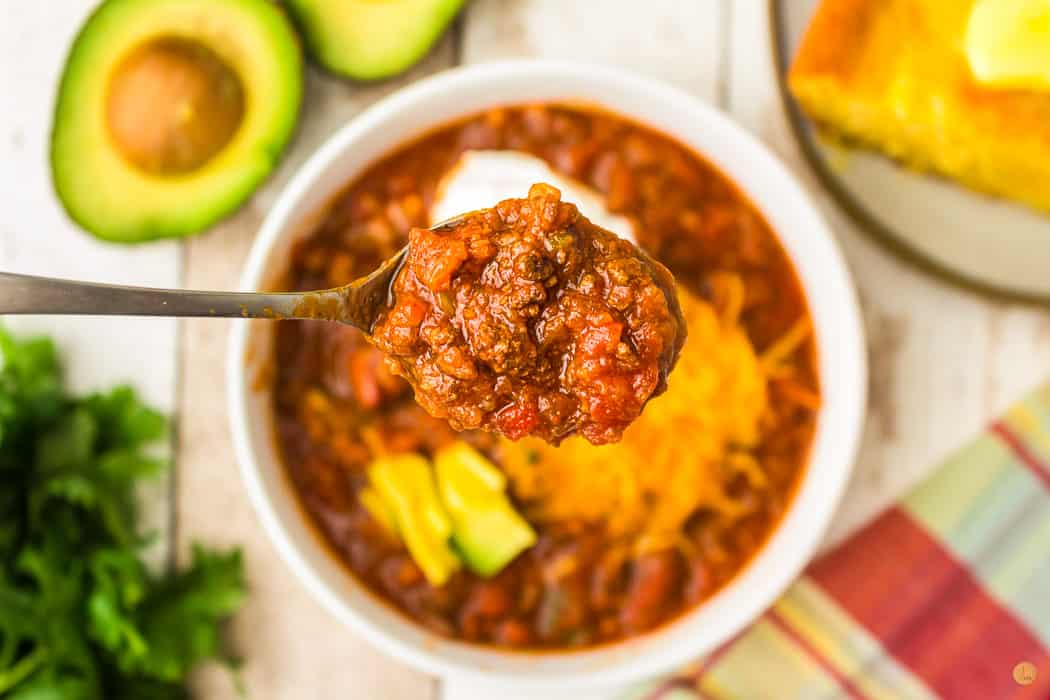 DO I HAVE TO USE MEXENE CHILI POWDER? I CAN'T FIND IT?
Mexene chili powder is a blend of chili powder, cumin, oregano, and garlic. If you don't use it then you could use equal parts of oregano, cumin, paprika, garlic powder.
The best part of using your own spice mixes instead of a chili starter pack is the flour.
Most use masa flour but some contain regular flour or other thickeners. They also contain a lot of salt.
Using your own spices gives you a gluten free chili recipe or low sodium chili to enjoy.
CAN YOU PUT RAW MEAT IN THE CROCKPOT FOR CHILI?
I wouldn't recommend it. You want to make sure the beef is cooked through before putting in the slow cooker.
Also, adding it raw means that all the fat stays in the chili and you won't be able to drain it off.
IS CHILI BETTER IN THE CROCK POT?
Chili is best when it is simmered for a few hours. Cooking it in the slow cooker means you get that slow cooked flavor without doing any extra work!
CAN I USE THIS RECIPE WITHOUT A CROCK POT?
Of course. I love this crock pot for this recipe because it's hands off but feel free to use your own large pot and cook on the stove top. I love my dutch oven because it keeps the heat evenly.
If you want to cook it on the stove top, just follow the directions and simmer on low for 2-3 hours. Stir often to avoid hot spots and scorching.
You can also make it in the instant pot!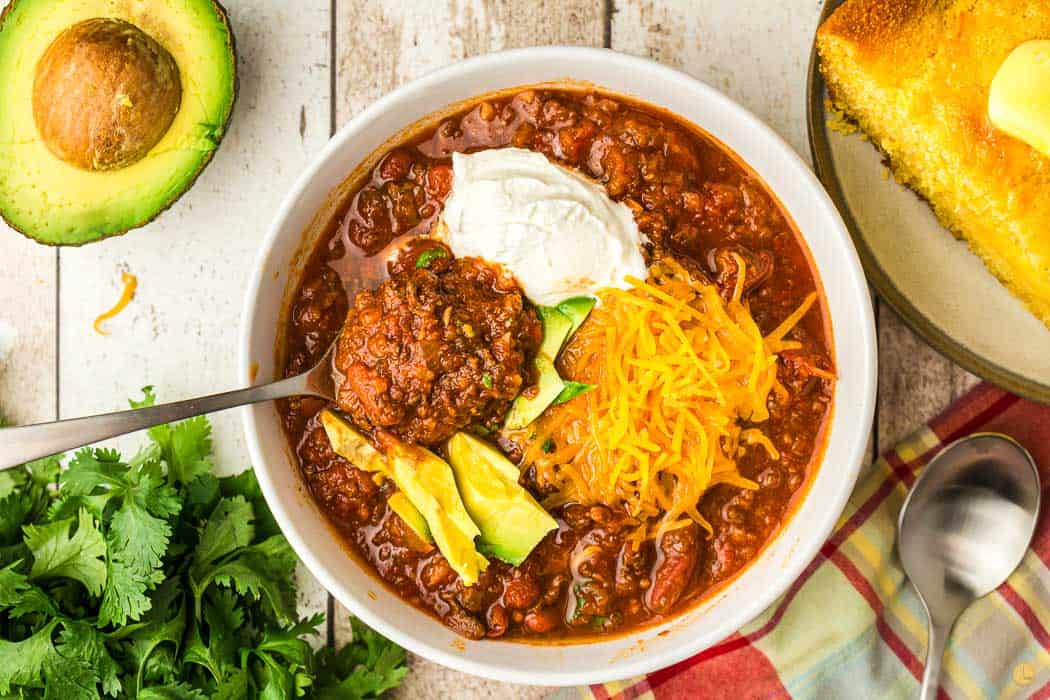 CAN YOU COOK CHILI OVERNIGHT IN A CROCK POT?
Unless you only sleep 4-5 hours each night I would not recommend it. There is a possibility that you can burn it.
If you need it first thing in the morning, I would recommend cooking it the day before and then placing it on warm right before you go to bed. But no longer than 7 hours.
HOW TO STORE THE CHILI?
This recipe will keep in the fridge for 4 days or you can freeze it for up to 3 months. This is great for meal prep days!
GREAT CROCK POT CHILI TOPPINGS
avocado
sour cream
cheese (cheddar, pepper jack)
cilantro
lime
bacon
corn chips, tortilla chips or strips
crackers
green onions
jalapeños – pickled or fresh
hot sauce
beer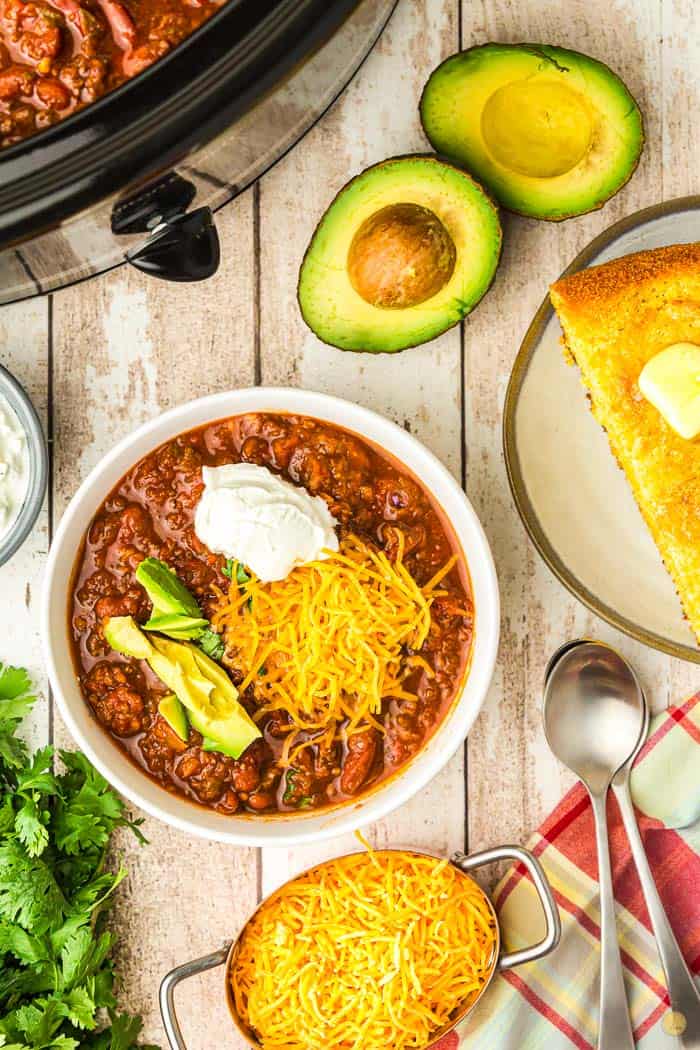 BEST WAYS TO ENJOY CHILI
on tacos
over fries with cheese
chili hot dogs
over spaghetti instead of meat sauce
with rice
on nachos
stuffed baked potatoes
cornbread or biscuits
TIPS FOR NO LEFTOVERS
If you want a spicy crock pot chili, add some green chilies, jalapeños, or a pinch of cayenne pepper. I love to add a tablespoon of juice from a jar of pickled jalapeños. Especially if people don't want to eat the peppers or are scared of the heat when they see them.
Adding a cup of corn will add more flavor and texture.
Add a can of your favorite beer.
Add 1 ounce of chocolate (baking chocolate or a tablespoon of cocoa powder) to the pot to enhance the flavor of the cayenne and chili powder.
To avoid mushy beans, make sure you are adding canned beans later in the cooking process.
For more flavor, add the spices when you cook the beef to allow the flavors to develop faster.
Don't overcrowd the pan when cooking the beef. You want it to brown and not steam.
Cook the onions in a little bit of olive oil before adding the ground beef to brown.
Substitute crushed tomatoes for diced tomatoes if you don't want large tomato pieces. You can also substitute tomato juice for the sauce.
If you love this recipe as much as I do, please write a five-star review in the comment section below (or on Pinterest with the "tried it" button – you can now add pictures into reviews, too!), and be sure to help me share on facebook!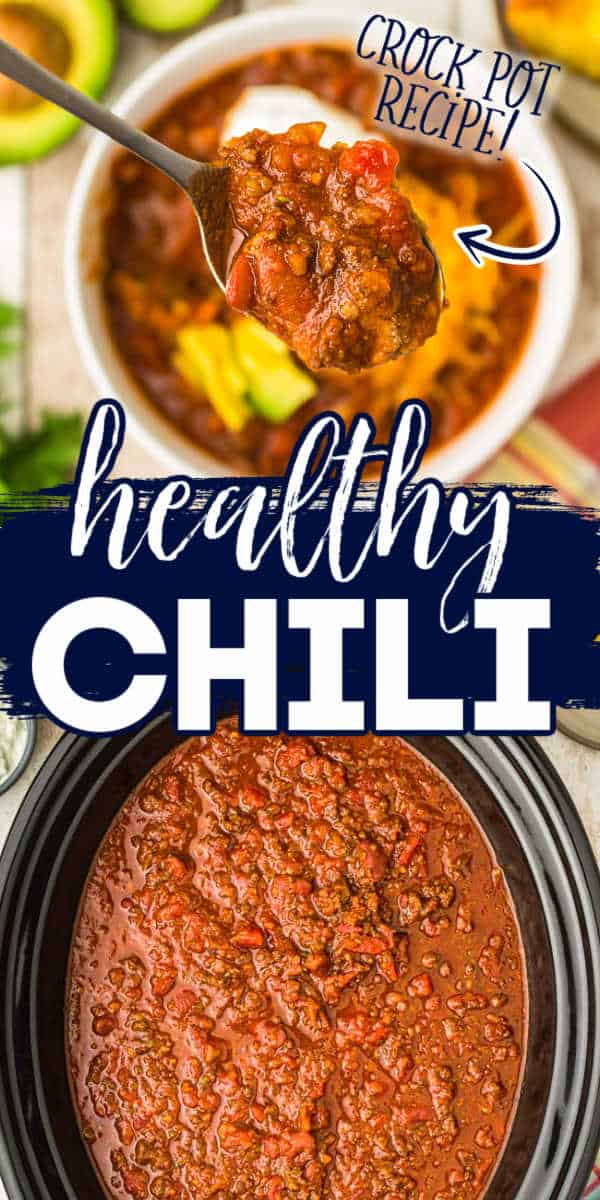 This hearty chili is thick, flavorful and can be made to suit a gluten free, keto, paleo, or whole 30 diet. Talk about the perfect comfort food!!
MORE HEARTY RECIPES
@LeftoversThenBreakfast.com. Content and photographs are copyright protected. Sharing of this recipe is both encourages and appreciated. Copying and/or pasting full recipes to any social media is strictly prohibited.