Slow Cooker Recipes are great all year long but especially in the colder months. From breakfast to dessert, these crockpot recipes include vegetarian and gluten free options too!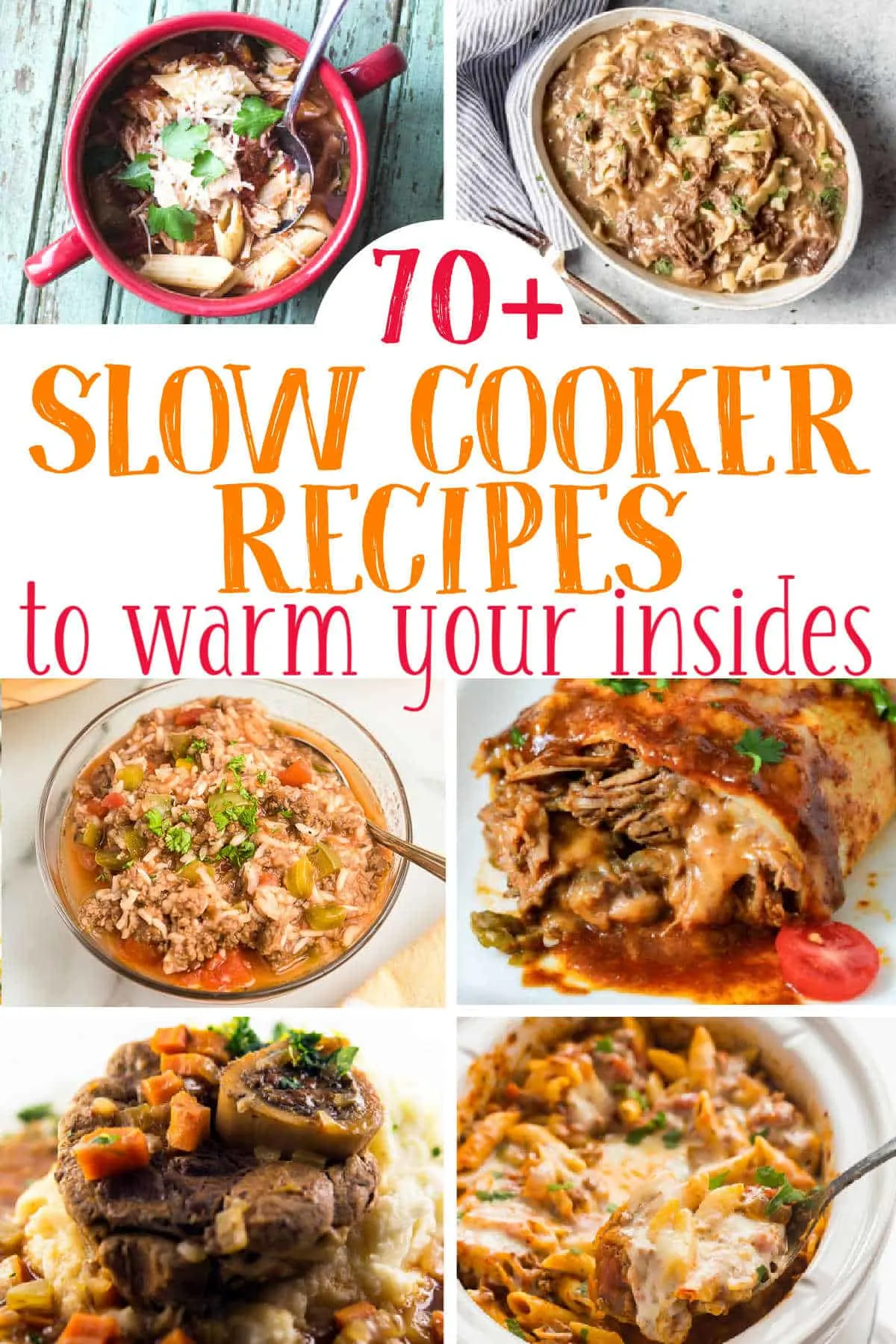 Slow Cooker Recipes
Nothing says warmth during the winter as a delicious meal that has been sitting in a slow cooker soaking in the flavors all day does.
Slow cookers are a staple during the cold months because they make suppertime less stressful while still allowing you to prepare a hot spread for yourself and your family.
Plates of pasta, casserole dishes, hearty soups & stews are all comfort foods that you can make in your slow cooker and prepare for a warm & cozy night eating at home.
Are you getting hungry already?
Is it cheaper to cook in a slow cooker?
Since the ingredients are basically the same as a stovetop or oven recipe, the cost of the food will be the same. Where you save money is in time and electricity.
Slow cookers use less power than an oven or stove top burner, reducing electricity costs.
They don't heat up your home, lowering your heating or air conditioning bill.
They save you time in the kitchen, which means more time doing other things. Time = money!
How to Convert a Regular Recipe to a Crock Pot Recipe
find a similar slow cooker recipe and use that one as a starting off point.
if the original recipe is cooked uncovered, you might want to reduce the amount of liquid in the crockpot as there won't be any evaporation. The crock pot traps the steam. Start by reducing the volume by a cup or two.
check the times and convert accordingly. If the stovetop or oven baking time is 1 hour, you can cook in the crock pot on low for 8 hours or high for 4-6 hours.
try a new recipe on the weekend when you are home. This way you can keep an eye on the cooking process throughout the day to monitor liquid levels and doneness.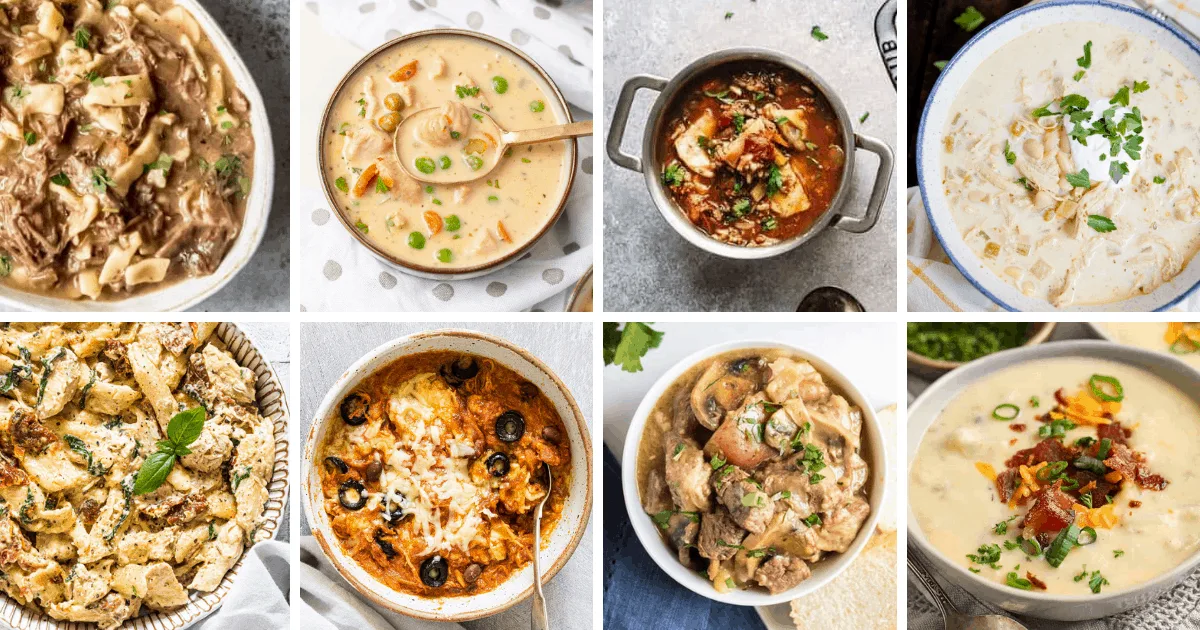 Essential Equipment for Cooking in a Slow Cooker
slow cooker for cooking all these delicious recipes!
liners for easy clean up after it's made.
prep containers to prep all your ingredients beforehand.
cutting boards to chop all the ingredients.
chef's knife for easy prep work.
carrying tote for when you are sharing this yummy recipe!
Can you put raw meat in a slow cooker?
Yes, you can! You don't have to brown the meat beforehand but doing so can add more flavor, color, and richness to the finished dish.
Even though you don't have to cook it before, I like to brown my ground beef ahead of time, and drain it, to cut the amount of fat in my recipes.
If you are concerned about the meat, test the internal temperature of any large cuts with a thermometer to see when they are done.
Looking for more leftover worthy dishes? Follow LTB on Pinterest and pin to a board!
What can you not cook in a slow cooker?
There are a few things I wouldn't recommend cooking in your crock pot.
dairy products. They have a tendency to curdle!
seafood. These items are delicate and can be easily overcooked.
alcohol. Because the steam is trapped, the alcohol doesn't "burn off" and leave your food tasting bitter.
some vegetables. Thin or delicate ones can be easily overcooked.
fat. Large amounts, like on a roast, can make the cooking temperature inconsistent and also can leave a gloopy mess on the dish.
grains. Some pasta, rice, and grains can be easily overcooked and turn mushy.
spicy chilies. The heat tends to intensify the longer they are cooked so you dish will turn out too spicy to eat.
Crock Pot Soups
Stuffed Pepper Soup is a thick and easy soup full of flavors and colors. This hearty bowl of soup All the delicious flavors of traditional stuffed peppers but without all the fuss.
Potato Corn Chowder is kicked up a notch with Southwest flavors and a bit of extra veggies. Made in the slow cooker, your family will love this hearty and delicious soup with minimal effort.
Slow Cooker Chicken Tortellini Soup is rich, hearty, and full of veggies. Let your crock pot do all the work and enjoy this absolutely delicious soup on a busy night!
Potato Leek Soup is rich, creamy, comfort food that will warm you from the inside. Hearty potatoes and mild green leeks slow simmered all day make a great meal to come home to.
This slow cooker beer cheese soup, full of creamy cheese and bold flavors, is easy to get on the table! 5 minutes of prep and slow cooked for hours, it's perfect for a chilly day or a game day celebration.
Crock Pot Chili is thick, hearty, and full of flavor! A few minutes of prep and low and slow cooking makes the perfect chili full of tender beef and healthy vegetables. Serve with your favorite toppings when the weather turns chilly. Perfect for a crowd!
Slow Cooker Cincinnati Chili is one of those easy to make, hearty, flavorful dishes that has to work it's way into your recipe rotation. Served over spaghetti or a hot dog, this delicious meat sauce topping can be served 5 different ways and will quickly become one of your family favorites!
More recipes in the card at the end of the post.
Slow Cooker Main Dishes
Crockpot Taco Meat is a super simple way to get a family friendly dinner on the table and make everyone happy. A delicious Family Taco Night just got easier!
Crock Pot Hot Dogs are easy to make and cook up tender and juicy with a snap. Not only does it take just minutes and minimal effort, this easy recipe is the perfect way to make hot dogs for a crowd!
Crock Pot Mississippi Chicken is a fun twist on the classic Mississippi Pot Roast. Combining all the flavors of the traditional pot roast recipe except made with budget-friendly chicken, this dish is a hearty and filling meal!
Traditional Beef Stew is the best comfort meal on those chilly Fall and Winter nights. This easy slow cooker beef stew recipe is full of tender melt-in-your-mouth chunks of beef, creamy potatoes, and sweet veggies all enveloped in a rich silky broth.
Serve with my garlic knots for the ultimate cozy cool weather meal.
Throw out those take-out menus and make this easy and delicious Crockpot Chicken with Pineapple for dinner tonight! Tender, juicy chunks of chicken cooking to perfection in the crockpot with crisp, crunchy veggies, fresh pineapple and with a sweet and sticky homemade sauce. Served over a bed of fluffy white rice, it's the perfect meal.
Hoppin' John is a delicious and easy New Year's dish to serve while honoring the Southern tradition of eating black eyed peas for luck. Hearty black eyed peas, veggies, Cajun spices, all served with fluffy rice.
Dip your garlic bread into this extra cheesy Lasagna Dip made in the crockpot and perfect for a cold weather tailgating party!
Pulled BBQ Chicken in the crockpot is hands down the easiest way to make BBQ chicken. With minimal prep you will get maximum flavor!
Shredded chicken with a ranch flavored creamy sauce with bacon and cheese; one bite and you'll swoon for Crockpot Crack Chicken!
Moist and tender Fuggedaboutit Pork Roast, prepared low and slow in your oven, wrapped in foil with only 3 other ingredients. Fresh mushrooms, onion, and cream of mushroom soup. Makes its own gravy, served with mashed potatoes for a comforting meal your whole family will enjoy. Fix this pork loin roast and "fuggedaboutit!"
More recipes in the card at the end of the post.
Slow Cooker Side Dishes
Forget the pre-made baked beans in a can, you can make these Slow Cooker Baked Beans at home and run some errands while these simmer in your slow cooker or crockpot. Your weekend cookout just got that much easier, and even more delicious!
This Calico Beans Recipe is hearty and easily made in the crock pot for a satisfying meal that's ready for you when you come home after a long day at work.
These are the Best Slow Cooker Mashed Potatoes you'll ever have! Creamy, savory, and filled with flavors of garlic, cream cheese, sour cream, chicken broth, butter, and tender potatoes, these mashed potatoes in the slow cooker are perfect for families who are busy and just want to eat a comforting meal!
More recipes in the card at the end of the post.
Tips for No Leftovers
Make sure you get the right recipe for converting. The best ones are soups, roasts, and casseroles. Look for original recipes that require at least an hour of cooking time.
Learn which ingredients require pre-cooking or searing before adding to the slow cooker. Some meat dishes might not REQUIRE a sear but they end up tasting so much better if you do.
Check on if you need to cook the recipe on high or low. Larger cuts of meat do better if on a low setting for longer but soups can usually be done quicker on a high setting.
Add the ingredients at the right time. Some veggies don't need to be cooked a long time or they will get mushy. These can be added toward the end of the cooking time and not at the beginning.
Some use water but I prefer starting with stock or broth. This only enhances the overall flavor of the dish in my opinion.
Serve any of these with a cool Chicken Macaroni Salad as a side!
Slow Cooker Recipes to keep you warm
Are you getting hungry already? Keep reading to find 70+ Slow Cooker Recipes To Warm Your Insides!
If you love this recipe as much as I do, please write a five-star review in the comment section below (or on Pinterest with the "tried it" button – you can now add pictures into reviews, too!), and be sure to help me share on facebook!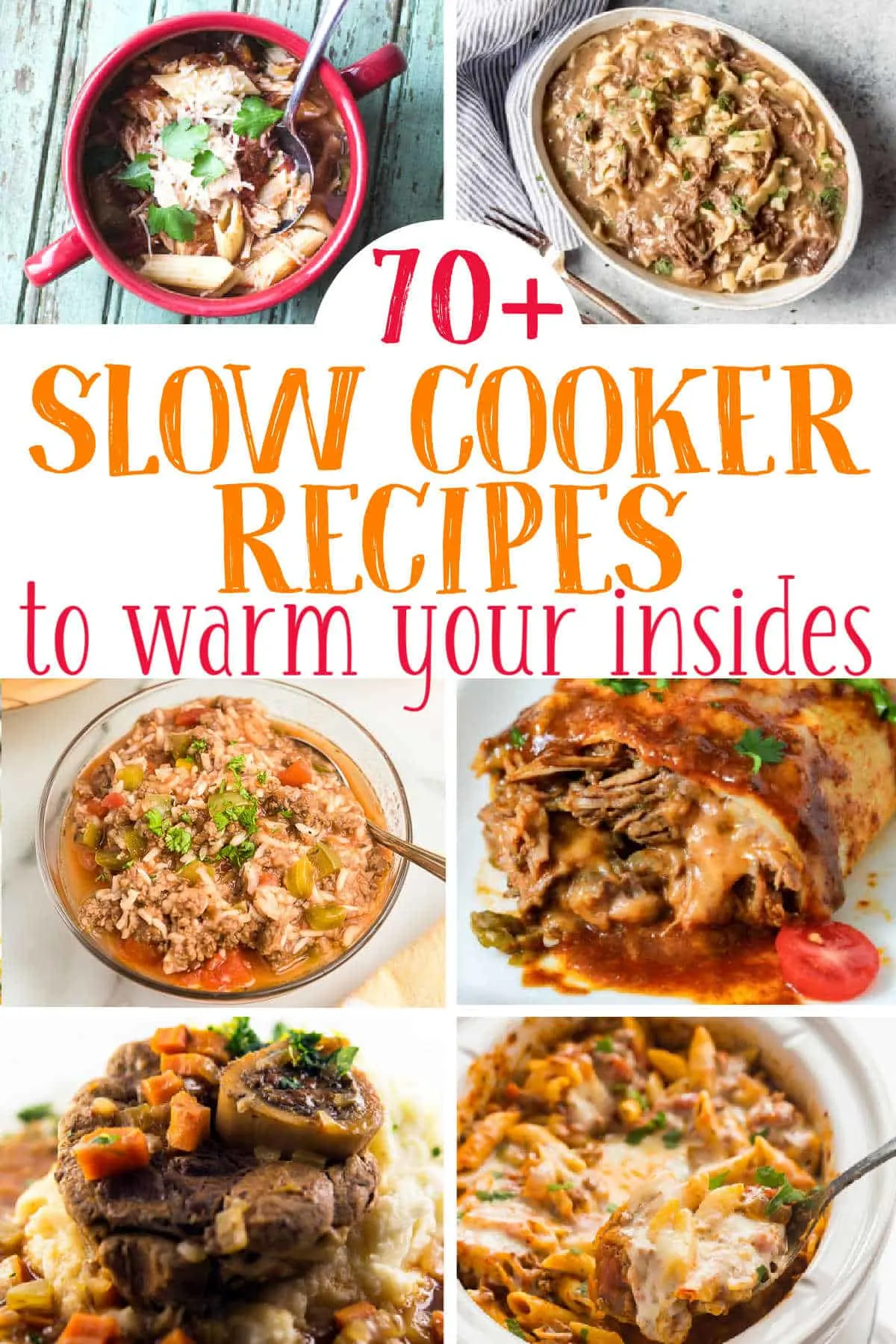 More Easy Recipes
LeftoversThenBreakfast.com. Content and photographs are copyright protected. Sharing of this recipe is both encourages and appreciated. Copying and/or pasting full recipes to any social media is strictly prohibited.