Slow Cooker Recipes are great all year long but especially in the colder months. From breakfast to dessert, these crockpot recipes include vegetarian and gluten free options too!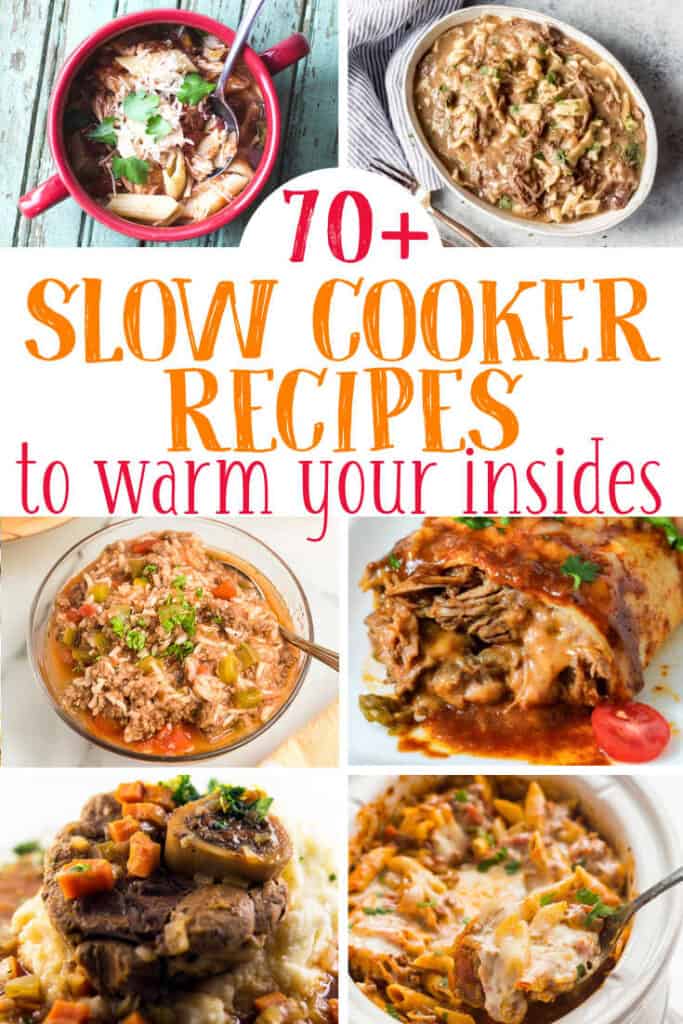 If you'd rather skip my essential cooking tips and tricks and get straight to this delicious recipe – simply scroll to the bottom of the page where you can find the printable recipe card.
Nothing says warmth during the winter as a delicious meal that has been sitting in a slow cooker soaking in the flavors all day does.
Slow cookers are a staple during the cold months because they make suppertime less stressful while still allowing you to prepare a hot spread for yourself and your family.
Plates of pasta, casserole dishes, hearty soups & stews are all comfort foods that you can make in your slow cooker and prepare for a warm & cozy night eating at home.
Are you getting hungry already?
IS IT CHEAPER TO COOK IN A SLOW COOKER?
Since the ingredients are basically the same as a stovetop or oven recipe, the cost of the food will be the same. Where you save money is in time and electricity.
Slow cookers use less power than an oven or stove top burner, reducing electricity costs.
They don't heat up your home, lowering your heating or air conditioning bill.
They save you time in the kitchen, which means more time doing other things. Time = money!
HOW TO CONVERT A REGULAR RECIPE TO A CROCK POT RECIPE
find a similar slow cooker recipe and use that one as a starting off point.
if the original recipe is cooked uncovered, you might want to reduce the amount of liquid in the crockpot as there won't be any evaporation. The crock pot traps the steam. Start by reducing the volume by a cup or two.
check the times and convert accordingly. If the stovetop or oven baking time is 1 hour, you can cook in the crock pot on low for 8 hours or high for 4-6 hours.
try a new recipe on the weekend when you are home. This way you can keep an eye on the cooking process throughout the day to monitor liquid levels and doneness.
This post may contain affiliate links. As an Amazon Associate, I earn from qualifying purchases. Read my disclosure policy here.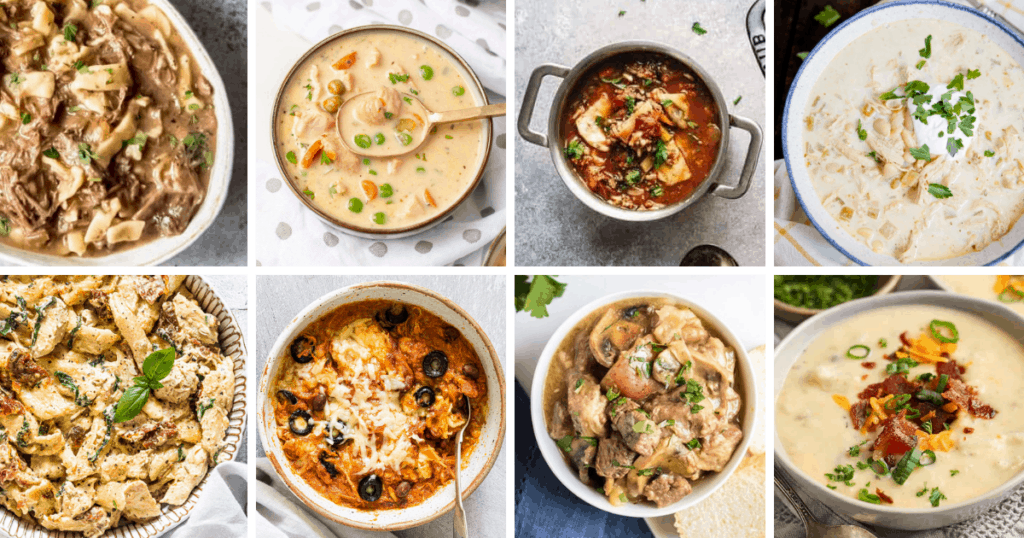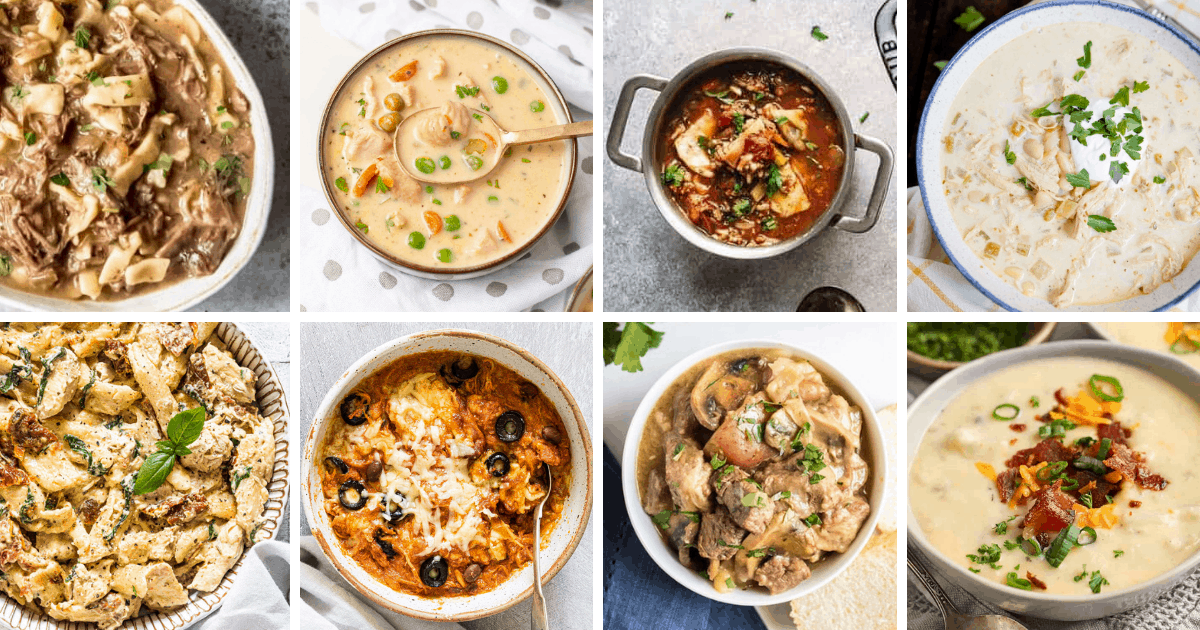 SLOW COOKER RECIPE ESSENTIAL EQUIPMENT
CAN YOU PUT RAW MEAT IN A SLOW COOKER?
Yes, you can! You don't have to brown the meat beforehand but doing so can add more flavor, color, and richness to the finished dish.
Even though you don't have to cook it before, I like to brown my ground beef ahead of time, and drain it, to cut the amount of fat in my recipes.
If you are concerned about the meat, test the internal temperature of any large cuts with a thermometer to see when they are done.
Looking for more comfort food? Follow LTB on Pinterest!
WHAT CAN YOU NOT COOK IN A SLOW COOKER?
There are a few things I wouldn't recommend cooking in your crock pot.
dairy products. They have a tendency to curdle!
seafood. These items are delicate and can be easily overcooked.
alcohol. Because the steam is trapped, the alcohol doesn't "burn off" and leave your food tasting bitter.
some vegetables. Thin or delicate ones can be easily overcooked.
fat. Large amounts, like on a roast, can make the cooking temperature inconsistent and also can leave a gloopy mess on the dish.
grains. Some pasta, rice, and grains can be easily overcooked and turn mushy.
spicy chilies. The heat tends to intensify the longer they are cooked so you dish will turn out too spicy to eat.
TIPS FOR NO LEFTOVERS!
Make sure you get the right recipe for converting. The best ones are soups, roasts, and casseroles. Look for original recipes that require at least an hour of cooking time.
Learn which ingredients require pre-cooking or searing before adding to the slow cooker. Some meat dishes might not REQUIRE a sear but they end up tasting so much better if you do.
Check on if you need to cook the recipe on high or low. Larger cuts of meat do better if on a low setting for longer but soups can usually be done quicker on a high setting.
Add the ingredients at the right time. Some veggies don't need to be cooked a long time or they will get mushy. These can be added toward the end of the cooking time and not at the beginning.
Some use water but I prefer starting with stock or broth. This only enhances the overall flavor of the dish in my opinion.
Serve any of these with a cool Chicken Macaroni Salad as a side!
Slow Cooker Recipes to keep you warm
Are you getting hungry already? Keep reading to find 70+ Slow Cooker Recipes To Warm Your Insides!
If you love this recipe as much as I do, please write a five-star review in the comment section below (or on Pinterest with the "tried it" button – you can now add pictures into reviews, too!), and be sure to help me share on facebook!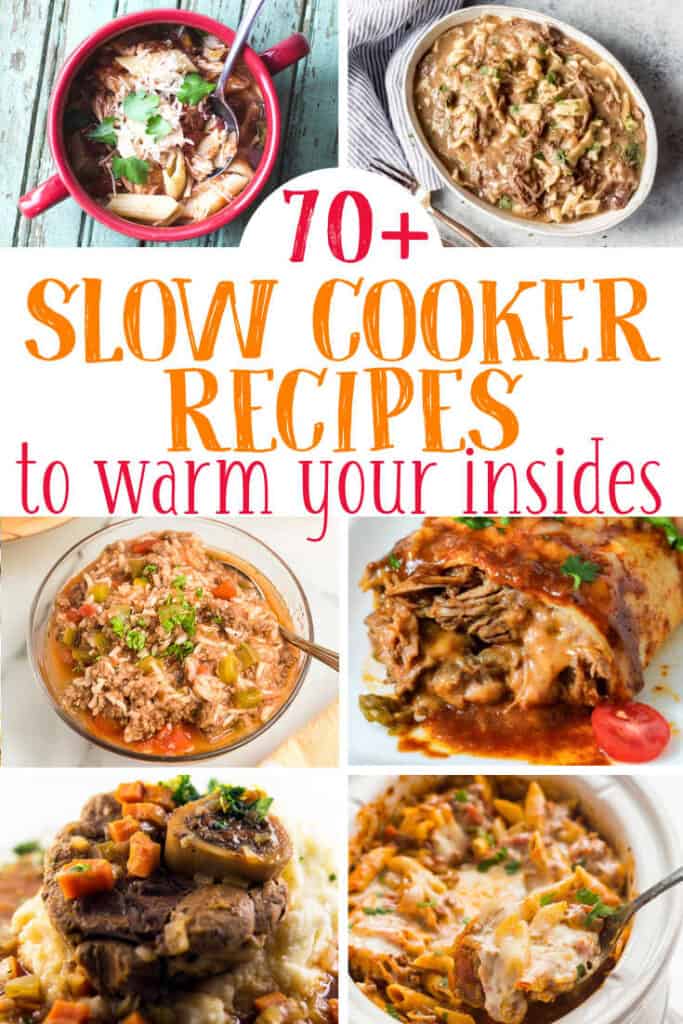 FAVORITE SLOW COOKED RECIPES!
LeftoversThenBreakfast.com. Content and photographs are copyright protected. Sharing of this recipe is both encourages and appreciated. Copying and/or pasting full recipes to any social media is strictly prohibited.