Pumpkin Bread with Streusel Topping is the best way to start enjoying all the WARM FLAVORS of fall. MOIST and TENDER inside, SWEET and CRUNCHY on the top.
Enjoy it with a smear of cream cheese and a mug of cider!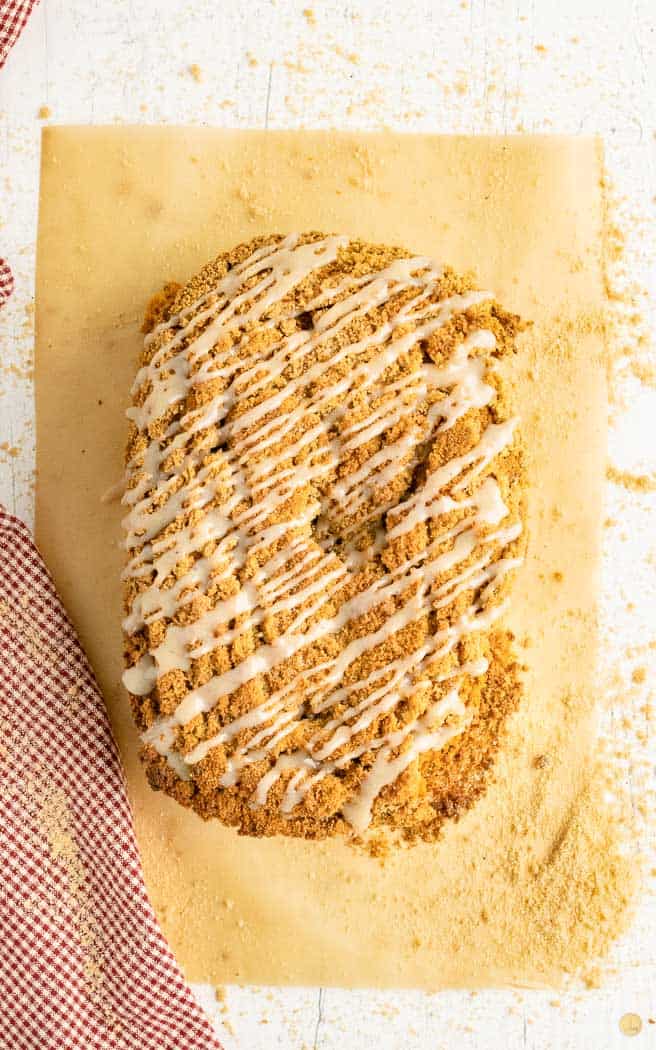 If you'd rather skip my essential cooking tips and tricks and get straight to this delicious recipe – simply scroll to the bottom of the page where you can find the printable recipe card.
Who is ready for PUMPKIN SEASON?!?!
Fall flavors, hot apple cider, and pumpkin bread! I am so excited!!
PUMPKIN BREAD WITH CRUMB TOPPING
Not only is pumpkin bread perfect on it's own but when you top it with a sweet, crunchy streusel topping, it takes it to another level!
WHAT IS A STREUSEL TOPPING?
It's a mixture, made from butter, flour, and sugar, that creates a sweet and crunchy texture when baked on.
Basically, it makes everything it tops, BETTER. So let's make perfect pumpkin bread, even tastier!
This post may contain affiliate links. As an Amazon Associate, I earn from qualifying purchases. Read my disclosure policy here.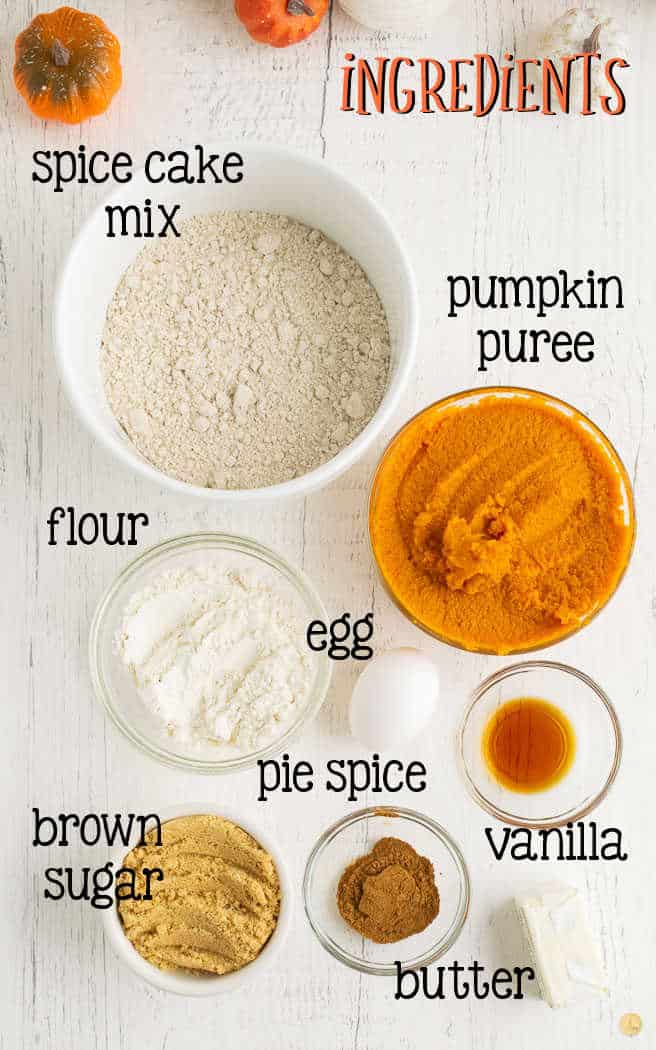 This super moist pumpkin bread starts with a cake mix. Not just any plain cake mix, a spice cake mix.
PUMPKIN BREAD INGREDIENTS
Spice Cake Mix
Pumpkin Pie Spice
Pumpkin Puree
Egg
Almond/Vanilla Extract
The great thing about this recipe is that it uses the whole can of pumpkin puree. No leftover pumpkin to worry about!
STREUSEL TOPPING INGREDIENTS
Mix these ingredients together to form a crumbly mixture and then sprinkle on top of your bread batter.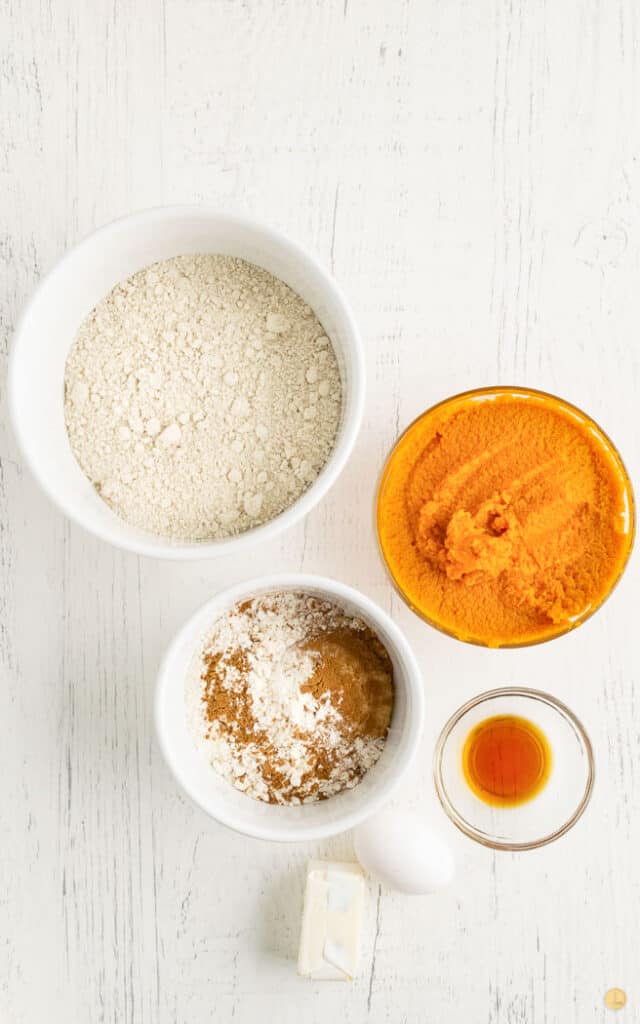 HOW TO MAKE MOIST PUMPKIN BREAD FROM SCRATCH
ONE: Preheat oven to 350 degrees and grease a 9×5 loaf pan.
TWO: In a large bowl, combine the bread ingredients until just mixed. Pour into the greased loaf pan.
THREE: In a different bowl, combine the streusel topping ingredients until you get a crumbly consistency. Evenly sprinkle on top of the bread batter.
FOUR: Place in the oven and bake for 50-60 minutes or until a toothpick inserted in the center comes out clean and the top is golden brown.
FIVE: While the pumpkin bread is cooling, whisk together the ingredients for the glaze in a bowl until smooth. Drizzle with glaze, slice, and enjoy!
For the full recipe and detailed baking instructions, please see the recipe card at the end of this post.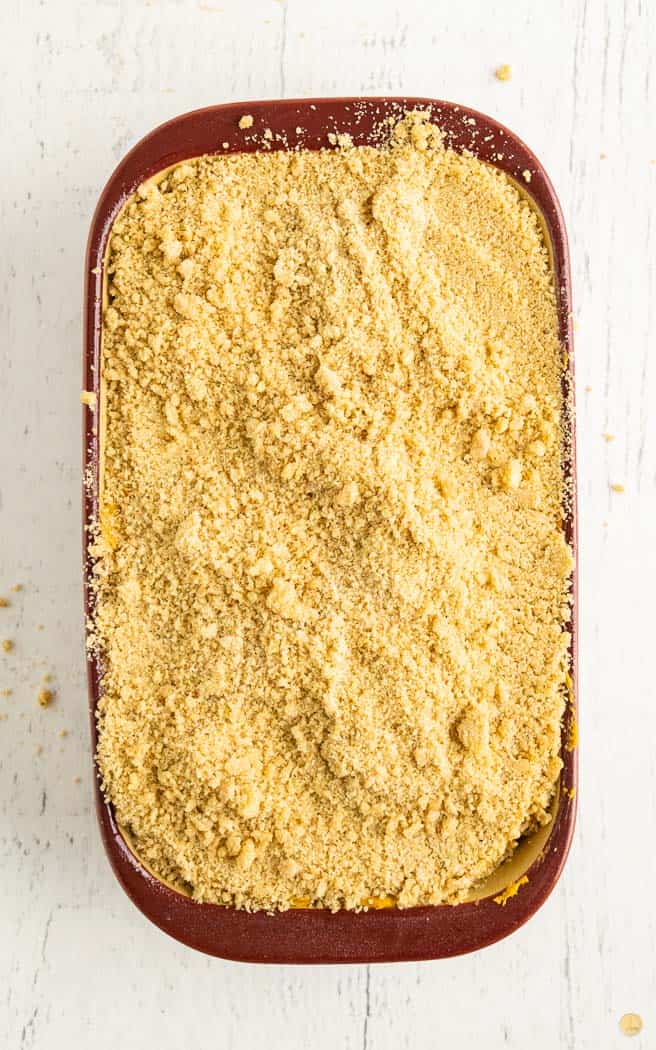 HOW DO YOU ENJOY PUMPKIN BREAD?
Usually with a pat of butter or a drizzle of syrup. You can also enjoy it with cinnamon butter, honey butter, Nutella, or cream cheese.
This quick bread comes with not only a streusel topping but a delicious cream cheese glaze drizzled on top.
CREAM CHEESE GLAZE INGREDIENTS
Cream Cheese
Milk
Vanilla Extract
Powdered Sugar
Pumpkin Pie Spice
Looking for more comfort food? Follow LTB on Pinterest!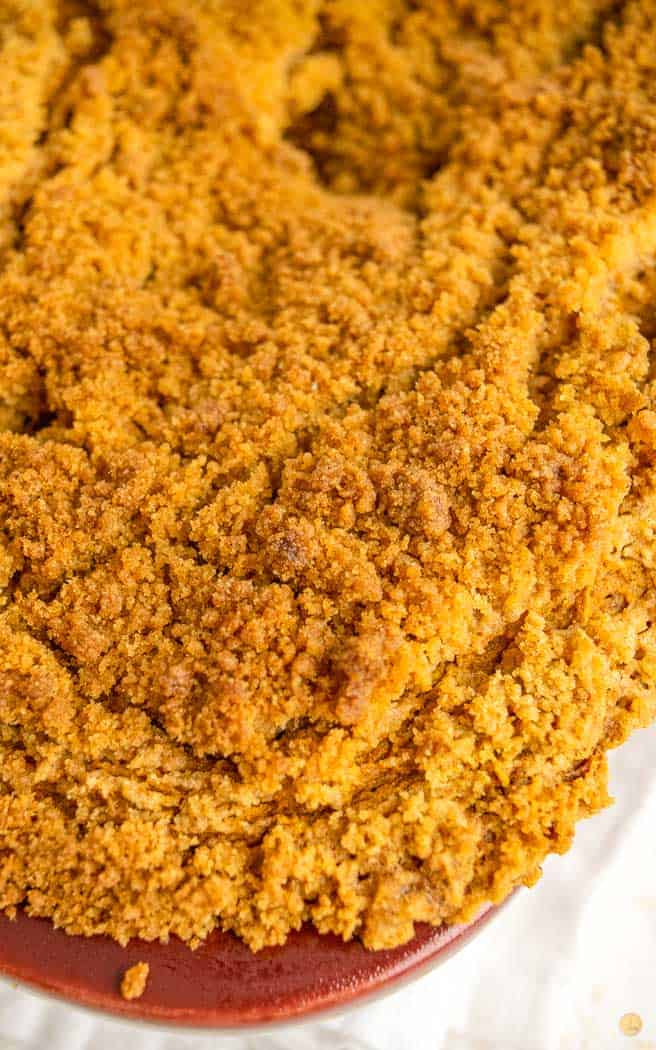 CAN I STORE THIS BREAD?
Yes, an airtight container will keep this bread fresh for up to 5 days. You can also refrigerate it in an airtight container for up to 5 days. (it never lasts that long for my family!)
CAN I FREEZE IT?
Yes, you can freeze this bread once it has been baked, the best idea is to not glaze it before freezing.
Wrap the bread in plastic wrap tightly to keep air from getting to it and then place in an airtight container to freeze for up to three months.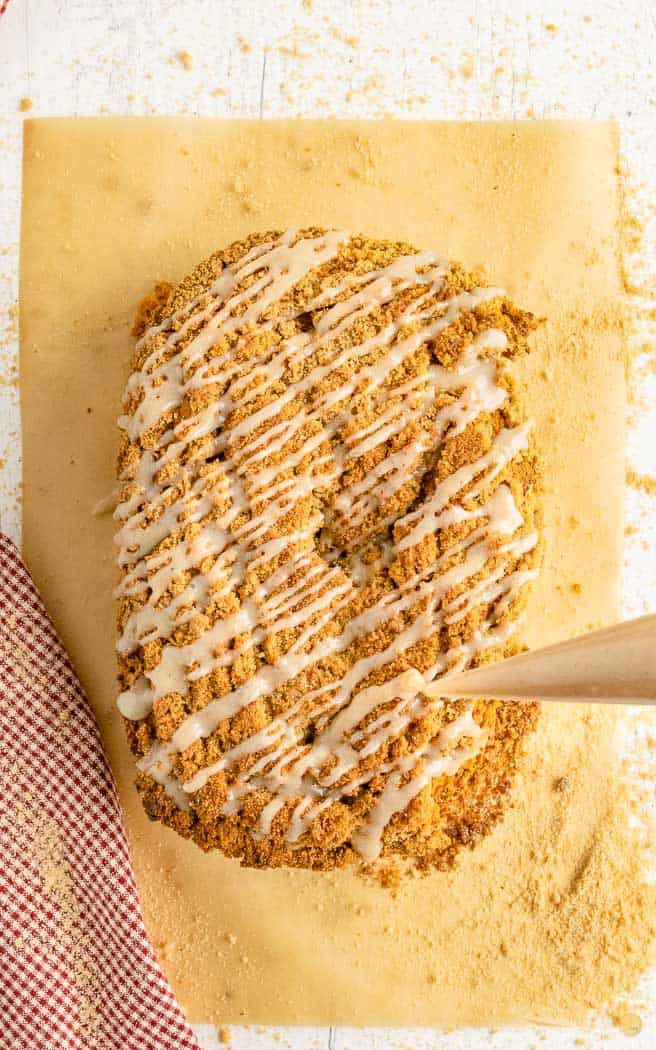 CAN I BAKE THIS IN A DIFFERENT PAN?
Yes, you could bake this in an 8X8 square pan, or up to a 9×13 pan, it will be thinner the larger pan you use.
CAN I MAKE MUFFINS WITH THIS RECIPE?
Yes, you can easily turn this into muffins! The baking time will be much shorter, so keep an eye on the muffins. I would start with a 12 minute baking time and go from there.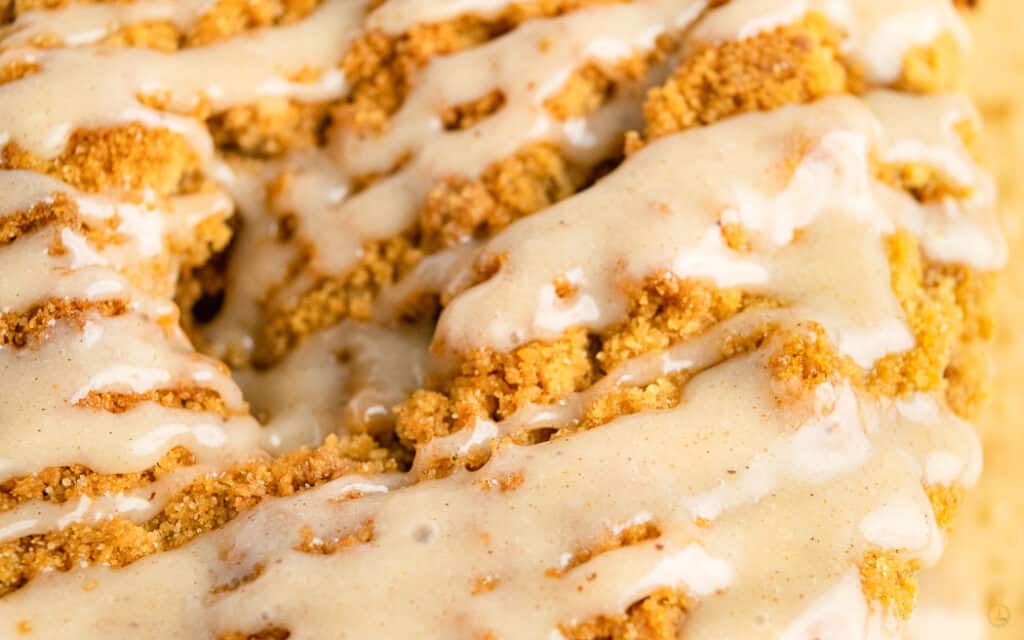 CAN I USE PUMPKIN PIE MIX INSTEAD OF PUMPKIN PUREE?
You could, but it will change the flavor and consistency. Pumpkin pie mix has spices and additional liquid ingredients that would make your batter very thin.
You would have to adjust the amount of "pumpkin" you add.
CAN I USE A SUGAR SUBSTITUTE IN THE TOPPING?
Yes, you can use whichever sugar substitute you usually use for granulated sugar, but you need to make sure it is granulated and is not a powder.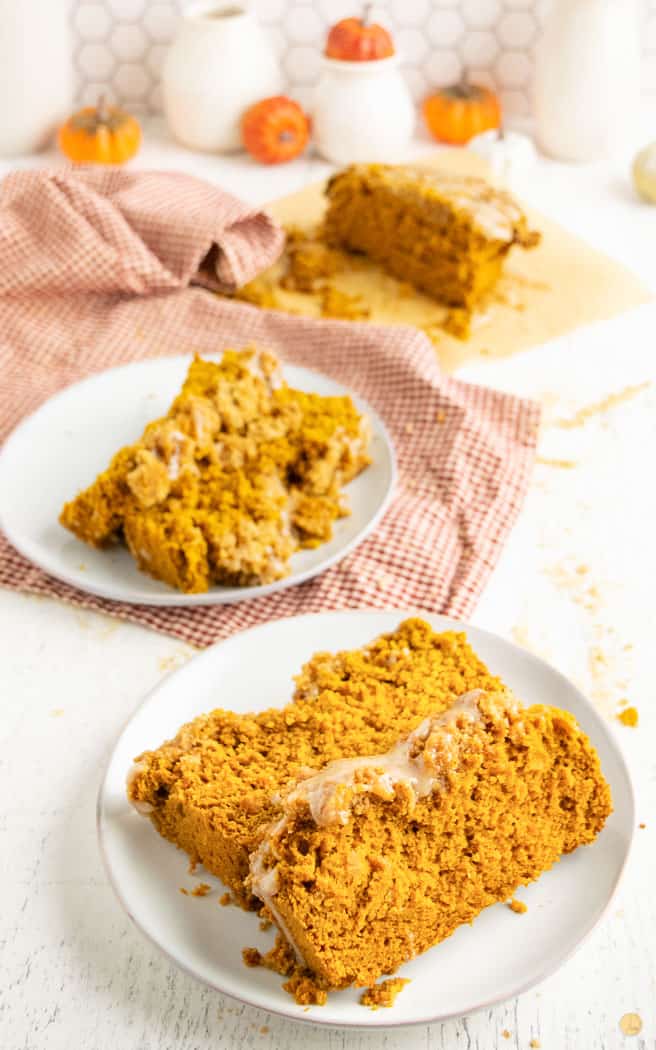 TIPS FOR NO LEFTOVERS
Wrap the pumpkin bread in foil soon after coming out of the oven, it will keep the moisture in.
If you are a temperature nerd, you can check if your pumpkin bread is done when the internal temperature is between 190-200F.
You can use homemade pumpkin puree if desired.
Remember to grease your muffin tin or use cupcake liners.
EQUIPMENT NEEDED
Mixing Bowls
Hand Mixer
Measuring Cups
Loaf Pan
If you love this recipe as much as I do, please write a five-star review in the comment section below (or on Pinterest with the "tried it" button – you can now add pictures into reviews, too!), and be sure to help me share on facebook!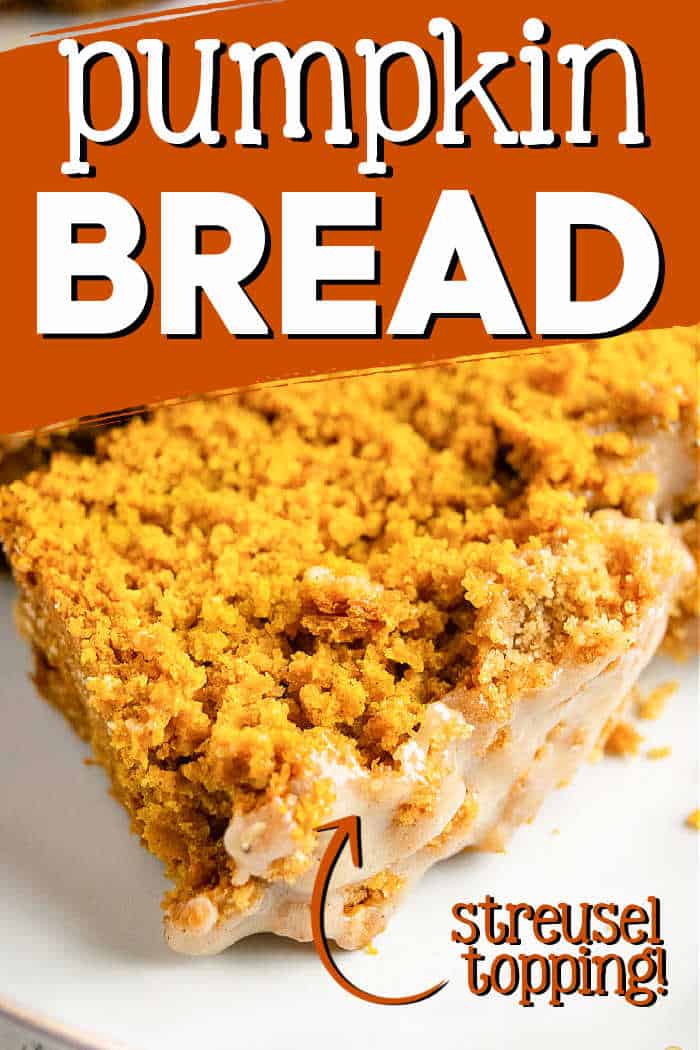 This pumpkin streusel quick bread is amazing for breakfast, snack, or a dessert. Serve with honey butter or maple syrup!
MORE EASY RECIPES
EASY PUMPKIN BREAD RECIPE
@LeftoversThenBreakfast.com. Content and photographs are copyright protected. Sharing of this recipe is both encourages and appreciated. Copying and/or pasting full recipes to any social media is strictly prohibited.