Homemade Cream of Mushroom Soup is a delicious and easy substitute for canned condensed soup and adds home cooked flavor to your favorite casseroles and family recipes.
Cheaper than store bought and freezer friendly this rich and decadent soup is easy to make which is perfect for meal planning and prep.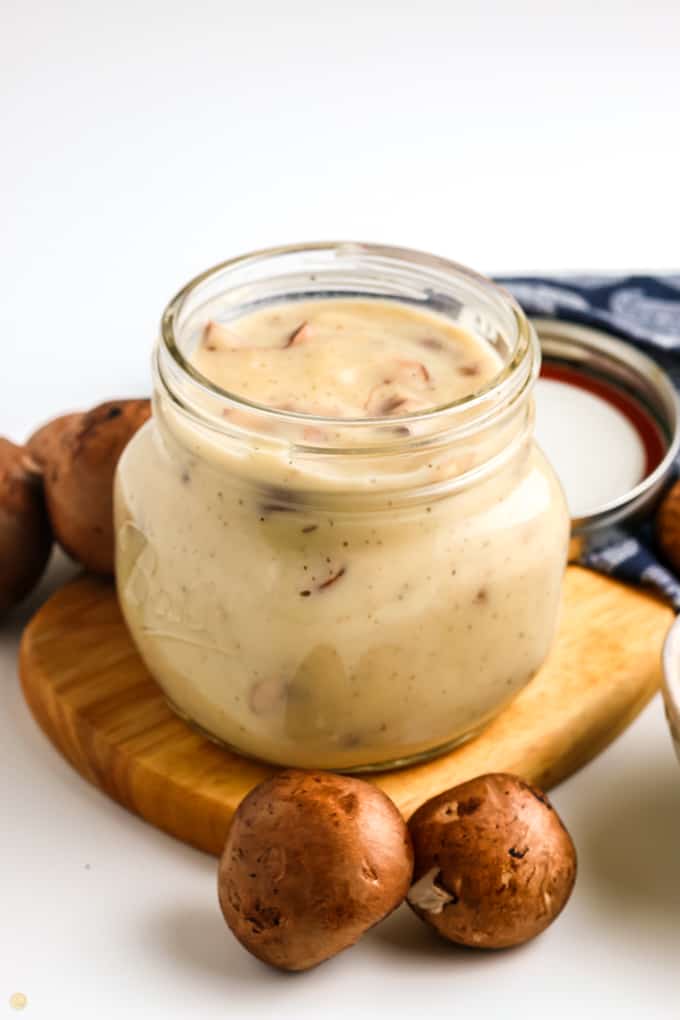 CREAM OF MUSHROOM SOUP
Skip the can and whip up this homemade cream of mushroom soup. Condensed cream of mushroom soup that you can use in all kinds of recipes. Affordable to make, quick, and fully loaded with flavor.
You will find tons of recipes that use condensed mushroom soup as an ingredient if you don't want to make store-bought consider making this simple soup at home.
7 ingredients, and in about 20 minutes, you have a thick and creamy mushroom soup.
WHAT IS A HEALTHY SUBSTITUTE FOR CREAM OF MUSHROOM SOUP?
This cream of mushroom substitute is a homemade mushrooms soup. You can control the ingredients used. Making homemade soup is a lot healthier and lower sodium than canned condensed soups.
Another alternative is a Bechamel Sauce. You can dice up mushrooms and mix them into the sauce.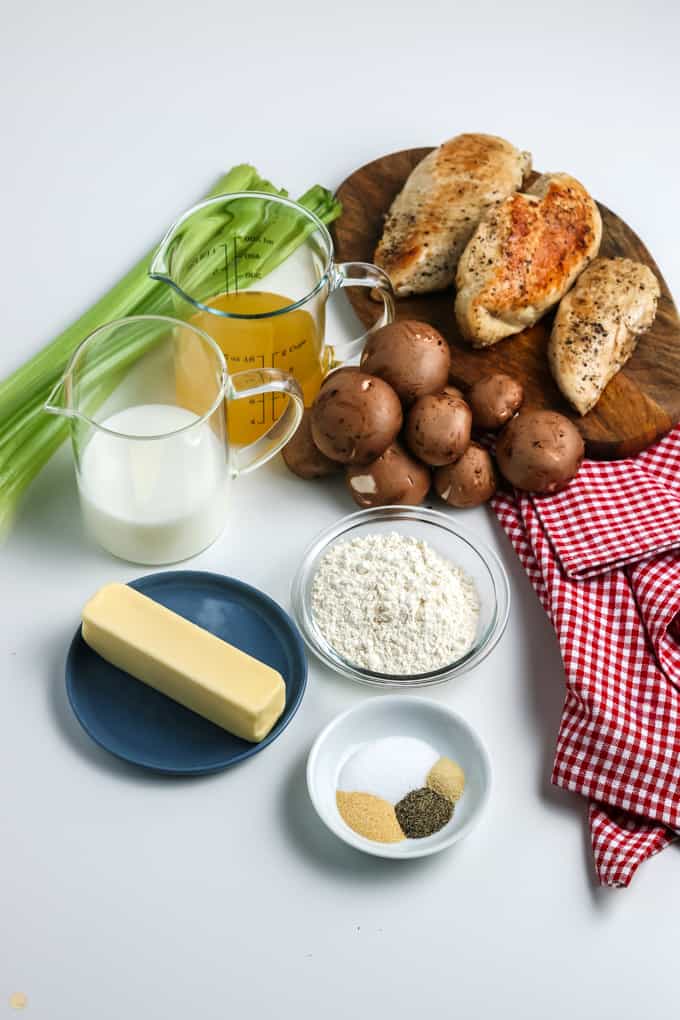 Here are all the cream of mushroom soup ingredients. You might find you have them all in your pantry already.
CREAM OF MUSHROOM SOUP INGREDIENTS
butter
all-purpose flour
chicken stock
milk or half-and-half
salt & pepper
garlic & onion powder
mushrooms (of course!)
Butter – I highly recommend using butter and not margarine for this recipe. You will find you get a creamy and rich flavor when you use butter.
Mushrooms – The key to the mushrooms is chopping them up fine. That way, they are small pieces and don't overpower the soup. Now, if you want to make this mushroom soup to eat as is, you can leave them a bit bigger.
Flour – All-Purpose flour is what I used. The flour will help to thicken the soup nicely. For a gluten free version use 2 tablespoons cornstarch.
Chicken Stock – I love using chicken stock when I can, as it adds incredible flavor to soups. But, if you prefer, use vegetable stock for a vegetarian mushroom soup.
Half and Half – Here, you have the dairy, which will add richness and thicken the base of this mushroom soup recipe. It's up to you whether you use milk or half & half.
Seasoning – Salt, pepper, garlic powder, and onion powder will add a lot to this cream soup. Feel free to add extra or do less to flavor the soup to fit your personal preference.
Looking for more comfort food? Follow LTB on Pinterest!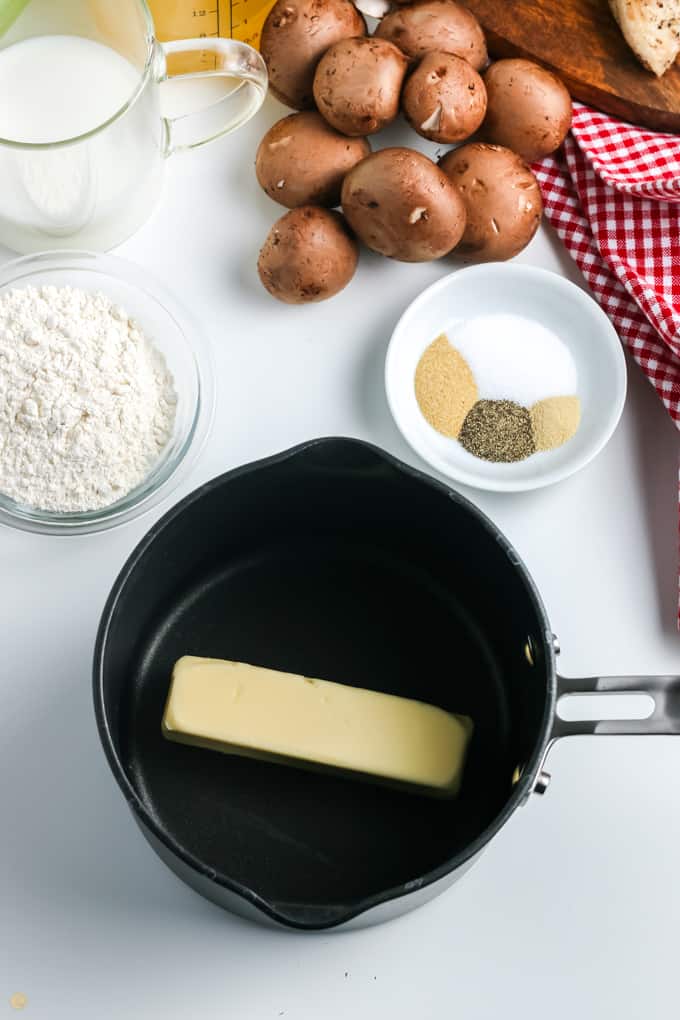 The steps to making cream soup from scratch are straightforward. You can make any homemade condensed cream soups with simple ingredients, just like this recipe.
HOW DO YOU MAKE CREAM OF MUSHROOM SOUP FROM SCRATCH?
Step 1: Over medium-high heat, melt the butter in a saucepan. Next, you will take your finely diced mushrooms and toss them in with the butter. Stir well and allow the mushrooms to soften and even brown up a little bit.
Step 2: Now, you will add in your flour, whisking it with the butter and mushrooms. Allow it to cook for a minute or two; this will remove the flour flavor.
Step 4: Once your flour is mixed well, slowly whisk in the chicken broth and half and half, incorporating it with the roux you created. Add in all the spices and season to taste with the salt and pepper.
Step 5: Reduce heat and simmer the soup and allow it to thicken. Once the soup is nice and thick, remove it from the heat. You will then need to allow the soup to cool fully. Then transfer the soup into an airtight container and refrigerate.
For the full recipe and detailed baking instructions, please see the recipe card at the end of this post.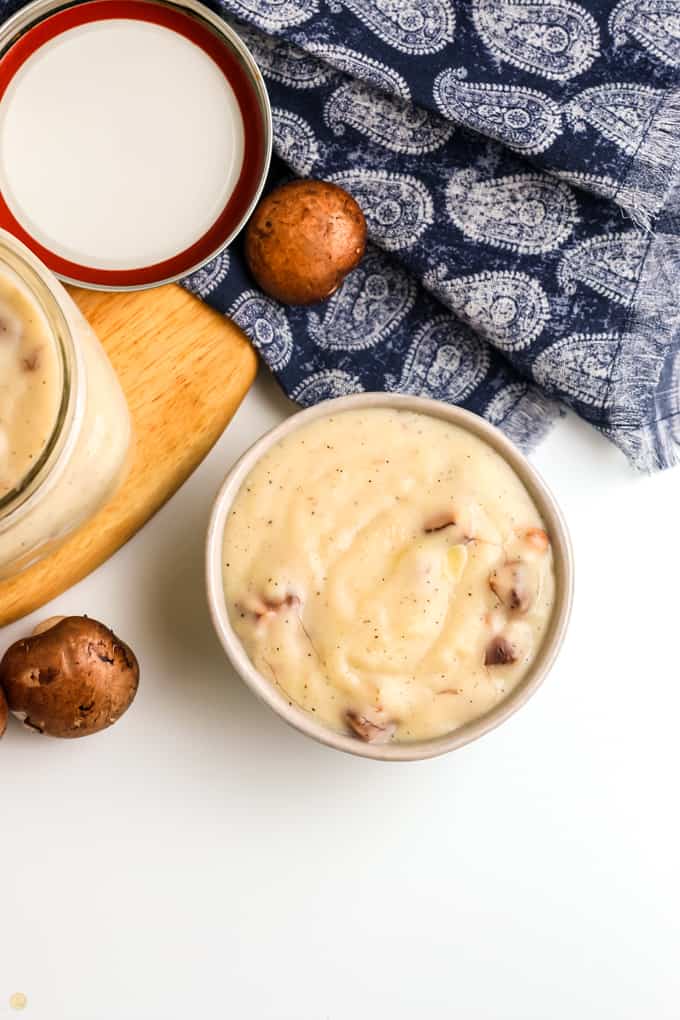 HOW DO YOU THICKEN IT
The flour is what is used for thickening this mushroom soup. It is important to mix the flour with the butter and cook for a minute or two. This will remove the flavor of flour and create a nice base to make the thick roux.
Now, you will also simmer the soup at the end. This is going to thicken the soup even more. Just be patient and allow time for the soup to thicken.
HOW DO YOU USE CONDENSED CREAM OF MUSHROOM SOUP?
You can eat this soup plain as a meal, mix in casseroles, use it as a gravy style topping for meats and such, and so much more.
Condensed cream soups are used in so many recipes you are sure to find tons of ways to use up this soup.
CAN YOU FREEZE IT?
You can freeze cream of mushroom soup if you don't plan to eat it right away. Make sure to allow the soup to cool fully. Then you will transfer to a freezer bag or container. Freeze for 3-4 months. Thaw in the fridge overnight and then use as you would like.
CAN YOU EAT CREAM OF MUSHROOMS SOUP BY ITSELF?
Of course you can! If it's too thick, just thin it with a little broth. If you plan on eating it like this, I like to leave my mushrooms a little chunkier. I like to make mine creamier with a bit of sour cream!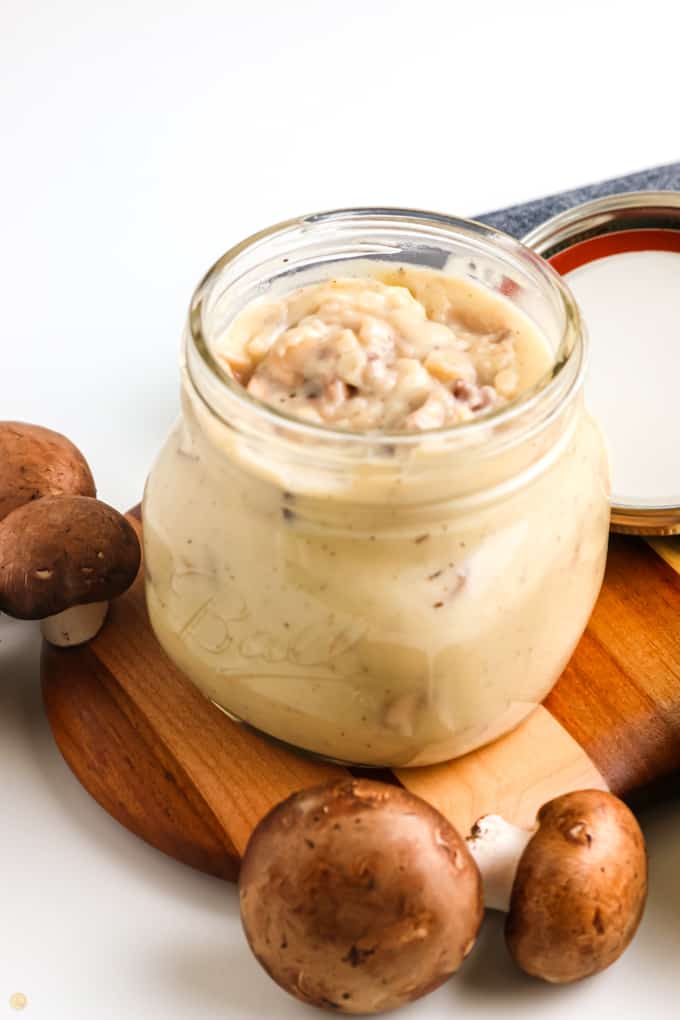 WHAT'S THE DIFFERENCE BETWEEN THIS SOUP AND GOLDEN MUSHROOM SOUP?
This version has dairy in it and a much creamier texture which is perfect for adding to other recipes. Golden mushroom soup doesn't have any dairy (which is great if you are dairy or gluten free) and uses a tomato based broth.
HOW LONG DOES IT LAST IN THE FRIDGE?
This will last for 3-4 days in the refrigerator or you can freeze it. If it gets thick, just thin it out with a little broth or milk.
HOW MANY CUPS IN A CAN OF CREAM OF MUSHROOM SOUP?
If you measure out a store bought can, you will get 1 1/4 cups. This recipe makes slightly more than that so make sure you adjust your recipe accordingly if you are using it as a substitute in any recipe that calls for it. Like green pea casserole!
If you love this recipe as much as I do, please write a five-star review in the comment section below (or on Pinterest with the "tried it" button – you can now add pictures into reviews, too!), and be sure to help me share on facebook!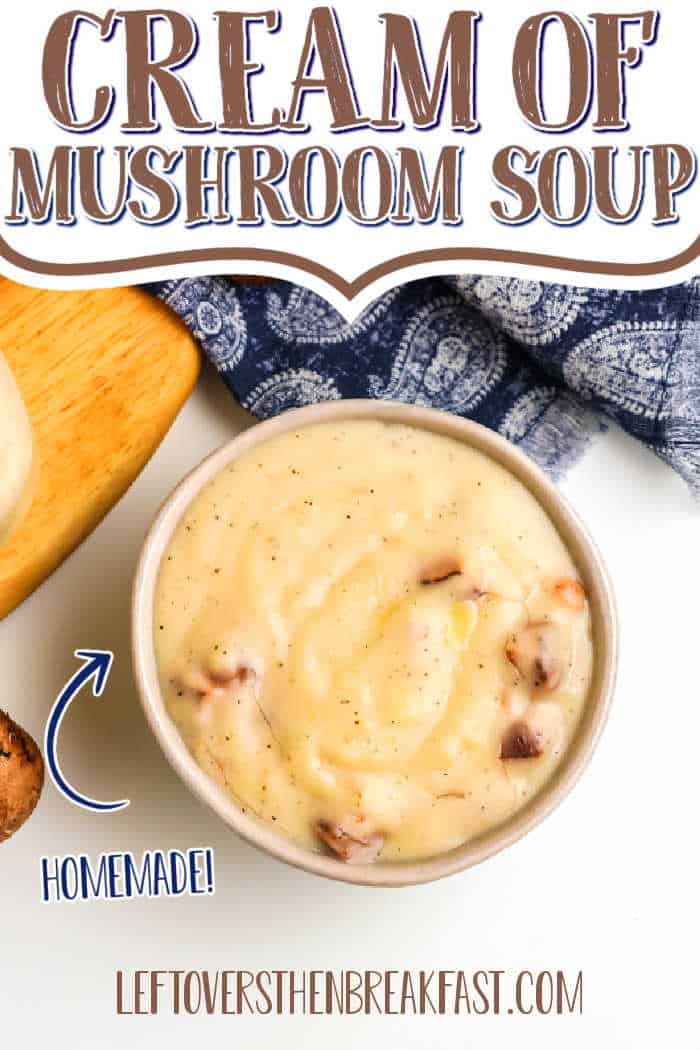 MORE HOMEMADE SOUPS
MUSHROOM SOUP SUBSTITUTE
@LeftoversThenBreakfast.com. Content and photographs are copyright protected. Sharing of this recipe is both encourages and appreciated. Copying and/or pasting full recipes to any social media is strictly prohibited.