Homemade Cream of Chicken Soup is a delicious and easy substitute for canned condensed soup and adds home cooked flavor to your favorite casseroles and family recipes.
Cheaper than store bought and freezer friendly which is perfect for meal planning and prep.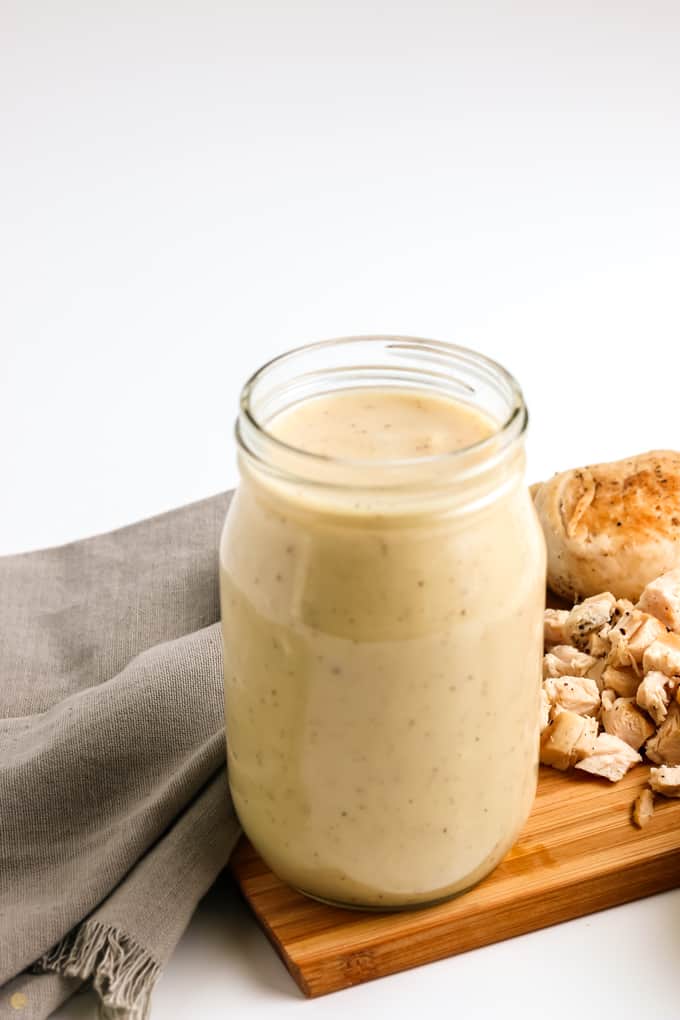 If you'd rather skip my essential cooking tips and tricks and get straight to this delicious recipe – simply scroll to the bottom of the page where you can find the printable recipe card.
CREAM OF CHICKEN SOUP
I love making things from scratch instead of using store bought items like spice mixes and canned soups. It allows me to control the ingredients being used, and we love this recipe for condensed cream of chicken soup.
Canned condensed chicken soup is an essential ingredient for so many delicious casseroles and recipes. Instead of using a can, easily make it from scratch at home with just a few kitchen staples and less than 10 minutes.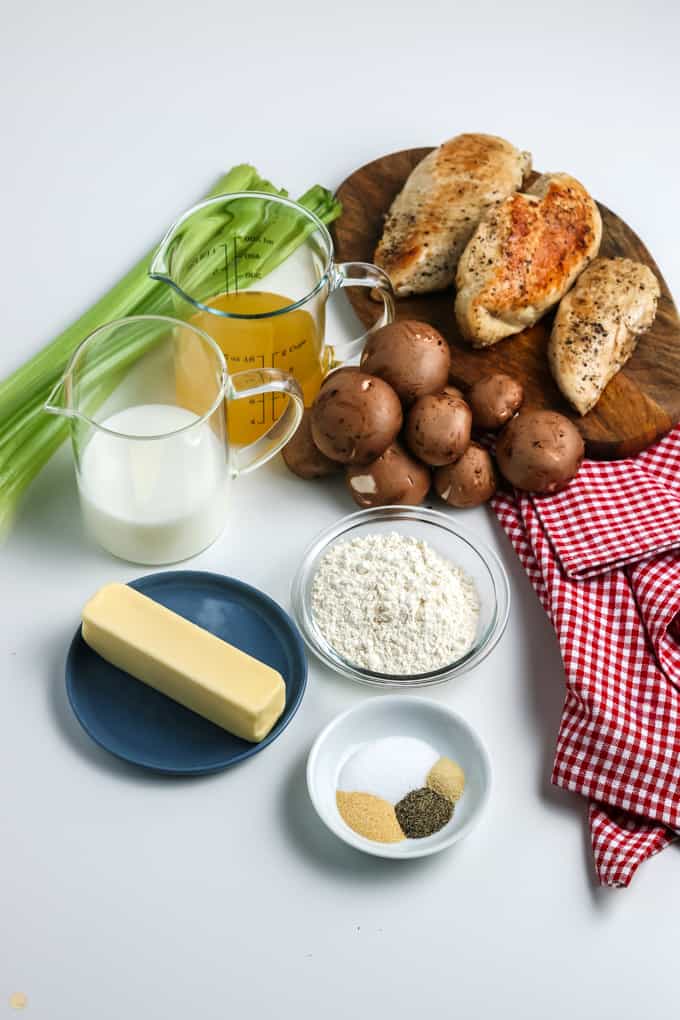 WHAT IS CREAM OF CHICKEN MADE OF?
butter
all-purpose flour
chicken broth
milk or half-and-half
spices (garlic powder, onion powder)
salt and pepper
chicken (cooked)
Chicken: This is a great recipe for using up any leftover chicken. I always have leftover dark meat when we get a rotisserie chicken. This is a great use for it!
Flour: If you need this to be gluten free, substitute 2 tablespoons of cornstarch for the flour. Whisk in as directed.
Spices: If you want to add some herbs or take out some of the salt, this s a great recipe for that. Customize it to your own needs!
Looking for more comfort food? Follow LTB on Pinterest!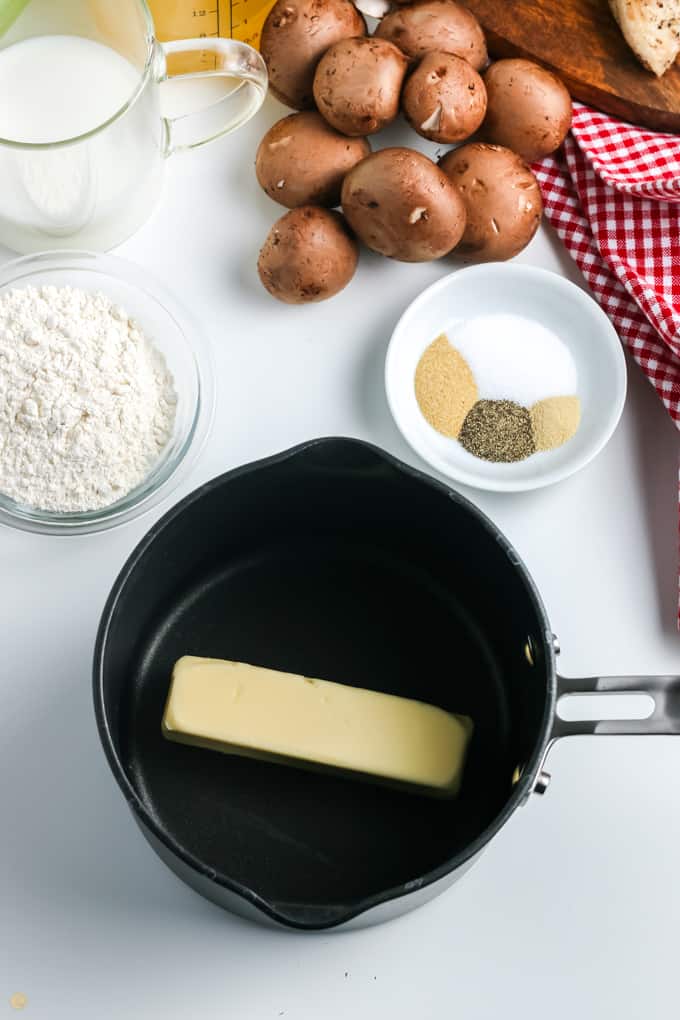 HOW TO MAKE CREAM OF CHICKEN SOUP
ONE: In a medium saucepan melt butter over a medium-high heat. Whisk the flour in and cook 2 minutes.
TWO: Lower heat to medium. Add chicken stock and milk and whisk until smooth. Add in spices and bring to a simmer.
THREE: Add in the chopped chicken and stir to combine. Simmer for 5 minutes. Remove from heat and allow to cool completely.
FOUR: Store in airtight container in refrigerator. Use as you would a can of condensed soup.
For the full recipe and detailed baking instructions, please see the recipe card at the end of this post.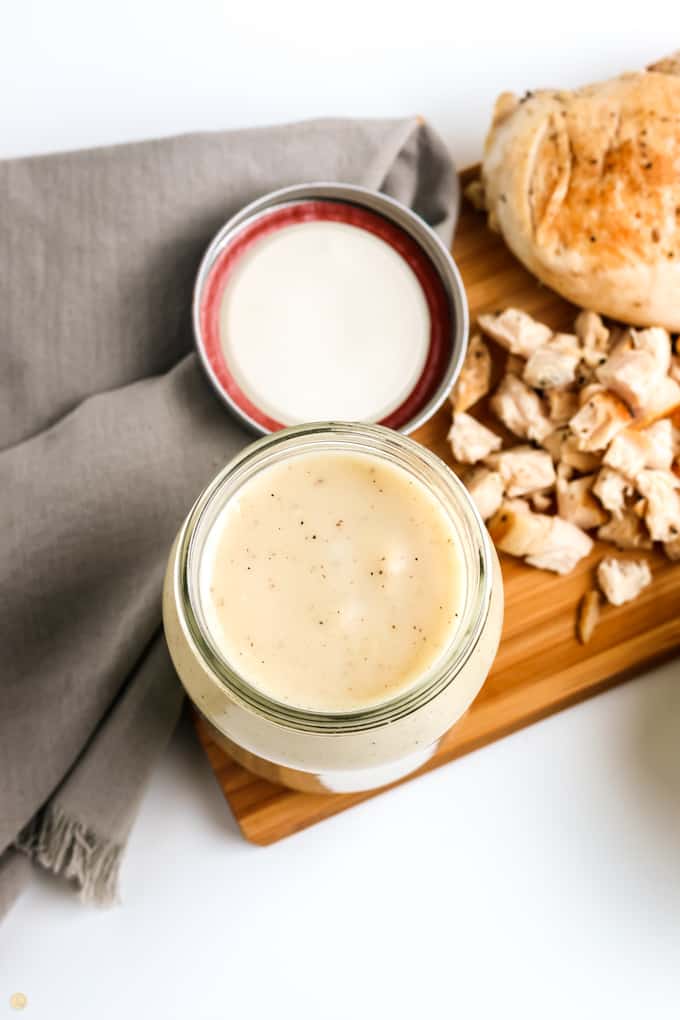 WHAT IS THE CREAM OF CHICKEN SOUP MADE OF?
As you will see, for this cream of chicken soup recipe, I used a flour roux as the thickener, then milk, chicken stock, and diced chicken.
This cream of chicken recipe is so flavorful, and I love it more than canned soup—wholesome ingredients all in one easy recipe.
HOW DO YOU MAKE THE SOUP CREAMY?
The key to a creamy soup is allowing the flour to be stirred in with the butter for a few minutes on the stove. This helps to get rid of the flour taste but allows the flour to thicken the soup.
Another way to thicken soup is to use a cornstarch slurry.
WHAT IS A GOOD SUBSTITUTE FOR CREAM OF CHICKEN SOUP?
Skip the can and whip up this easy recipe for the same amount you will use for your recipe, but without the can!
CAN YOU EAT CREAM OF CHICKEN SOUP BY ITSELF?
Some people find eating cream of chicken soup alone is delicious. You can easily make this a meal. For this recipe the soup is thick as a condensed canned soup.
But adding a little extra water or milk can thin out the soup a bit, to where it is a better texture for eating as a bowl of soup.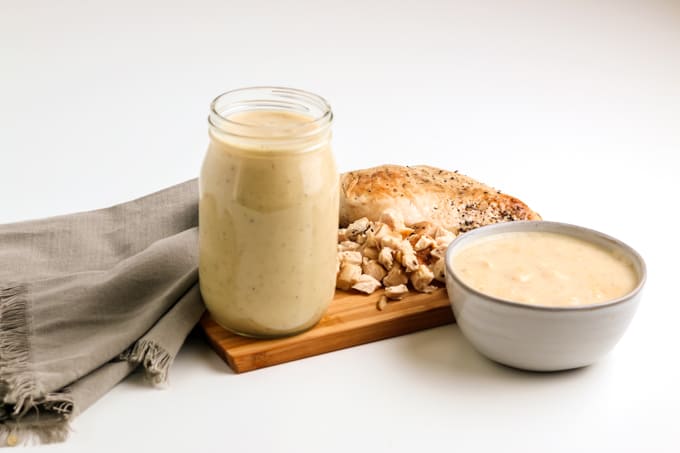 HOW TO USE IT AS SUBSTITUTE FOR CONDENSED SOUP
You can use this soup as a meal or use it as a condensed cream of chicken substitute in a casserole and other recipes.
You will just measure out and use in recipes as you would a classic can of soup, then mix it in and use as the recipe is directed.
HOW TO STORE IT
This homemade soup can store for 3-4 days in the refrigerator until you are ready to use it. The shelf life isn't that long due to using real chicken in the soup.
CAN I FREEZE IT?
You can freeze the soup you don't plan to eat for 2-3 months. Just place in a freezer bag, and then I like to freeze in 1 1/4 cup servings. Then I can pull one straight from the freezer to use in casseroles, soups, and more.
If you love this recipe as much as I do, please write a five-star review in the comment section below (or on Pinterest with the "tried it" button – you can now add pictures into reviews, too!), and be sure to help me share on facebook!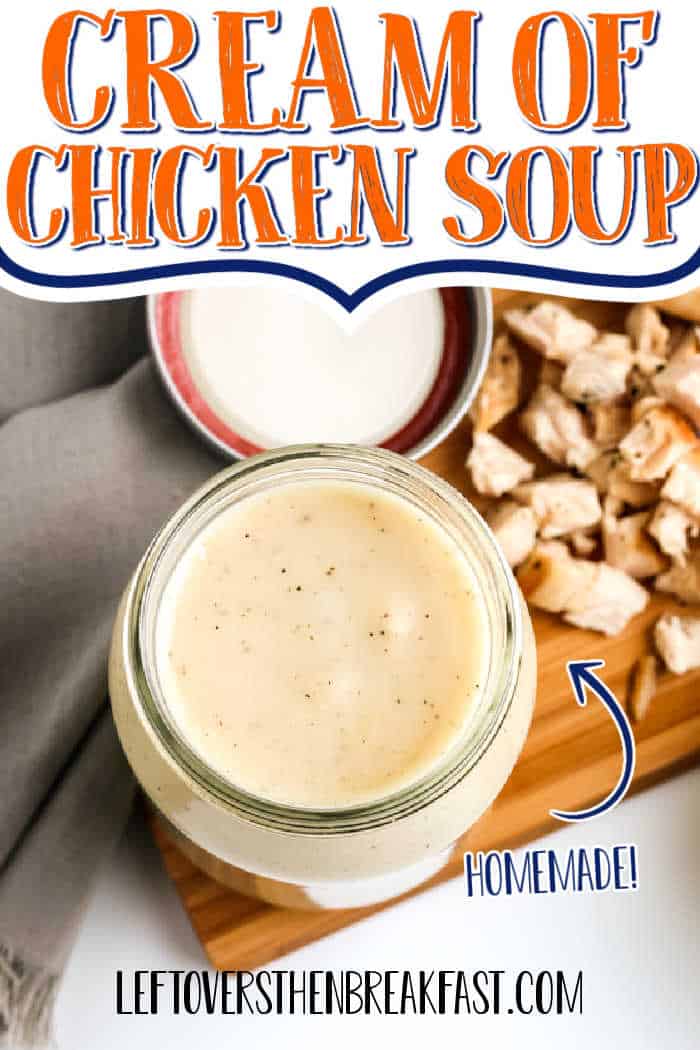 WANT MORE HOMEMADE BASICS?
MORE EASY DINNER IDEAS
@LeftoversThenBreakfast.com. Content and photographs are copyright protected. Sharing of this recipe is both encourages and appreciated. Copying and/or pasting full recipes to any social media is strictly prohibited.