Homemade Bisquick is easy to make at home. In LESS THAN 5 minutes you can have an all purpose baking mix that is a lot CHEAPER than store bought.
Use it to make pancakes, waffles, biscuits, rolls, or top a cobbler or casserole!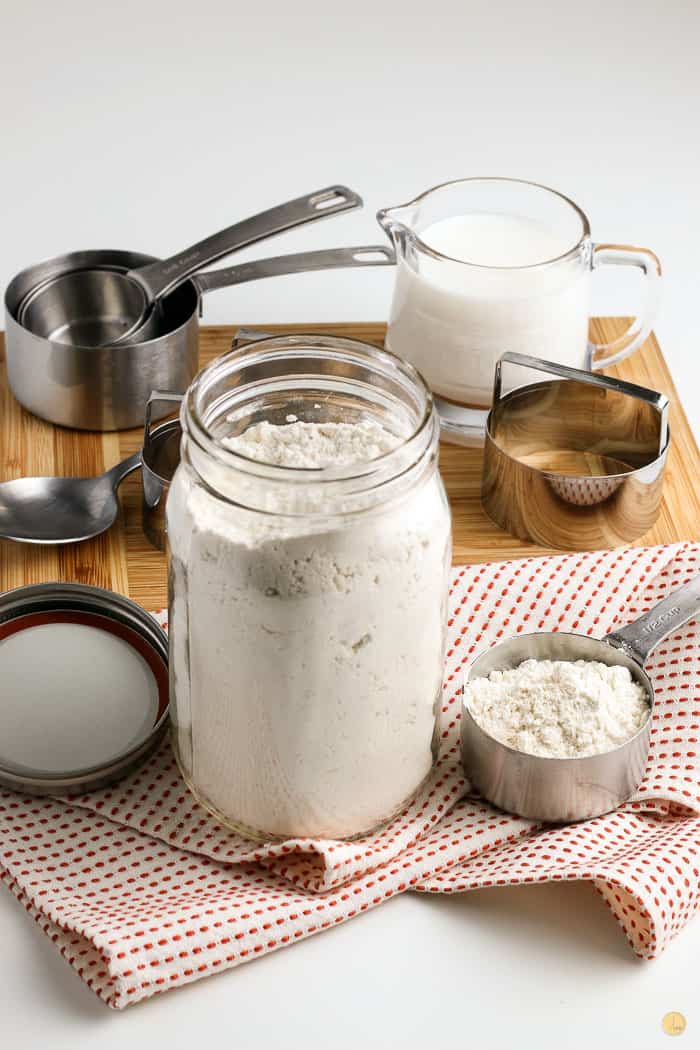 If you'd rather skip my essential cooking tips and tricks and get straight to this delicious recipe – simply scroll to the bottom of the page where you can find the printable recipe card.
If you have ever made pancakes, waffles, or biscuits at home, you probably have used the boxed baking mix called Bisquick.
I used plenty of those boxes growing up, but now I prefer to make my own. Homemade is best in my opinion, plus it's cheaper!!
And at the rate my son is eating pancakes and waffles all day long, I love a cheaper and healthier option than the store bought stuff.
WHAT IS BISQUICK?
What is bisquick made of? Essentially it's all the basic ingredients for making any baked good.
It's an all purpose baking mix that includes the flour (the gluten), the fat, the baking power (rising agent), and the salt.
WHAT IS THE DIFFERENCE BETWEEN FLOUR AND BISQUICK?
Bisquick contains flour but also, a few other ingredients.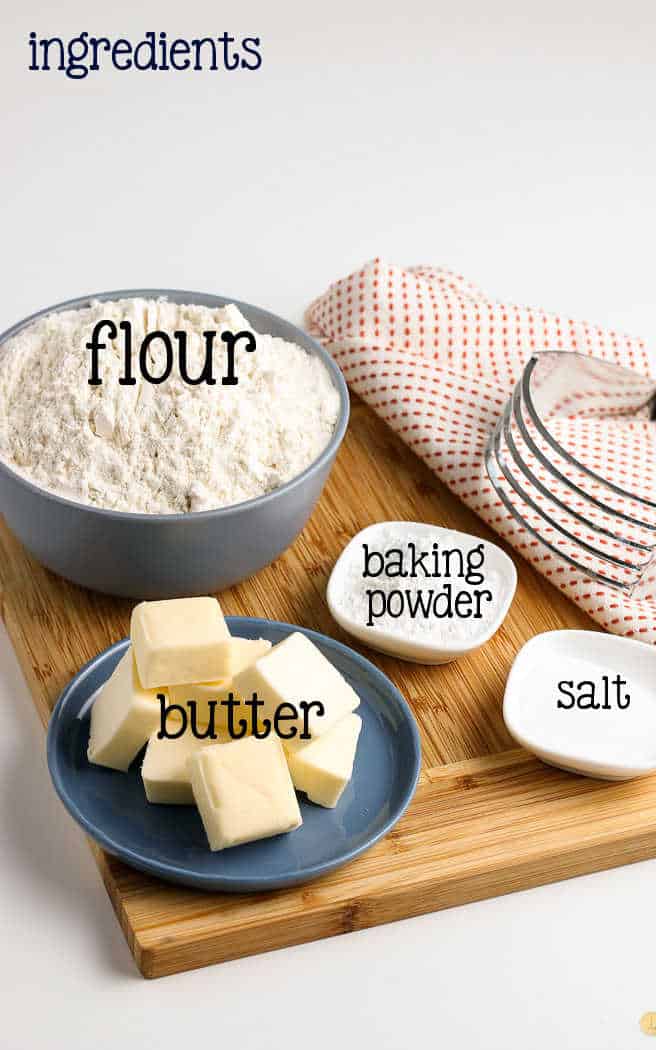 WHAT CAN I USE IN PLACE OF BISQUICK?
This homemade mix is a great bisquick substitution that you can make in a just a few minutes and use it in any recipe that calls for a baking mix.
Perfect to make a large batch and keep it on hand for any cravings you might have.
HOME MADE BISQUICK INGREDIENTS
flour
baking powder
salt
shortening
RECIPE SUBSTITUTIONS
You can substitute whole wheat flour instead of all purpose flour. If you want it gluten free use rice flour.
Don't have baking powder? Make your own by mixing 1/4 teaspoon baking soda + 1/2 teaspoon cream of tartar.
Looking for more comfort food? Follow LTB on Pinterest!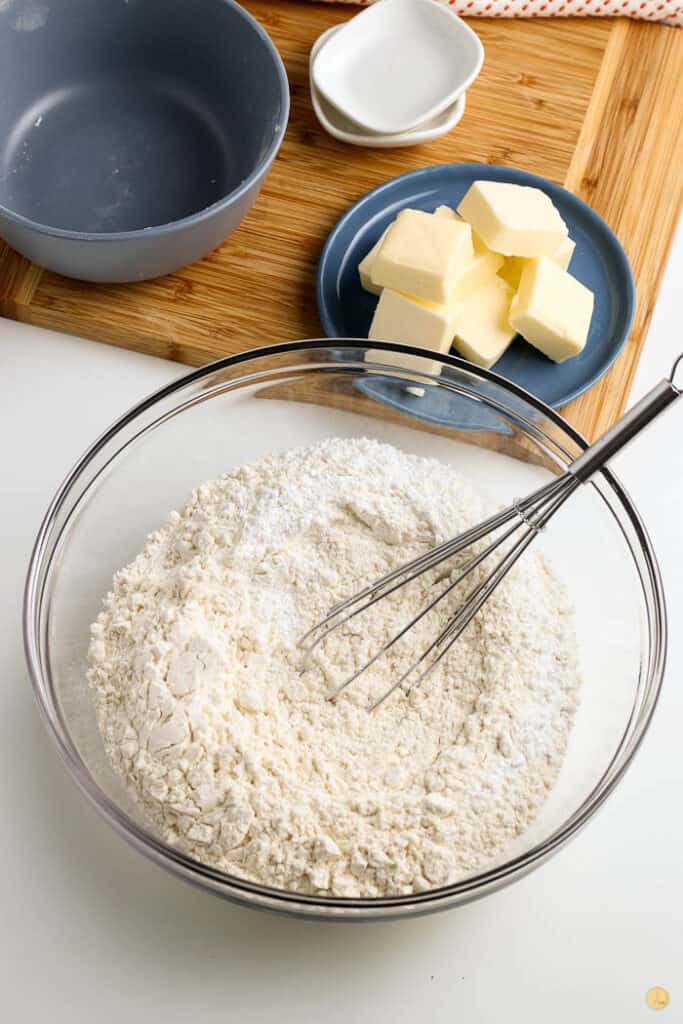 How do you make bisquick from scratch? Just follow these steps and make your own at home!
HOW TO MAKE HOMEMADE BISQUICK
ONE: In a large bowl combine the flour, baking powder, and salt.
TWO: Add the cold butter or fat. Toss to coat with the flour mixture. You can use a pastry cutter, pastry blender, or a food processor.
THREE: Using a pastry cutter cut the fat into the flour until the mixture resembles the texture of cornmeal. Store in an air tight container in the refrigerator until ready to use.
For the full recipe and detailed baking instructions, please see the recipe card at the end of this post.
CAN I MAKE HOMEMADE BISQUICK WITHOUT A FOOD PROCESSOR?
You can but to get the ingredients mixed really well I would recommend using a food processor.
This ensures that the fat is evenly distributed throughout the mix.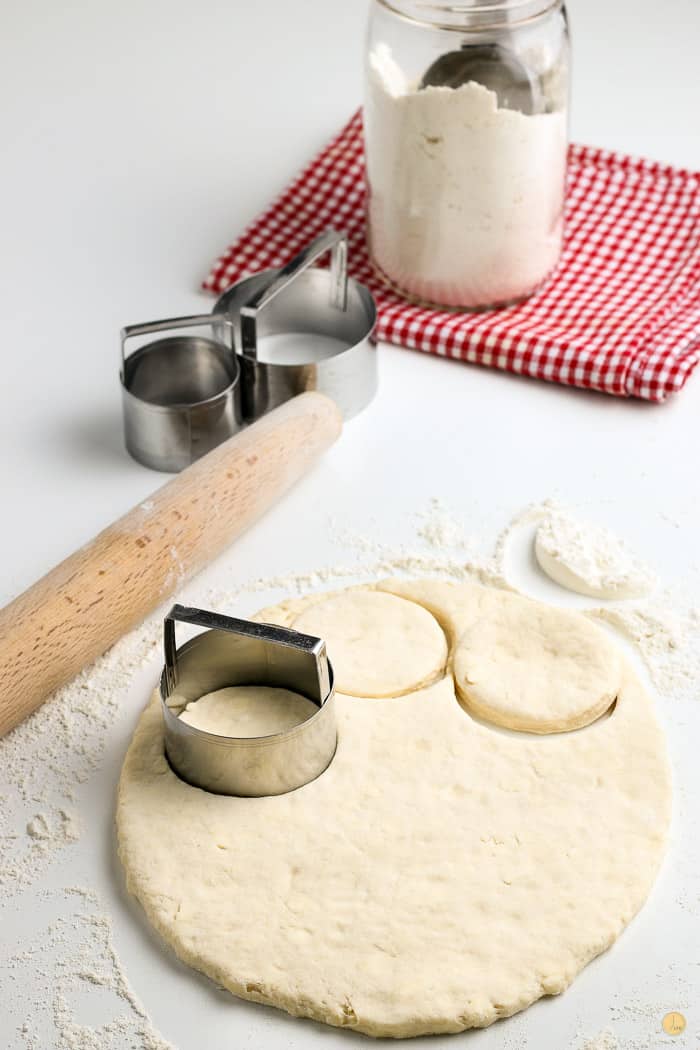 HOW TO STORE HOMEMADE BISQUICK
Because of the fat in the mix, I would not consider it shelf stable. It doesn't contain all the extra chemicals that the pre-made stuff has. Also, if you use butter as your fat, it will turn rancid.
Store this mix in the fridge in an air tight container for up to 3 months. If it lasts that long:)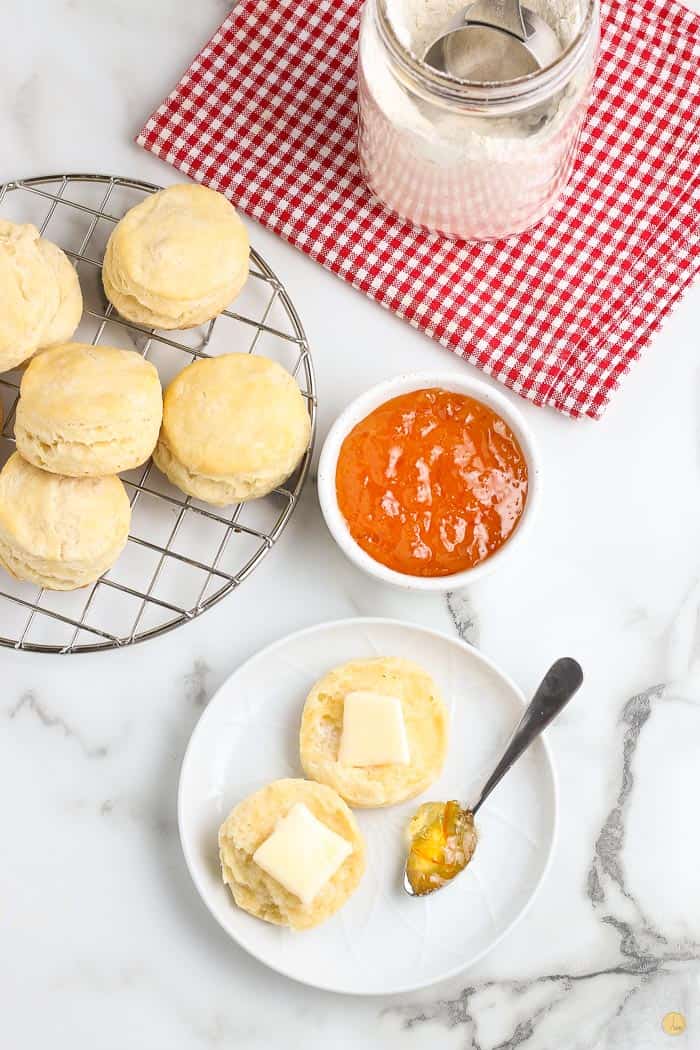 CAN I SUBSTITUTE PANCAKE MIX FOR BISQUICK?
Most pancake mixes have everything that is in this homemade mix, but it might have some extra ingredients. Be sure to read them and see if you can substitute it.
CAN I USE SELF RISING FLOUR IN THE MIX?
Self rising flour has everything that bisquick has but without the fat. If you happen to have self rising flour on hand, add 6 cups to 1 cup of fat.
CAN I SUBSTITUTE BISQUICK FOR FLOUR?
Because the homemade baking mix has baking powder and fat in it too, you can not substitute this mix for flour in another recipe. It will throw off the chemistry.
WANT THE BUTTERMILK FLAVOR?
If you want that buttermilk flavor, add some powdered buttermilk to the mix. I would add this right before you use it so the main container remains all purpose:)
For every cup of bisquick, add in a 1/4 cup of buttermilk powder and then carry on with the recipe as usual.
DO I NEED TO ADD SUGAR?
It is not necessary and might mess with the chemistry while baking so if you add any, I would make it a small amount and test the recipe before some use to round out the flavor but not necessary
DO I HAVE TO USE BUTTER?
You really just need to use a fat. Feel free to use butter, shortening like Crisco, or lard like Manteca. Feel free to use coconut oil as well. Just make sure your fat is cold when you make the mix.
IS IT CHEAPER THAN STORE BOUGHT BISQUICK MIX?
With using your own pantry staples, make the mix from scratch comes out to less than half the price of store bought bisquick. Roughly $1-2 homemade versus $3-4 store bought Bisquick.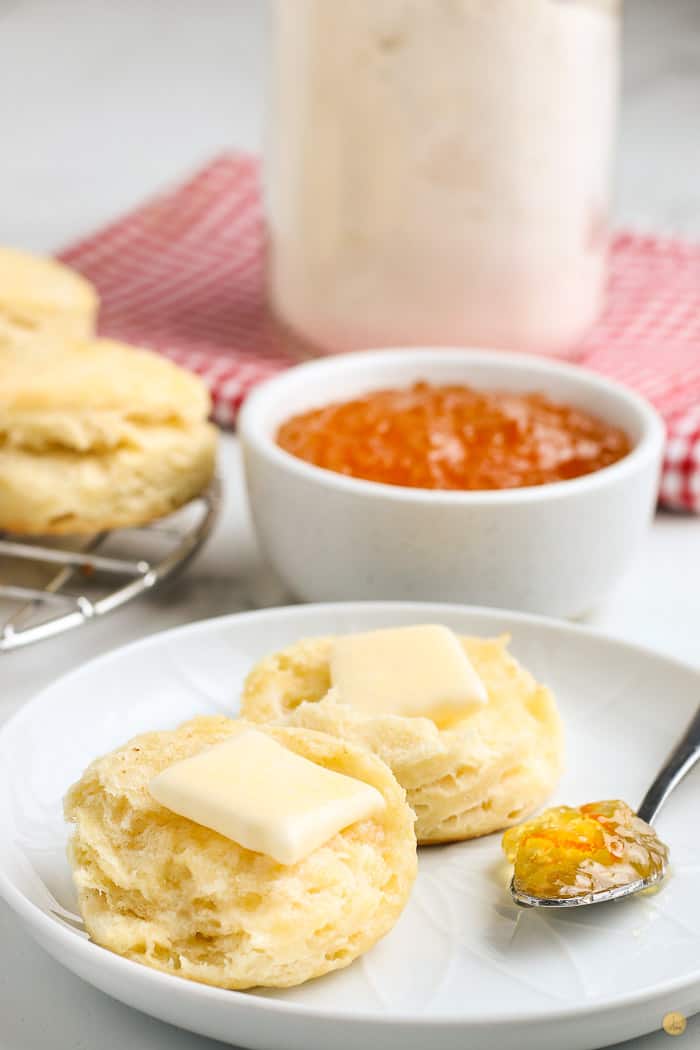 WHAT CAN I MAKE WITH HOMEMADE BISCUIT MIX?
biscuits
casserole topping
waffles
cinnamon rolls
scones
cookies
Think of this as a bisquick replacement that you can use in a jiffy to make all sorts of delicious recipes.
HOW TO USE DIY BISQUICK
to make muffins: 2 cups baking mix, 2/3 cup milk, 2 tbsp oil, 1 egg, 1/3 cup sugar, chips or nuts to mix in.
to make drop biscuits: 2/3 cup milk, 2 1/4 cups baking mix.
to make waffles: 1 1/3 cup milk, 1 egg, 2 tbsp oil, 2 cups baking mix.
to make pancakes: 1 cup milk, 2 eggs, 2 cups baking mix.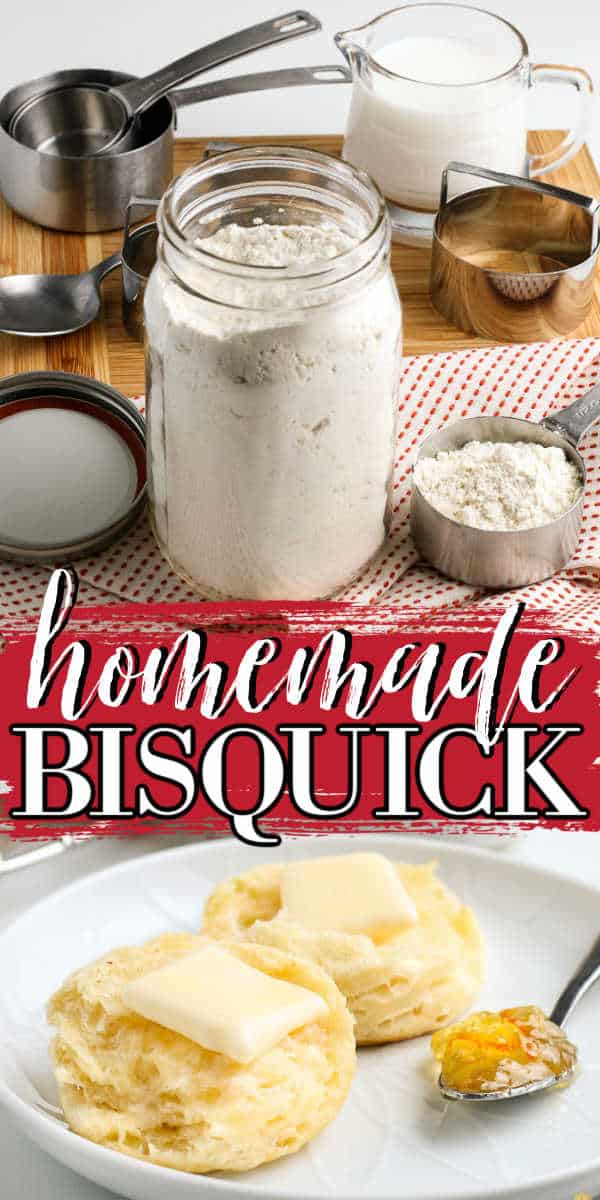 MORE HOMEMADE KITCHEN BASICS
HOMEMADE BISQUICK RECIPE
@LeftoversThenBreakfast.com. Content and photographs are copyright protected. Sharing of this recipe is both encourages and appreciated. Copying and/or pasting full recipes to any social media is strictly prohibited.