Try this homemade Buttermilk Ranch Dressing once and you will never use store-bought ranch dressing again, it just doesn't compare.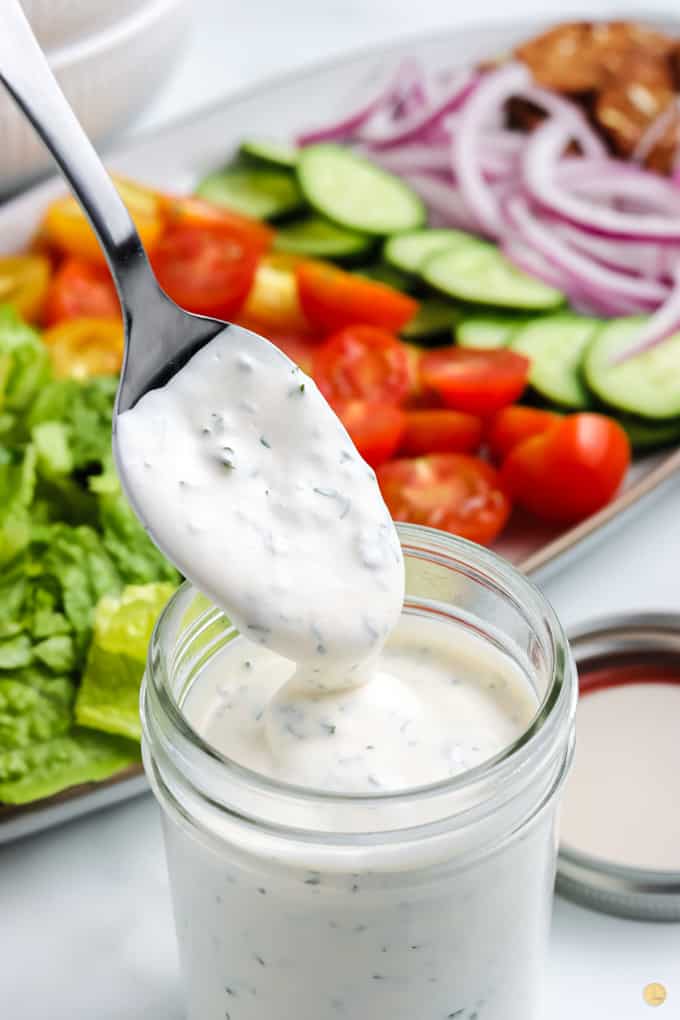 If you'd rather skip my essential cooking tips and tricks and get straight to this delicious recipe – simply scroll to the bottom of the page where you can find the printable recipe card.
Homemade buttermilk ranch dressing is as easy as it gets, and it is far more tasty than store-bought bottled dressing.
I almost don't even want to call them by the same name, because homemade ranch dressing is so much better and has more flavor than anything you can buy.
The smooth and creamy flavor of this buttermilk ranch recipe is perfect for every use you can think of, on salad and chicken, dipping french fries, drizzling over vegetables and pizza, the sky is the limit for how to use this dressing.
This post may contain affiliate links. As an Amazon Associate, I earn from qualifying purchases. Read my disclosure policy here.
RANCH INGREDIENTS
mayonnaise
sour cream
buttermilk
spices
lemon juice
Mayo – I prefer to use Duke's mayo but use your favorite brand. Just don't use Miracle Whip as it is already seasoned.
Sour Cream – Feel free to substitute reduced or fat-free versions. Or you can use plain yogurt.
Buttermilk – This gives the dressing that extra tang. You can always use your favorite milk instead.
Spices – Traditional spices include dill, chives, parsley, and garlic. Fresh herbs are best but dried will work in a pinch. You can also use garlic powder.
Looking for more comfort food? Follow LTB on Pinterest!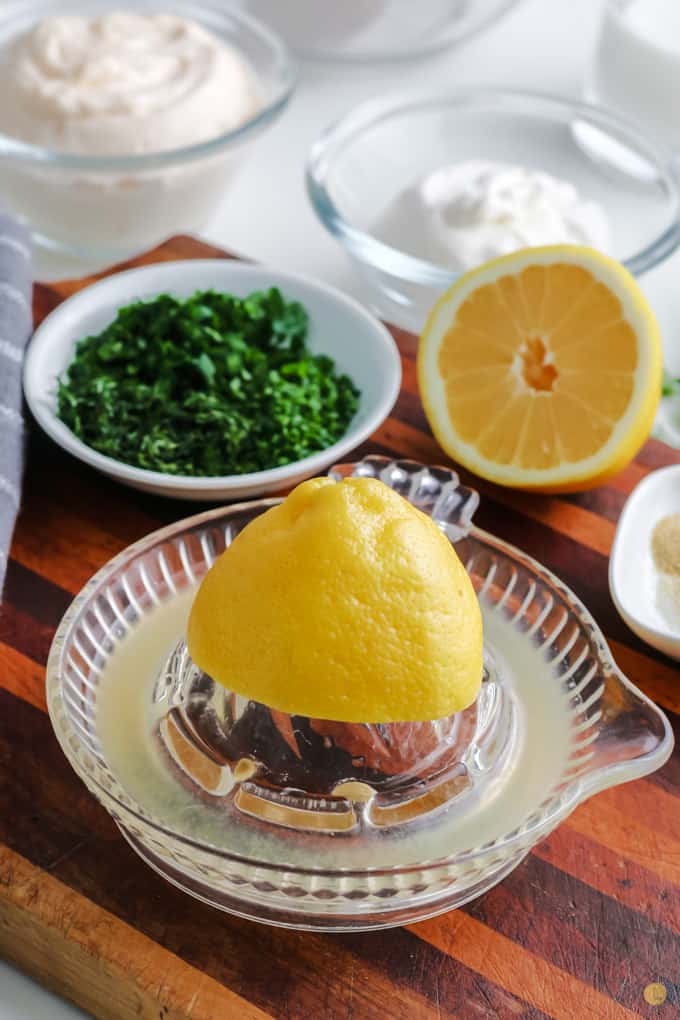 HOW TO MAKE BUTTERMILK RANCH FROM SCRATCH
ONE: Finely chop the herbs. Juice the lemon.
TWO: In a medium bowl, combine the mayo and sour cream. Add the herbs and lemon juice. Whisk to combine.
THREE: Slowly add the milk and whisk until the desired consistency is reached. Transfer to a jar or storage container and store until ready to use.
For the full recipe and detailed baking instructions, please see the recipe card at the end of this post.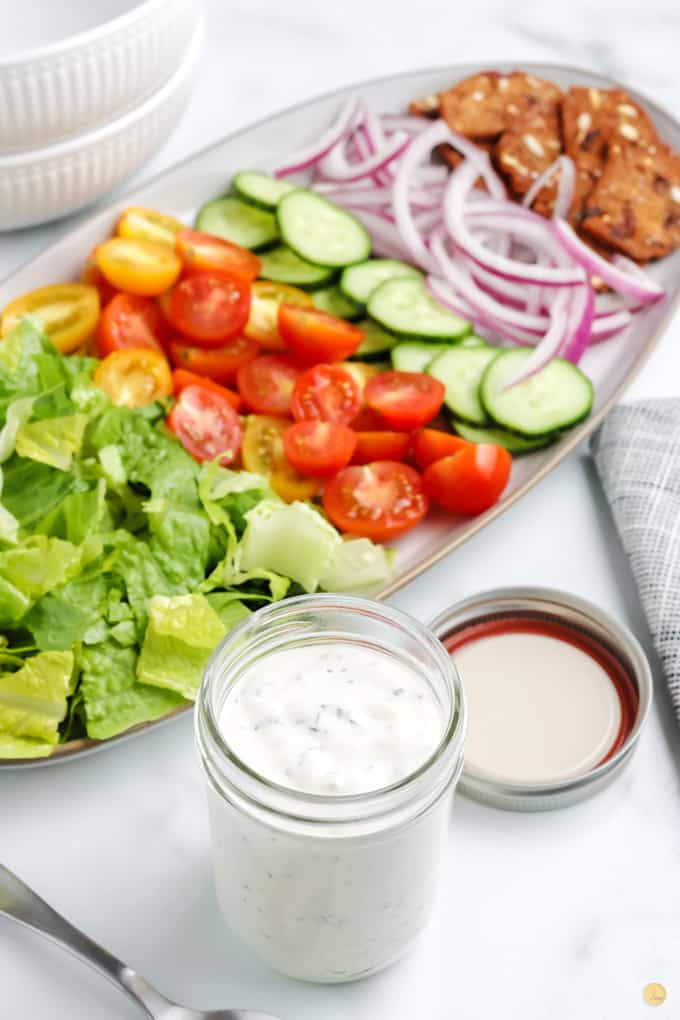 I would guess that ranch is the most popular salad dressing flavor in most of the country, it definitely is where I live.
And, I have seen people put ranch dressing on just about everything, but there is a major difference in the way it is made from place to place.
I will go out of my way to eat at certain restaurants because I know the ranch dressing there is beyond compare, so I had to come up with my own to have at home.
HOW TO MAKE YOUR OWN BUTTERMILK
Add 1.5 teaspoons vinegar to a measuring cup.
Add milk up to 1/2 cup.
Stir and let sit for 5-10 minutes.
Use in the recipe. It's as easy as that!
WHAT IS THE DIFFERENCE BETWEEN BUTTERMILK RANCH AND REGULAR RANCH?
Buttermilk ranch, as it states in the name, includes the extra tanginess of the buttermilk flavor from slightly aged milk/cream.
Other ranch dressings do not have that as an ingredient and usually use simply mayo and cream.
HOW LONG DOES IT LAST?
If you make this buttermilk ranch dressing and store it in the refrigerator in a an airtight container you will get 7-10 days of life out of it.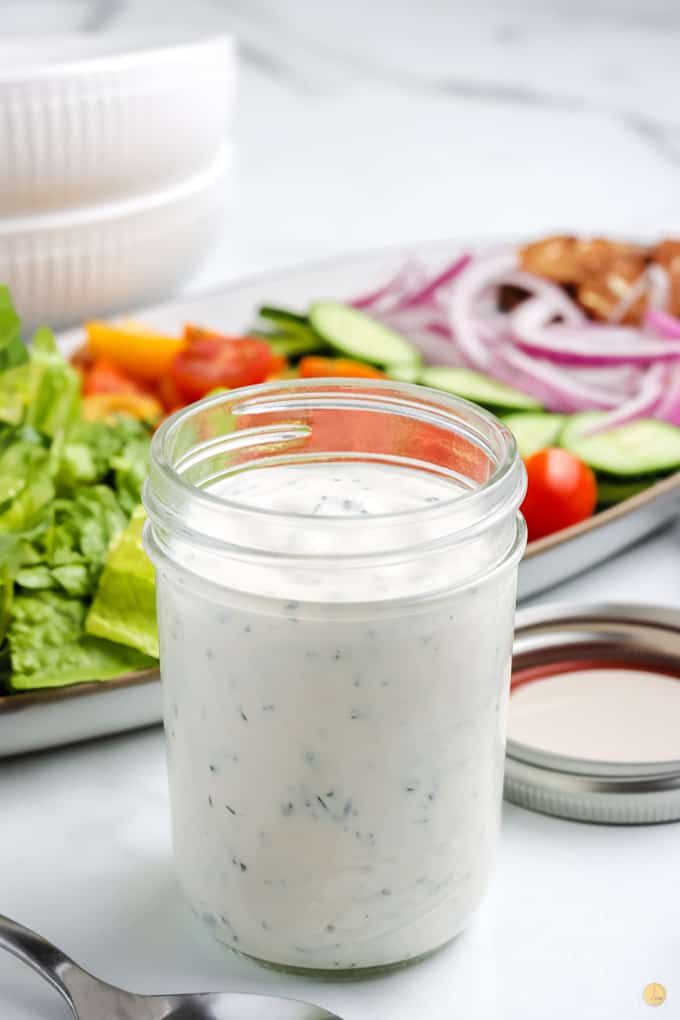 TIPS FOR NO LEFTOVERS
If you don't have fresh chives, parsley, dill, and garlic feel free to use dried herbs. Just use half the amount as dried herbs are stronger.
Substitute sour cream for Greek yogurt if you like.
Add in a pinch of onion powder for more flavor.
A dash of Worcestershire sauce or hot sauce is a great way to kick it up a bit.
You can always use regular milk instead of buttermilk if you prefer or don't have it.
FAVORITE DRESSINGS AND SAUCES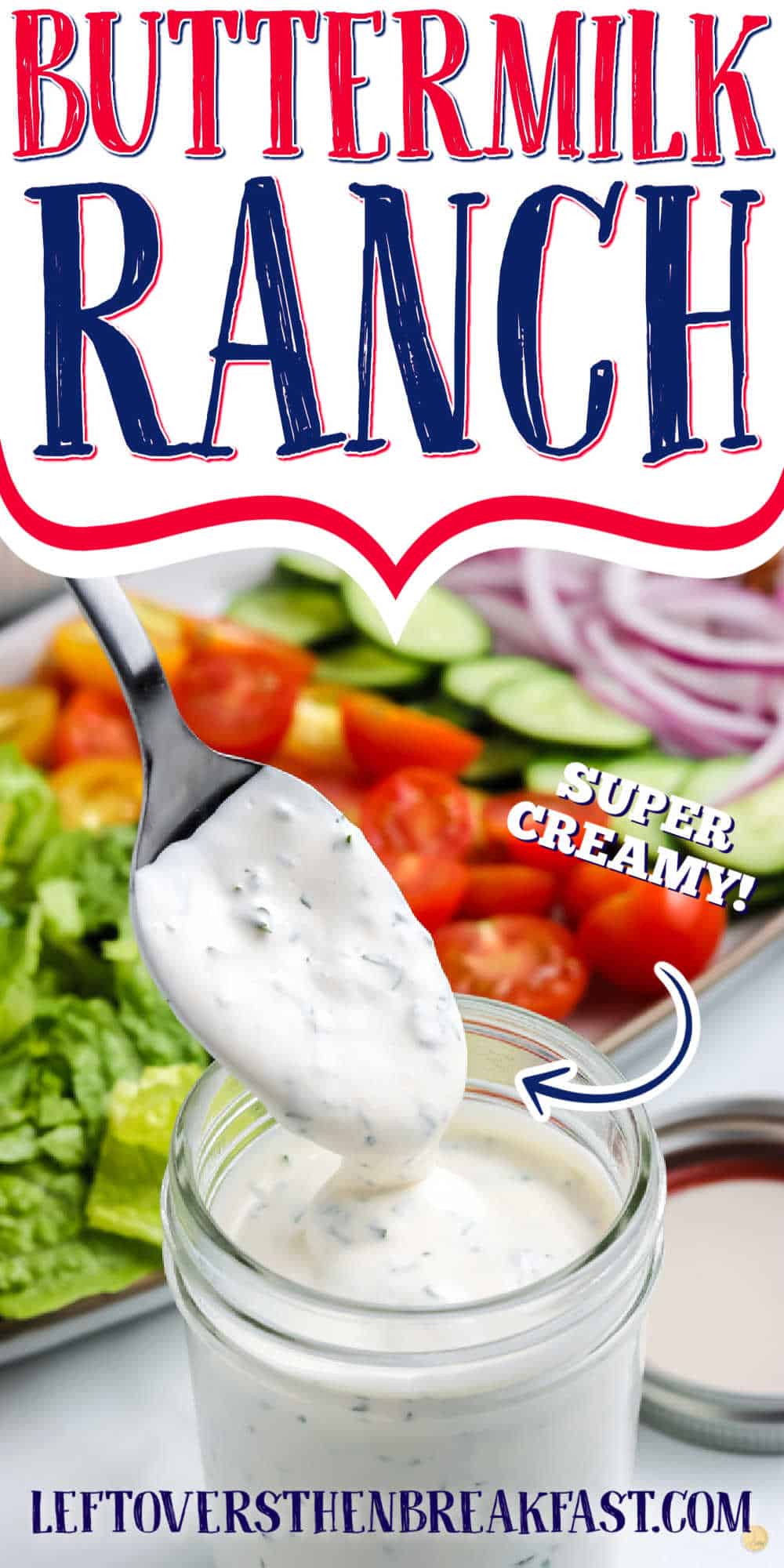 You're going to wonder why you never made your own Buttermilk Ranch Dressing before, and I want to hear your thoughts and what you used it on in the comments below. Let me hear all about it, your life will be changed I bet.
MORE EASY RECIPES
@LeftoversThenBreakfast.com. Content and photographs are copyright protected. Sharing of this recipe is both encourages and appreciated. Copying and/or pasting full recipes to any social media is strictly prohibited.