Making your own Homemade Buffalo Sauce sets you above everyone else when you make any dish with it. With just 3 ingredients, it's very easy to throw that bottled sauce out!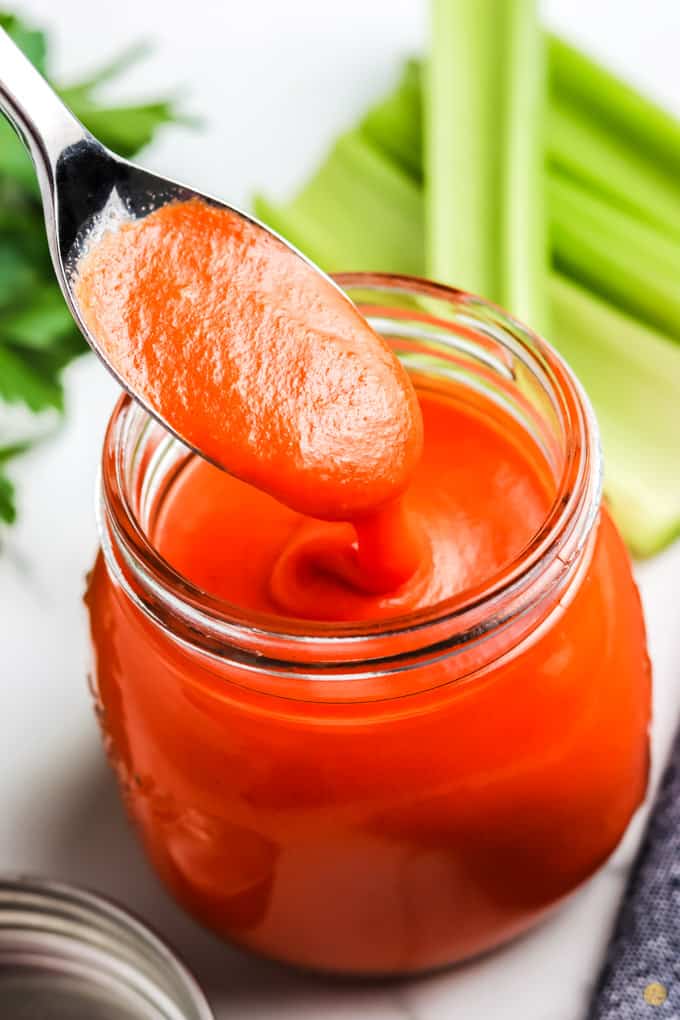 Anybody can make buffalo wings and buffalo chicken dip, but it won't be the same unless it has homemade buffalo sauce as the main ingredient.
Making a fresh batch of buffalo sauce in your own kitchen adds a touch of freshness and originality that all those bottled sauces can't touch!
All buffalo sauce is not made equal, and this recipe will definitely put you in the winner's circle for flavor! Game day won't be complete without it!
This post may contain affiliate links. As an Amazon Associate, I earn from qualifying purchases. Read my disclosure policy here.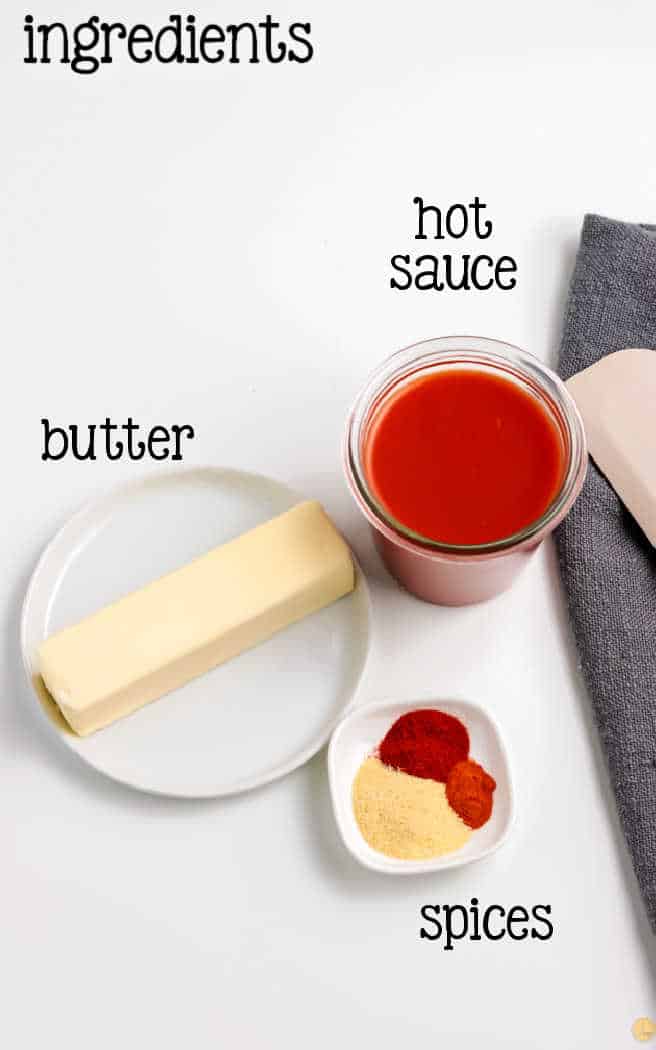 BUFFALO SAUCE INGREDIENTS
Butter – I like to use unsalted since the hot sauce has salt already in it. You can always add more salt later if you want to.
Hot Sauce – My favorite brand is Frank's Red Hot but I also love to use Tabasco!
Spices – This sauce recipes uses garlic powder, paprika, and cayenne pepper but feel free to use your favorite spices!
Looking for more comfort food? Follow LTB on Pinterest!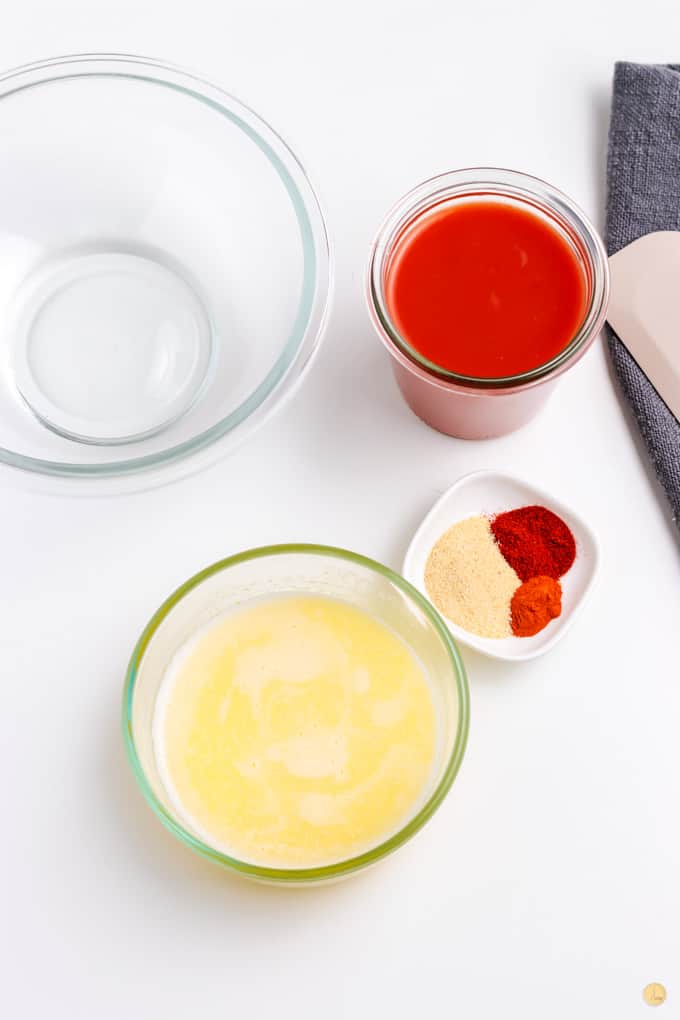 HOW TO MAKE BUFFALO SAUCE FROM SCRATCH
ONE: Melt butter in a medium sized microwave safe bowl. You can also melt the butter in a saucepan on the stove top.
TWO: Stir in the hot sauce and the spices. Whisk to stir to combine.
THREE: Store in an airtight container in the refrigerator until ready to use. Enjoy!
For the full recipe and detailed baking instructions, please see the recipe card at the end of this post.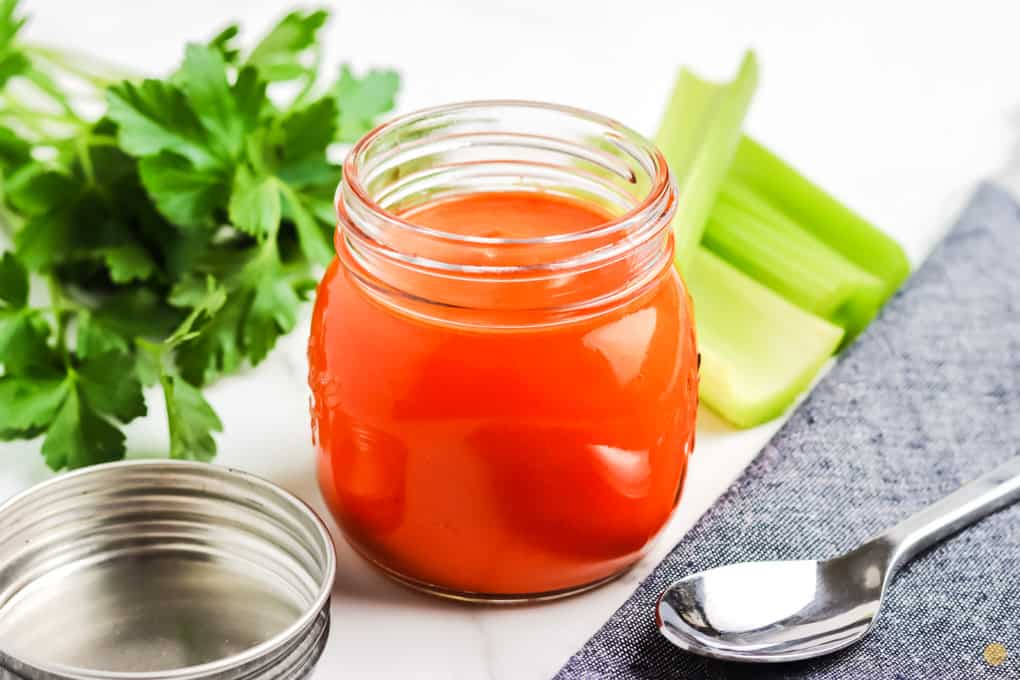 Whipping up your own homemade buffalo wing sauce takes no time at all, you probably have all the ingredients at home already.
Store-bought sauce is easy, sure, but so is homemade and this tastes far better.
Everyone else will be using store-bought bottled buffalo sauce, but your chicken wings, chicken thighs, dip, and everything else you make with it will be unique and delicious.
CAN I USE HOT SAUCE INSTEAD OF BUFFALO SAUCE?
Buffalo Sauce is a thicker more saucy condiment than hot sauce, with a bigger combination of flavors than hot sauce. You will have a richer texture and smoother flavor than pure heat if you use buffalo sauce.
WHAT FLAVOR IS BUFFALO SAUCE?
Buffalo Sauce is a silky smooth, spicy, and well balanced sauce. You have some heat, some flavor, and a slightly salty undertone that hot sauce alone just can't give you.
HOW DO YOU GET SAUCE TO STICK TO WINGS?
There's a rule about getting things to stick to meat, usually it goes, "wet doesn't stick to wet". To get past this I usually will pat dry the chicken wings, and either dredge them lightly in flour or cornstarch before cooking.
Let them rest for a few minutes, then douse them in sauce. You can do this a couple times to really get a good layer of sauce and breading on your wings.
If you are adding sauce after cooking, then blot off the grease first and then coat them well in buffalo sauce.
WHY DO THEY CALL THEM BUFFALO WINGS?
Buffalo wings obviously don't come from buffalo, can you image an animal that size being able to fly? We would have a whole new genre of horror movies on our hands!
Buffalo wings is just a shortened name for buffalo sauce flavored chicken wings, it's easier in a bar to order 'buffalo wings' than to say all of that and be heard.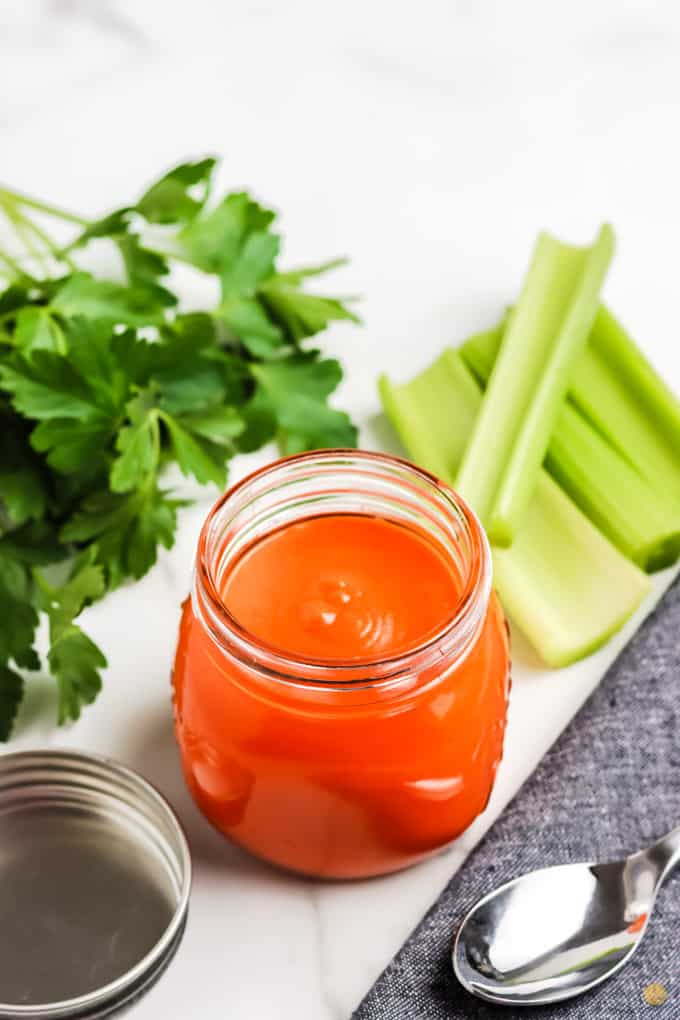 TIPS FOR NO LEFTOVERS
the butter in the sauce will solidify when refrigerated. Just set out at room temperature for 10-15 minutes or melt in the microwave and give it a stir before using.
use your favorite hot sauce even though Franks Red Hot is the secret ingredient:)
this lasts for a few weeks in your fridge (mine gets eaten in less than 1!)
make a large batch and give away to all your friends!
MORE SAUCES TO ENJOY
If you love this recipe as much as I do, please write a five-star review in the comment section below (or on Pinterest with the "tried it" button – you can now add pictures into reviews, too!), and be sure to help me share on facebook!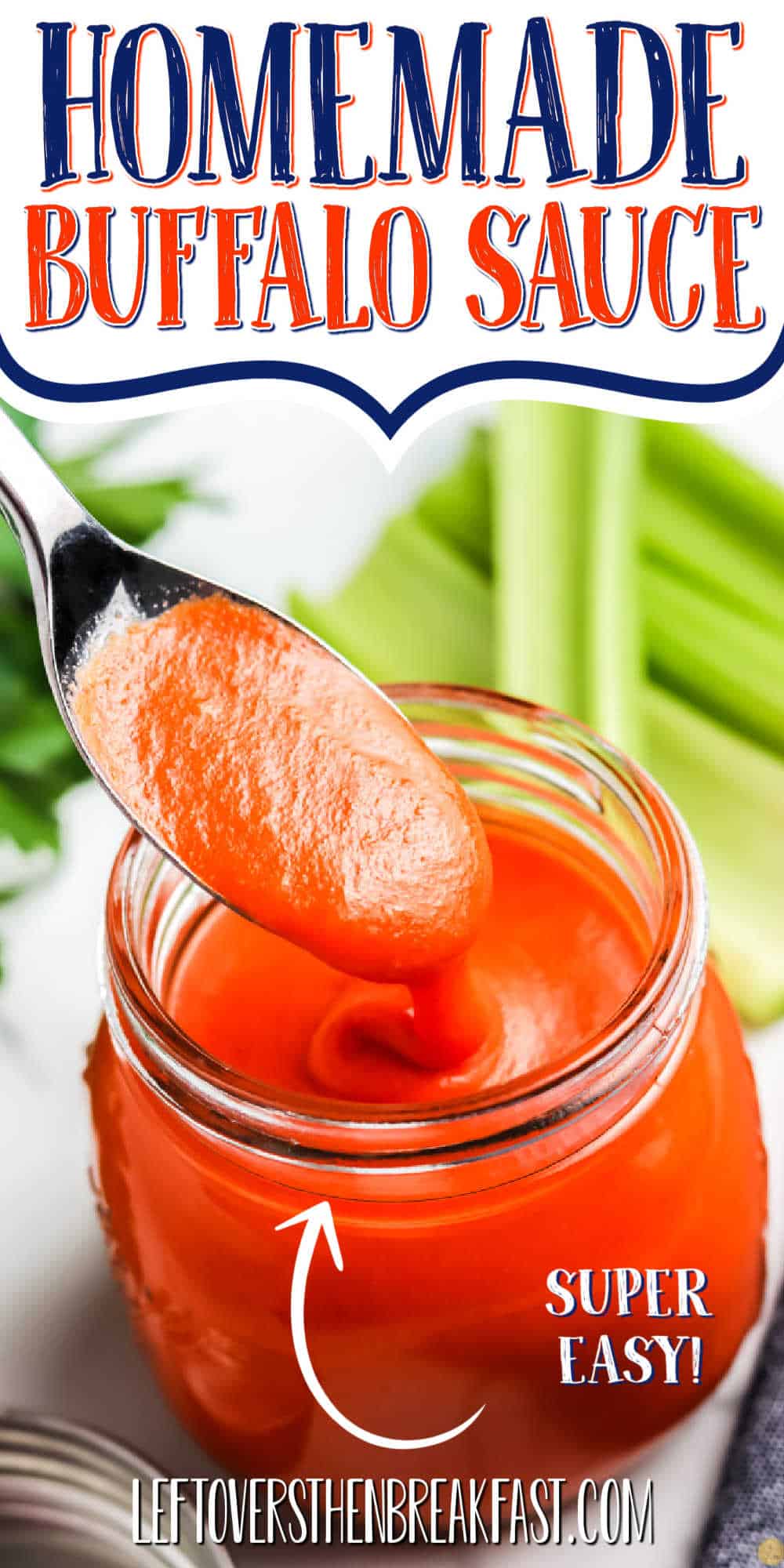 Next time you're making a batch of wings or buffalo chicken dip you need to try this Homemade Buffalo Sauce recipe. See how many people ask you what you did differently to make it so good, then come back here and tell me all about it!
MORE EASY RECIPES