Browning ground beef the proper way will kick up the flavor in your tacos, chilis, casseroles, or any other ground beef recipe! With my easy to follow step-by-step instructions you'll get browned, flavorful, juicy, AND delicious beef every time.
If you'd rather skip my essential cooking tips and tricks and get straight to this delicious recipe – simply scroll to the bottom of the page where you can find the printable recipe card.
So many recipes out there that begin with "brown the ground beef" but rarely does the recipe ever explain how to do this extremely important step.
While browning ground beef is simple; but a lot can go wrong with incorrect technique.
However, if you learn how to do it the right way, your browned ground beef will be tender and exploding with flavor. And who doesn't love a beef dish that is full of flavor? I know I do!
So, let's get into the details on how to perfectly brown your ground beef every single time!
This post may contain affiliate links. As an Amazon Associate, I earn from qualifying purchases. Read my disclosure policy here.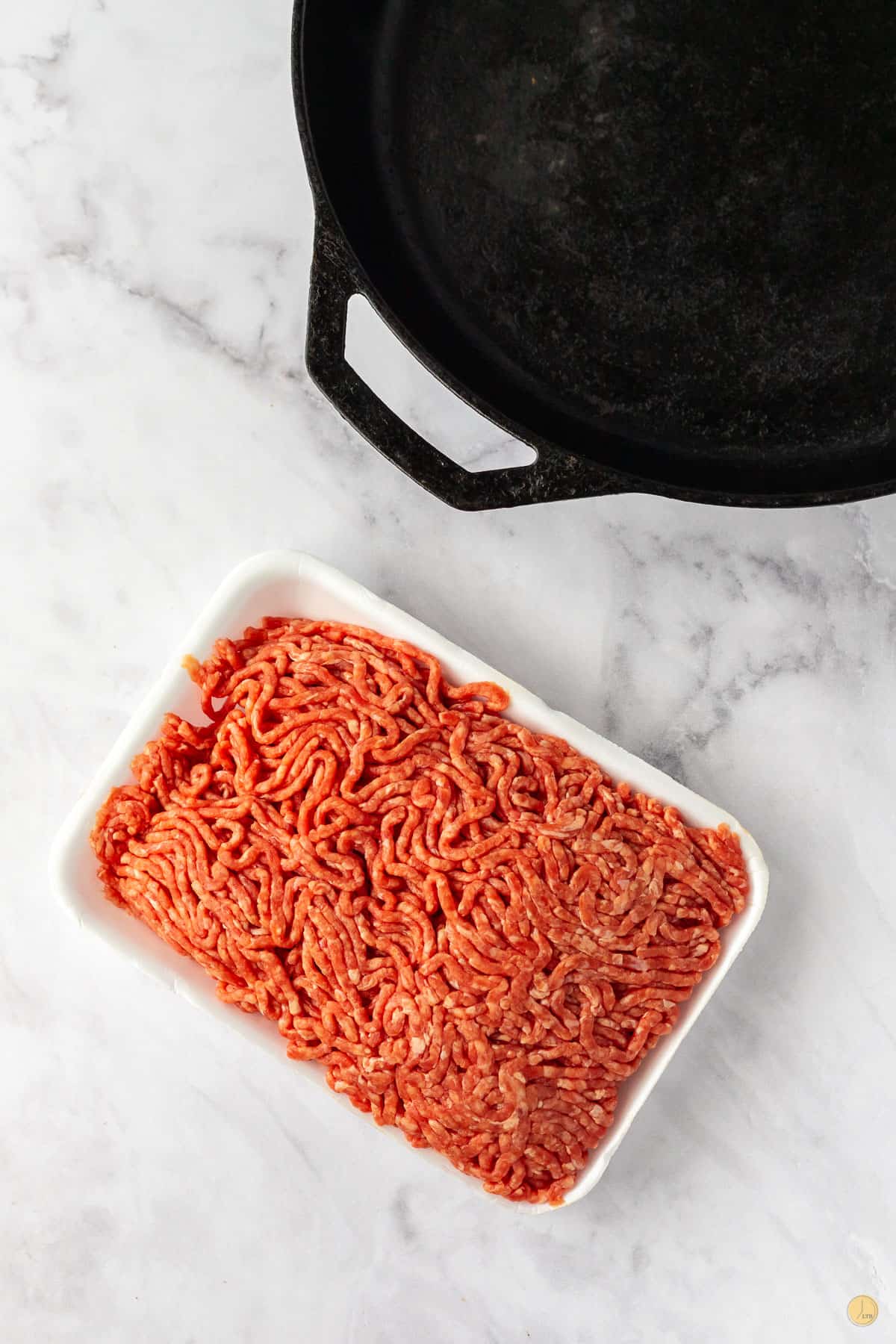 INGREDIENTS NEEDED
1 – 1.5 pounds of ground beef (or other ground meat like turkey or venison)
Vegetable Oil: If you are using extremely lean beef or a stainless steel pan, be sure to put a tablespoon or two in the pan prior to adding the beef to prevent sticking. I recommend vegetable or canola oil for this. Save the olive oil for salad dressings.
Skillet – I love my cast iron for this purpose. A heavy bottom pan will retain heat best. Make sure it's big enough so the meat doesn't get crowded.
Looking for more comfort food? Follow LTB on Pinterest!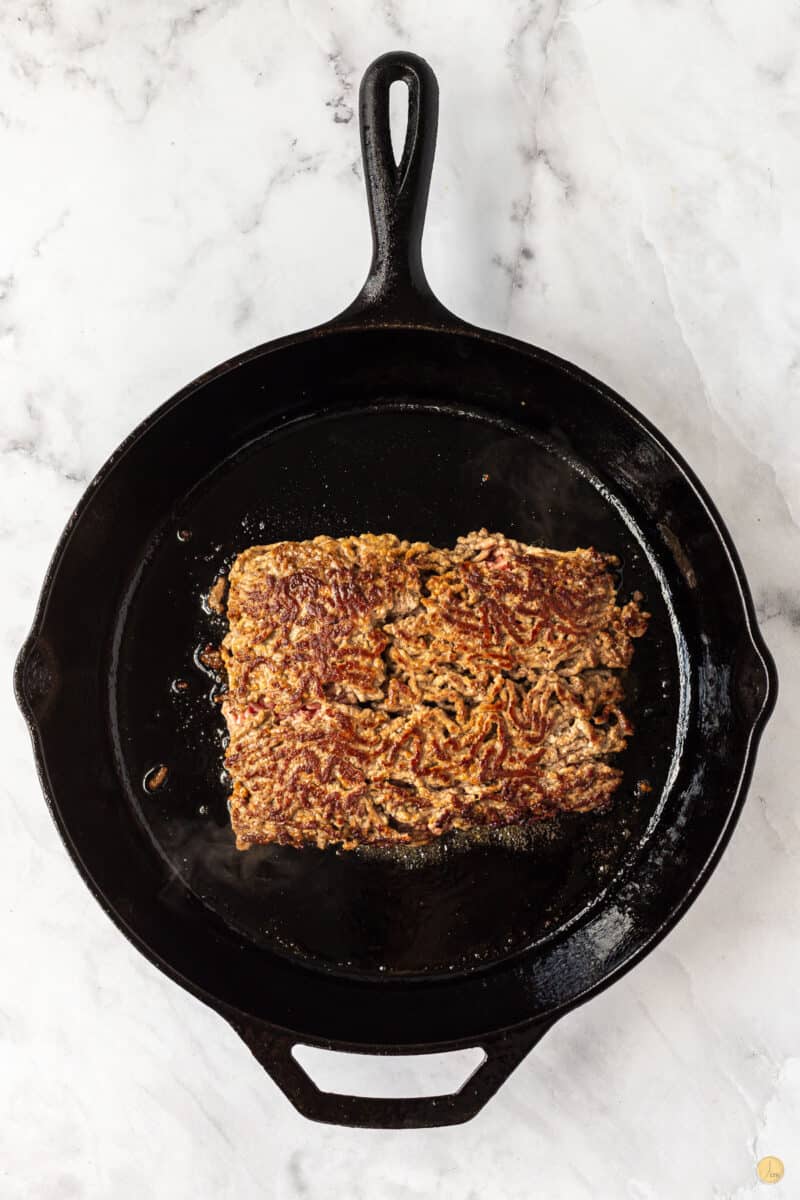 HOW TO MAKE BROWNED GROUND BEEF
ONE: Put a large size sauté pan or skillet on a burner over medium-high heat. If you are using extremely lean beef or a stainless steel pan that tends to stick, place a tablespoon or two of vegetable oil in the pan. Allow the pan to get hot.
TWO: When pan is searing hot, add the meat in a single layer in the pan (like a large burger patty). Sprinkle with a pinch of salt. Allow the beef to cook for a few minutes, untouched. You want to get a nice brown sear on the outside of the meat to seal in all those juices.
THREE: After about 5 minutes, use your spatula or wooden spoon to flip the beef to sear on the other side. After the second side gets a nice brown color, use your spatula or wooden spoon to start to break up the ground beef. You don't want to break it up too much or over work it.
FOUR: Continue cooking until it is no longer pink. Once fully cooked, drain excess fat. Use a draining utensil such as a slotted spoon, strainer, or even a small plate over the top of pan. Drain fat into a heat-proof container (never drain grease into the sink!).
If you can't drain all that fat, that's okay! A small amount of fat will help the beef retain it's flavor and keep it moist and delicious! Use immediately in your favorite ground beef recipe or place in an air-tight storage container for later.
Pro tip: Only season the ground beef with salt to keep the meat ready to use for a variety of recipes.
For the full recipe and detailed baking instructions, please see the recipe card at the end of this post.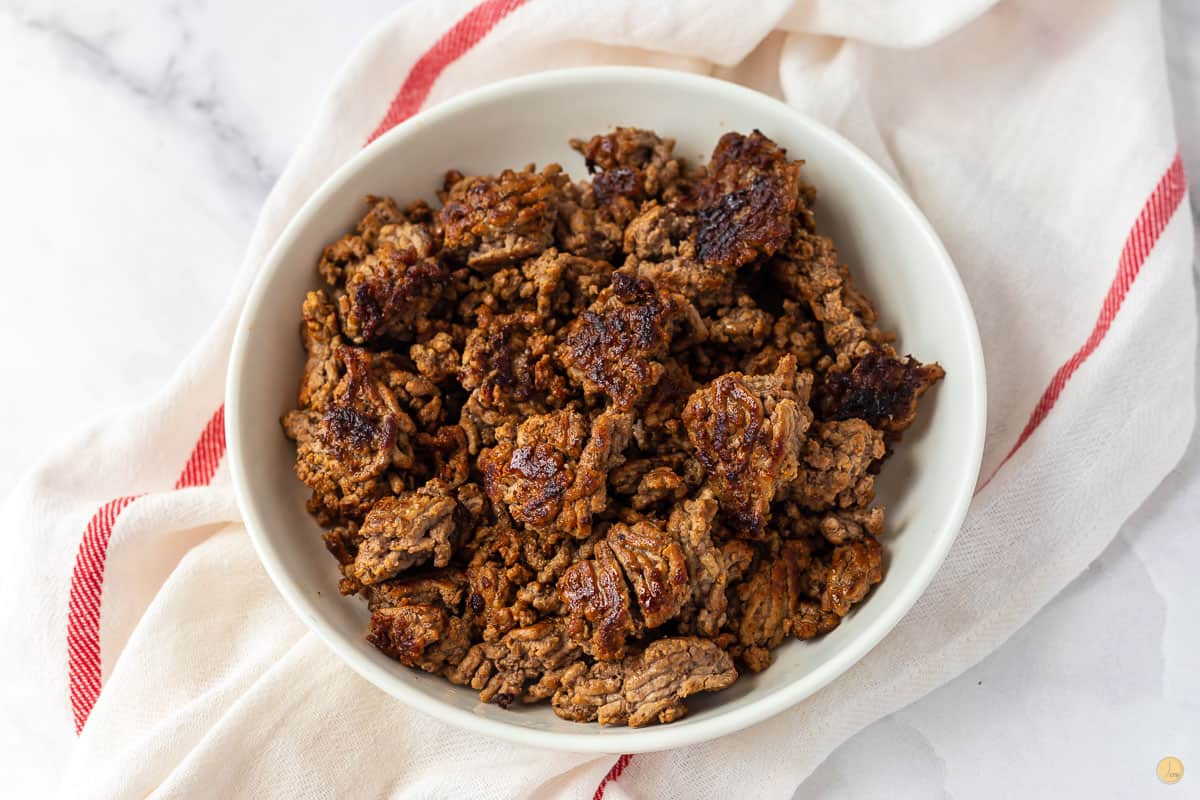 TIPS FOR NO LEFTOVERS
DON'T CROWD THE PAN: For a pound of ground beef, you will need a 10 inch skillet. If you have too much meat in the pan it will steam and turn a grey color. Proper browning needs lots of room in the pan. Cook the meat in batches if you only have a smaller pan.
GET THE RIGHT AMOUNT FOR THE RECIPE: Ground beef, like all meats and poultry, shrink when cooked. How much your beef will shrink depends on how much moisture is in the beef as well as how much fat it contains.
Generally, beef will lose up to 25% of it's weight when fully cooked. Rule of thumb, if a recipe calls for a pound of cooked beef, purchase around 1 1/4lb. You might need more depending on the fat ratio.
TEMPERATURE MATTERS: You MUST bring your ground beef to room temperature. Placing cold meat into a hot pan causes the beef to immediately release all its juices. Juices are necessary in order to keeping your beef moist and flavorful.
With that, I recommend placing your meat on the counter for 15 minutes before cooking. However; do not leave your meat out at room temperature for more than 2 hours.
DRAIN THE FAT: Drain the meat before using in a recipe. I like to put mine on a paper towel to fully drain. Never pour the excess fat down your drain. Why?
Because as the fat cools, it will seize up and re-solidify. This can cause serious problems not only to your home's plumbing but can also negatively effect your plumbing. Instead, pour fat into a jar or heat safe container and allow it to coagulate. Once solid, throw the jar/container into your garbage.
STARTING WITH FROZEN MEAT? The safest way to thaw frozen beef is in the refrigerator. The cool temperature of the fridge doesn't allow harmful bacteria to grow. But I know there are times were you forget to take it out in time to thaw properly.
If that's the case, you can quickly thaw your beef by placing the meat in a zip lock bag and submerging it in cold water. Change the water every 30 minutes until thawed. Once thawed cook immediately. Never refreeze beef that has been thawed in water or in the microwave.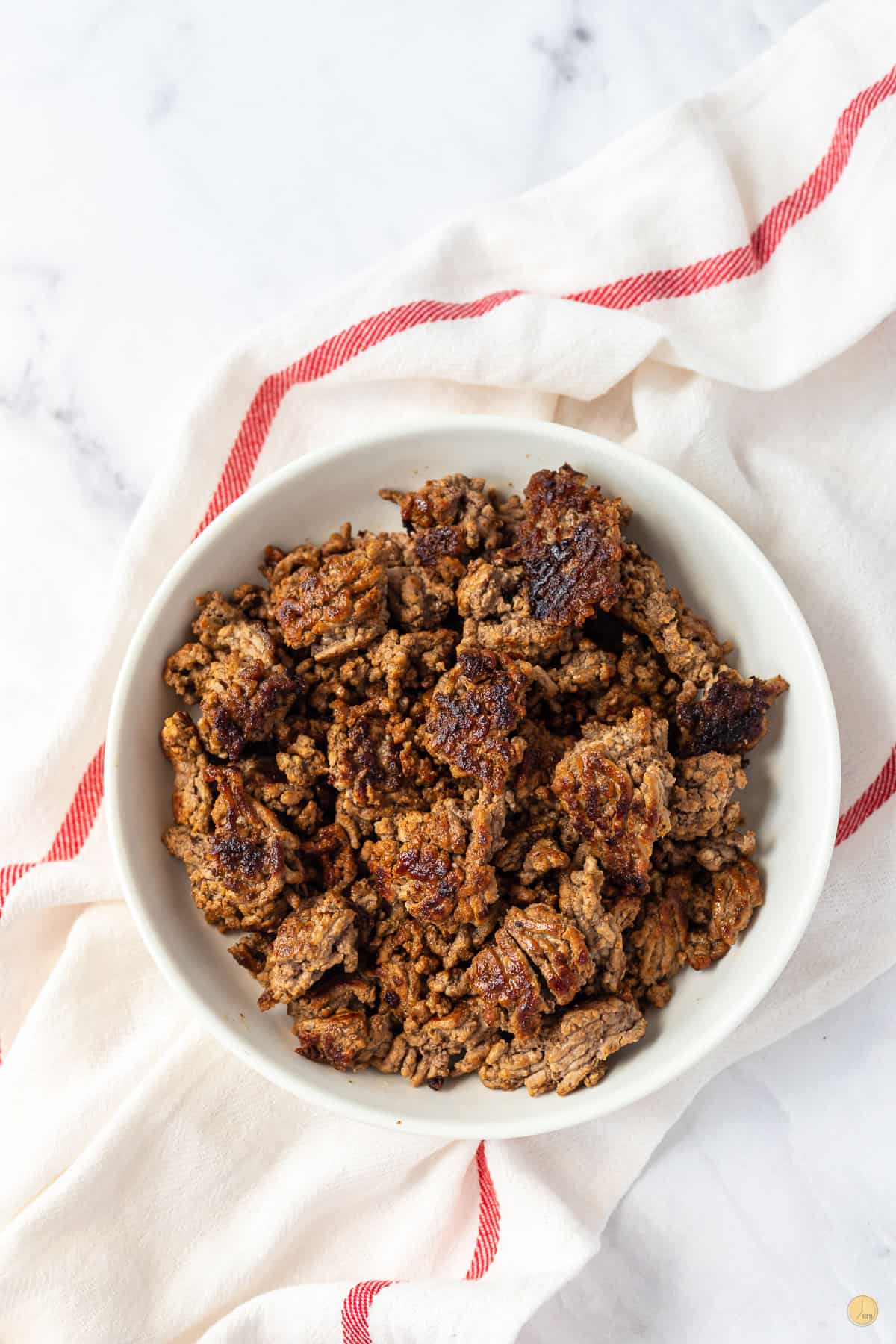 CAN YOU MAKE IT AHEAD OF TIME?
Yes! You can brown ground beef and save it for later which will save you lots of time in future recipes. Once fully cooled, place the cooked ground beef in an air-tight container and store in the refrigerator for up to five days.
I like to purchase my meat in bulk and then cook and brown a few batches to store for future use:)
CAN BROWNED GROUND BEEF BE FROZEN?
You bet! Allow the beef to fully cool prior to placing in a freezer-safe storage container or zip lock bag. If using a freezer safe zip lock bag, be sure to squeeze all the air out prior to closing.
Browned beef can be stored in the freezer for up to three months. And I recommend writing the date the beef was cooked on the outside of the package so you remember when you made it!
WHY IS GROUND BEEF BROWN BEFORE COOKING?
It's ok if the inside of the pound of beef is brown from lack of oxygen but if the outside is brown or grey it has turned. I would not recommend using it.
CAN I BROWN GROUND BEEF WITH BUTTER?
Yes, you can! I recommend starting out with a little oil as the smoke point is higher and you need a higher temperature to sear the meat. Once you start to break the beef up into pieces, I would add a little butter.
CAN YOU BROWN GROUND BEEF WITH ONIONS?
Onions release a lot of water when cooking which will keep the ground beef from browning. I recommend cooking the beef separately and then cooking the onions. You can combine them in the recipe or in a freezer container if saving for a future recipe that requires both.
DO YOU NEED TO ADD BAKING SODA WHEN BROWNING GROUND MEAT?
It is not necessary, but you can add a sprinkle of baking soda when browning to keep the meat extra tender and help it retain it's juices.
If you love this recipe as much as I do, please write a five-star review in the comment section below (or on Pinterest with the "tried it" button – you can now add pictures into reviews, too!), and be sure to help me share on facebook!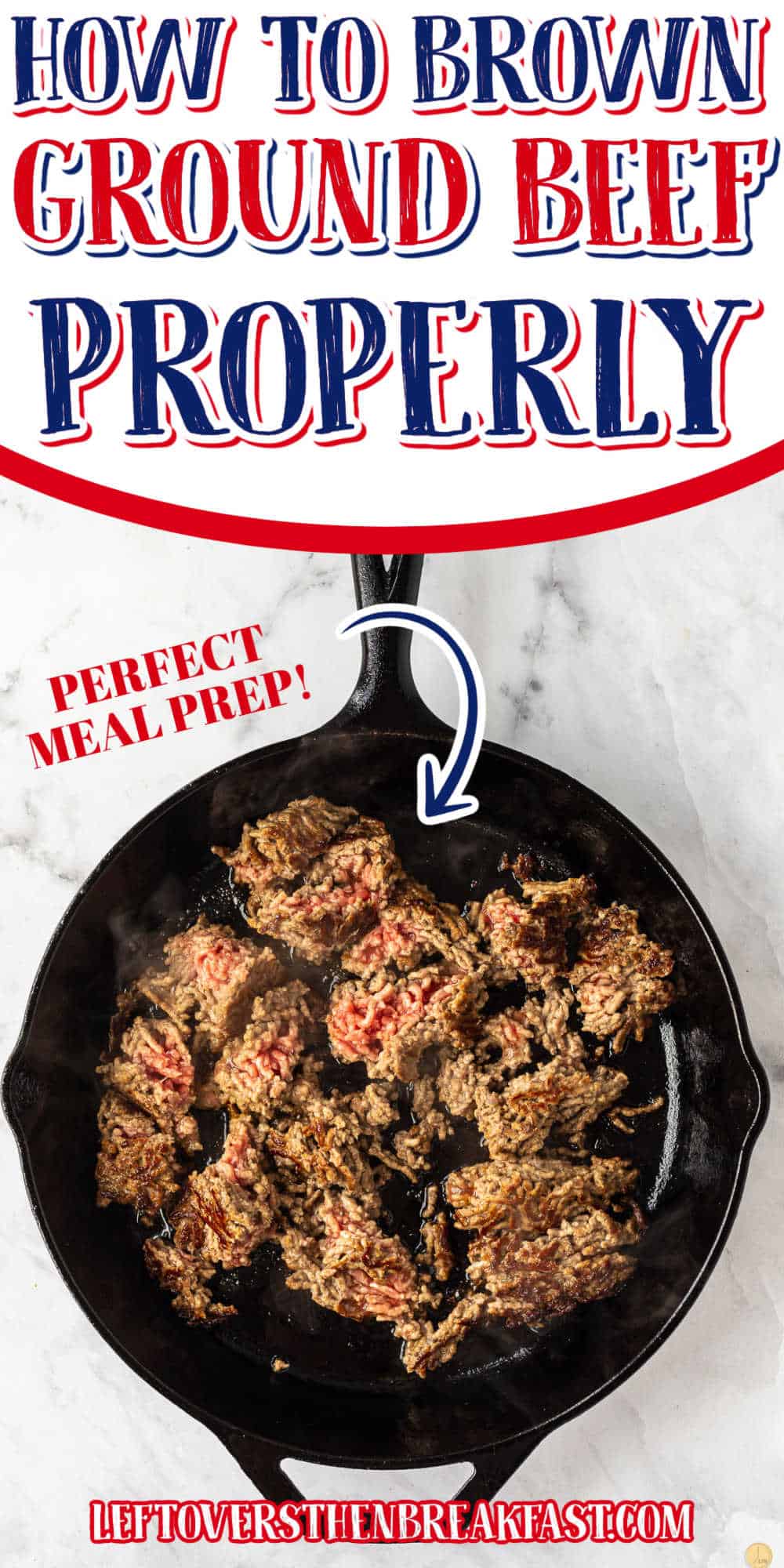 Love ground beef recipes? Drop a comment below and let me know what's your go-to weeknight ground beef recipe!
EASY GROUND BEEF RECIPES
HOW TO COOK HAMBURGER MEAT
@LeftoversThenBreakfast.com. Content and photographs are copyright protected. Sharing of this recipe is both encourages and appreciated. Copying and/or pasting full recipes to any social media is strictly prohibited.