Use this Au Jus Mix to create a recipe like no other, and mimic the delicious gravy served at a premium restaurant alongside a rich roast beef or pot roast.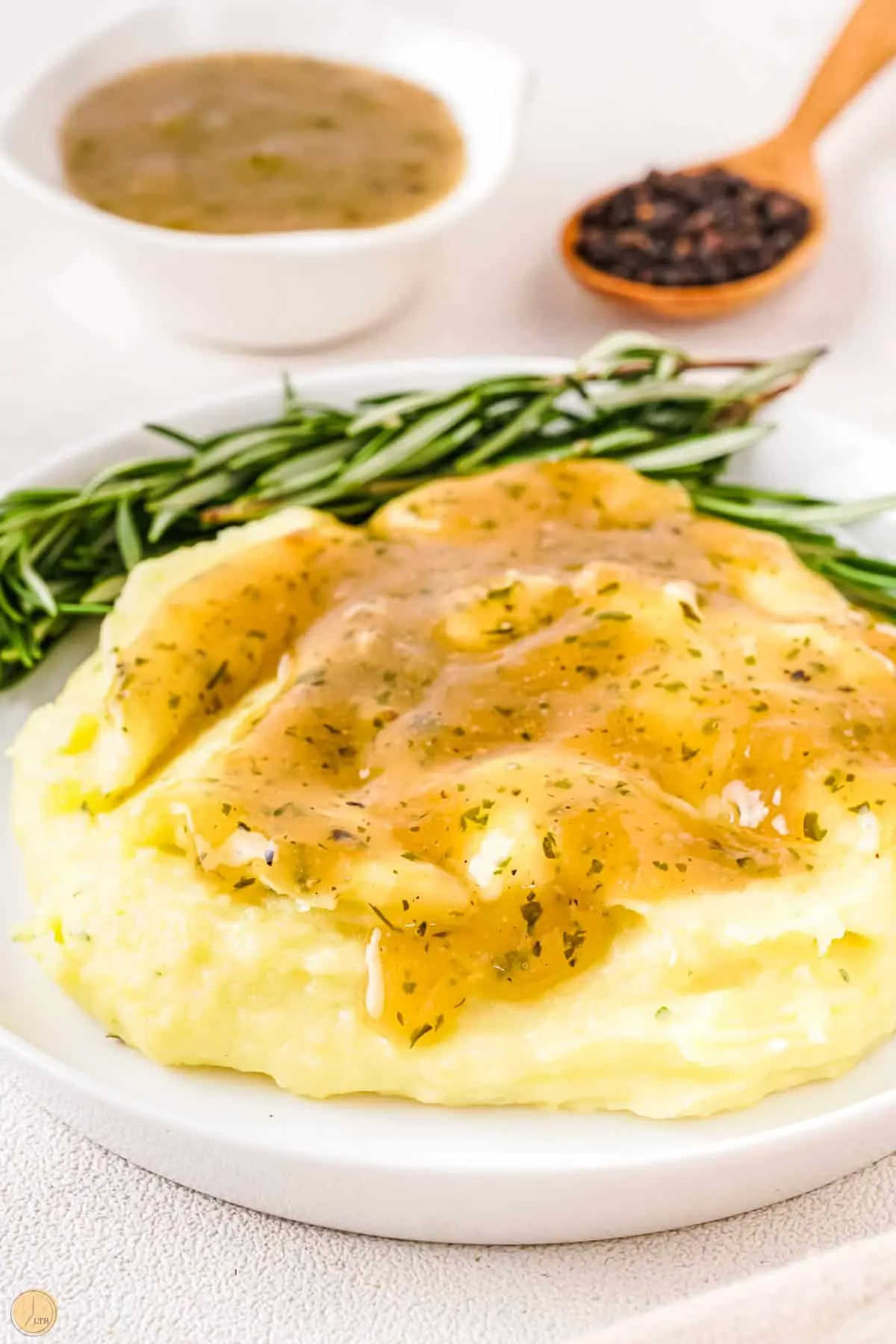 This is one of my favorite recipes when I'm in the mood for chef inspired french dip sandwiches.
It's beautiful caramel color and rich flavors make it the perfect dipping sauce to serve with dinner.
Au Jus Gravy Mix Recipe
For all your juicy roasts, you have to try the best au jus gravy mix recipe that I've found in all my years of cooking.
You're going to want to print this recipe card because it's a great way to make an easy gravy mix that tastes as good as any fancy restaurant.
Not only is it delicious, but it's an easy recipe, with only five steps from starting to serving.
So break out all those chef inspired french dip sandwiches and whip up some of this Au Jus for a tasty meal!
Perfect with your favorite roast beef sandwich!
If you are a fan of dishes with gravy, check out my classic hamburger gravy or any of these slow cooker recipes that create lots of savory juice.
This post may contain affiliate links. As an Amazon Associate, I earn from qualifying purchases. Read my disclosure policy here.
Ingredients Needed
Beef bouillon granules – Replace with the beef bouillon cubes.
Onion powder – If you can't find onion powder, try using fresh or minced onion.
Parsley – Substitute parsley with basil or arugula.
Black pepper – Choose a finely ground pepper for this recipe.
Garlic powder – Swap garlic powder for minced or fresh garlic.
Cornstarch – Swap out corn starch for potato starch or rice flour.
Looking for more leftover worthy dishes? Follow LTB on Pinterest and pin to a board!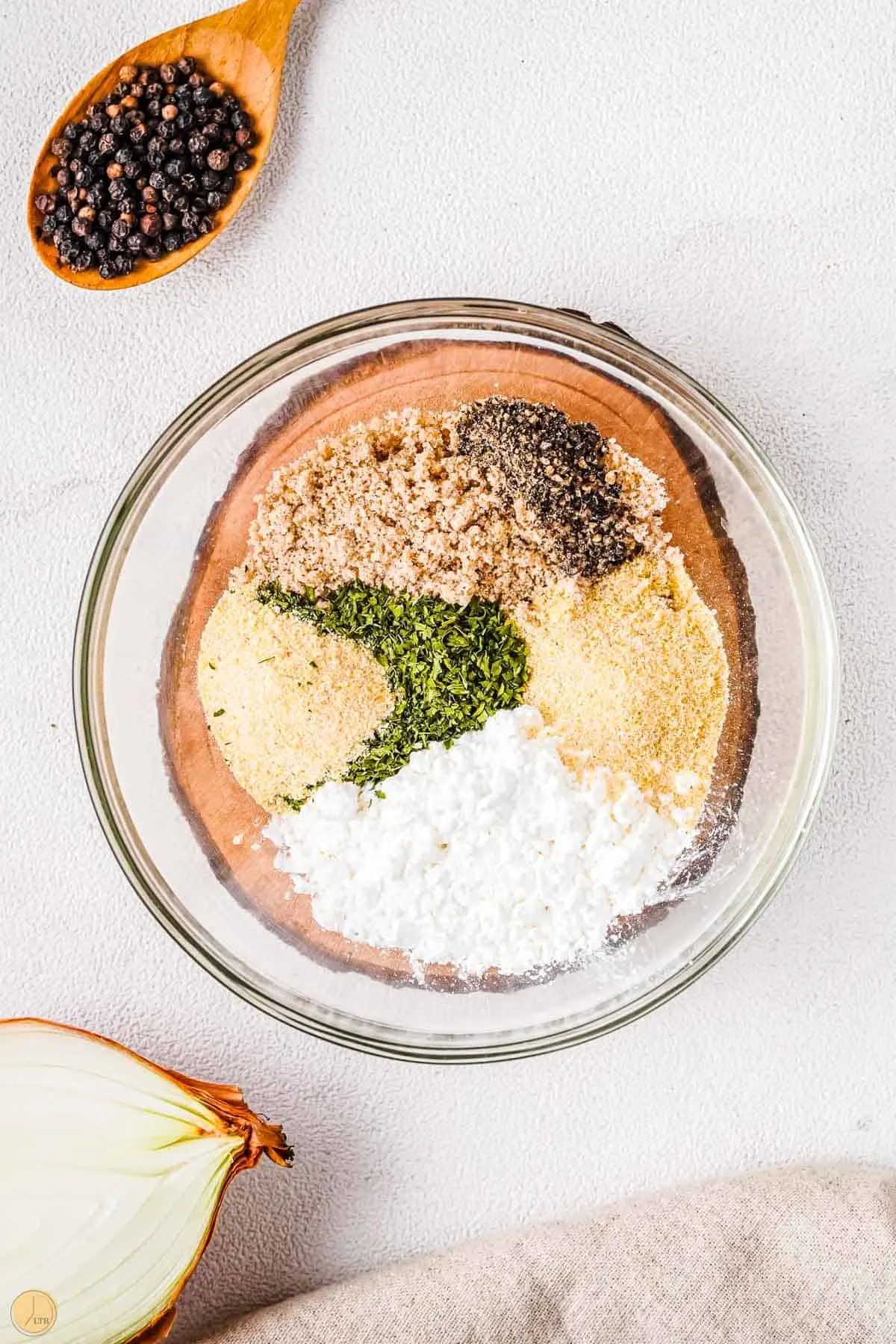 How To Make Au Jus Mix for Gravy
First: In a bowl, combine ingredients and stir until mixed.
Second: Place in a spice grinder or food processor and pulse until the mixture turns to a powder.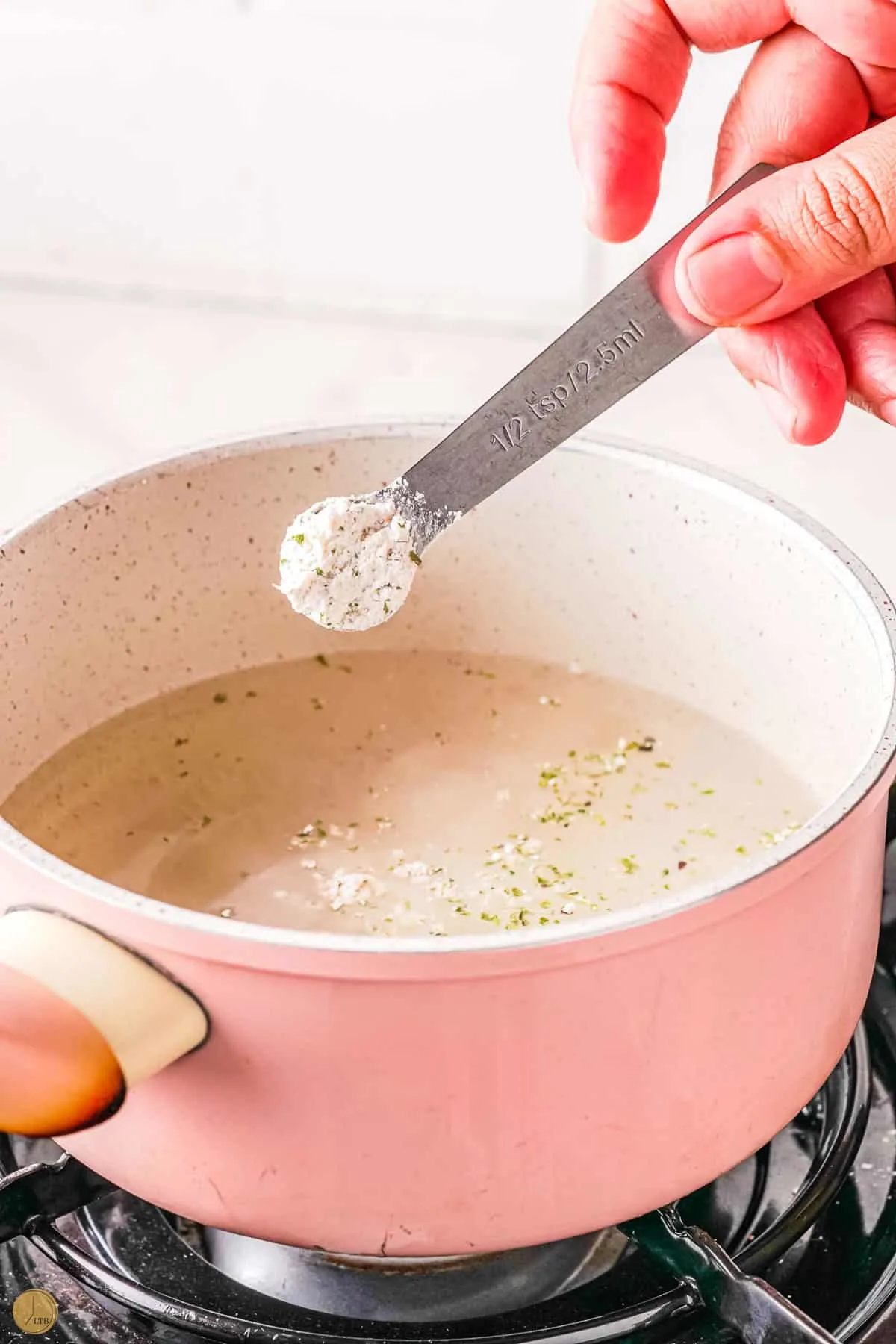 Third: To use, combine mix with 2 cups water, beef stock, or beef broth over low to medium heat.
Fourth: Stir until thickened, usually a total time of around 10 minutes. Serve.
For the full recipe and detailed baking instructions, please see the recipe card at the end of this post.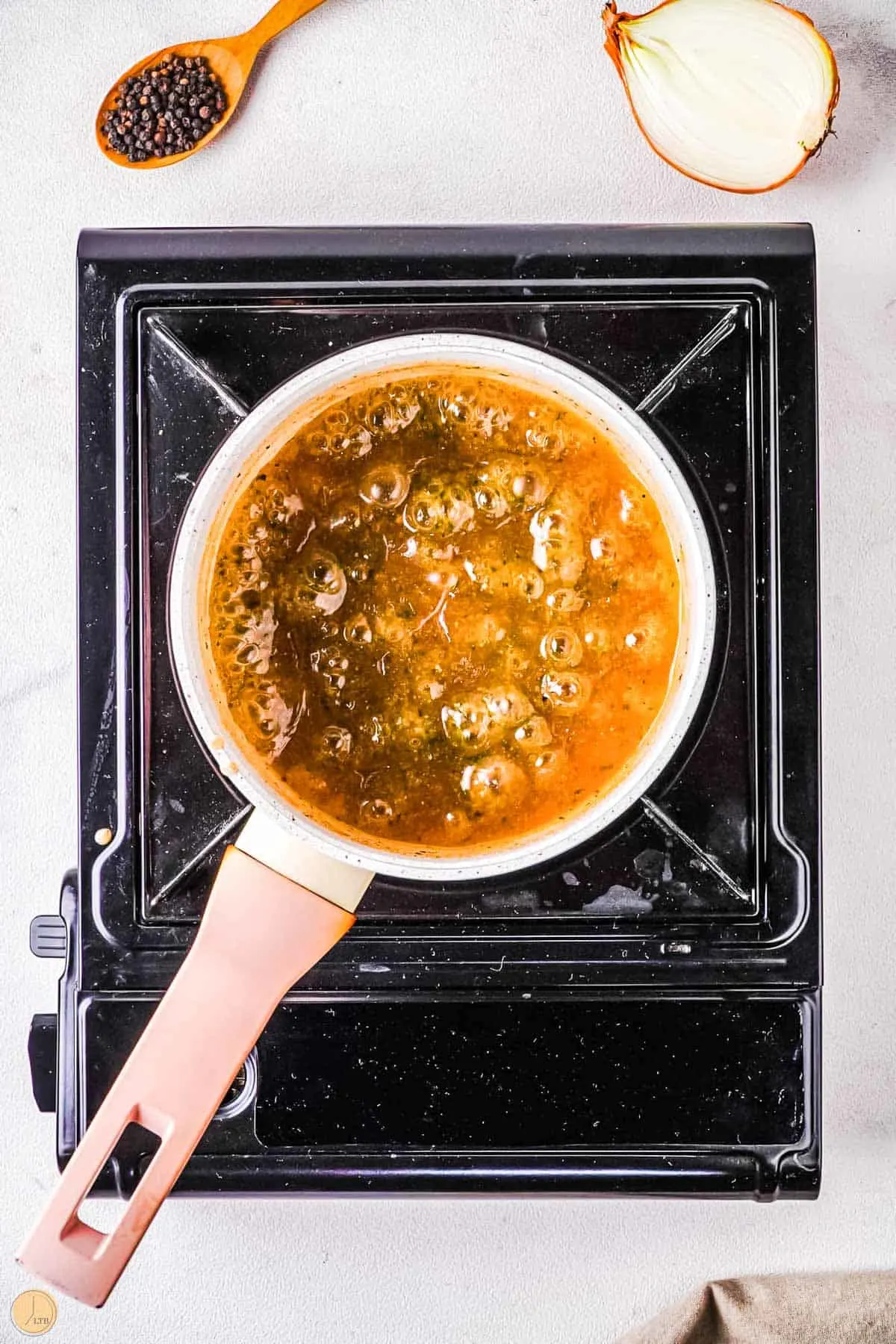 Serving Suggestions:
I like mine over mashed potatoes of course, but try it over macaroni and cheese. Or over sliced roasted chicken and green beans. You won't be sorry.
I even pour some over my herb stuffing/dressing at Thanksgiving!
What is au jus mix made of?
Au jus is made with meat drippings, from a variety of different meats. Although it is traditionally made using roast beef, you can also use the drippings from roast chicken or prime rib.
To mimic the taste, this incredible homemade au jus mix uses beef bouillon along with some spices, giving it a rich flavor with just a few simple ingredients.
What is a substitute for au jus mix?
There are quite a few substitutes for au jus mix, starting with this take on the Mccormick au jus gravy recipe. Along with this, beef stock powder sauce and beef broth are also great substitutes.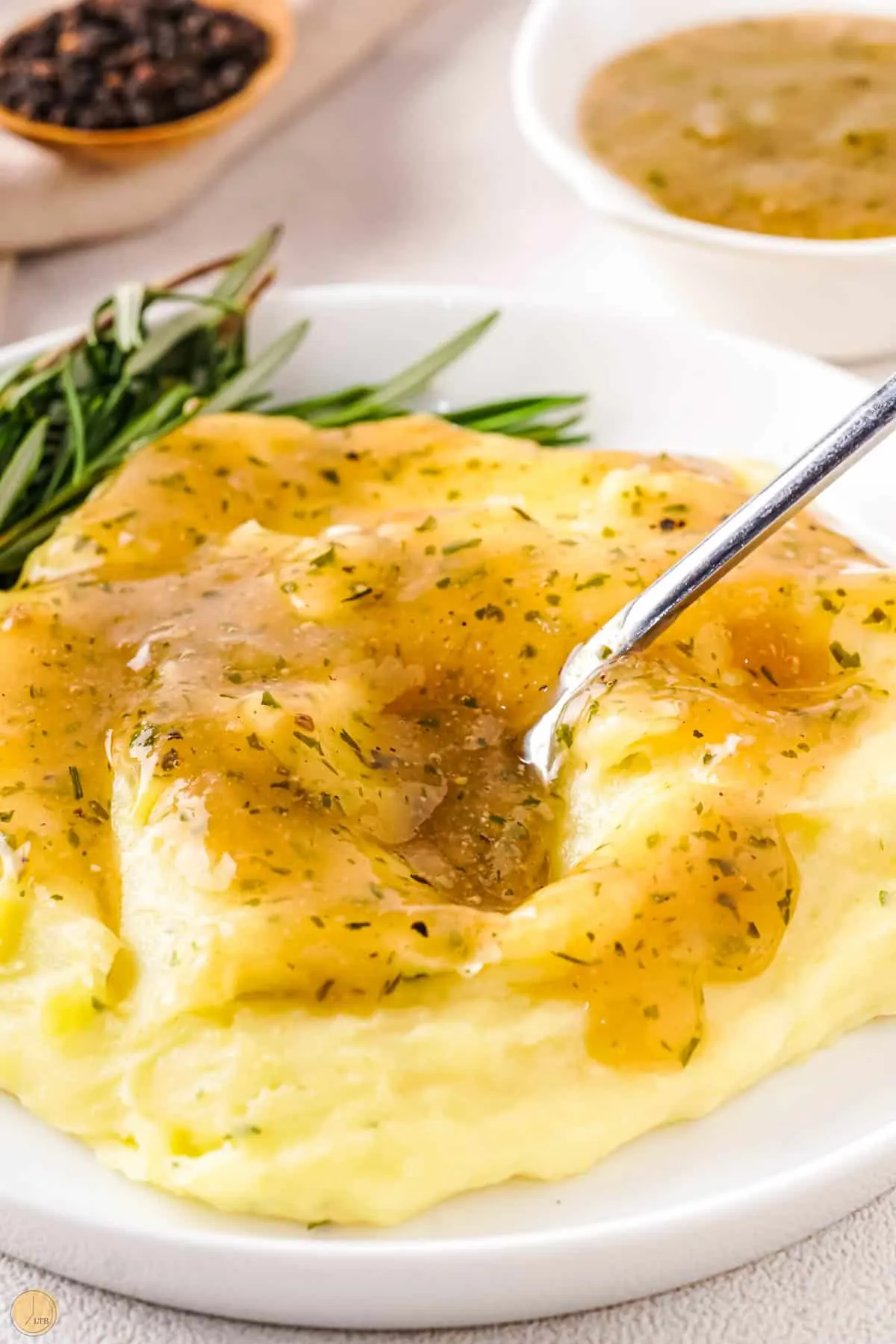 Is au jus the same as beef bouillon?
Au jus sauce is very different from beef bouillon – the biggest difference between the two is in the consistency.
Although au jus has a lighter consistency than other gravies, it still has a much thicker consistency than beef bouillon, which is typically mixed with water to create a soup-like texture.
Can I use brown gravy mix packet instead?
Au jus gravy is very similar to brown gravy, but there are a few differences.
Both recipes use pan drippings, traditionally beef drippings from using a roasting pan, but au jus is much lighter with a rich flavor.
Brown gravy is like a thicker au jus gravy, made from a combination of meat drippings and roux.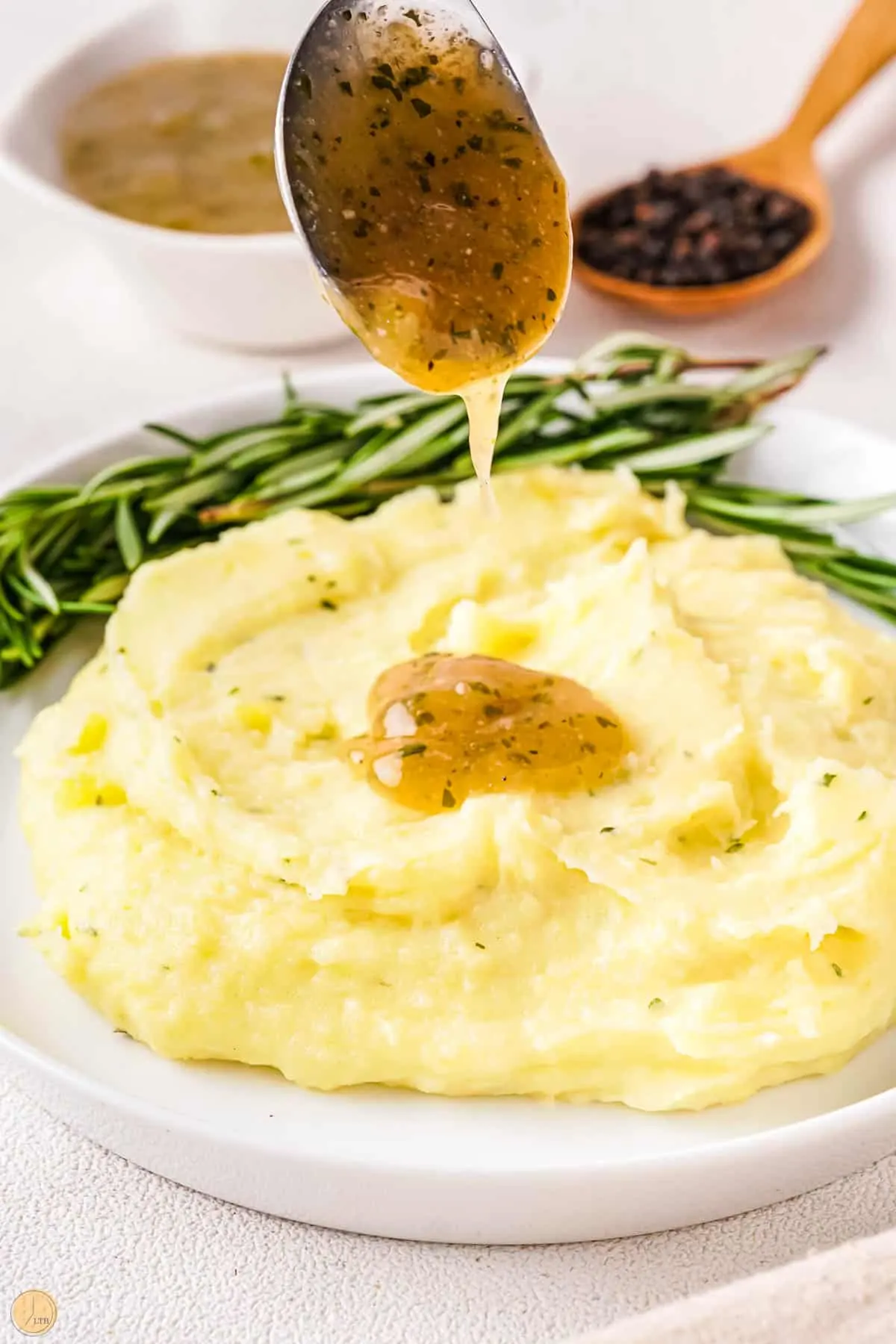 Tapas Tips & Tricks
Store in a cool, dry place until ready to use.
Start replacing your Mccormick au jus gravy mix seasoning packet with this homemade one.
Make a few batches at once and store the extras in an airtight container.
Short on time? Make your gravy ahead of time and freeze in an ice cube tray. Once frozen, you can remove and place in a Ziploc bag. When you're ready to eat, heat in a small saucepan over medium-high heat until warm.
To make au jus, combine your gravy mix with Worcestershire sauce and red wine over medium heat.
If you love this recipe as much as I do, please write a five-star review in the comment section below (or on Pinterest with the "tried it" button – you can now add pictures into reviews, too!), and be sure to help me share on facebook!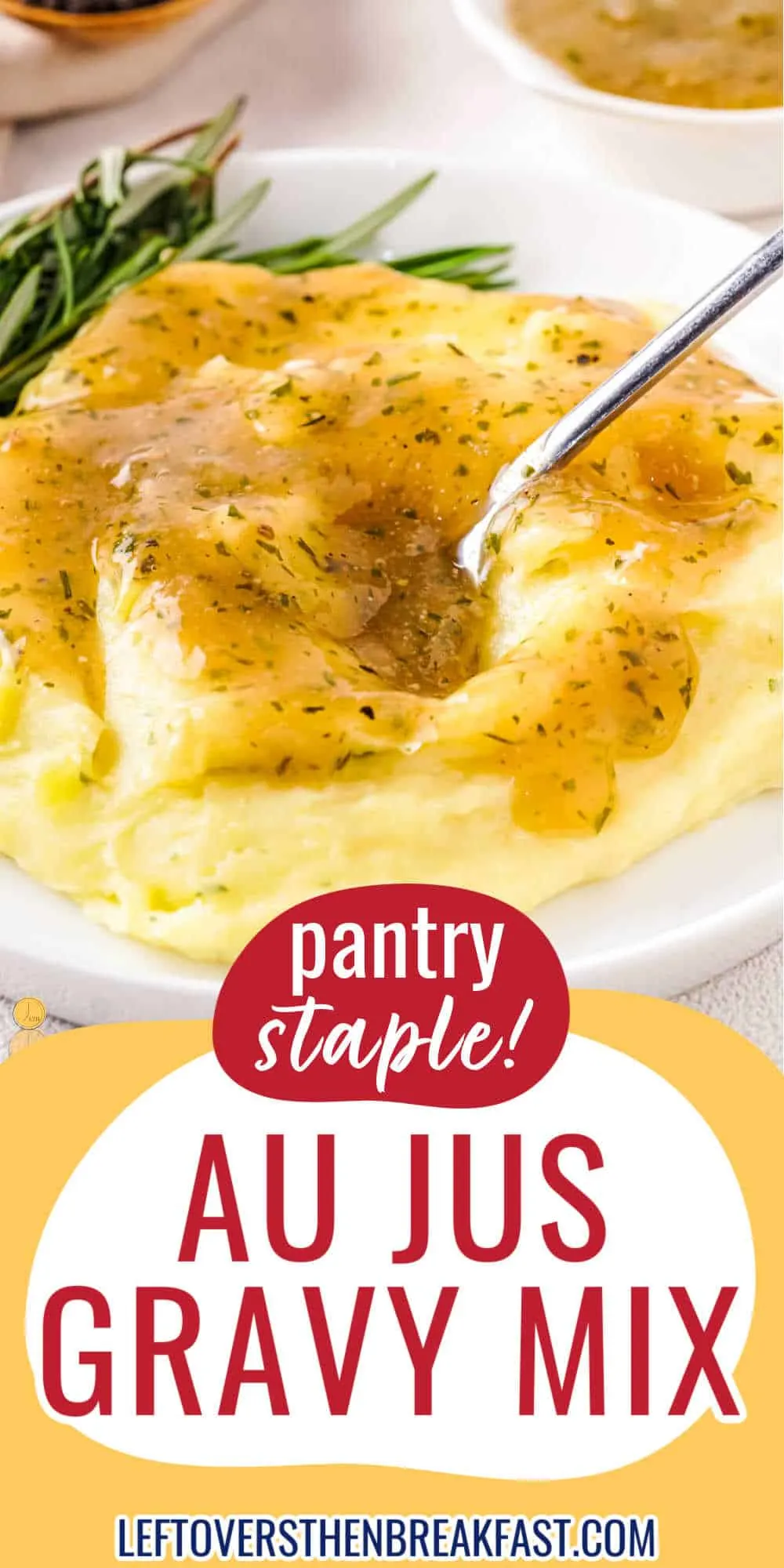 Replace those Mccormick spices and artificial flavors with one of my favorite recipes for Au Jus gravy. This is an easy way to make the perfect side of gravy for those french dip-inspired sandwiches served on french rolls, with so much flavor that you won't be able to resist making it again and again.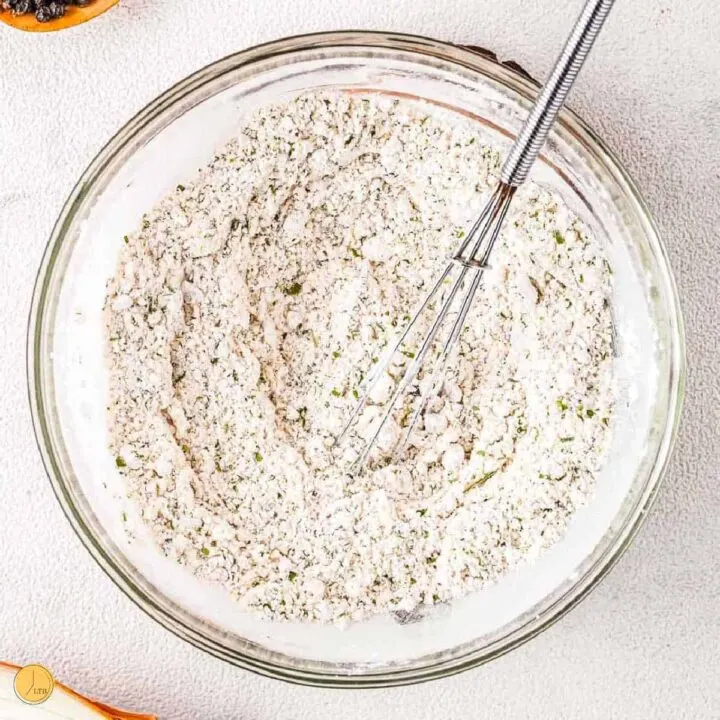 Au Jus Gravy Mix
Use this Au Jus Mix to create a recipe like no other, and mimic the delicious gravy served at a premium restaurant alongside a rich roast beef or pot roast.
Ingredients
4 tablespoons beef bouillon granules (12 cubes)
4 teaspoons onion powder
½ tablespoon garlic powder
2 teaspoons dried parsley
½ teaspoon black pepper
3 tablespoons cornstarch
Instructions
Combine all the ingredients and store in an airtight container in a cool dry place.
To make Au jus gravy:
Heat 2 cups of water to almost boiling.
Add 4 ½ teaspoons mix to water and whisk to combine.
Bring to a boil. Reduce heat and simmer for 10 minutes or until it gets thick.
Remove from the heat and transfer to a serving dish.
Use for dipping french dip sandwiches or use a grave on a roast or over mashed potatoes.
Recommended Products
This post may contain affiliate links. As an Amazon Associate, I earn from qualifying purchases. Read my disclosure policy here.
Nutrition Information:
Yield:

6
Serving Size:

1
Amount Per Serving:
Calories:

33
Total Fat:

0g
Saturated Fat:

0g
Trans Fat:

0g
Unsaturated Fat:

0g
Cholesterol:

0mg
Sodium:

1043mg
Carbohydrates:

6g
Fiber:

0g
Sugar:

1g
Protein:

1g
This nutrition information was generated via a third party, Nutritionix, and we can not be held liable for any discrepancies in the information provided.
LeftoversThenBreakfast.com. Content and photographs are copyright protected. Sharing of this recipe is both encourages and appreciated. Copying and/or pasting full recipes to any social media is strictly prohibited.