A great steak shouldn't need anything added once it is removed from cooking, and this steak marinade will make sure your steak is perfect. This marinade adds just a hint of extra flavor all while making your steak tender and juicy!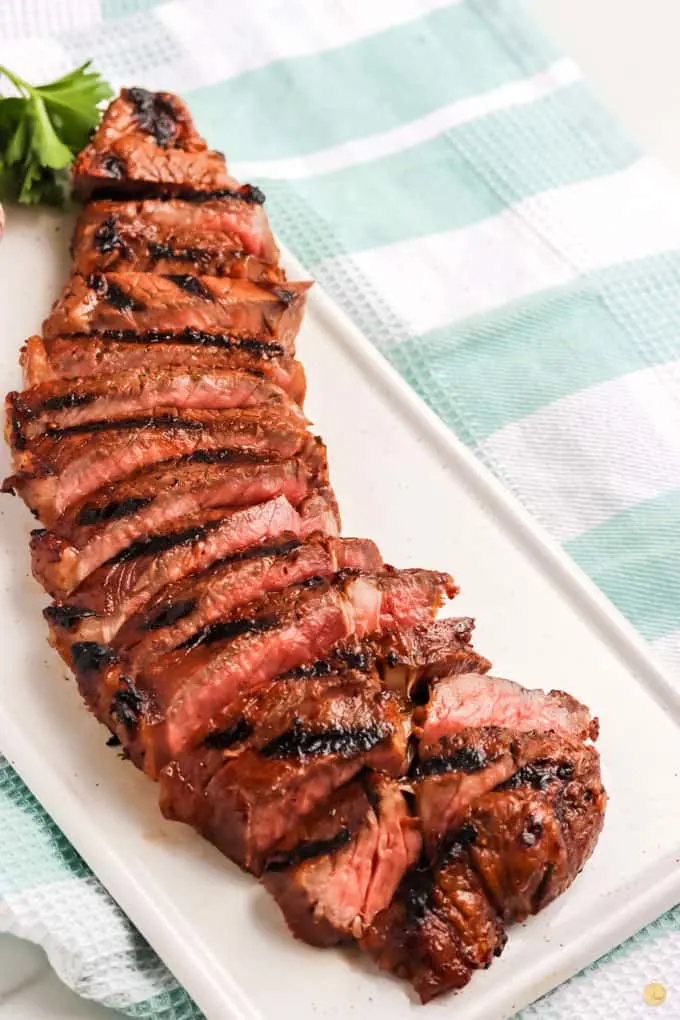 Easy Steak Marinade
Steak is often seen as the ultimate test of a grill or griddle master. If you make a steak well it will stand alone on the plate alongside a salad and crusty bread and will melt in your mouth.
If you make a steak poorly, everyone will ask for the A1 and Heinz 57 sauce!
Make sure your steak is cooked to perfection by following the instructions for this easy steak marinade to ensure it is prepped for absolute tenderness, flavor, and juiciness.
A good steak marinade, like this one, is the secret to perfection that everyone will be asking you to share.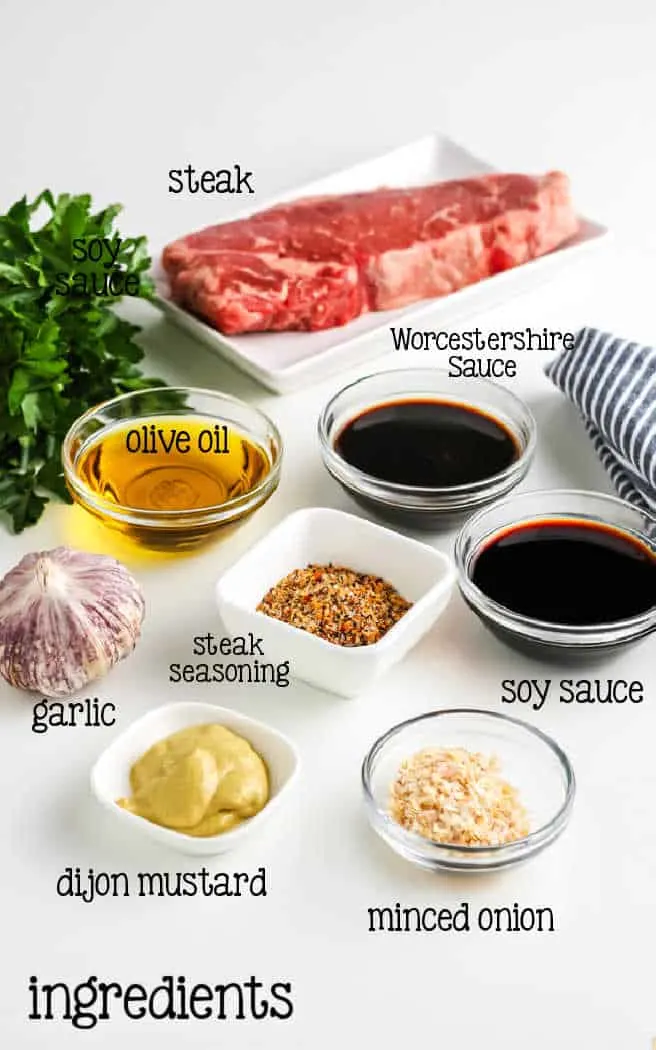 Steak Marinade Ingredients
Soy Sauce – feel free to use low-sodium soy sauce, tamari, or even balsamic vinegar if you prefer.
Dijon Mustard – I love dijon but feel free to use stone ground mustard or yellow mustard if you prefer.
Minced Onions – I used dried in this recipe but if you have fresh onions you can use them chopped or grated.
Steak Seasoning – Feel free to use your own steak seasoning but I love a homemade one.
Parsley – Fresh is best but if you only have dried it will work out just fine!
Pantry staples – Olive oil, fresh garlic, Worcestershire sauce,
Looking for more leftover worthy dishes? Follow LTB on Pinterest and pin to a board!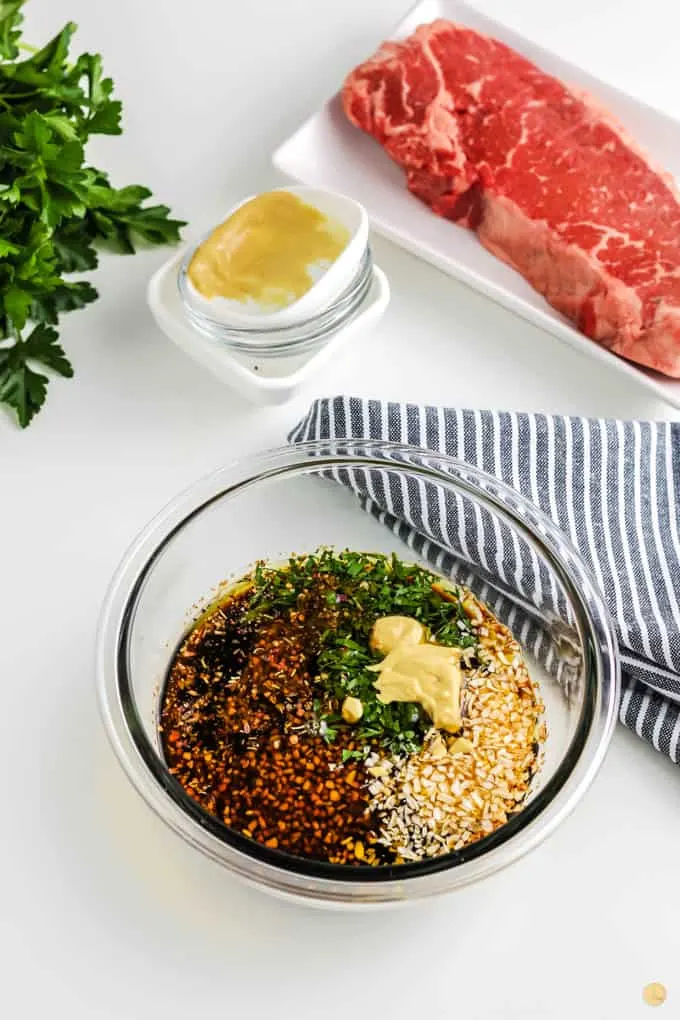 How to marinate steak
First: Combine all the ingredients in a bowl until completely combined.
Second: Add steak(s) to a resealable bag or food-safe container. Pour marinade over the steaks, seal, and refrigerate for 1-4 hours.
Third: Remove steaks from marinade, discard the marinade, and allow the steaks to come to room temperature. Cook steaks as desired.
For the full recipe and detailed baking instructions, please see the recipe card at the end of this post.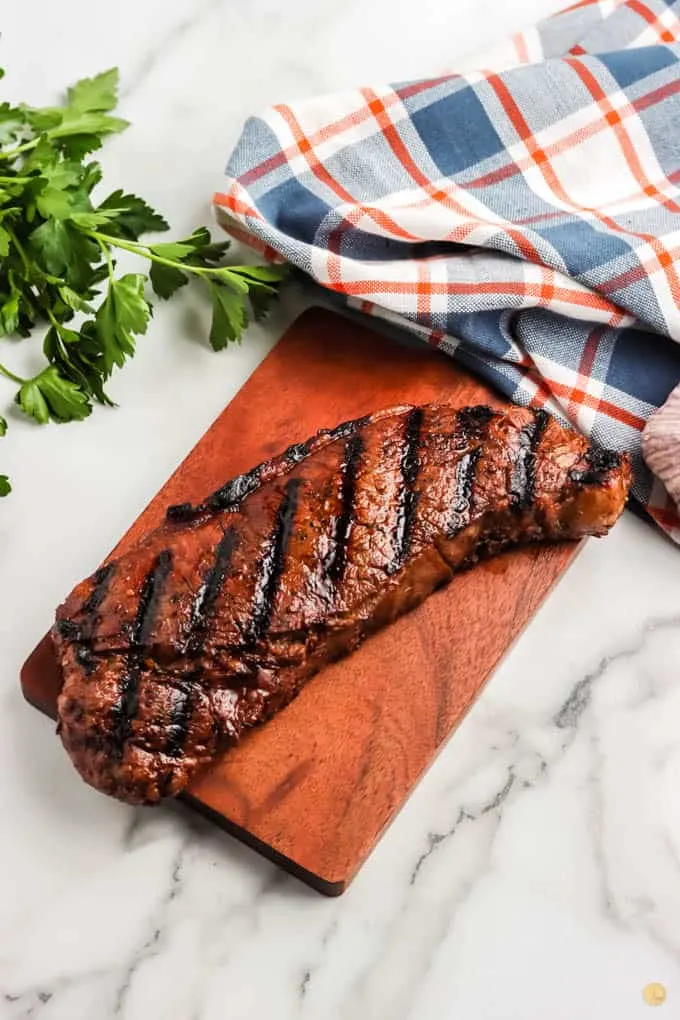 How to tenderize steak
Tenderizing a steak is all about having an acidic ingredient in your marinade, like the mustard and Worcestershire sauce I use in this recipe.
You can manually break down the fibers of a steak by using a mallet as well, but I prefer to allow the chemicals to work together and gently tenderize my cut of steak.
How long to marinate steak
Your steak marinade can blanket your cut of of meat for as little as 30 minutes or as long as overnight. The only rule here is to make sure you don't introduce bacteria to your precious cut of meat by keeping it in an airtight bag/container in the refrigerator while it marinates.
I recommend marinating for 1 hour for best flavor!
Should you marinate steak?
Absolutely marinate your steak! Did you read the information at the beginning of this post? We want you to be proud of your steak, so add all the flavor and tenderness you can by letting it bathe in this delicious marinade first.
My favorite steak from a restaurant was when I was on vacation, I cut through the steak with my fork, no knife needed, and the flavors that filled my mouth were like nothing I had ever tasted before.
I asked the server how this was possible and they said it was all in the secret marinating process they used. They wouldn't tell me what it was, but I have been using steak marinade ever since!
Does Worcestershire sauce tenderize meat?
Worcestershire sauce is one of the ingredients I include in my steak marinade because it helps to break down the proteins in the steak before cooking, which results in a more tender meat.
Best ways to cook marinated steak
Grilling is my favorite way to cook steak
Using a skillet is my backup method, if I can't get outside to grill I will take out a skillet and keep an eye on it
My biggest tip if you need to use a skillet or griddle is to make sure you seal in the moisture by lightly cooking each side and edge first and then allowing heat to cook through the meat thickness. You could take your steak out of the marinade and do this step first then take it to the grill as well.
Recommended temperatures for steak: Rare – 125° F, Medium Rare – 135° F, Medium – 145° F (this is the shortest cooking I would recommend), Medium Well – 150° F, Well Done – 160°F. I prefer my steak to be Medium to Medium Well as it will continue to cook for a few minutes while it rests and I feel it will start to get tough the closer to Well Done it gets.
Which cuts of steak do you want? There is a bit of personal preference in this one, but you want a thick cut with a good balance of marbling (fat running throughout) and a good section of the cow for tenderness; these are the cuts I would recommend: T-Bone, Porterhouse, Rib Eye, Filet Mignon, Top Sirloin, New York Strip, Skirt Steak, and Flank Steak.
Another tip I will add here, once you have chosen your cut of steak, don't cut it again until it is done cooking and resting. The butcher knows exactly how to cut it for optimum quality, if you are going to split it up do so after cooking.
Tips for No Leftovers
use low sodium soy sauce if you are worried about salt intake or follow a low-salt diet.
you can make this marinade a few days ahead of time and even freeze it for 2 months before use (make a double batch).
add your favorite herbs if you have different flavor preferences. I like to add extra garlic powder:)
it's best to marinate for at least 30 minutes.
let the steak rest for 5 minutes before cutting into it.
marinating time will vary depending on the thickness and quality of the steak.
With all these tips and this delicious steak marinade to be your secret weapon, get out there and make a steak to be proud of! Go to the meat counter and talk to the butcher about which cuts are right for your preferred process, and look at the cuts to make sure they are what you want. Then take it home and whip up this marinade and let it take a nice bath, then cook it up and bask in the glory!
If you love this recipe as much as I do, please write a five-star review in the comment section below (or on Pinterest with the "tried it" button – you can now add pictures into reviews, too!), and be sure to help me share on facebook!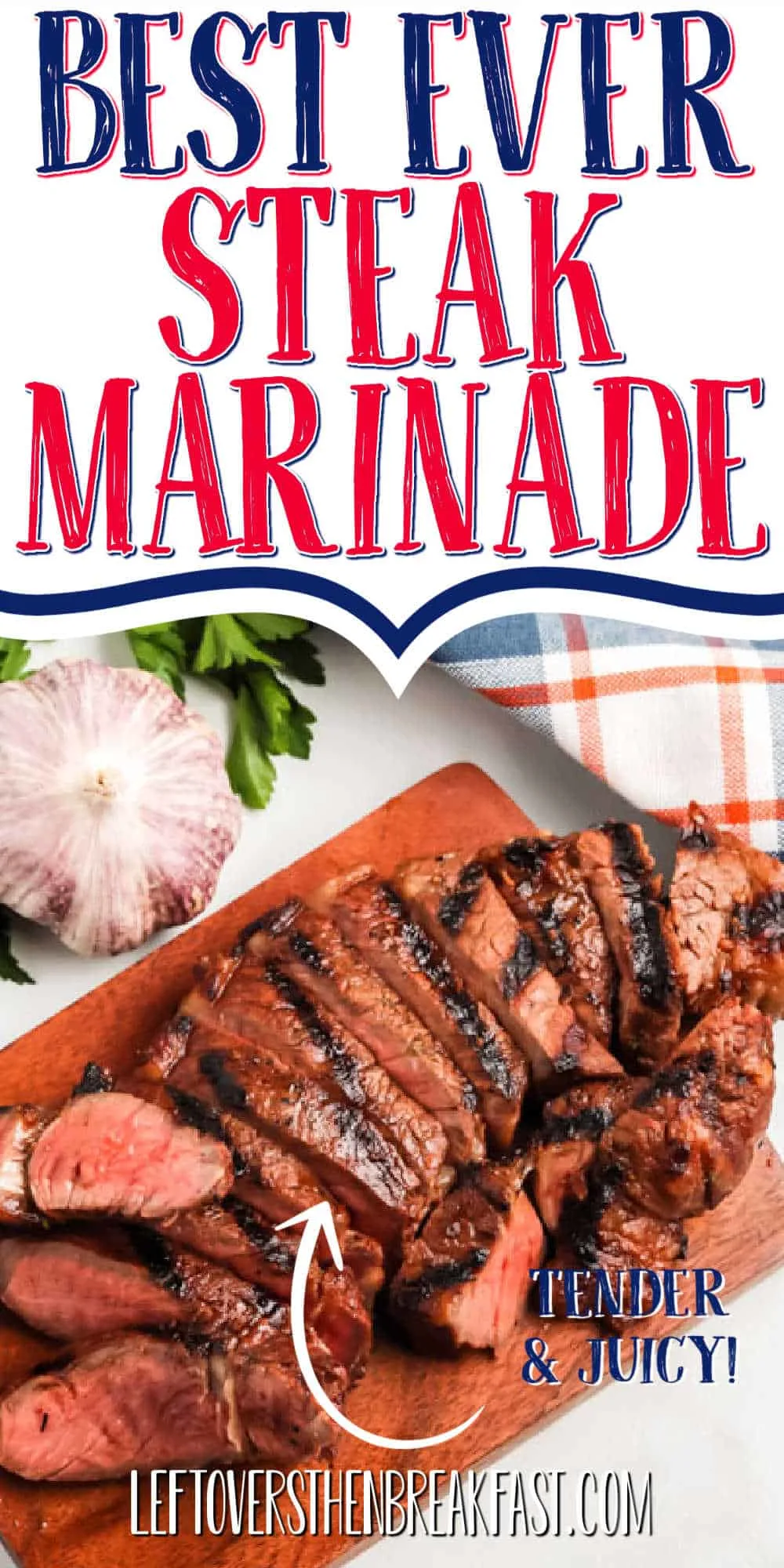 Make sure you come back here and share your celebration and how you made the best steak marinade your own, I always love hearing what a reader experience with my recipes.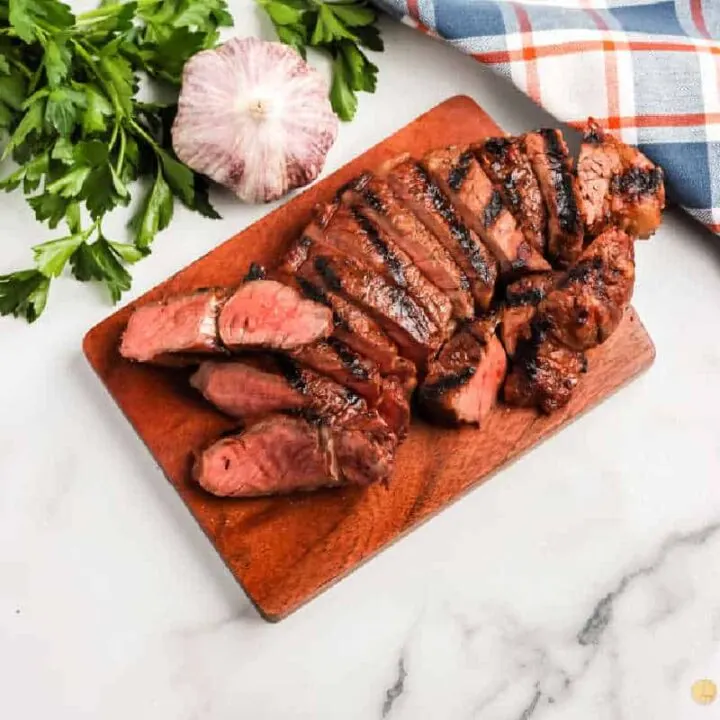 Steak Marinade
This marinade adds just a hint of extra flavor all while making your steak tender and juicy!
Ingredients
¼ cup low-sodium soy sauce
¼ cup olive oil
¼ cup Worcestershire sauce
1 tablespoon dijon mustard
2 cloves garlic, minced
1 tablespoon dried minced onions
2 tablespoons steak seasoning
1 tablespoon fresh parsley (finely chopped)
Instructions
Combine all ingredients in a bowl and whisk until combined.
Add steak to resealable bag or food safe container.
Pour marinade over steak, seal and refrigerate for 30 minutes to 4 hours.
Remove steaks, discard marinade and allow meat to come to room temperature.
Cook steaks as desired.
Notes
*If you love this recipe as much as I do, please leave me a comment and rate it 5 stars. Thank you!
Nutrition Information:
Yield:

4
Serving Size:

1
Amount Per Serving:
Calories:

158
Total Fat:

14g
Saturated Fat:

2g
Trans Fat:

0g
Unsaturated Fat:

12g
Cholesterol:

0mg
Sodium:

1567mg
Carbohydrates:

7g
Fiber:

1g
Sugar:

2g
Protein:

2g
This nutrition information was generated via a third party, Nutritionix, and can not be held liable for any discrepancies in the information provided.
More Easy Recipes
LeftoversThenBreakfast.com. Content and photographs are copyright protected. Sharing of this recipe is both encourages and appreciated. Copying and/or pasting full recipes to any social media is strictly prohibited.