Making authentic Asian recipes requires an authentic homemade Hoisin Sauce, and now you can make it at home quick and easy!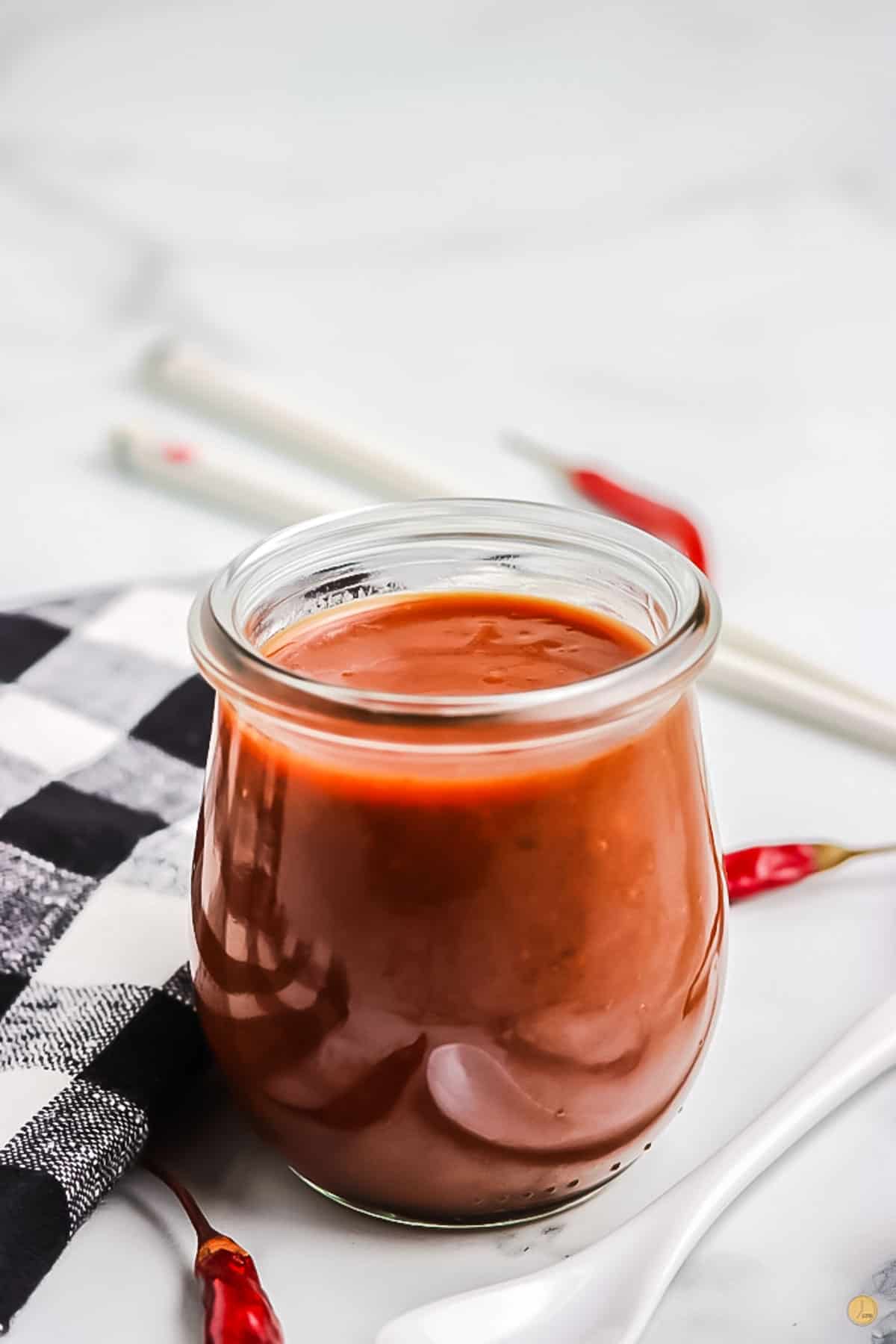 If you'd rather skip my essential cooking tips and tricks and get straight to this delicious recipe – simply scroll to the bottom of the page where you can find the printable recipe card.
Hoisin sauce is to Asian food what garlic is to Italian food, it is in just about all Asian recipes and it is easy to make at home.
You can make your own so you don't need to scour shelves in a grocery store for it, and it will taste better anyway!
Homemade Hoisin Sauce is the key to a great stir fry, perfect spring rolls, and any Asian salad dressing.
WHAT IS HOISIN SAUCE?
Right from the gate, we can tell the difference between a similar sauce, oyster sauce, and Hoisin Sauce; there is no oyster in this sauce.
It has a soy base instead, and is slightly sweeter than oyster sauce. It is easy to confuse the two if you're looking at them, but one taste and you will know the difference.
You will see shortly all the ingredients in homemade Hoisin Sauce, but to sum it up; this is a fragrant and well rounded flavored sauce that goes great with Asian recipes of all kinds and is often a base ingredient in Asian sauce recipes.
You can use it on it's own or add it to additional ingredients to make up a delicious stir fry, soup, or even salad dressing. Check out my homemade tartar and buffalo sauces too.
This post may contain affiliate links. As an Amazon Associate, I earn from qualifying purchases. Read my disclosure policy here.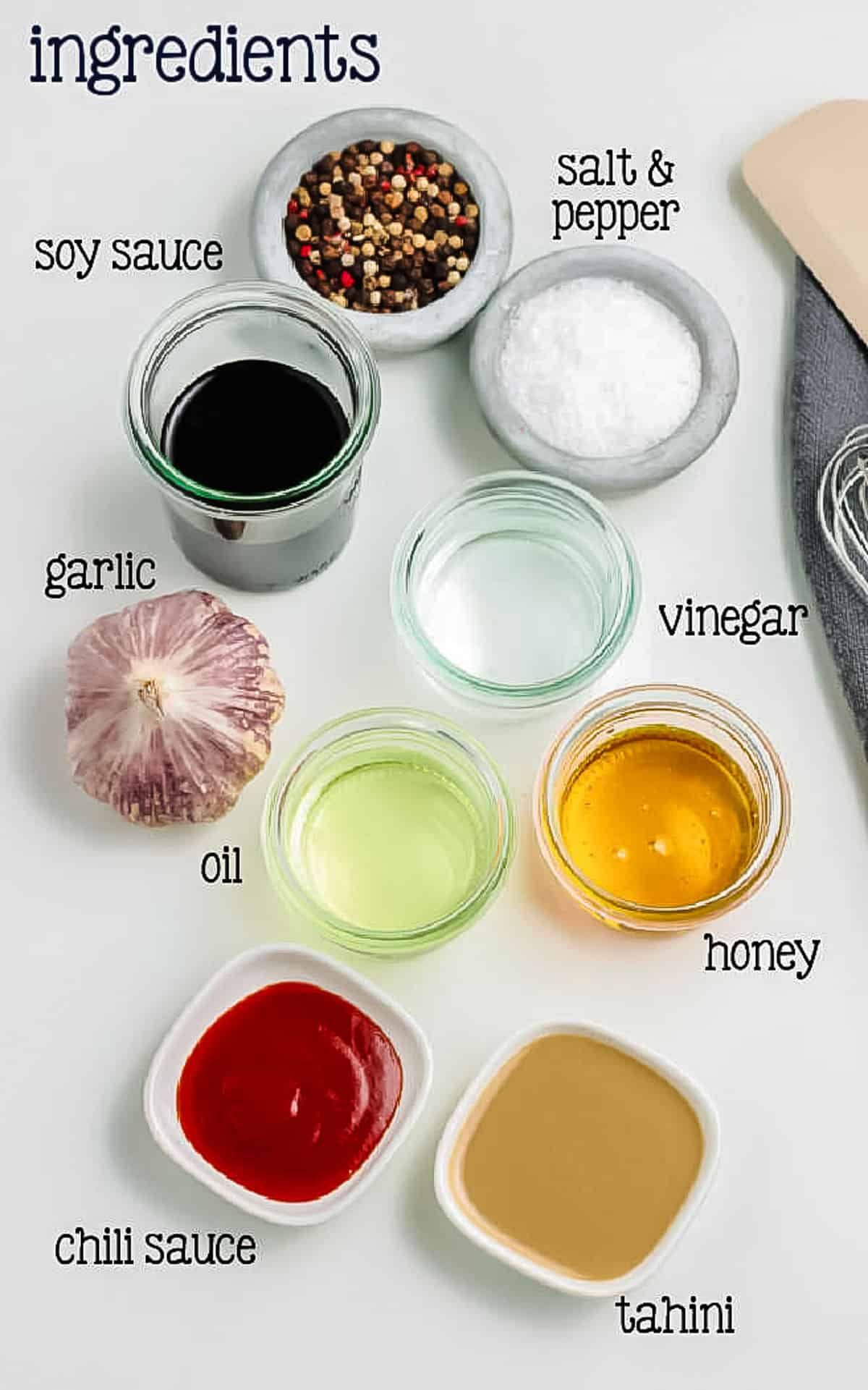 HOISIN SAUCE INGREDIENTS
soy sauce
white vinegar
vegetable oil
garlic
honey
tahini
chili sauce
salt & pepper to taste
Soy Sauce – If you want to make this gluten free, use Tamari instead.
Honey – If you want to make this vegan, switch to maple syrup or agave syrup.
Tahini – Don't have this? Use sesame oil instead.
Chili Sauce – If you don't like the spiciness of the chili sauce try using black bean sauce instead.
Looking for more comfort food? Follow LTB on Pinterest!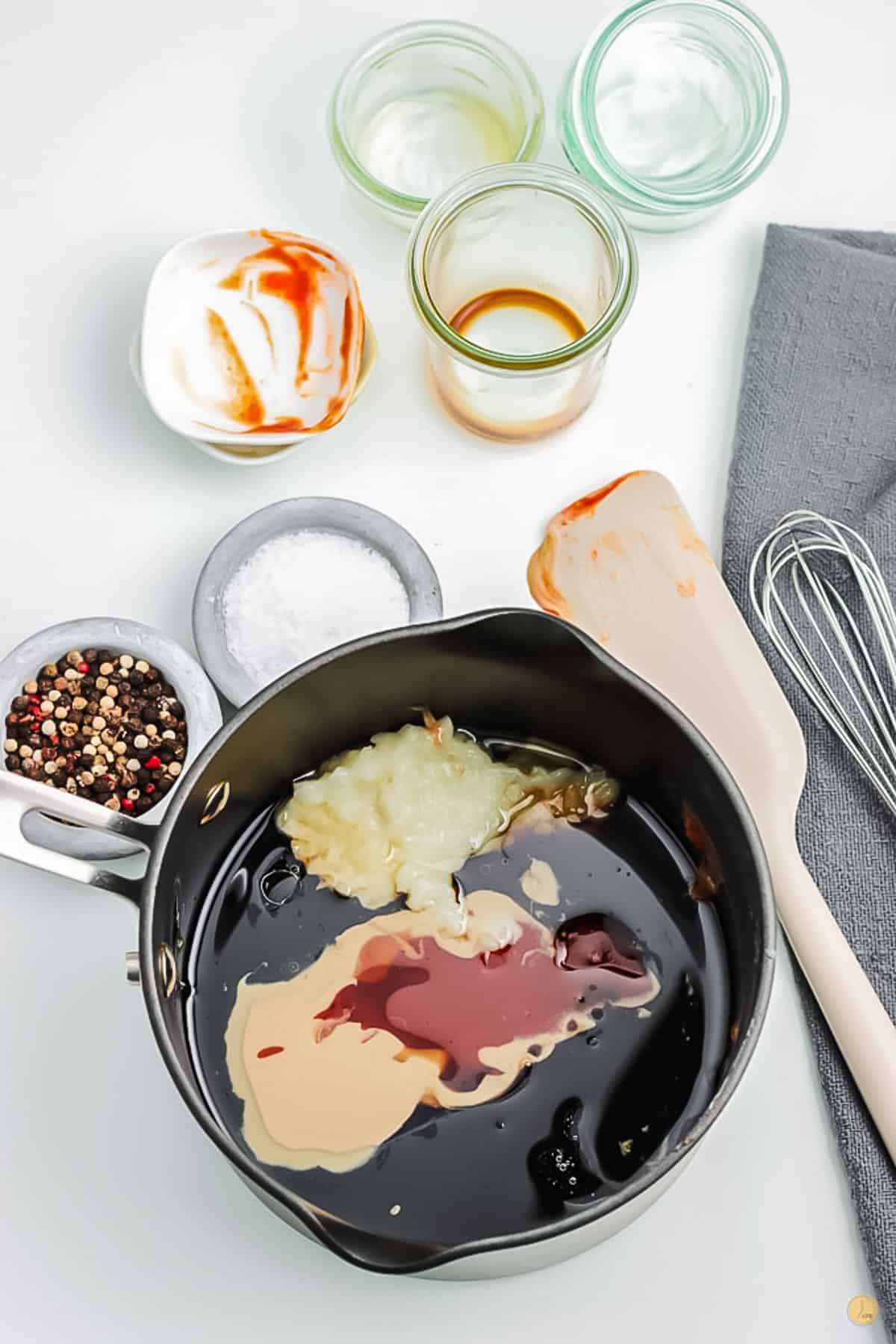 HOW TO MAKE HOISIN SAUCE
ONE: To a small saucepan, combine all the ingredients. Stir to combine.
TWO: Over medium – low heat, cook until the honey melts completely and the flavors all come together. Remove from the heat.
THREE: Cool slightly and store in an air tight container in the refrigerator until ready to use.
For the full recipe and detailed baking instructions, please see the recipe card at the end of this post.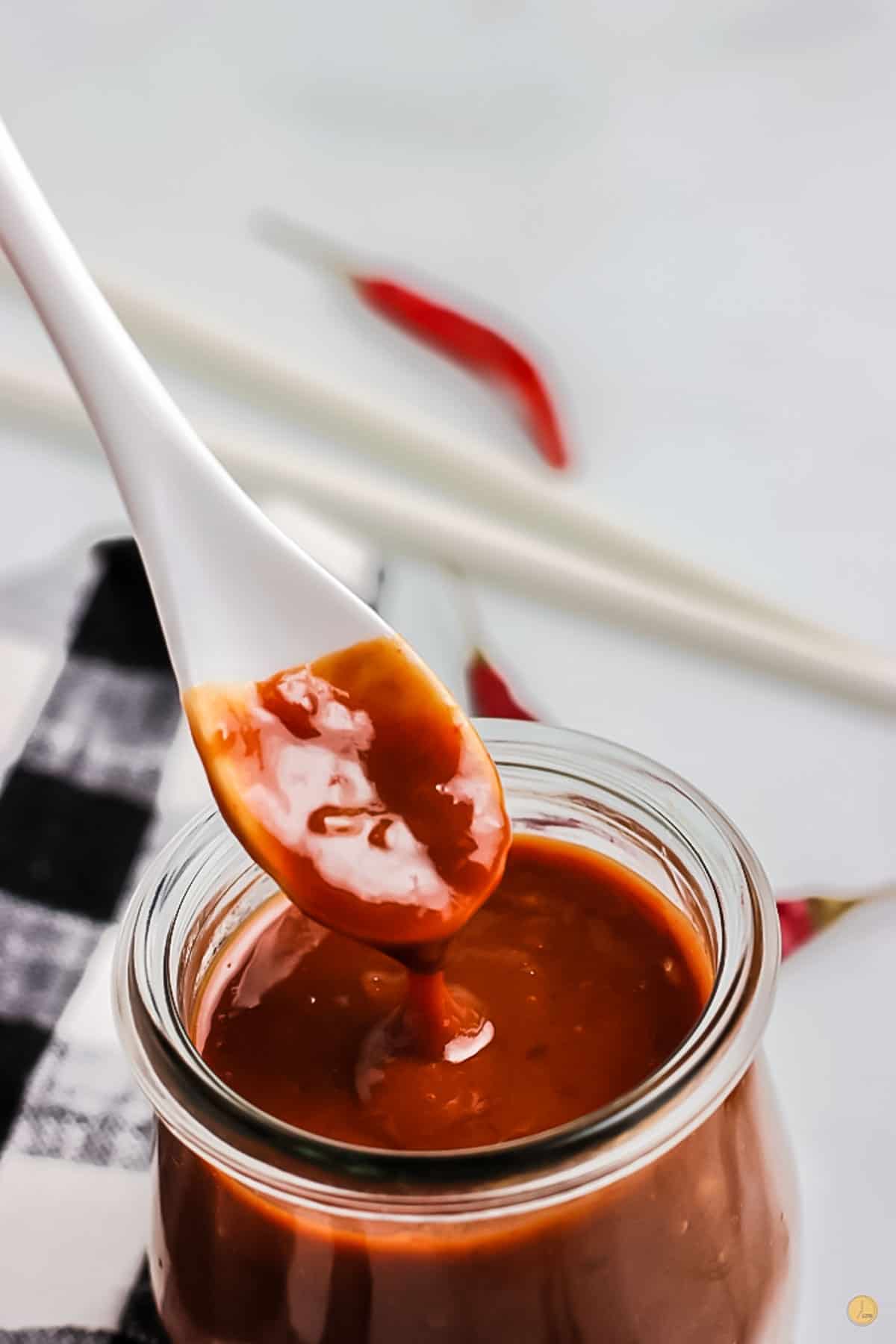 WHAT DO YOU USE HOISIN SAUCE WITH?
You can use your homemade sauce to make stir fry, soup stock, dressing, marinades, sauce drizzled over proteins, a dipping sauce, and more.
WHAT CAN BE SUBSTITUTED FOR HOISIN SAUCE?
If you don't want to use Hoisin Sauce you can try using miso paste, fish sauce, sweetened soy sauce, or a stir fry sauce.
WHAT DOES HOISIN SAUCE TASTE LIKE?
Hoisin Sauce has a salty and sweet taste with a little bit of a kick and the slight tang of vinegar. It really hits every flavor family you can imagine and nails the umami flavor profile very well.
IS IT GLUTEN FREE OR VEGAN?
In order to make sure your homemade Hoisin Sauce is gluten free you need to check your soy sauce and make sure it is only made of soy and has no additional fillers; if you can't find a gluten-free soy sauce you can use Tamari soy sauce instead.
If you wanted to make this sauce vegan you would need to substitute for the honey, which you could use maple syrup or sugar for.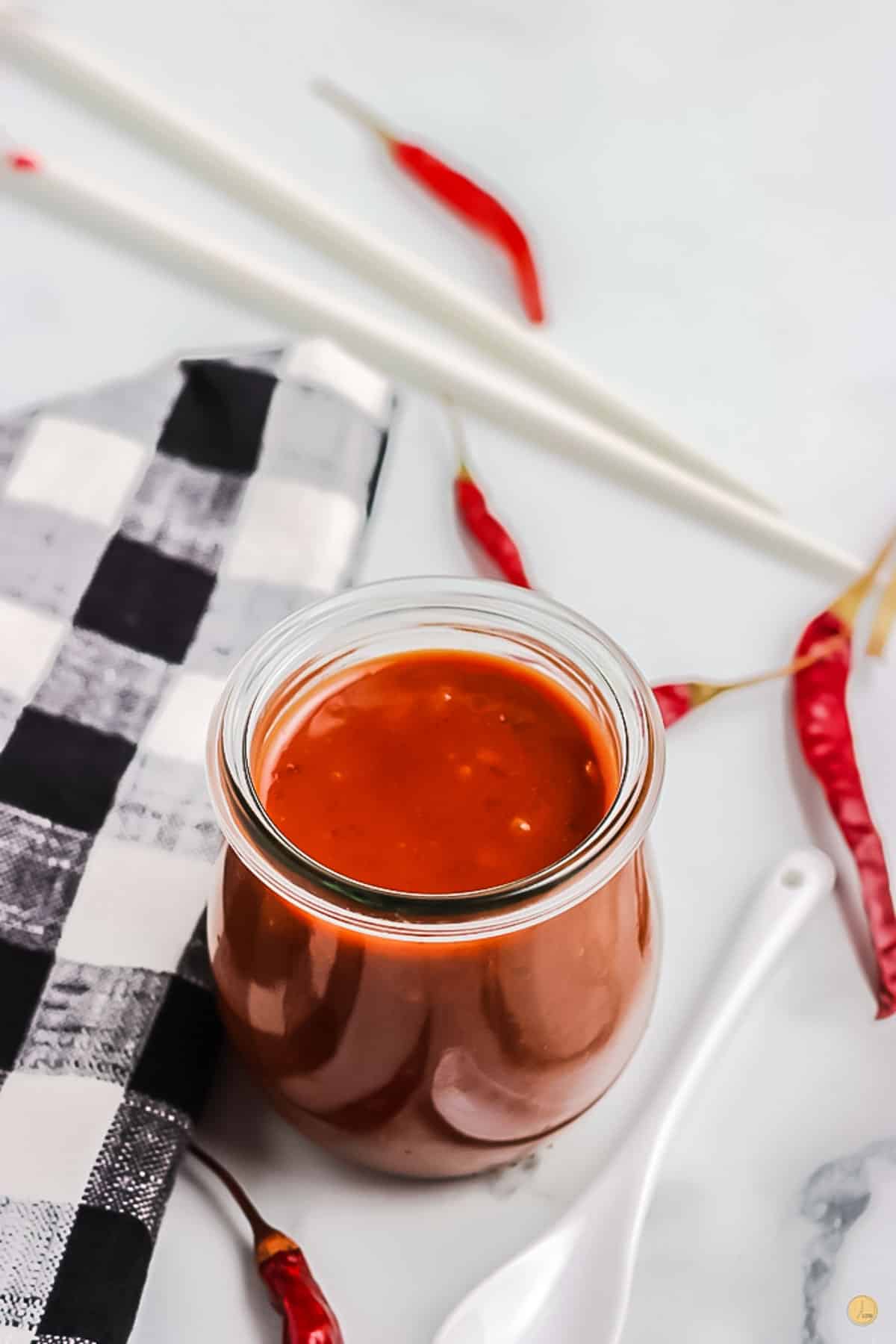 TIPS FOR NO LEFTOVERS
You can use Hoisin sauce for any Asian recipe you are putting together that has a sweet and spicy flavor combination, as well as on its own.
Make a double batch and share with neighbors and family!
If you need a hoisin sauce substitute, try bean paste or BBQ molasses.
If you love this recipe as much as I do, please write a five-star review in the comment section below (or on Pinterest with the "tried it" button – you can now add pictures into reviews, too!), and be sure to help me share on facebook!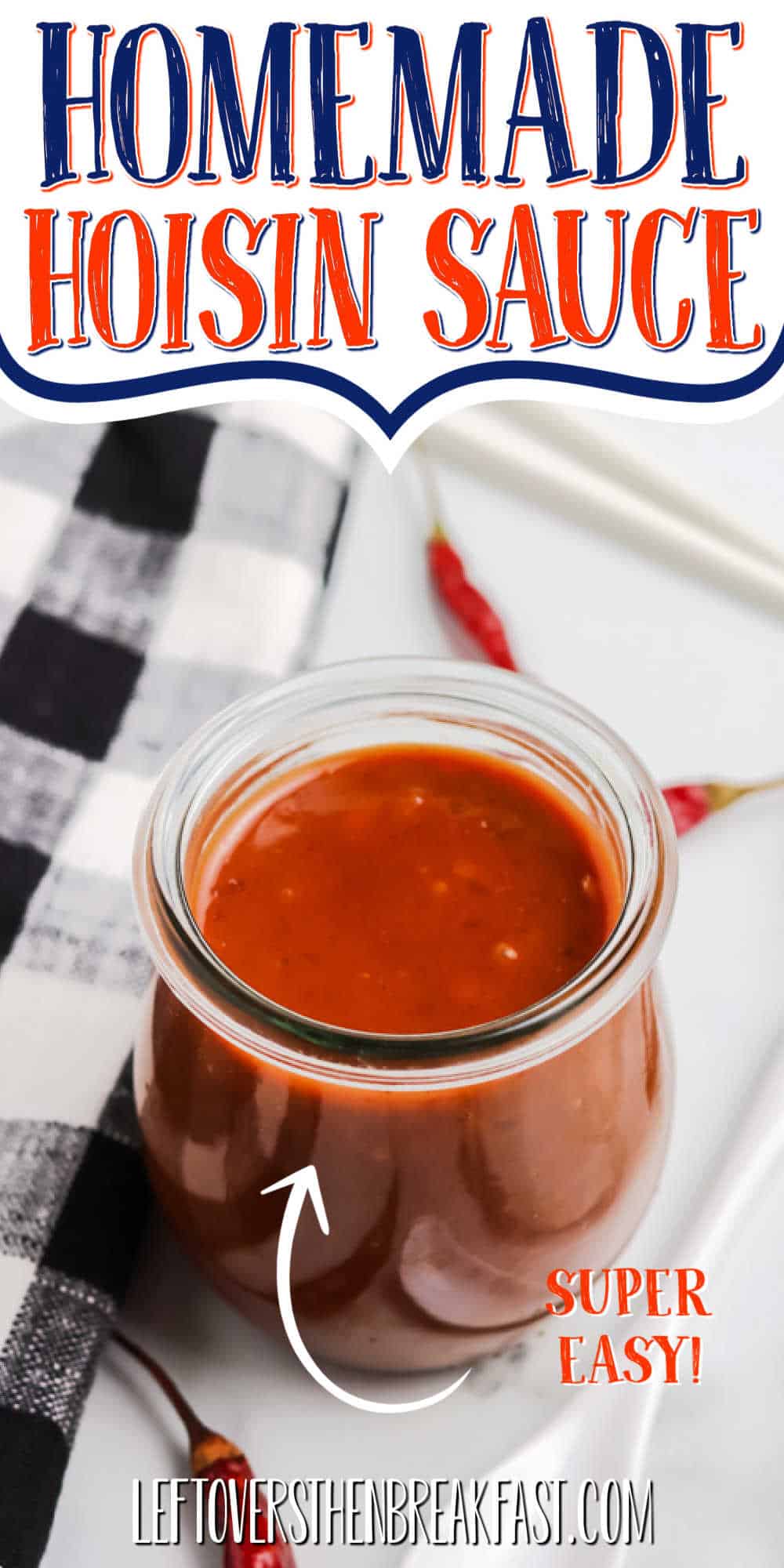 For your next Asian inspired meal I encourage you to try this homemade Hoisin Sauce and see if your family can tell the difference. I would love to hear your thoughts and if you changed up any of the ingredients here to make it even better!
MORE DELICIOUS RECIPES
@LeftoversThenBreakfast.com. Content and photographs are copyright protected. Sharing of this recipe is both encourages and appreciated. Copying and/or pasting full recipes to any social media is strictly prohibited.